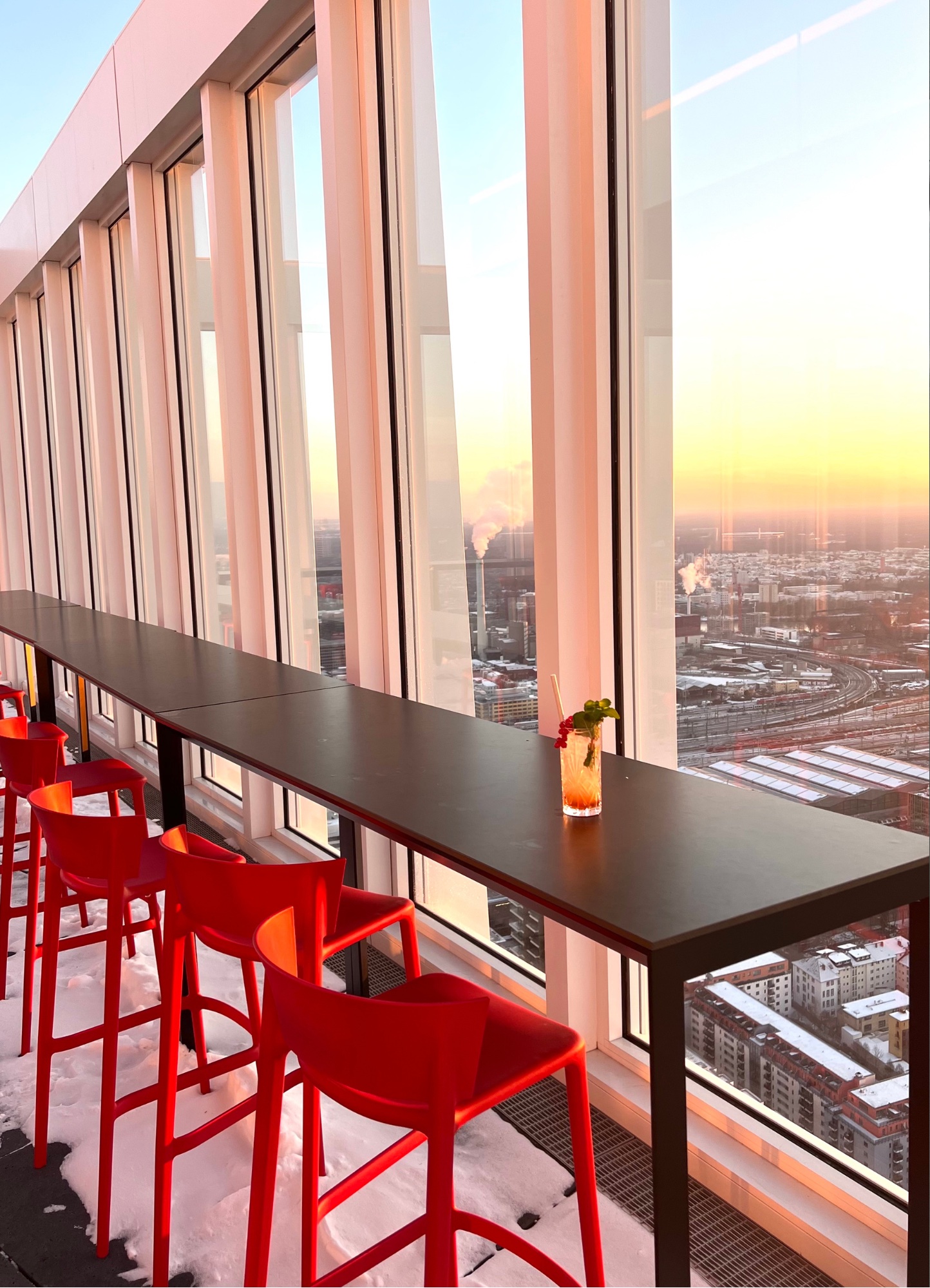 FRANKFURT – BEST ROOFTOP RESTAURANTS & BARS
Are you coming to Frankfurt in Germany and want to visit some of its best rooftop bars and restaurants? Rightly so, that is what Frankfurt is famous for – its skyline!
Luckily, Frankfurt rooftops can be enjoyed whole year long regardless of the weather. While some of them are ideal for after-work drinks and sundowner pool parties, some other are great for elegant dinners even when it rains!
This is your insider guide to not only the best-known places but also those secret spots, only locals know about. It covers not only traditional restaurants but also some more creative and original places, including an NFT bar!
What is sure is that there is a rooftop in Frankfurt for everyone, so let's find the right one for you, shall we?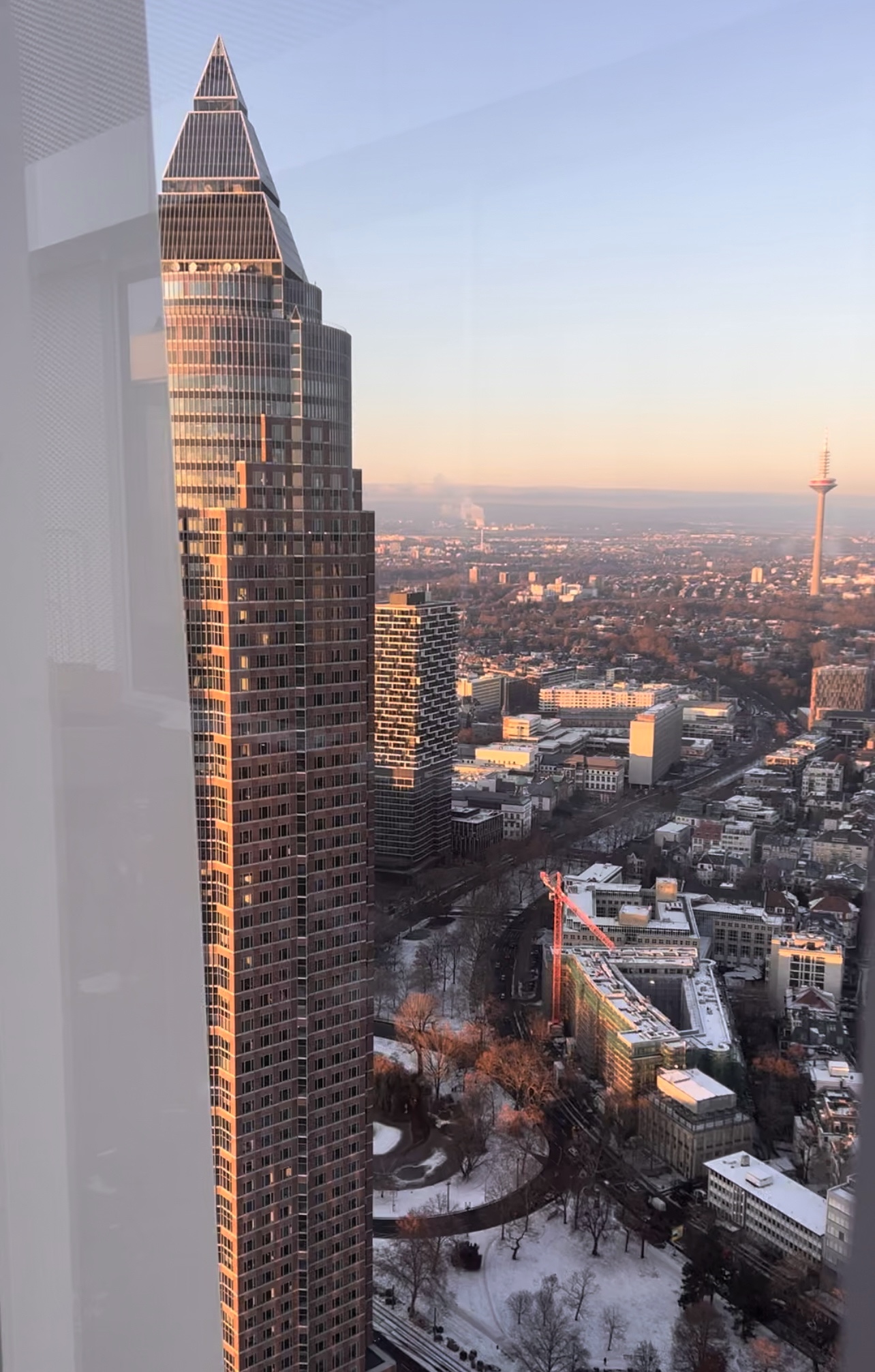 INTRO
I moved to Frankfurt from London six years ago and I can truly say that I have slowly fallen for this city.
Frankfurt is so often overlooked, seen more as a stop on the way to somewhere more exciting! It is mainly known for its financial center, and very often people come here because of business only, but trust me when I tell you that there is so much more to this city!
the secret to Frankfurt is having the information about the right places that only locals know about. So what I have tried doing is bring you this knowledge you you get get to know Frankfurt as if you were living here. Check my Guides to Frankfurt's best brunch, coffee and restaurants to get a full insight into this great city!
This is your insider's guide to the best rooftop bars and restaurants in Frankfurt – let yourself be surprised by what this underrated city has to offer!
FRANKFURT'S BEST ROOFTOP RESTAURANTS & BARS
NFT SKYBAR
CITYBEACH FRANKFURT
CHICAGO WILLIAMS AT GEKKO
OCCHIO D'ORO
GAIA
OOSTEN SKYLINE BAR
RUBY LOUISE
1. NFT SKYBAR
Have you ever drank a cocktail 185 m above the ground? And I do not mea while flying in a plane! Not only is the NFT bar the newest addition to Frankfurt's rooftop bars, but it is also Germany's highest bar, exciting right!
Also, and rather originally, you can drink here your gin & tonic and shop for some NFT artwork.
Once you will get to the 47th Floor where the NFT bar is located, you get a full and rather impressive 360-degree panoramic view of Frankfurt! I managed to visit the bar on a wintery day with beautiful sun and it really was spectacular. The light and shadows were changing with every moment and it was like watching a show! A definitely must while in Frankfurt!
ADDRESS: Brüsseler Str. 1-3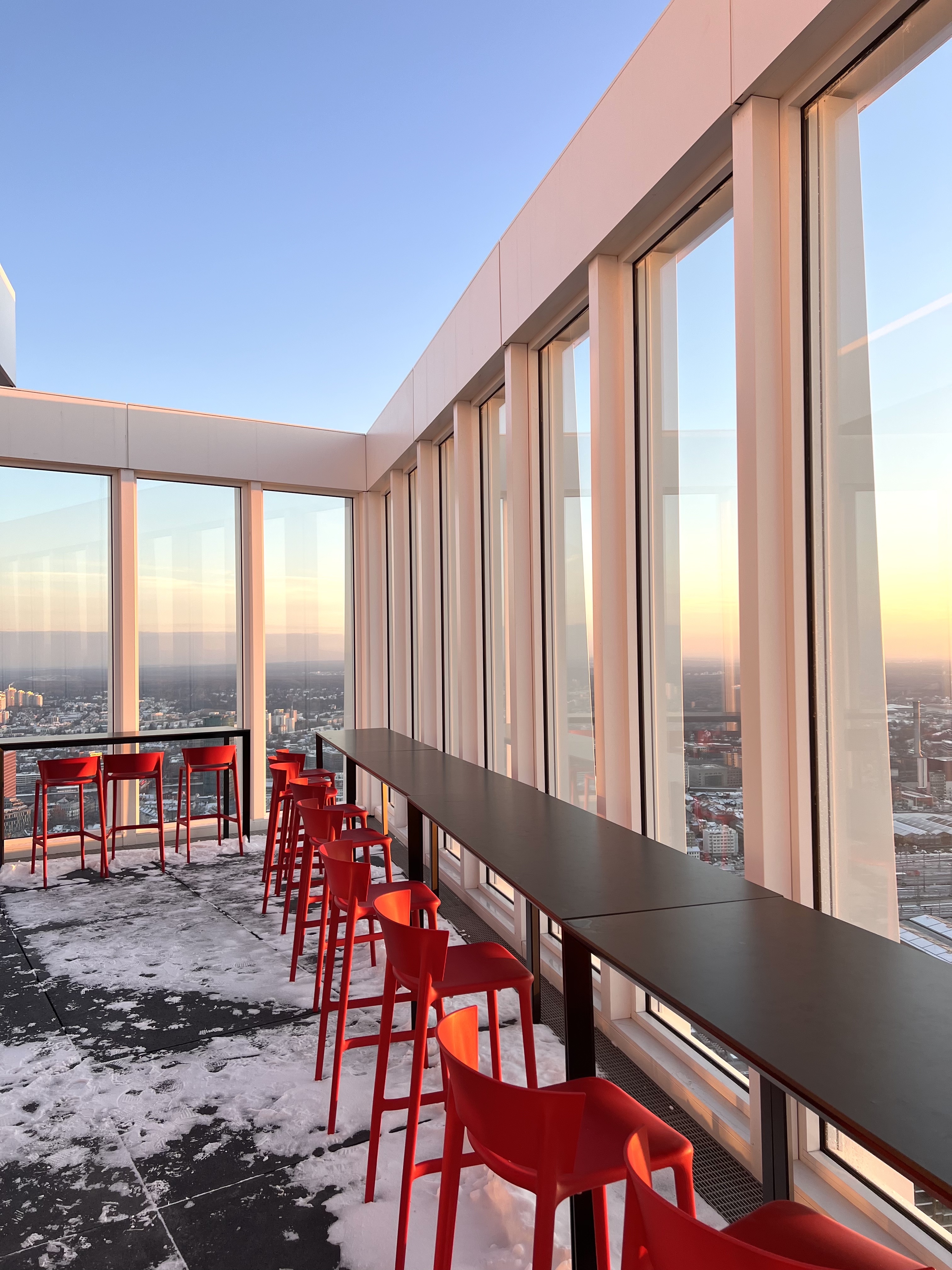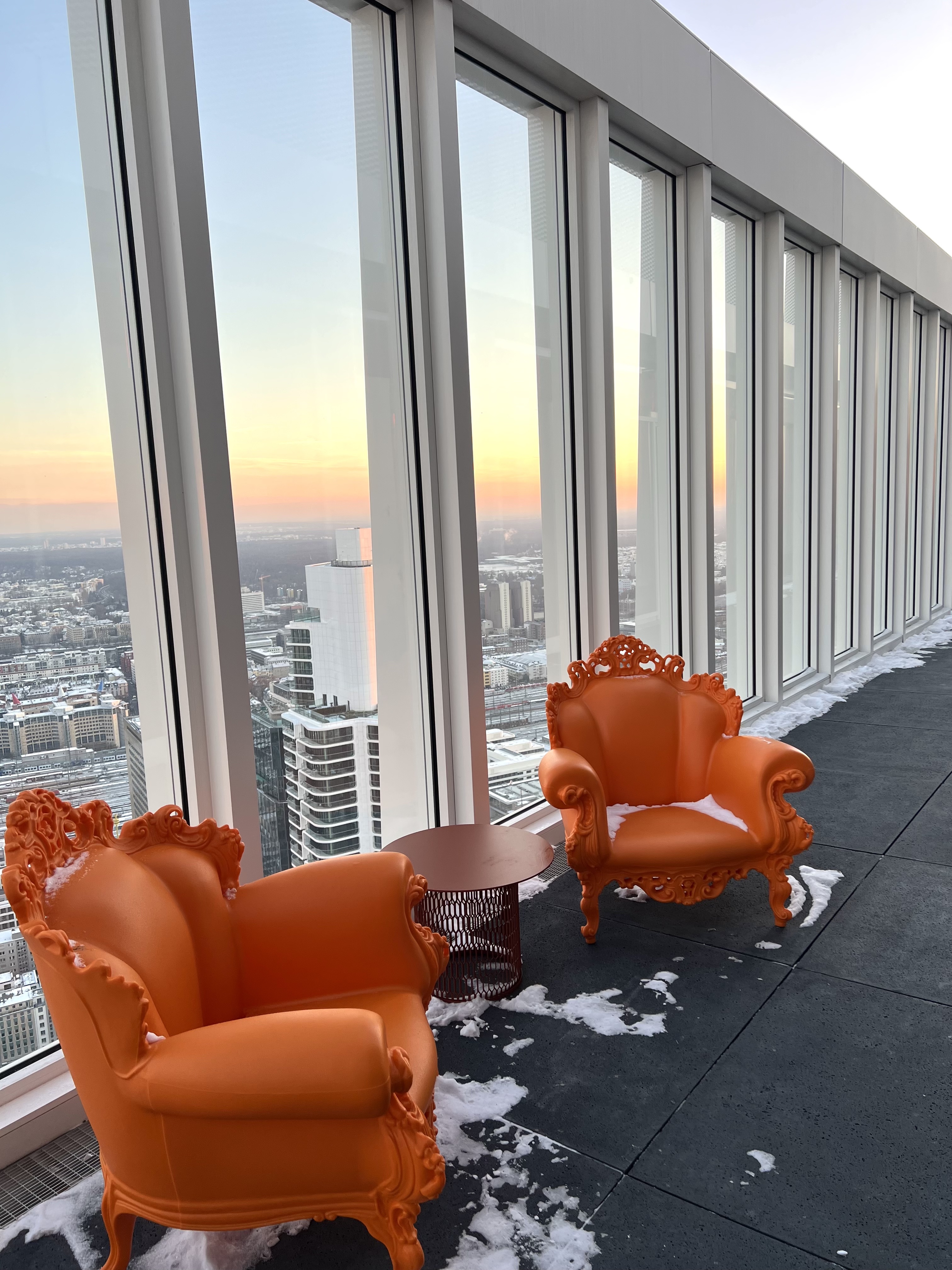 2. CITYBEACH FRANKFURT
Without a doubt you will not get closer to feeling like being on the beach in Frankfurt than at this rooftop bar.
Why? Sandy beach with palm trees, the deck chairs and their two swimming pools will make sure you have forgotten you have just left work and are instead about to enjoy a sundowner with your friends.
The menu is simple but will satisfy you, the focus is more on drinks.
In winter months, the beach turns into a Christmas market and the swimming pools into ice rinks! Make sure to visit!
ADDRESS: Carl-Theodor-Reiffenstein-Platz 5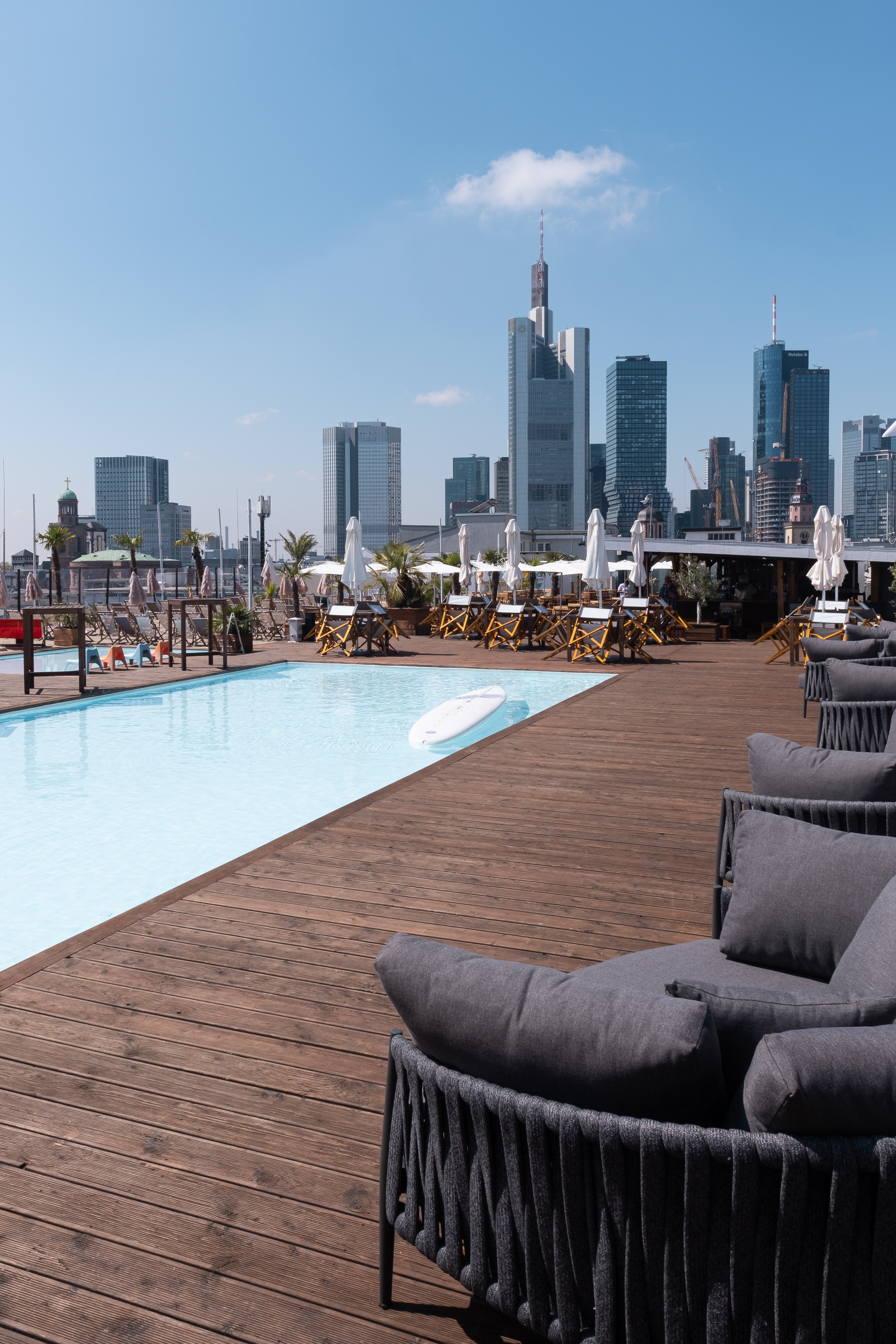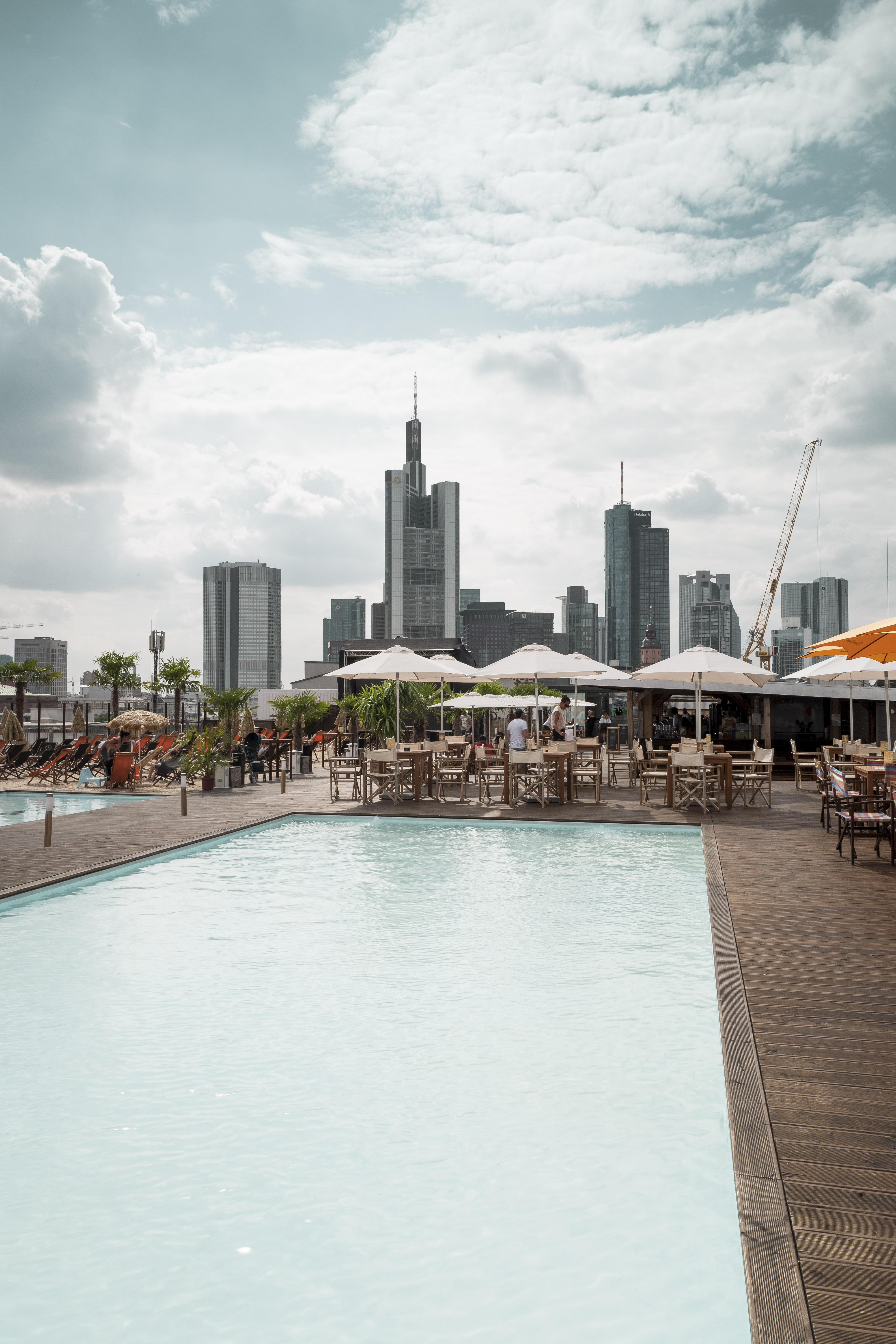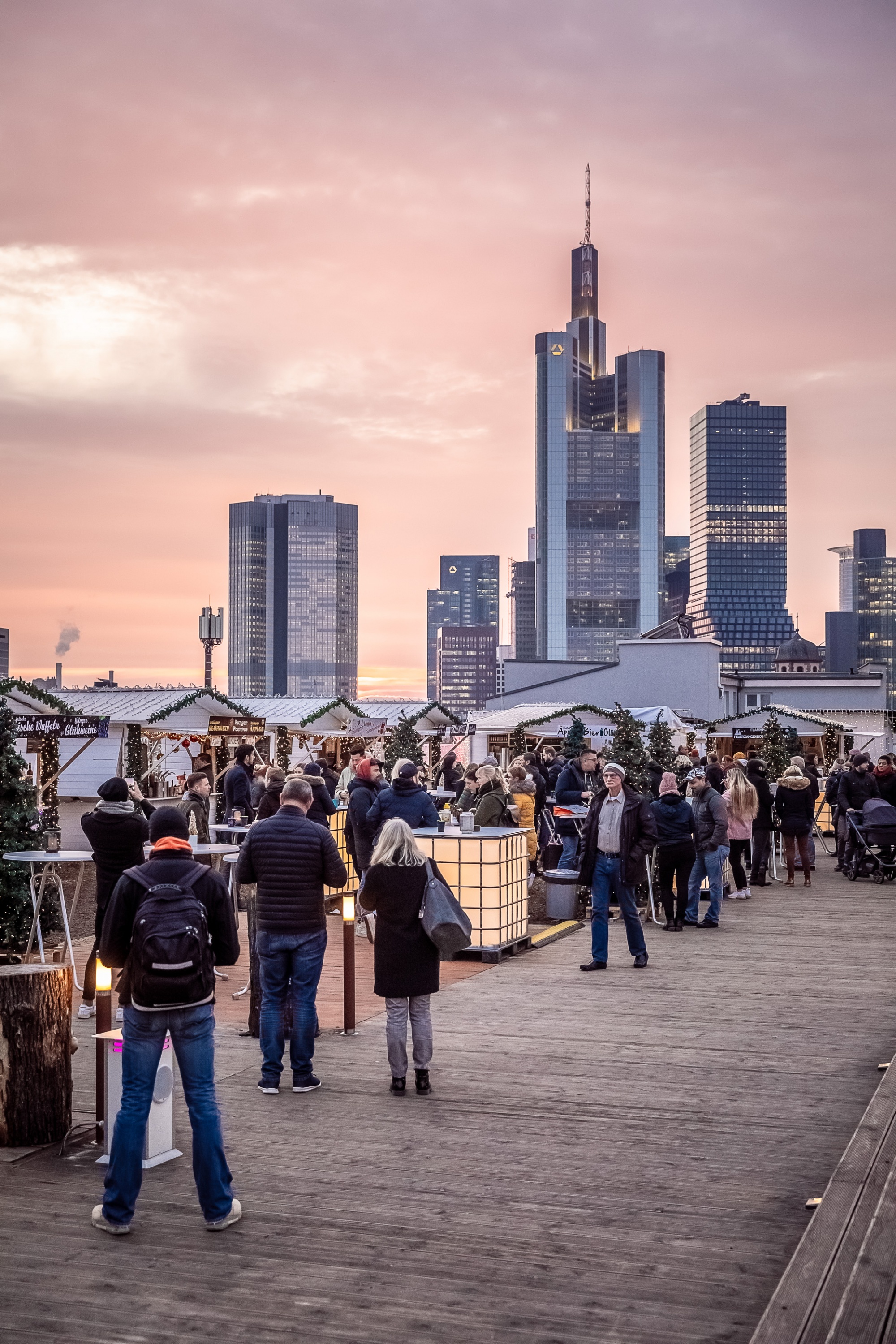 3. CHICAGO BEACH ROOFTOP AT GEKKO
You will find Chicago Rooftop at the Gekko Hotel. Here it's all about "serious barbecuing". As they pride themselves natural quality, original fixings and refreshing drinks are the pillars of the restaurant.
In summer, the Chicago Beach Rooftop is the perfect place for catch a view of Frankfurt skyline. There is space for about 40 guests on their outdoor patio. In winter, you can still visit their indoor restaurant.
You cannot reserve a spot at the outside patio so just make sure you come early enough to enjoy a sunset drink!
ADDRESS: Mainzer Landstrasse 167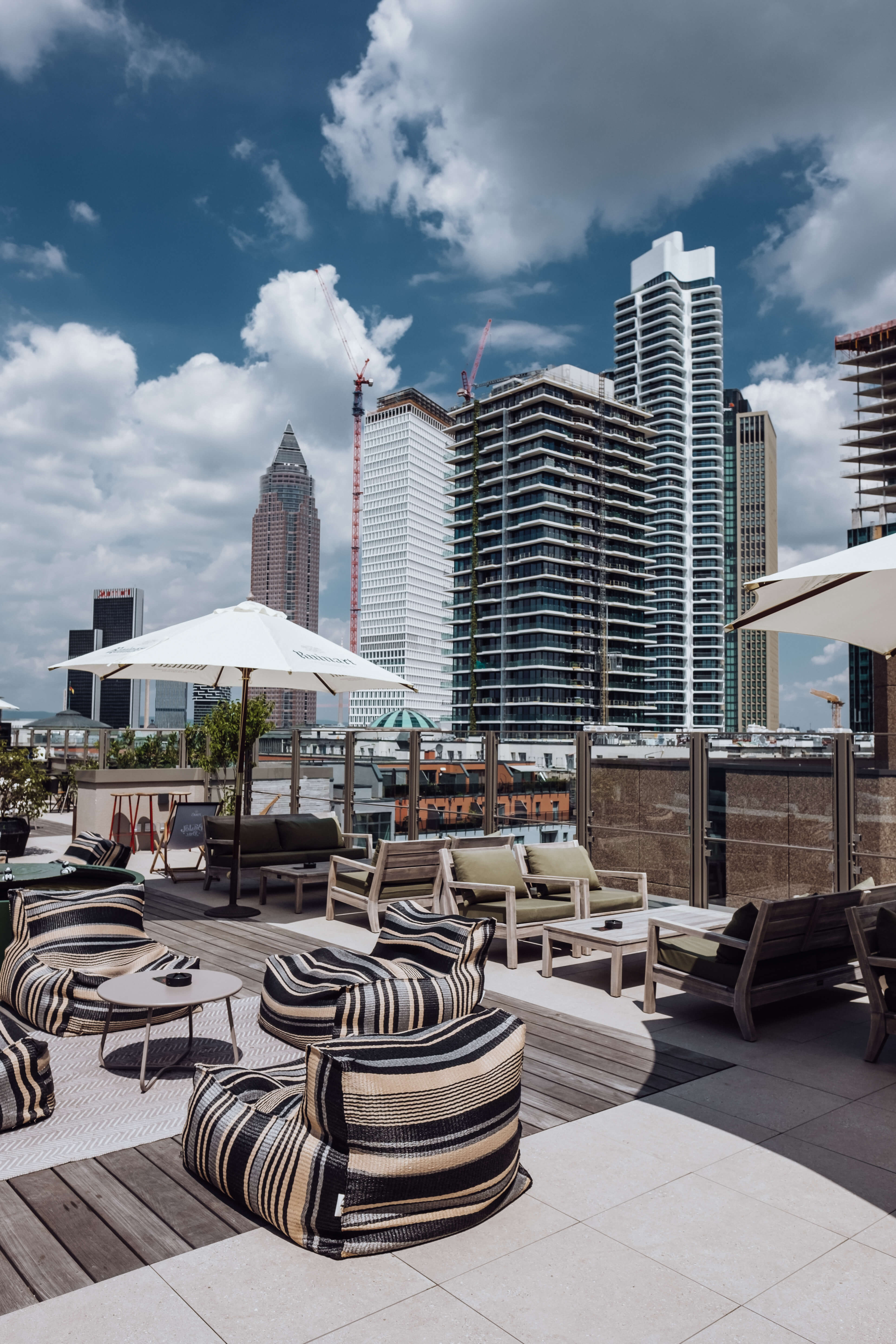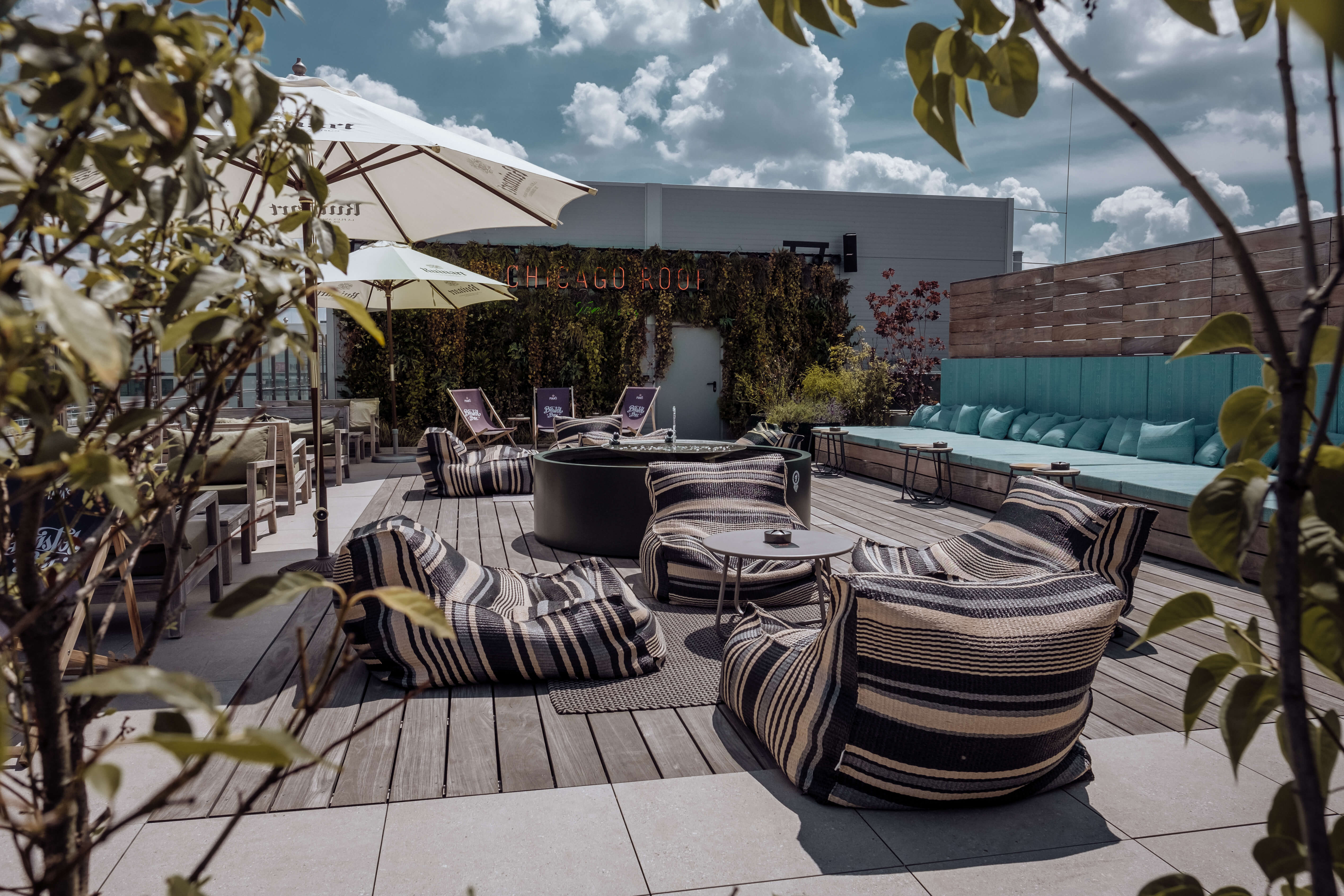 4. OCCHIO D'ORO
Undoubtedly Occhio d'Oro is the closest you will get to authentic Tuscan food in Frankfurt, and that served with a slice or some of Mainhattan's best skyline.
To find this rooftop bar and restaurant head to the well known Fleming's Hotel right in the heart of the city. Expect a much more elegant and formal atmosphere than at the other spots I have mentioned so far. It's great place for work lunch or dinner air a date.
I definitely recommend a reservation here, and you should request a table outside if you want to enjoy particularly good views of Frankfurt.
ADDRESS: Eschenheimer Tor 2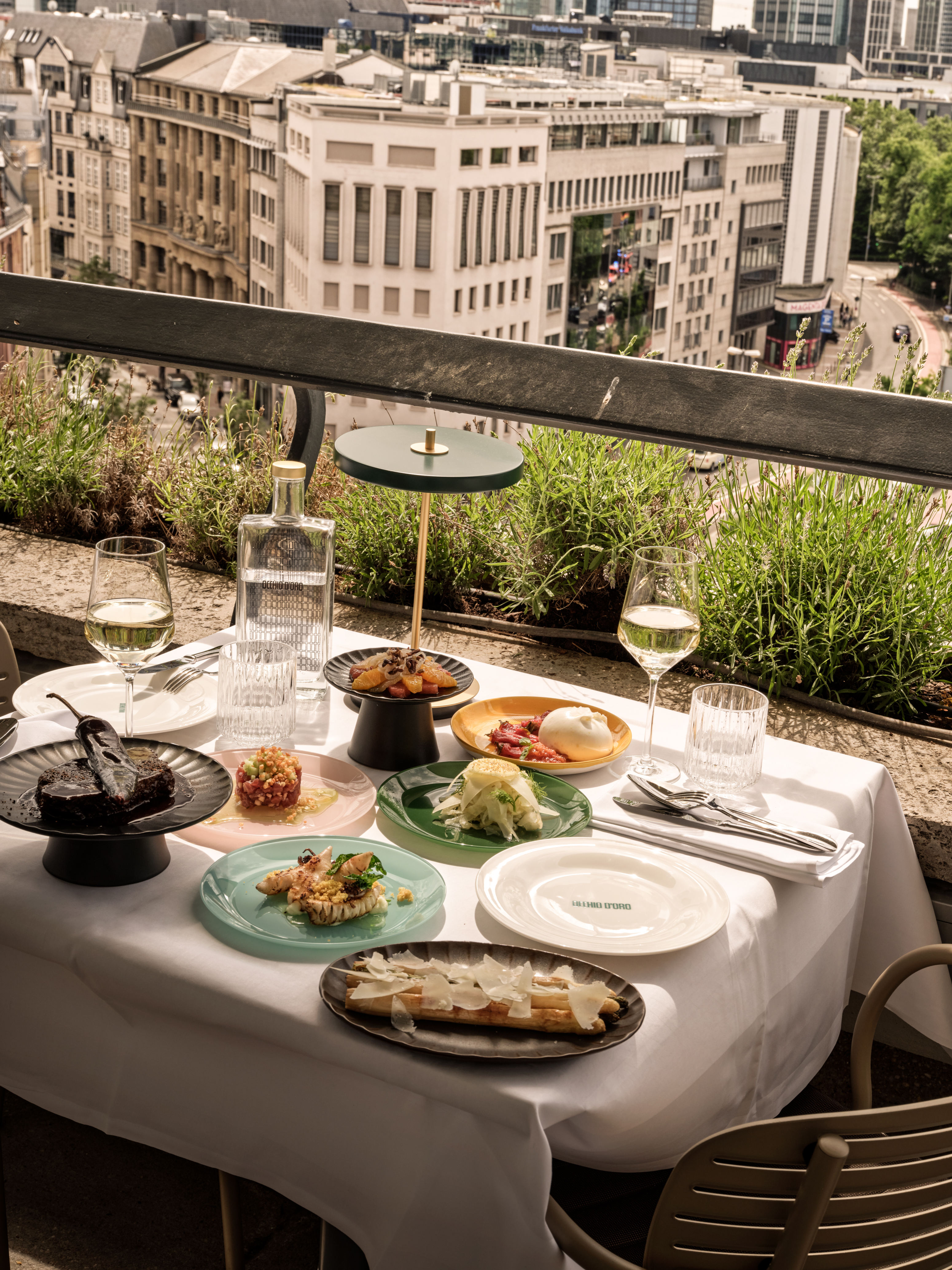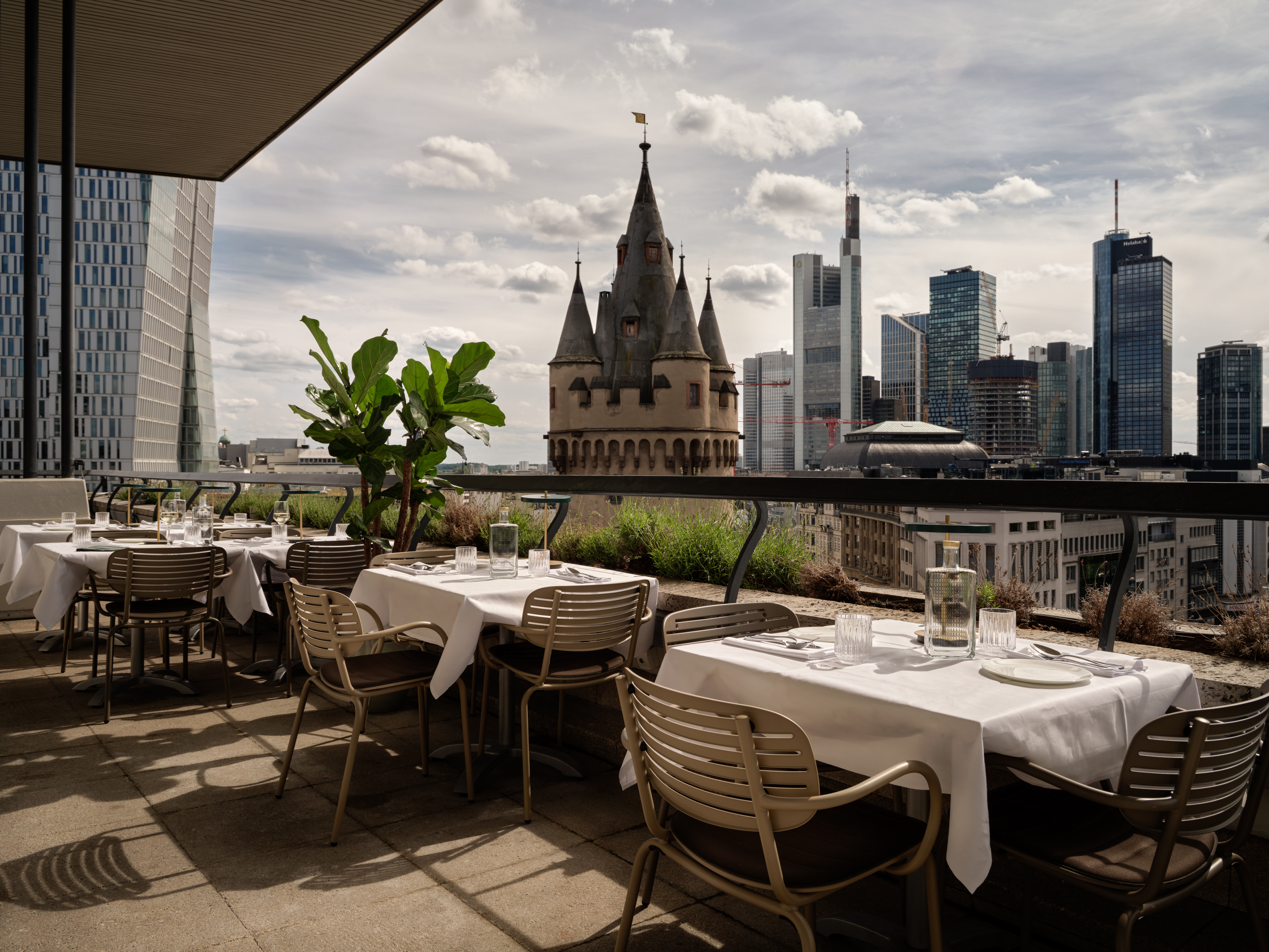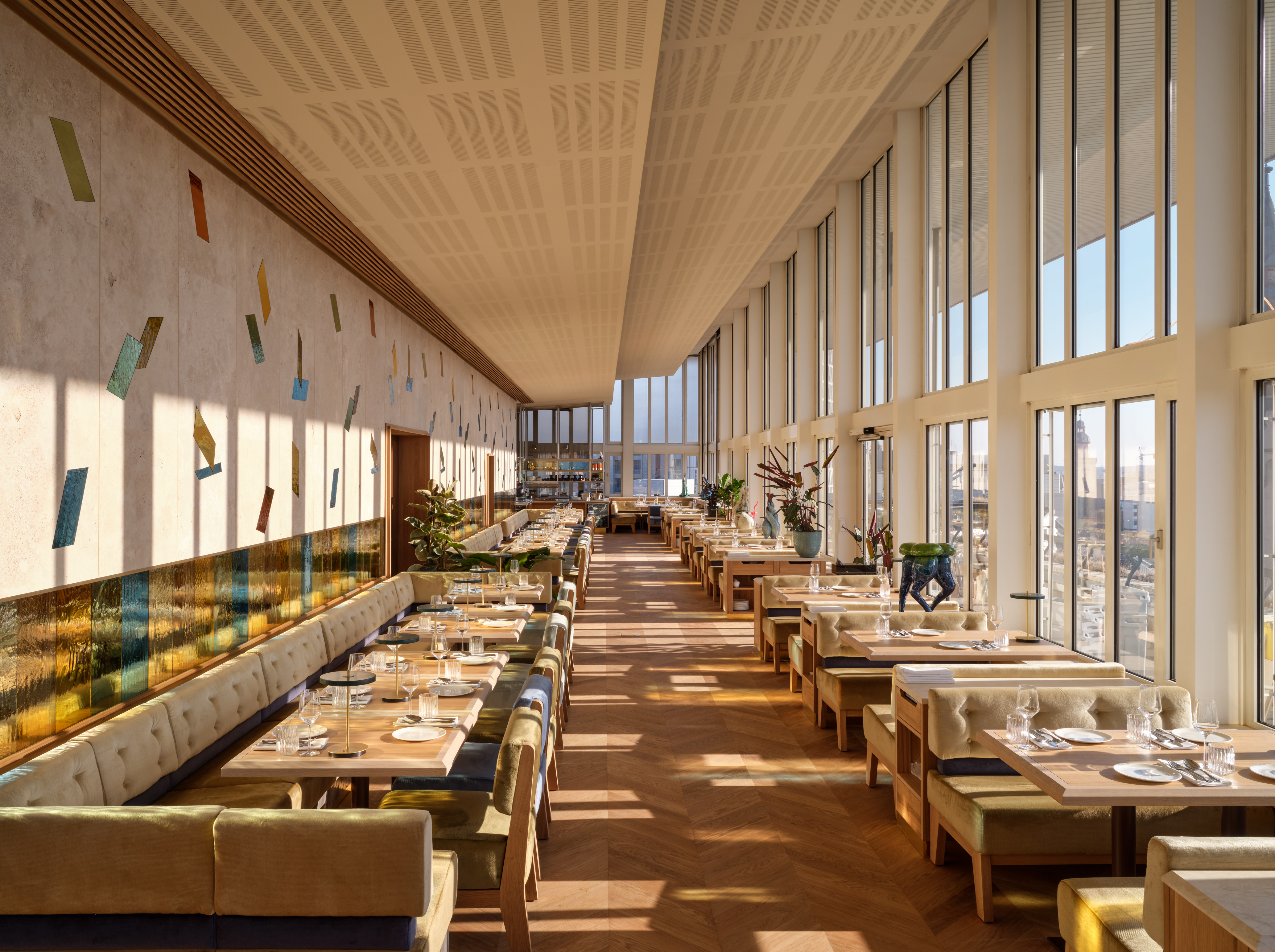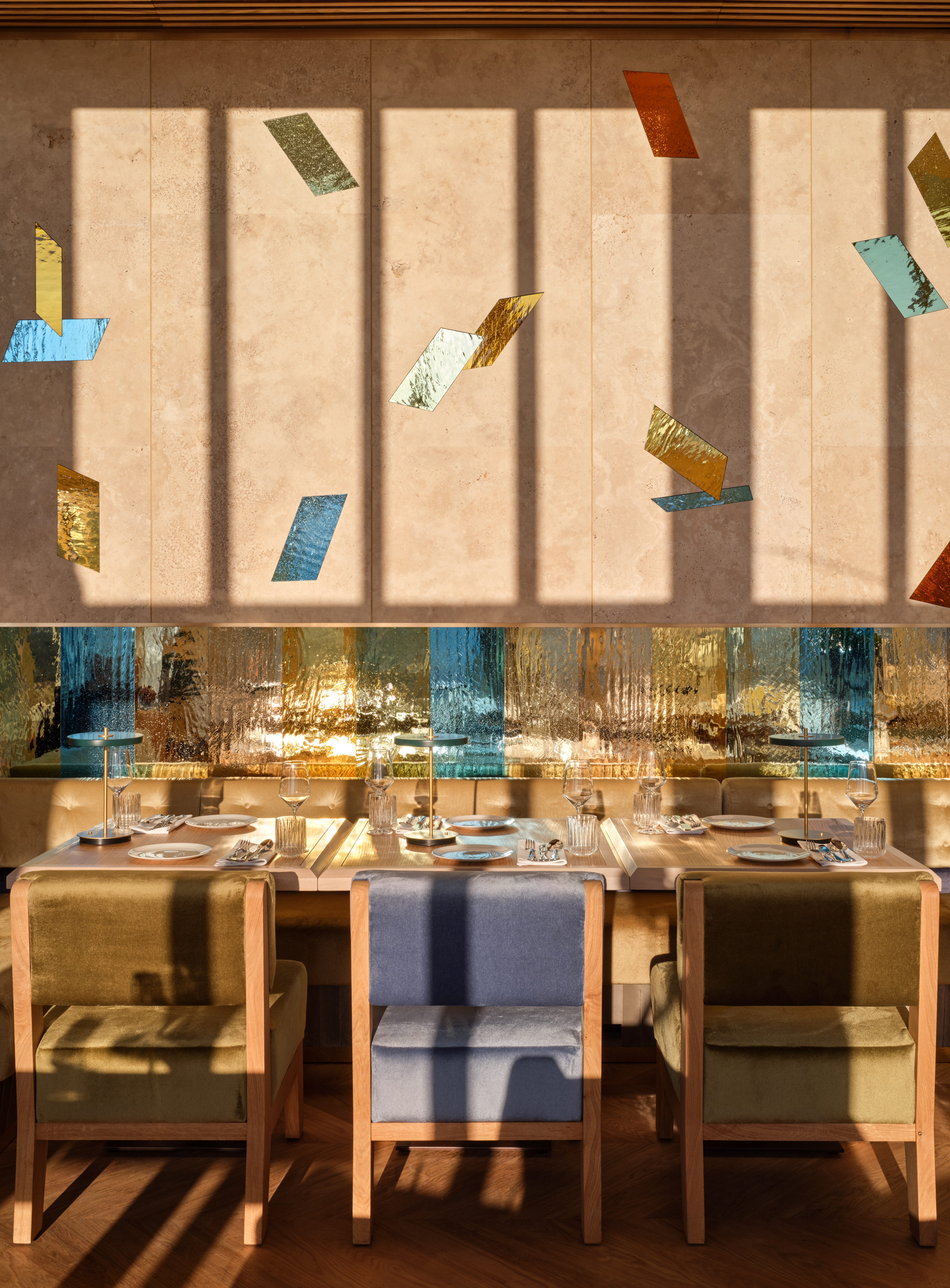 5. GAIA
Recently opened in 2022 Gaia has quickly become locals' favourite. It is the more stylish and bohemian of the group.
Even its location its cool. So you will find it on the parking garage of the Frankfurt's Stock Exchange. But instead of finance, expect to find here palm trees, pinacoladas and some tasty mediterranean food!
Lastly, its 360° views of Frankfurt skyline are particularly good!
ADDRESS: Kaiserhofstraße 12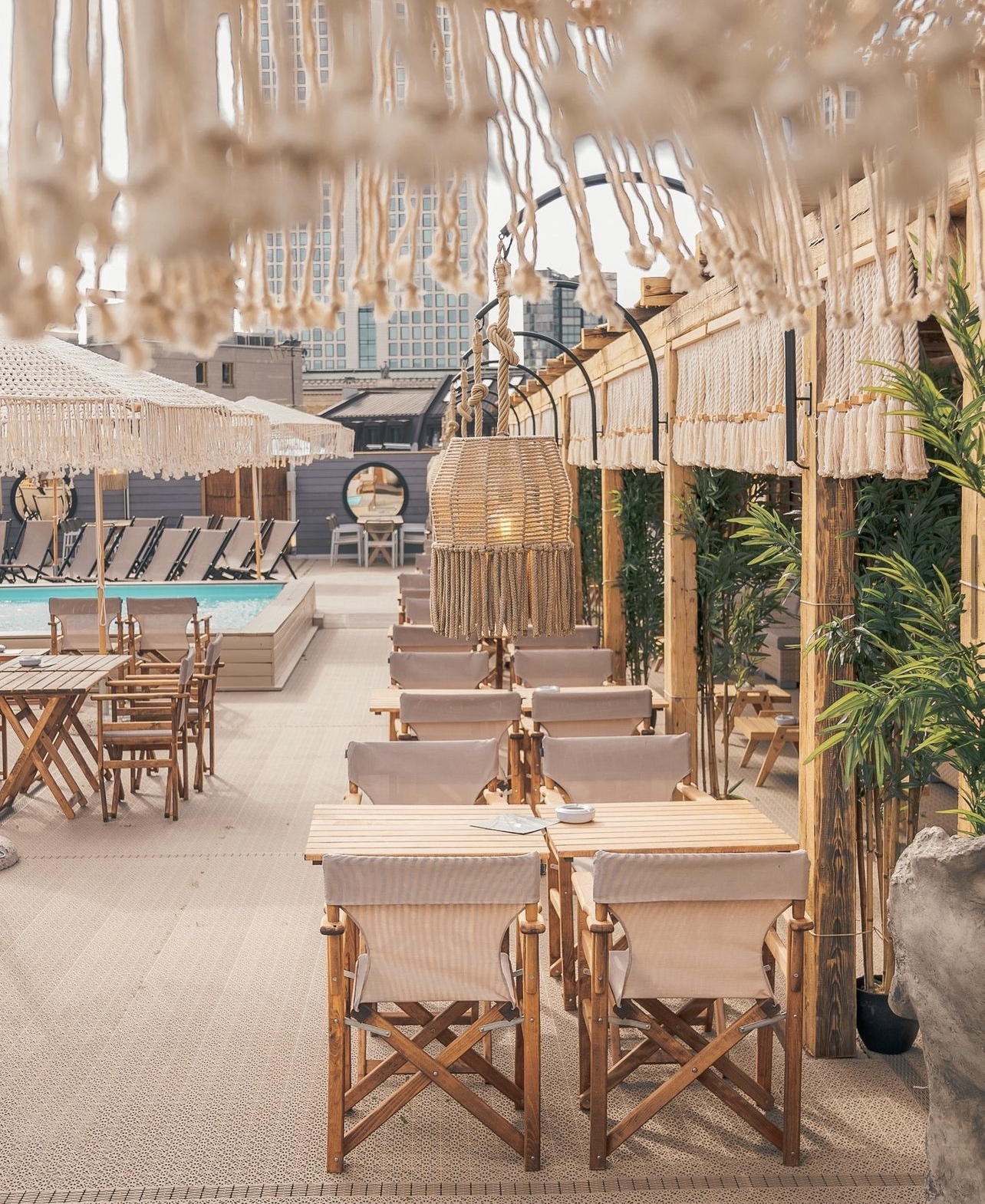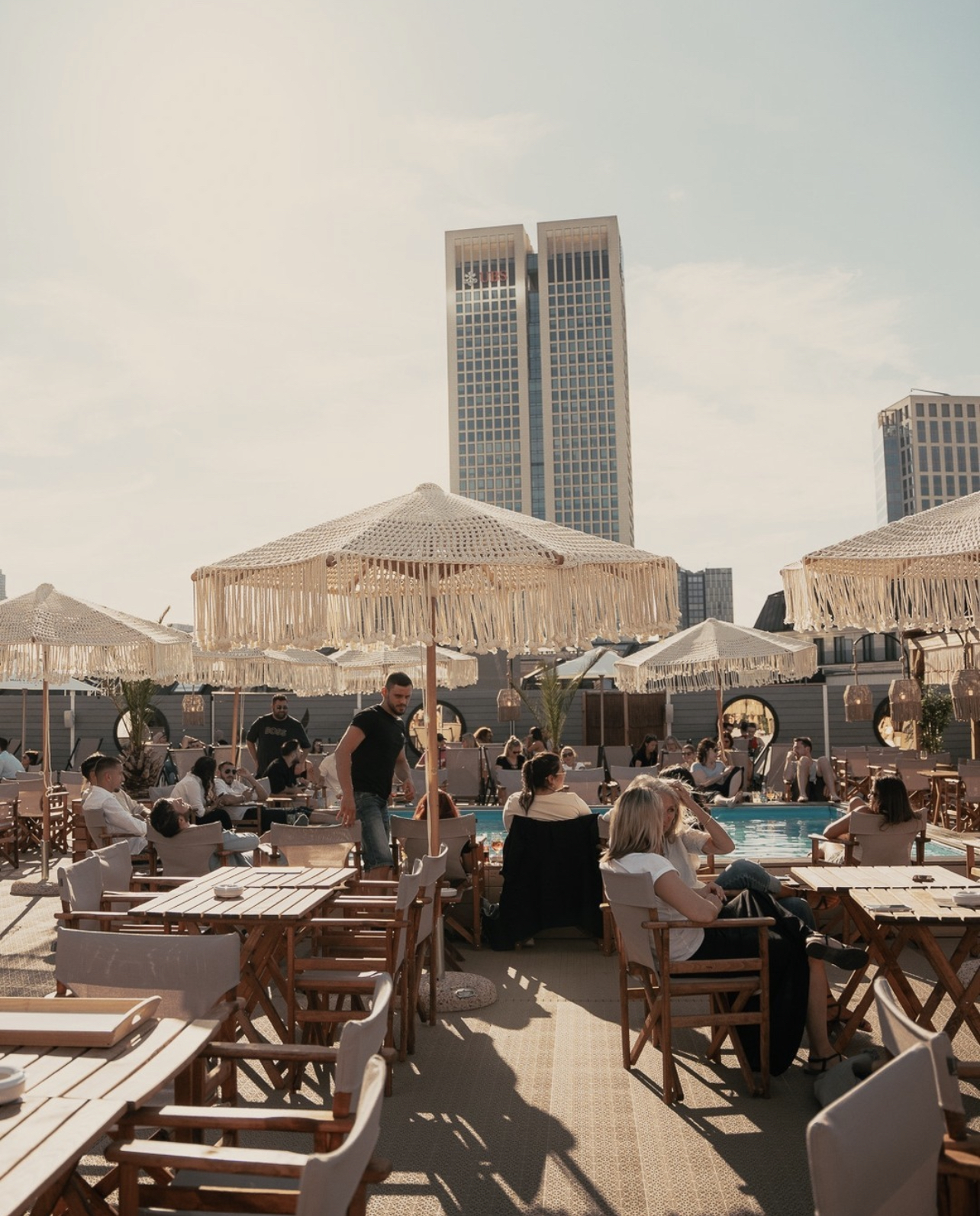 6. OOSTEN SKYLINE BAR
Head to Oosten Sky Bar in the East of Frankfurt if you enjoy a harbour and a more industrial feel.
Being located right by the river, it really is a great option for a sunset drink especially in the summer. Here you can enjoy a 270-degree perspective on the Frankfurt skyline, including on the new building of the European Central Bank.
Expect a rustic, wooden interior and down to earth, decent drinks! And the views really won't disappoint, you will feel like you watch Frankfurt go to sleep, supervising it from a far end!
ADDRESS: Mayfarthstraße 4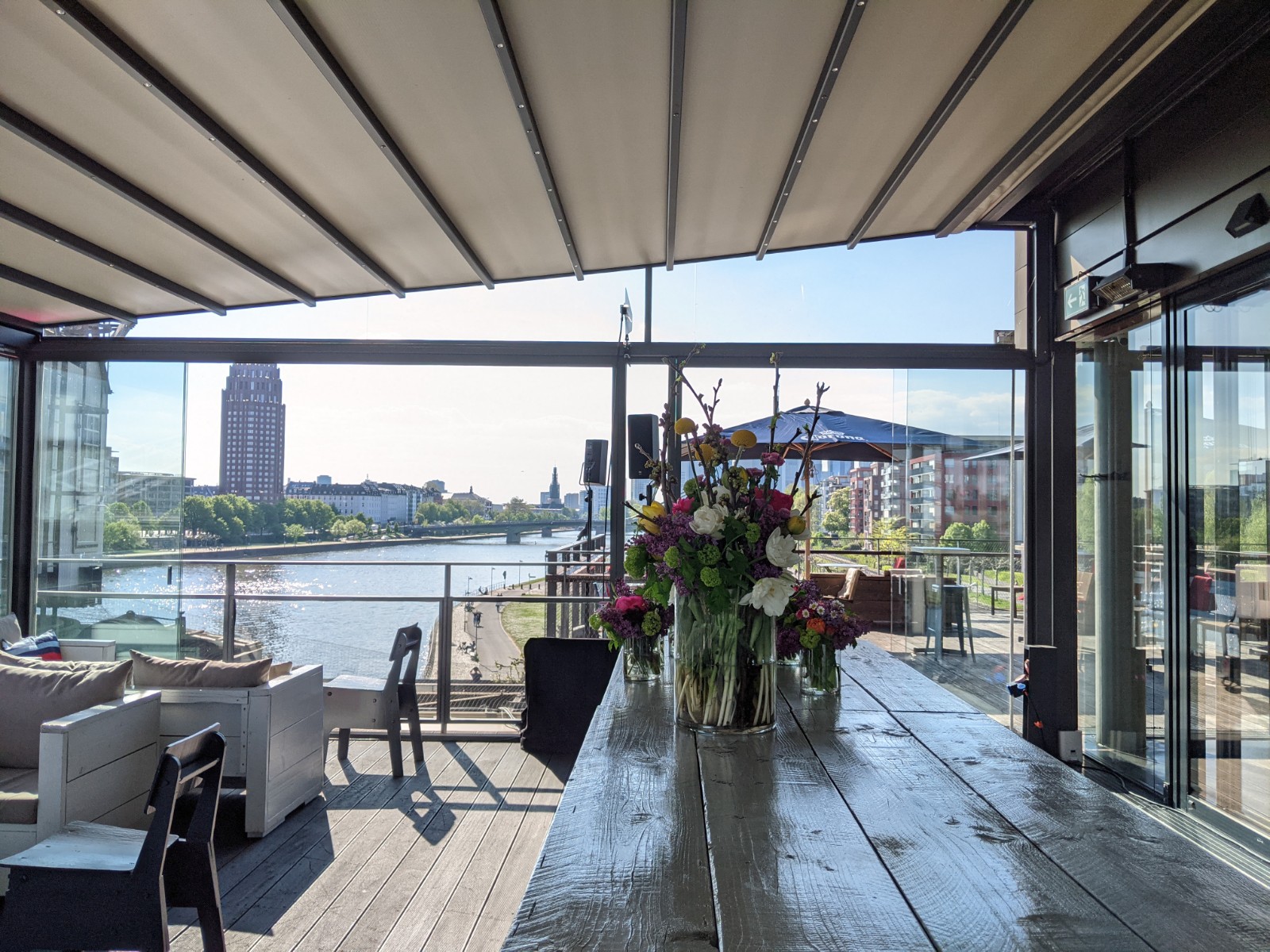 7. RUBY LOUISE
Ruby Louise is the rooftop bar of the boutique hotel Ruby Louise Hotel Frankfurt.
It is located in the heart of the city, just next to the Alte Oper ("The Old Opera House") and the famous Goethestrasse. Dress chic but cool.
You could pretty much spend the whole day here, starting with a breakfast and finishing with sundowner cocktails.
It's a perfect spot to either meet on an informal basis with some friends, or on a date.
ADDRESS: Neue Rothofstraße 3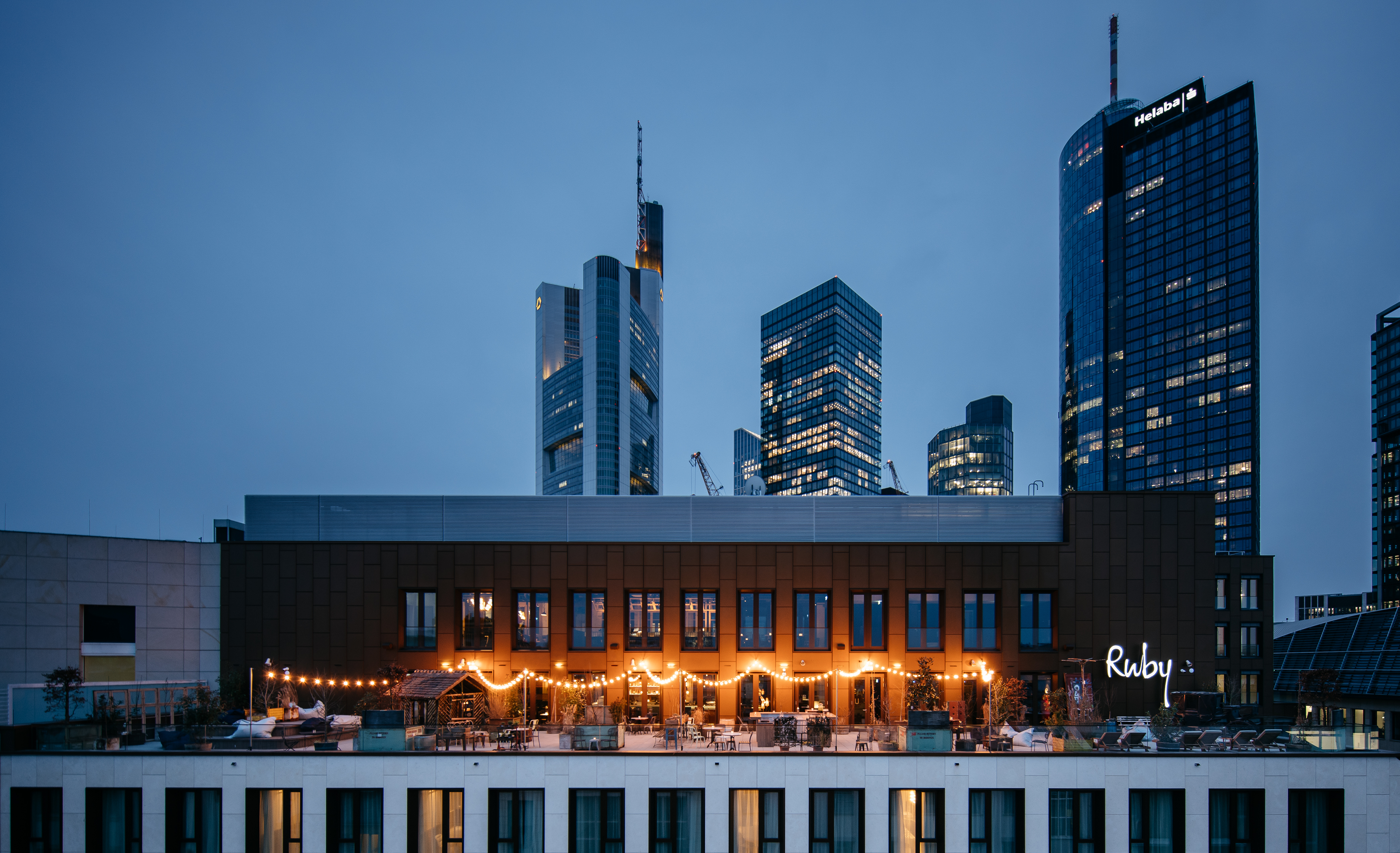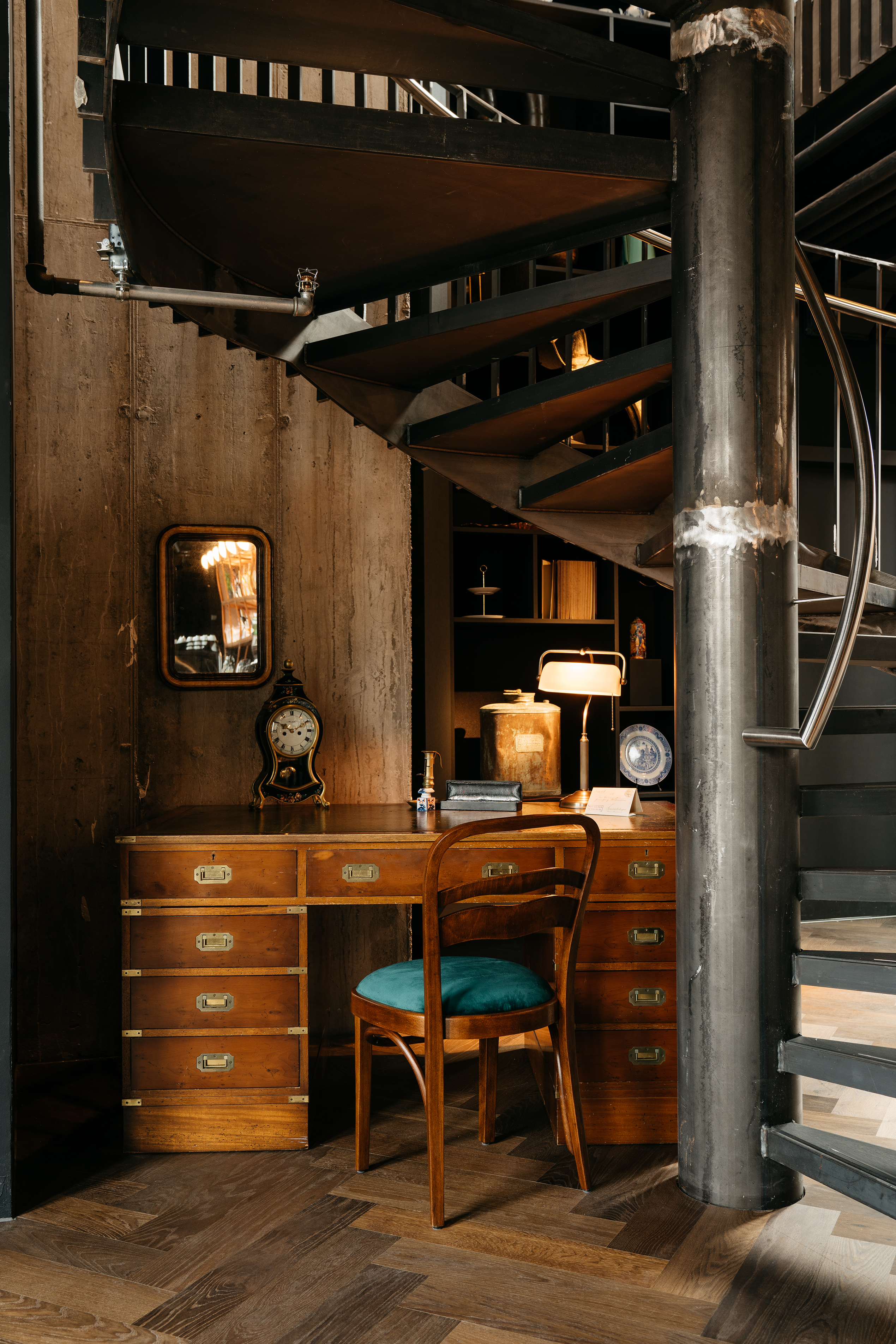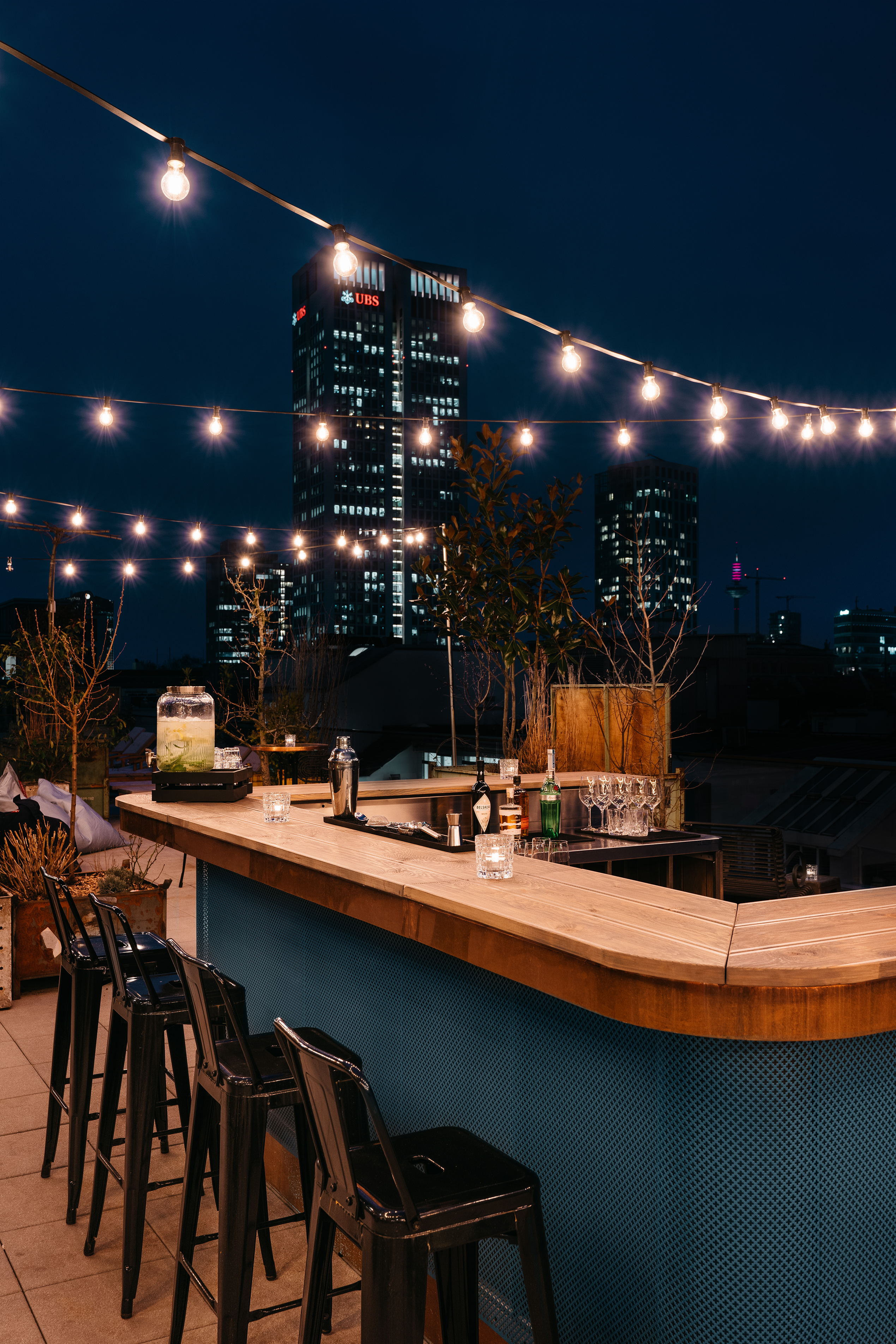 FINAL TIPS
To conclude – if you only had to choose just three rooftop restaurants and bars from above list in Frankfurt, then I would recommend the following:
Firstly – NFT Bar to experience Germany's highest bar
Secondly – Gaia because of how quickly it has become locals' favourite
Finally – Occhio D'Oro to experience something a bit more elegant and sophisticated
Enjoy!
In case you are searching for more inspiration for traveling, then perhaps some of my other Guides will be useful:
Or in case you are interested in something else than Germany: