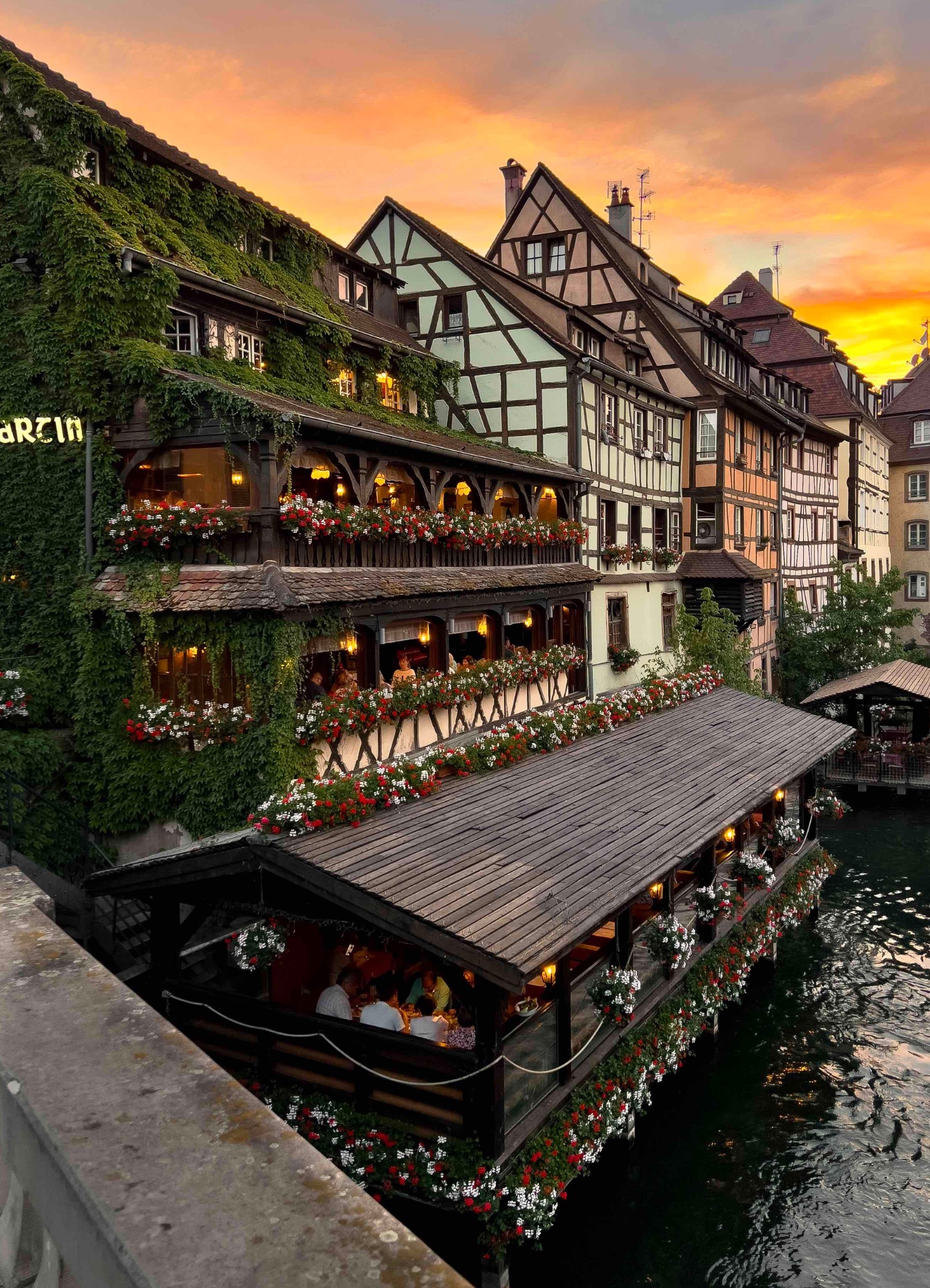 STRASBOURG – 10 TOP THINGS TO DO & SEE
Are you planning on visiting Strasbourg during your trip to France and you want to make sure you cover all the top things to do & see? Then indeed you have come to the right place!
In order to help you plan your visit, I have interviewed the local expert Adrien Anne (@travelwithadrien), a true Strasbourg lover who knows the best spots all over the city to get you covered!
Together we prepared this Guide to the 10 Top things to do & see in Strasbourg, including tips and recommendations only locals know about!
Let's not waste any more time and start planning!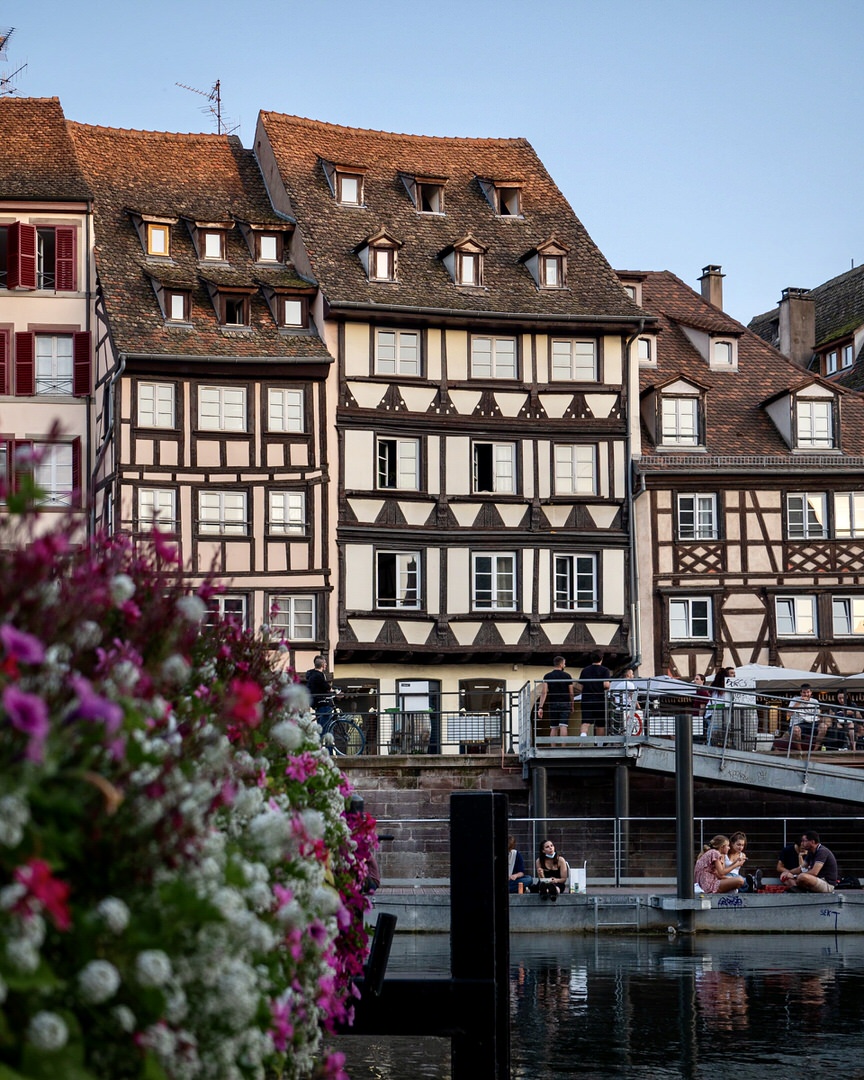 INTRO
Strasbourg is a city taken from a children's fairytale. You will not believe that it is indeed a real, living city! But it is!
Strasbourg is in one of the most picturesque areas of France, the so-called Alsace region which is famous not only for its vineyards but also for the most beautiful Christmas markets in the world. It lies directly on the border between France and Germany.
You will see here a perfect mix of what is great about Germany like the pastel timber houses and good organisation, but you will also get to experience France and eat a great croissant and drink a decent glass of wine! A win-win!
So should you go and visit? Absolutely yes!
Here are some tips to make your trip as smooth as possible!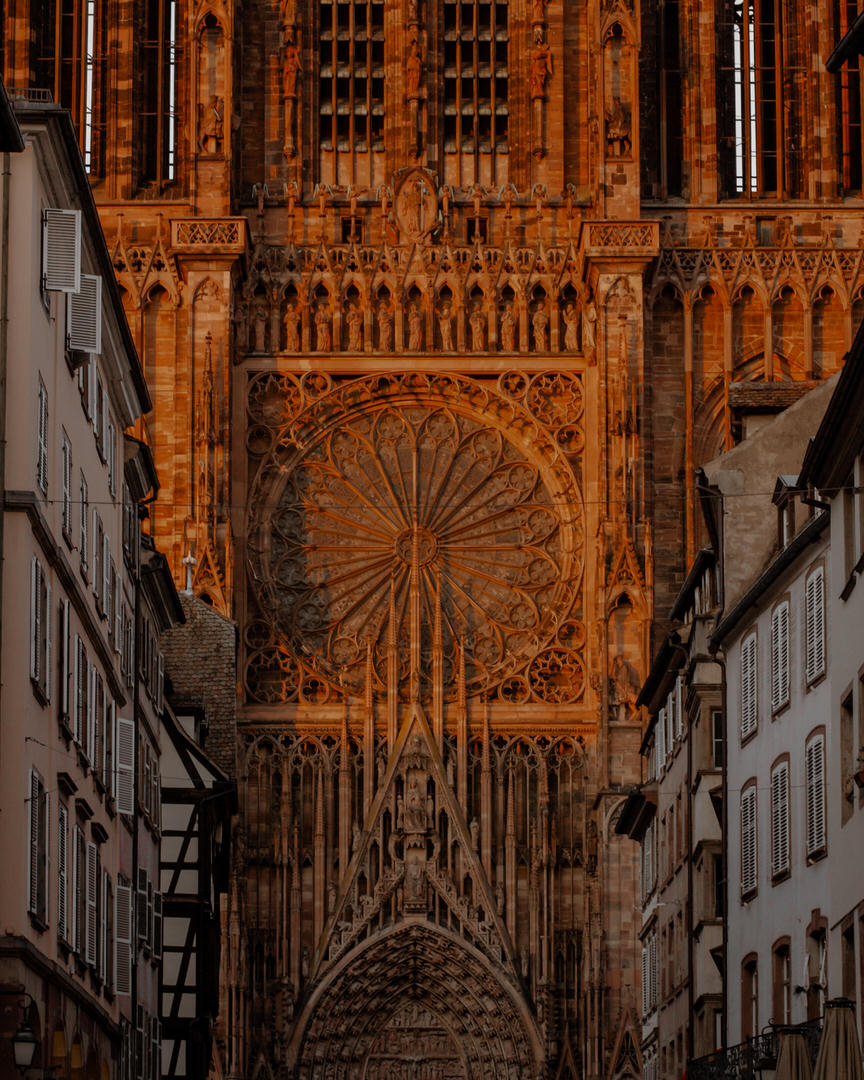 WHERE IS IT & HOW TO GET THERE
Strasbourg is in the North-East of France. It has its own airport but you don't get many direct flights. An easier option may be to fly to Basel (Switzerland), Paris (France), or Frankfurt (Germany) and then hop on the train!
WHEN TO GO
It's a tricky question because Strasbourg is different in each season. We would argue that Strasbourg is at its most beautiful during spring (blooming trees and flowers) and autumn (the falling leaves). That said most of the tourists come at the end of the year during the Christmas market because Strasbourg is Europe's capital of Christmas and it really becomes a living fairytale!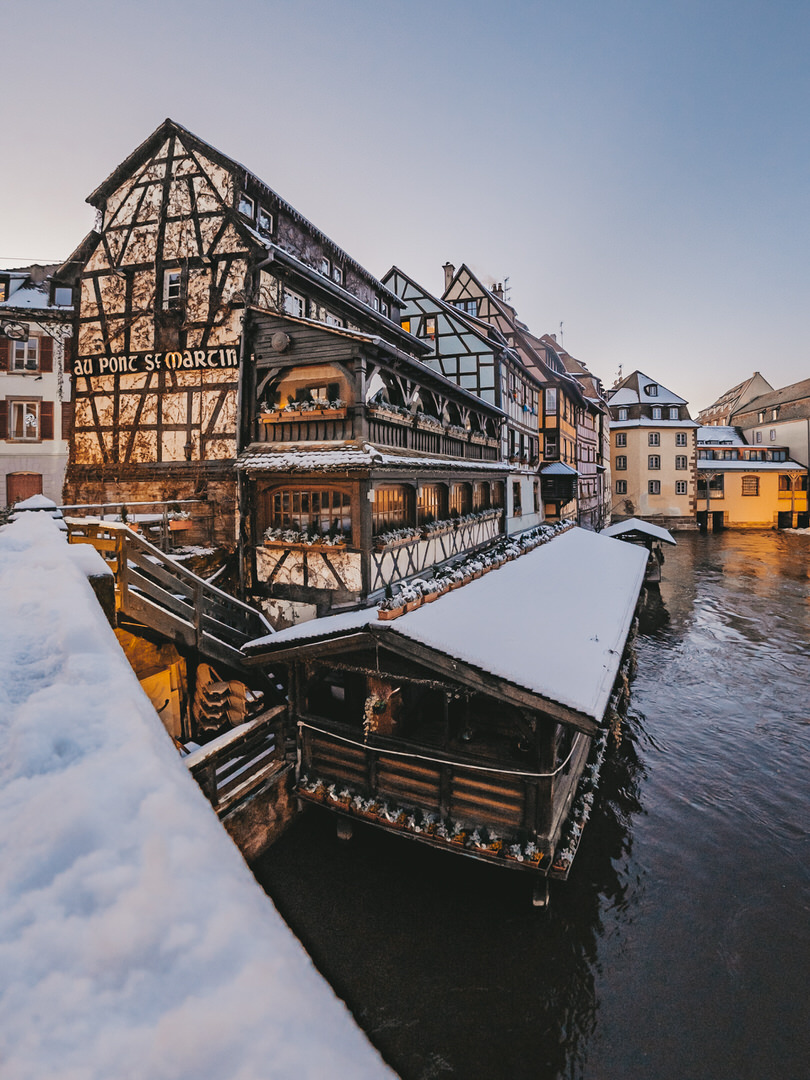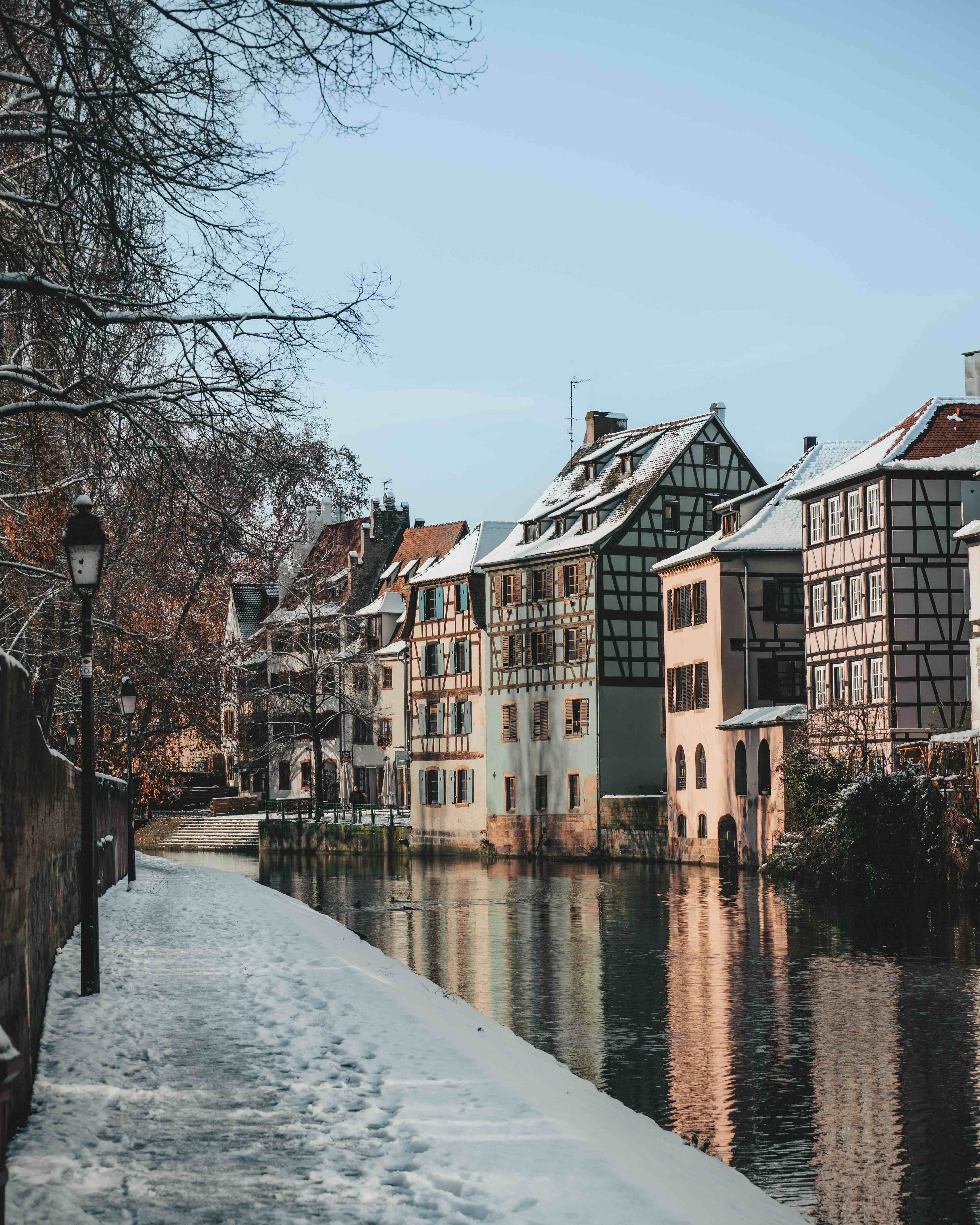 Do you want to find out more about visiting Strasbourg during Christmas? 
Check out my Guide to visiting Strasbourg during its Christmas market!
HOW MANY DAYS YOU NEED
We would recommend spending at least 2 full days and one night visiting Strasbourg.
That said, you could see the best Strasbourg has to offer even in a day, but then really stick to our list of Top 10 Things to do and see in Strasbourg to make sure you don't miss anything!
If you can make sure to explore the small villages and towns around. For example, go on a half-day trip to Colmar, or Keysersberg which are less than an hour away! But then you really should add at least another night in Strasbourg!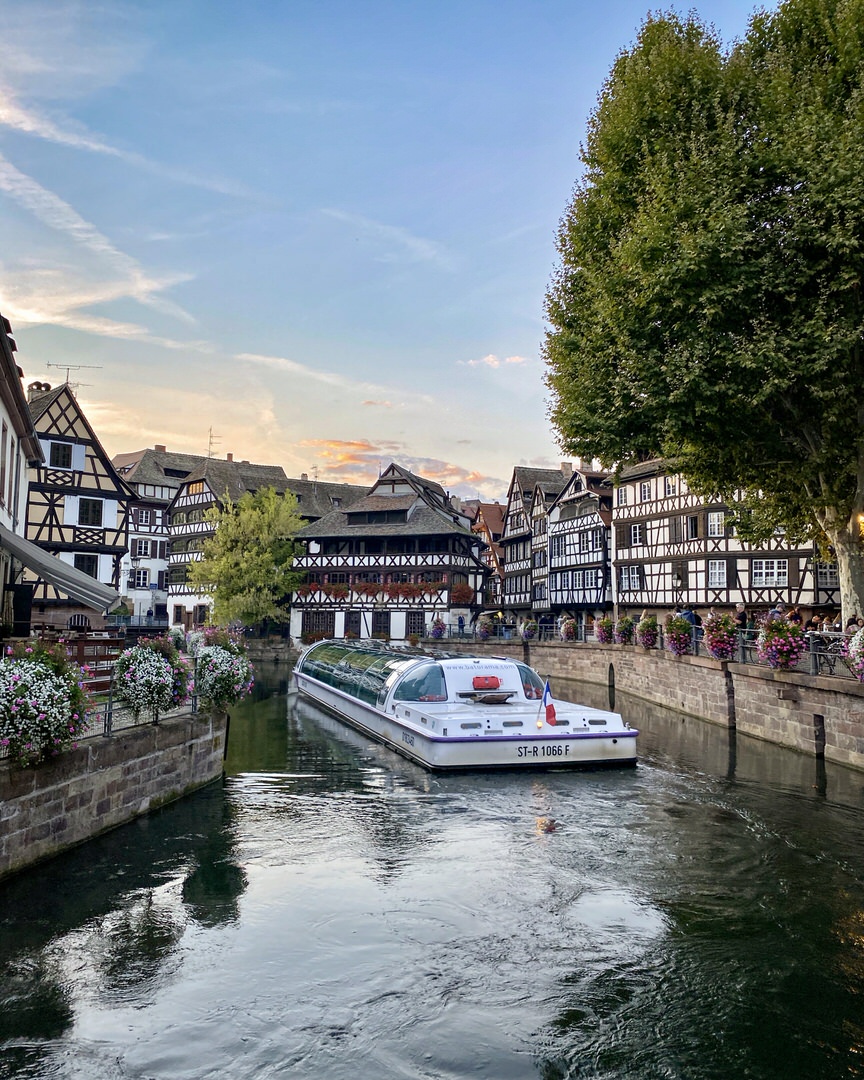 10 MUST-SEE PLACES IN STRASBOURG
NOTRE DAME CATHEDRAL
LA PETITE FRANCE
RUE DU MAROQUIN
ANCIENNE DOUANE
SAINT-PAUL CHURCH
BAINS MUNICIPAUX DE STRASBOURG
PALAIS ROHAN
SAINT-PIERRE LE JEUNE
PLACE DE LA REPUBLIQUE
PASSAGE VAUBAN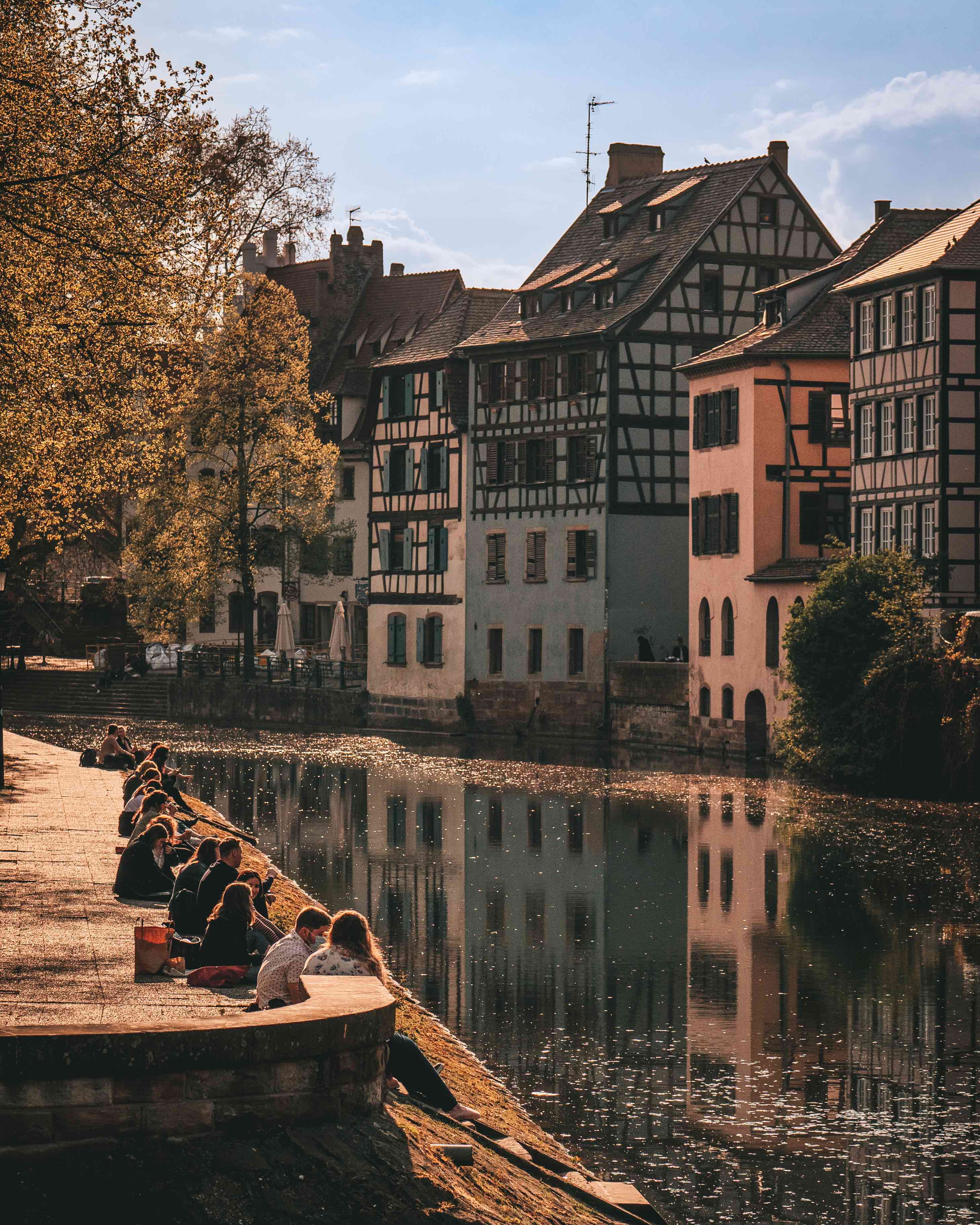 1. NOTRE DAME CATHEDRAL
Until the end of the nineteenth century Strasbourg Cathedral was the world's tallest building! Today it's the sixth-tallest church in the world and the highest still-standing building created entirely in the Middle Ages. It is a marvel!
You can visit the interior of the cathedral for free but to go to the top you need to pay a fee ( 8 EUR for an adult and 5 EUR for a child). This is where you get a great view of the city, so the fee is worth it! Every day except Sunday you can admire the Astronomical clock in action at 12:30 (also for a little fee).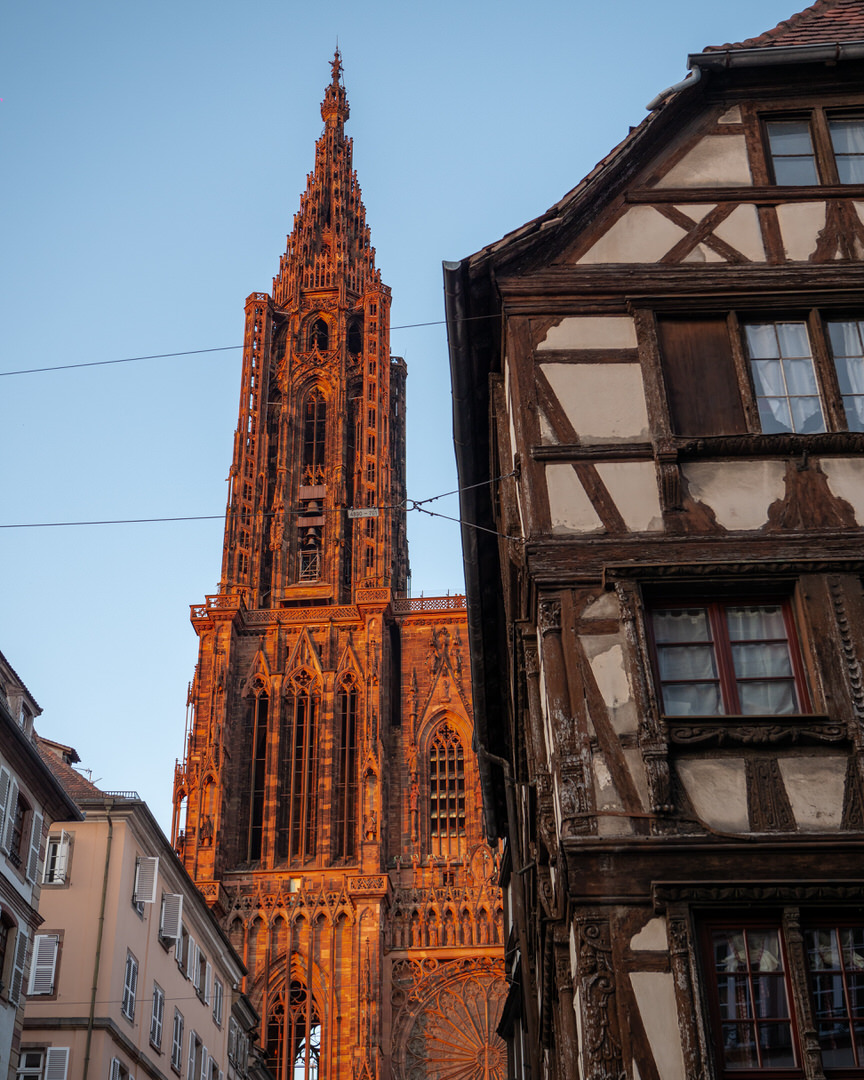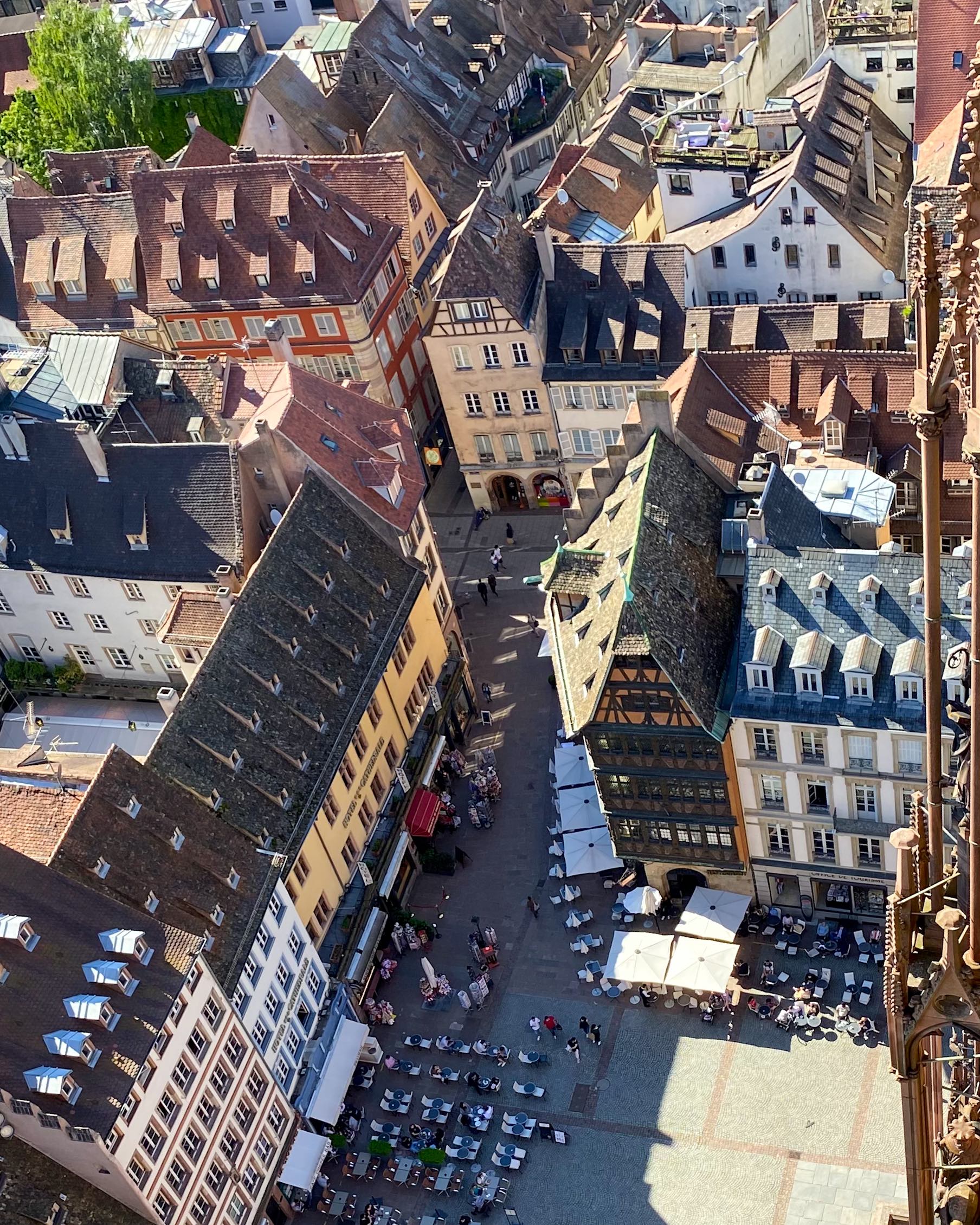 2. LA PETITE FRANCE
La Petite France with Le Pont Saint-Martin is one of the most iconic views of Strasbourg, the postal card type of photo. It is a pedestrian zone where you will get pleasantly lost in its cobblestone streets winding around the canals and beautiful half-timbered houses.
Go to Place Benjamin Zix where you can have lunch or dinner and soak in the fairy-tale-like atmosphere.
Oh, also make sure to visit Maison Des Ponts Couverts. This iconic house is full of wisteria during a few days in spring and becomes the most photogenic spot in Strasbourg!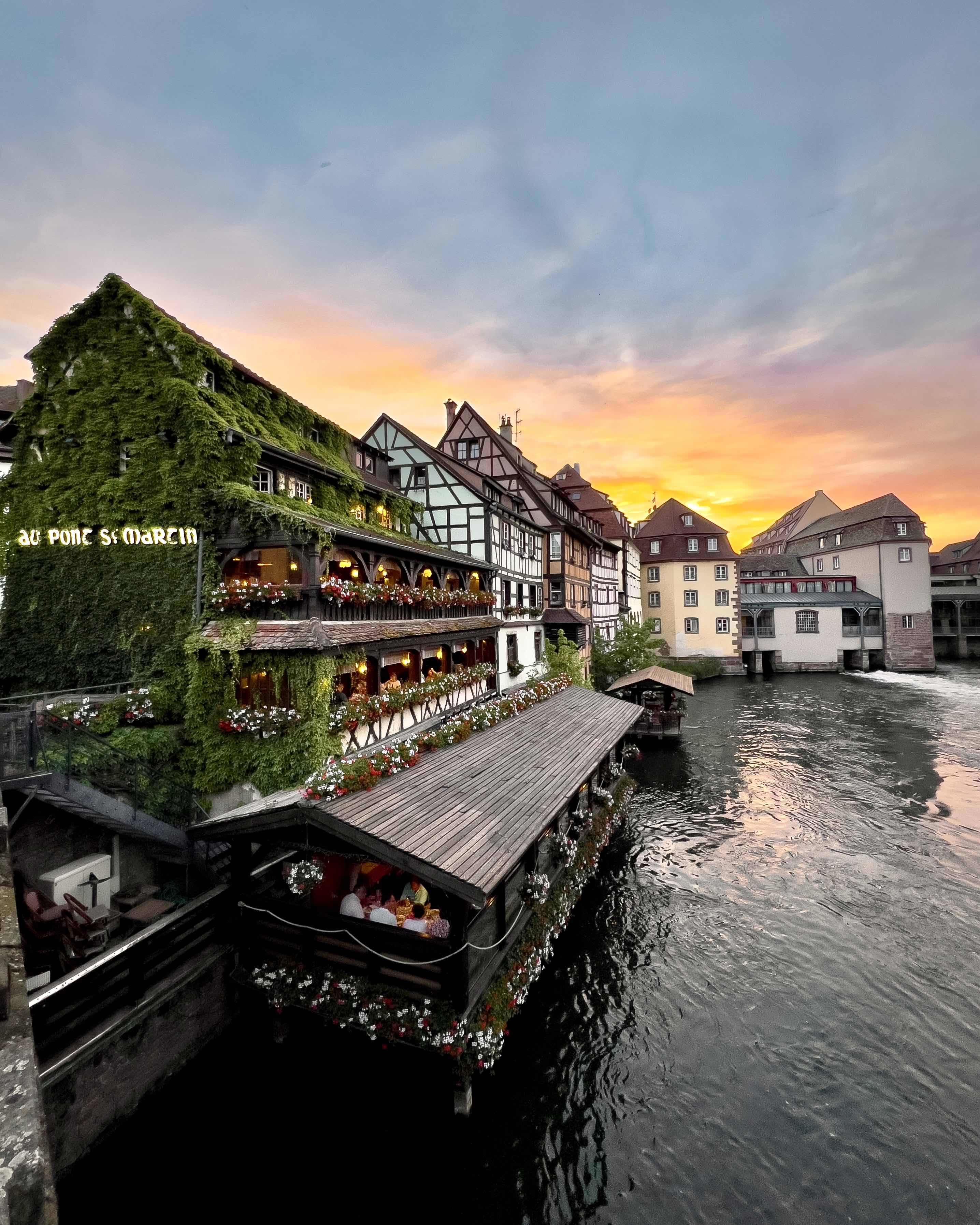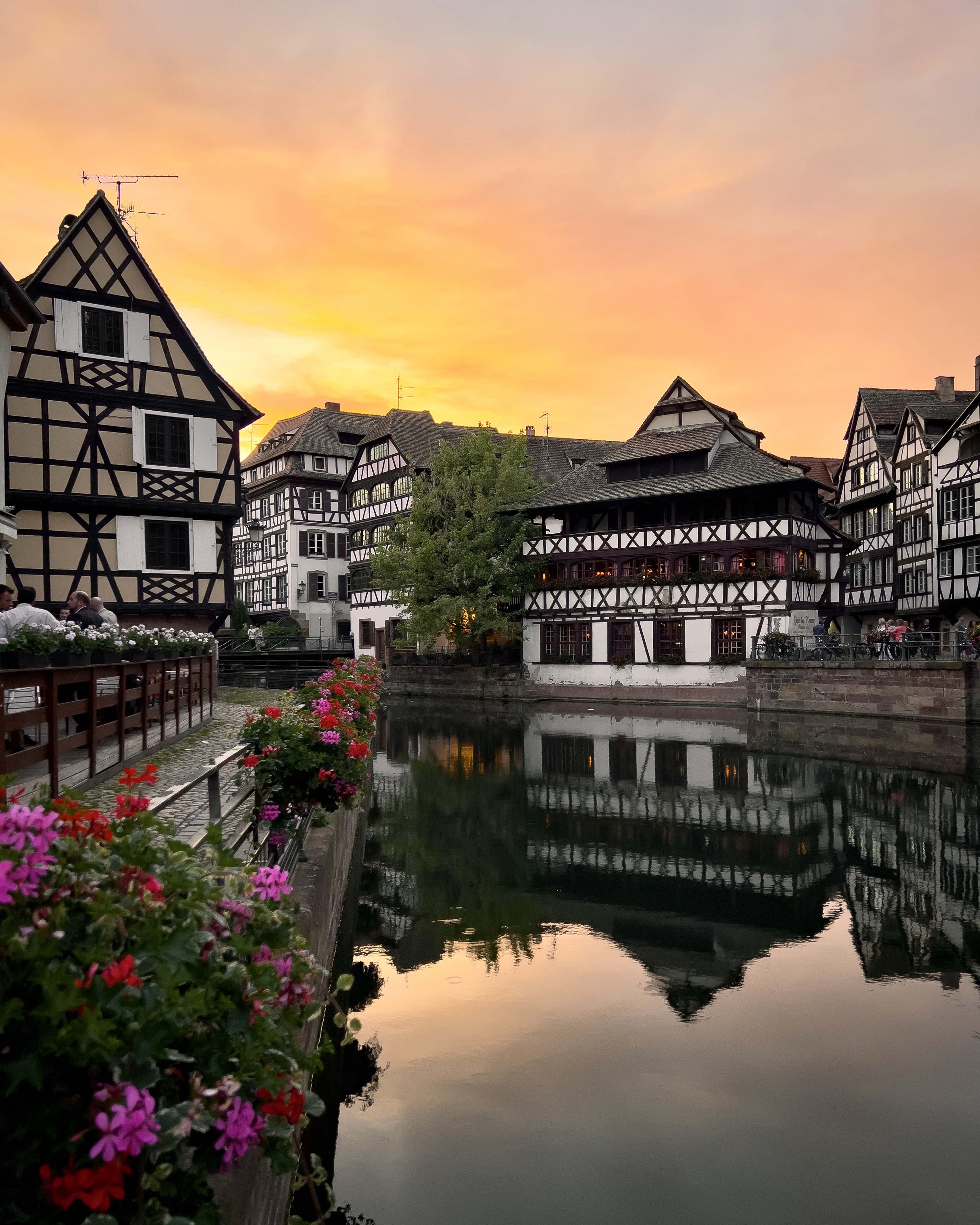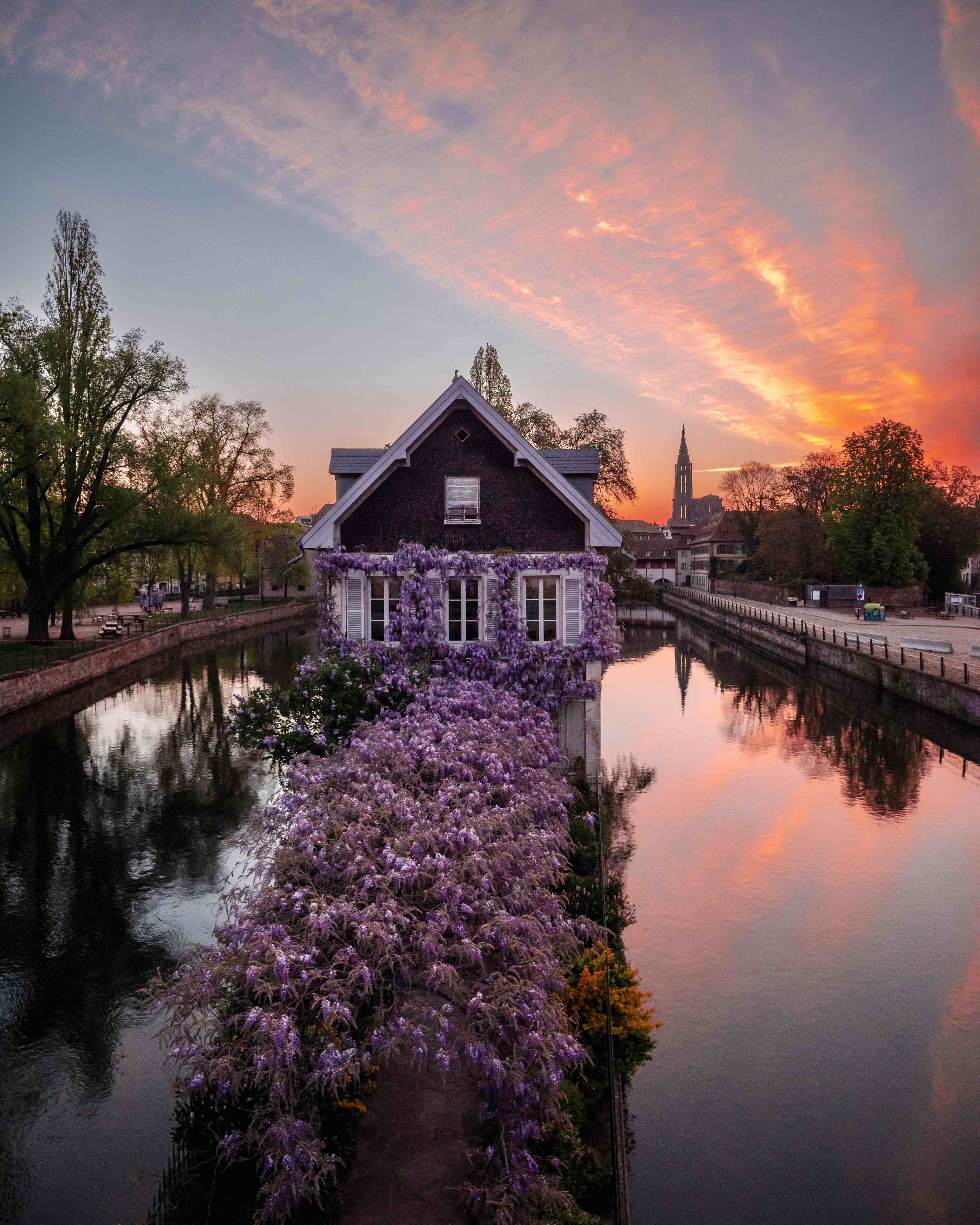 3. RUE DU MAROQUIN
Another highlight of our list of Top 10 things to see & do in Strasbourg. Rue du Maroquin is the postcard street of Strasbourg, which is particularly famous for its incredible Christmas decorations. But don't worry it is also nice to explore it outside of the Christmas season and relax at many of its outdoor terraces. Check our joint post from here which reached almost 15 million views – it's definitely the Instagram hotspot!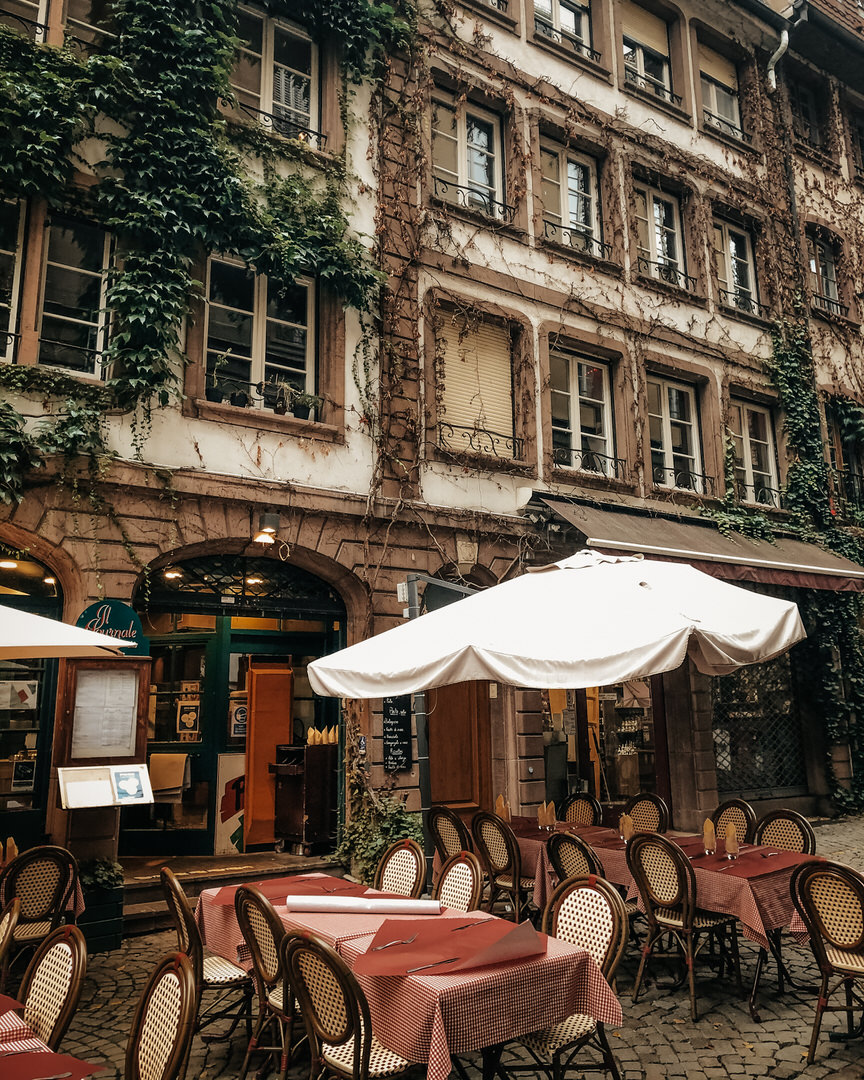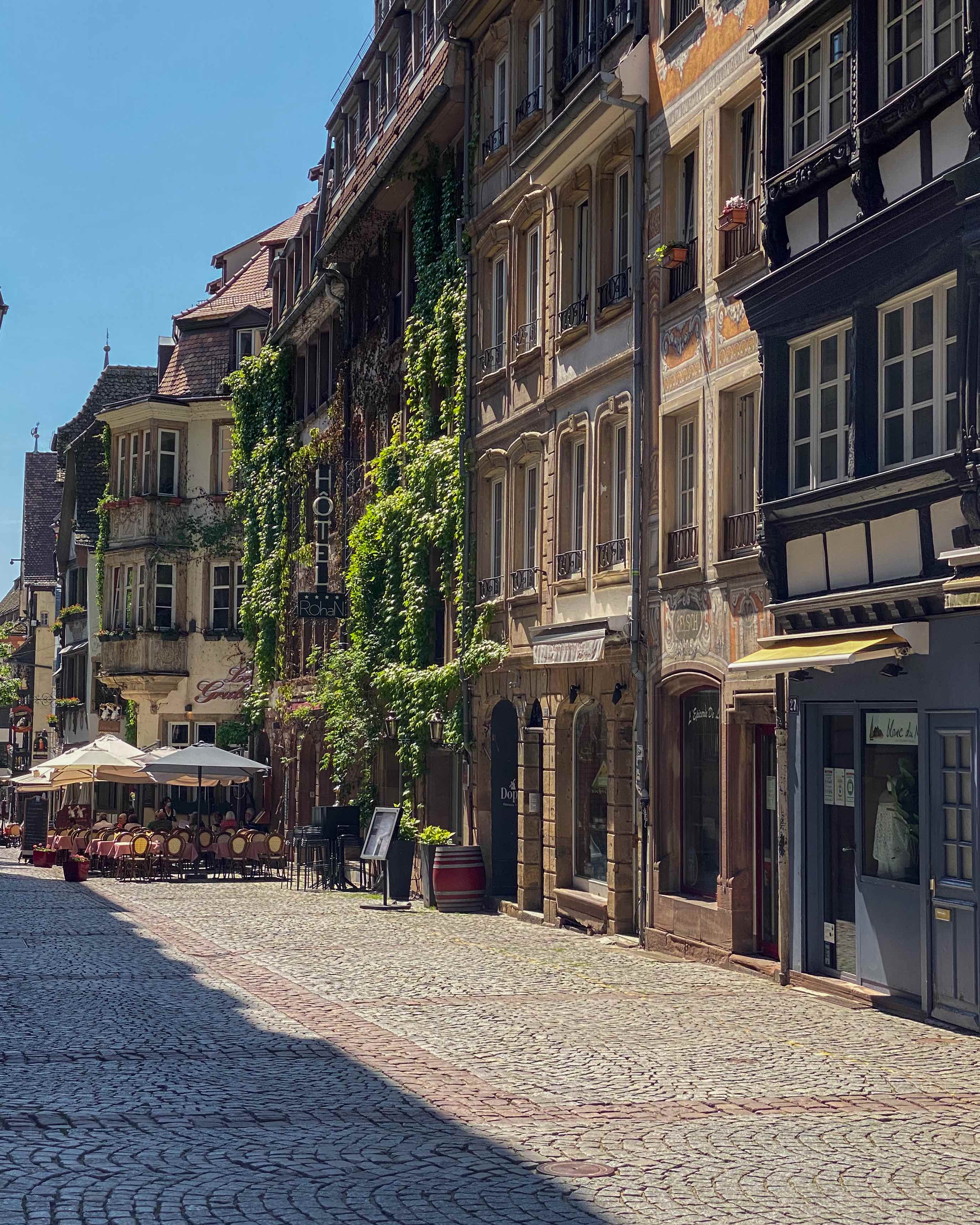 4. ANCIENNE DOUANE
Ancienne Douane is a 14th-century building right in the city of the historic center of Strasbourg. But you should come here for the view from the bridge. It is without a doubt one of the best ones in the city at sunset. It is also a great place to spot Strasbourg locals relaxing after work. People bring drinks and food and enjoy the evening hours here.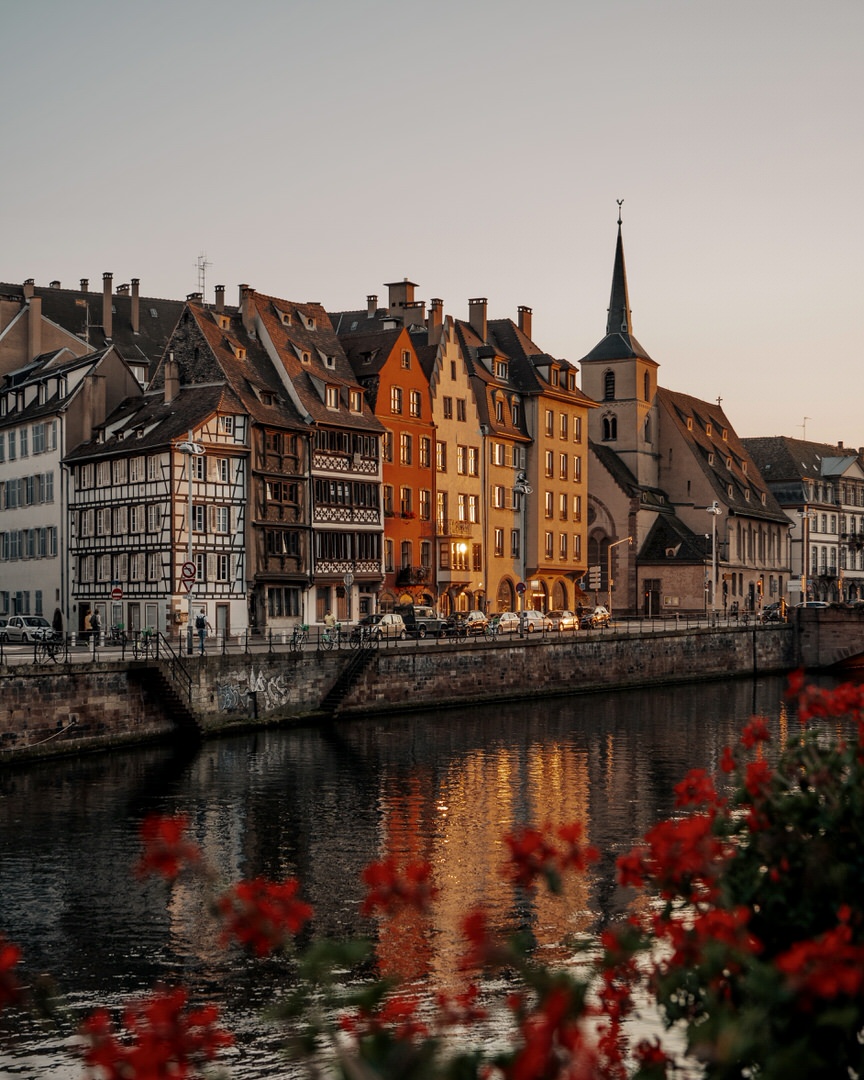 5. SAINT-PAUL CHURCH
Watch out – at first sight, many tourists think that it's the Strasbourg main cathedral! But unlike the Cathedral, this stunning Church is facing the water (the river called l'Ill). You might pass in front of it if you take the tram (Gallia stop).
If you want to see more than just the impressive outdoor, you can book a guided visit in advance or experience it on Sunday at 10:30 am during the service.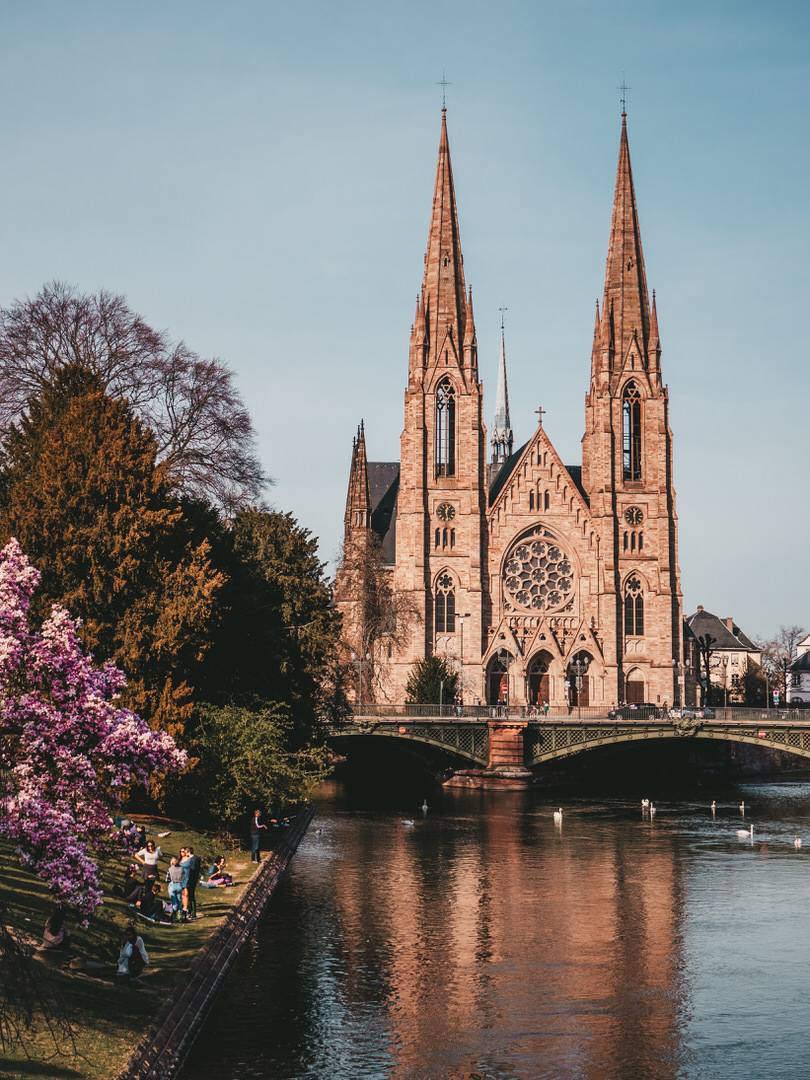 6. BAINS MUNICIPAUX DE STRASBOURG
It's spa time! With two indoor swimming pools and one outdoor one, sauna, hammam, and jacuzzi, this is the place to relax in Strasbourg!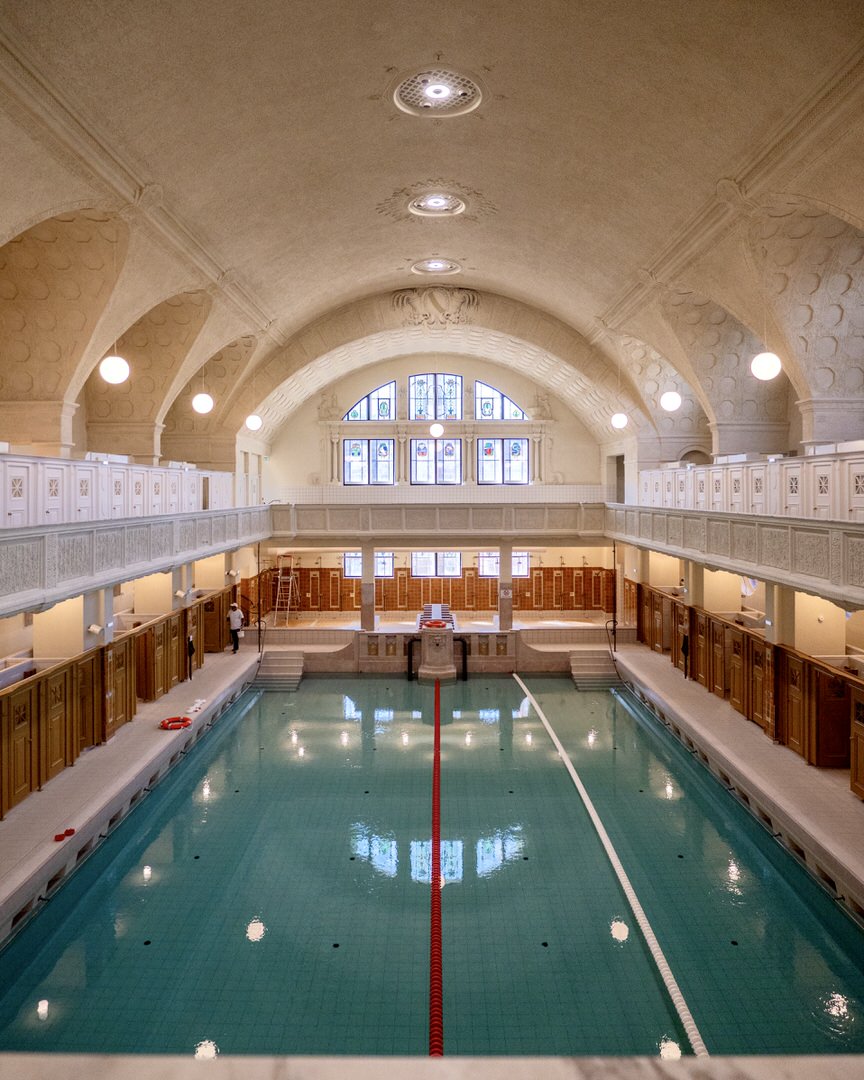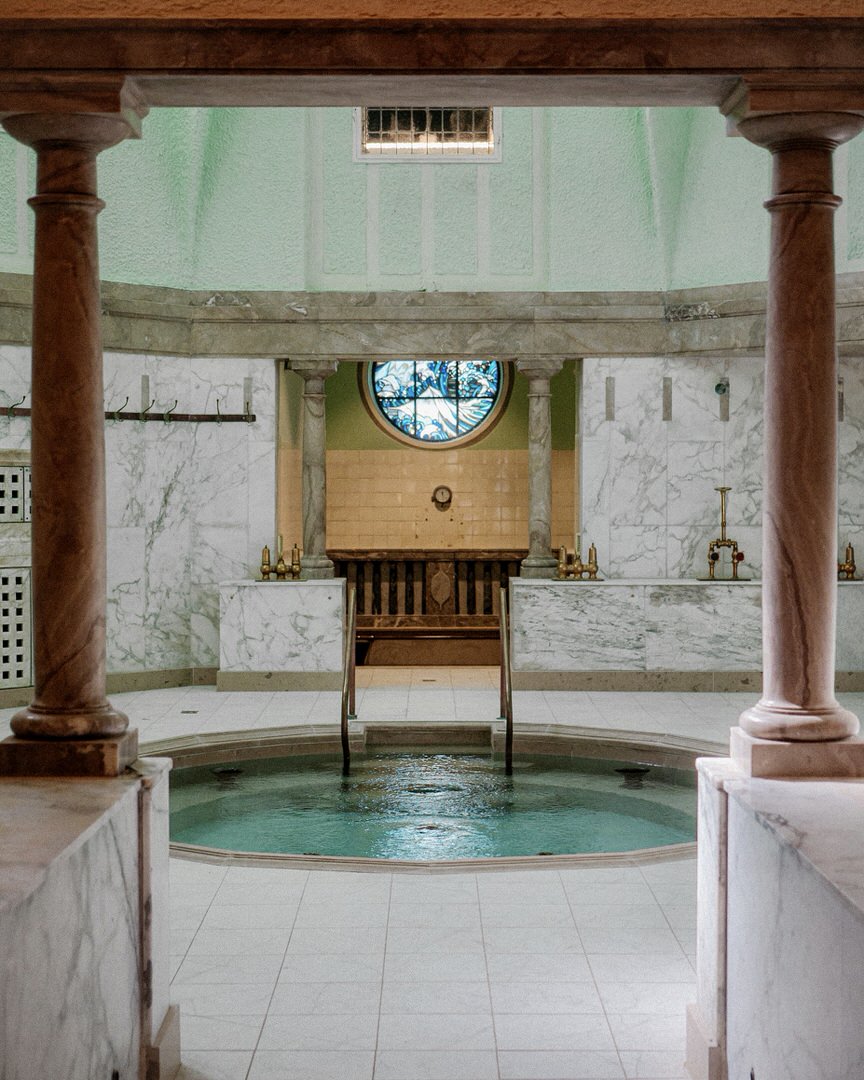 7. PALAIS ROHAN
Above all, pay a visit to Palais Rohan if you want to feel that Versailles vibes in Strasbourg. You can visit it for free on the first Sunday of the month otherwise you will have to pay the regular entrance price of the museum.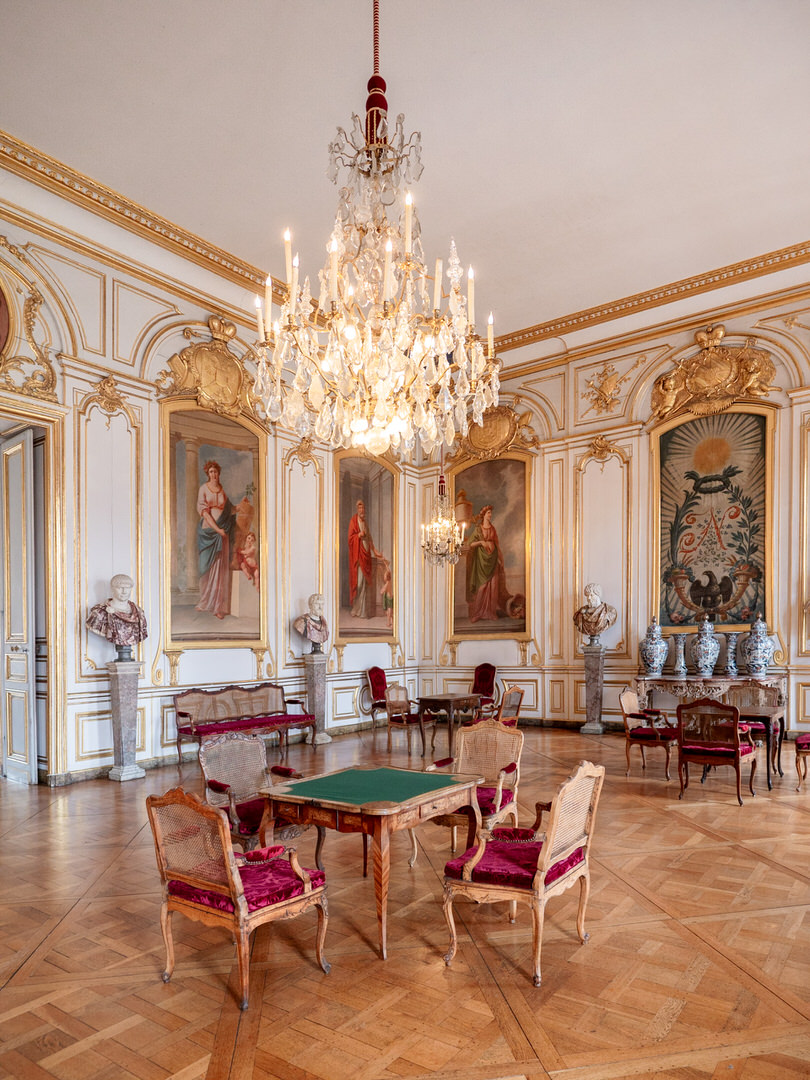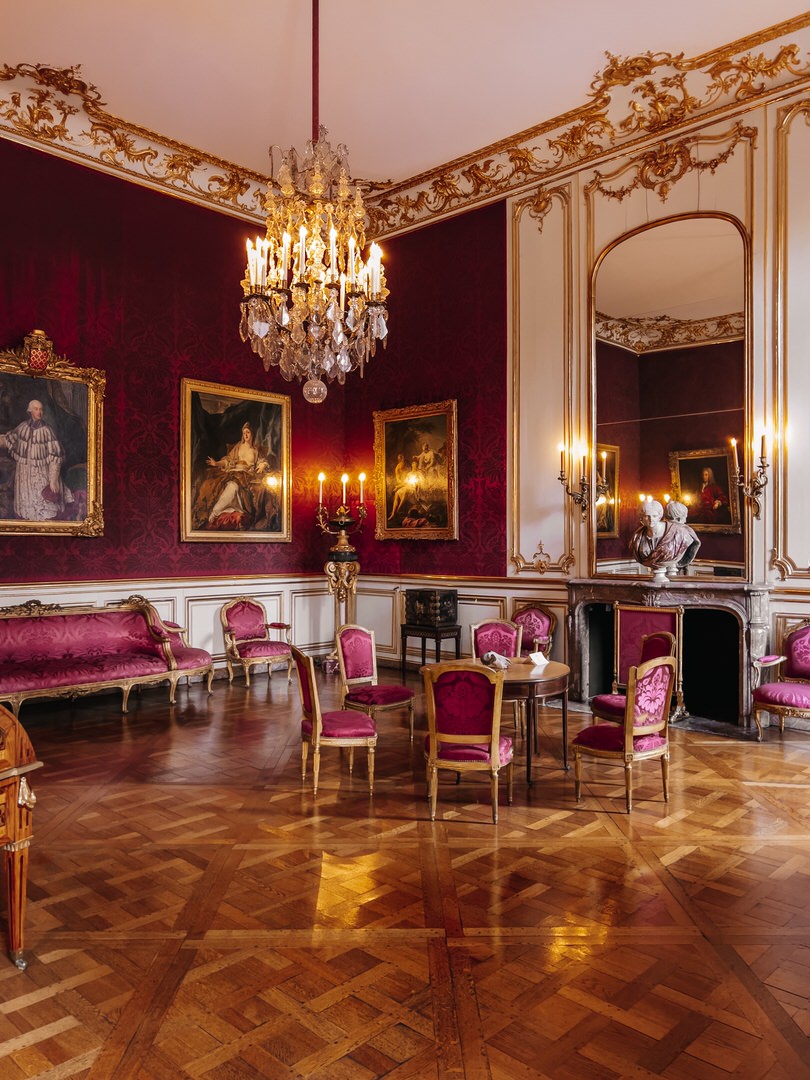 8. SAINT-PIERRE LE JEUNE
Saint-Pierre le Jeune Church (protestant) is definitely less known than the other spots in Strasbourg. This church is really beautiful inside and it's free to enter. Also, it's also a good spot to visit when the temperatures are really high outside because it's quite fresh inside. Secret tip for you! It also has a beautiful Romanesque cloister that you don't see at first sight, you need to open the doors to discover it!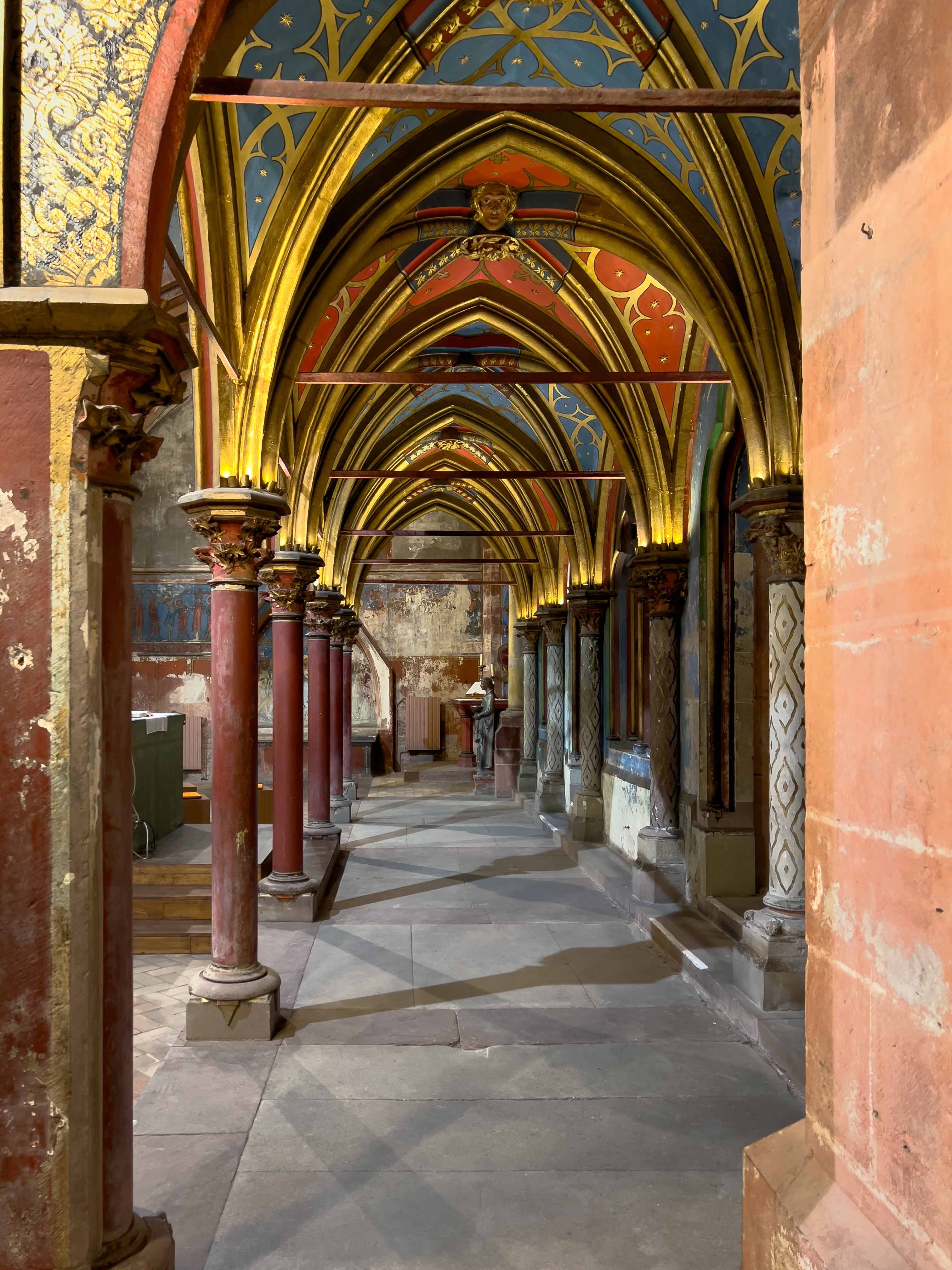 9. PLACE DE LA REPUBLIQUE
Place de la République is a square surrounded by old buildings. Above all, it becomes beautiful during the blooming period of spring. Secret tip – during the "Journée du Patrimoine", once a year in France people open the doors to places that are usually private, it's a wonderful opportunity to visit incredible places like the Palais Du Rhin!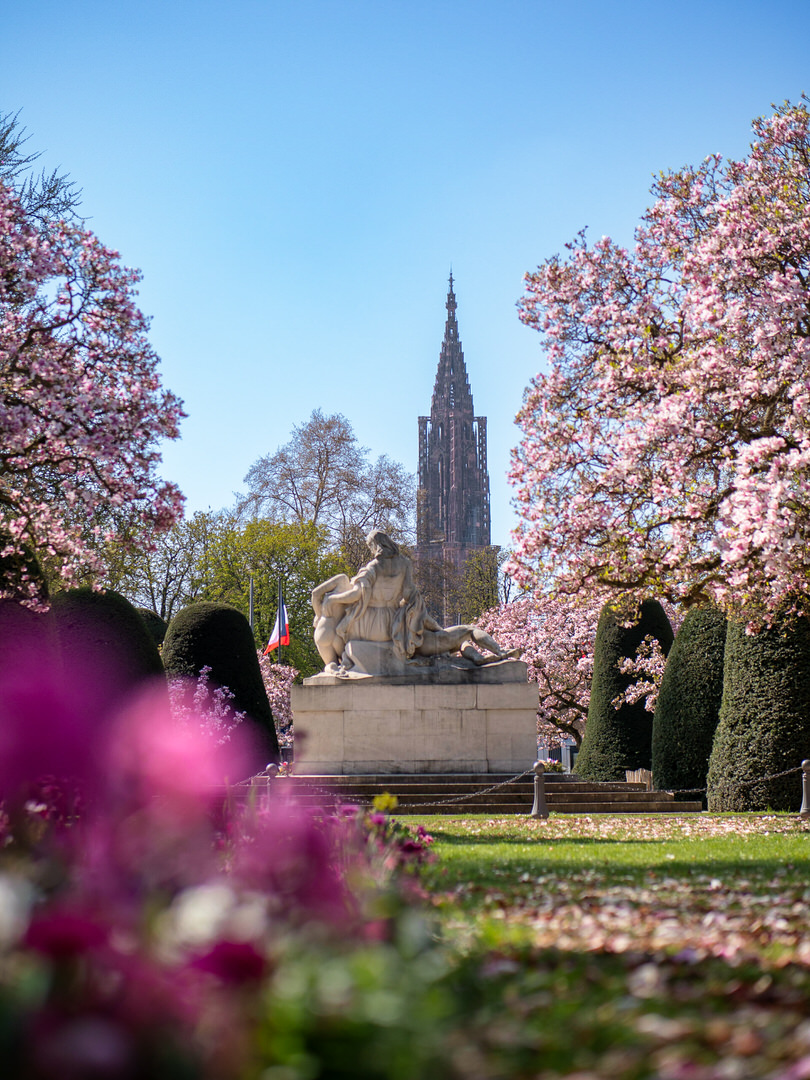 10. PASSAGE VAUBAN
Make sure to go to the top of the passage Vauban. It is definitely the best place to admire the city from above. Add it to your itinerary after a walk in Petite France. It is a great spot to rest a little after you have covered so many stunning spots!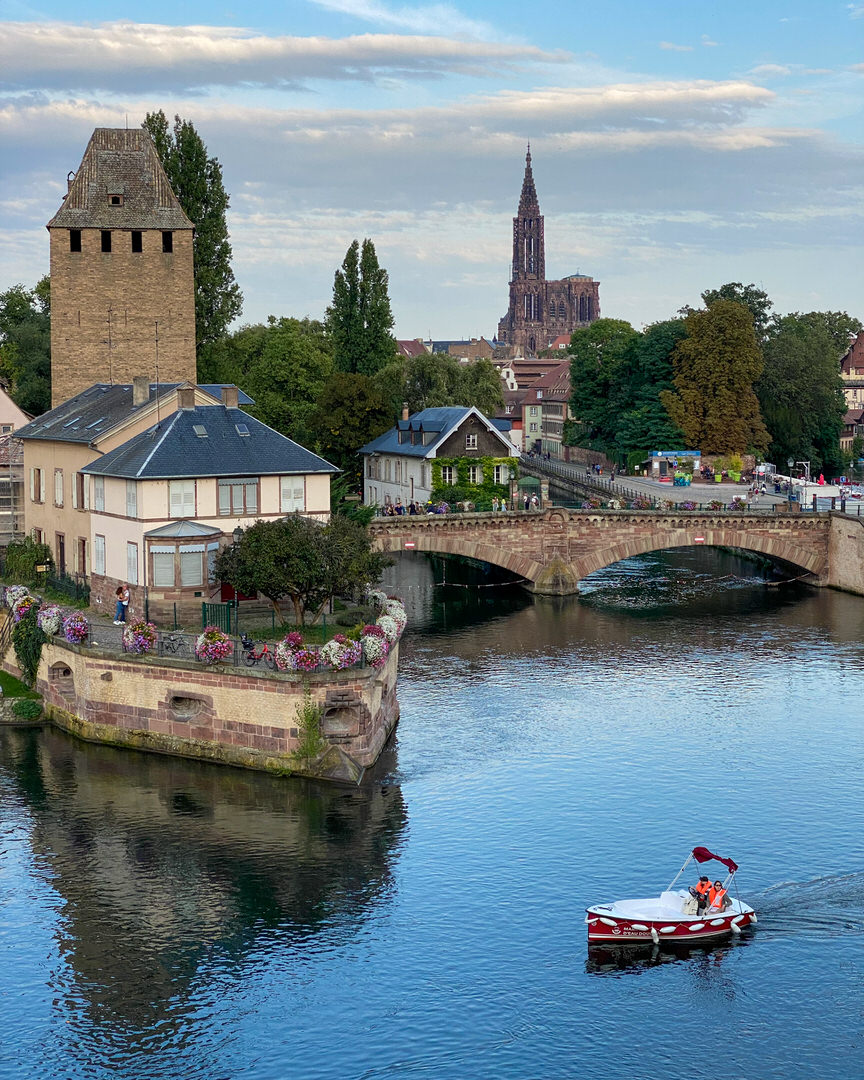 FINAL TIPS
We hope that the above list of 10 Top Things to See and Do in Strasbourg, all year round, will help you discover the city like a local!
That said, if you come during Christmas you will have to add 3 spots:
Place Kléber and its giant Christmas tree, Place Broglie, as well as Place Gutenberg for the Christmas market!
Do you want to find out more about visiting Strasbourg during Christmas? 
Check out my Guide to visiting Strasbourg during its Christmas market!
Above all, many thanks to Adrien Anne (@travelwithadrien) for sharing his favorite corners of Strasbourg! You can also follow his other account @strasbourgcity for more Strasbourg-related tips!
Make sure to check his Instagram Profile and follow his beautiful journeys!