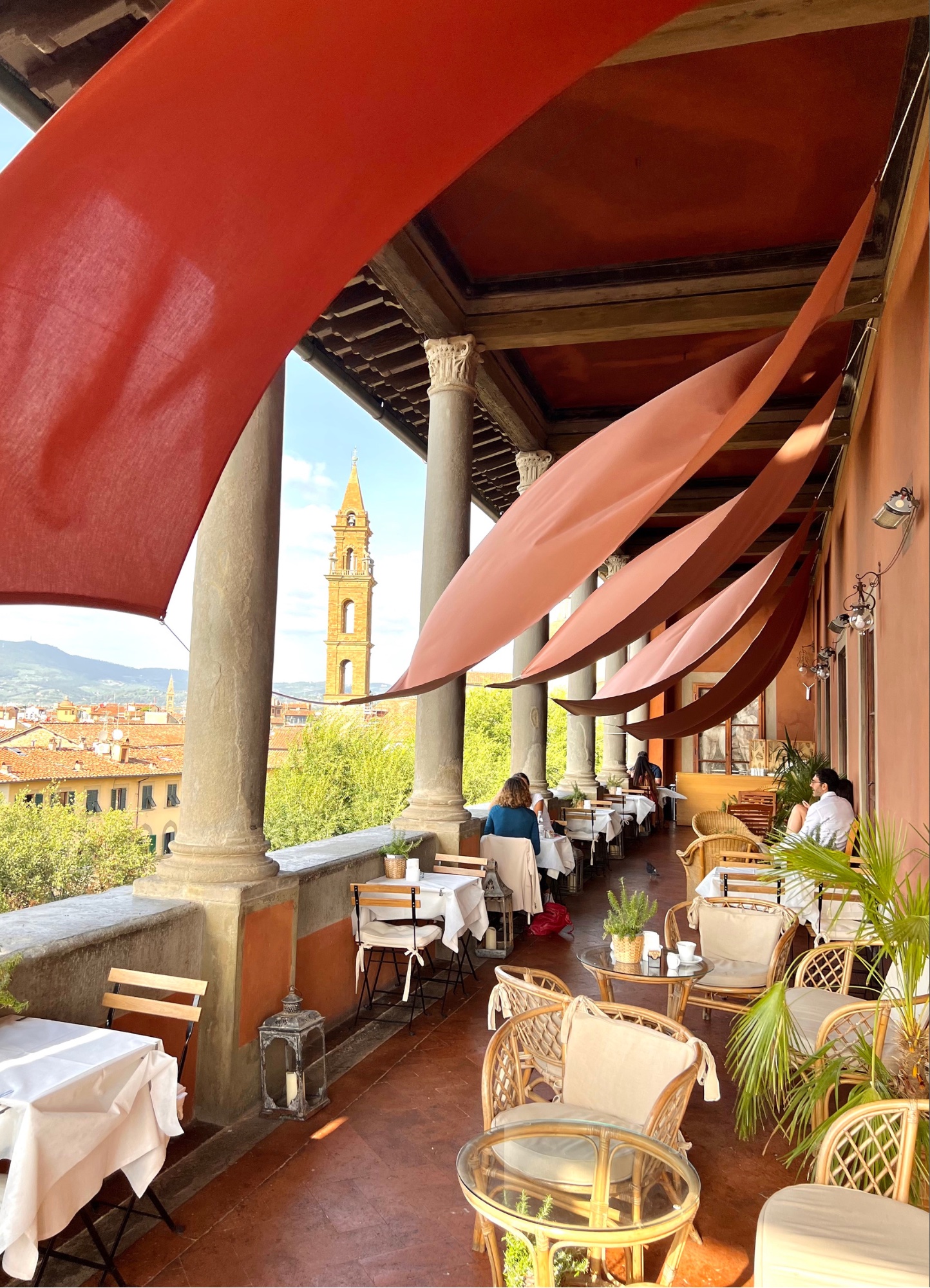 PALAZZO GUADAGNI, FIRENZE – HOTEL REVIEW
Palazzo Guadagni in Firenze (Florence), Italy is the probably the most beautiful 3 star hotel you will ever stay at.
Being located on Piazza Santo Spirito it is not only your less touristy but also more authentic spot to make your base to explore the magical city of Florence.
Staying at Palazzo Guadagni is like going back in time and inhaling five century of history and secrets. Imagine visiting a very intelectual Italian aunt in her private Florentine residence, with some of the best city views. That is in short Palazzo Guadagni.
You really will not find a better option in Florence at this price range!
Read on for all the detail you need to make your stay a memorable one!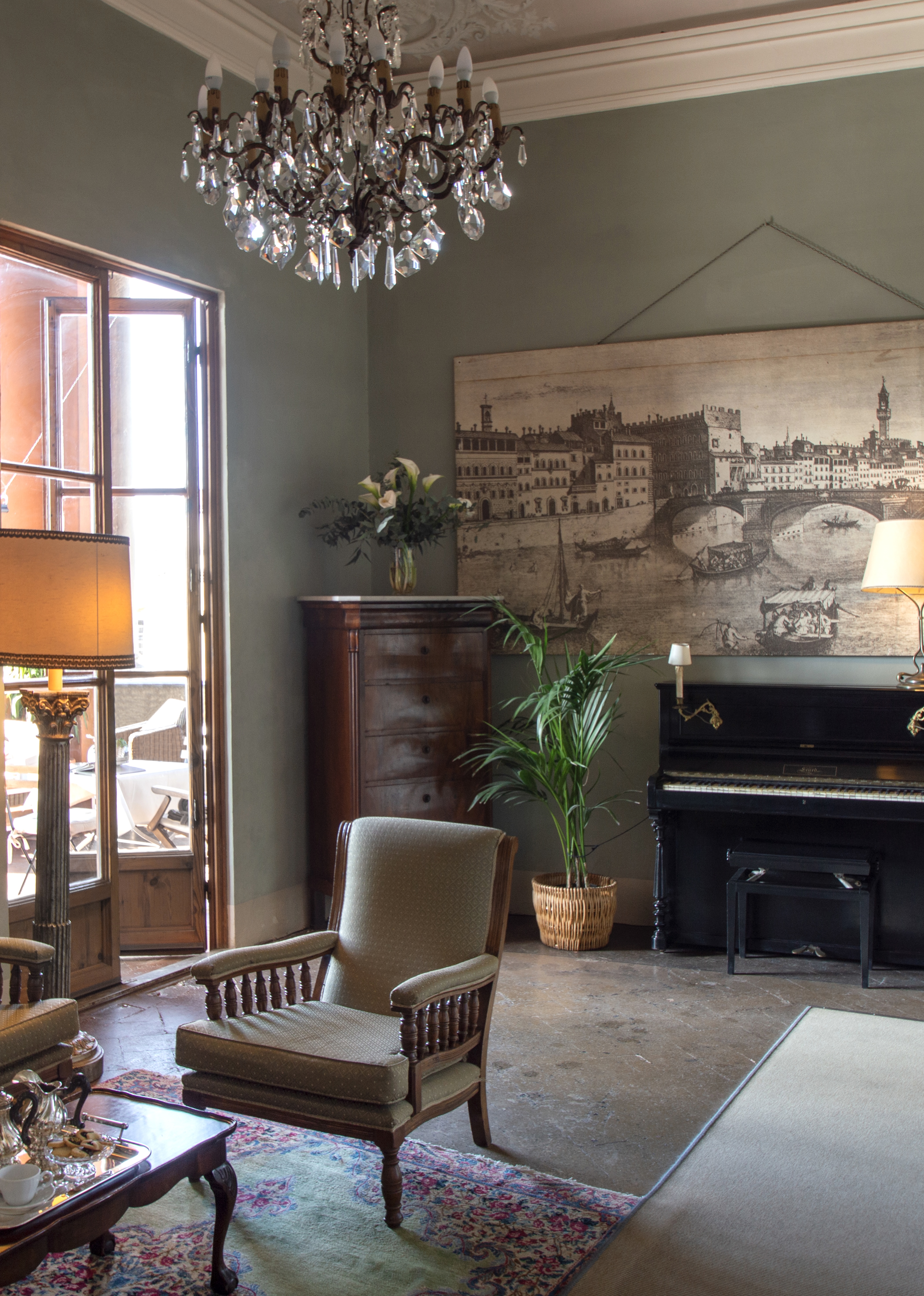 PALAZZO GUADAGNI – BASIC FACTS
LOCATION:
The location is genious. On one hand you are enough far away from the crowds to experience the local and more authentic version of what Florence is all about. On the other hand, Palazzo Guadagni is just few steps away from the Pitti Palace, the Boboli Gadens and Ponte Vecchio – the heart of Florence.
The Hotel is located in a five centuries old historical palace from 1505 in Santo Spirito square, in the Oltrarno district. We absoluelty loved being based around this square and feeling like we get to experience the local version of what can end up being a very tousity city. It bacame our oasis from the crowds. You will also find many antique shops and artisan workshops and a a lovely daily local market.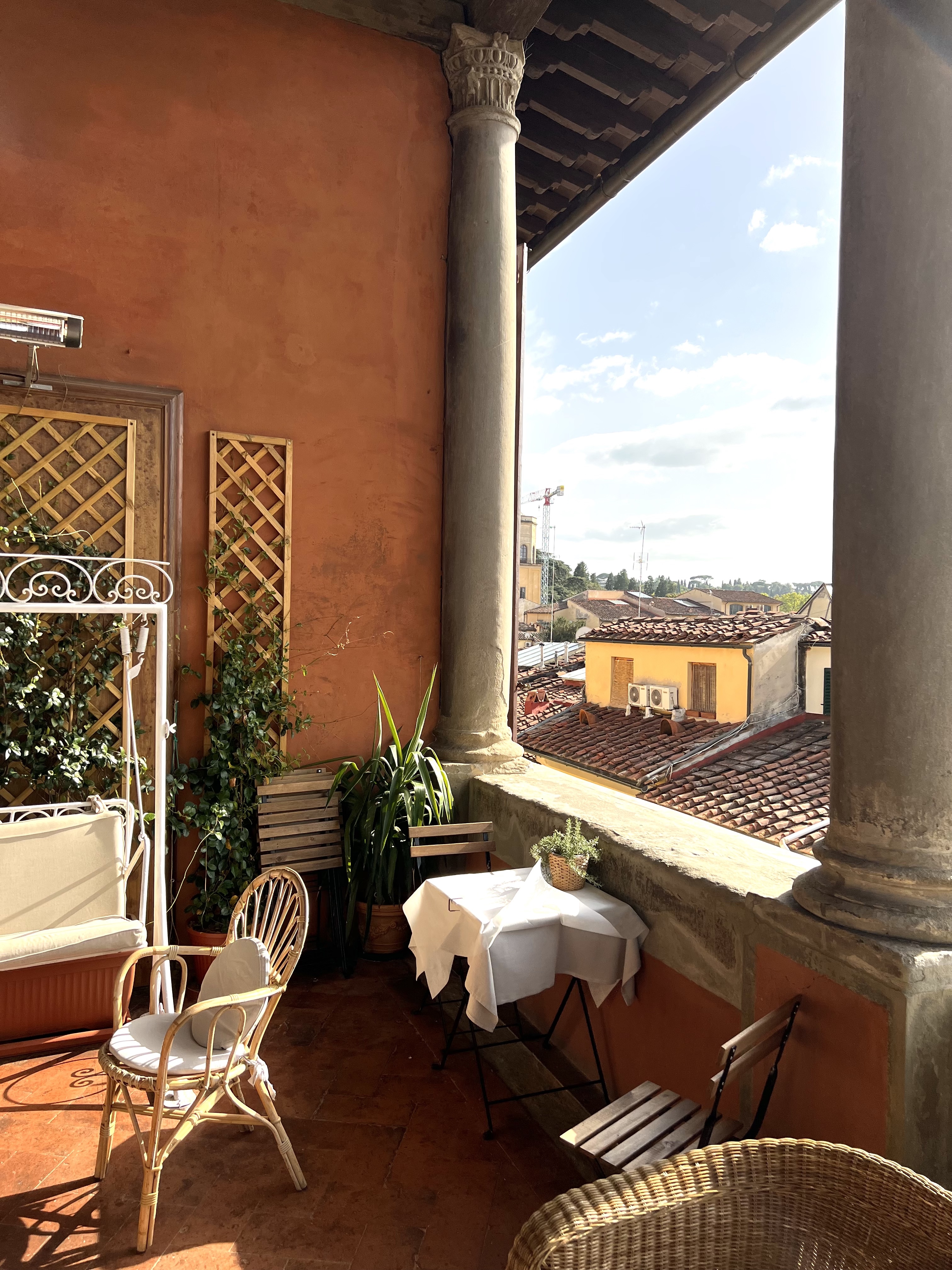 GETTING THERE:
Getting to Palazzo Guadagni is pretty straighforward. You can either take a 20 minute taxi from the Peretola airport or a 10 minute taxi to the main train station of Santa Maria Novella.
Alternatively, it is also possible to fly to Pisa or Bologna, in both cases, it takes about one hour by train to reach Florence.
ARRIVING AT HOTEL PALAZZO GUADAGNI:
Check-in starts at 2 pm and Check-out at 11 am. Guests are welcome to leave their luggage and enjoy the common areas of the hotel and the Loggia terrace before and after the check-in/out.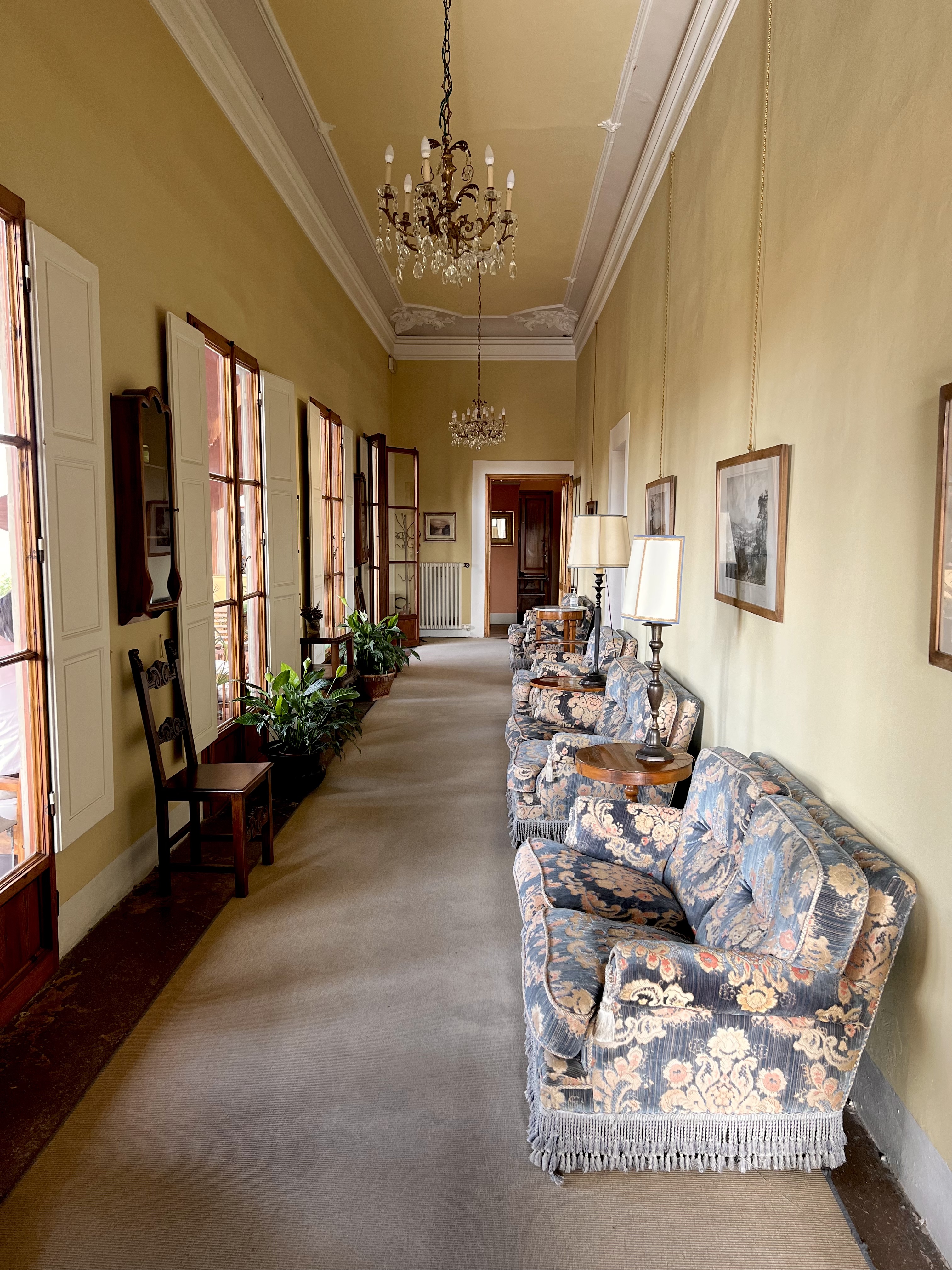 ROOMS:
Palazzo Guadagni has 15 rooms spread across three room categories – classic, superior and deluxe to fit all budgets. They all have this distinct feel of a private historic Florentine residence. All rooms are decorated with antique furniture and some even feature frescoed ceilings, ancient fireplaces and balconies. On top of that, some rooms offer very special views which include Santo Spirito square and Church, the Pitti Palace, the Palazzo Vecchio, and even the Duomo of Florence.
So what room should I book at Palazzo Guadagni and why?
So if you feel like taking a shower while admiring the Duomo then go for Room 8. In case you want to brush your teeth looking at the neo-gothic Torrigiani Tower then choose Room 11. If waking up under the frescos and facing a beautiful fireplace is more your thing Room 4 is your best bet. Lastly, should you wish to open your curtains on Pitti Palace then book Room 7.
Pretty unique right?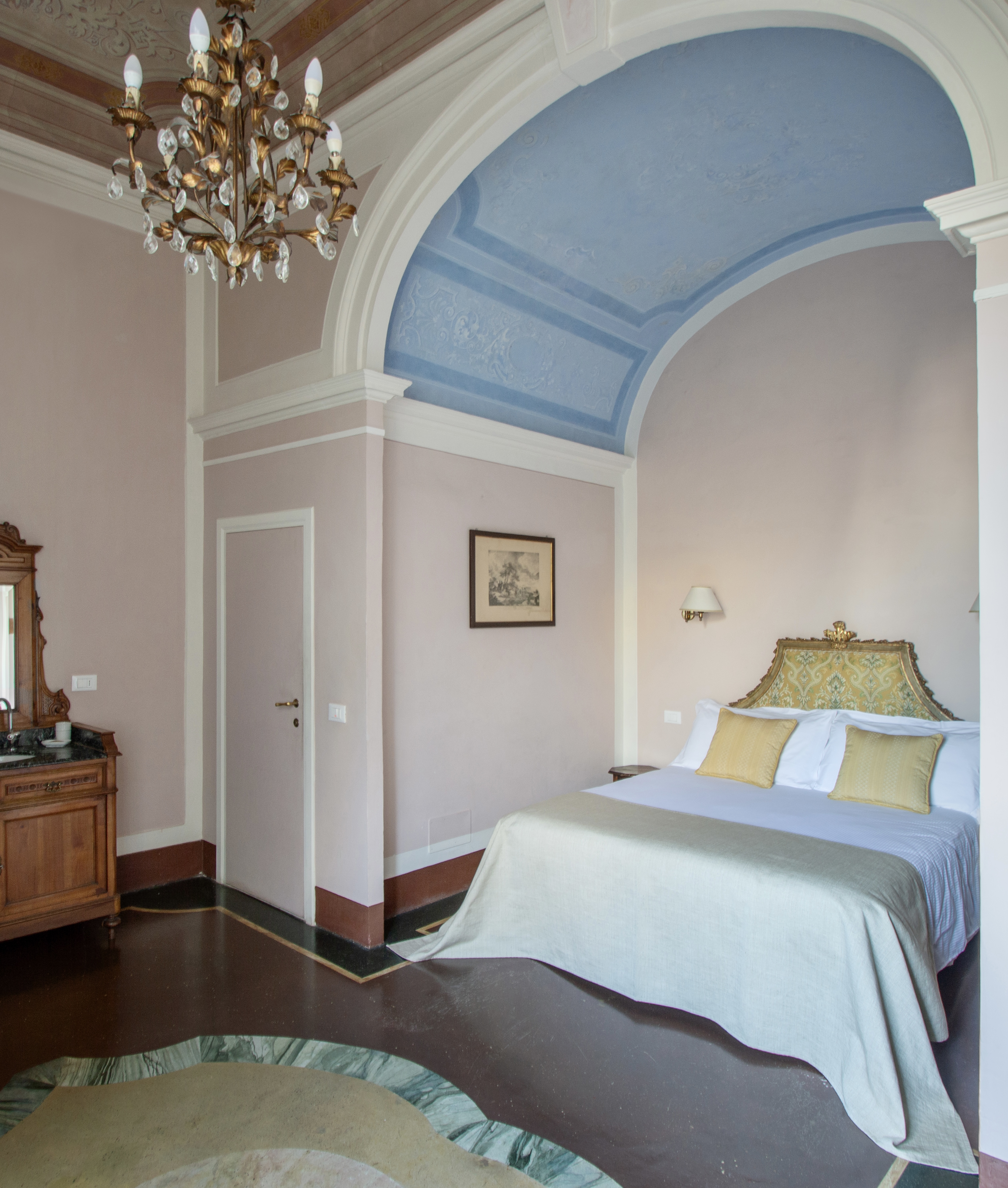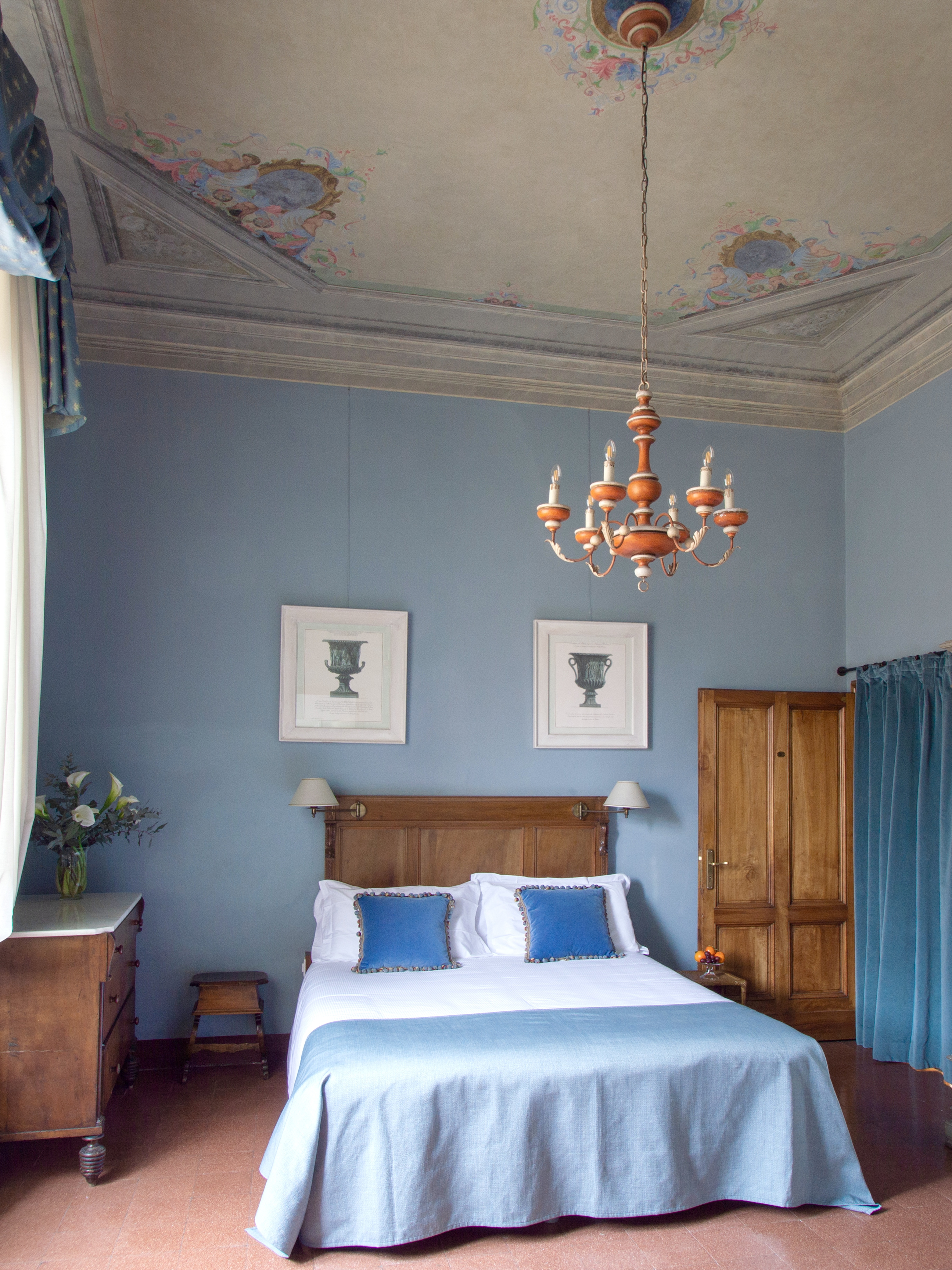 PRICES:
The Hotel's high season is between May to October and that is when you will see the highest prices. Expect to pay around EUR 350 for a double room inluding of a breakfast.
In case you are OK with travelling off-season between November to February you will get the best deals. Also, also go directly through the Hotel to get the best prices.
THE STORY:
Palazzo Guadagni was built in 1505 for the silk merchant Riniero di Bernardo Dei. Since then it has been home to numerous personalities who gave its unique character throughout the years, including Maria Letizia Bonaparte, Napoleon I great-niece, and her husband Urbano Rattazzi, Prime Minister of Italy. Not bad right?
It is in 1912 that the Bandini sisters started their guest house at the upper floor of the palace, just above the German Institute of Art History. By then the Loggia was already a popular spot to gather for the writers and artists from the Institute and amongst the city.
This is exactly the type of place I love! Full of history and atmosphere!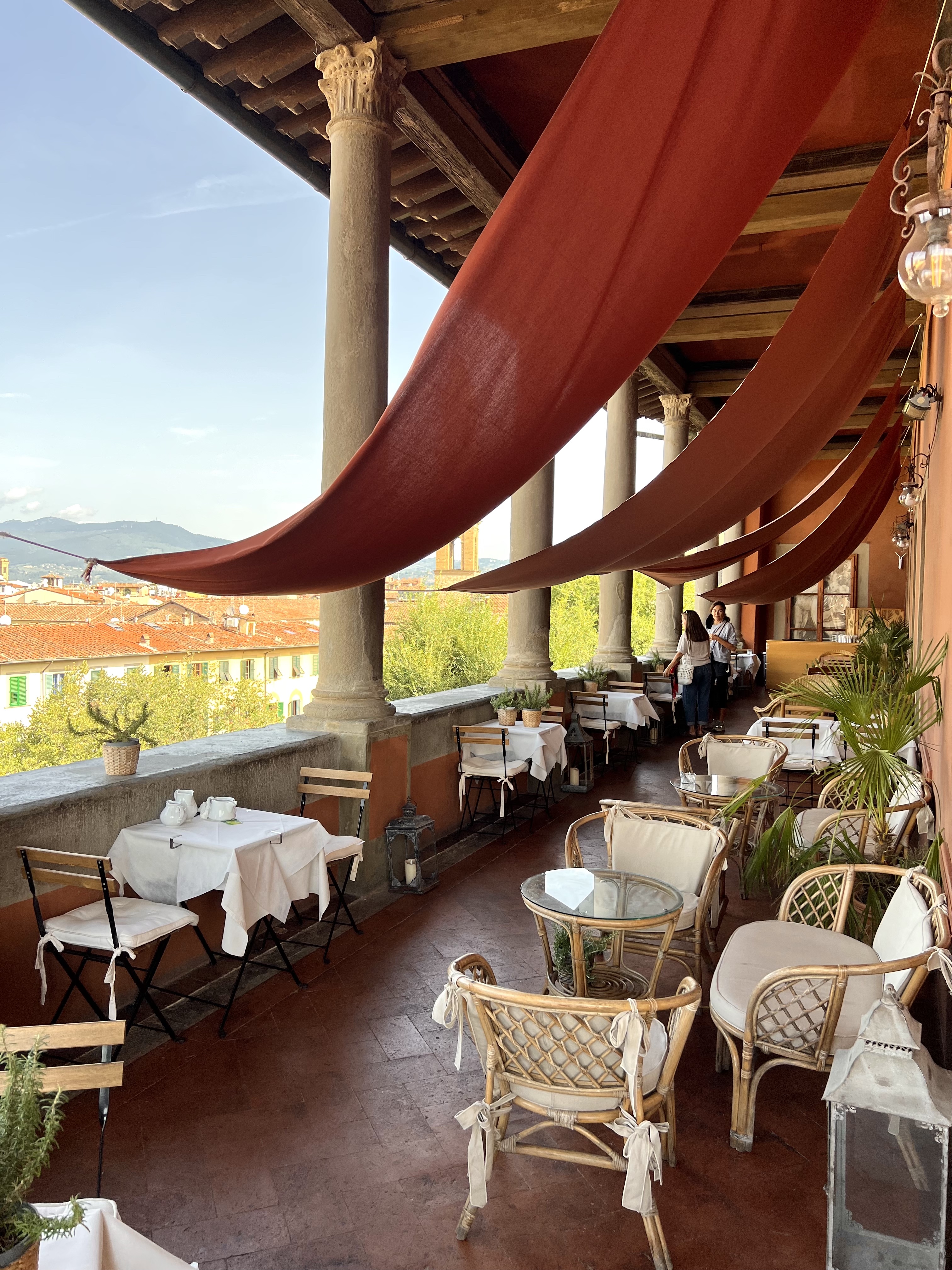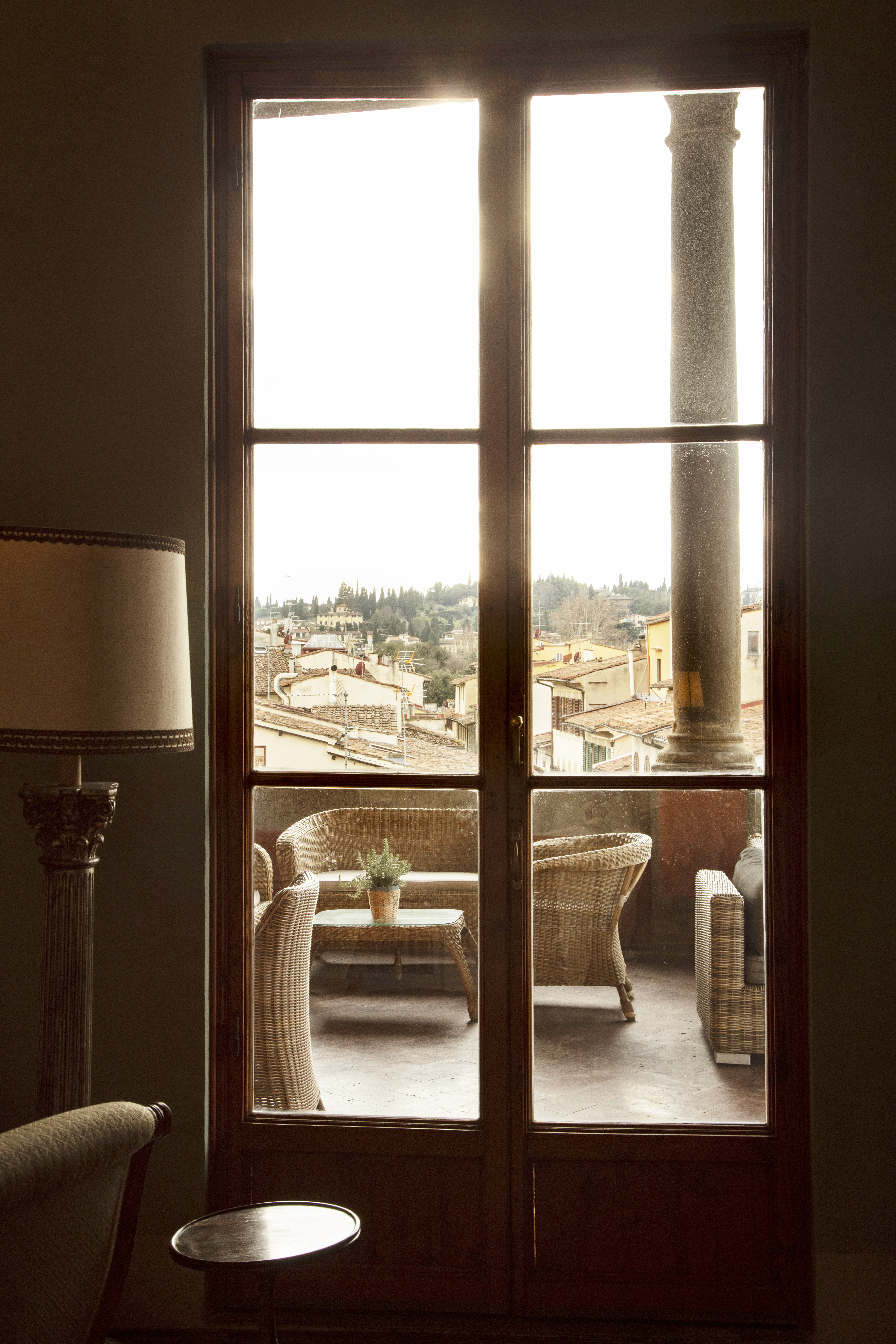 OVERALL IMPRESSION
As I said before, this is probably the most special 3-star hotel you will find in Italy, if not in the whole of Europe. Not only does it allow you to live the authentic atmosphere of Firenze avoiding the crowds, but it also takes you back in time to what the old Florence used to be like.
First, you will love the location in the authentic Florentine Piazza Santo Spirito, full of low-key restaurants and locals having a glass of wine. Secondly, This restored palazzo is full of beautiful historic features, which history and art lovers will definitely appreciate. Thirdly, the famous rooftop Loggia is famous across the city and truly stands up to its fame. So should you stay there? Yes, if your love for timeless elegance and historic ambiance is higher than the love for five-star-like services.
You may be asking yourself – is there anything about Palazzo Guadagni in Firenze that is not ideal?
POINTS WORTH CONSIDERING:
Loggia Rooftop Bar is a truly popular spot, which means non-hotel guests come in and out of the Hotel. this may be a bit annoying for those who enjoy privacy and peace.
Off-the-beaten-path location may not be to everyone's taste. Some may prefer to be right in the city center. That said, I would still think it is actually one of the biggest pluses of Palazzo Guadagni that it is indeed slightly further away from the core center.
There isn't a proper restaurant in Palazzo Guadagni, so you cant do room service. Again, this shouldn't really be a problem as there are numerous restaurants directly next to the Hotel.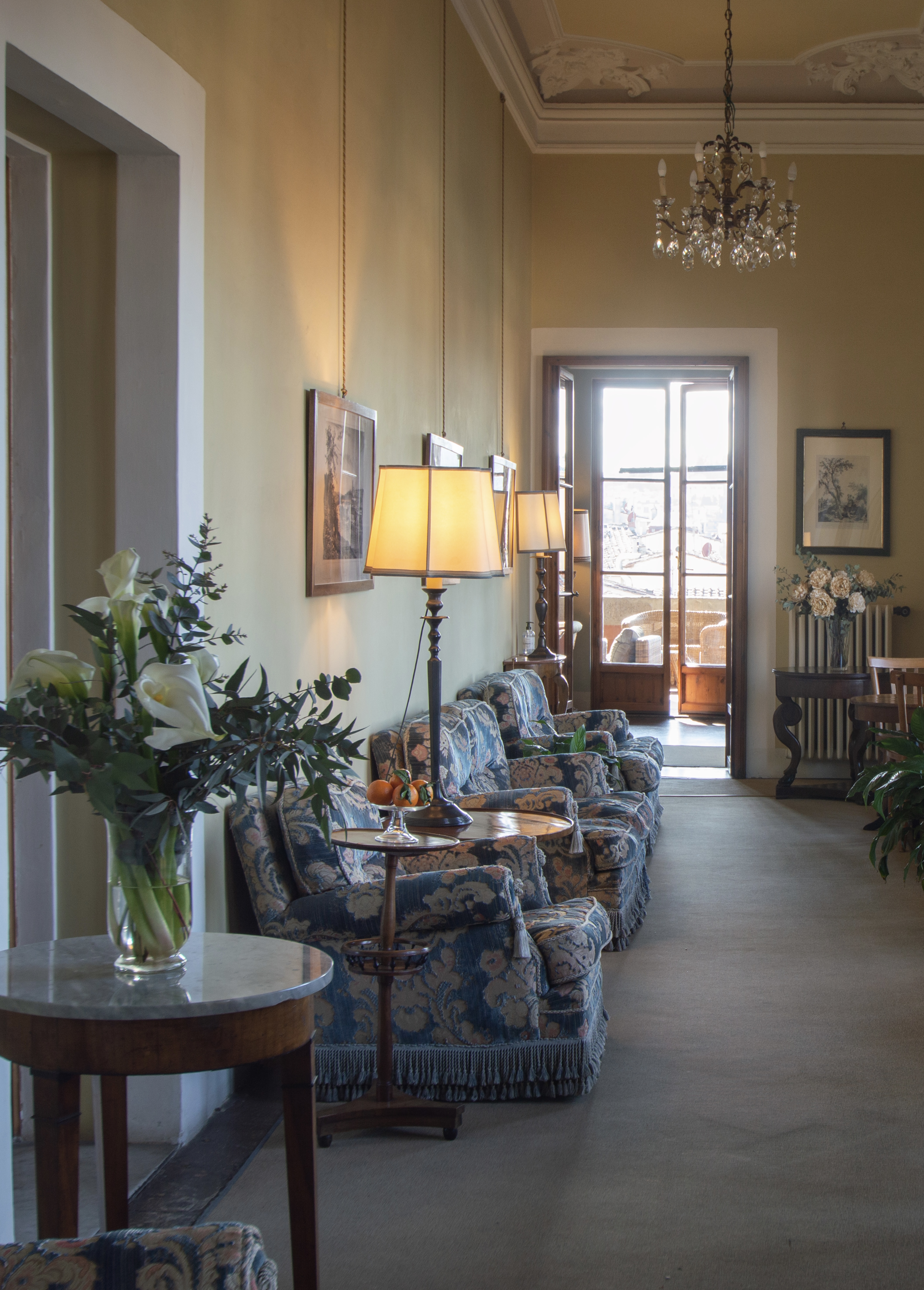 PALAZZO GUADAGNI, FIRENZE – ALL YOU NEED TO KNOW
WHAT WILL YOU DO
You will experience Firenze like a local. Starting your day on Santo Spirito you will blend in with the Florentines, enjoying its market stalls in the morning and nearby many popular bakeries, restaurants, and landmarks. The magic of Palazzo Guadagni is that it allows you the peace in the context of an extremely buzy city. So start your day calmly by sipping your coffee on the Loggia overlooking the red roofs and hills of Florence. Afterwards step outside onto the busy streets of Florence, walking to the nearby Pitti Palace or Boboli Gardens.
There are few other places in Florence that as authentic and lively like Santo Spirito where the Hotel is located. It is filled with artisan shops that originally moved to the neighborhood to work on the majestic Pitti Palace at the end of the 15th century. A little less touristic than the right bank of the city but as rich in history, trattorias and experiences. So get lost and find your inner Italian!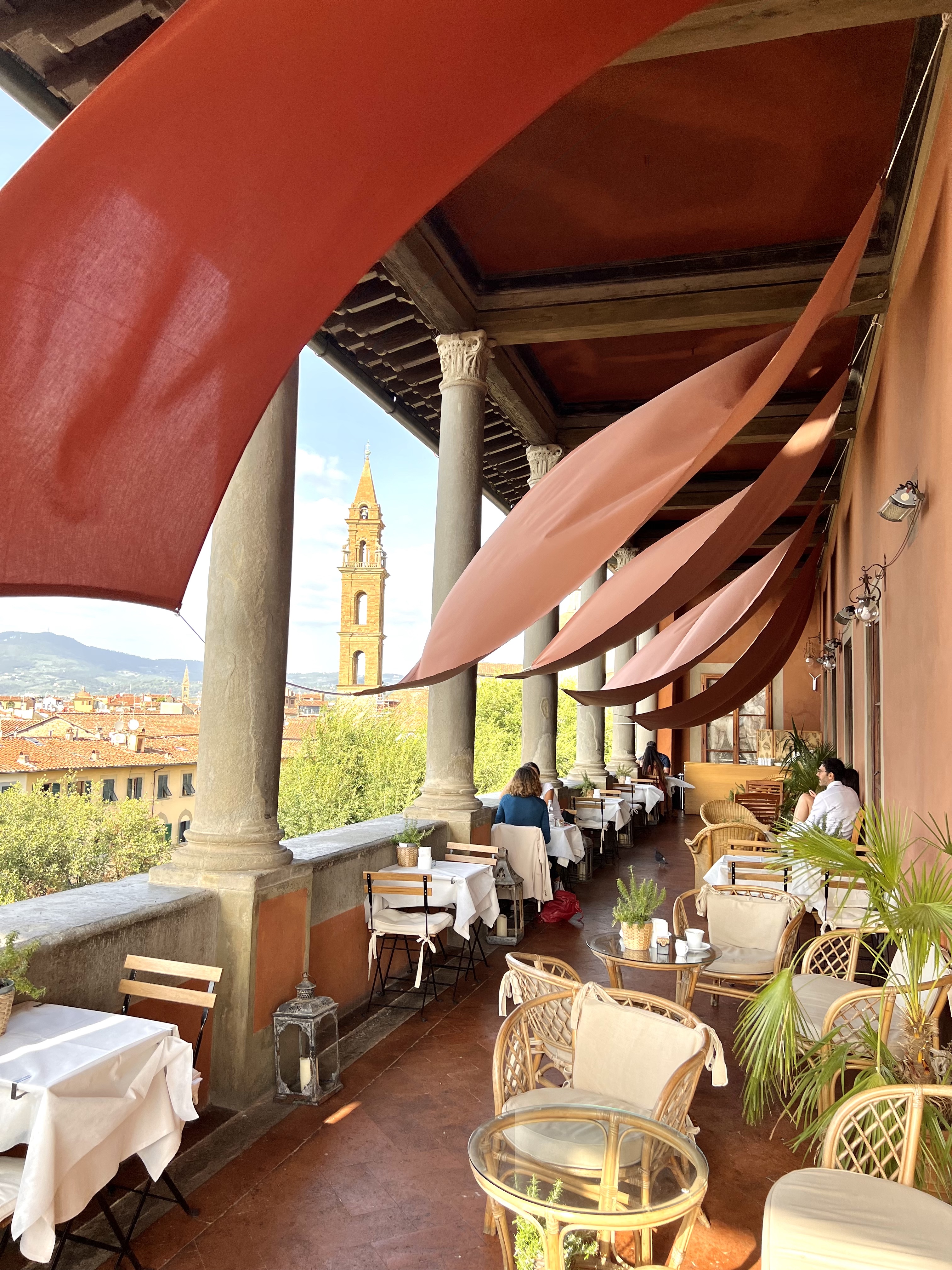 WHAT WILL YOU EAT (& DRINK)
The famous Loggia rooftop bar offers stunning views over the Santo Spirito square and Church, the Boboli Gardens, and the hills of Bellosguardo.
It is open every day from 1pm to 11 pm, is the perfect spot for a relaxing lunch, a festive aperitivo at sunset, or the last glass of wine after dinner in a nearby trattoria. As I mentioned before there isn't a proper restaurant in Palazzo Guadagni so you will have to think where to have dinner outside of the hotel. That is relatively easy given all the trattorias literally directly outside of the Hotel's entrance.
So what should you order at Loggia? I very much recommend the Loggia Spritz, their version of a classic, with Campari, Aperol, ginger beer, and decorated with a slice of cucumber. Undoubtedly less sweet than the original one and very refreshing, perfect for those long summer evenings!
Finally, don't miss the Negroni paired with small bites as the crostini with artichokes, sundried tomatoes, and pine nuts! Did I just make you thirsty?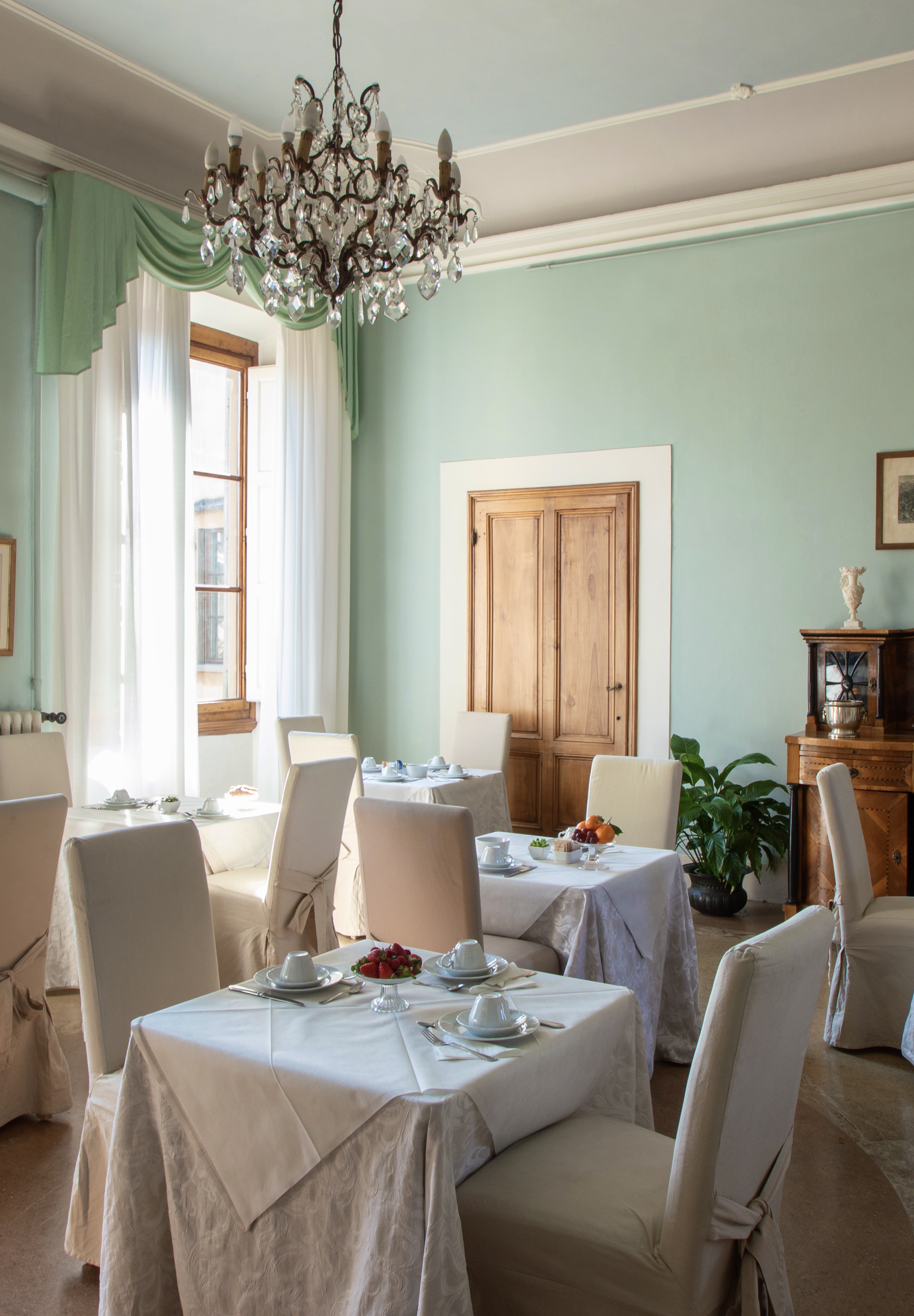 IS THERE A SPA?
No there isn't.
FAMILY FOCUS
Families are welcome at Palazzo Guadagni but there isn't much in the hotel, especially for them. You will mainly find couples here to be perfectly honest. That said, we stayed with our two year old son, and felt perfectly comfortable.
There are two family rooms which are made of two connected double bedrooms and one bathroom. They overlook a traditional internal courtyard of an ancient Florentine palace. Please be aware that the bathroom is located after the second bedroom, so you have to cross the second bedroom to access to it. Lastly, baby cots and high chairs are available at the hotel.
FINAL TIPS FOR YOUR STAY AT PALAZZO GUADAGNI
I absolutely loved staying at Palazzo Guadagni and think that it is one of the most special places to stay in Florence if not Italy. You should definitely put your phone down and just get lost in the small streets of Florence and walk uphill via San Leonardo amongst the beautiful Florentine villas and olive trees, just a few steps away from the city center.
Please consider the following points to make the most of your stay:
My tip would be to visit Firenze and stay at Palazzo Guadagni towards the end of May or September when prices are still cheaper compared to the high season. It will also help you avoid somewhat tiring crowds of tourists.
Santo Spirito is your chance at experiencing Florence more like a local. Make sure to take advantage of that opportunity! Otherwise, Florence may seem a bit like a tourist trap!
Book one of the rooms with the most special features! My pic would be taking a shower while admiring the Duomo (Room 8)
Enjoy,
Voyage Provocateur
In case you would like to read some other of my posts:
BELMOND LA RESIDENCIA – HOTEL REVIEW
LE GRAND CONTRÔLE – HOTEL REVIEW
BIARRITZ – 10 TOP THINGS TO DO
ITALY'S 10 BEST RESTAURANTS WITH A VIEW