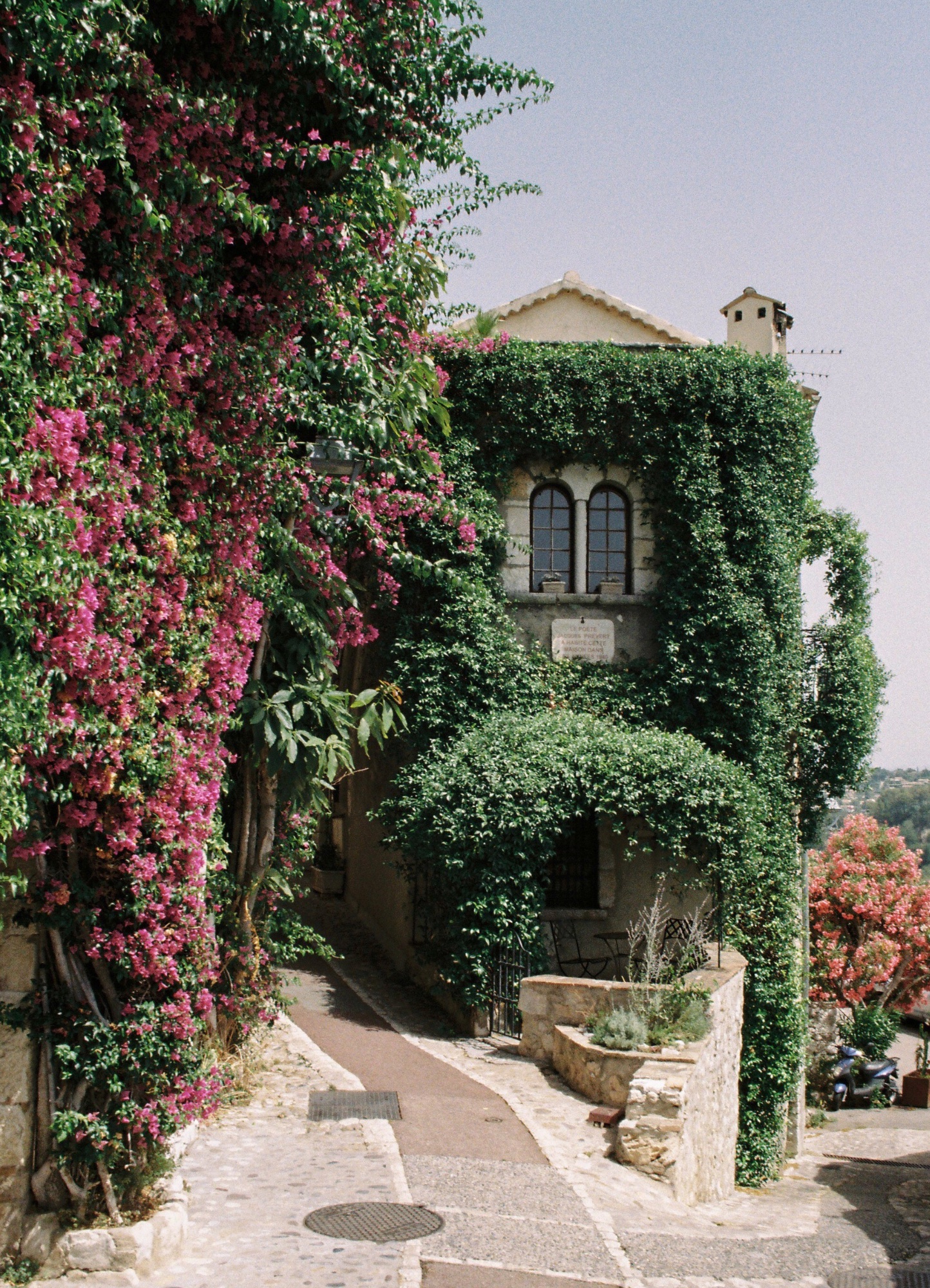 SOUTH OF FRANCE – 10 PRETTIEST TOWNS TO VISIT
Are you going to the South of France and would like to know which are its prettiest towns and villages?
In order to help you plan your visit, I have interviewed Sonia Mota (@simplyslowtravel) a true France expert about the dreamiest spots to cover on your next trip to the South of France! You will not get a better expert than her!
So let us share with you a result of exploring the South of France, mainly Côte d'Azur and Provence. In addition to the must-visit beaches and restaurants, we will also share with you some secret tips on where to go for the best scenic drive and which other nearby towns to visit to make your trip to Portofino a dream come true!
We hope that they will convince you to visit at least once!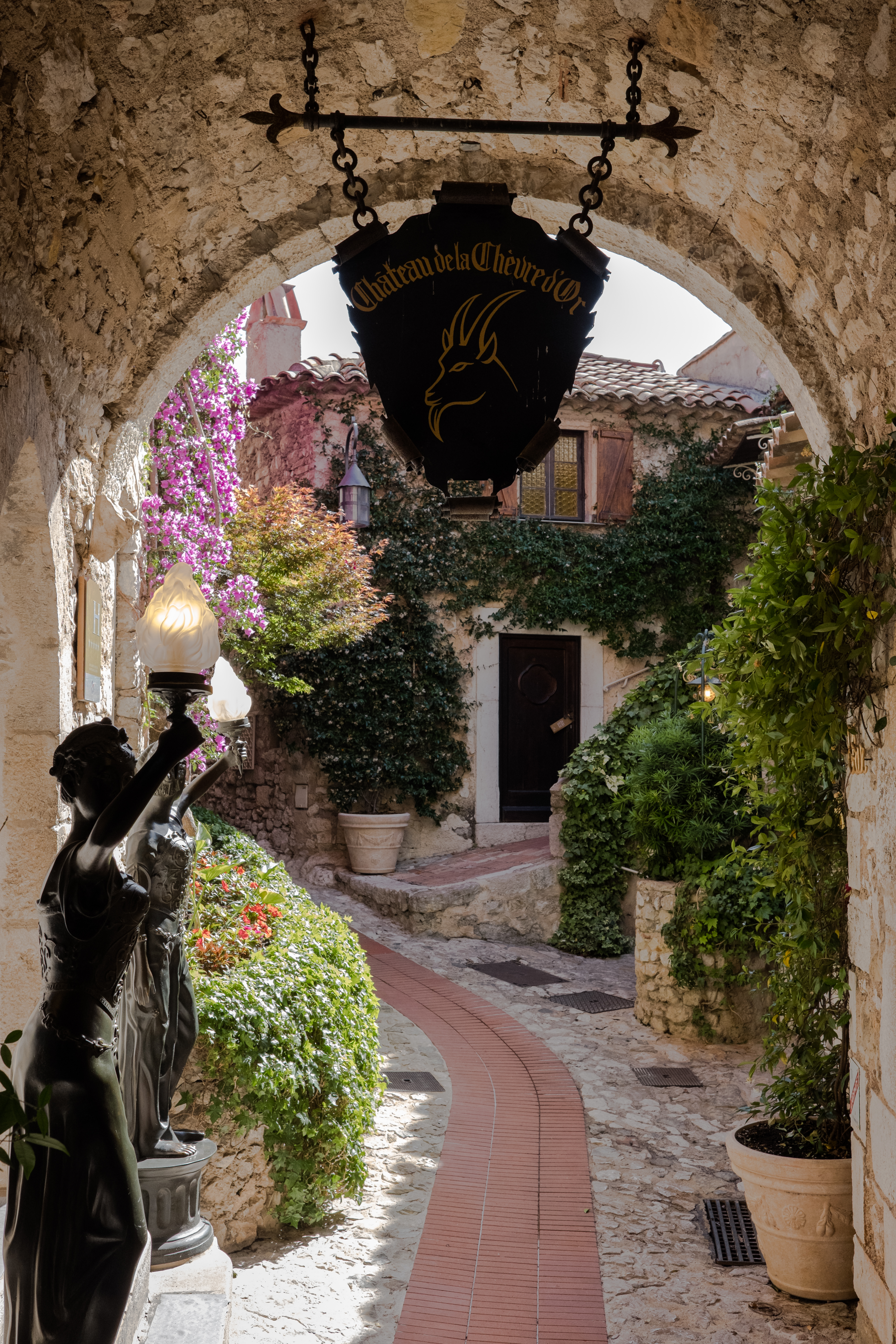 SOUTH OF FRANCE – BASIC FACTS
The South of France, with its warm Mediterranean climate, is without a doubt one of Europe's best summer escape destinations. It has both the coastal, beach lifestyle that we always long for in a Summer vacation, with the dreamy hidden beaches and crystal clear waters of Côte d'Azur, but it also has such a scenic countryside, Provence, with its languid hills covered with lavender fields, sunflower fields, and vineyards, and with a cuisine that is absolutely to die for. Also South of France's little towns and villages, are some of the prettiest you will find in Europe!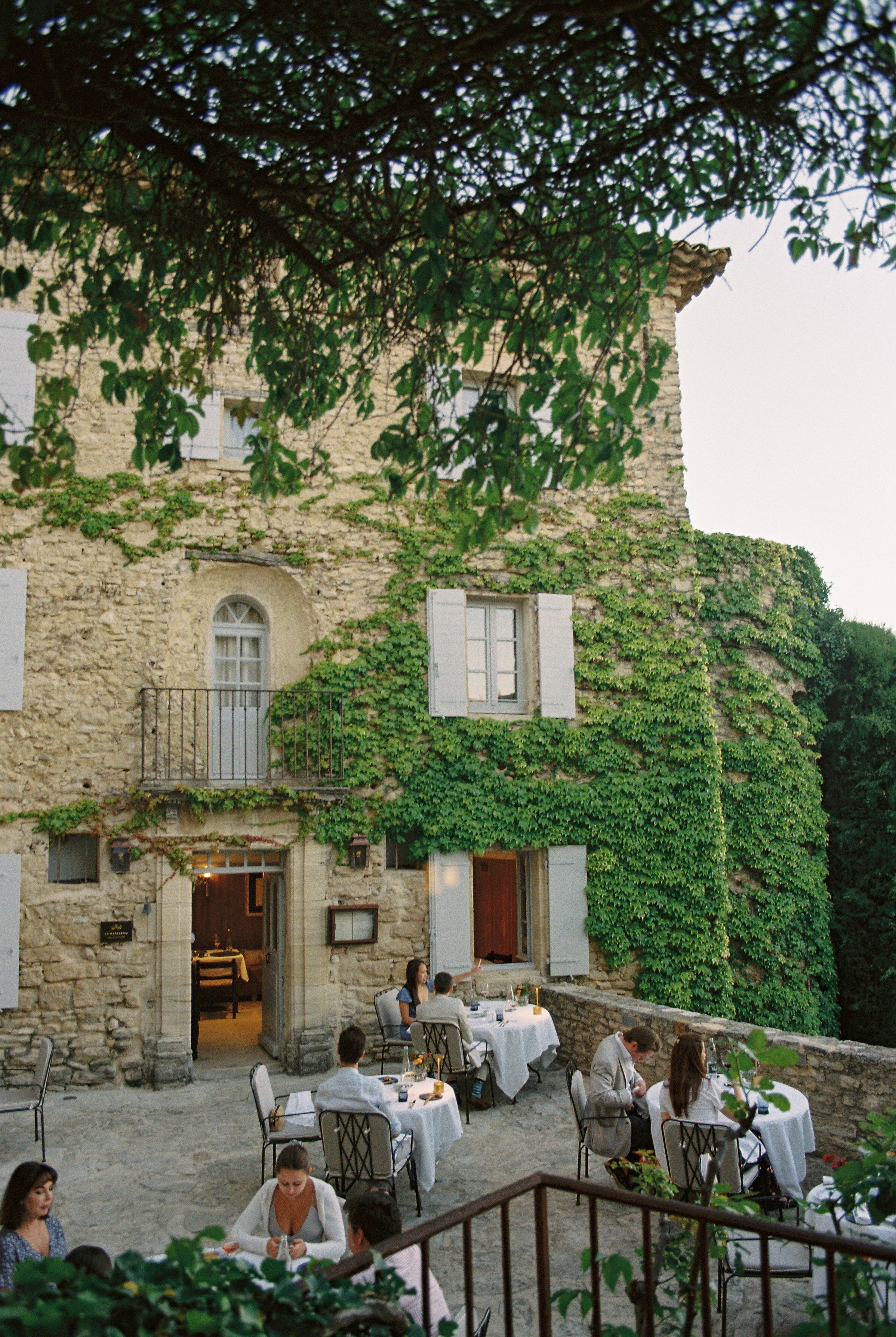 HOW MUCH TIME YOU NEED
If you're thinking of fully exploring the beauties of both Côte d'Azur and Provence and seeing the South of France's 10 prettiest towns from this list, you would need a minimum 8-day trip, but if you have the chance, 10 to 12 days will give you more time to further explore at a more relaxed pace both the coast and countryside.
Of course, if you only decide on either Côte d'Azur or Provence, then you could manage to explore those in approximately 4 days' time. Everything can be cut shorter but isn't slow travel, the best travel?
BEST TIME TO GO
As for when to go, late June to early July are the weeks that take the prize. Why? Because during this period, you'll have a very summery climate, without being overwhelmingly hot, not yet too many crowds. Generally, it is much busier in late July and August and you'll have the benefit of finding most lavender fields in Provence in full bloom, just before being harvested.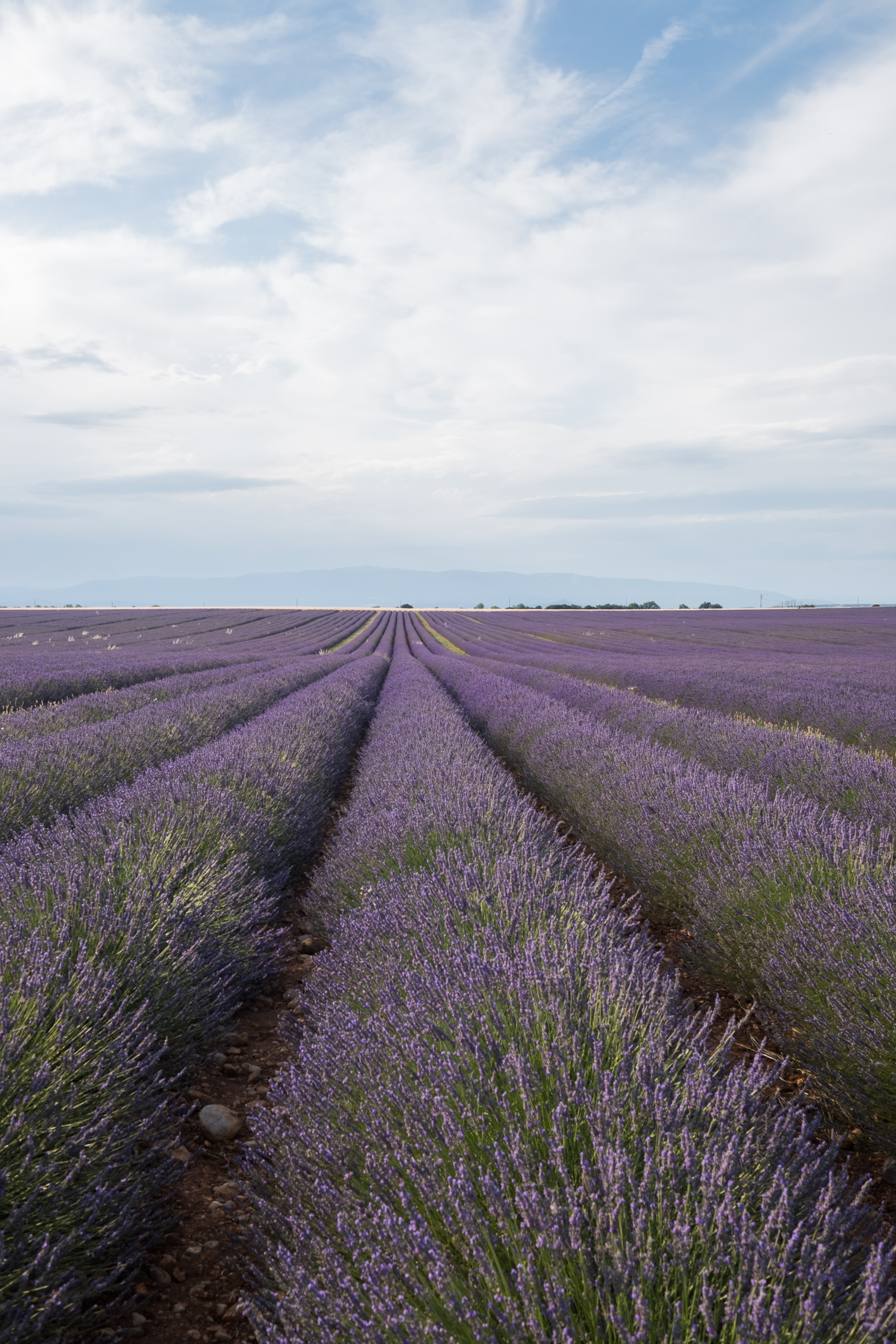 ADDITIONAL TIPS
As a final recommendation, it is without a doubt that you would need to rent a car for this trip. While the French Riviera is easy to visit by train, as most of the coastline cities and towns have train stations, other towns higher up on the hills, or especially most of the region of Provence, are not connected to the train system. Having your own car will make it so much easier to fully enjoy the trip, and it's not only easy but also so beautiful to drive there!
TOP 10 PRETTIEST TOWNS IN SOUTH OF FRANCE
ÈZE
SAINT-PAUL-DE-VENCE
GRASSE
VILLEFRANCHE-SUR-MER
SAINT-JEAN-CAP-FERRAT
MOUSTIERS-DE-SAINTE-MARIE
GORDES
MENERBES
AIX-EN-PROVENCE
CASSIS
1. ÈZE
Èze is our number 1 place on our list of the 10 Prettiest towns in the South of France. It is a little medieval town atop a hill, with narrow stone alleys and with doorways and balconies richly decorated with plenty of flowers! The town overlooks the beautiful coastline, with the luxurious Cap-Ferrat extending into the Mediterranean and forming a bay dotted with yachts, big and small. Here, you have to visit the Jardin Exotique! We also definitely recommend dining at the Château Eza, one of the few restaurants (and a hotel too) in Èze.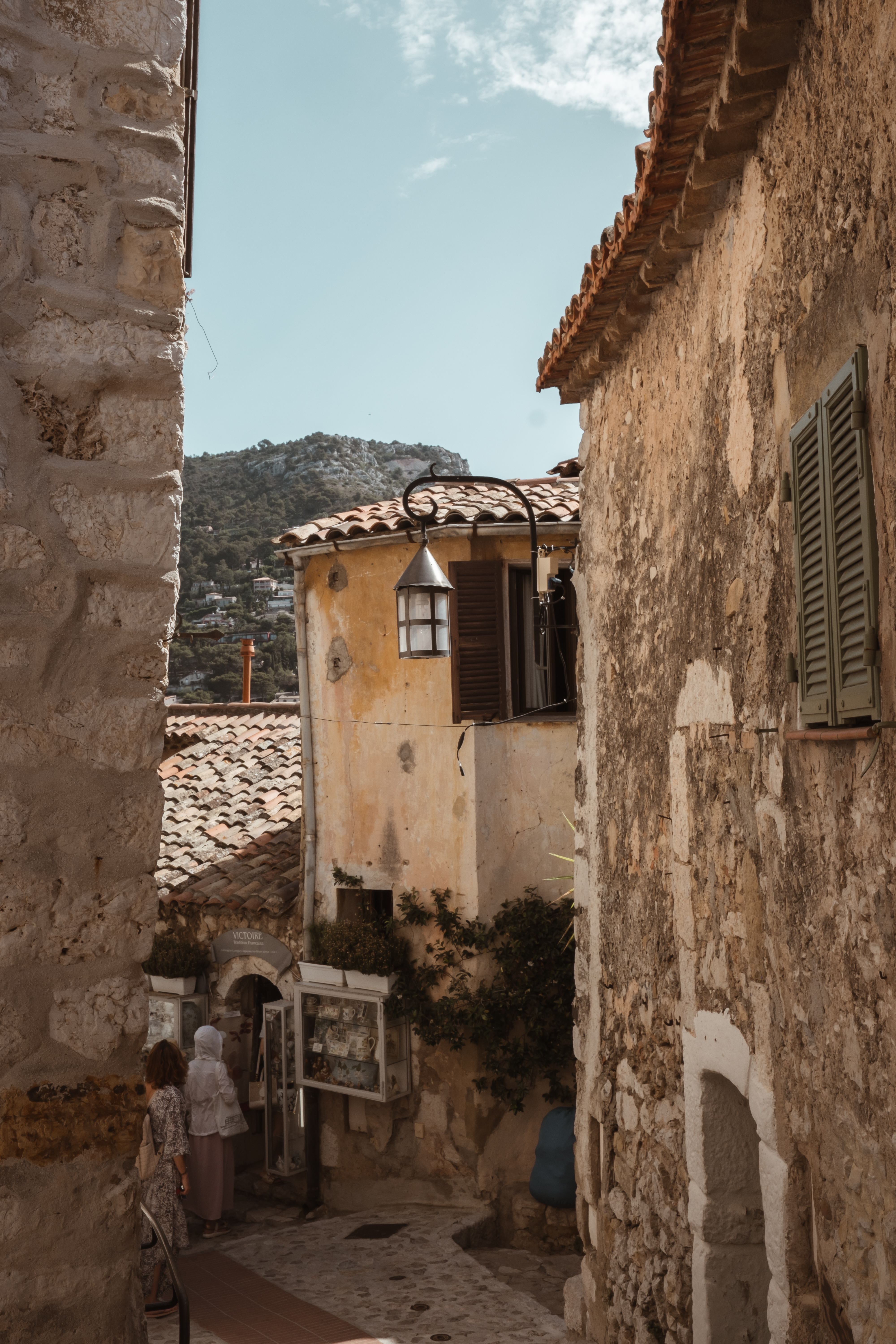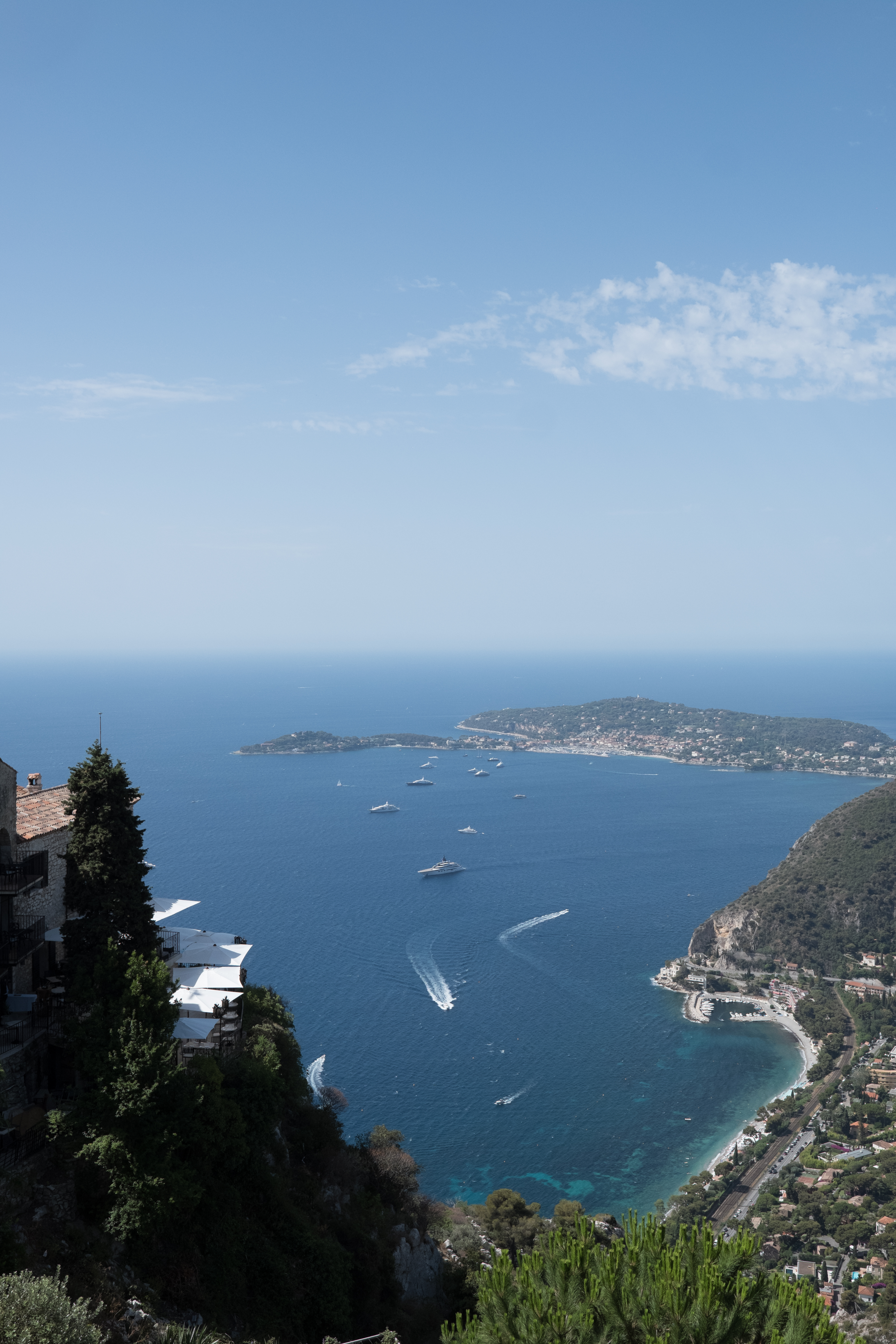 2. SAINT-PAUL-DE-VENCE
Saint-Paul-de-Vence is another small hilltop medieval town along the French Riviera coast. This one has a very artsy spirit, with plenty of art shops and galleries as well as different crafts on display. You will without a doubt find something you love here! The town has old stone pathways and alleys look but brought to life with beautiful flower arrangements on doors and balconies. You can't miss sitting by the Fontaine de Saint-Paul-de-Vence and eating artisanal ice cream from the ice cream shop right by it.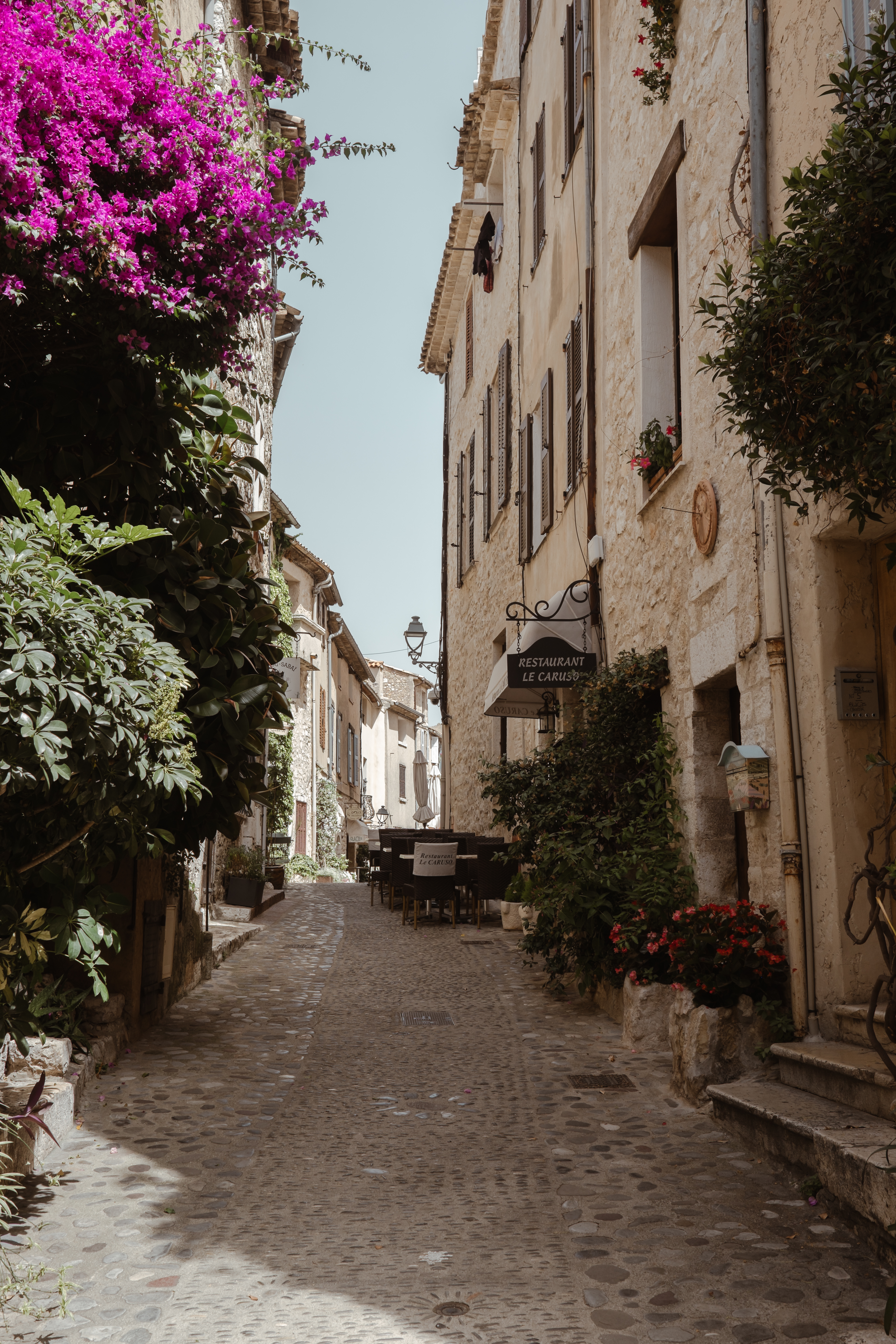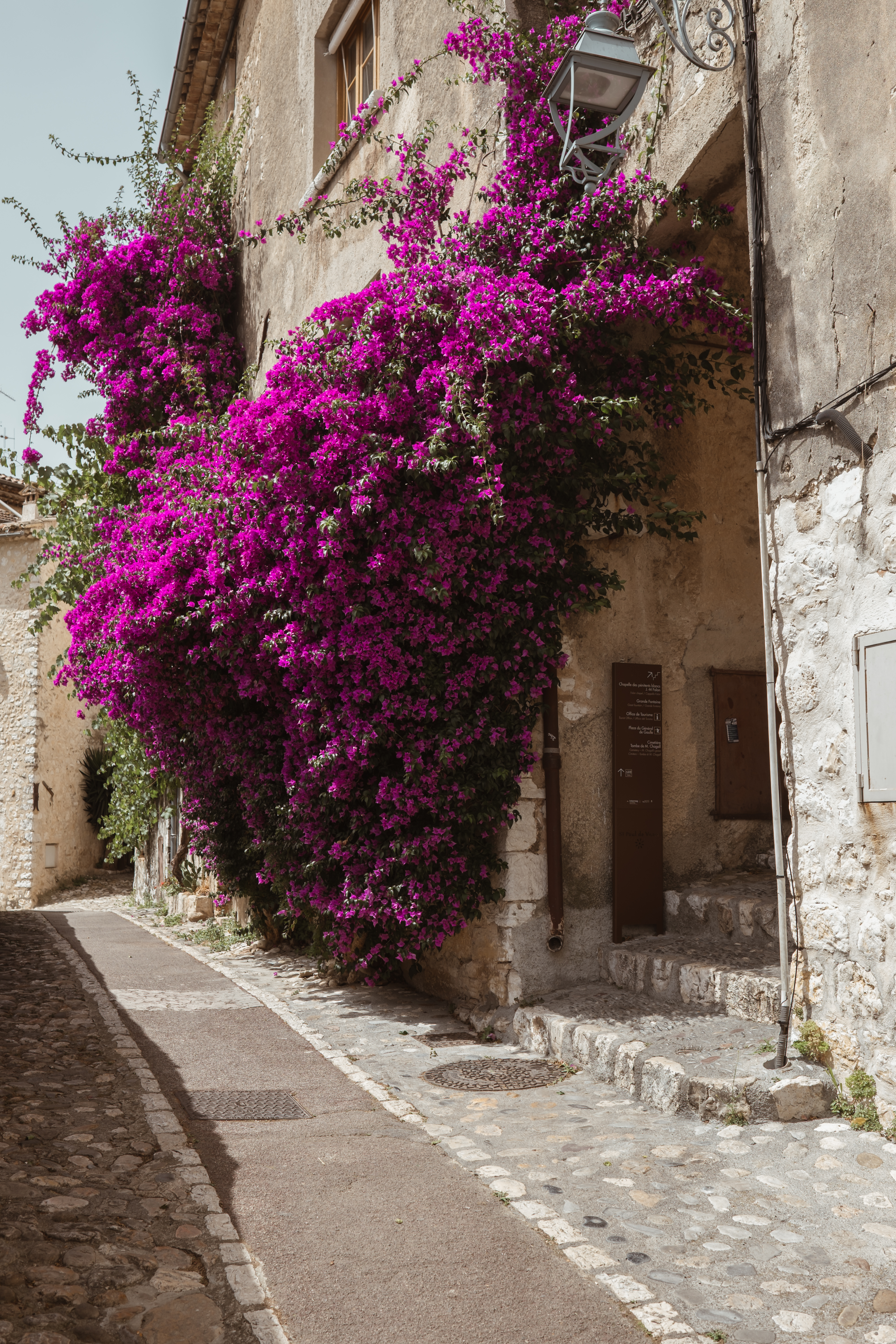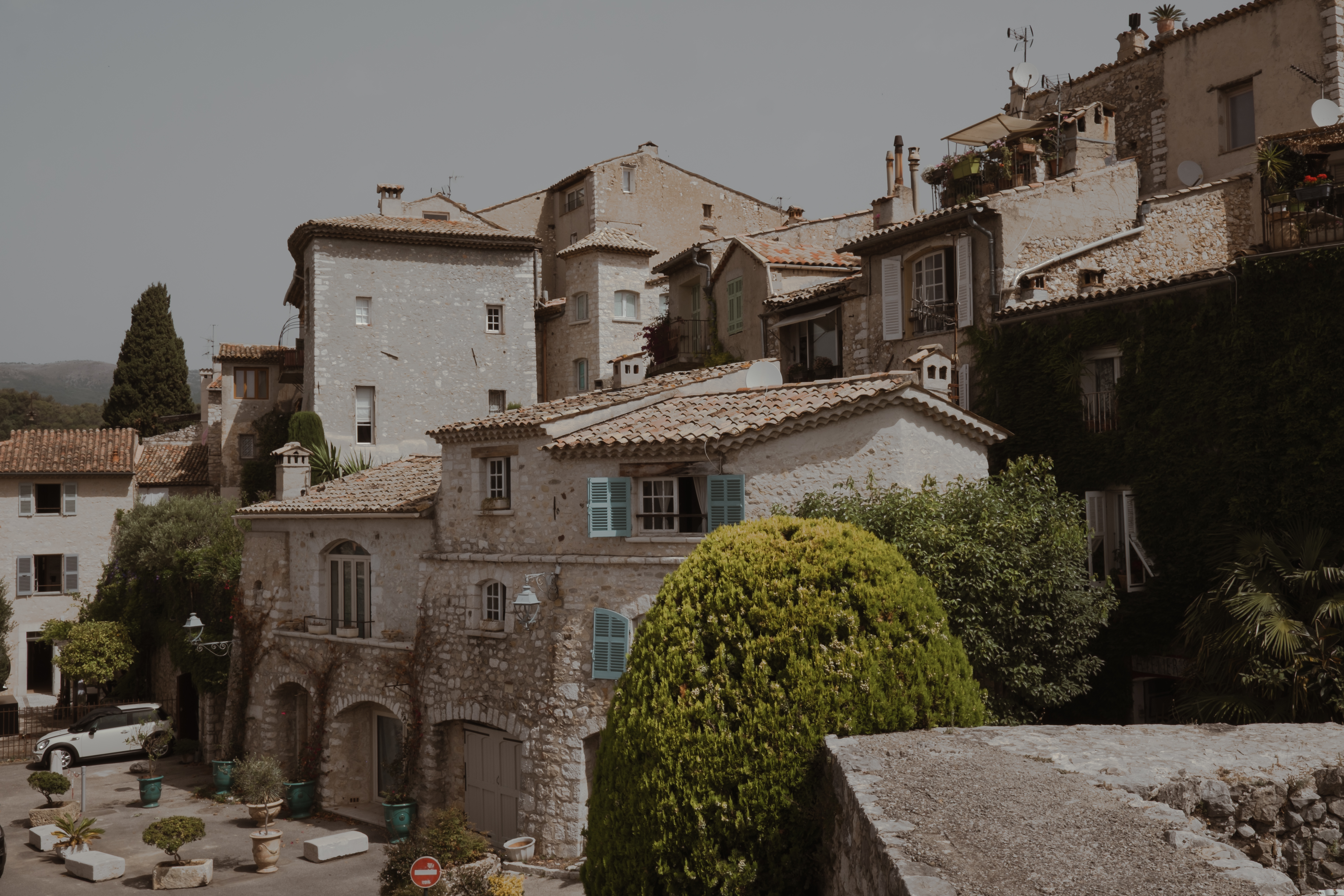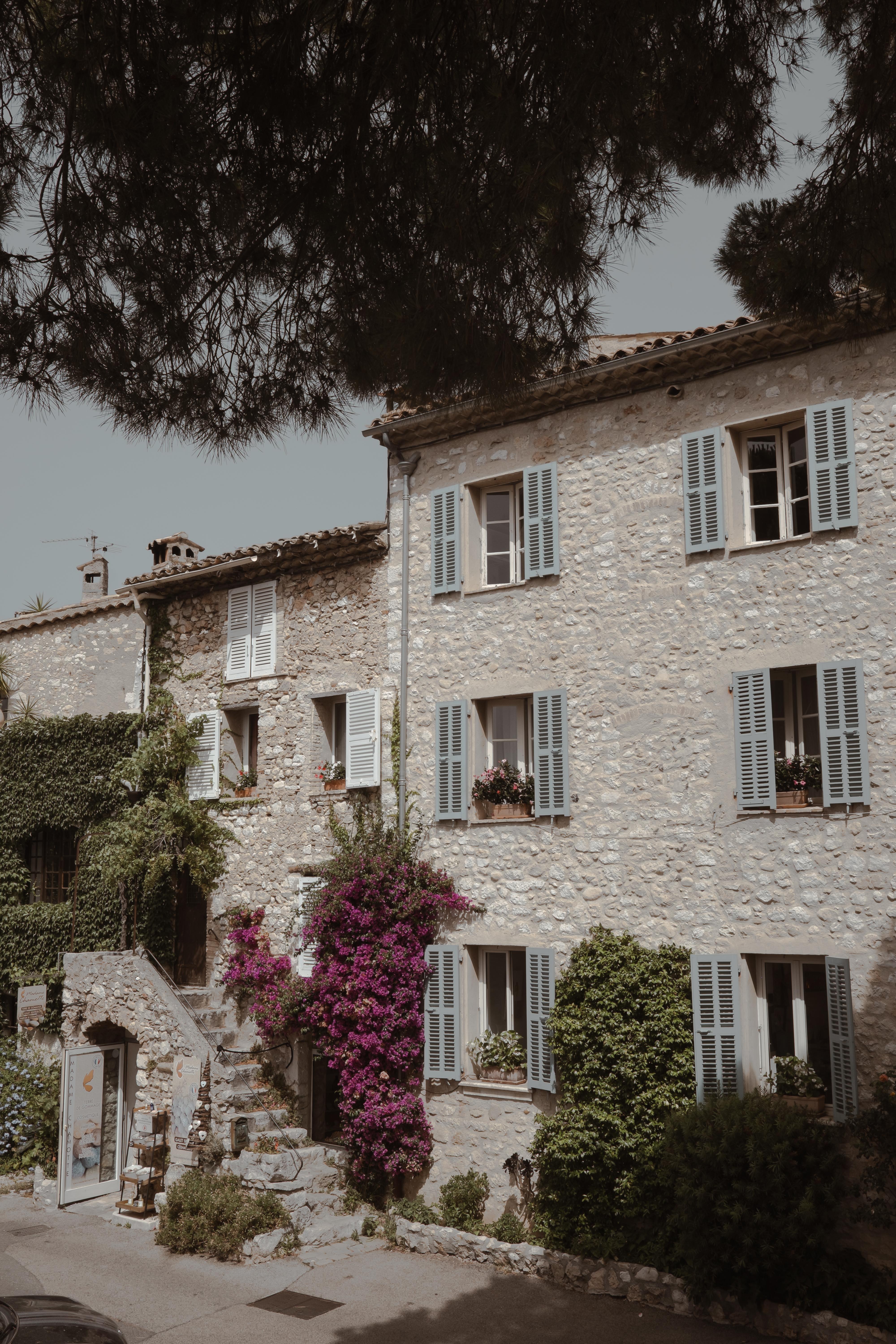 3. GRASSE
Grasse is home to a centuries-old perfumery tradition. Here you will learn the history of perfumes and how the crafts and fields in Provence adapted to this industry. Visit the Fragonard factory, where you'll learn the fundamentals of perfumes and essences and be delighted by the many incredible scents they have.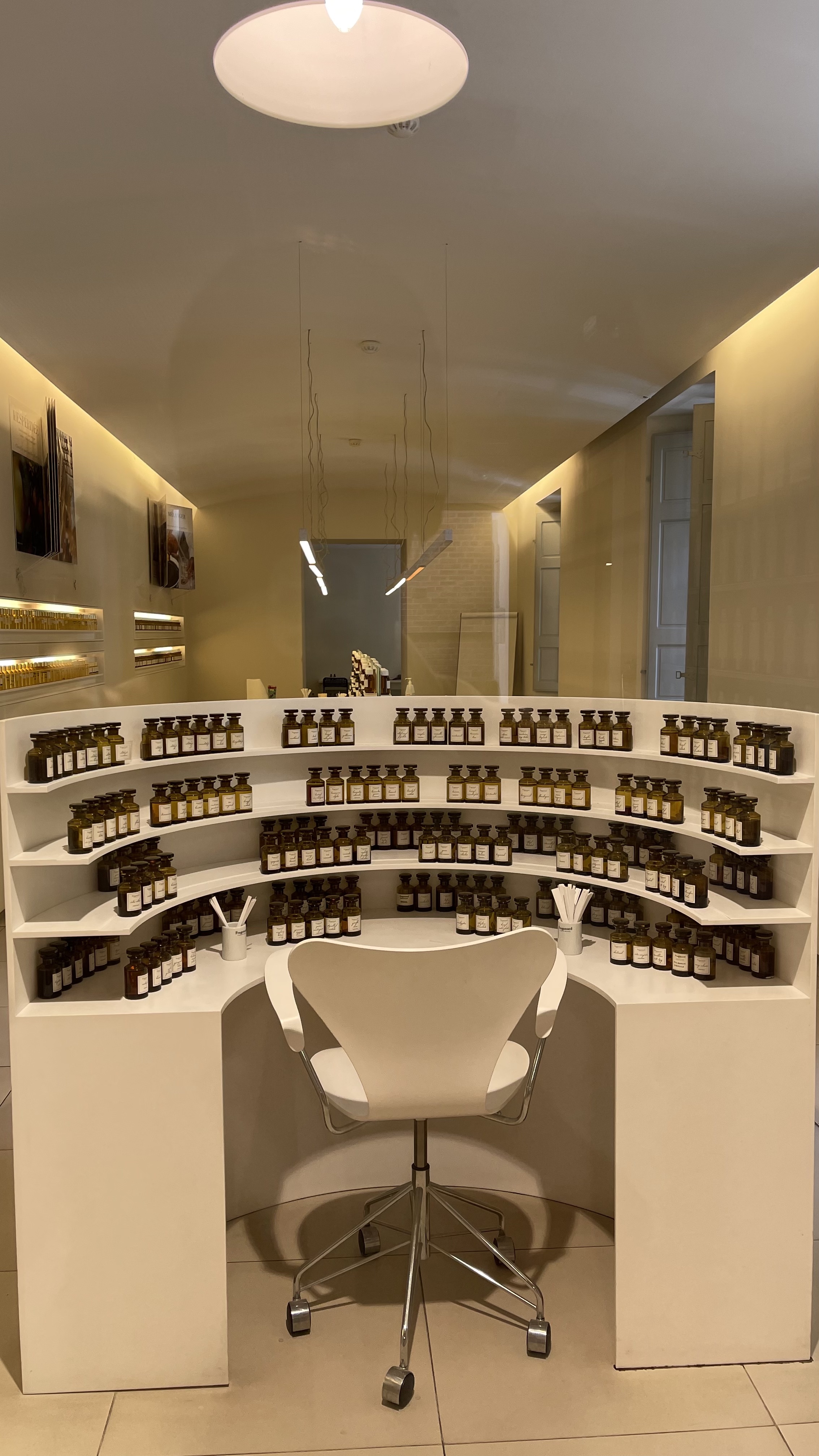 4. VILLEFRANCHE-SUR-MER
Another must-see on our list of South of France's prettiest towns! Villefranche is one of the most quintessential little towns along the Côte d'Azur. The narrow alleyways surrounded by the colorful pastel-toned houses are just so picture-perfect! Make sure to enjoy going for a swim at the Villefranche-sur-mer beach, with views of the bay and the luxurious Cap-Ferrat. Finally, have a cocktail or dinner along the many waterfront restaurants, such as the Alma Goût Méditerranée – Villefranche.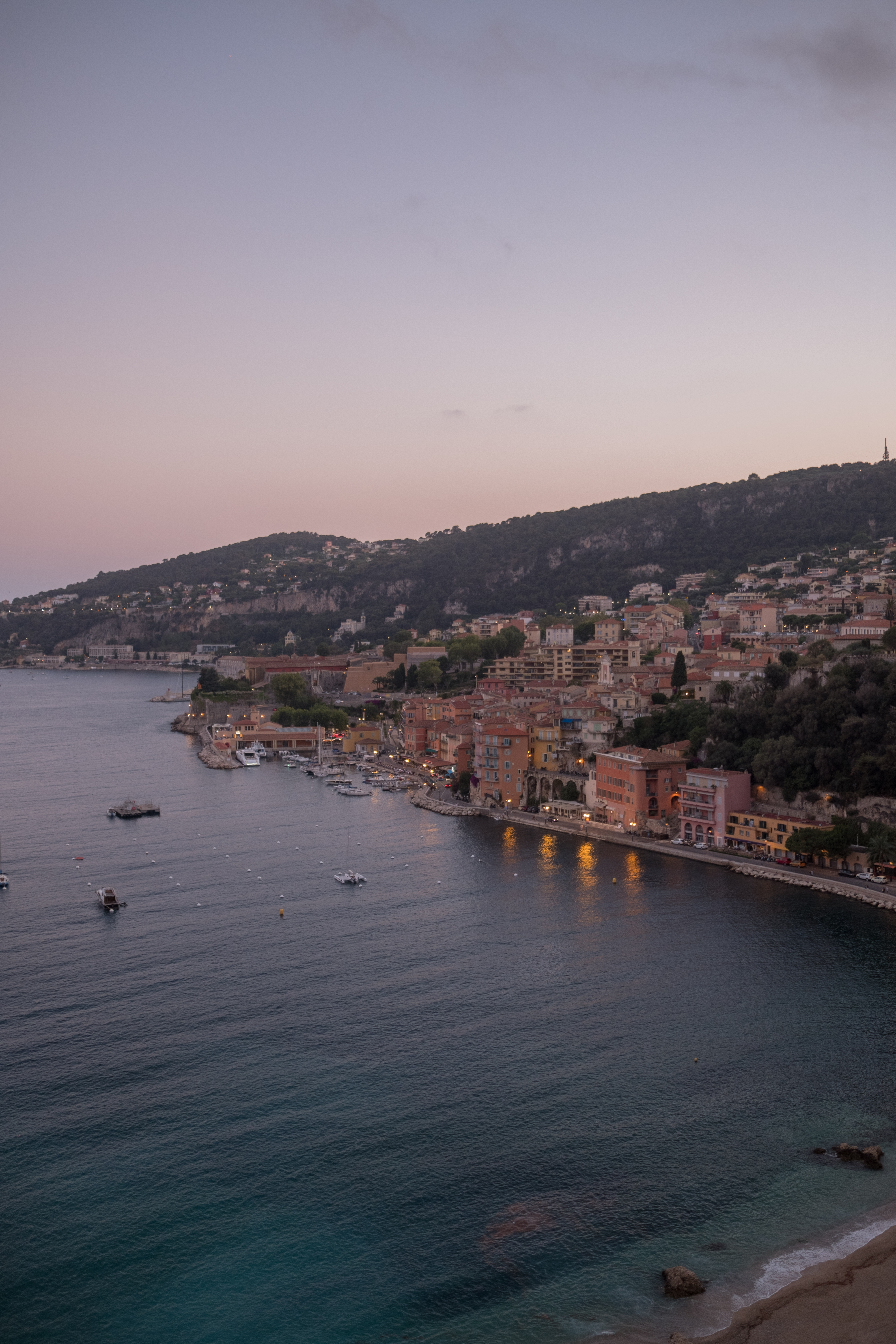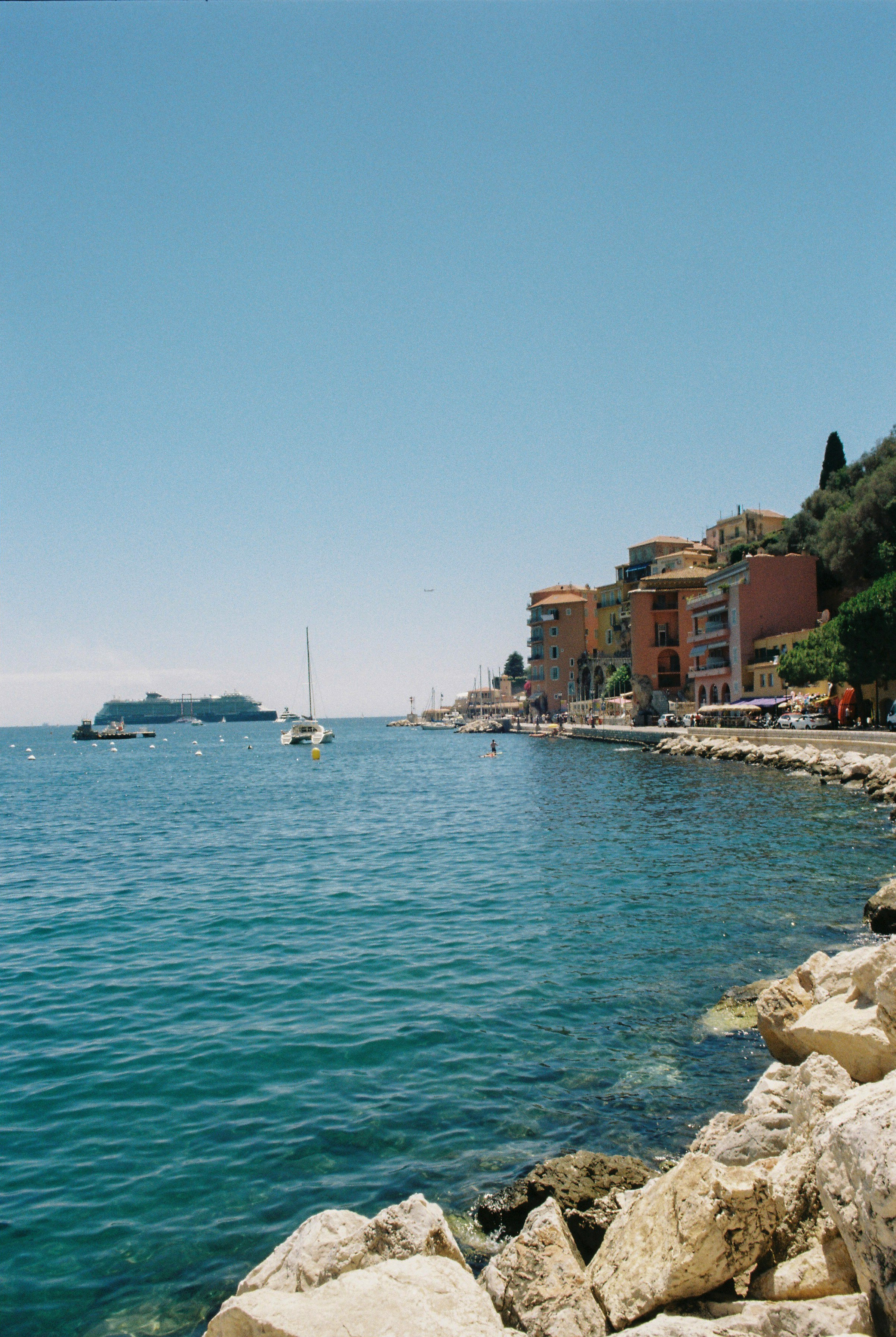 5. SAINT-JEAN-CAP-FERRAT
A small little town in the luxurious Cap-Ferrat, it has a very relaxed and laid-back feel, embodying perfectly the spirit of the French Riviera. From there, you can wander through the Cap-Ferrat peninsula, through its majestic villas, and go to the different beautiful beaches. Plage Paloma is the absolute favorite, overlooking the yachts at the bay and surrounded by trees and stunning villas.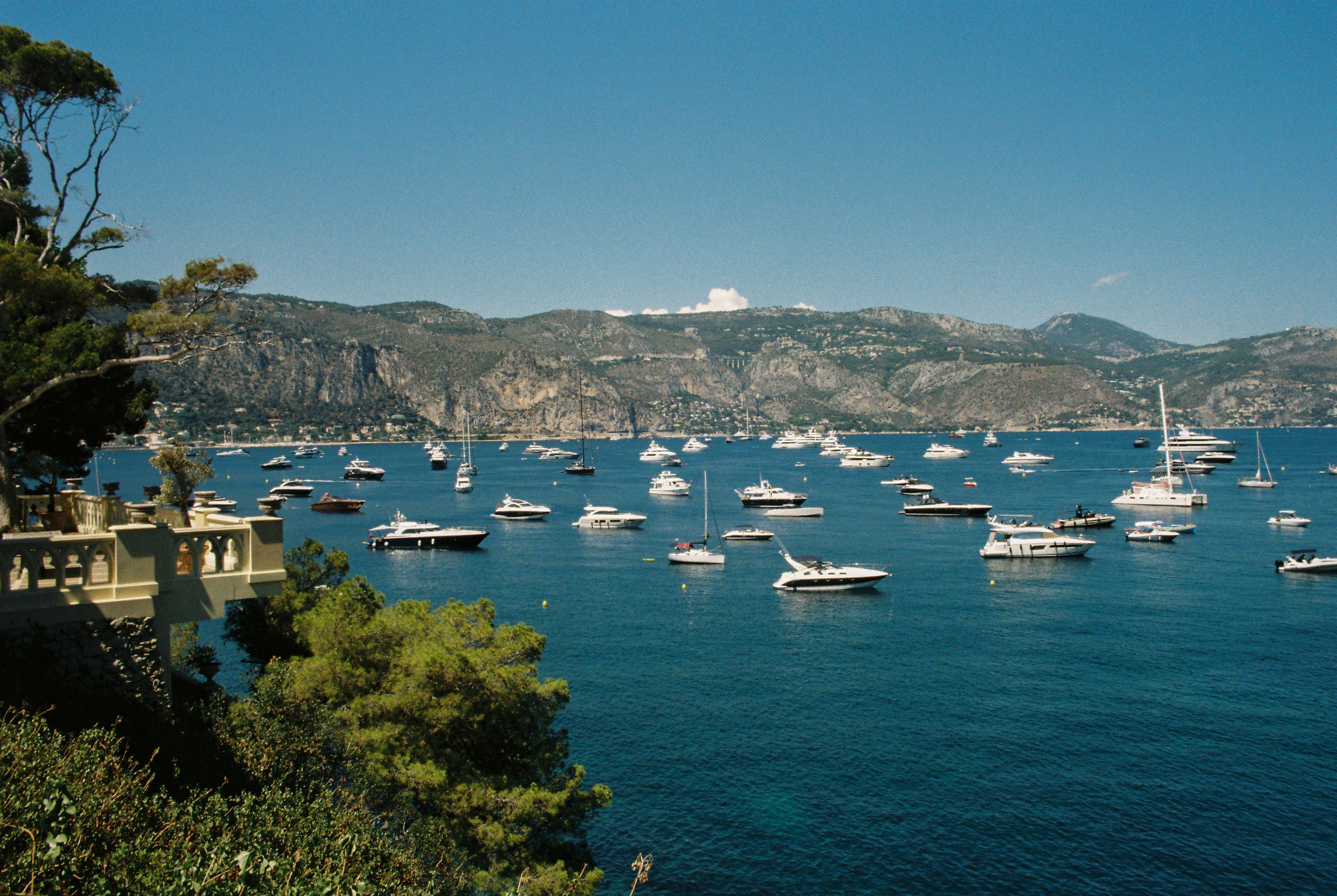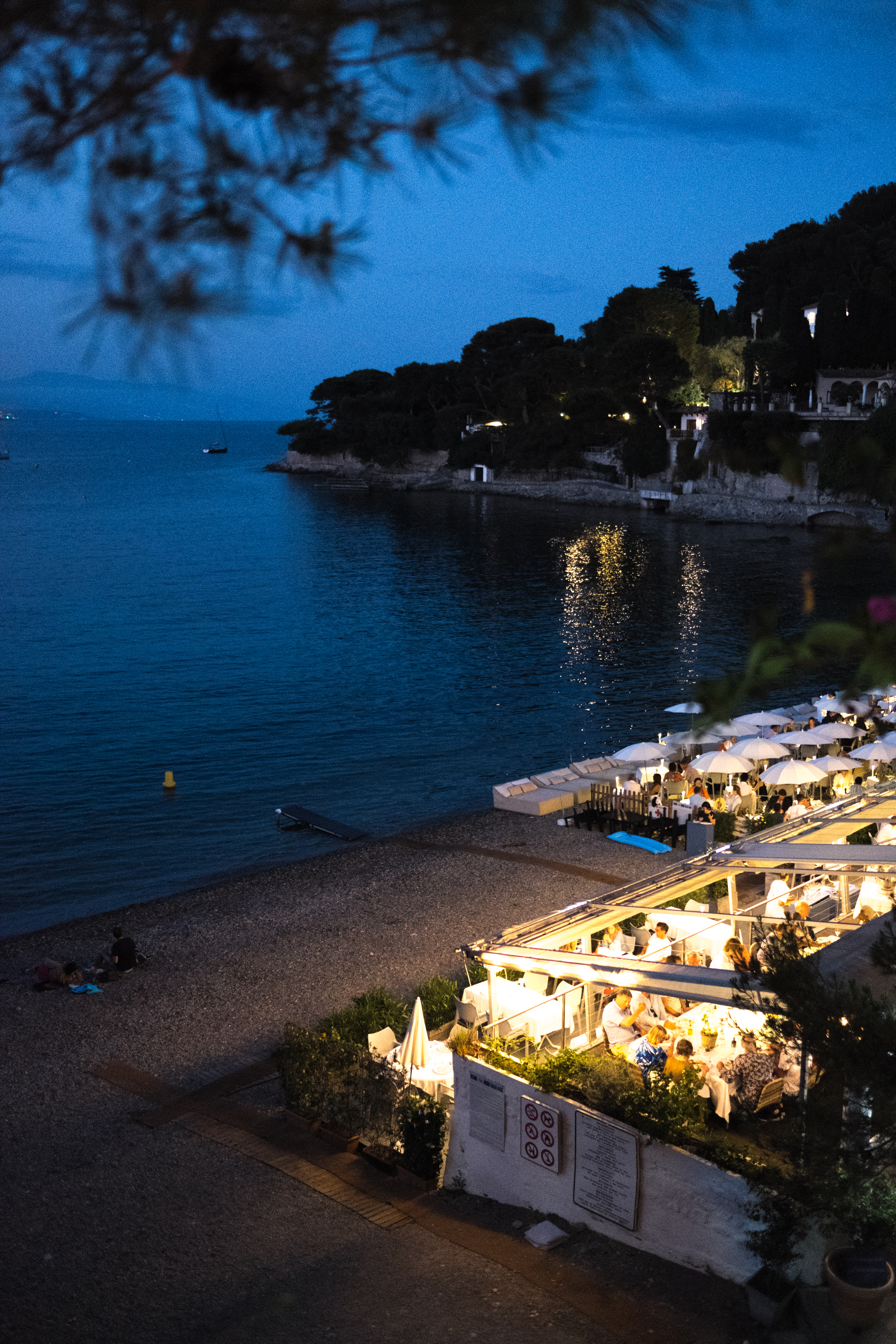 6. MOUSTIERS-DE-SAINTE-MARIE
This small little town, where Provence meets the Alps, is notorious for its big star hanging between two clifftops. There is a water stream running through the middle of the cliff tops with its several waterfalls giving the town a natural musicality that is hard not to love. Explore the different little shops, with plenty of lavender local products. Make sure to try one of the many ice cream shops – they even have lavender flavour, if you dare!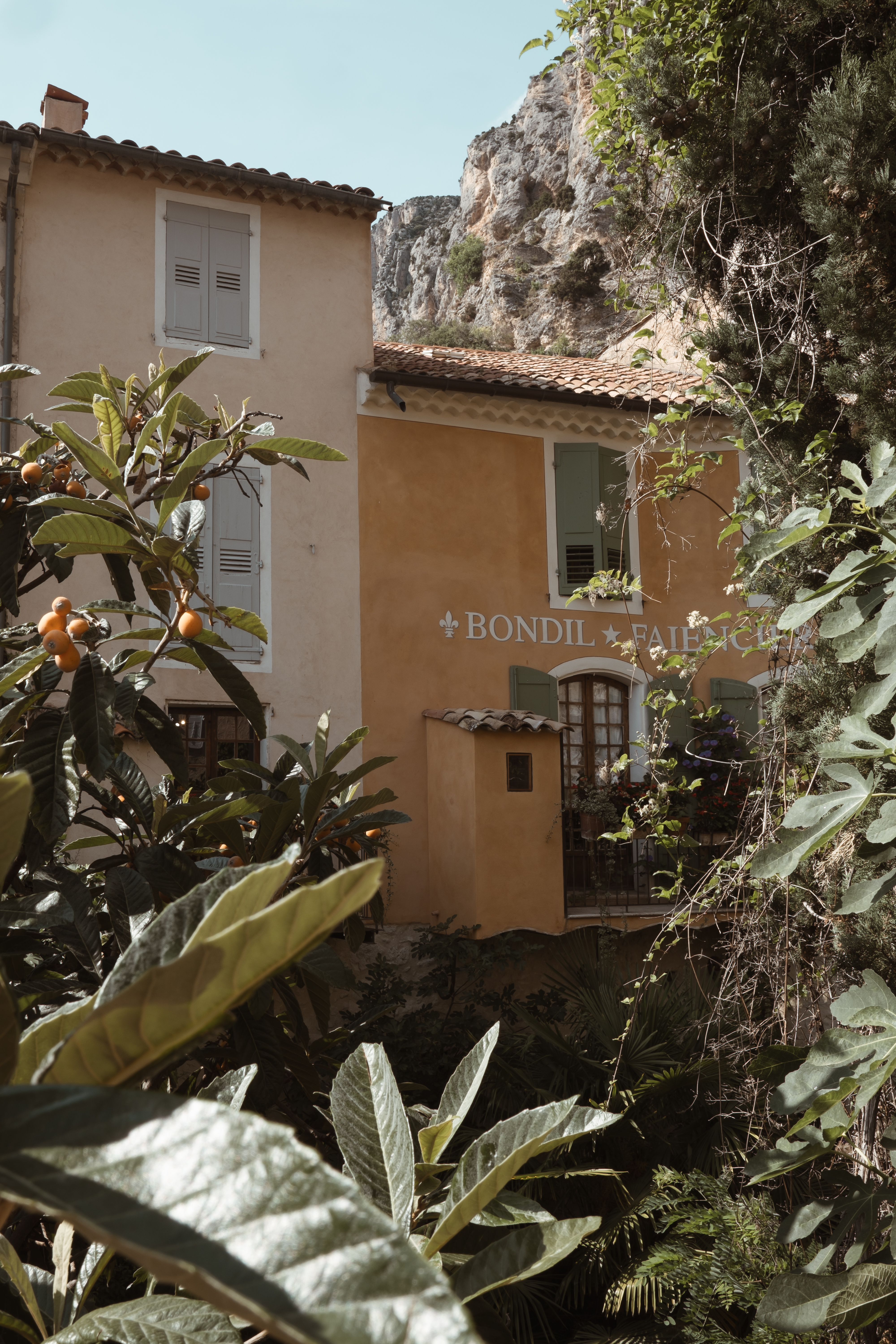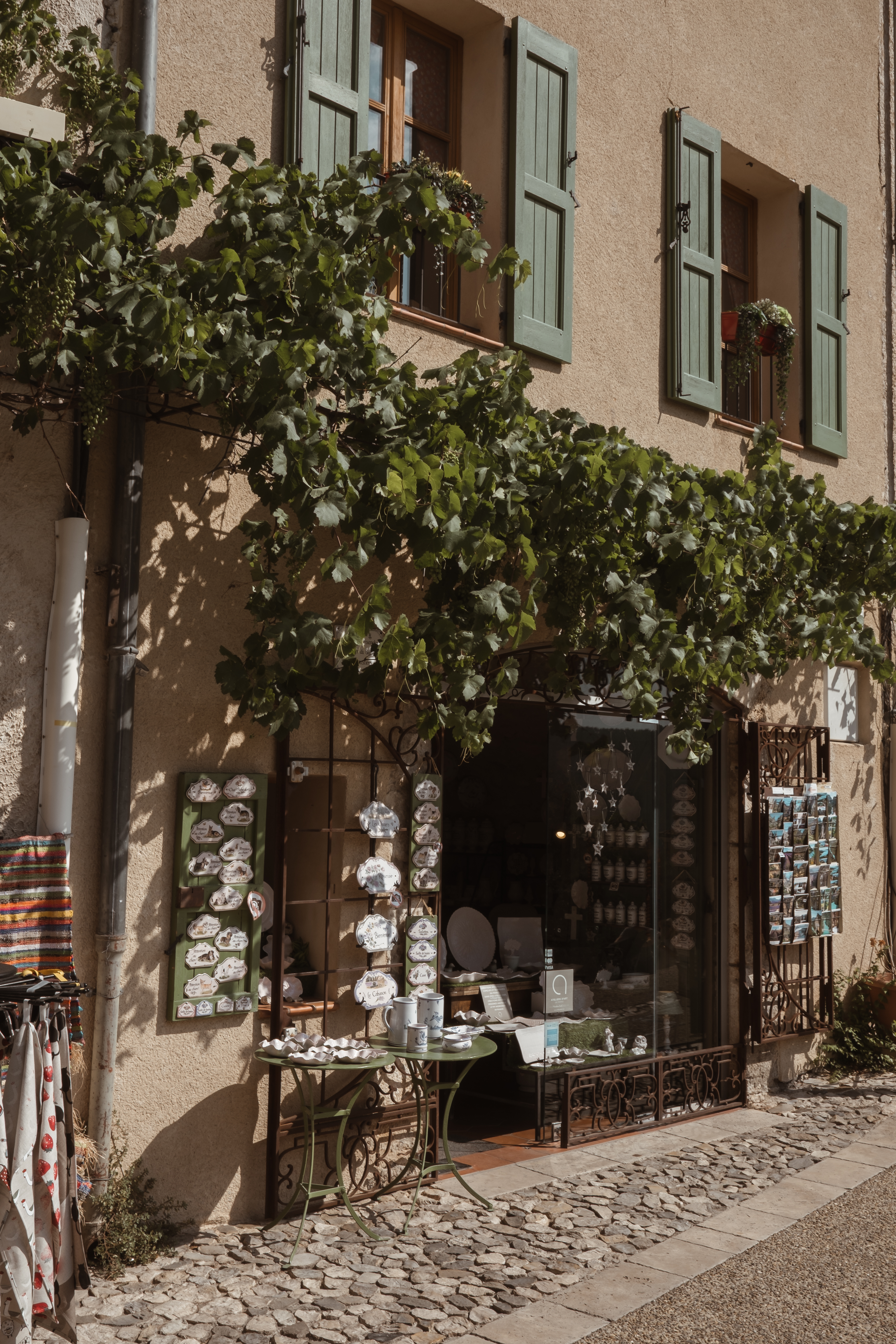 7. GORDES
One of the best-known towns of the Luberon valley, in Provence. Gordes is home to some of the best restaurants, hotels and cafes you'll find in Provence. It also offers views spanning across the valley and into the hills afar, you'll not want to miss having a cocktail or dinner with such a scenic backdrop. The best option would be having dinner at L'Orangerie at La Bastide, where all the scenarios will be complemented with flavors from the region. Find my review of La Bastide here.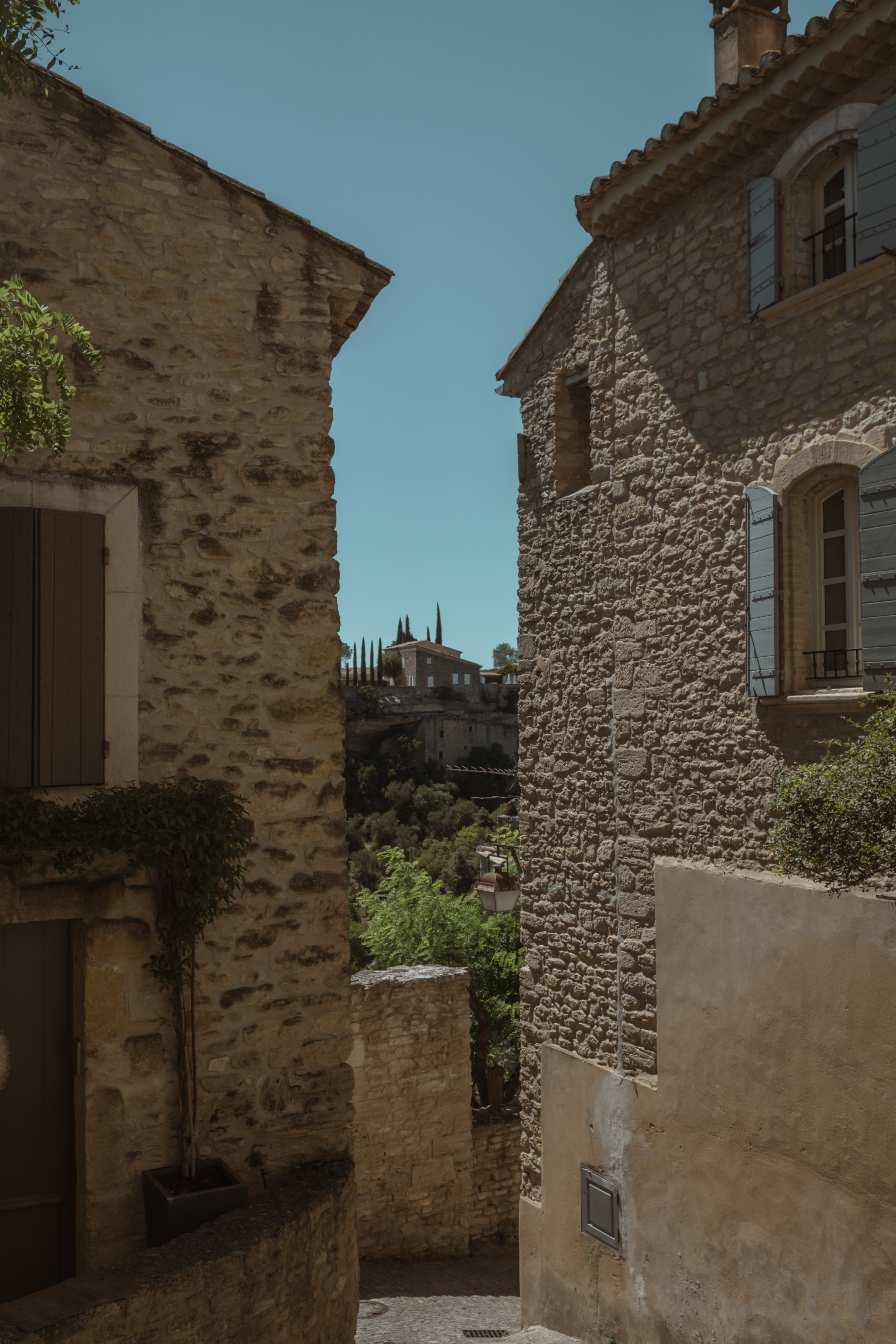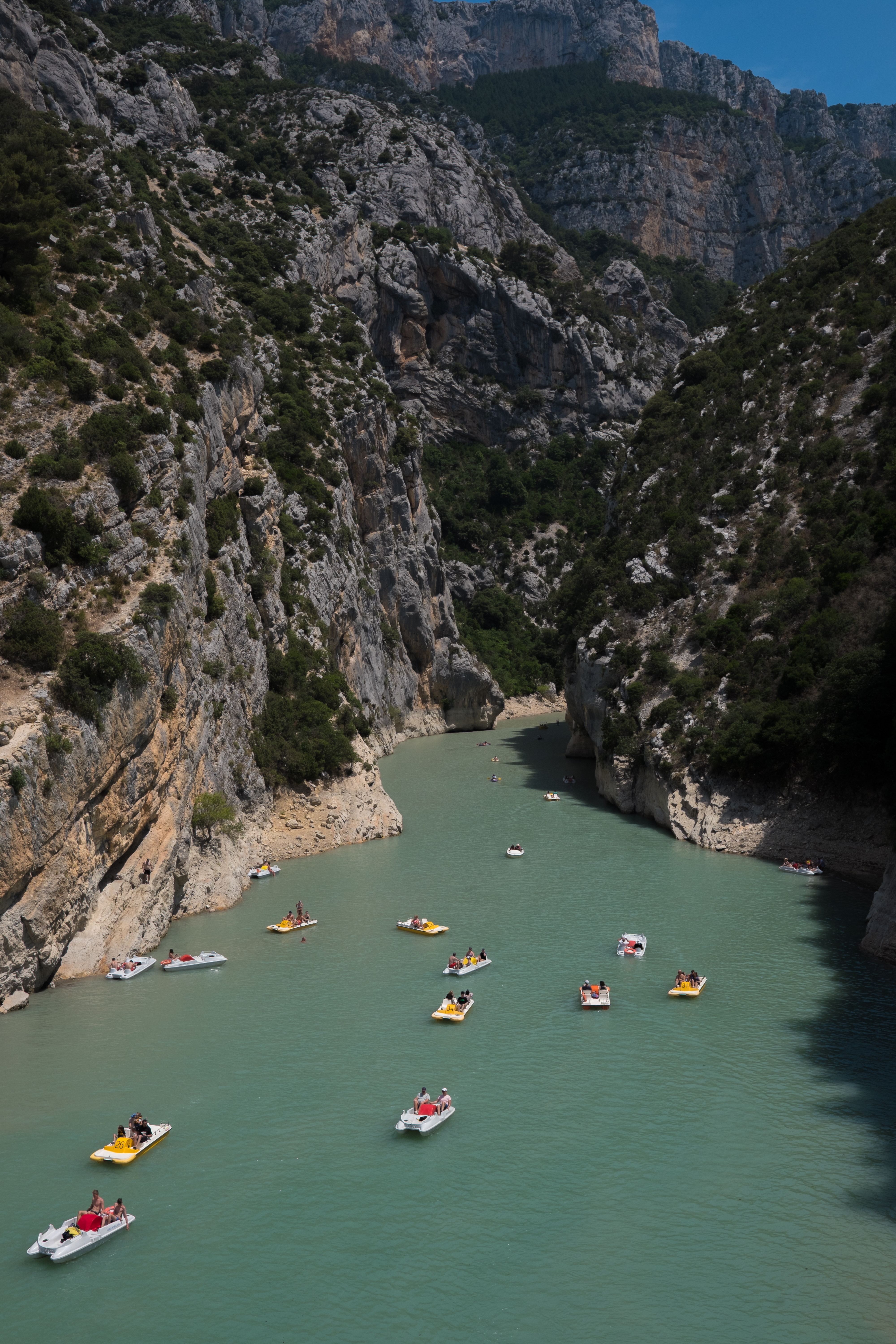 8. MENERBES
Ménerbes is another small medieval town on top of a hill on the south side of the Luberon valley. It has been home and retreat to several artists through the past couple of centuries. It's not hard to imagine why they would flee from the hustle to the quietness and scenery of such a location. To top it all up, at the foot of the hill where the town is located, there's an abundance of vineyards, many of which offer visits and tastings. Is there anything more quintessential in the French countryside than wine tasting?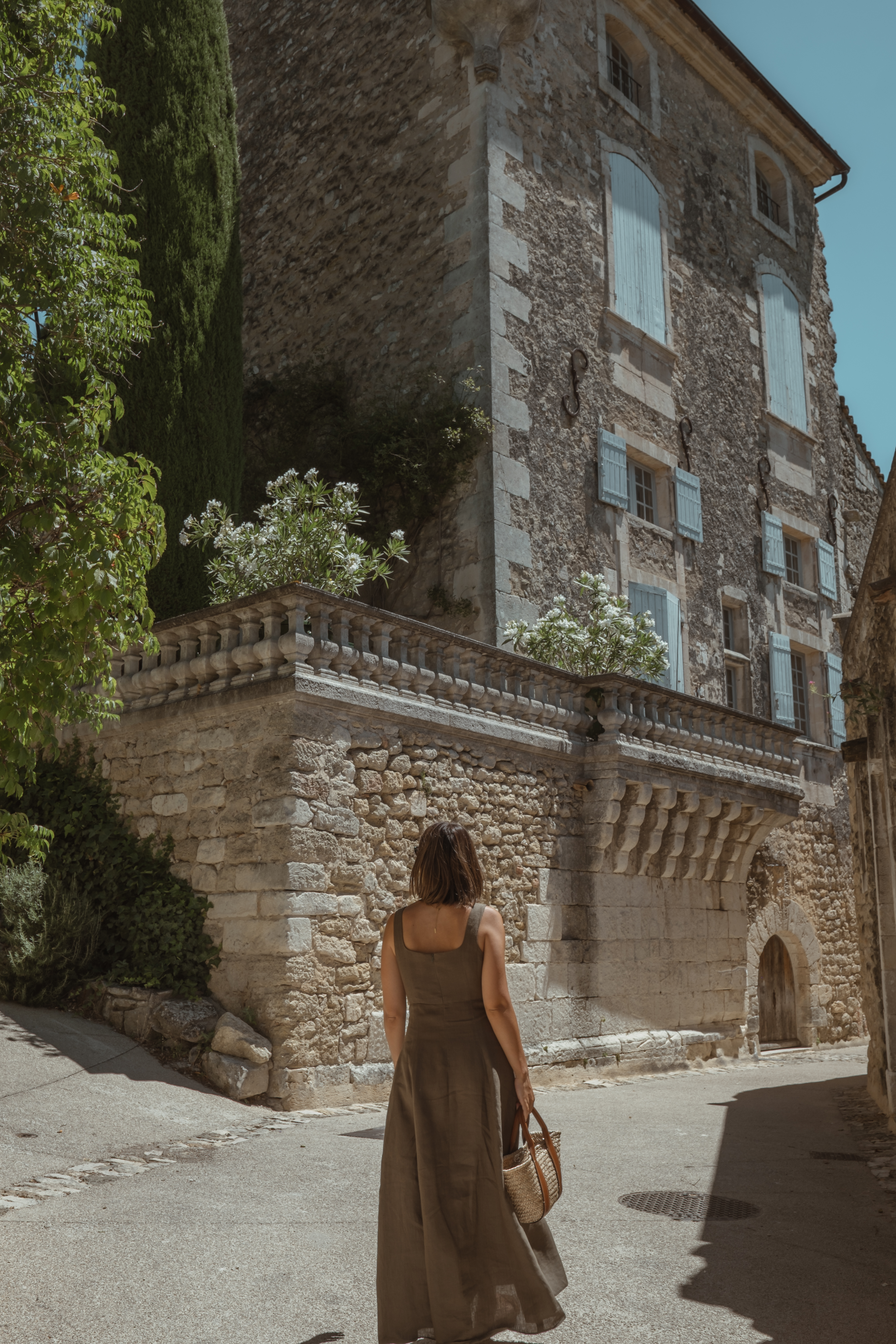 9. AIX-EN-PROVENCE
One of the main cities in Provence, this one is a surprise to anyone that didn't know it before. Always so full of life, especially in the evening time with all the terraces and live music on the streets. This city is also known for its many fountains scattered all around town, almost in every little square. This is especially interesting considering that the city doesn't have any river running through, so they chose to make up for it with all these fountains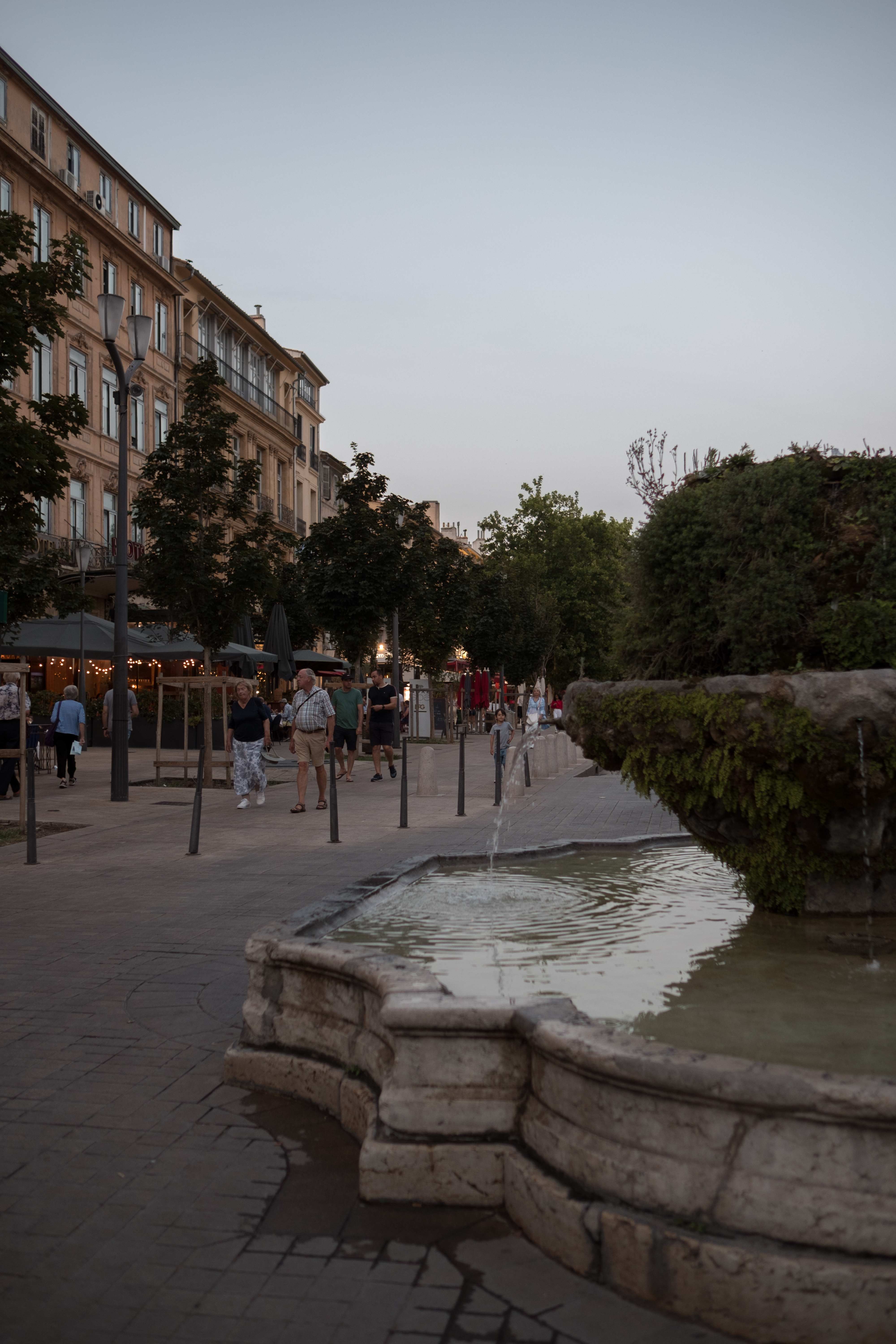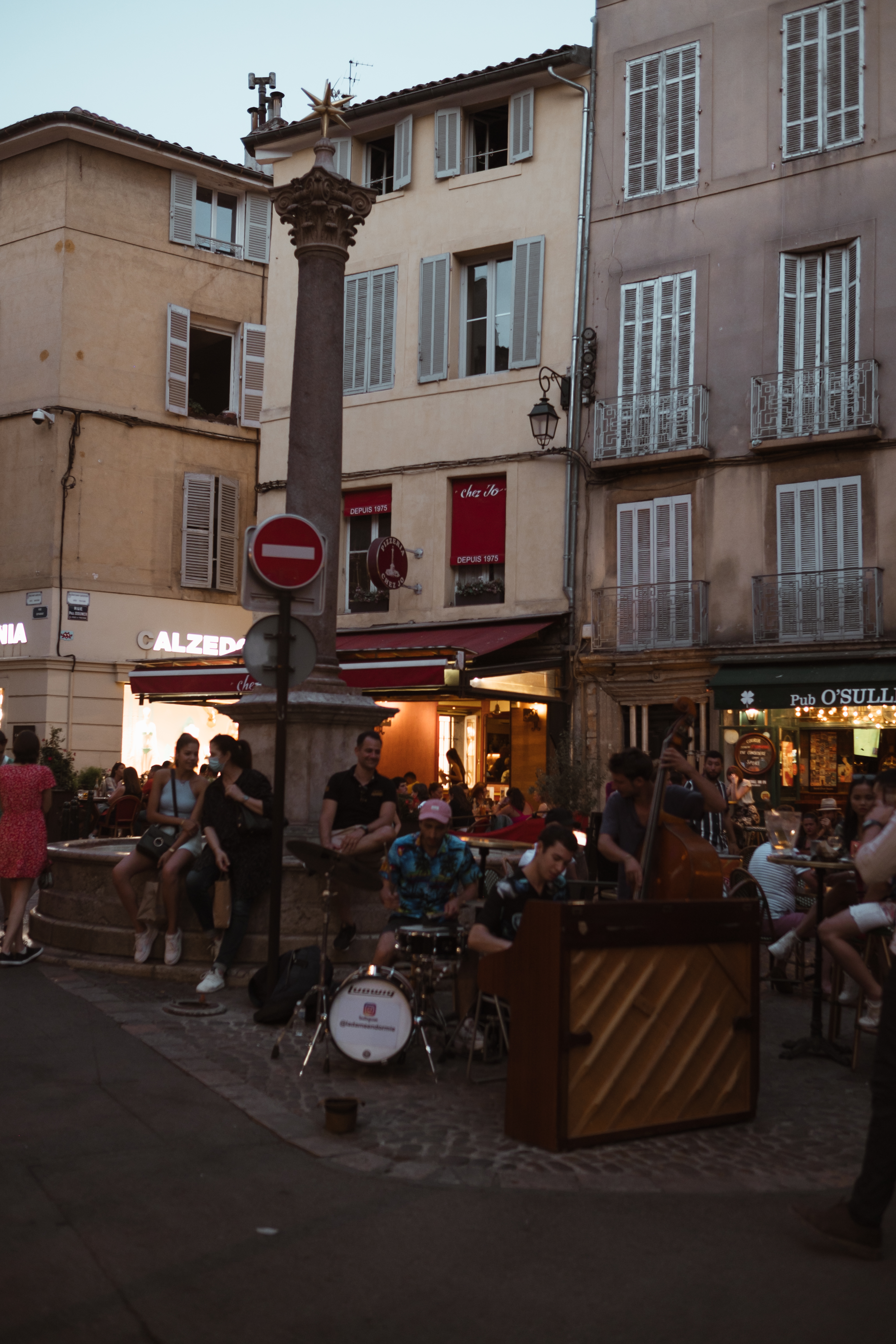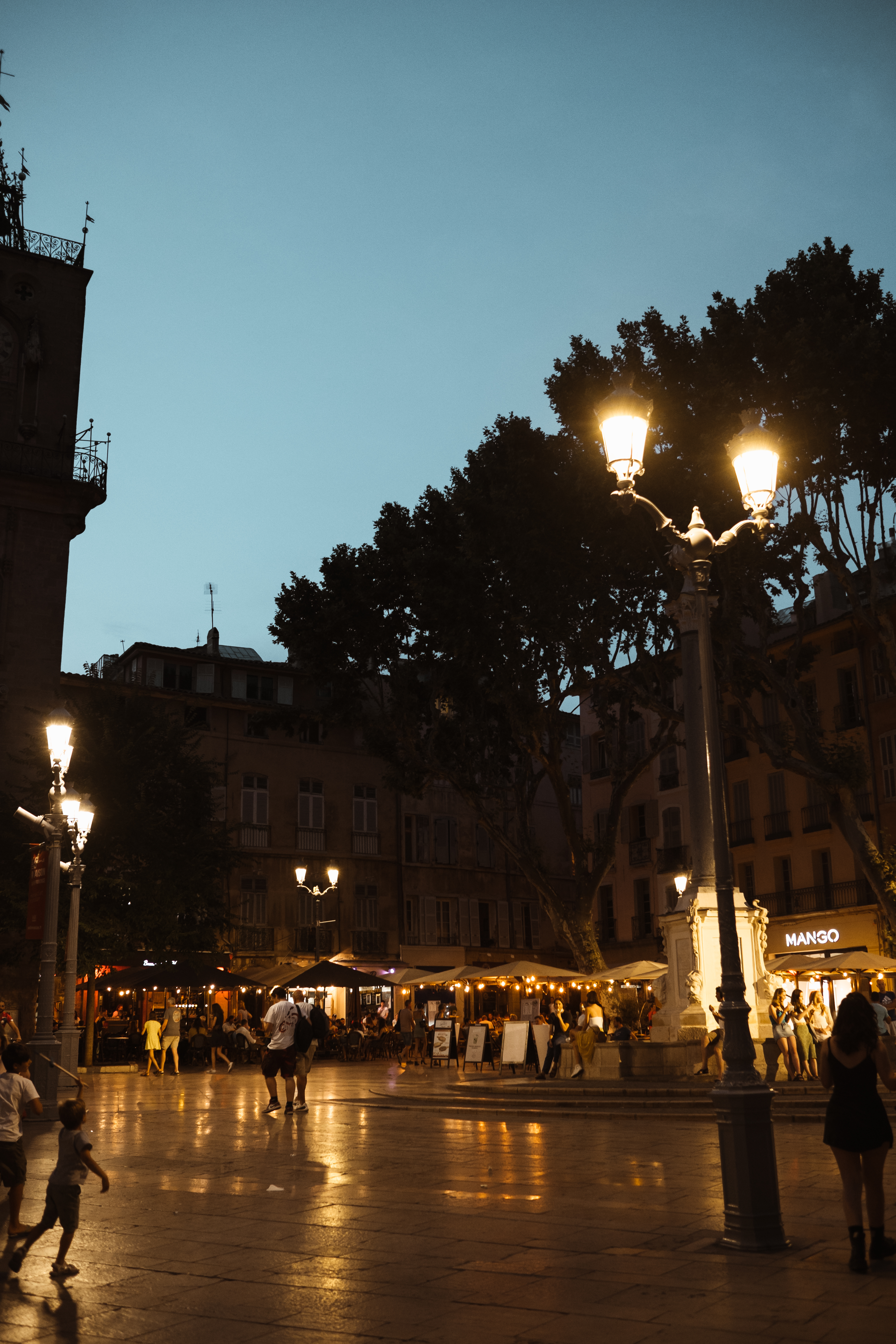 10. CASSIS
Cassis, back on the coast, is a small town east of Marseille, but right by the Calanques National Park. From there, you can either walk or paddle to the beautiful turquoise waters Calanques d'En-Vau and Port Pin. Try to go by kayak – while it can be tiresome, it gives you one-of-a-kind views of the Calanques and an extra freedom to explore that you won't have if you get there through the trails.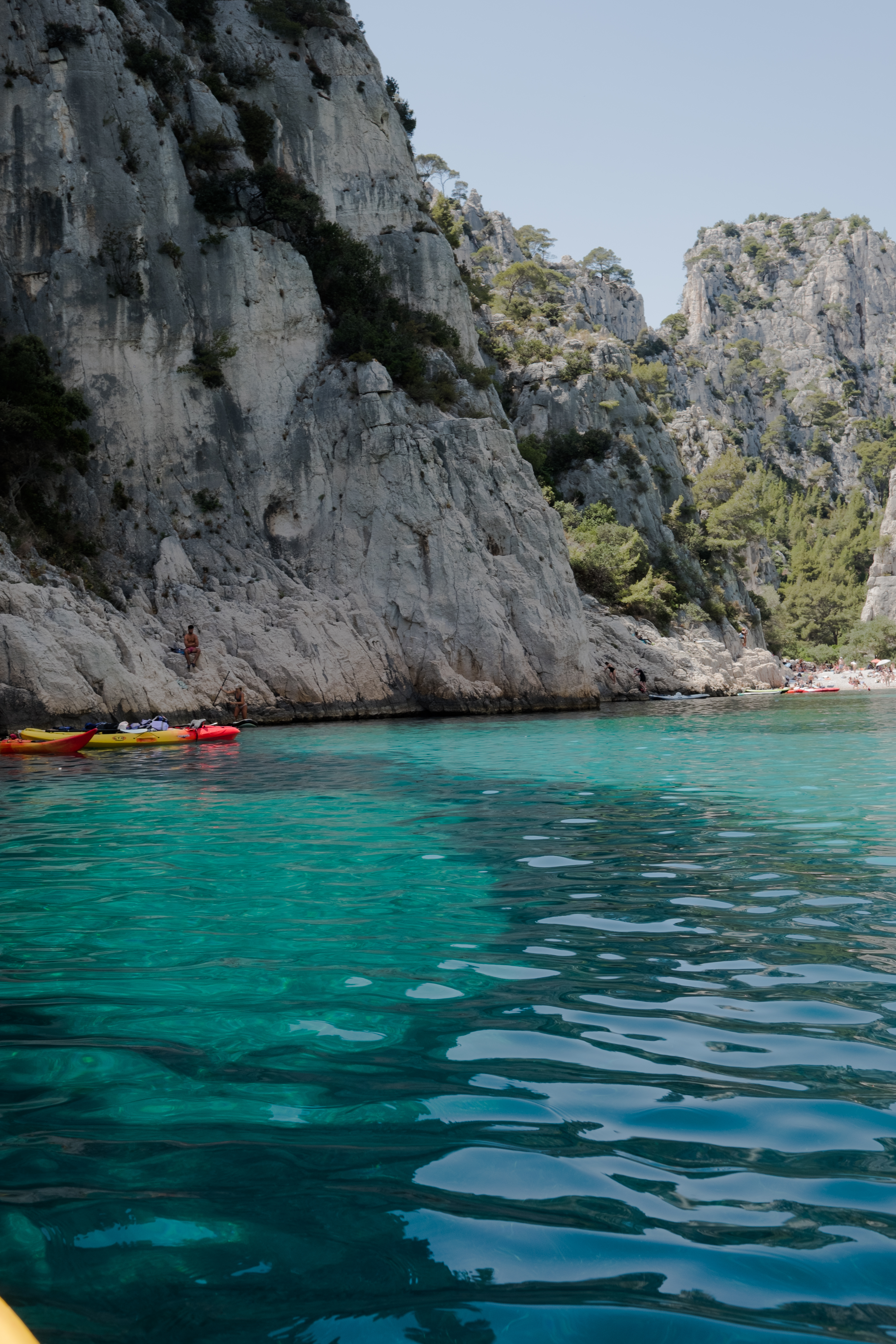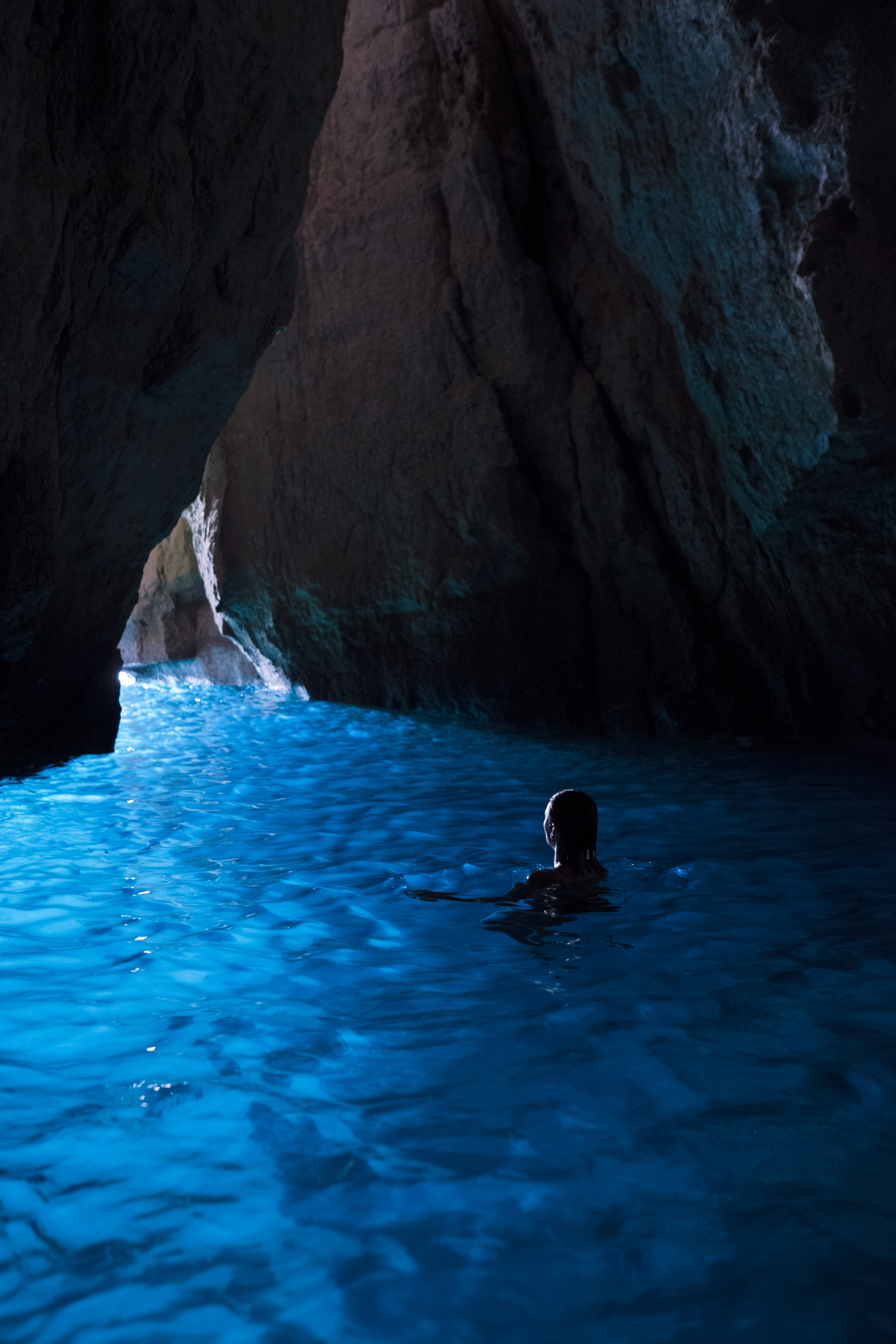 WHERE TO STAY?
Choosing the right accommodation can already be half the success of your trip. Please find below some suggestions:
PROVENCE
This little beautiful house is not only in the middle of Lavender fields, but also you can get it at a very nice price compared to what one can pay in the region.
This is a duplex 2 Bedrooms loft in Aix-en-Provence, very close to the center for easy access to the lively city evenings.
Located in a pretty hilltop village, this luxurious hotel has panoramic views of the Provence hills and a restaurant where you'll eat Provence on a plate.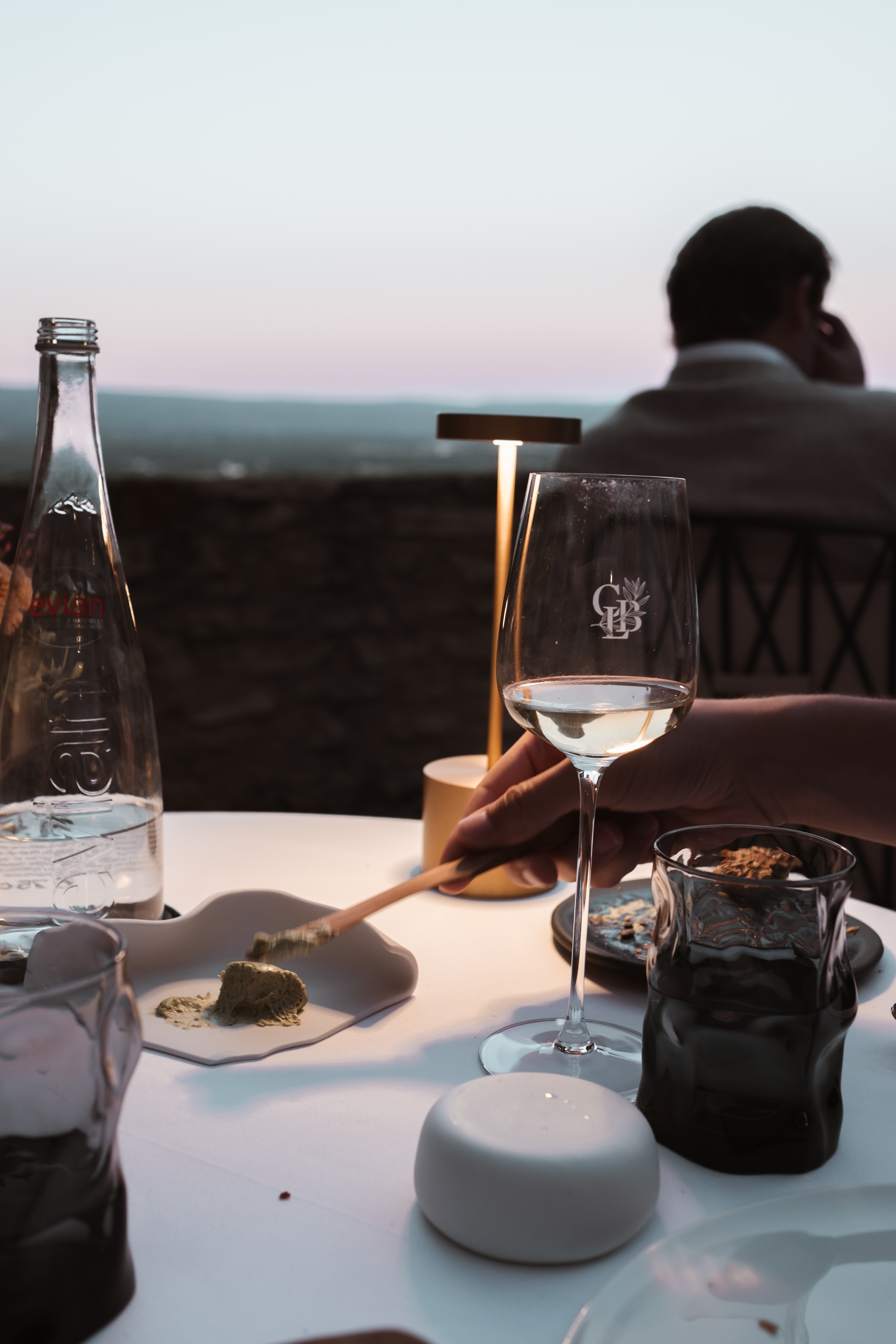 COTE D'AZUR
You will find this bed&breakfast in Villefranche-sur-mer. It is a beautiful apartment with a scenic balcony overlooking the Villefranche-sur-mer bay and the luxurious Cap-Ferrat and just a short walk from a morning swim on the beach.
This beautiful apartment is close to the Port of Nice. Not only is it in a very charming and quiet neighborhood but also just a few minutes walking from the Old Town of Nice and the famous Promenade des Anglais.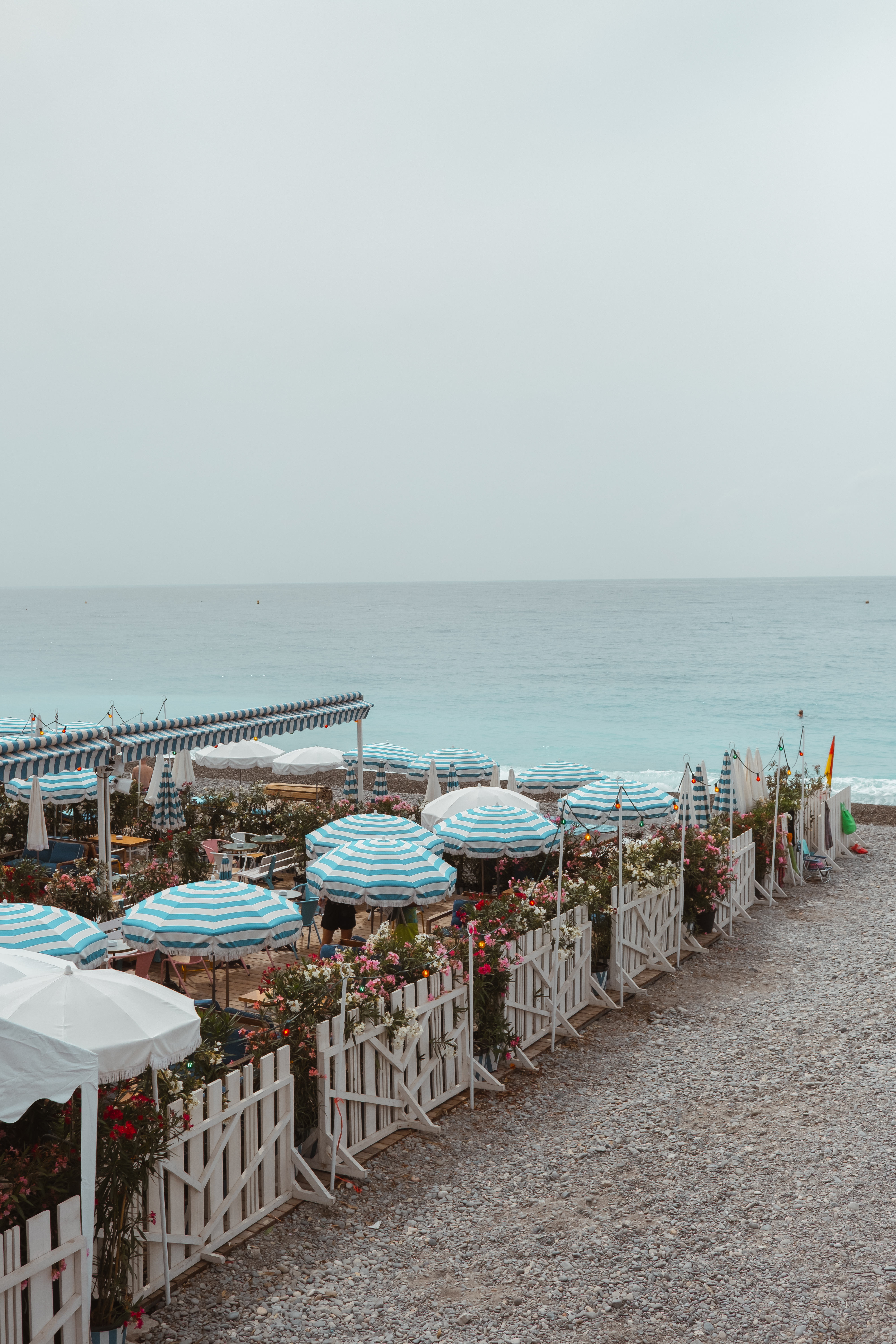 For a full luxurious stay, in one of the most exclusive and stylish neighborhoods around the world stay at Cap-Ferrat. The hotel evokes all the dreaminess of the French Riviera style made immortal in the 50s and 60s.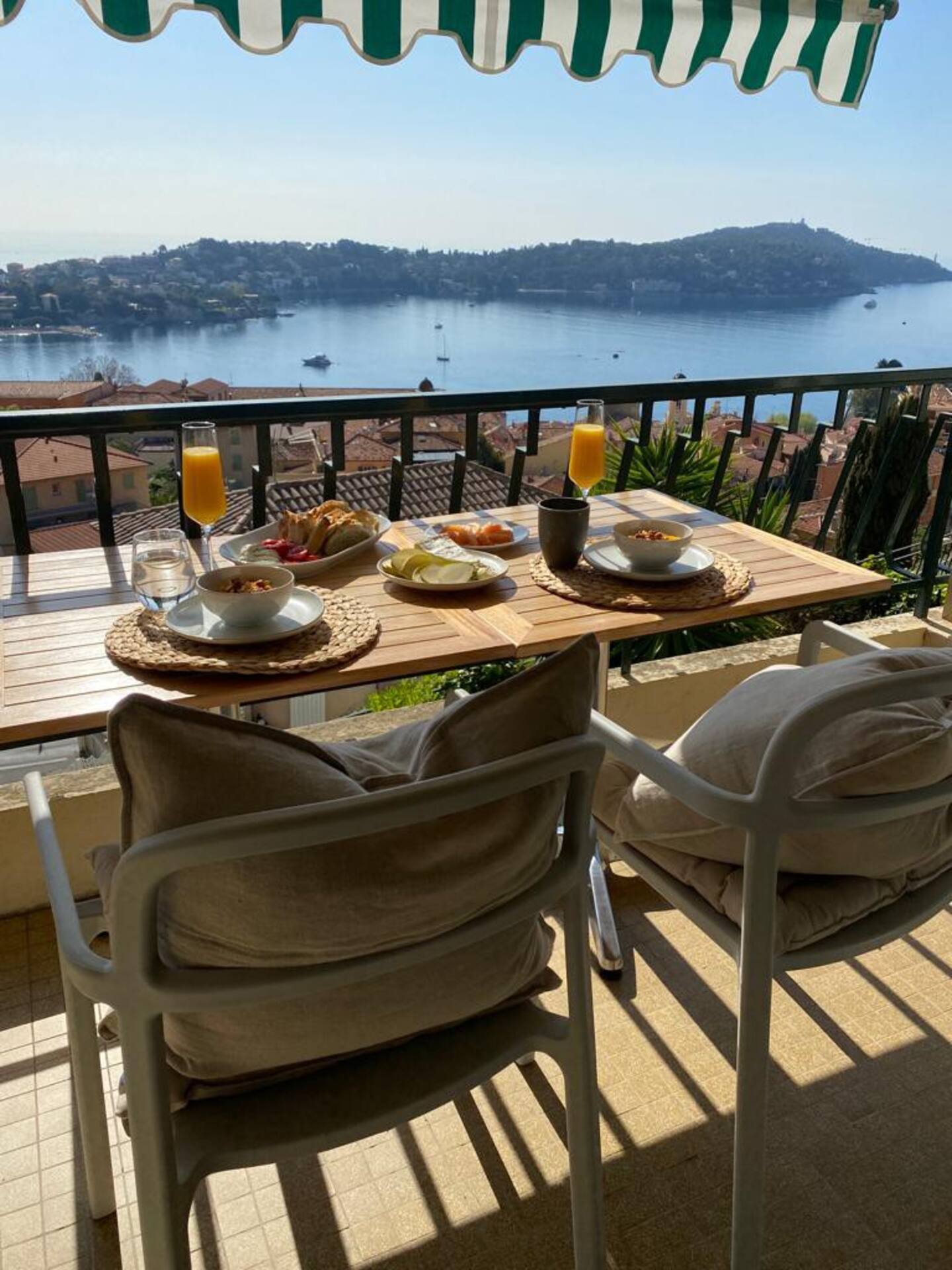 FINAL TIPS
To conclude – if you only had to choose just three places from the above list of 10 prettiest towns in the South of France then we would recommend the following:
Firstly – Èze, for its medieval magic and views overlooking the coastline
Secondly – Gordes for its scenic restaurant terraces with views of the Provence valleys and hills
Finally – Cassis for the absolutely dreamy Calanques.
Above all, many thanks to our expert Sonia from @simplyslowtravel for sharing everything she loves about South of France! In particular, I'm thankful that she has shared some of the less-known towns and villages!
Sonia, born and raised in Portugal, is an ambassador of slow travel. Following her journey will show you how to enjoy slower-paced trips, rather than ticking off things from your bucket list. Sonia also wrote an extensive and probably the best Guide to the South of France which you can get here!
I mean, we truly couldn't get a better guide to the South of France than her!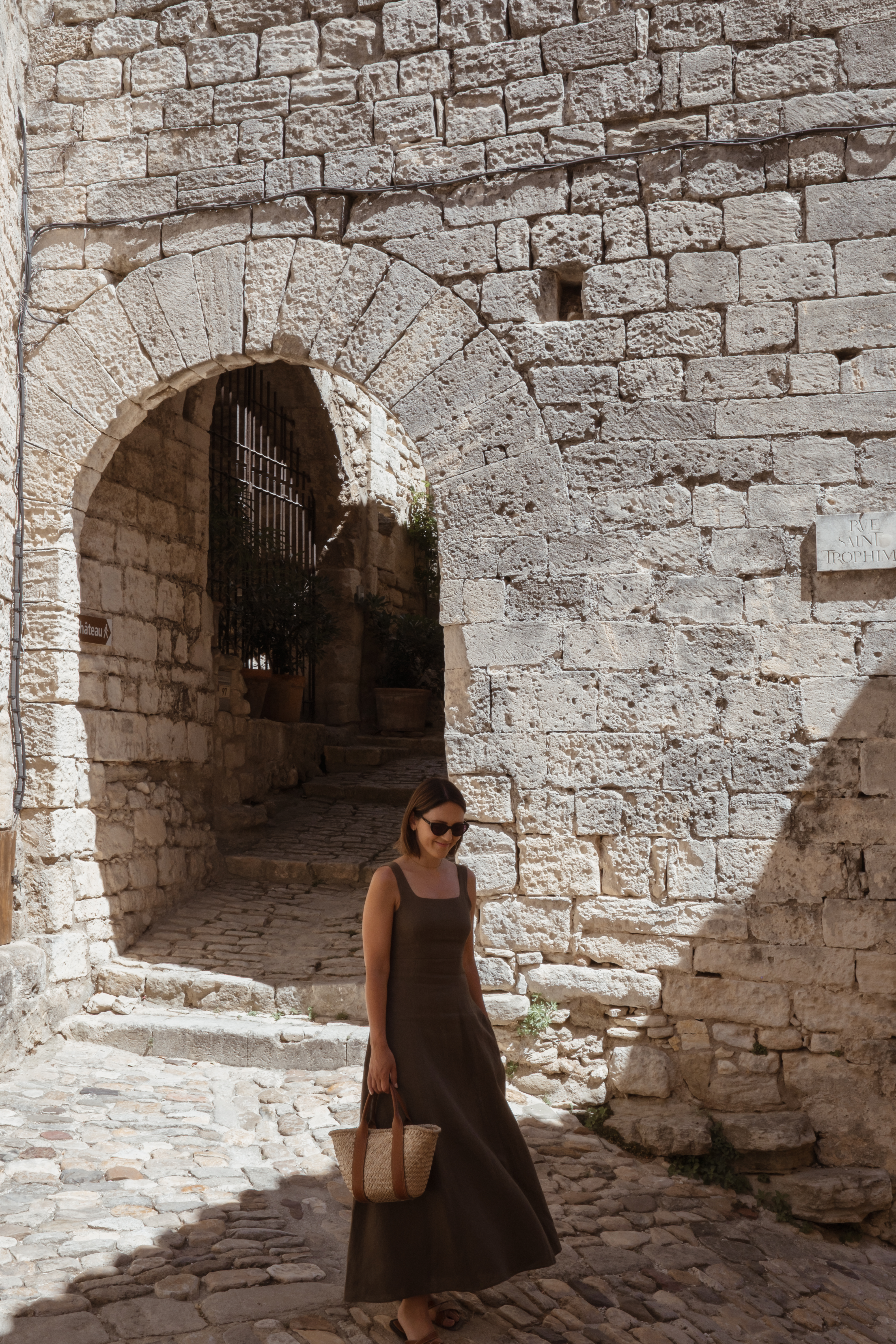 Make sure to check her Instagram Profile and follow her beautiful journeys!
In case you are searching for more inspiration for traveling, then perhaps some of my other Guides will be useful:
5 BEST HOTELS in PALMA, MALLORCA (2022 List)
10 MOST BEAUTIFUL RESTAURANTS IN MALLORCA