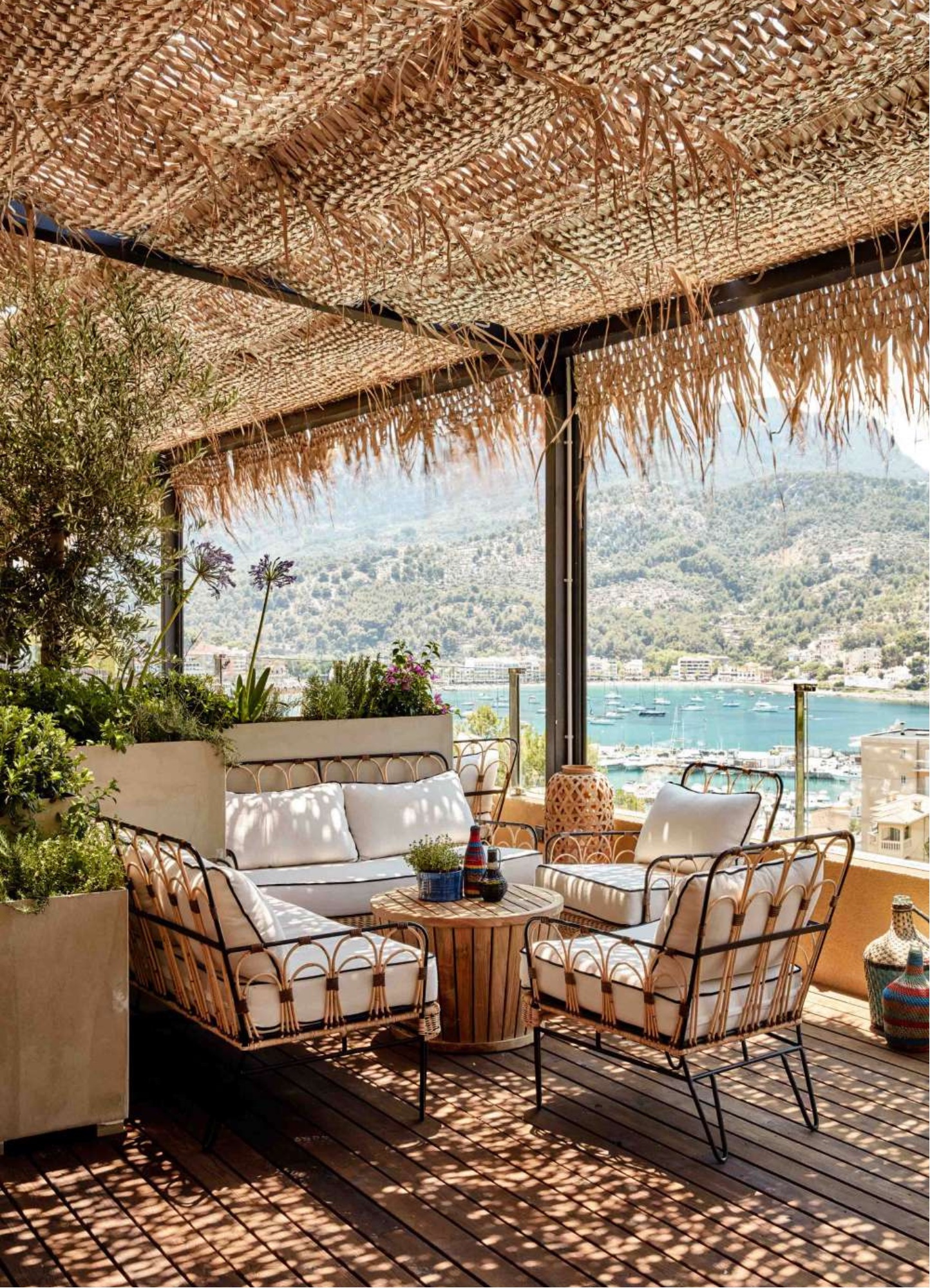 10 MOST BEAUTIFUL RESTAURANTS IN MALLORCA (2023 LIST)
From simple seafood shacks to world-class fine dining hotspots I have chosen my top 10 most beautiful restaurants in Mallorca for you.
Apart from having some of the most stunning beaches in Europe, Mallorca now also has a thriving gastronomic scene. Not only does it offer an incredible quality of cuisine, but often unparalleled views to accompany the food. From vegetarians to gourmet cuisine lovers, Mallorca has something to offer for all.
I went to Mallorca for the first time last year and spent 18 days discovering all the island has to offer. I fell in love with its diversity, its coast, and atmosphere, but also the amazing hospitality.
If you are looking for restaurants in Mallorca that not only serve good food but also offer an experience that will stay in your memory forever, this is the right place for you.
1. El Olivo, La Residencia, Belmond Hotel, Deia
BEST FOR: SPECIAL OCCASIONS
Having dinner at El Olivo (and staying at La Residencia) were without a doubt the highlight of my trip. I have and will recommend to everyone to dine here at least once in their lifetime. For me, restaurants are not just about food, but about the atmosphere and how they make me feel. El Olivo scores 10 out of 10 on all accounts.
This beautiful restaurant is located in a converted 16th-century olive press, overlooking the beautiful village of Deià. Imagine world-class Mediterranean cooking combined with an unbeatable mountain and sea setting.
I really recommend booking a table as early as you have decided to visit Mallorca because it is really booked out. Try and ask for a table directly on the edge of the restaurant to get the best views. also make sure to arrive before the sunsets, because those changing colors (and cocktails) will make your head spin.
Please find here my full review of La Residencia with all the details.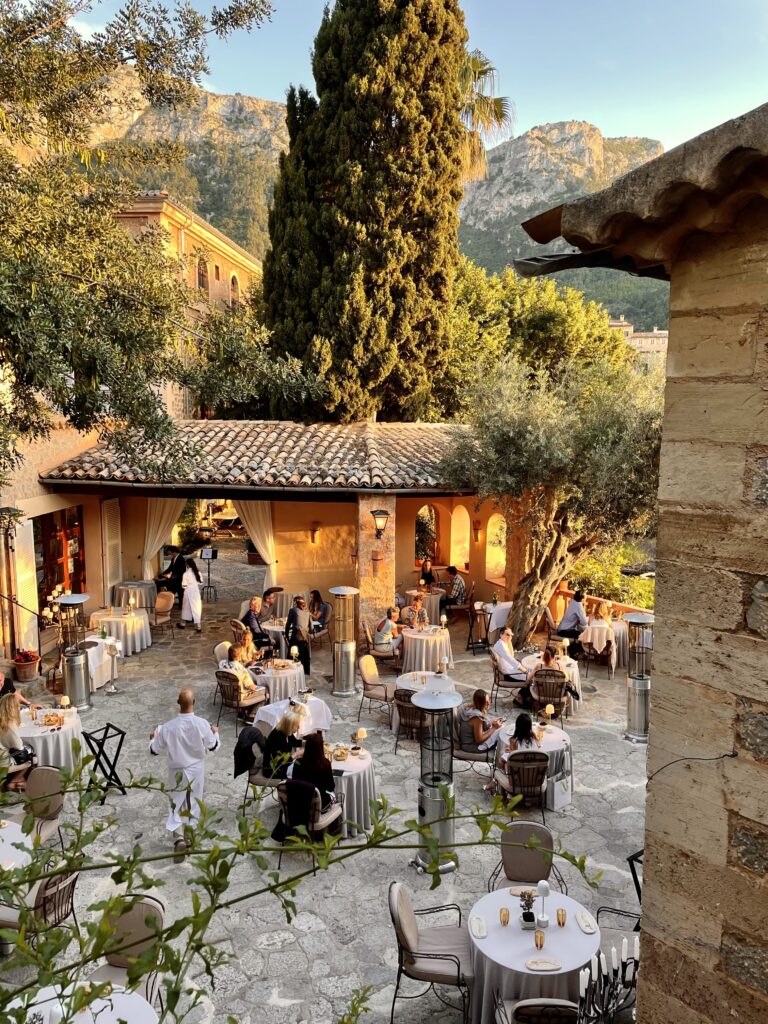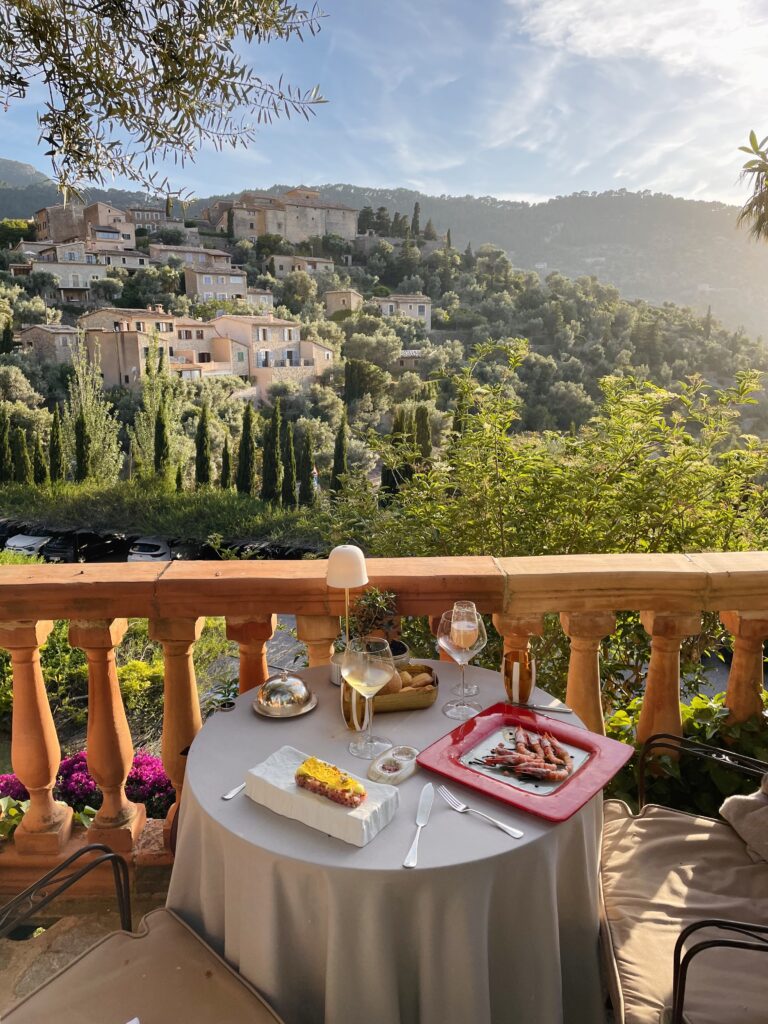 BEST FOR: WORLD-CLASS DINING
The views and food do not get much more idyllic than at this family-owned restaurant. A big plus is a fact that their terrace faces directly the spectacular Serra de Tramuntana mountain range. Come early and ask for a table as close to the view as possible so you get to experience the sun going down over a glass of white wine.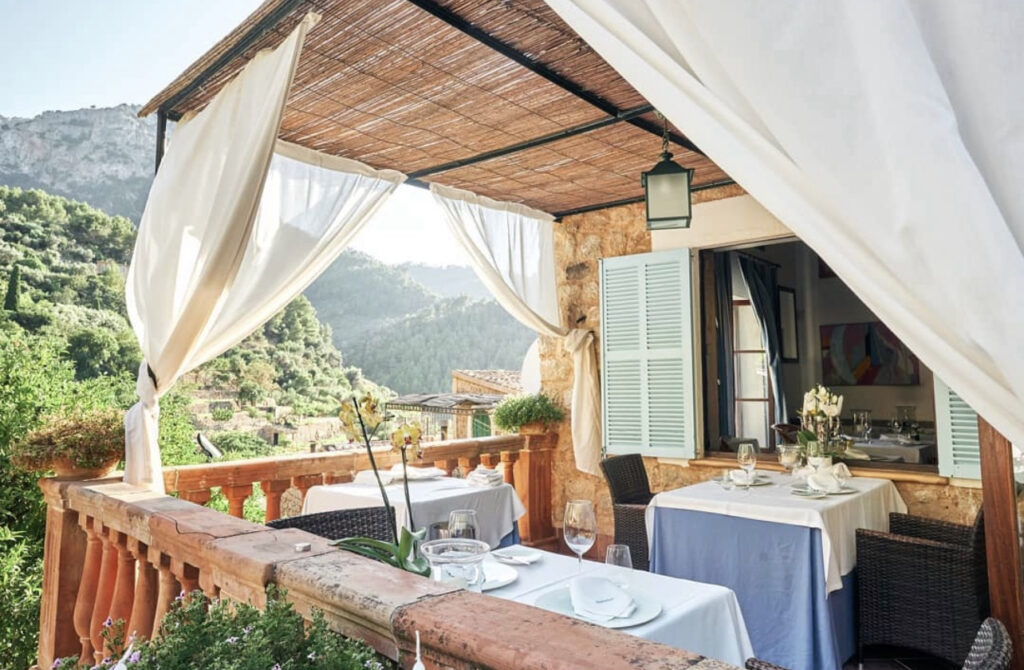 BEST FOR: VIEWS & GARDEN
This beautiful restaurant belongs to Ca's Xorc Luxury Retreat and is nestled between the sea and the mountains. If you look at the photos below I am pretty sure you will want to visit this hidden gem. Without a doubt, one can fall in love with the food but also the views and the general fairy-tale-like ambiance of Barretes. In addition, this year the restaurant is being taken over by a new chef Pep LLuís Mayol "Barretes"who is said to combine the seasonal and local products with an exotic touch.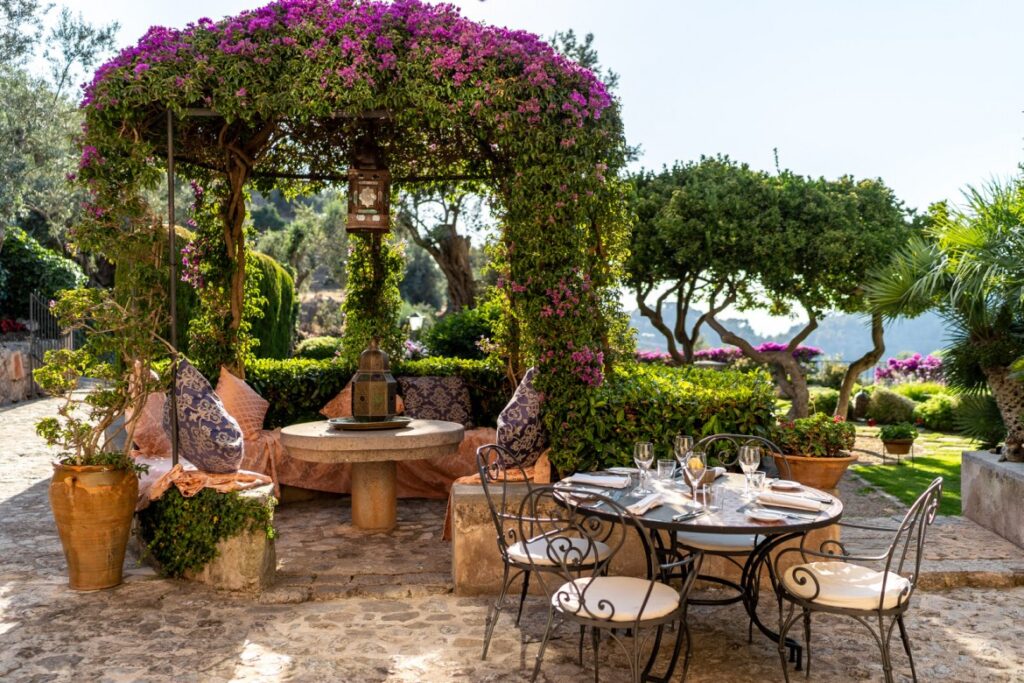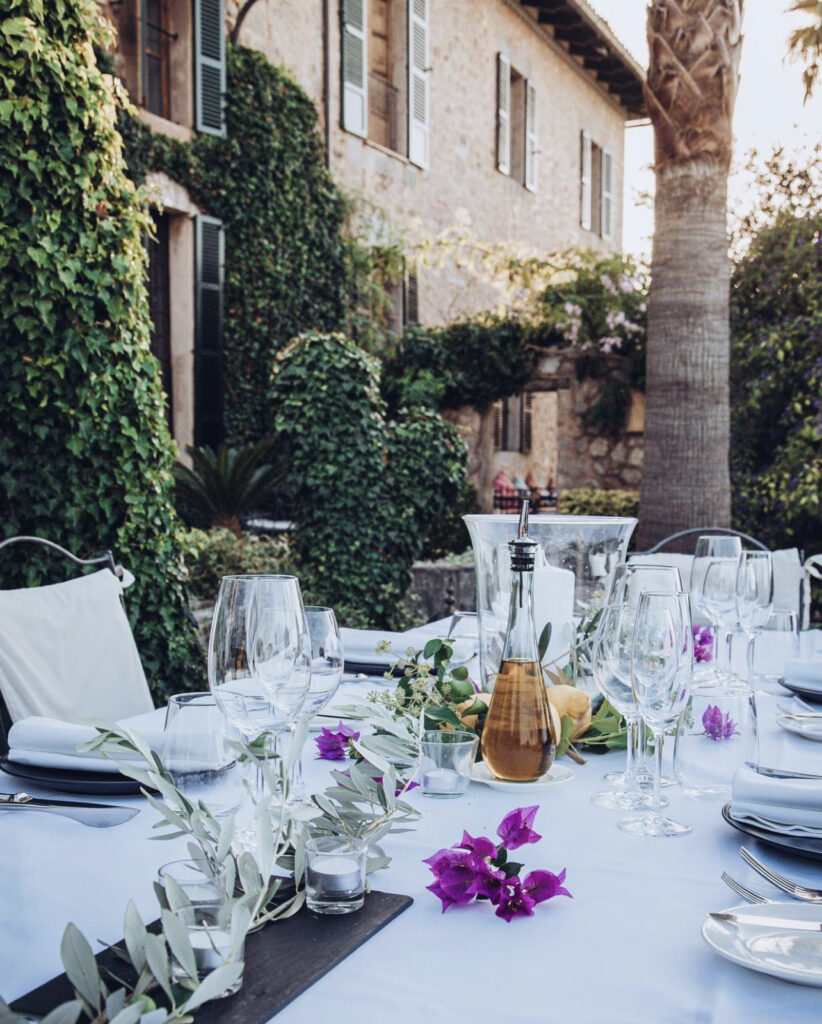 BEST FOR: ASIAN FOOD
Head to Nama Deia for fresh Asian food and stunning views. This place is all over Instagram so you may have seen it before. Nama uses fresh local & organic ingredients sourced from the island. In short, the tasty food combined with the incredible views from their beautiful terrace definitely delivers a memorable (visual) dining experience.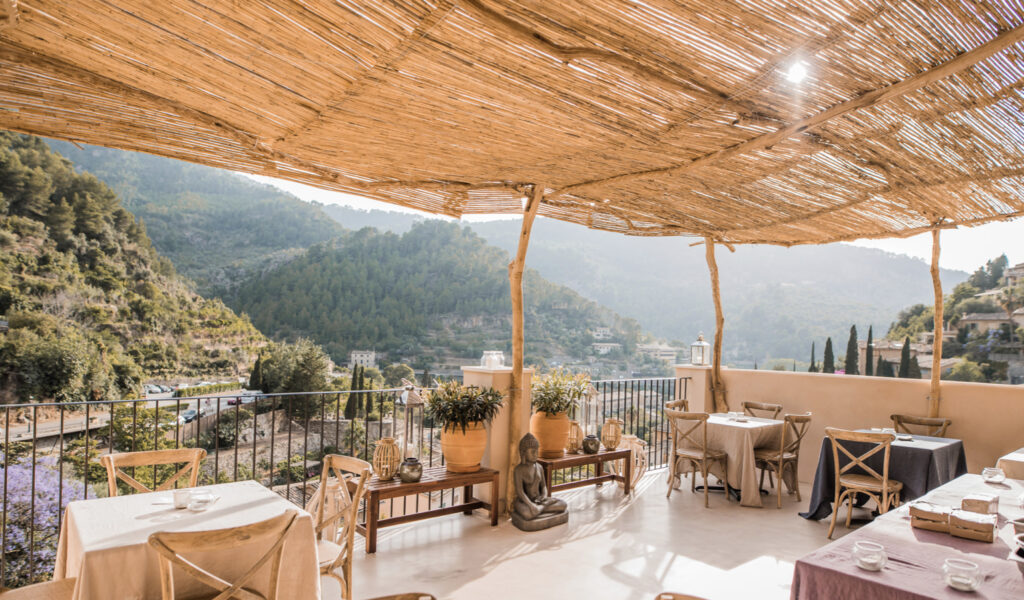 5. NENI Restaurant
BEST FOR: BOHEMIAN AMBIENCE
You will find this Ibiza-like restaurant on the roof terrace at Bikini Island & Mountain Hotel in Port de Sóller. Neni offers Israeli-Oriental fusion cuisine and invites its guests to enjoy it "Balagan style". This translates into "pleasant chaos" at long tables for casual dining with family and friends. Not only do you get to eat tasty and original food but also to see the breathtaking view of the Port de Sóller and the Tramuntana Mountains. Please note to make reservations online.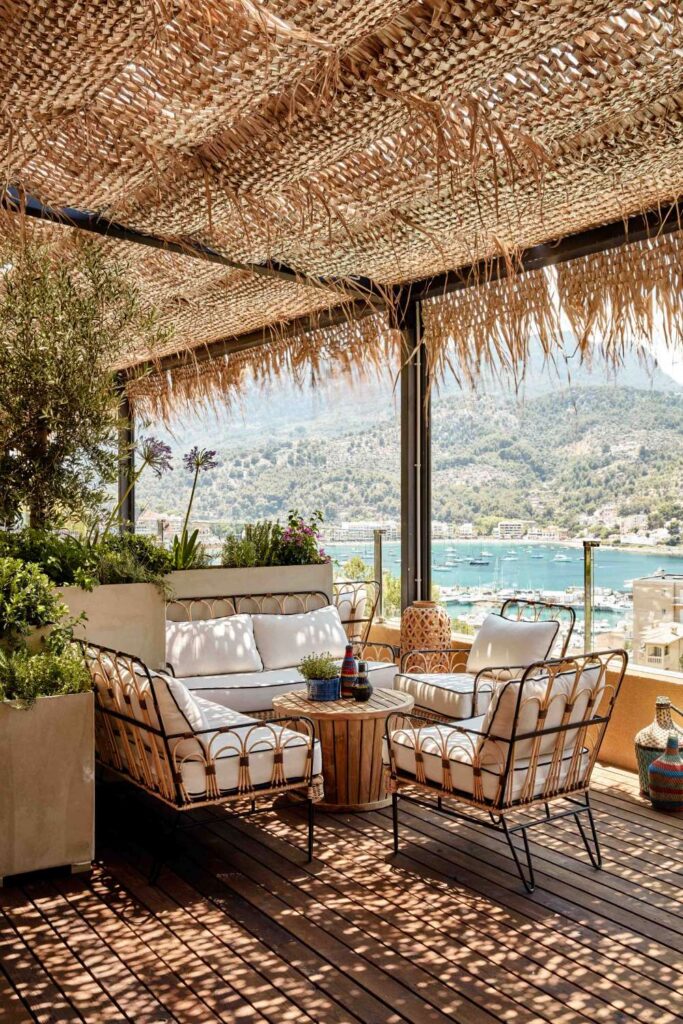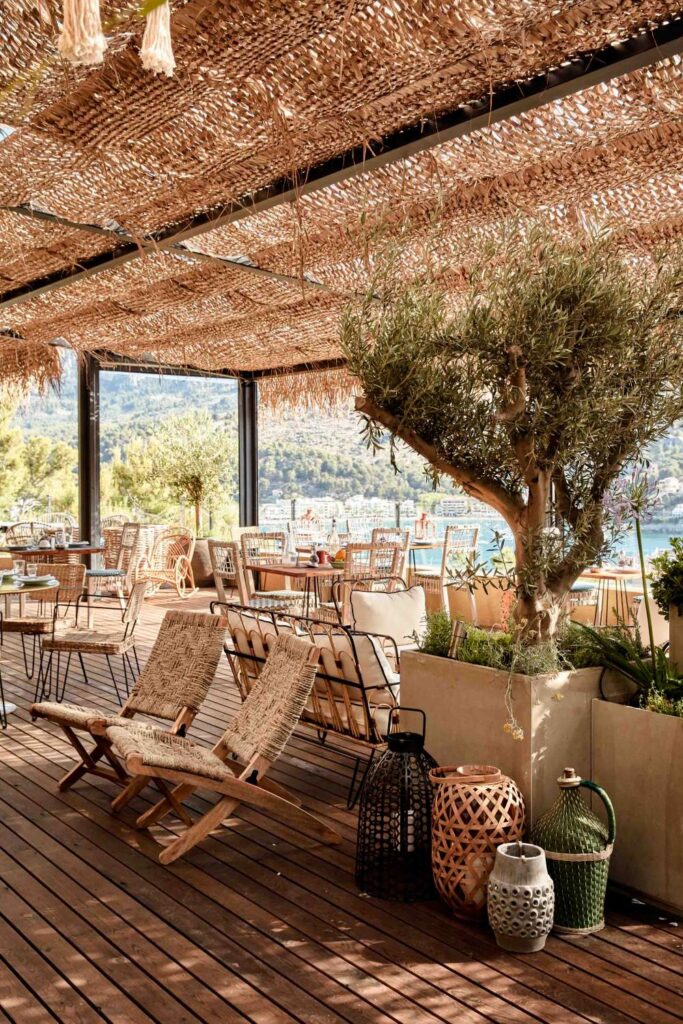 6. Bens D'Avall
BEST FOR: SEA-VIEW TERRACE
Bens D'Avall is without a doubt one of the most famous and stunning restaurants in Mallorca. Located in the heart of the Tramontana mountains and perched on the cliffs between Deià and Sóller, it is often chosen by the locals for special occasions.
What will win your heart is the combination of truly jaw-dropping scenery and genuinely extraordinary cuisine. Ask for a table directly facing the view and make sure to arrive before the sunset.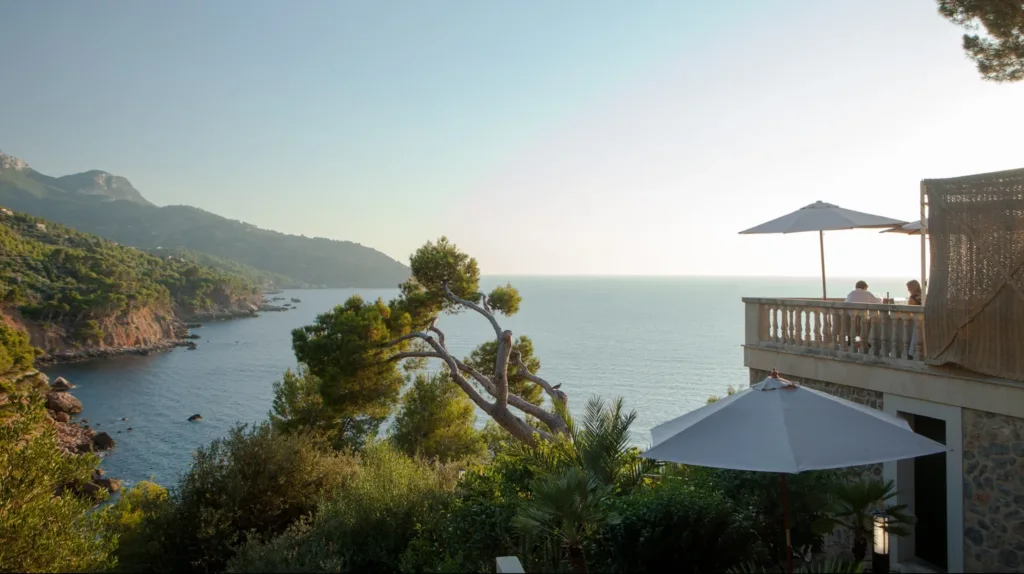 BEST FOR: HEALTHY FOOD ON THE BEACH
Patiki Beach seems to be the go-to place for locals for a more relaxed eating out. Come barefoot and enjoy this Mediterranean Beach Bar & Kitchen with a seasonal farm to table menu. Their food is meant not to be complicated but rather a colorful and flavorsome celebration of the raw ingredients which they consciously source on the island. Most important, don't forget to go for a swim between the courses and give in to the island way of living.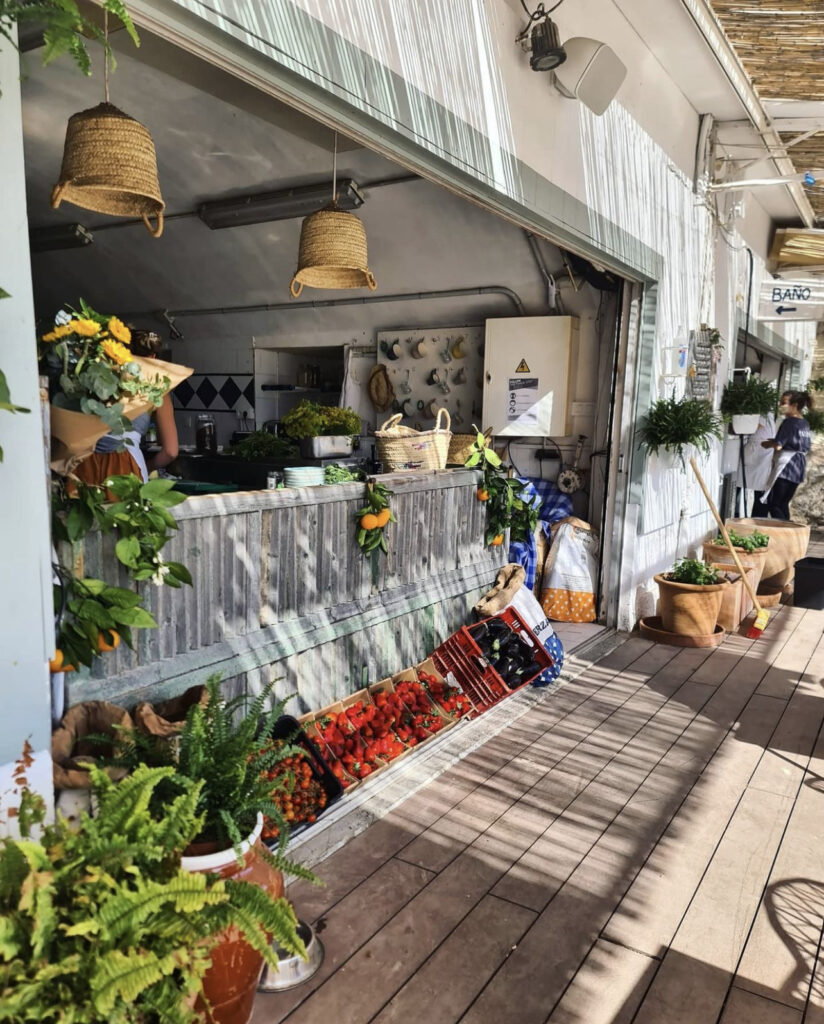 BEST FOR: VIEWS
The food at Ca's Patro March is definitely not what brings those long queues of guests ready to wait for hours to be seated. Above all, it is undoubtedly the views of the bay with its emerald colours. So if you are fine with average overpriced seafood and slightly stressed staff, the views will make up for it. However, the tricky part is getting a table as their phone lines are constantly busy. What works is either going to the front desk and booking a table in a few days' time or calling repeatedly until someone answers (I found that the best time was around 5 pm when the guest traffic was a bit lower). Again try to ask for a table directly by the water, it makes a big difference.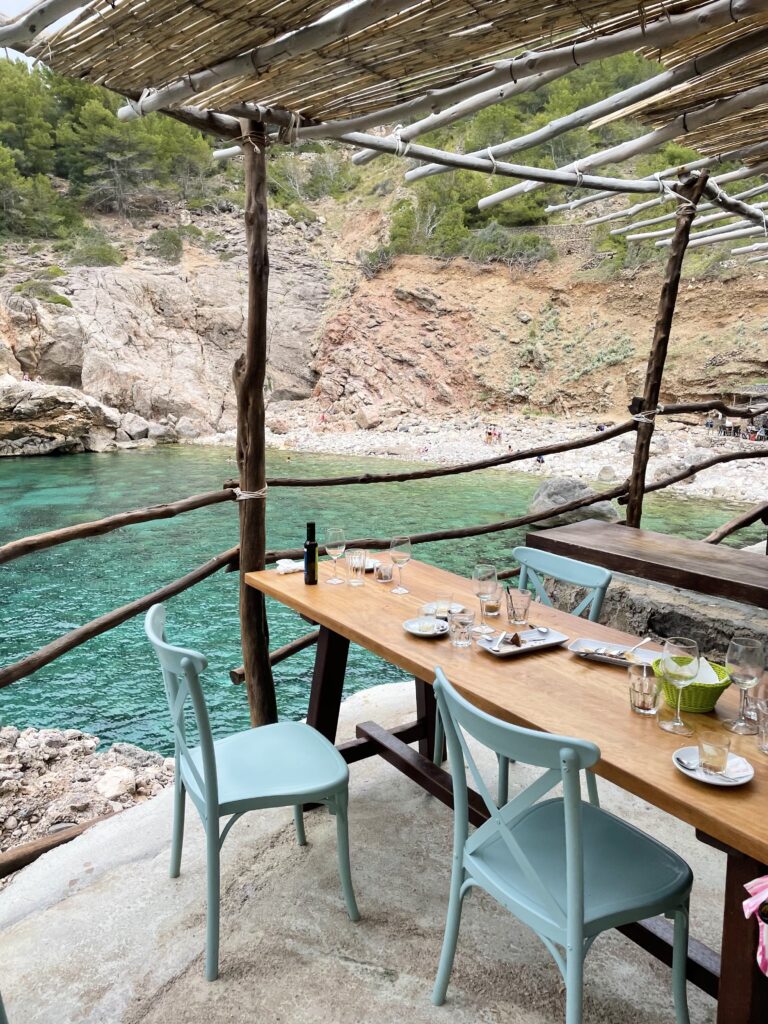 9. La Fortaleza, Cap Rocat
BEST FOR: LUXURY DINING
This restaurant, located in the famous Cap Rocat, is definitely intended for special occasions. La Fortaleza is only intended for a maximum of 30 diners, aiming to offer an intimate dining experience. Above all, imagine post-colonial porcelain, linen tablecloths, and dimmed lighting.
Be ready to eat your appetizers with your fingers while watching rather spectacular views of the bay.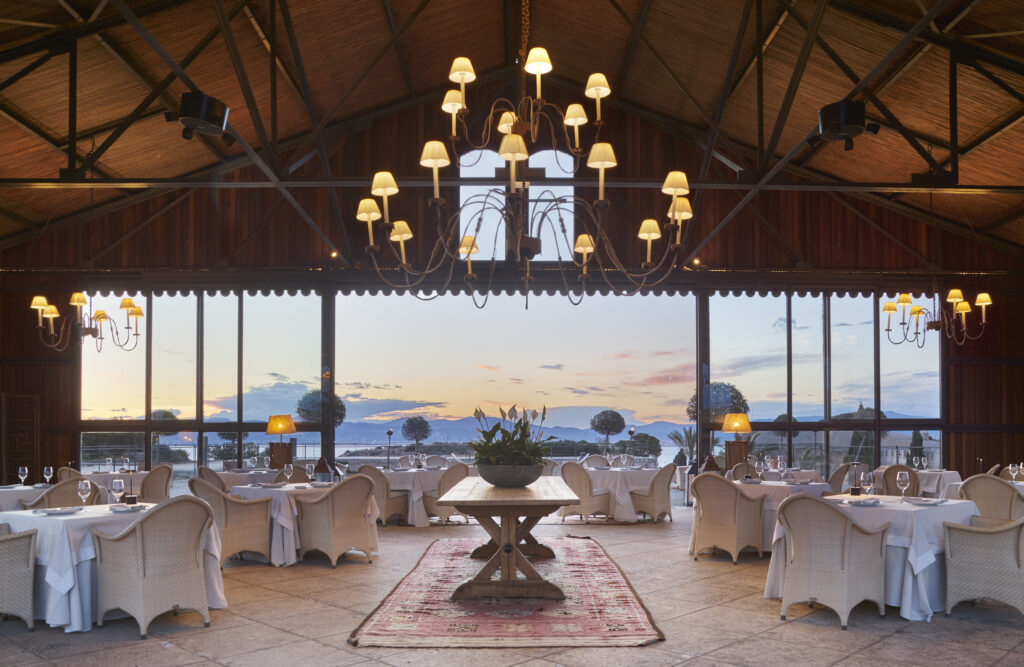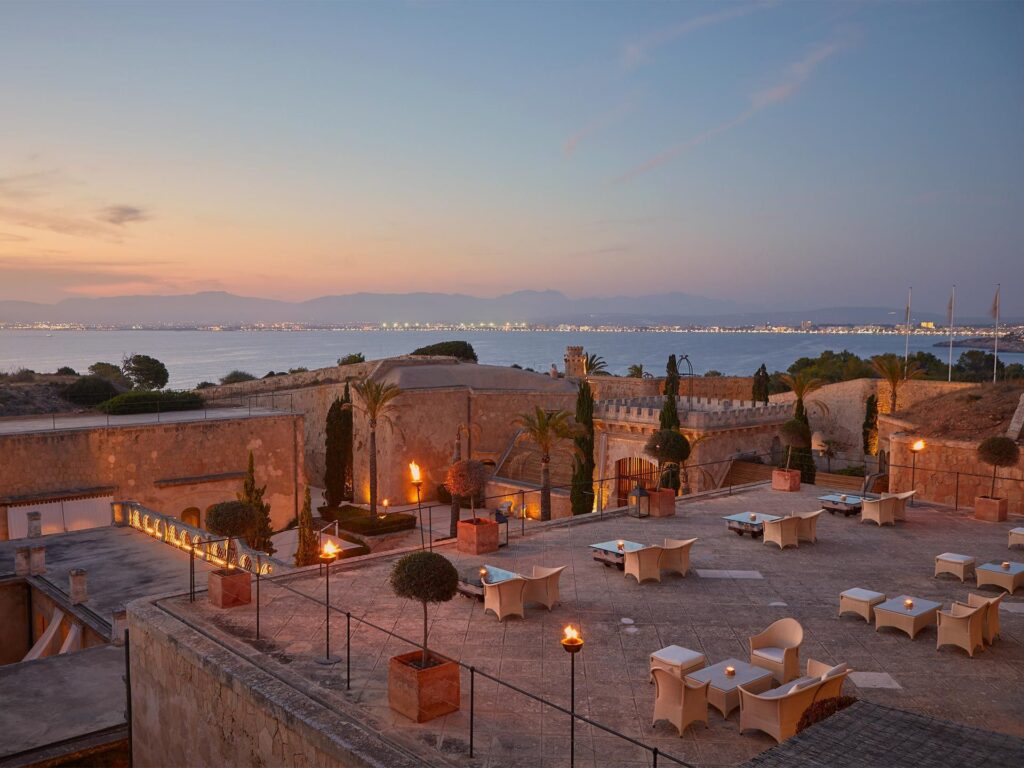 BEST FOR: HIDDEN GARDEN FEELING
A beautiful and elegant option for eating in what feels like a secret spot in Sóller. This restaurant, located in a 19th-century mansion, will offer an intimate dining experience while providing some spectacular views.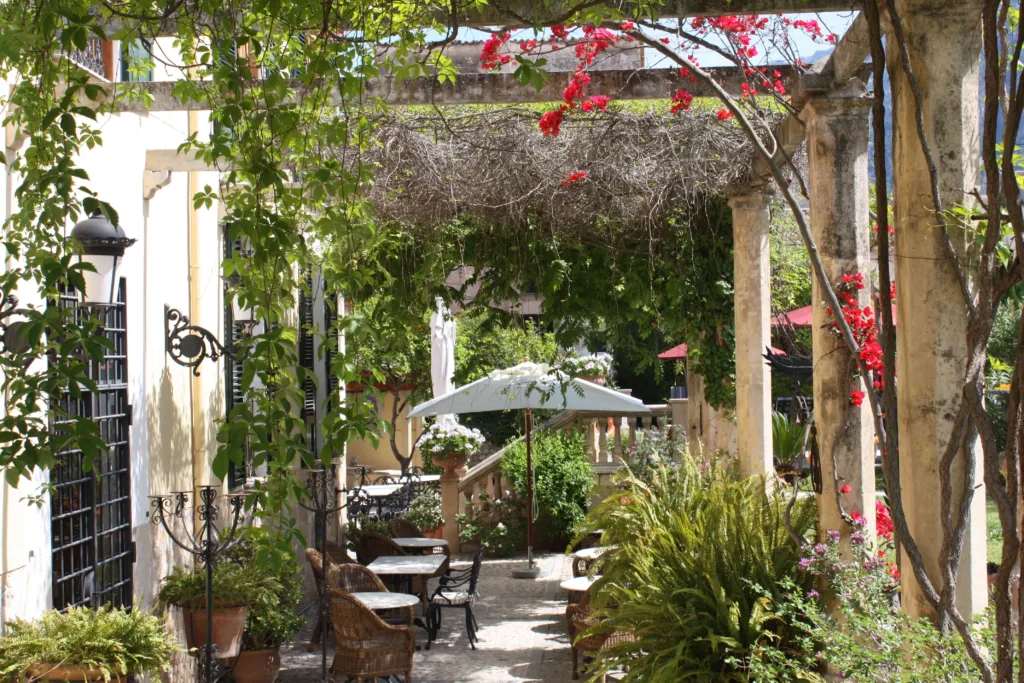 Final tips
In conclusion, if I only had to choose three restaurants while in Mallorca, I would choose the following:
Firstly, Belmond's El Olivo for a special occasion, being aware of the relatively high cost.
Secondly, Es Racó d'es Teix for a romantic dinner and world-class dining.
Lastly, Ca's Patro March because of those unforgettable bay views and post-dessert swim.
I hope the list helps and that your will enjoy Mallorca as much as I did. In case you are looking for where to stay on the island then check my Guide to the 10 best hotels on the island.