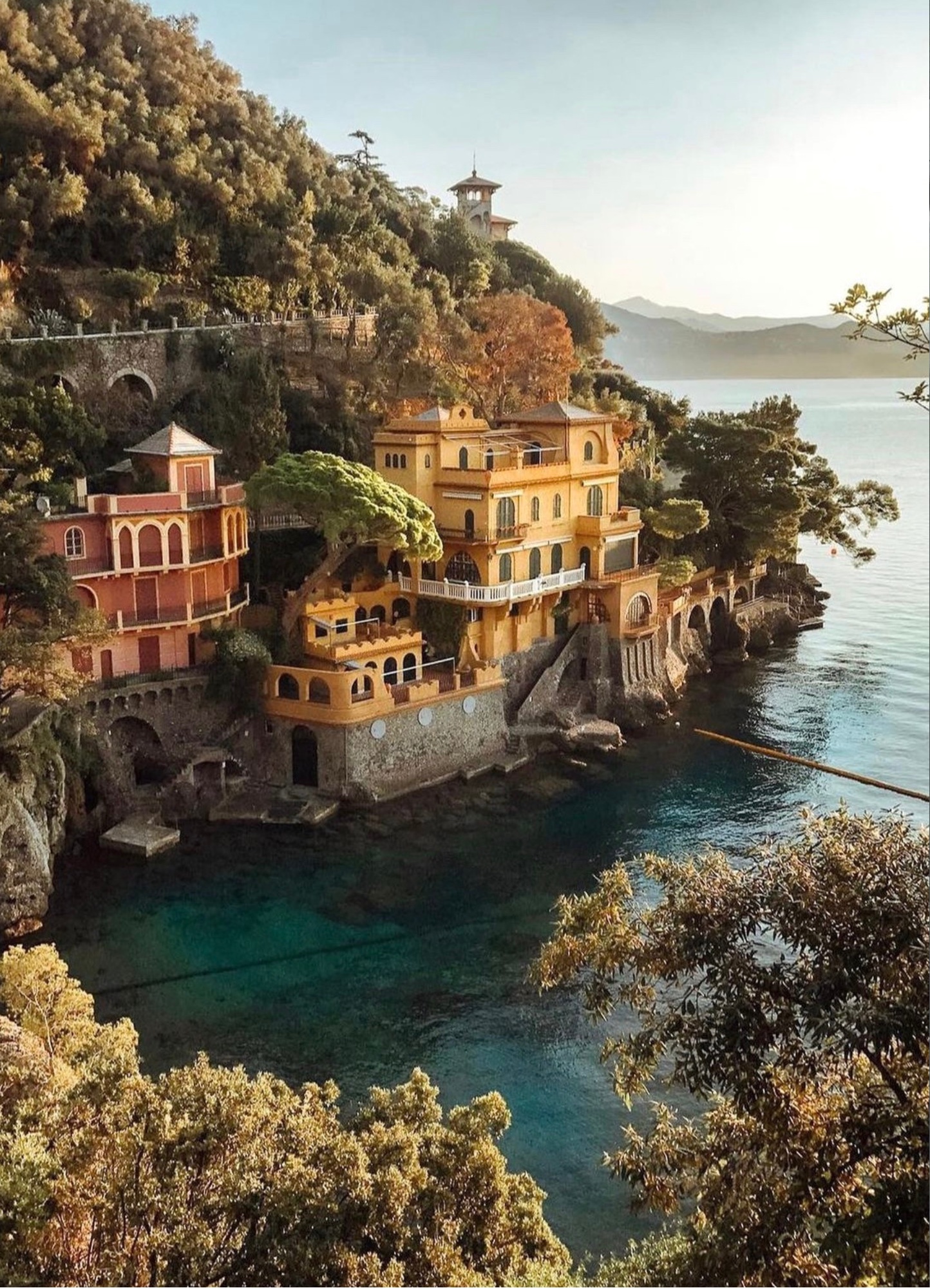 PORTOFINO – 10 TOP THINGS TO DO
Are you planning on visiting Portofino during your trip to Italy and you want to make sure you cover all the best spots? Then indeed you have come to the right place!
In order to help you plan your visit, I have interviewed the local expert Giacomo from @giacomo.sonzini and prepared this Guide to the 10 Top things to do in Portofino.
Giacomo's love affair with Portofino and the wider region of Liguria dates back to his childhood. His family bought a holiday place in the region with a huge terrace facing the infinite sea. He still vividly remembers the hours spent on that terrace admiring the horizon and exploring all the region has to offer with childish curiosity.
So let us share with you a result of exploring Portofino and the nearby area for over two decades by your local expert Giacomo. In addition to the must-visit beaches and restaurants we will also share with you some secret tips on where to go for the best scenic drive and which other nearby towns to visit to make your trip to Portofino a dream come true!
We hope that they will convince you to visit at least once!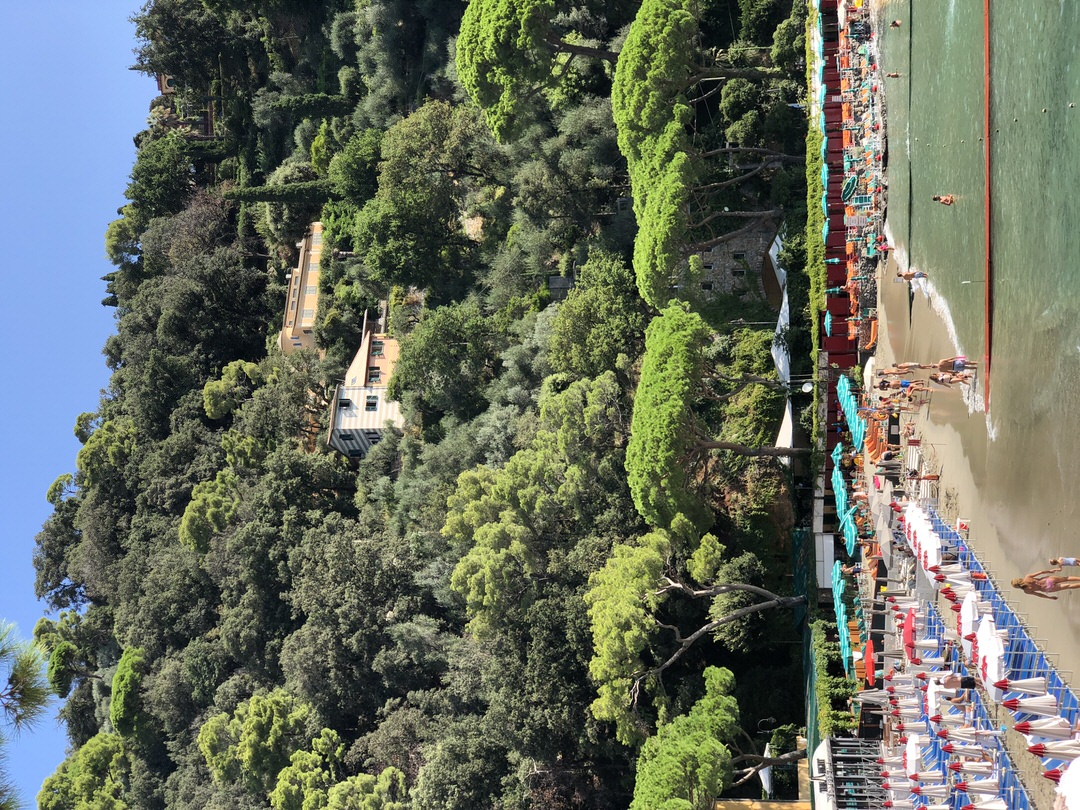 INTRO
Portofino is a famous fishing village in the North of Italy, on the so-called Italian Riviera. It is above all famous for its postcard-perfect harbor lined with colorful houses and all the international jet setters who all flock to this tiny paradise.
Portofino truly is a magnet not just for Italians. At the end of the day, it is a tiny village and it can get overcrowded. The best time to visit is May-June and September-October, with a slight preference for the autumn months when the water is warmer. 
As per where to stay, it would be better to actually stay in a hotel room or airbnb in the nearby Santa Margherita which not only has a wider accommodation offering but also is relatively cheaper. Also parking in Portofino is famous for being limited and expensive.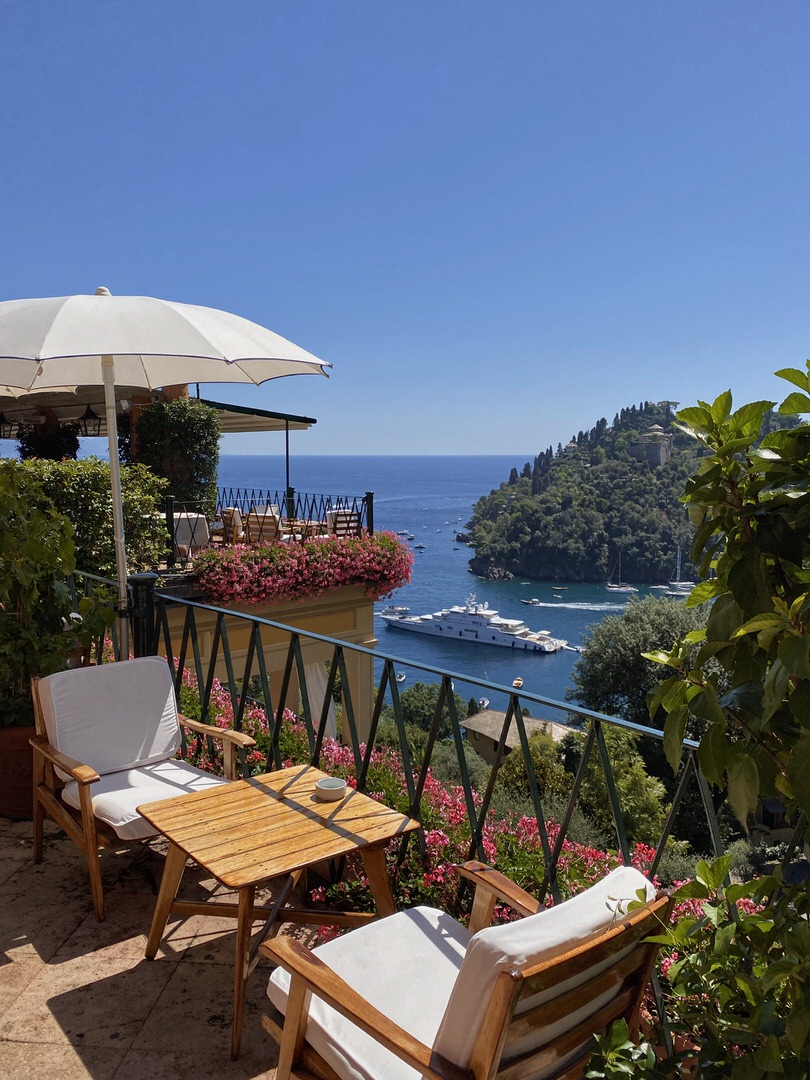 10 TOP THINGS TO DO IN PORTOFINO
BAIA DI SAN FRUTTUOSO
PARAGGI BAY
LUNCH AT BELMOND SPLENDIDO
PORTOFINO BY DAY
PORTOFINO BY NIGHT
LA CERVARA
CAMOGLI
SANTA MARGHERITA LIGURE
BY THE SEA
SAN ROCCO TO PUNTA CHIAPPA
1. BAIA DI SAN FRUTTUOSO
Seeing San Fruttuoso is definitely very high on the list of top things to do while in Portofino. So get on the scenic 30-minute ferry to reach San Fruttuoso from Portofino, which itself is already memorable. Once there you will above all enjoy your day in one the most unique beaches in the world! So imagine swimming in a crystal-clear water just few meters away from a Benedictine Abbey dating back thousand of years! Not only will the location leave you amazed, but also your mood will be even better after your fresh local seafood lunch at the unique "Da Giorgio" restaurant.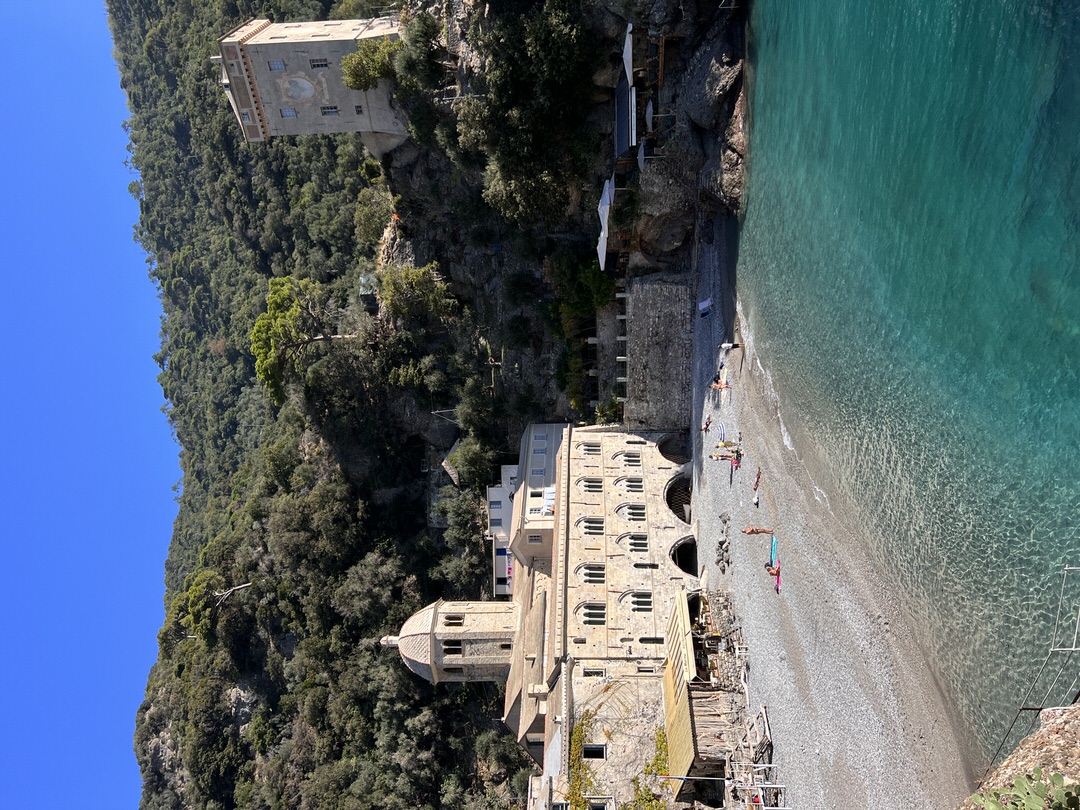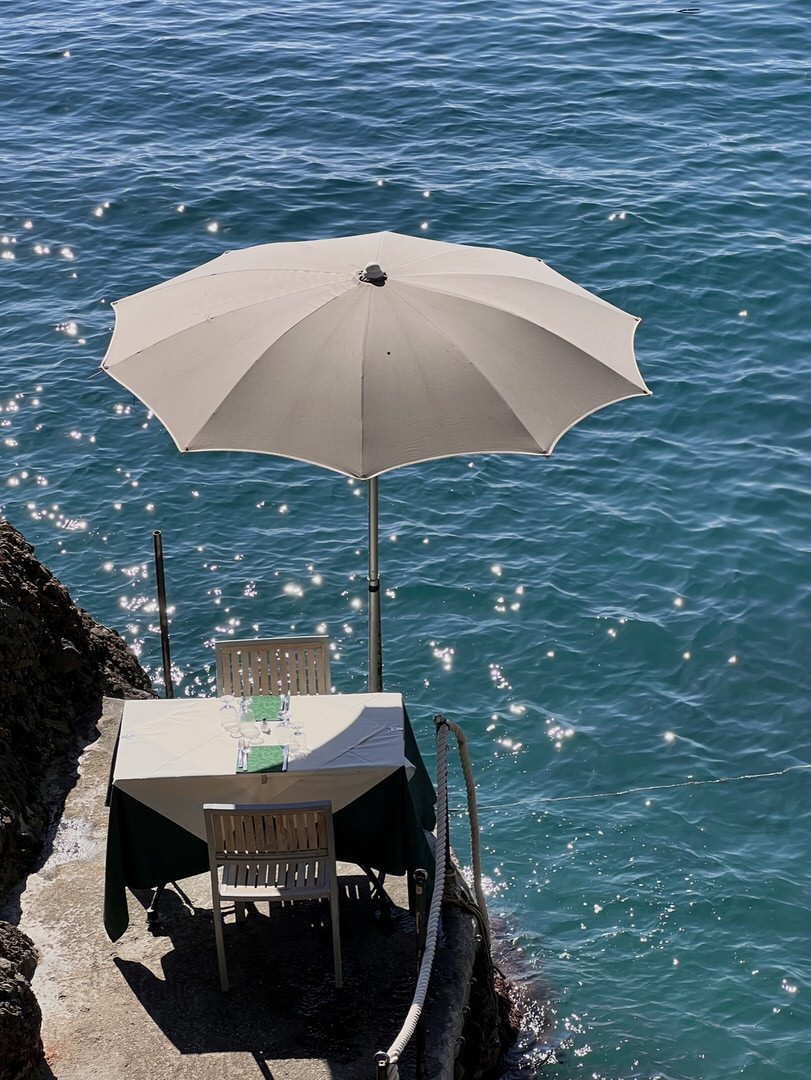 2. PARAGGI BAY
Rent a Vespa and in a few minutes from Portofino you will be discovering Paraggi Bay, also known as the "Emerald Water Bay". You will be enjoying a day on the sandy beach or going for a wilder experience: swimming from the rocks. However, no matter your choice, make sure to have lunch at Langosteria Paraggi ordering their tris tartare and the iconic "gnocchetti e gamberi rossi".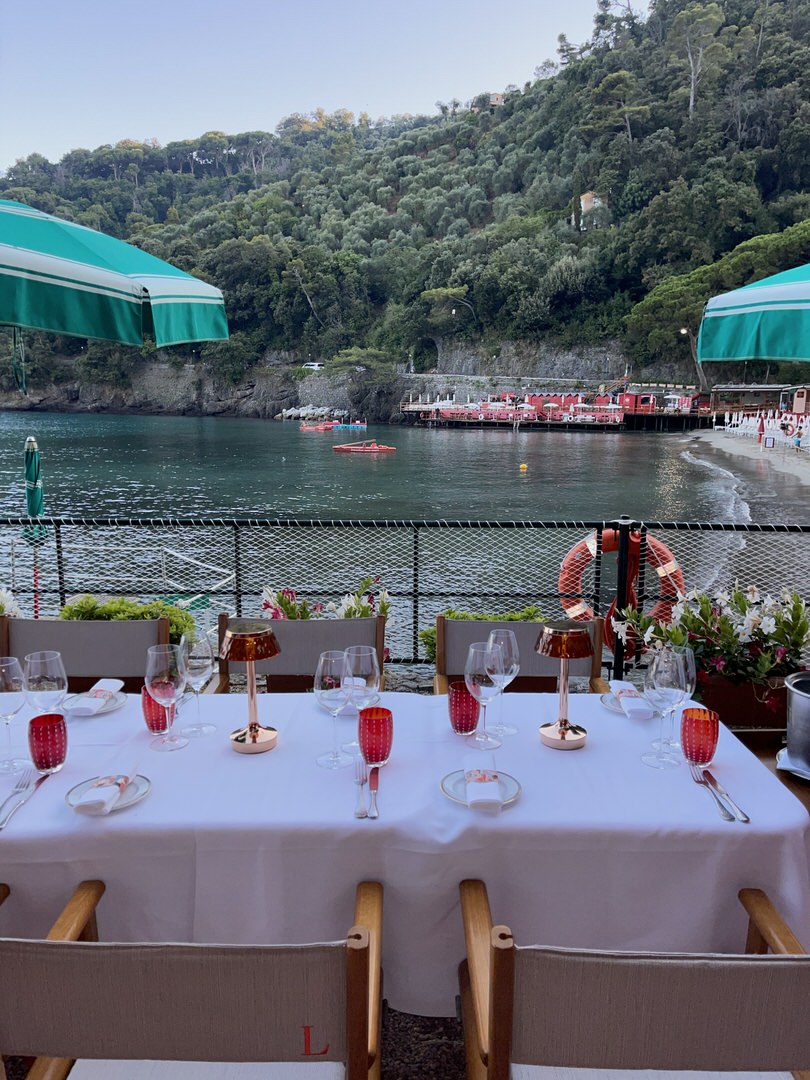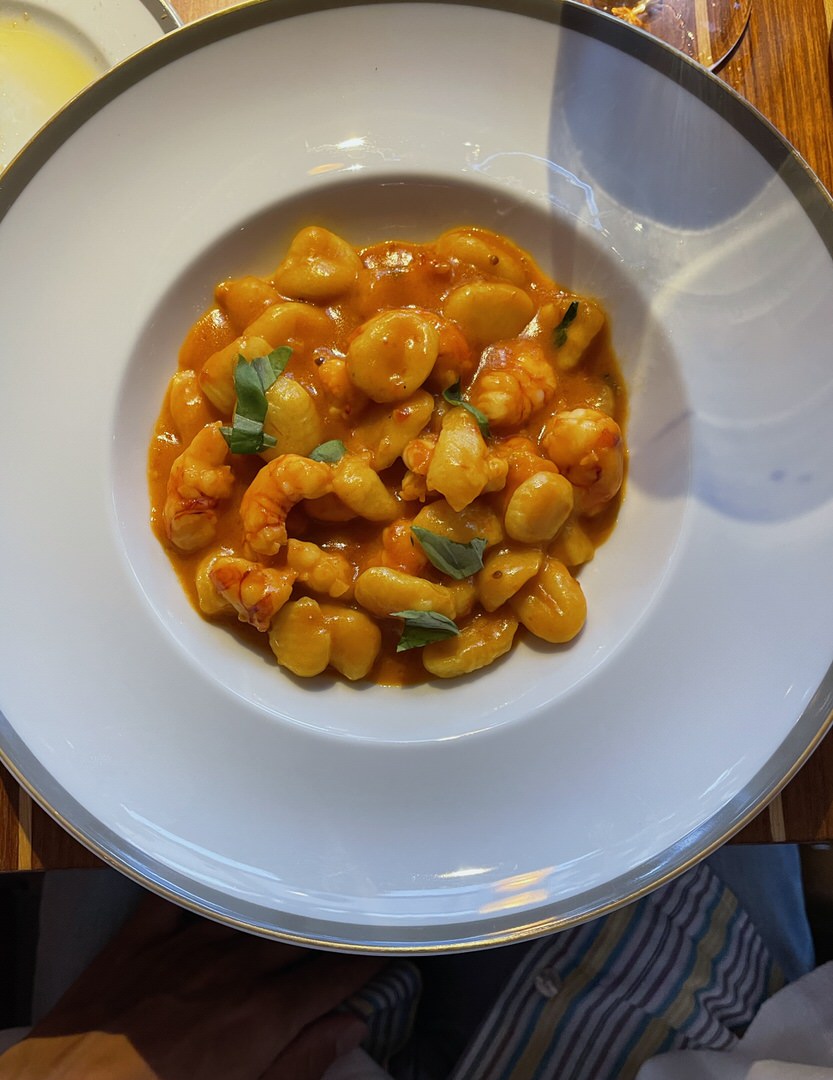 3. LUNCH AT BELMOND SPLENDIDO
On the hill dominating Portofino stands the iconic hotel of the Riviera, Belmond "lo Splendido".
The hotel has always been hosting celebrities from all over the world who wanted to spend a few days in this little corner of paradise. Up there, you'll enjoy one of the most breathtaking views while sipping a cool seasonal bellini paired with some traditional "trofie al pesto". Therefore it is a Portofino must!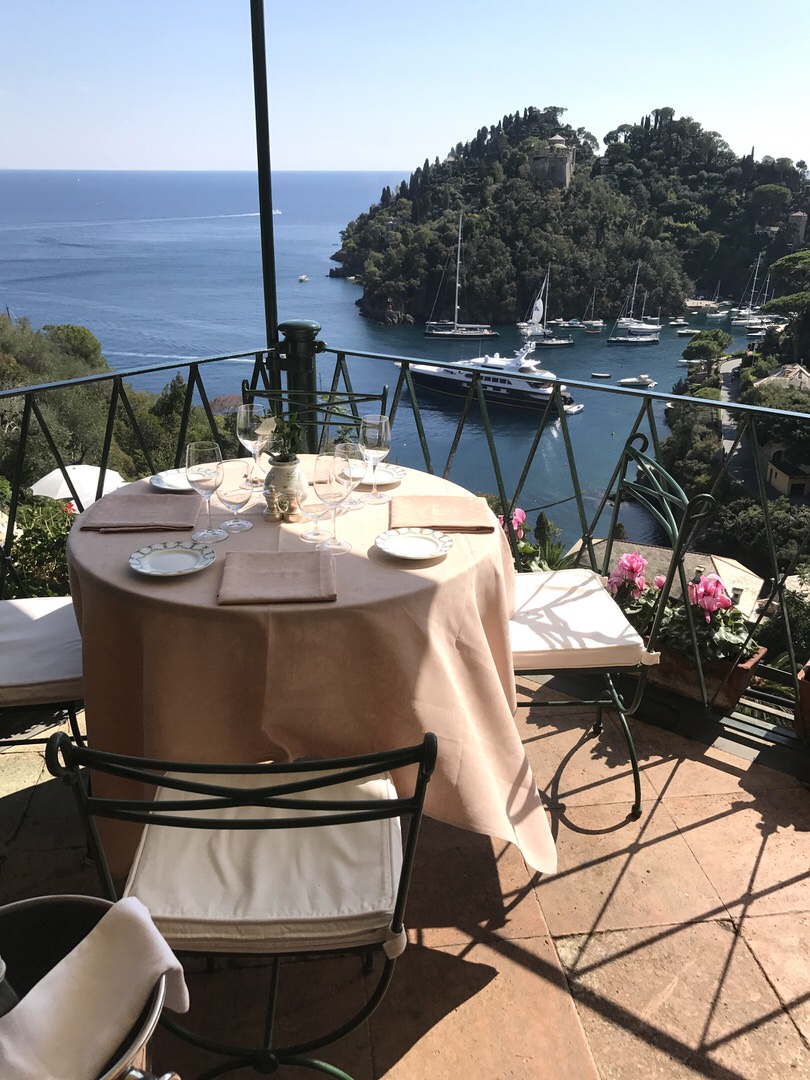 4. PORTOFINO BY DAY
Once in the famous "piazzetta" you will be amazed by the charm of this ancient fishing village. The colours of the houses, the seals flying over, and the scent of the sea will leave you speechless. Make sure to walk until the lighthouse, passing by the San Giorgio castle to enjoy the view and once back have some fresh "spaghetti alle vongole" at Taverna del Marinaio.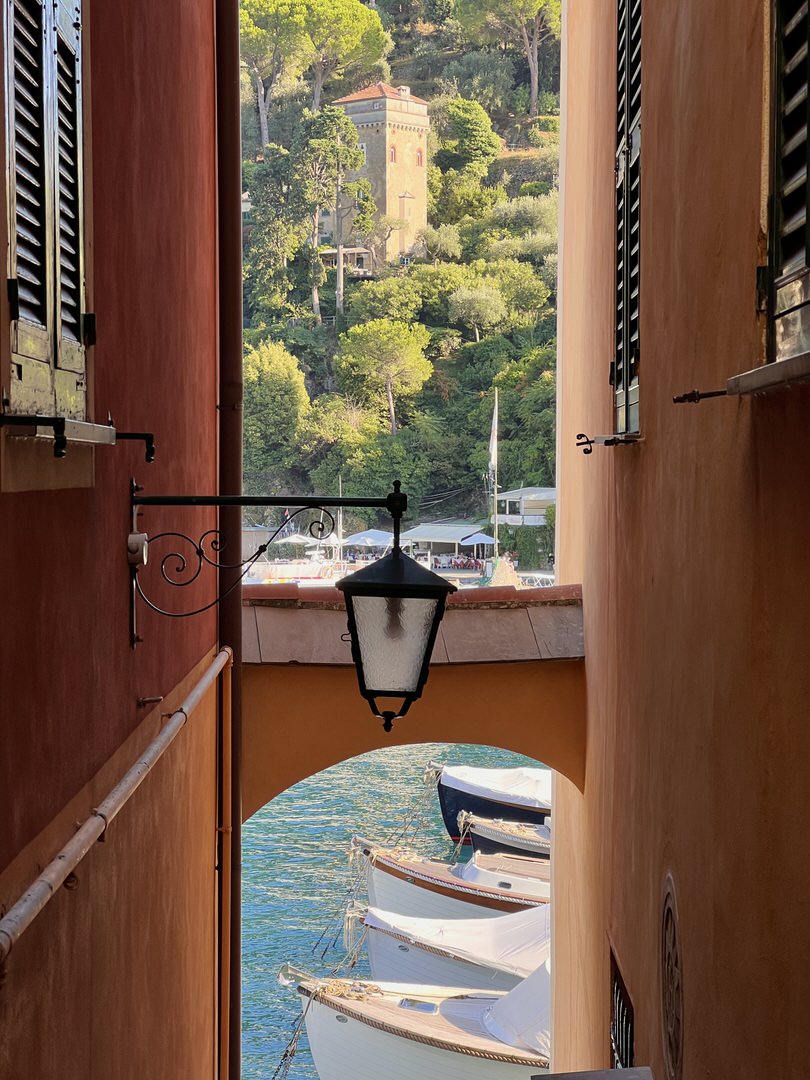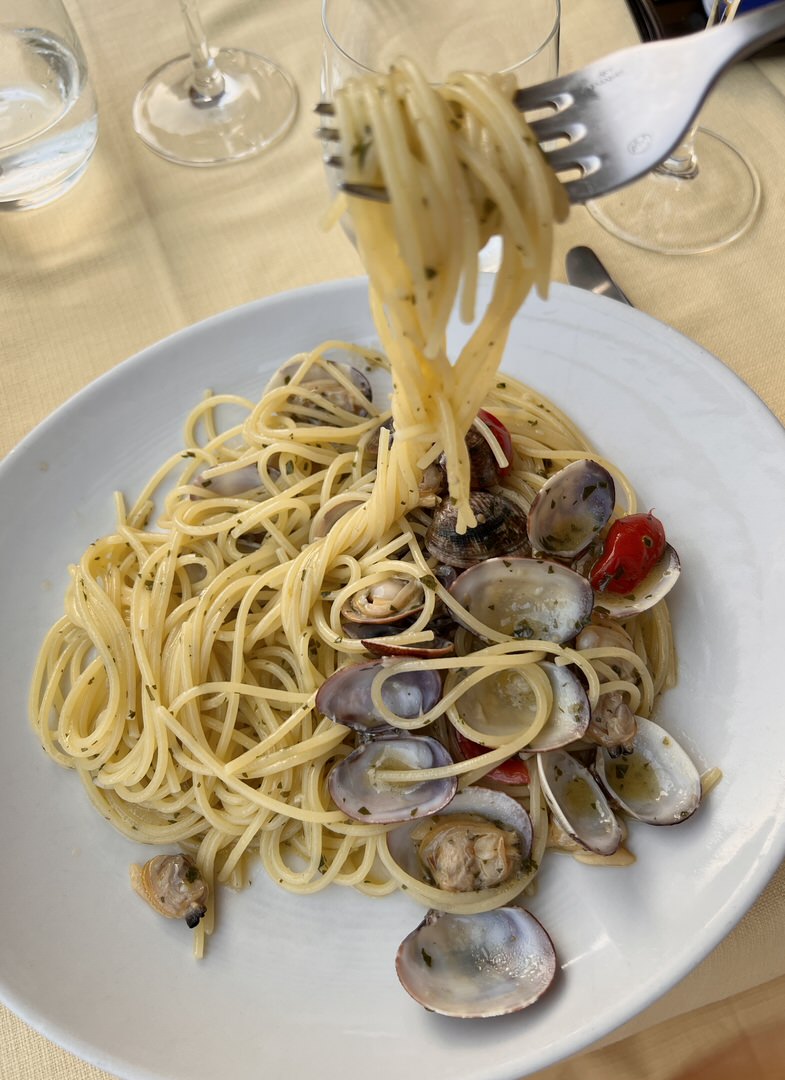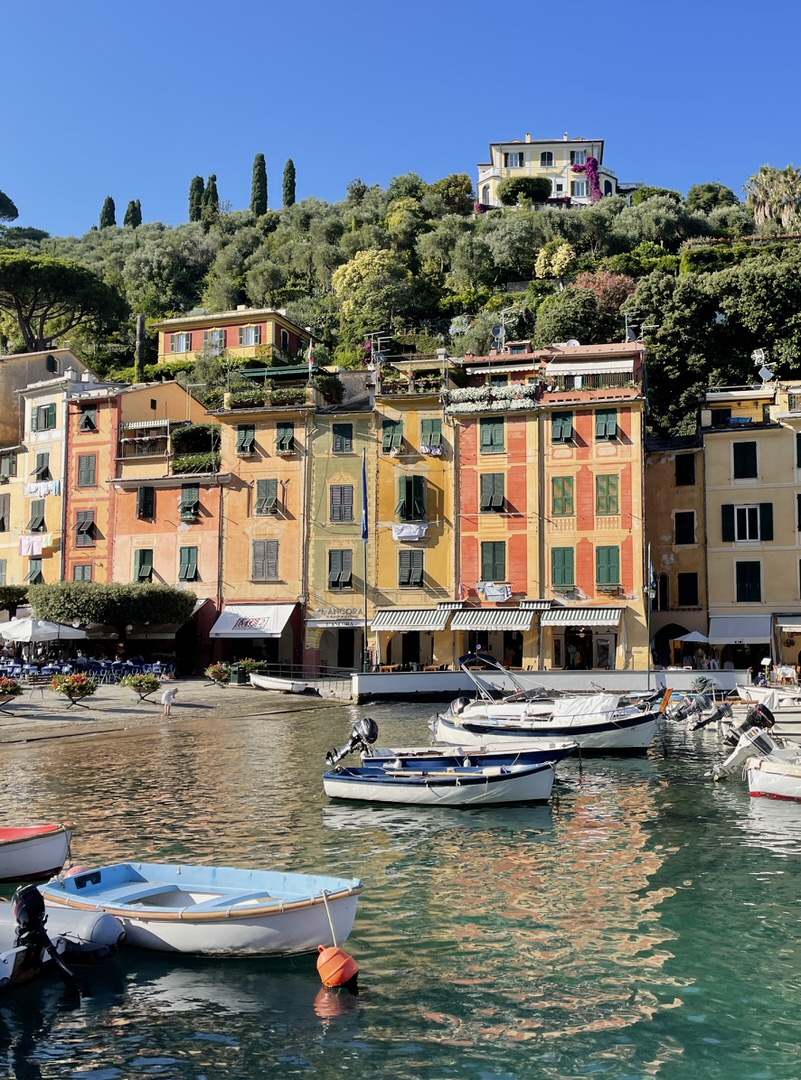 5. PORTOFINO AT SUNSET
No matter if you have already visited Portofino during the daytime, you absolutely need to go back before sunset and enjoy the night there. Why? Because it will look like a totally different place, and you will have the chance to witness the magic game of lights and shadows over the hill where the Brown Castle is located. Dinner at O'Magazin is a must, and please do yourself a favor and order their spaghetti with squids, incredible!!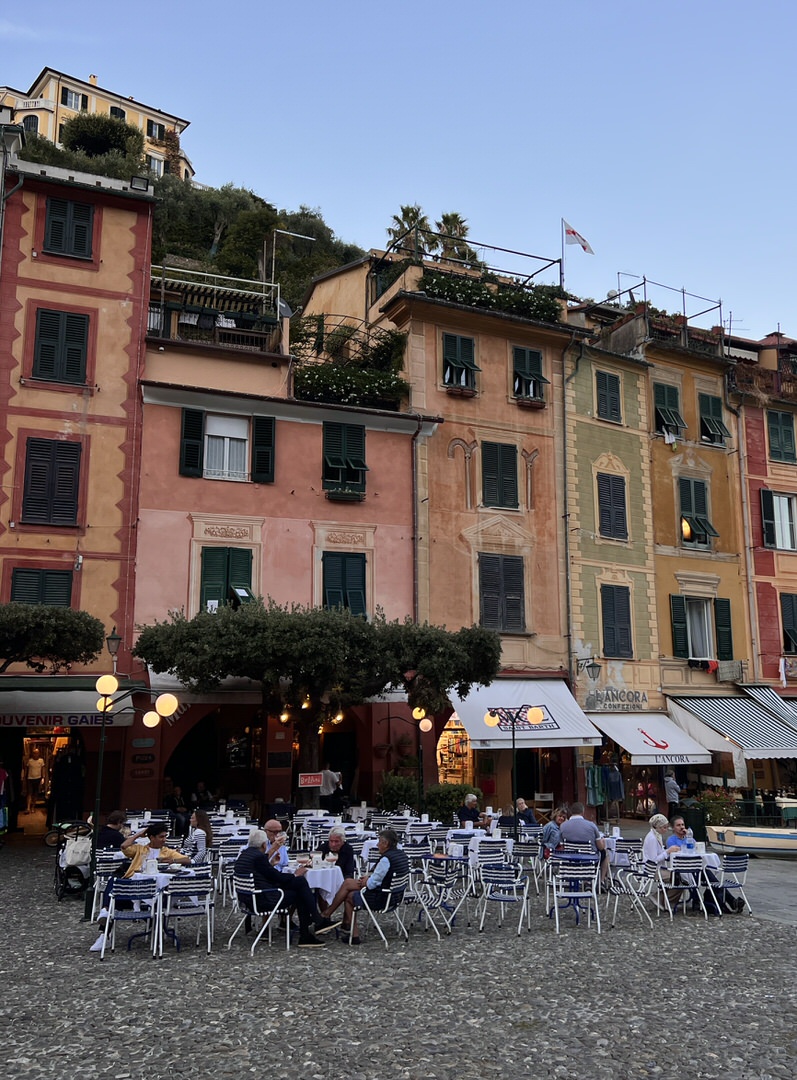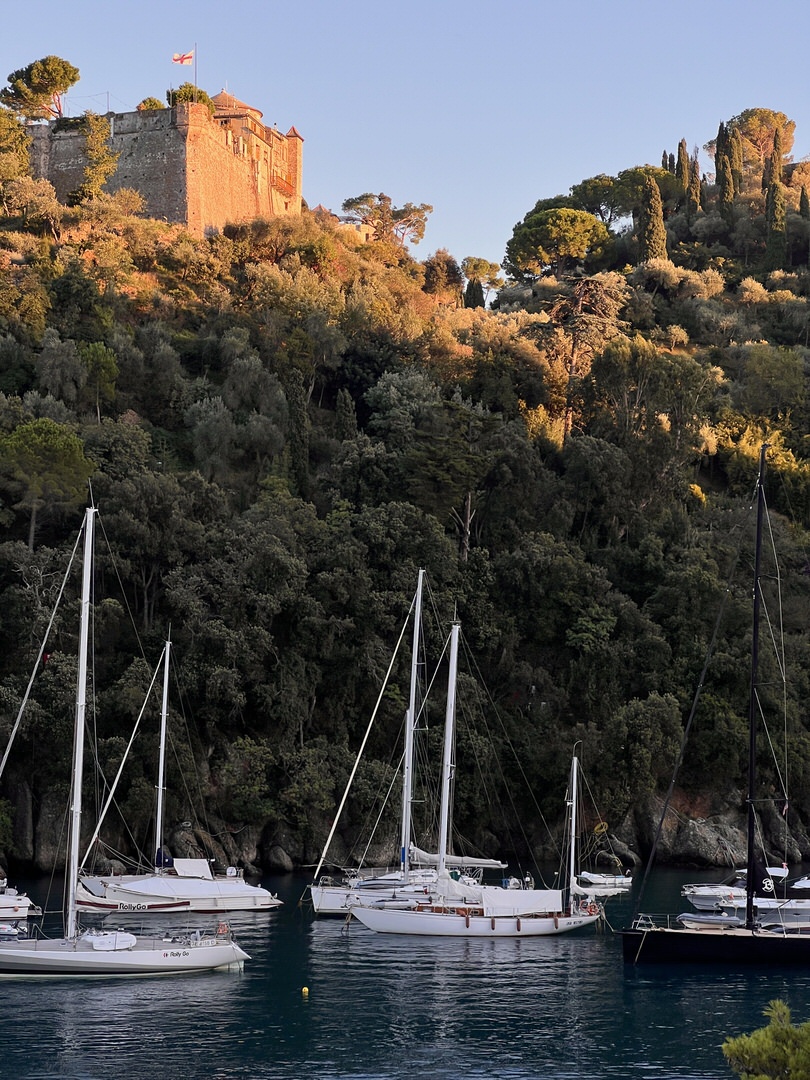 6. LA CERVARA
Founded in 1361, La Cervara is a Benedictine monastery mainly used as a wedding venue situated between Santa Margherita and Portofino. Nevertheless, tourists still have the chance to visit this special location but only on a few specific days: the first and third Sunday of each month from March to October and merely in the morning.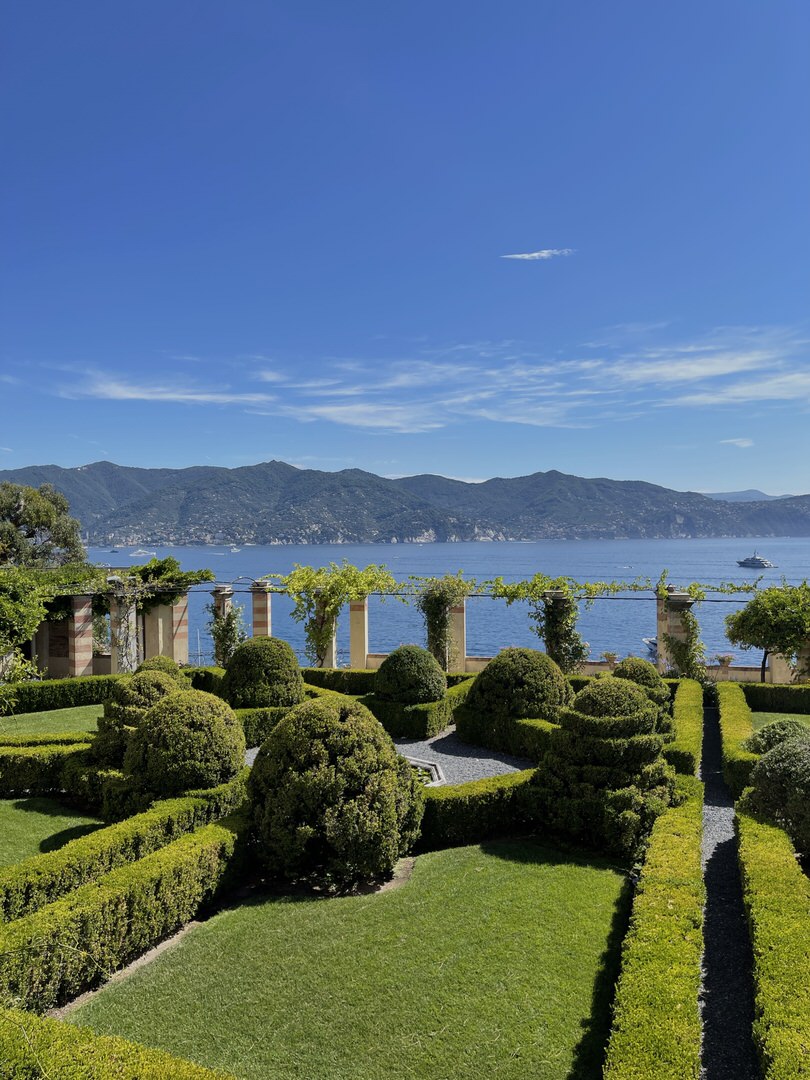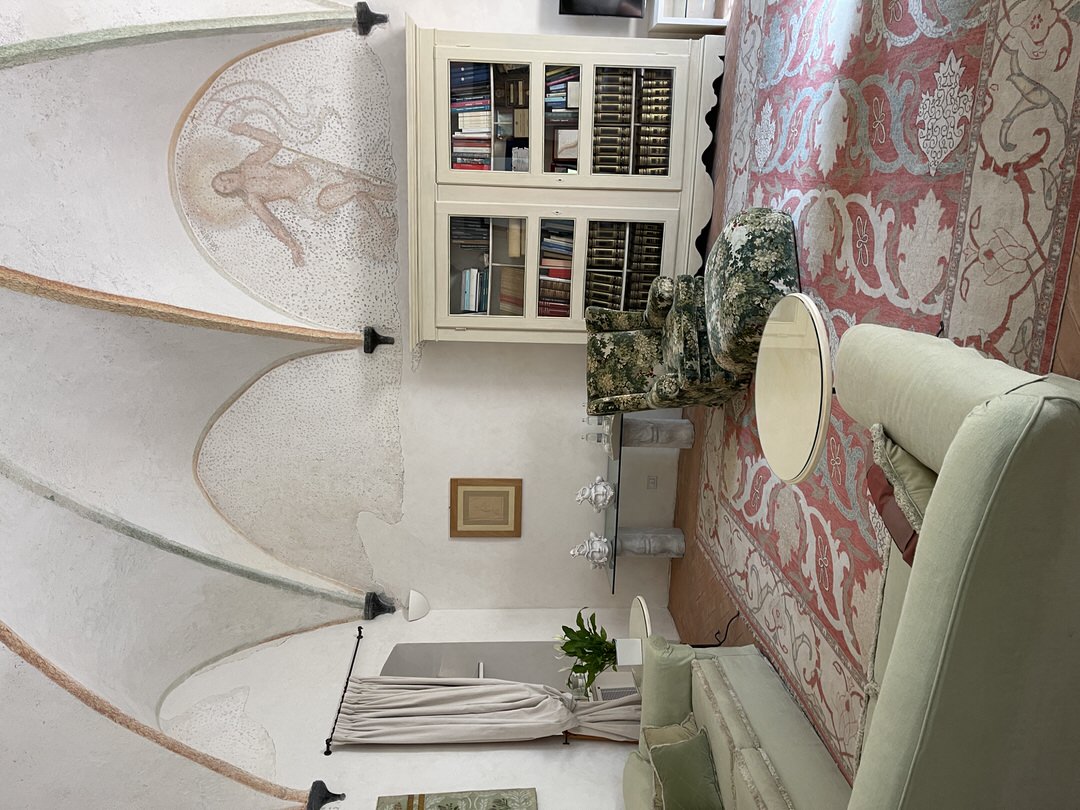 7. CAMOGLI
To witness the best sunset of the Riviera, get your car and in 20 minutes you will be in Camogli one of the most picturesque villages in Italy. The colorful fisherman houses located on the shore will reflect the sunset light creating a unique atmosphere. Best location to admire the sunset is the Cenobio dei Dogi hotel's terrace great for dinner or a drink only.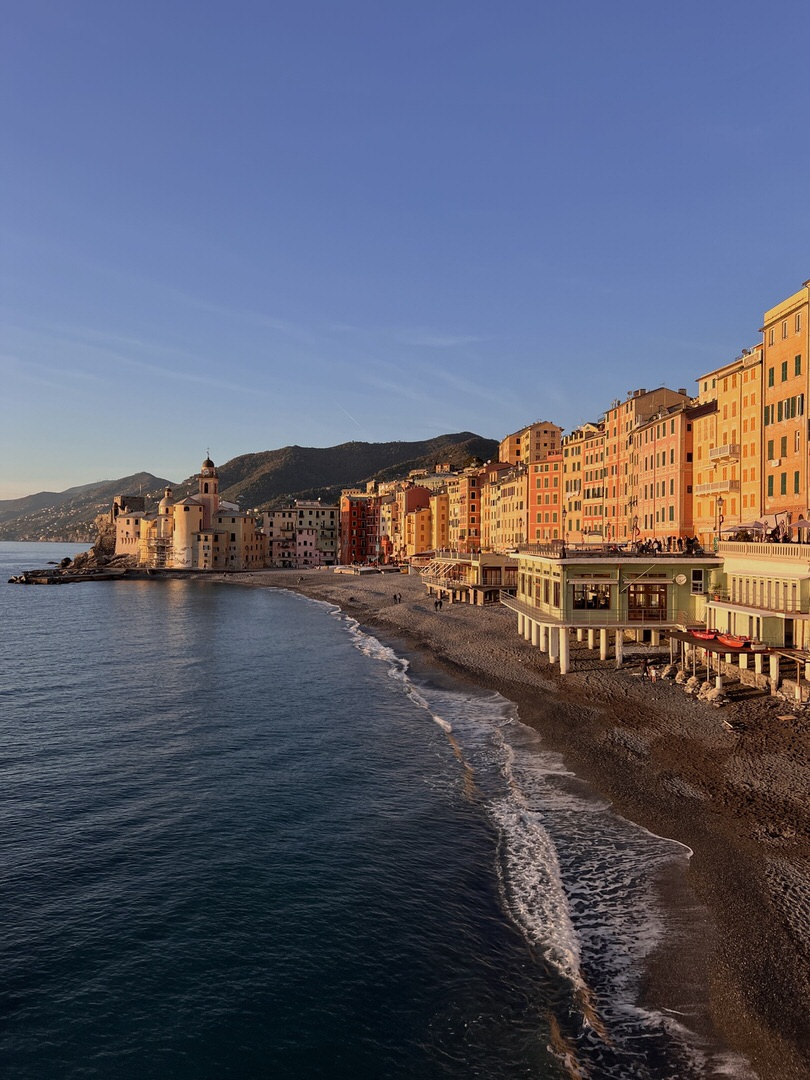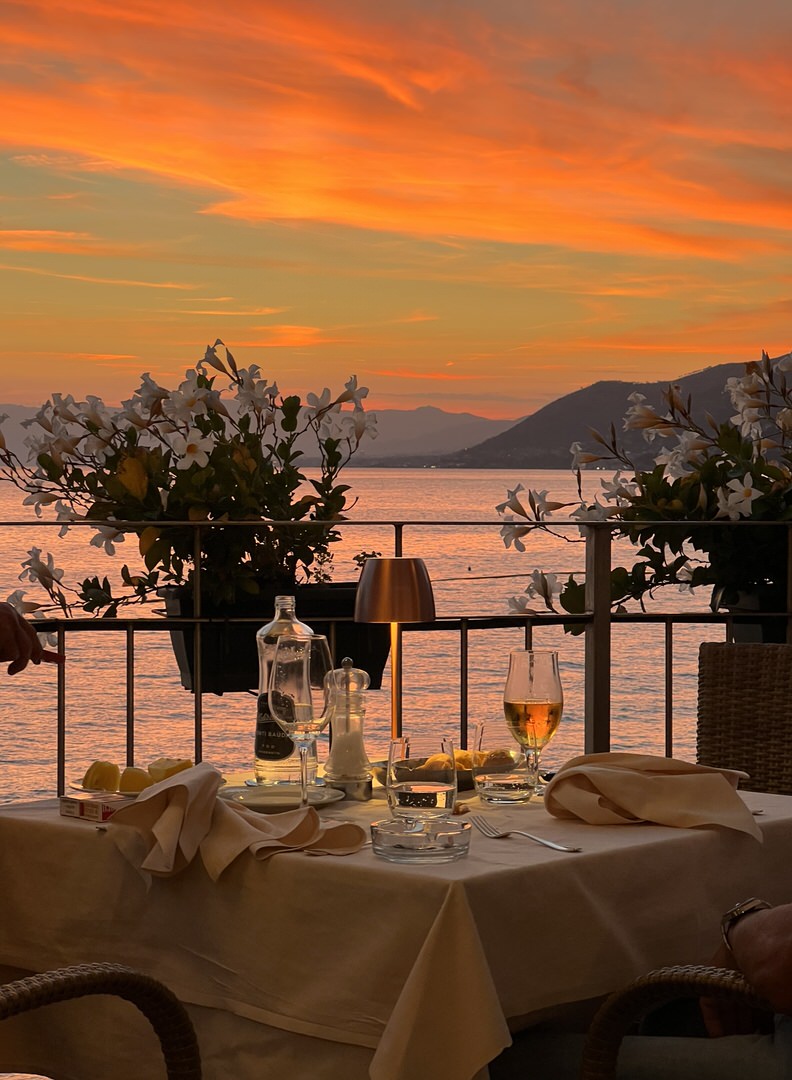 8. SANTA MARGHERITA LIGURE
Santa Margherita Ligure also known as "Santa" is another must-see. Once there, you should not miss the institution par excellence: Fiordiponti. Already in the street, you will start smelling the scent of fresh baked focaccia and pastries. No matter which focaccia, make sure you get it and you won't regret it.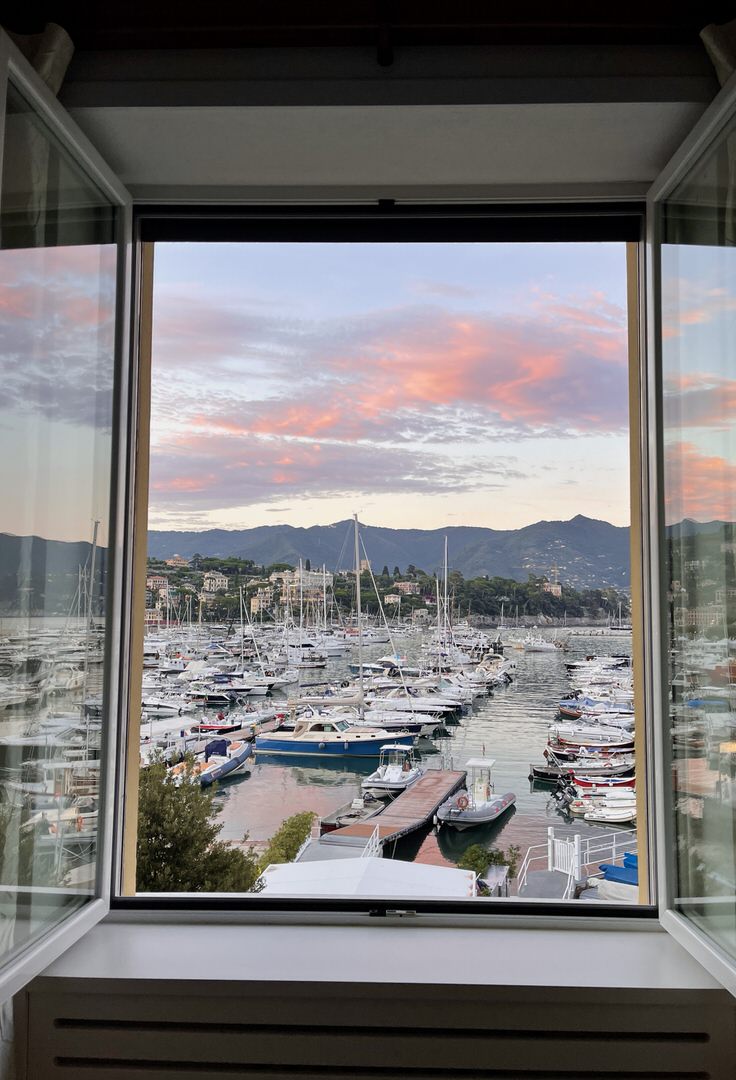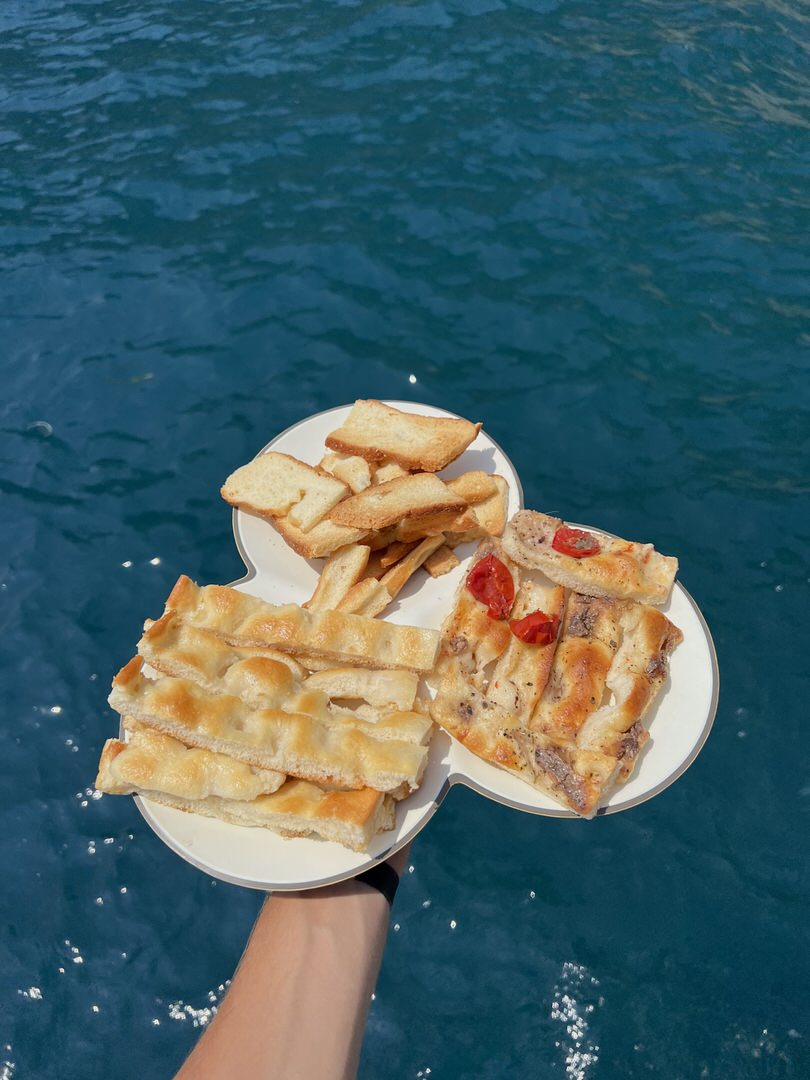 9. BY THE SEA
One of your days on the Riviera should be spent on the water. Rent a tiny boat for the day (Cantieri Sant'Orsola or Mussini Giorgio) and discover the coast with all its mesmerizing inlets that the whole world envies Italy. Just to name a few: Baia Cannone, Olivetta, Cala degli Inglesi.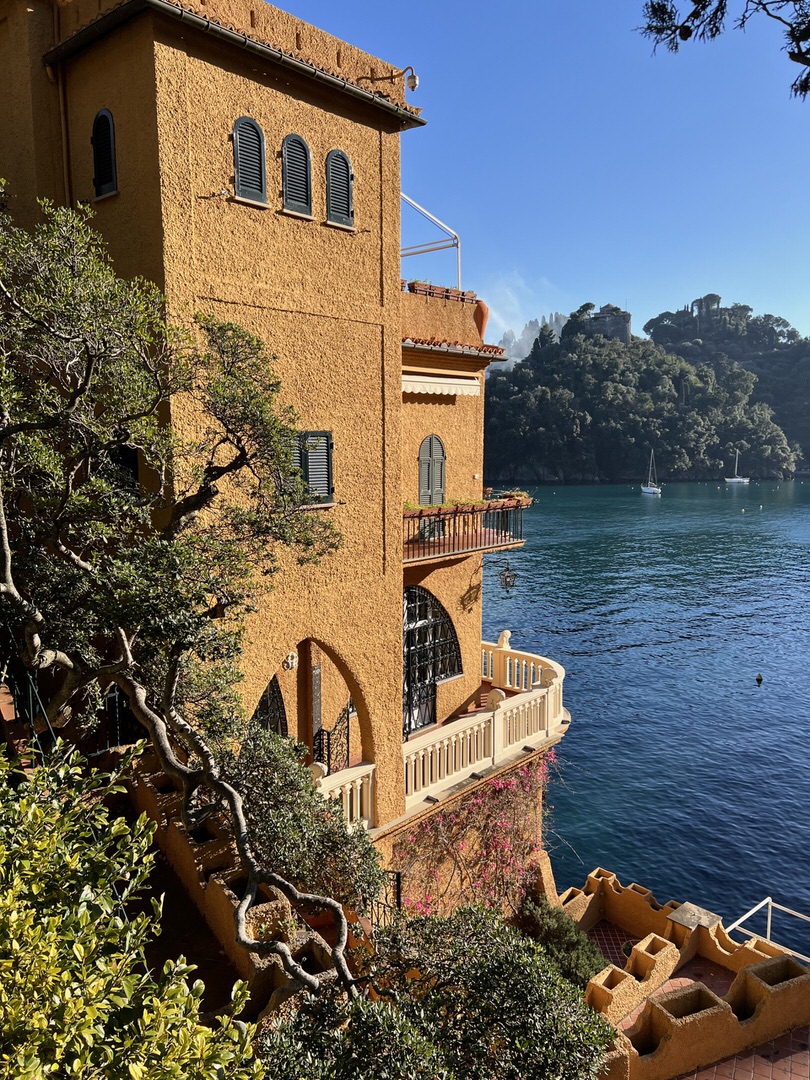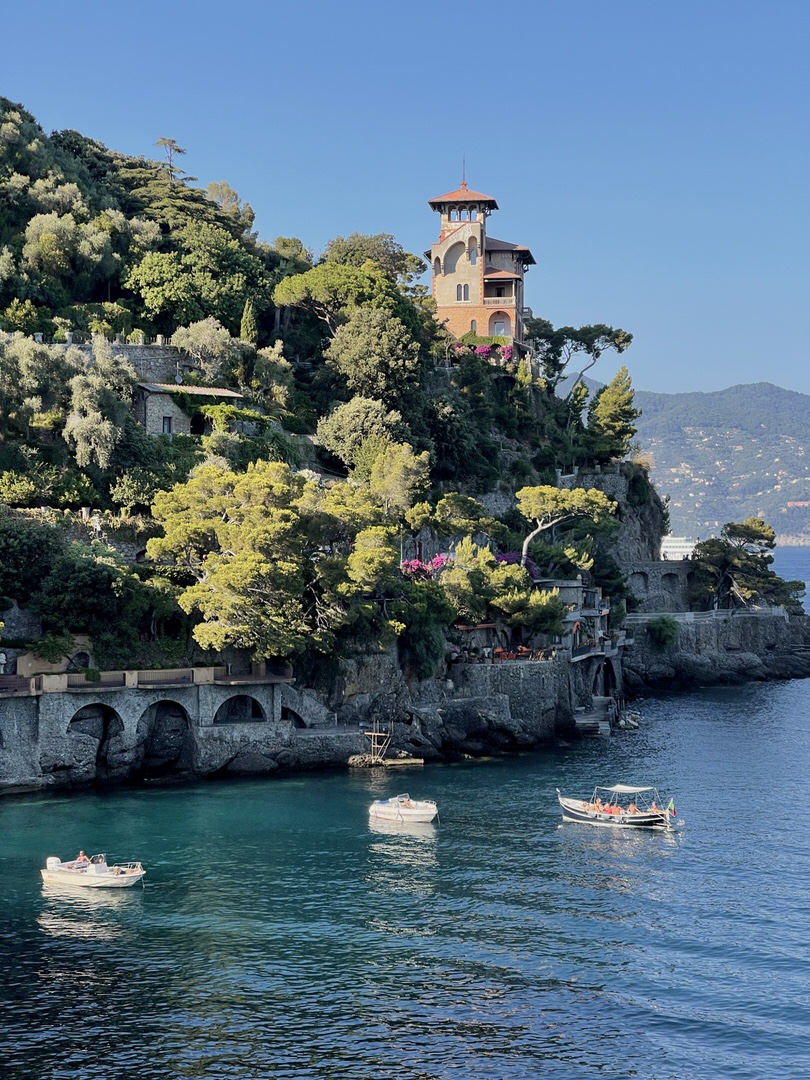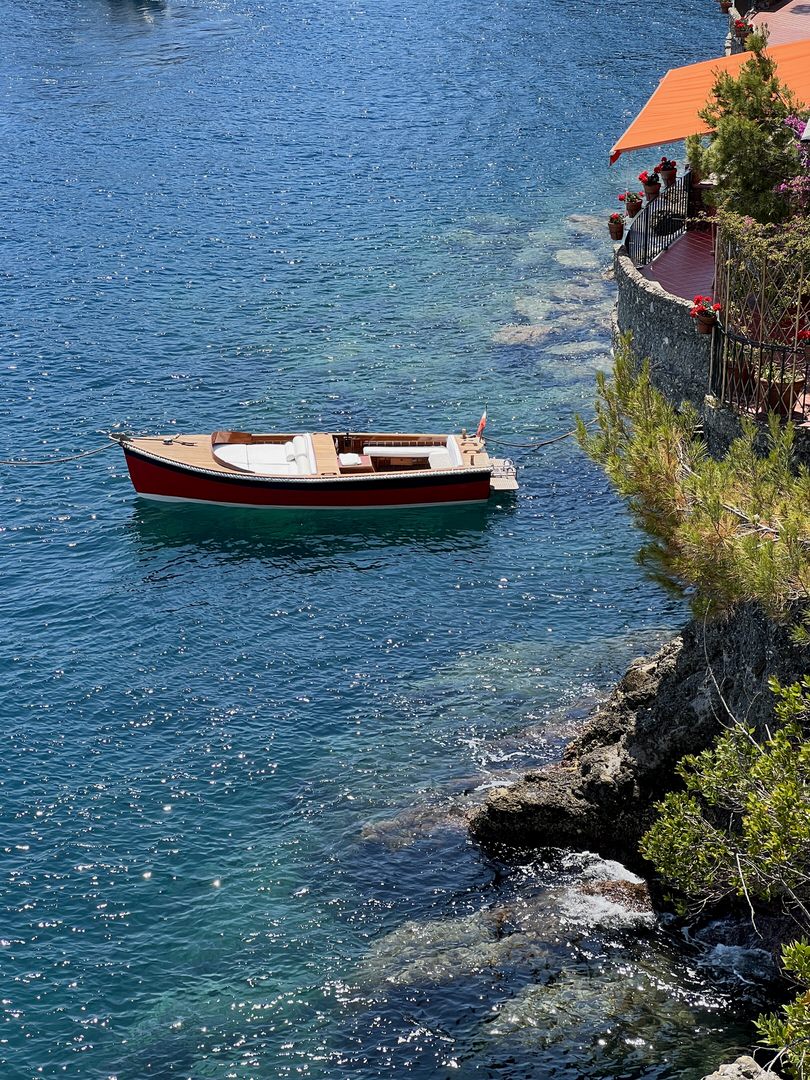 10. SAN ROCCO TO PUNTA CHIAPPA
Last but not least, take the path leading you from San Rocco (on the hill dominating Camogli) to your final destination: Da Spadin restaurant in Porto Pidocchio few steps from the sea.
A few tips: halfway stop at the pretty San Nicolò church and don't forget to bring a swimsuit for a fresh swim once arrived… the water is incredible down there.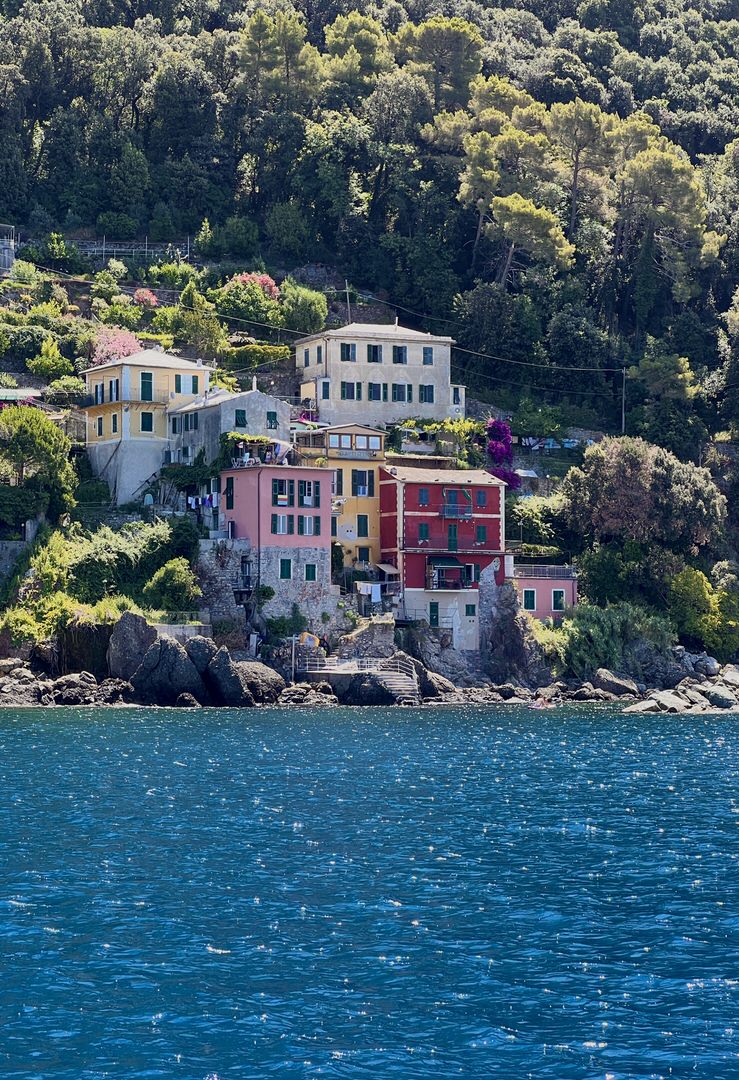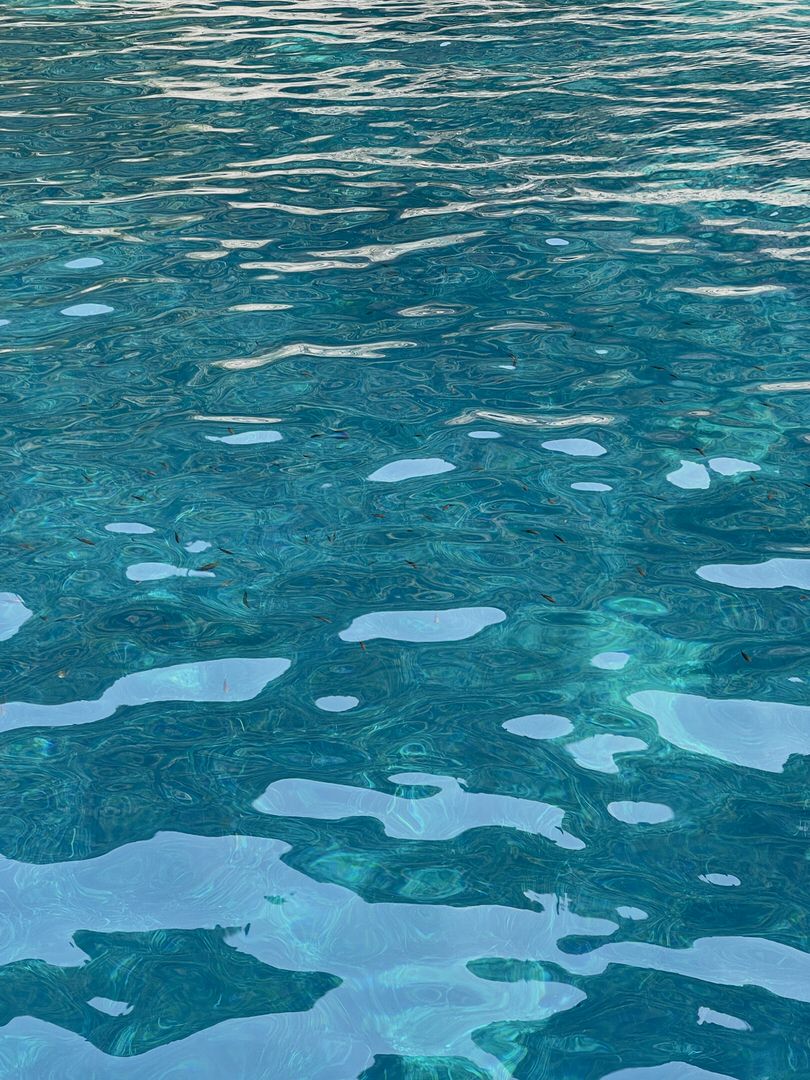 FINAL TIPS
To conclude – if you only had to choose just three places from the above list in Portofino, then we would recommend the following:
Firstly – Portofino by day (lunch at Taverna del Marinaio)
Secondly – Camogli at sunset (dinner at Cenobio dei Dogi or at La Camogliese)
Finally – Day trip to San Fruttuoso (seafood lunch at Da Giorgio)
Above all, many thanks to our local expert Giacomo from @giacomo.sonzini for for sharing everything he loves about Portofino and the nearby area. In particular I'm thankful that he has shared some of the secret spots that remind him of the childhood holidays spent in here.
Giacomo who is only 23 years old, born and raised in Milano, really is a travel expert. I have followed his journey for a few years and get so much inspiration from his travels.
His relationship with Liguria dates back to his birth. His family already had a lovely apartment in Zoagli with a huge terrace facing the infinite sea. He vividly remembers the hours spent on that terrace admiring the horizon and the million stars dotting the Ligurian midnight summer sky. However, in 2013 his family left their nest and moved to the livelier Santa Margherita Ligure (next to Portofino). This place has now become his second home, it's his heartland, and his daily walks to Portofino make it even more special.
I mean, we truly couldn't get a better guide to Portofino than him!
Make sure to check his Instagram Profile and follow his beautiful journeys!
In case you are searching for more inspiration for traveling, then perhaps some of my other Guides will be useful:
5 BEST HOTELS in PALMA, MALLORCA (2022 List)
10 MOST BEAUTIFUL RESTAURANTS IN MALLORCA