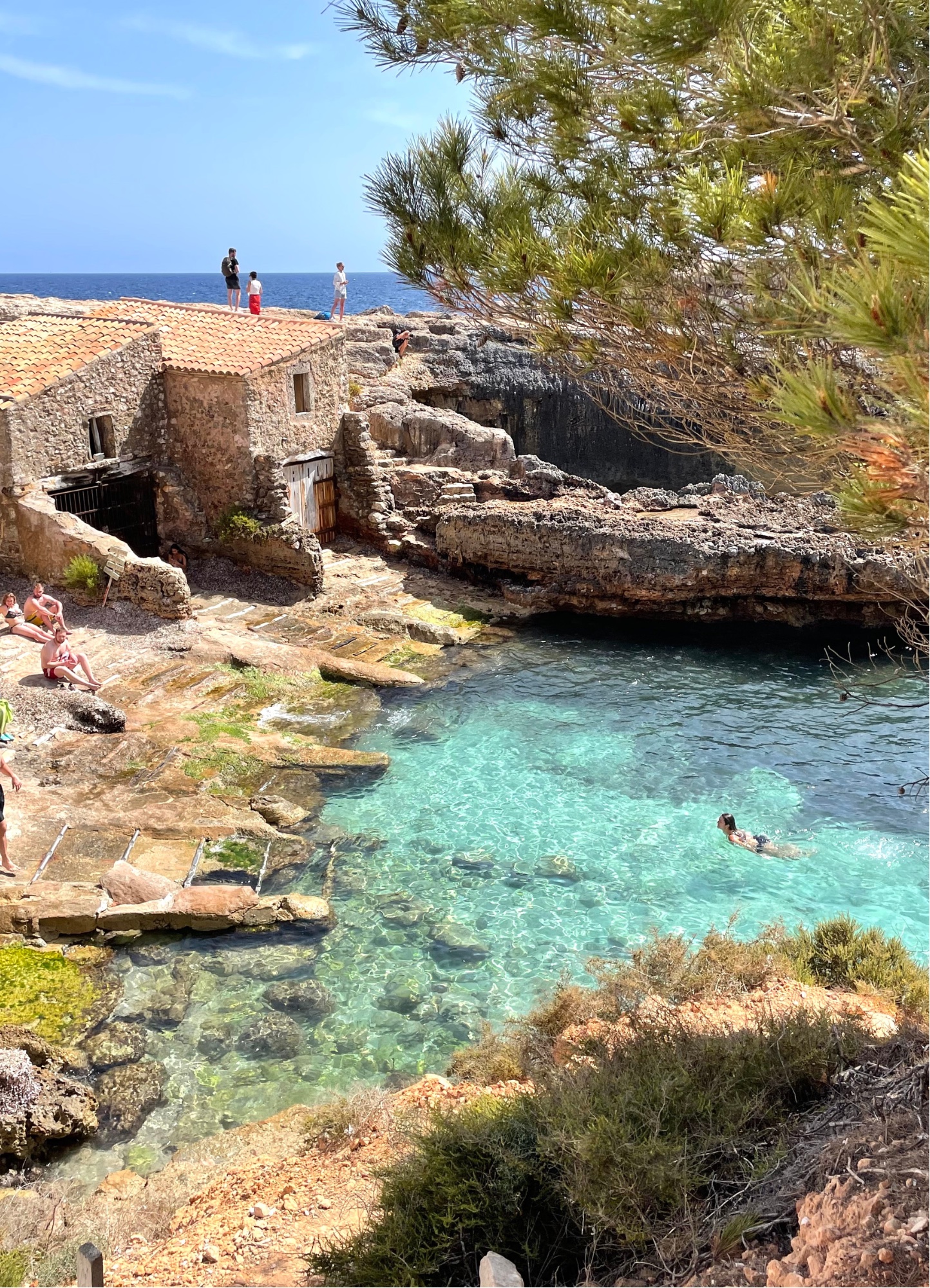 MALLORCA 10 BEST BEACHES
Are you looking for a list of the best beaches in Mallorca? Deciding on which of the 345 beaches you want to visit during your holiday, may end up being a daunting task, but let me help you.
We drove from West to East and North to South of Mallorca searching for the best beaches. The below list is the result of our 18-day trip.
From Instagram famous to family-friendly beaches – I have chosen my top 10 list for you.
1. Cala S'Almunia
BEST FOR: Getting those Instagram shots
Although it is tiny, Cala S'Almunia is definitely one of the most beautiful and iconic spots in Mallorca. Getting there requires some hiking, or climbing rather steep stairs but you can combine seeing Cala SÁlmunia and Cala del Moro in one go and you will be spoit for views.
We managed to go there with our almost 2-year-old son but we almost gave up high way here. I recommend arriving early, as spots for lying down in the bay are rather limited.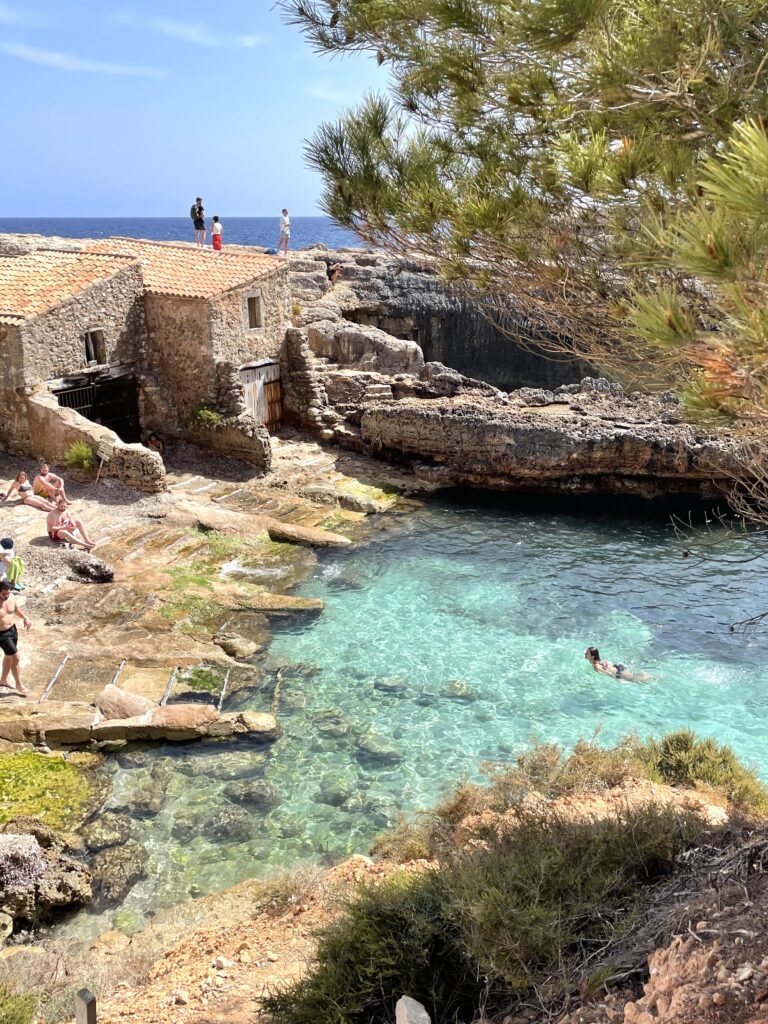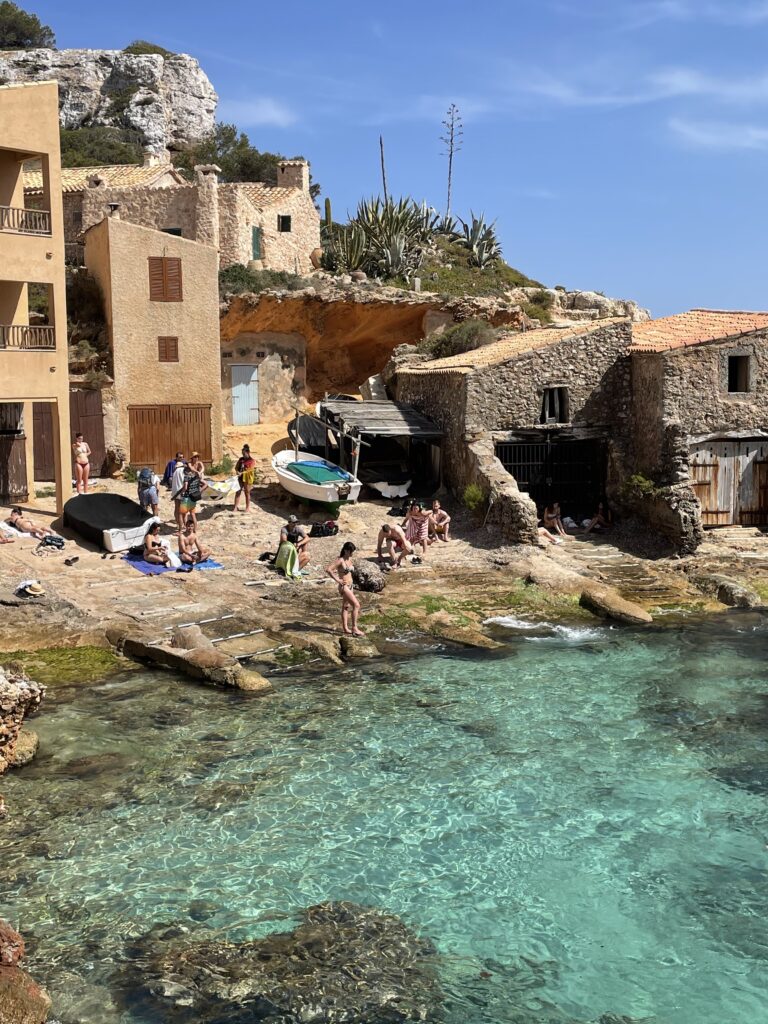 BEST FOR: Families & Photographers
If you ever googled Mallorca – Cala Llombards is probably one of the first photos that you saw. Similar to Cala S'Almunia it is also widely photographed on social media.
We came here with our almost two-year-old son and really liked it. If you want to spend time on Cala Llombards (and S'Almunia and Moro) then it makes sense to organise your accommodation in the South-East of the island.
It is important to arrive early if you want to park your car within short walking distance of the beach.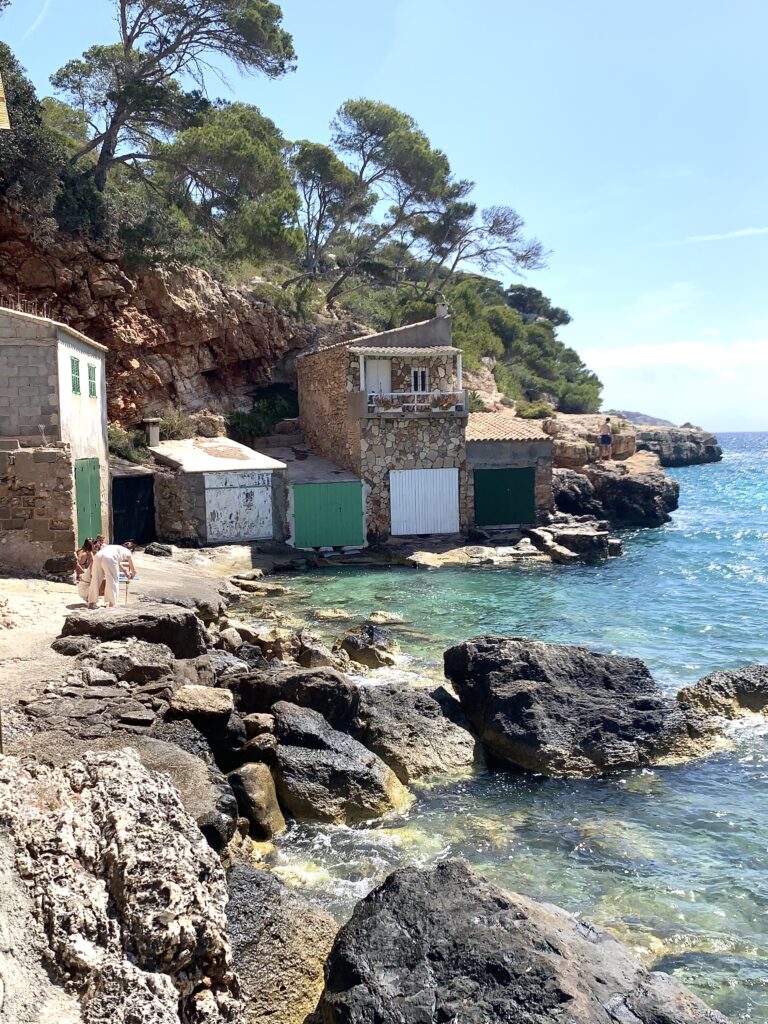 BEST FOR: International people-watching
Deia, and generally the North-West of Mallorca, is my favorite part of the island. That said, the beaches in that part of the island are rather rocky and therefore not as family-friendly as the ones in the South-East. This should not discourage you from visiting (or even staying) in this magical part of the island. Once a fishing port – Cala Deia – is now a rather famous spot due to the location of Ca's Patro March restaurant.
In order to avoid not finding a parking spot, you will be better off leaving your car in Deia and enjoying the walk to the Cala. Be ready for an international rather than the local crowd here, and again arrive early to avoid crowds.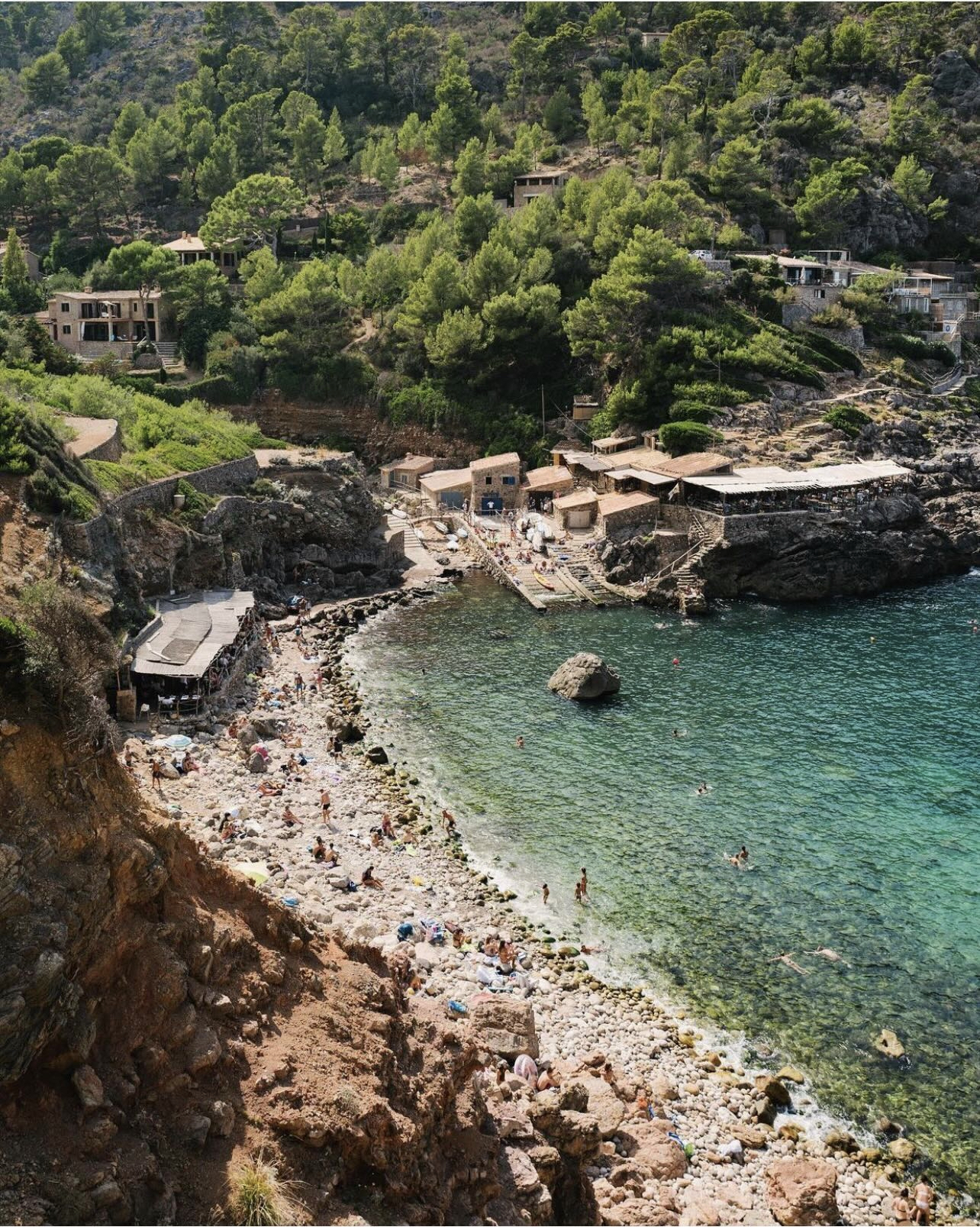 4. Cala Santanyi
BEST FOR: Families with small kids
Cala Santanyi is a rather well-known touristy option in the South East of Mallorca. It is a great option for families (even with small kids) as it has a rather fine white sand the waves are rather gentle here. You will also find here all the expected amenities such as sun loungers, umbrellas, and toilets.
Go up to reach the last restaurant on the left-hand side as you face the sea for some amazing views and rather decent food.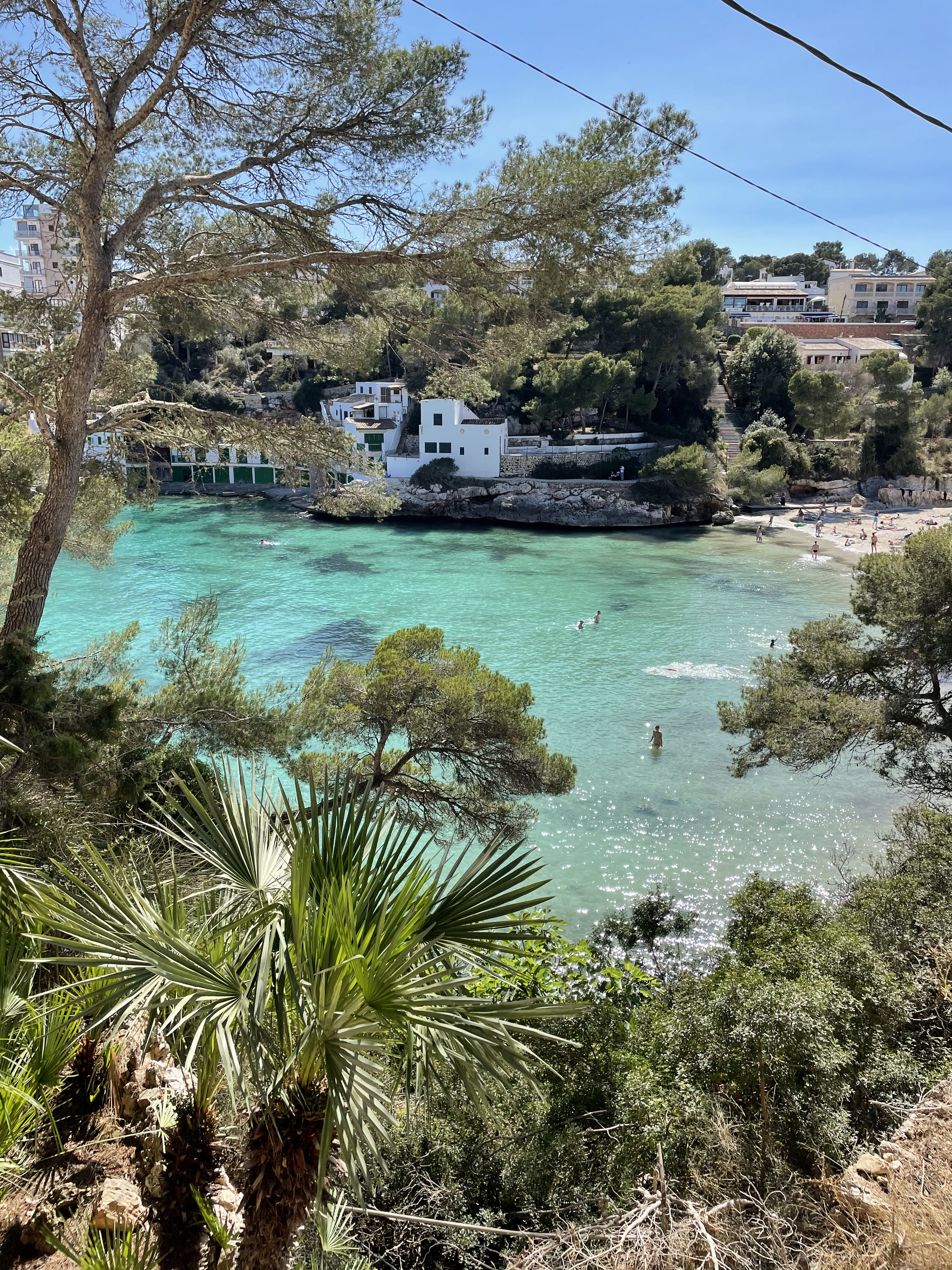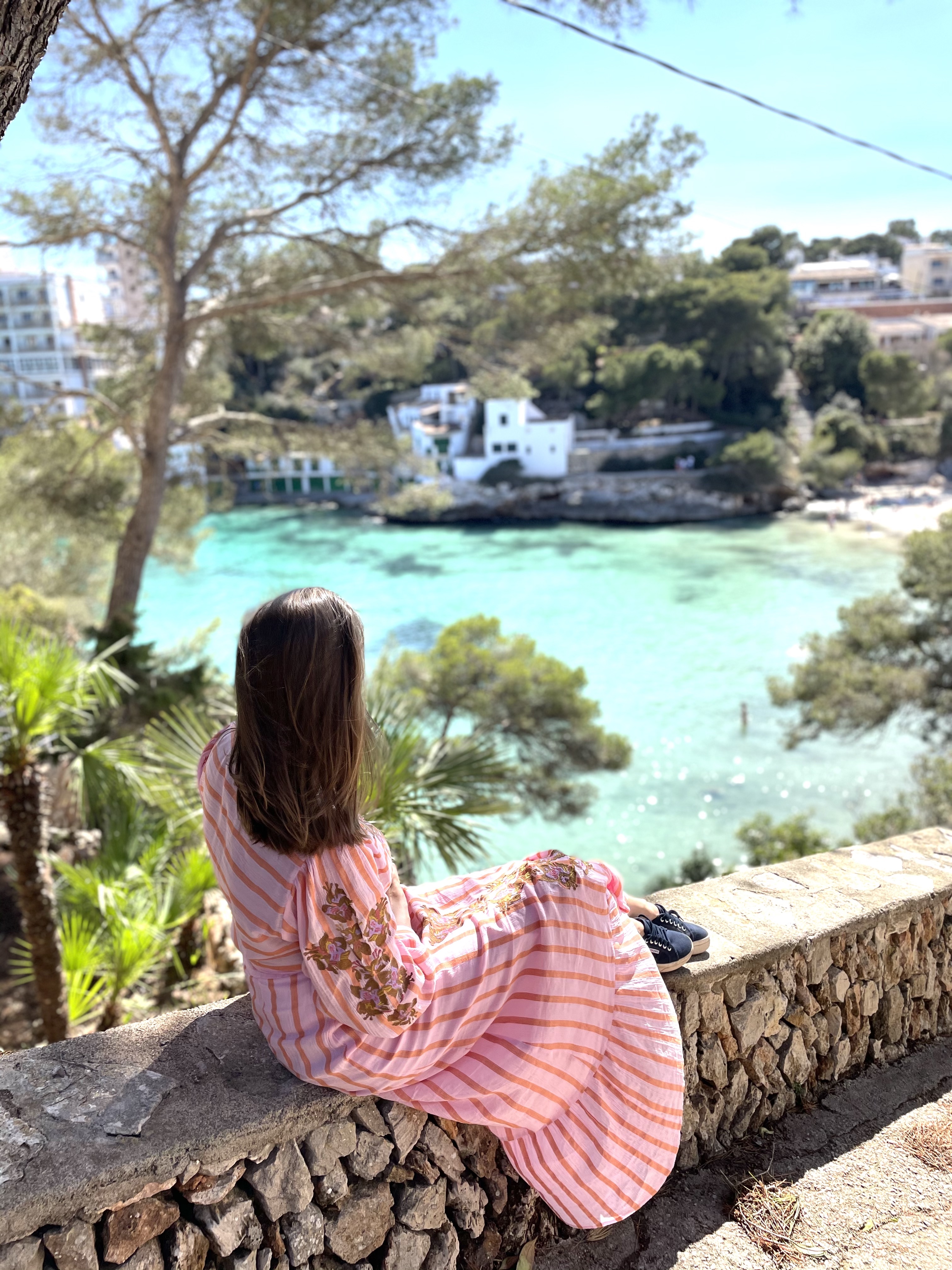 BEST FOR: Great views
A rather steep (although manageable) staircase is leading down to this beautiful sandy beach with turquoise water. It is definitely a good option for families and those who would like to get some amazing views after a small hike. During peak season you will be able to rent sunbeds and buy some basic products from a little beach shack.
For the brave ones, you can walk over a rock formation (hike to the left side while facing the sea) to get an even better view (or photo). Note that the beach gets rather busy, so arrive early to get a prime spot.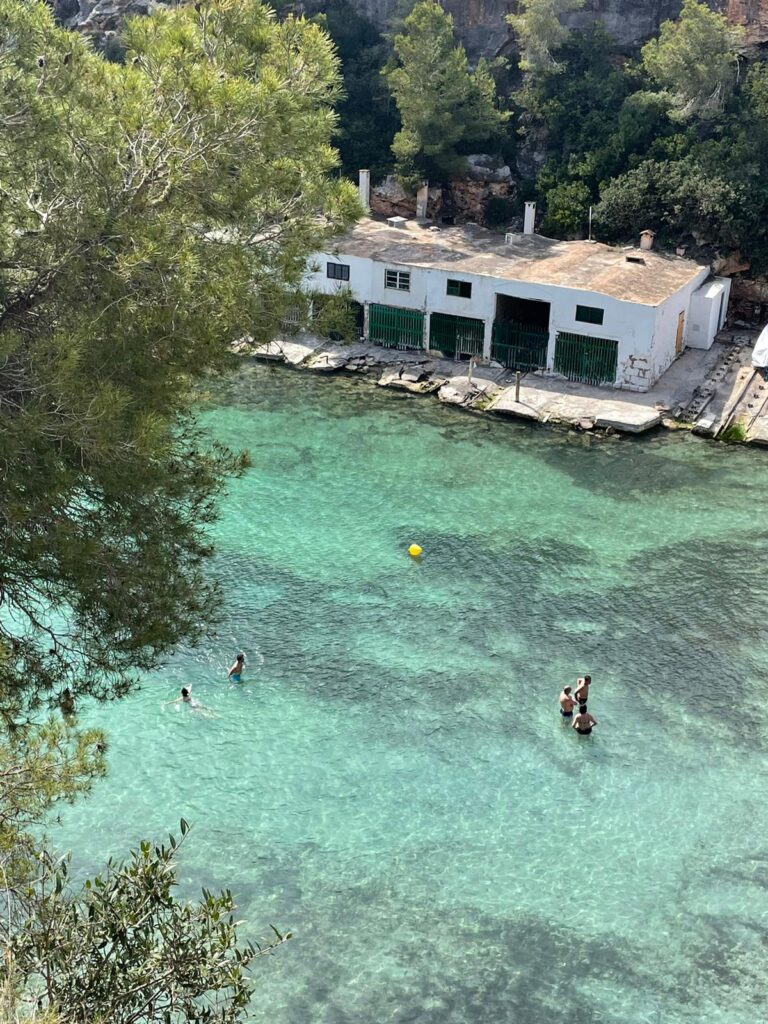 BEST FOR: Those seeing a more remote beach
After being disappointed by a few beaches in the North East of Mallorca we fell in love with Cala Tort. This beach was recommended to us by the Michelin star Chef Andreu Genestra. You will need to park your car and then go down the unpaved dirt road, but I promise you it will be worth it.
Even though it is rather secluded and there are no usual amenities present at other beaches it is still a great option, even for families. That said come prepared with your drinks and food.
Hike to the right of the beach (while facing the sea) to get some amazing and rather unique views.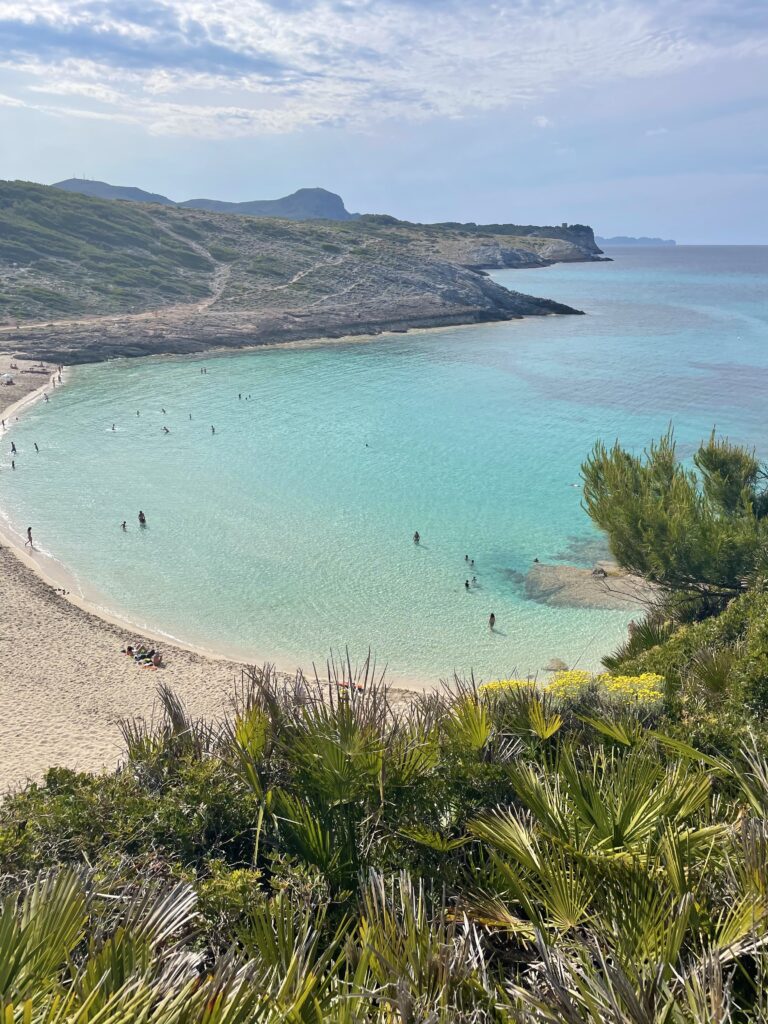 7. Es Calo del Moro
BEST FOR: Stunning views & exciting hike
This is another great option in the South East of Mallorca. You can combine spending time here as well as at Cala SÀlmunia which is located just a few hundred meters away. Expect jaw-dropping views of turquoise water and high cliffs.
That said you will have to earn your way to get here through a rather challenging hike and a rocky trail to the beach. Good shoes are a must. after a rather challenging hike. Given that
Calo des Moro is being taken care of by a private foundation so it is well maintained and is rather wild. There are no usual amenities so come prepared.
We hiked here with our son but I would not recommend coming here with small children as the hikes are too steep and the way to the beach is rocky. The beach itself is very small, so unless you will come early you will not get a spot here.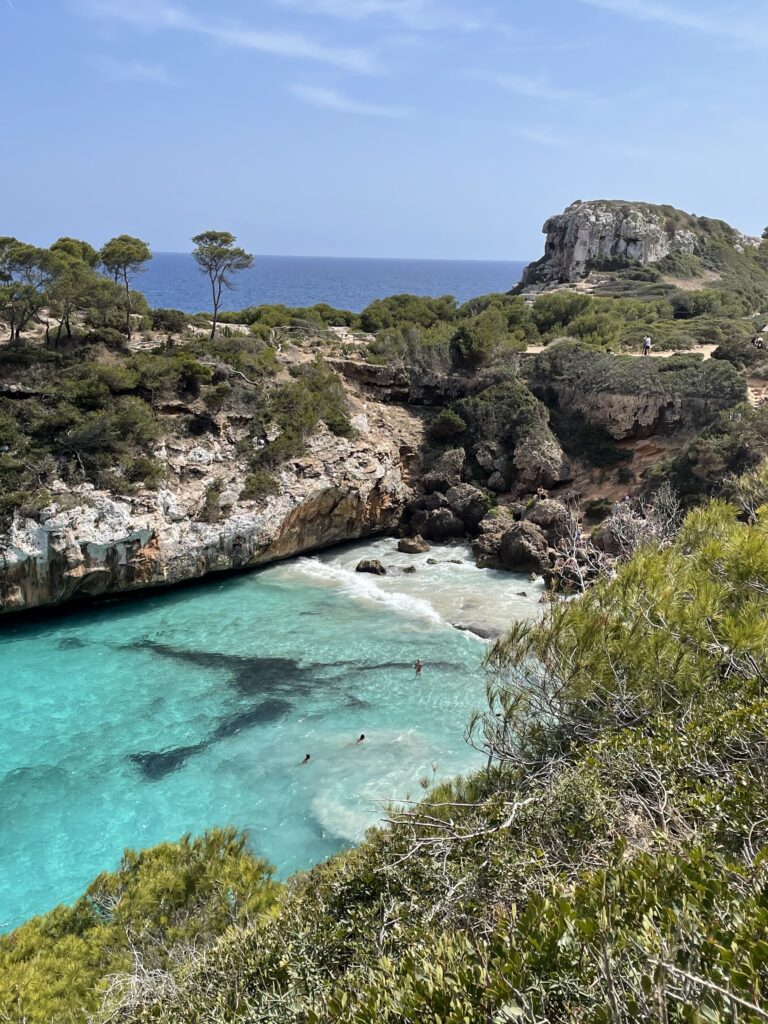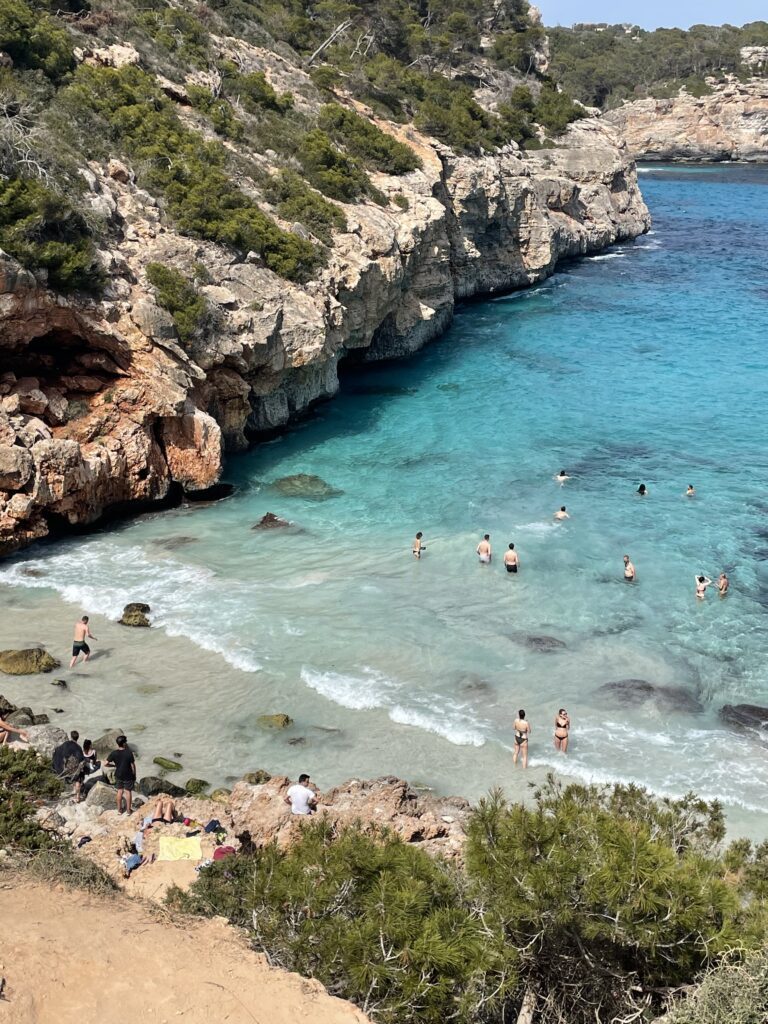 8. Banyalbufar
BEST FOR: Cliffs and wine terraces
Banyalbufar is a small village in Serra de Tramuntana Mountains, in the Western part of Mallorca. Its name translates into "founded by the sea'" and refers back to its century-long history as a center for agriculture and fishing. At its footsteps, you will find a long but rather narrow stone and rocky beach.
Don't be discouraged by the lack of white sand – Banyalbufar is really spectacular and one of a kind. Even just getting there is already special due to its location in a bay surrounded by cliffs and wine terraces. You will have to walk down a stone staircase to get here, so probably is not the best option if you come with small kids. Also, note that the beach is cast in shadow in the morning and only gets the sun in the early afternoon.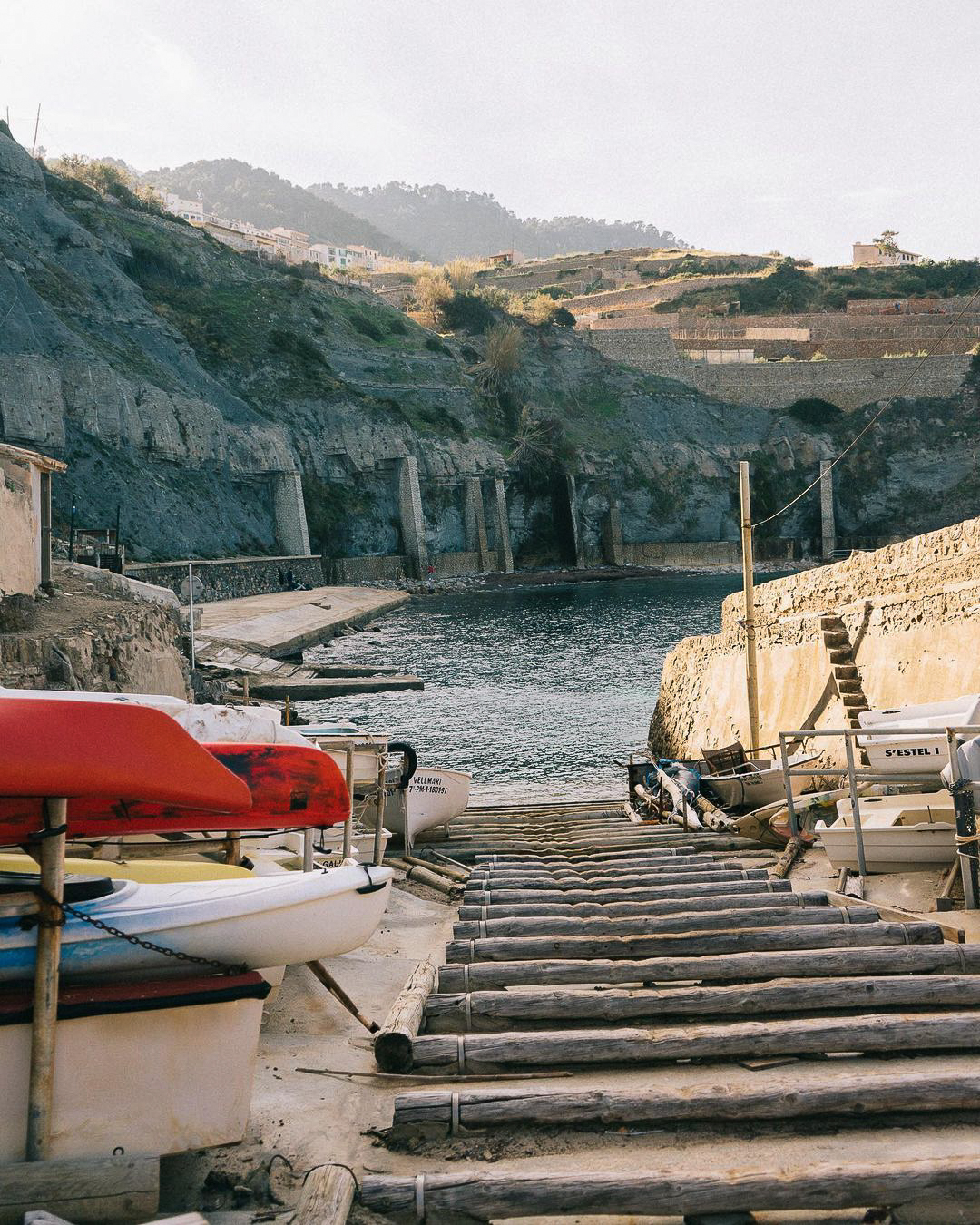 9. Cala Agulla
BEST FOR: Sandy beaches and turquoise water
You will find Cala Agulla in the North East of Mallorca which is famous for its pristine long beaches.
Cala Agulla belongs to the Llevant Peninsula natural park and is surrounded by sand dunes and pine groves.
It is a great choice for families as it has shallow & clear water as well as provides restaurants and bars. During peak times you can rent here beach chairs and umbrellas.
What makes it special, is that you can hike from Cala Agulla through sand dunes to Cala Mesquida. Best at around sunset time.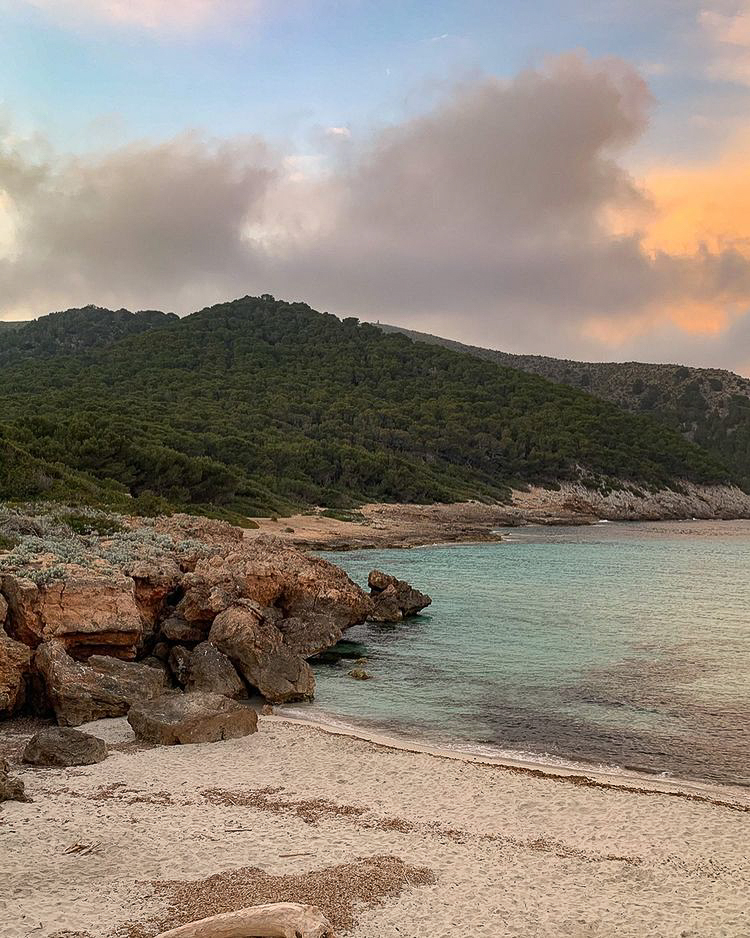 10. Sa Calobra
BEST FOR: Dramatic views & spectacular drive
Getting here takes some effort, but it is well worth it. You will have to drive through the rather jaw-dropping (or nerve-wracking) roads of the Tramuntana mountains to get here. If this wasn't exciting enough then you will also have to get through a rock tunnel to get here. But what awaits you after this journey, is truly spectacular. Should you wish to avoid all this excitement, you can also get here by boat.
Bring all you need with you as there are no services offered here.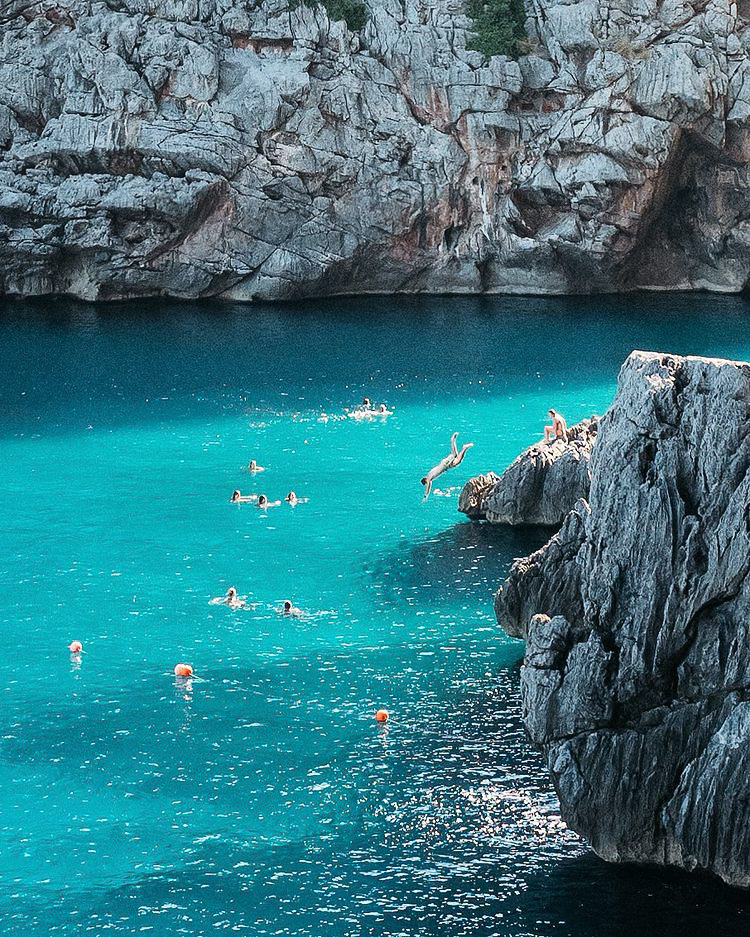 Final tips
In conclusion, if I only had to choose the top three beaches from the list above I would recommend the following:
Firstly, Cala S'Almunia when combined with Cala des Moro because of the stunning views.
Secondly, Cala Deia because of how iconic this beach has become. Make sure you eat at Ca's Patro March if you go there.
Lastly, Cala Torta for a rather remote and secluded feel.
I hope the list helps and that your will enjoy Mallorca as much as I did.
Enjoy!
In case you are searching for more information on Mallorca, then perhaps some of my other Guides will be useful: