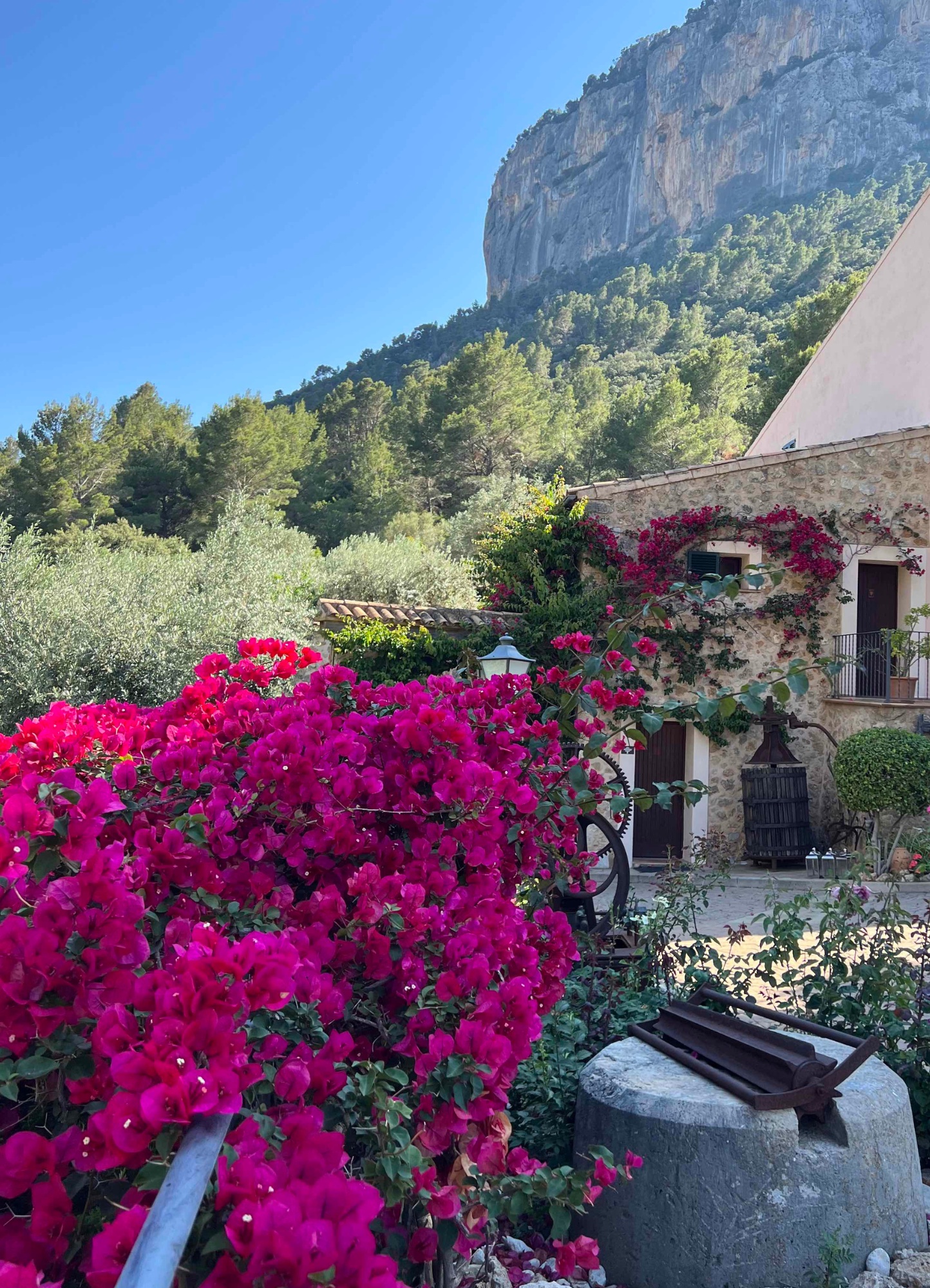 MALLORCA – 15 BEST BUDGET BUT BEAUTIFUL HOTELS
Are you planning on visiting Mallorca during your trip to Spain but cannot find beautiful hotels that are within your budget?
In order to help you plan your visit, I have preselected 15 budget but beautiful hotels in Mallorca.
So don't waste any time and book early enough to get the availability and the best rooms!
We all know Mallorca gets booked out way earlier than other destinations in Europe, and there is a reason why! Because it really is the most special island!
Let's start!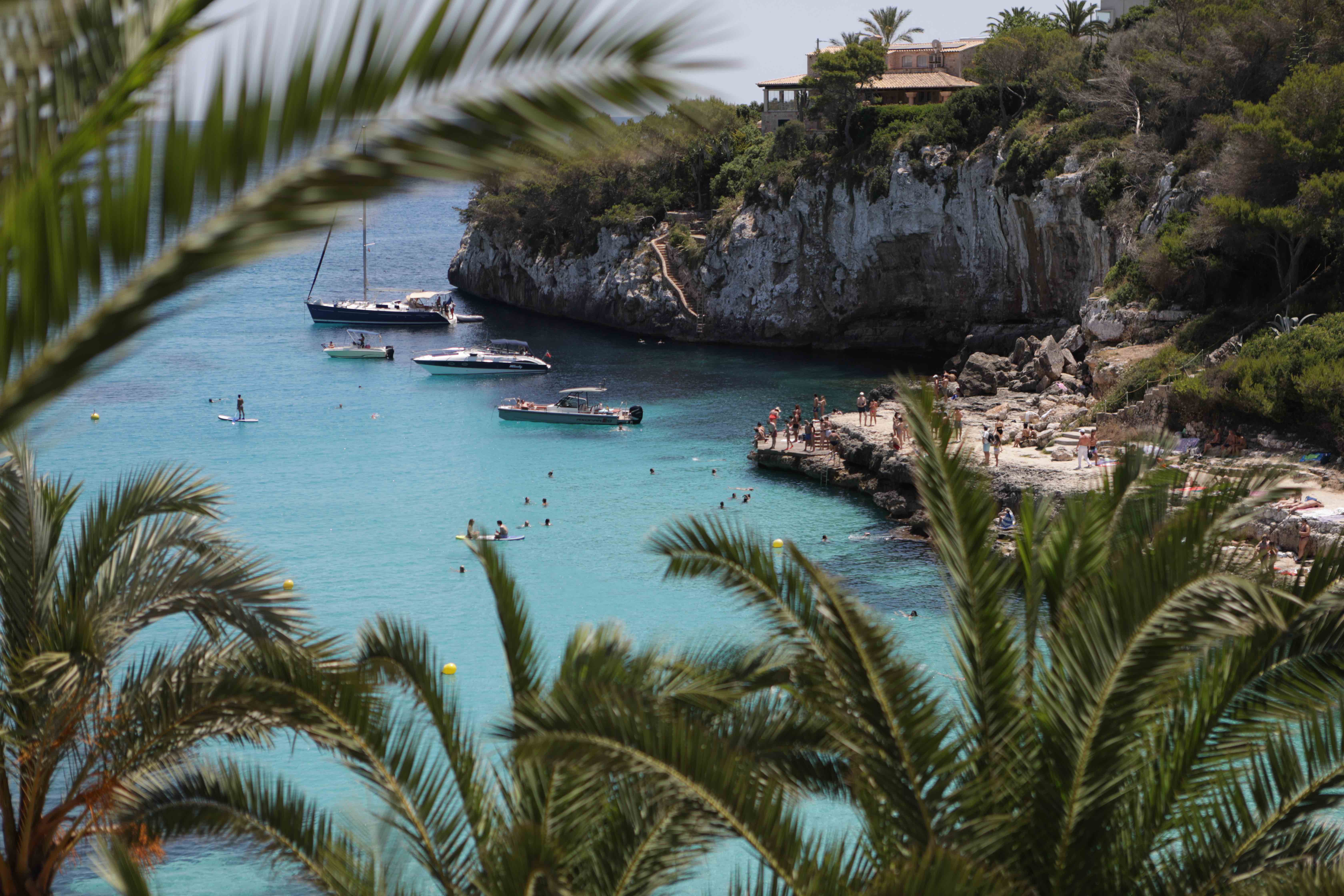 INTRO
Mallorca may be relatively small but it is beloved by all, and it gets booked out months in advance and the places that are left are, let's say, not the prettiest, and then they can also cost a lot.
Make sure it does not happen to you and that you book early. My tip here would be to book the accommodation as soon as you have decided to go. Often you can cancel the hotels up to a few weeks or days before you go, but that way at least you have something locked in.
My general rule would be to book around 9 months before, or at least before Christmas, as everyone starts their holiday planning in January when the post-Christmas and New Year's Eve blues hit!
But before you choose your accommodation YOUR STEP NUMBER 1 – should be choosing where exactly in Mallorca you want to stay.
Let me help you decide by explaining the main regions!
MALLORCA'S REGIONS EXPLAINED
Unless you have around two weeks you will not be able to see the whole of Mallorca. My tip is to choose 2 regions out of 4 and concentrate on those rather than chasing a bucket list.
My two favourite regions are the North-West and South-East, so if you have around a week, I would split your time between those.
NORTH-WEST
The North-West of Mallorca is pretty much my favorite part of the island. Firstly, it is easy to reach from Palma. However, it is mainly rural, giving it a relaxed atmosphere. Additionally, the landscape is stunning, as the UNESCO-recognised Tramuntana Mountains run through this area. Finally, it boasts some of Europe's most beautiful towns and villages such as Deia, Soller, and Valldemossa.
NORTH-EAST
The north-east of Mallorca is slightly further from Palma and its airport. However, a taxi along the motorway will still get you there in under an hour. Furthermore, it boasts destinations such as family-friendly Pollenca and the beautifully historic Alcudia. Finally, there a bays with gorgeous, sandy beaches, and you aren't far from enchanting 'calas' on the east coast.
SOUTH-WEST
Obviously, the main attraction in southwestern Mallorca is Palma. However, there are many towns and sites outside the capital worth visiting too. Head west for some gorgeous beaches and coves. Also, there are charming fishing villages such as Port Andratx to enjoy. Finally, if nightlife is your thing, Magaluf isn't far away. That said, apart from Palma this is my least beloved part of Mallorca and the first part I would consider skipping (with the exception of Palma)!
SOUTH-EAST
The southeastern coast of Mallorca is where you'll find most of the island's beautiful 'calas'. These are secluded sandy coves you'll have seen on your Instagram feed. However, there are also pretty, traditional villages to visit here. Head to Cala Figuera to see a traditional, unspoiled Mallorcan fishing port, or check my list of Top 10 Most Beautiful Beaches in Mallorca, the majority of them are exactly in the South-East!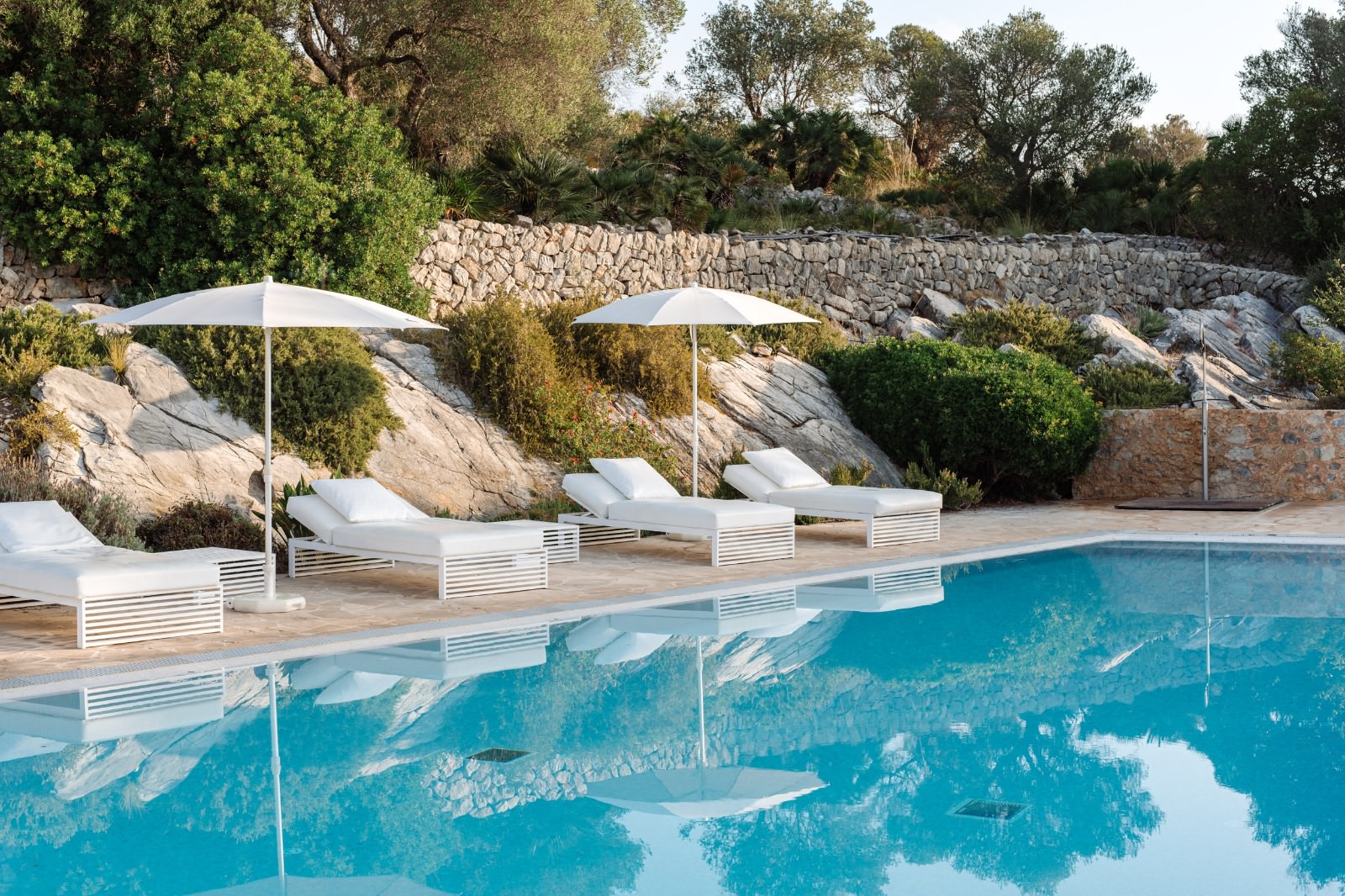 15 BUDGET BUT BEAUTIFUL HOTELS IN MALLORCA
Before we go into the list let me try to explain how I define budget so there are no misunderstandings. For the purposes of this list, I tried to include hotels, fincas, and agrotourismos which cost below 250 EUR per night outside of the peak season per room where two people share. Some of the places on the list cost even less than 100 EUR, but I needed to use a threshold to know whether something can make it into the list or not.
If you click on the names of the hotels, the link will take you directly to the booking page. This list contains affiliate links which means I might earn a commission at no cost to you. Thanks to your support I can keep on running this website for free!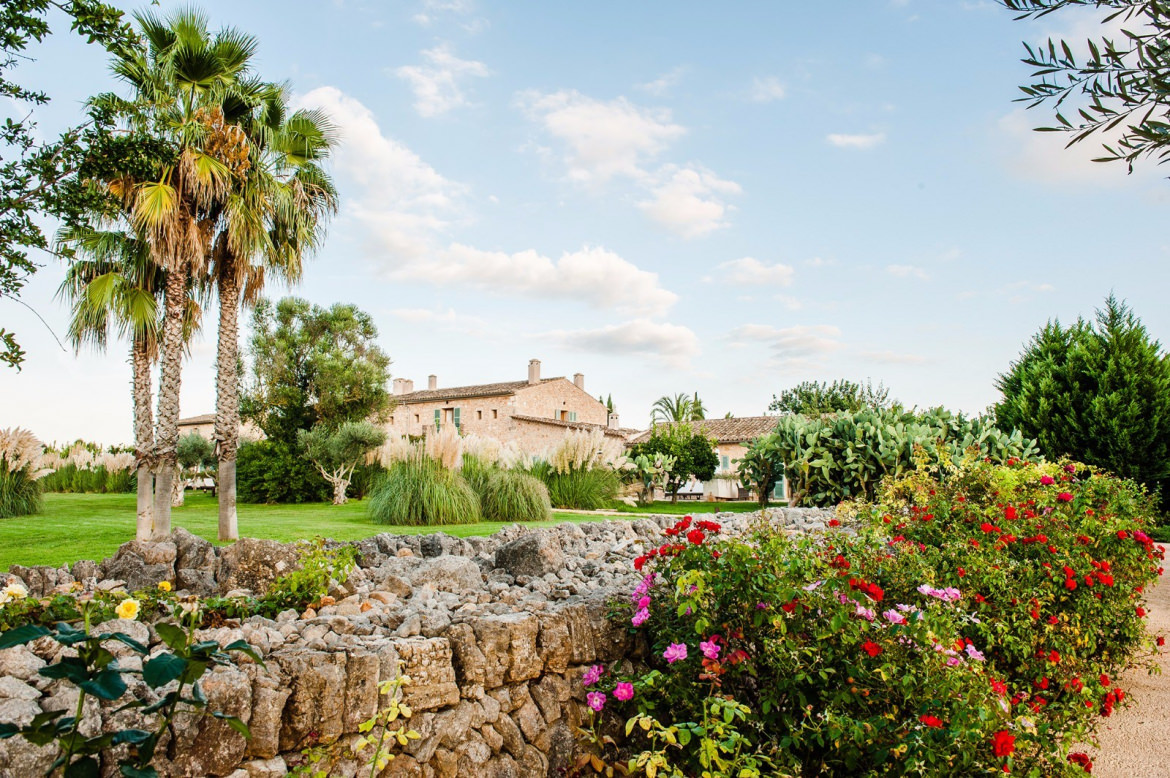 NORTH-WEST
Hotel S'Olivaret is a gorgeous rural hideaway in the heart of the Tramuntana Mountain range. Therefore, it is in the perfect location to explore both the North-West and North-East coasts of the island. The 27 rooms have a simple but traditional design and are spacious. Additionally, there is an outdoor pool, an indoor pool with a whirlpool and sauna, and large terraces and gardens to explore. Furthermore, the hotel's restaurant Tramuntana 1762 offers delicious, Mallorcan dishes. Finally, the hotel's location makes it perfect for hiking and cycling trips – you can even hire bikes at reception.
Find my video from the hotel here, for a better feel of the place. You can also book it here.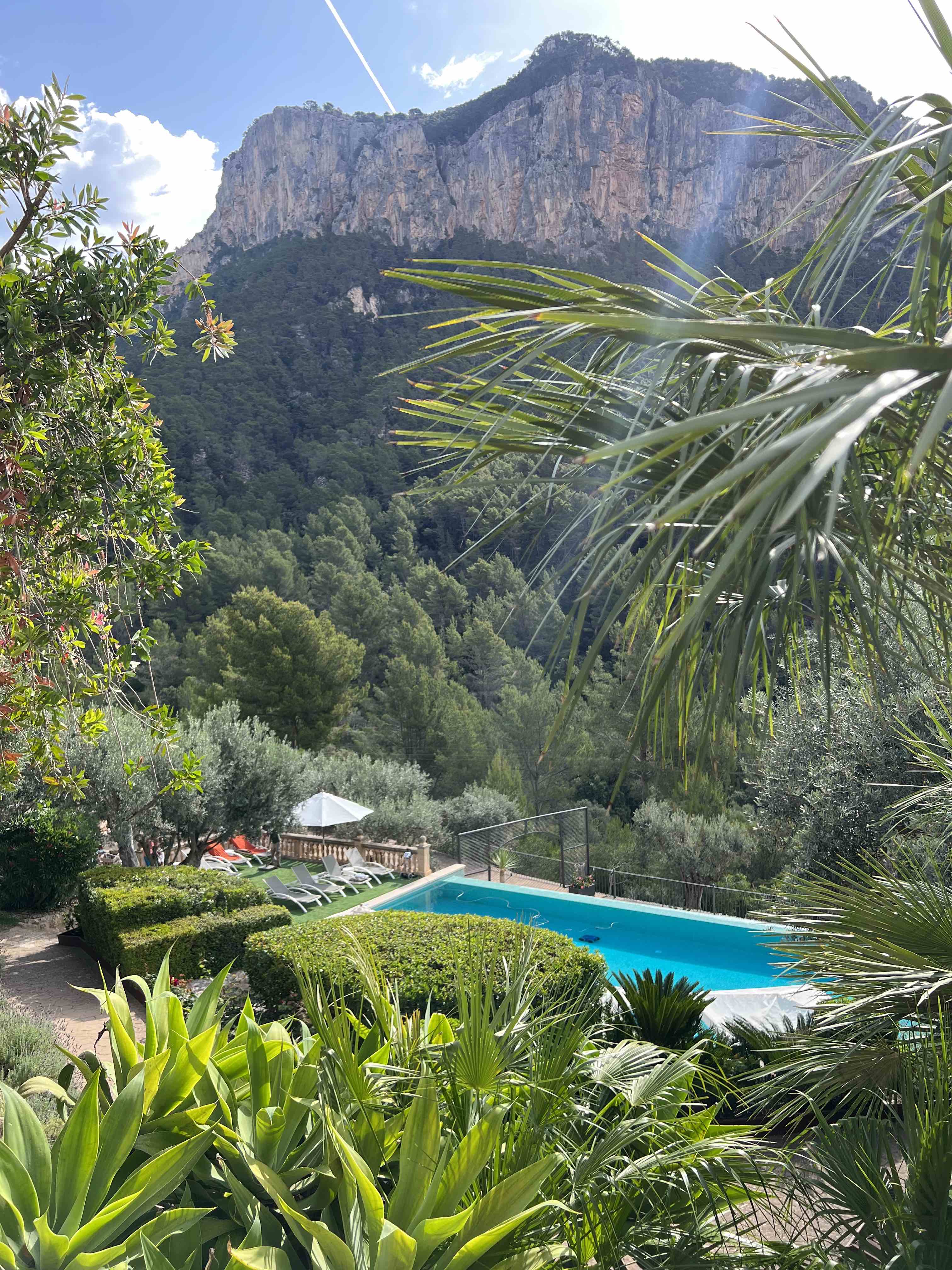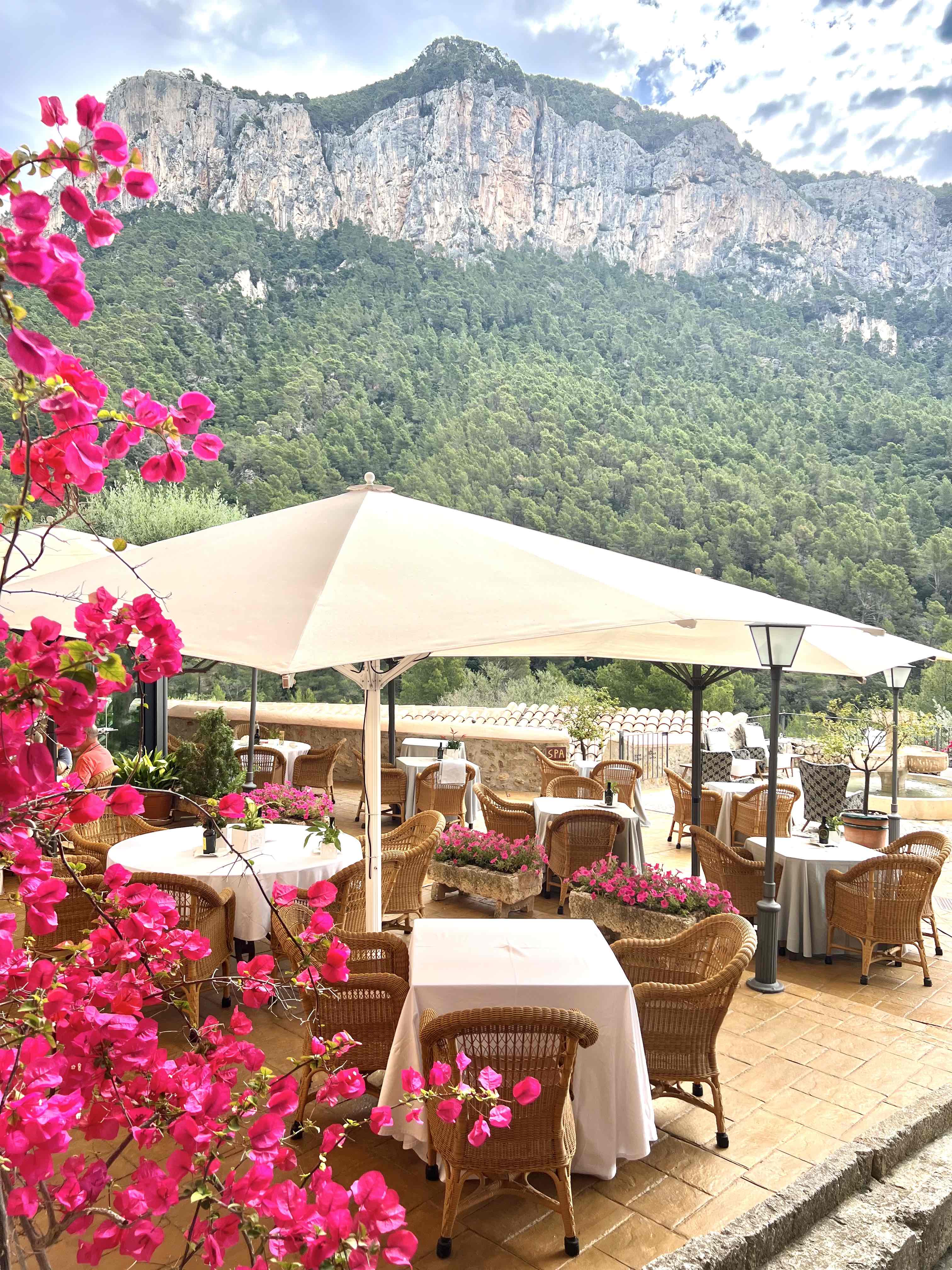 NORTH-WEST
This rural retreat on the east coast of Mallorca is ideal for a relaxing family holiday. There are 16 rooms, with cots available wherever you choose. Additionally, many of these are suites or have private terraces overlooking the beautiful surrounding countryside. Also, there is a large pool and plenty to do in the surrounding area, from hiking to biking. Finally, the fresh, Mallorcan menu offers sharing options kids will love like the delicious seafood paella! You can book it here.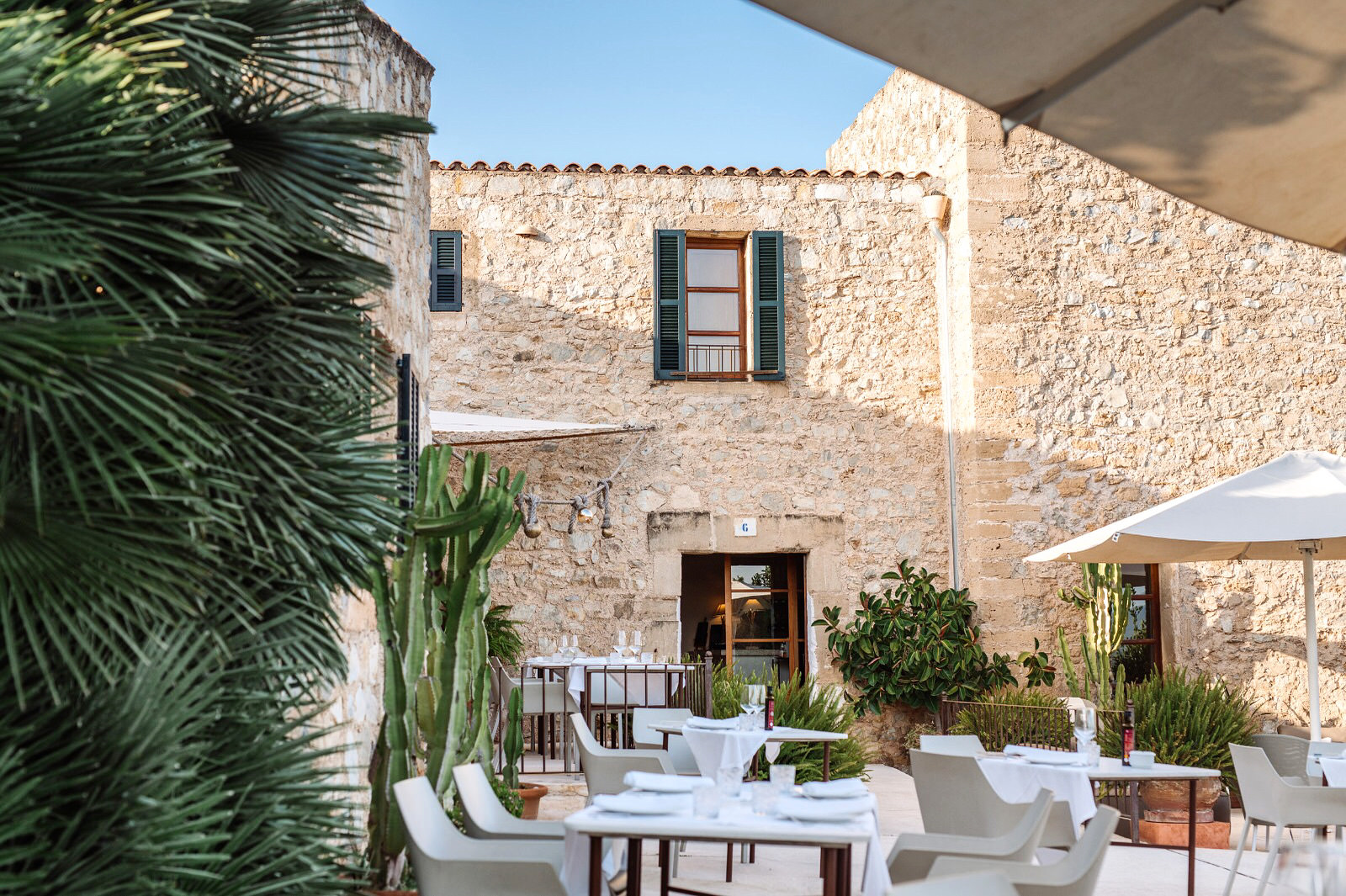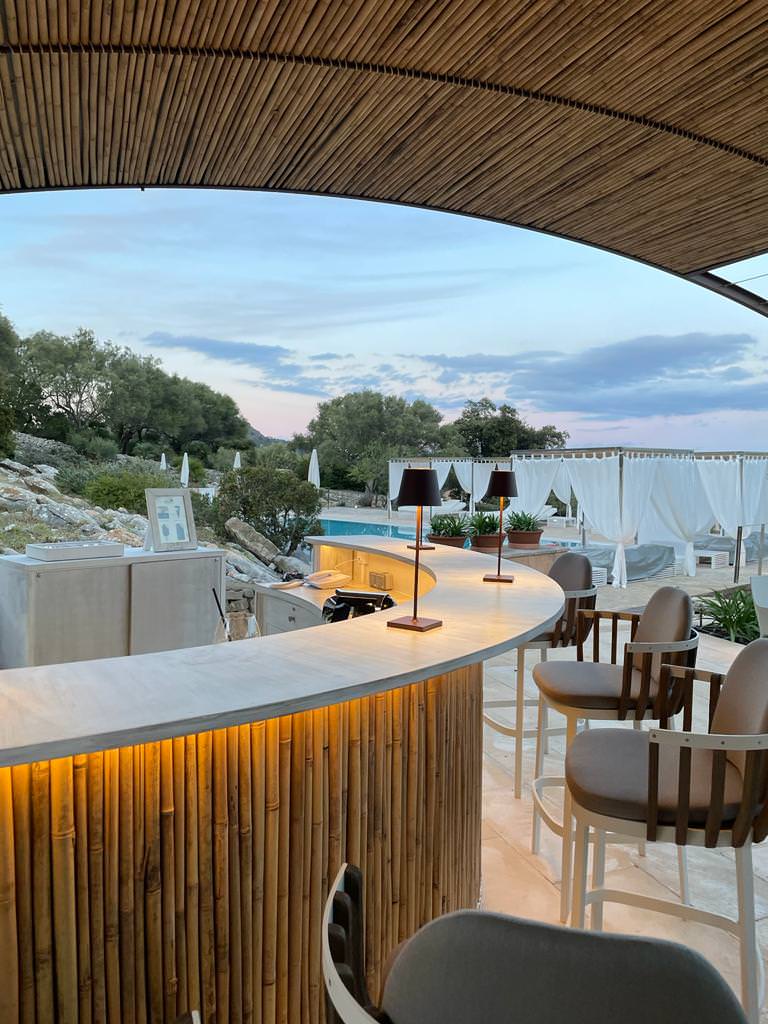 SOUTH-EAST
Es Turo is probably the best value for quality one can find in Mallorca. The owner has created a great concept, combining a hotel, restaurant, concept store, and even a beach club.
Additionally, it has a winning location close to some of the best beaches on the island. It is also a great option for families as it offers bigger rooms with living & sleeping areas and food options throughout the day. This a definite recommendation from my side.
In case you would like to read my full review of Finca Es Turo then please find it here, you can also book it directly here.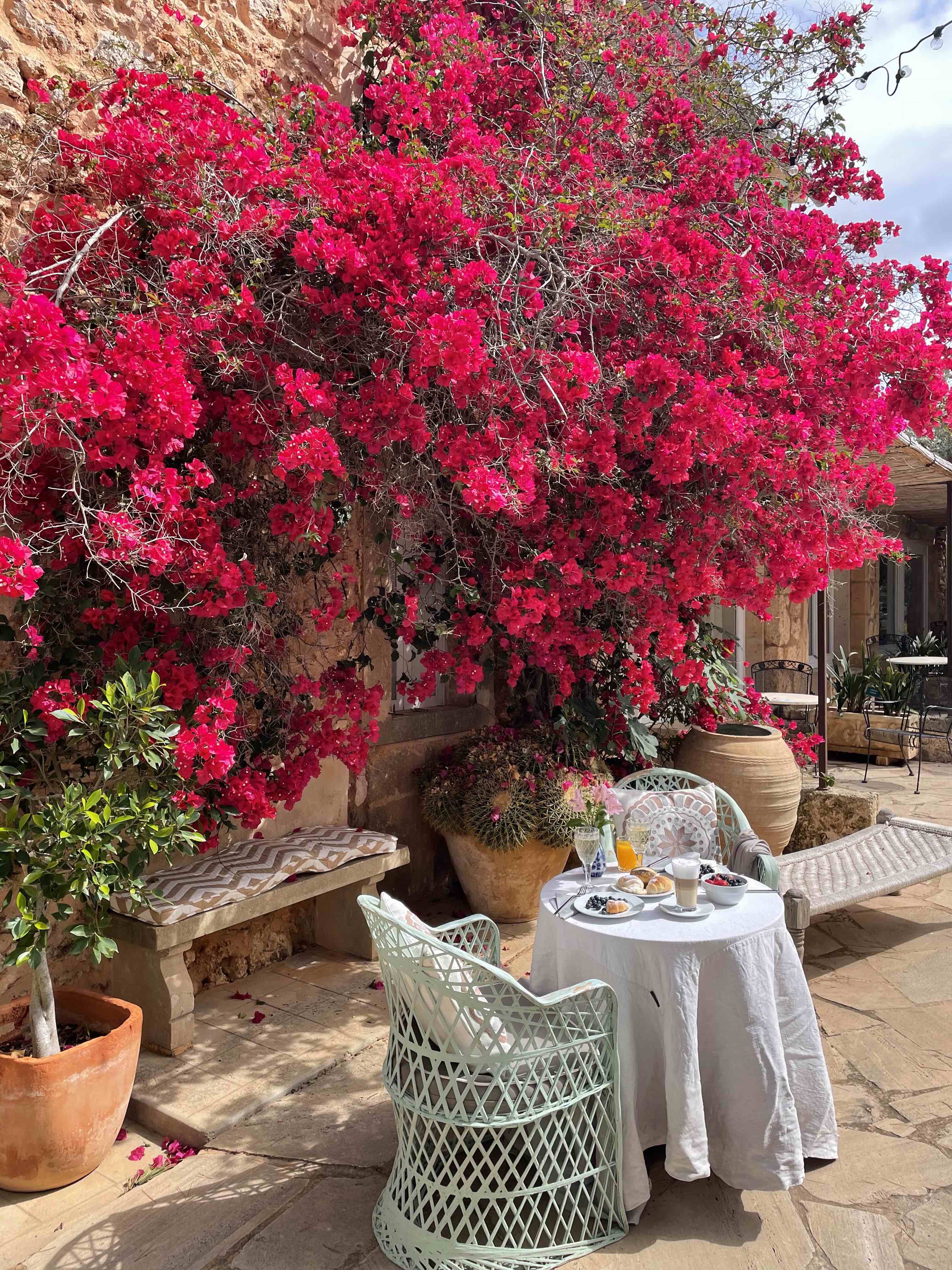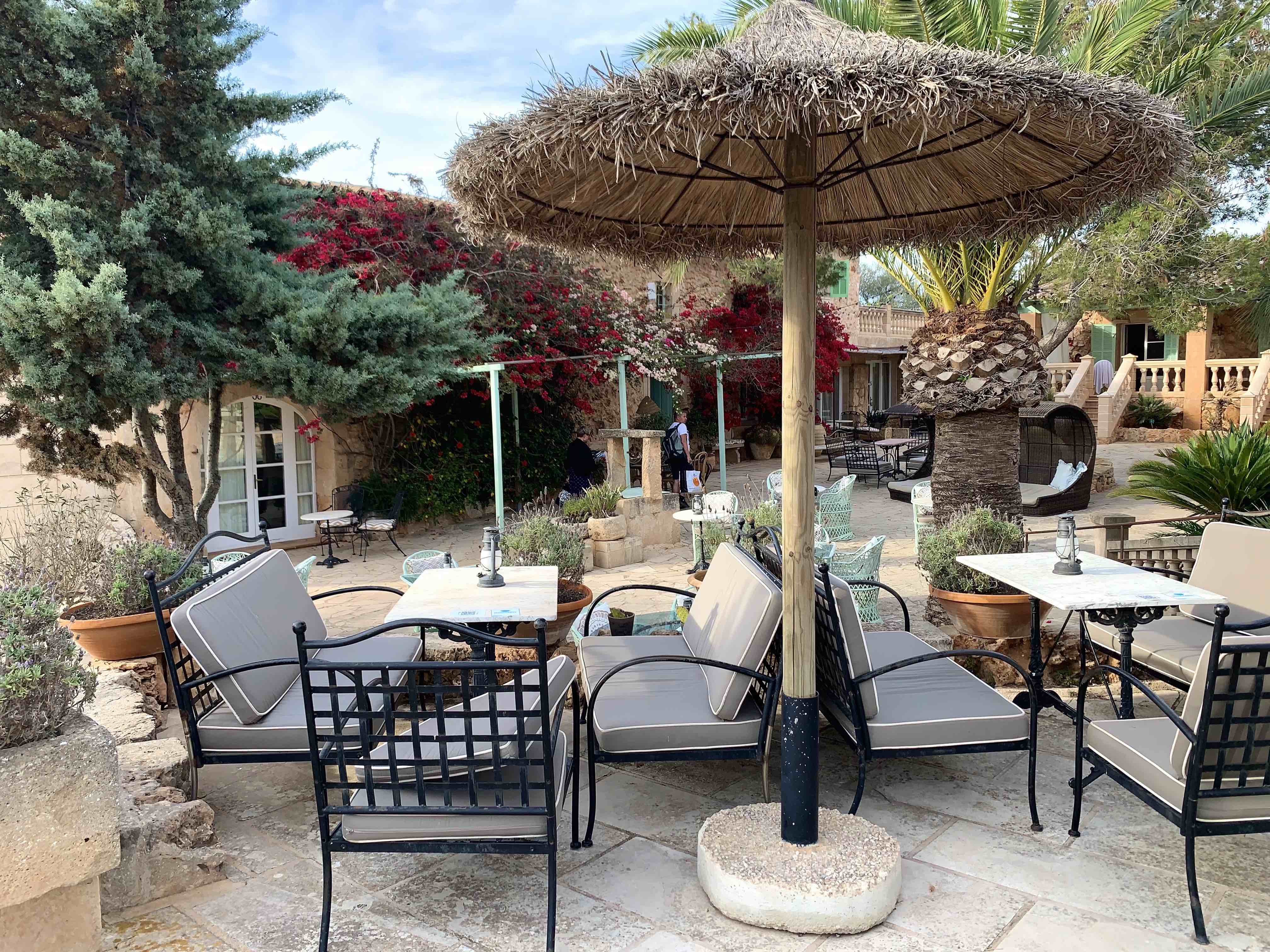 SOUTH-WEST
Sa Bassa Rotja offers a magical agrotourism experience in the South-West of Mallorca. Here, there are lots of rustic suite rooms perfect for families. Many activities make use of the estate's gorgeous nature or the enormous swimming pool. Additionally, there is a good spa and experiences such as wine tasting. Also, there is an excellent restaurant serving from breakfast to dinner with snacks available in between. Therefore, Sa Bassa Rotja is the perfect option for a natural family getaway.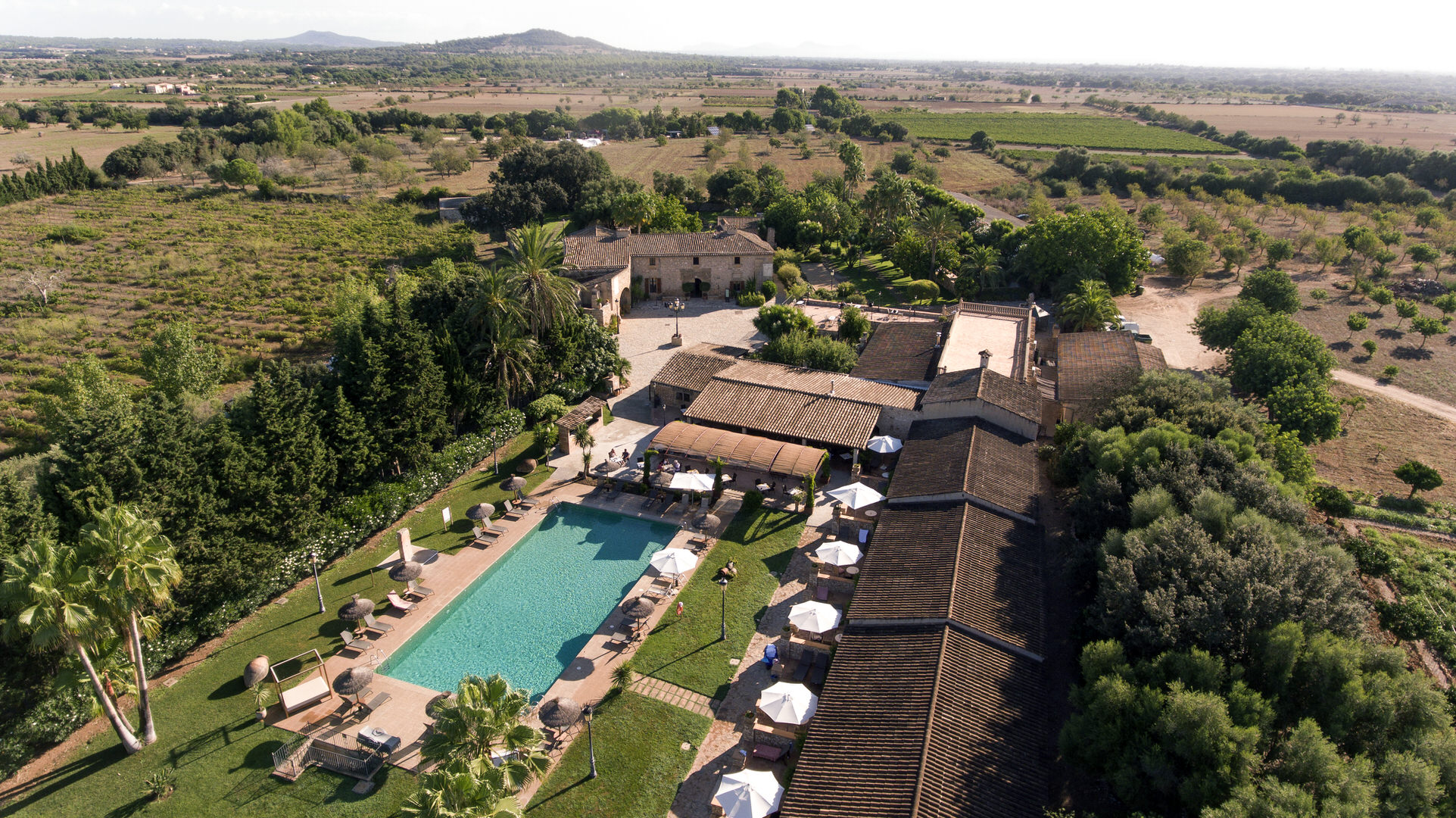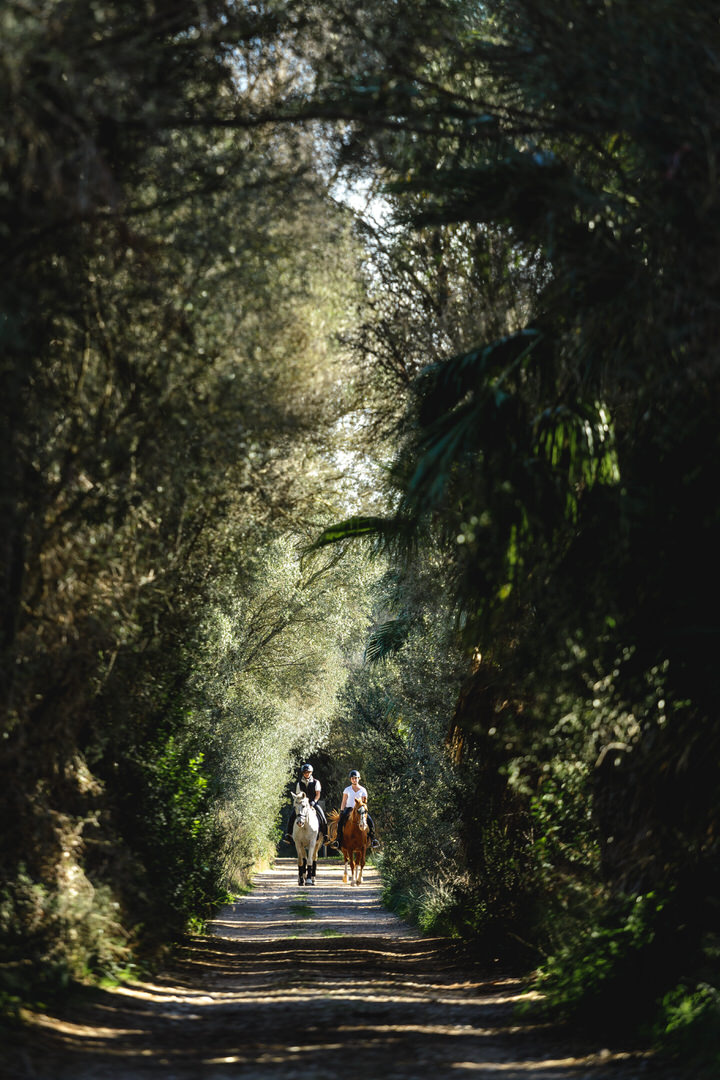 NORTH-EAST
Son Sant Jordi is a hotel made up of a group of beautiful, seventeenth-century houses in Pollenca. Therefore, it is the perfect, peaceful base for exploring the north-east of the island. There is a huge suite of rooms especially for families. Otherwise, there are light, elegant options with views and balconies. The hotel boasts a beautiful, large outdoor swimming pool with a terrace alongside it. Finally, it serves a delicious, wide-ranging buffet breakfast, and boasts a small wellness centre. Book here.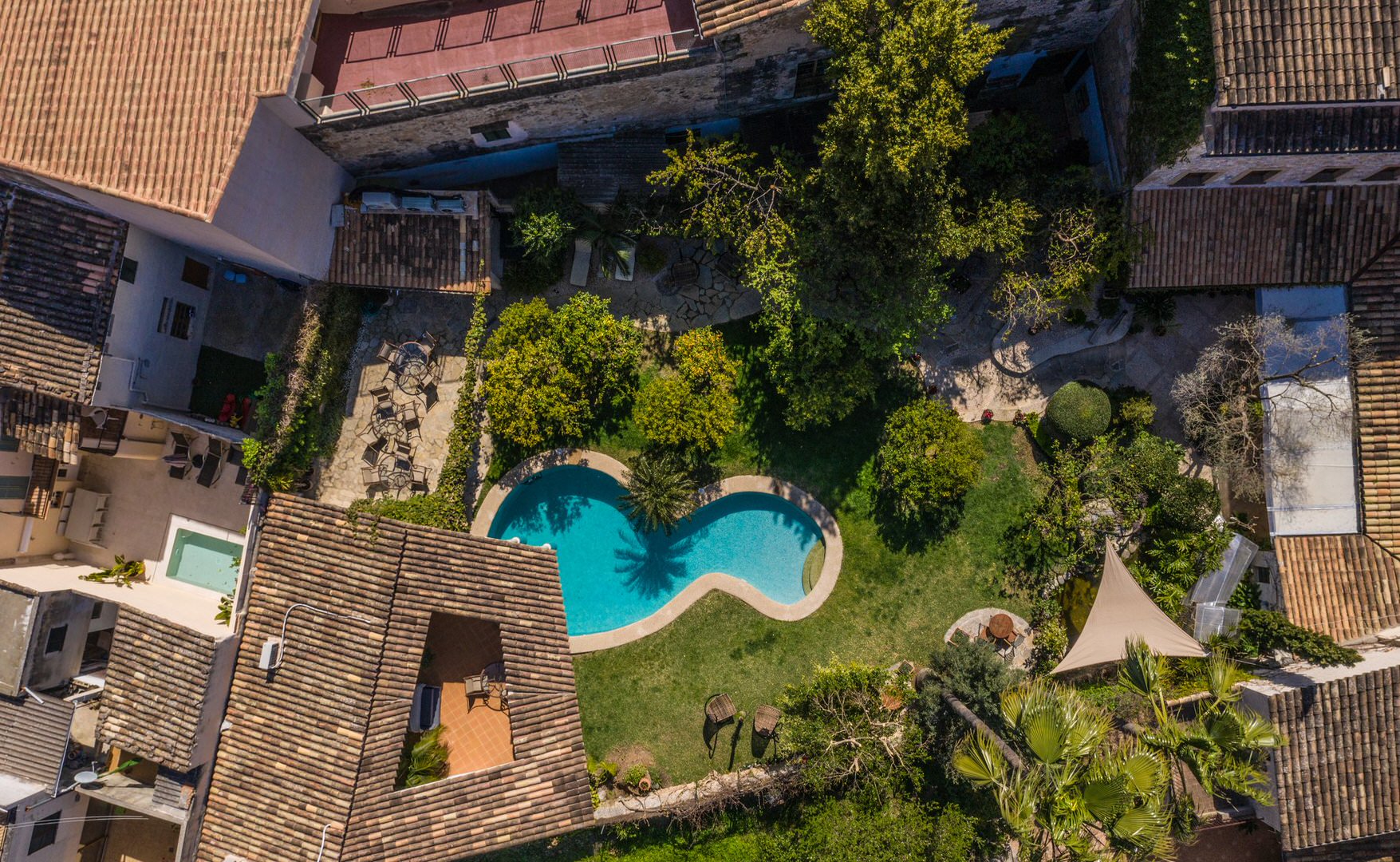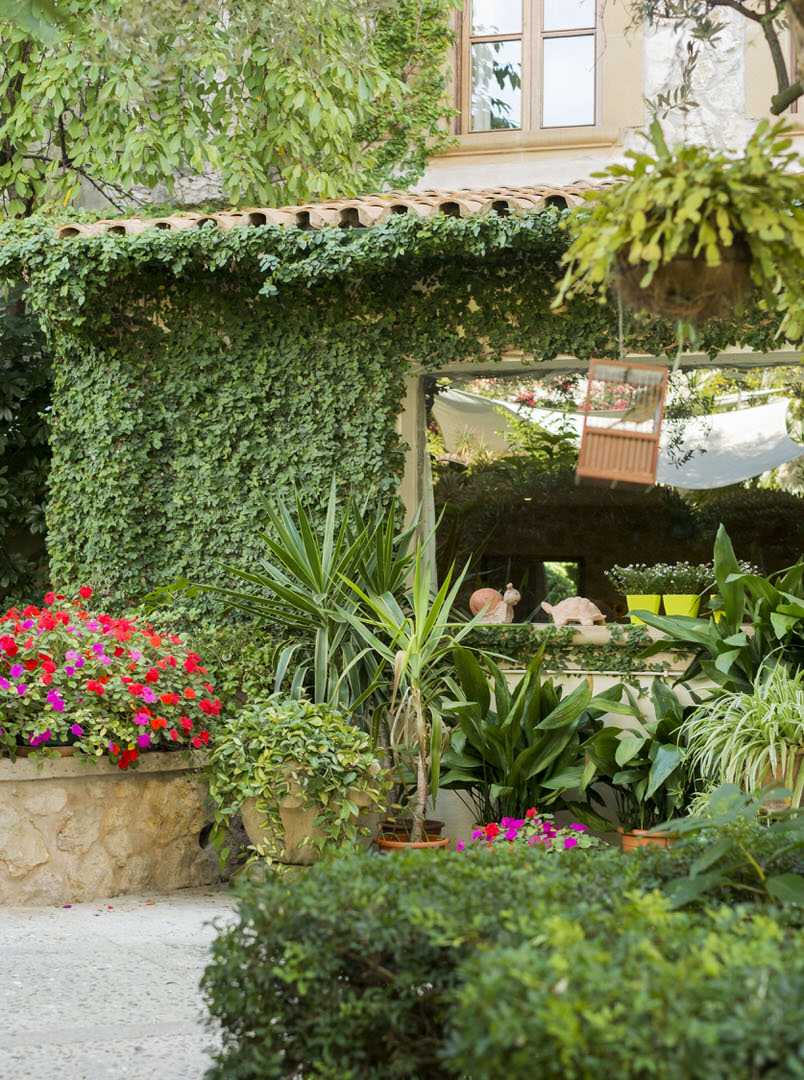 SOUTH-WEST
In the heart of Palma, Palau Sa Font is the perfect budget boutique hotel for exploring the capital and South-West in Mallorca. It is in a former sixteenth-century palace but now boasts light, modern rooms. Additionally, there is a splash pool in its courtyard and a roof terrace which offers beautiful views of the sunset. Every day, it serves a breakfast buffet full of delicious, Mallorcan treats. Finally, there are a range of rooms to suit all budgets, including a large, stylish option with its own terrace! You can book it here.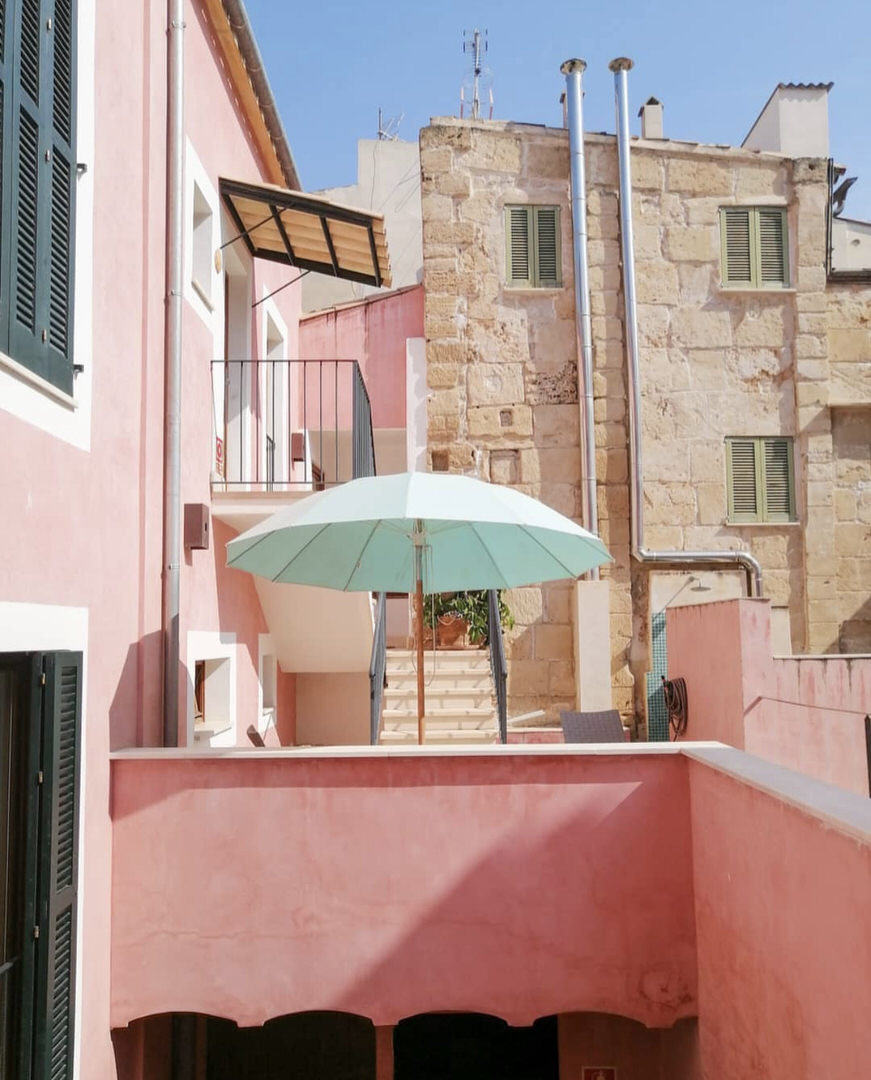 SOUTH-WEST
Perfect for those on a budget, the Sa Plana Petit hotel is a rustic finca in the Tramuntana Mountains north-west of Palma. Therefore, it is perfect for those seeking to hike or explore the small, pretty villages in the area. The rooms are all traditional and simple. Additionally, there is a small, outdoor pool. Mallorcan-style breakfast is available each day.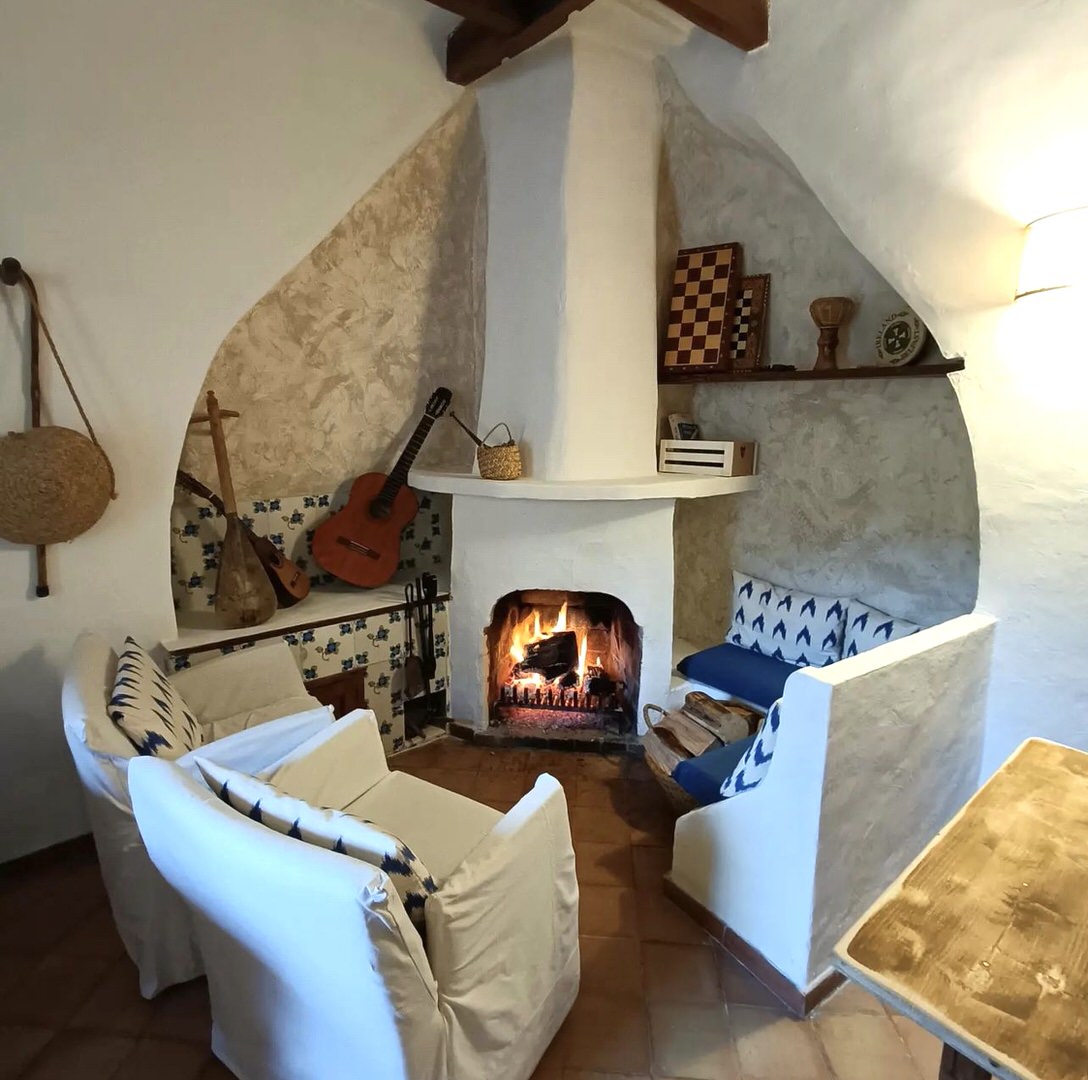 NORTH-WEST
Finca Cas Sant offers agrotourism at a boutique farm hotel that has been in the same family for 750 years! Moreover, it is just outside Soller, meaning you can easily explore the North-West coast and the Tramuntana Mountains. The hotel's rich history is clear in the traditional design of the rooms and features such as the pillars alongside the swimming pool. It serves fresh, seasonal breakfasts and lunches. Finally, thousands of citrus trees surround the estate, meaning it is heavenly in the spring! Book it here.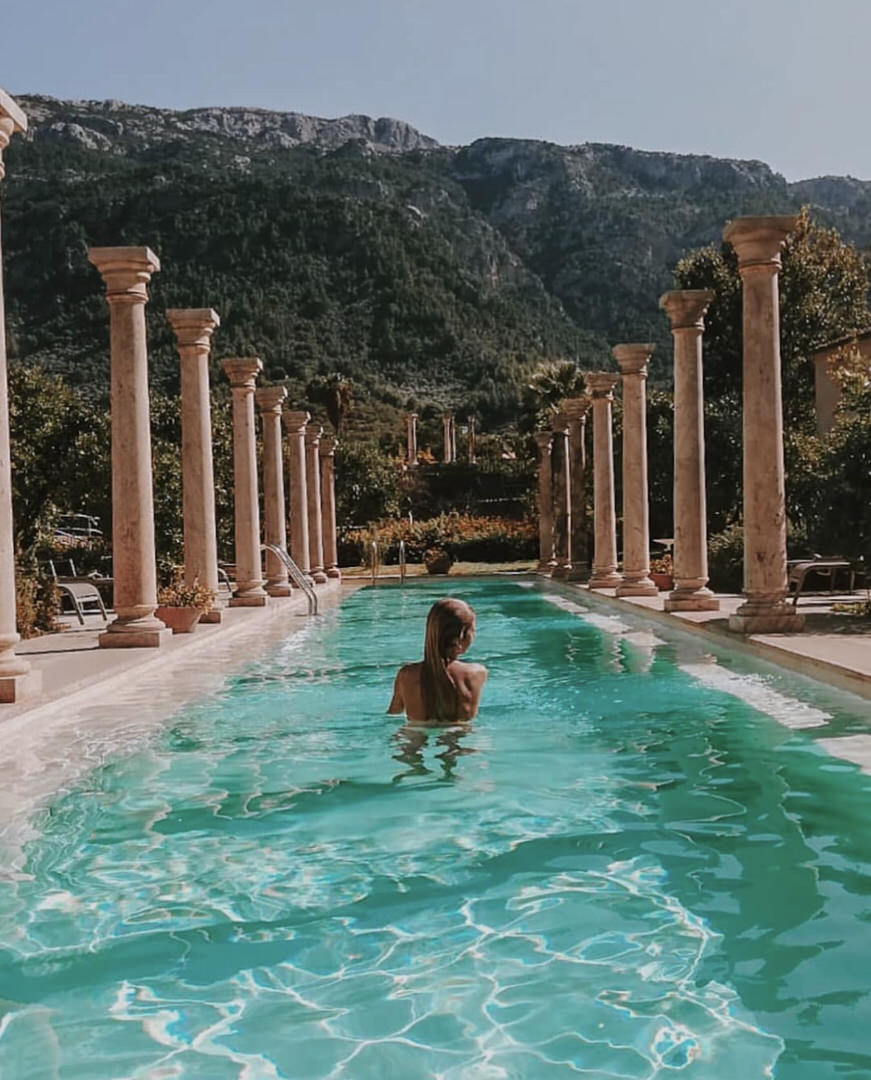 SOUTH-EAST
Son Vent is in a charming, four-hundred-year-old country estate on the South-East coast of Mallorca. You will be next door to all of the best beaches in Mallorca! Moreover, the finca's rooms have a clean, minimal design. Additionally, Son Vent makes the most of the glorious nature that is around it. You can unwind on one of its many terraces in the gorgeous garden or the pool. Also, there is a spa onsite. The food is homemade and delicious. Finally, it is conveniently close to the beaches.
Check my Guide to the 10 Best Beaches in Mallorca here.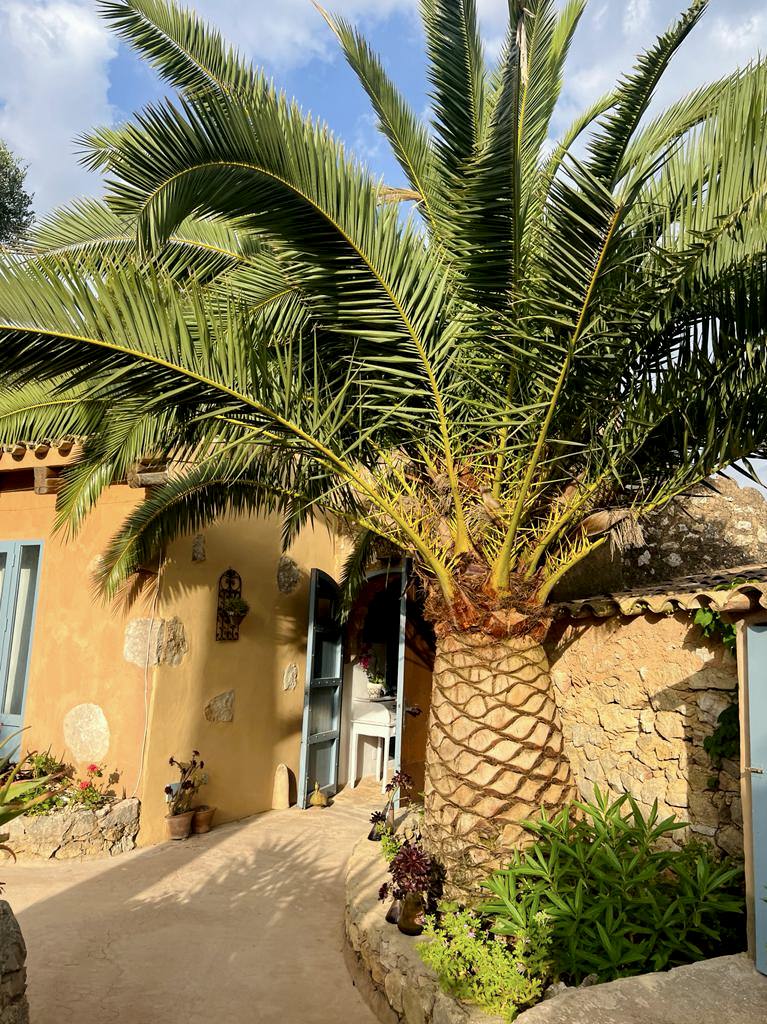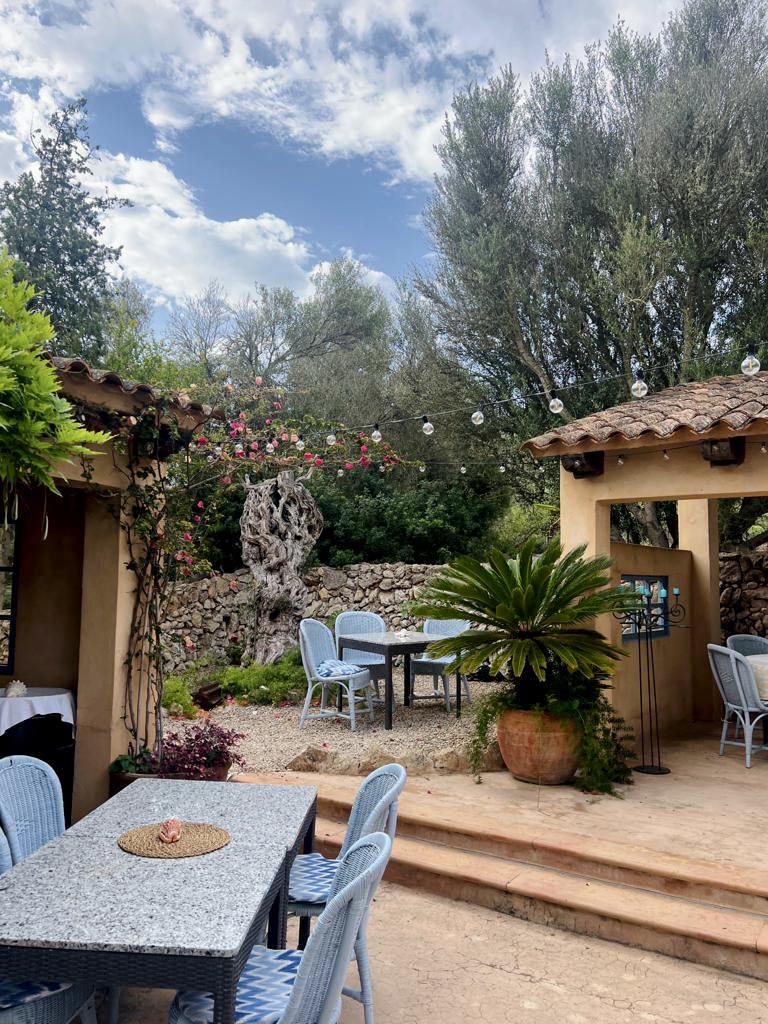 NORTH-EAST (CENTRE)
Gossalba is a stylish agrotourism retreat in the center of Mallorca. Here, choose from the nine recently-renovated, comfortable rooms in a gorgeous eighteenth-century property. Additionally, there is a large pool and terrace to soak up the rays during the summer. Gossalba serves a generous breakfast every day but has no restaurant otherwise. Finally, given how quiet and secluded it is it might best suit guests looking to relax! You can book it here.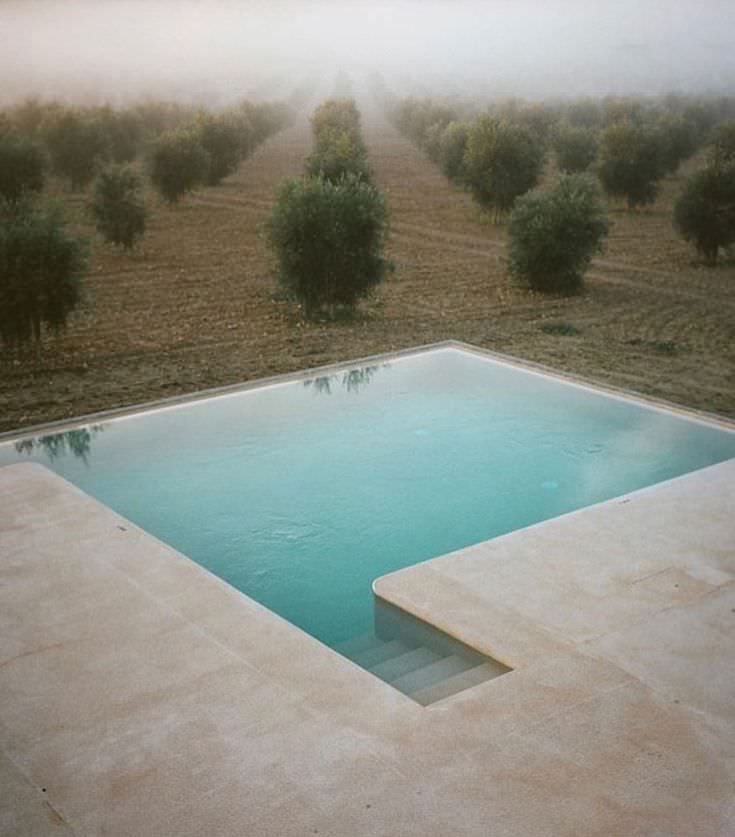 NORTH-WEST
Ecocirer is Mallorca's first properly eco, veggie and vegan hotel in the heart of Soller. The family who owns it has turned a handsome nineteenth-century townhouse into a hotel offering six stylish, intimate rooms. Furthermore, these all have gorgeous, comfortable furnishings and great local artwork on the walls. Ecocirer only serves a breakfast that offers delicious vegetarian and vegan options. Also, Ecocirer has a small splash pool and a patio, which gives amazing views of the nearby Tramuntana Mountains. Finally, it organises lovely group events such as yoga and cookery using local produce! For bookings, you can go directly here.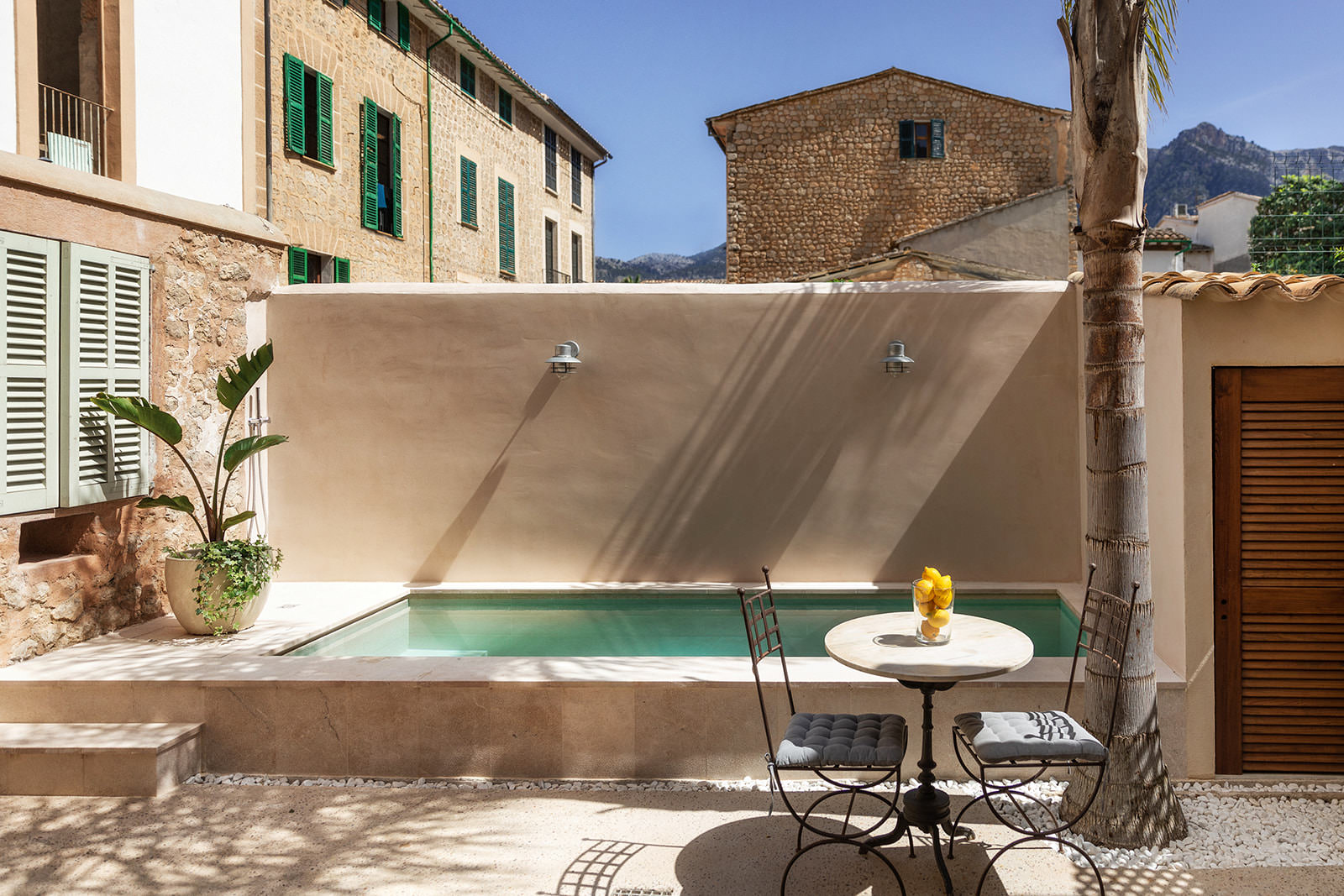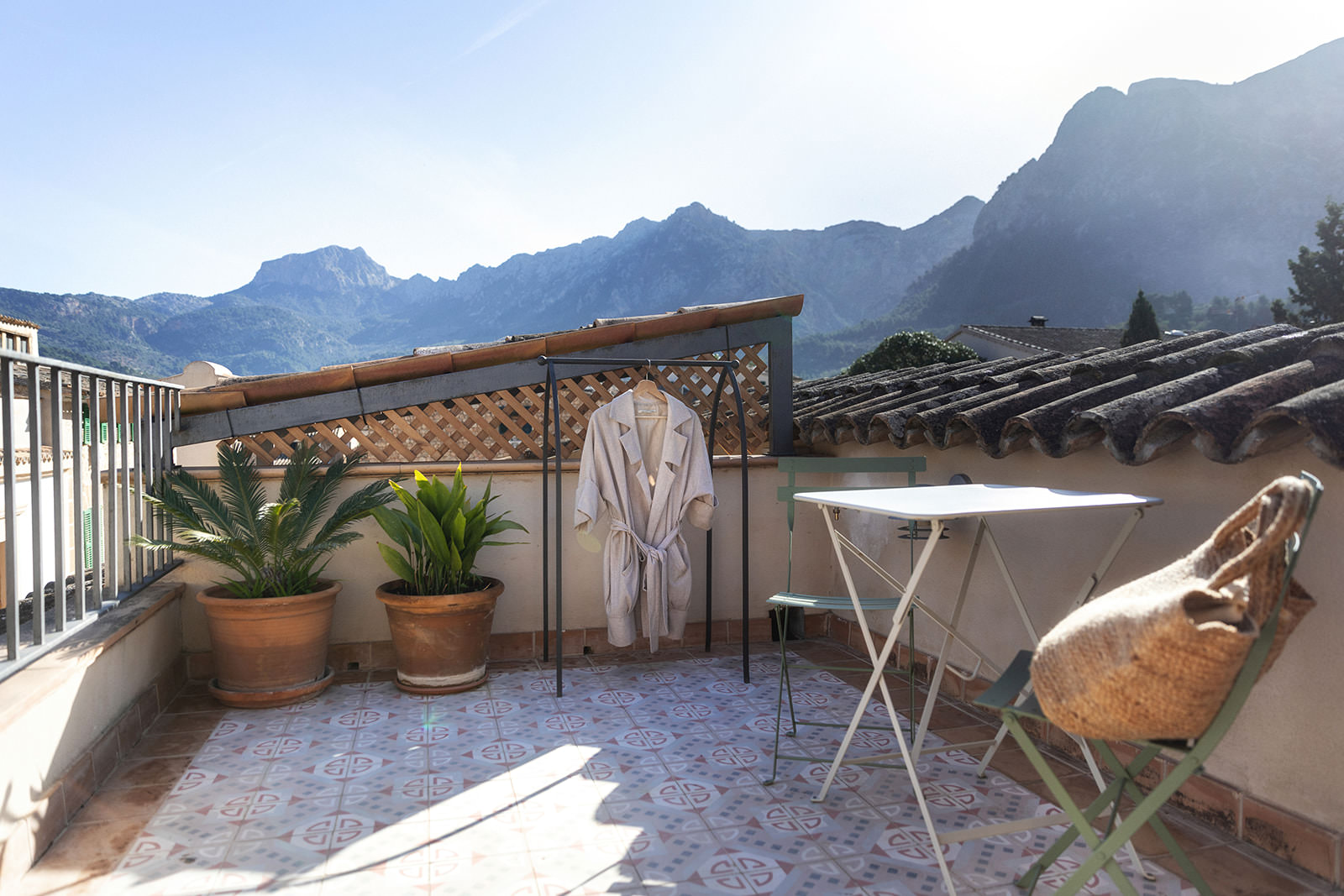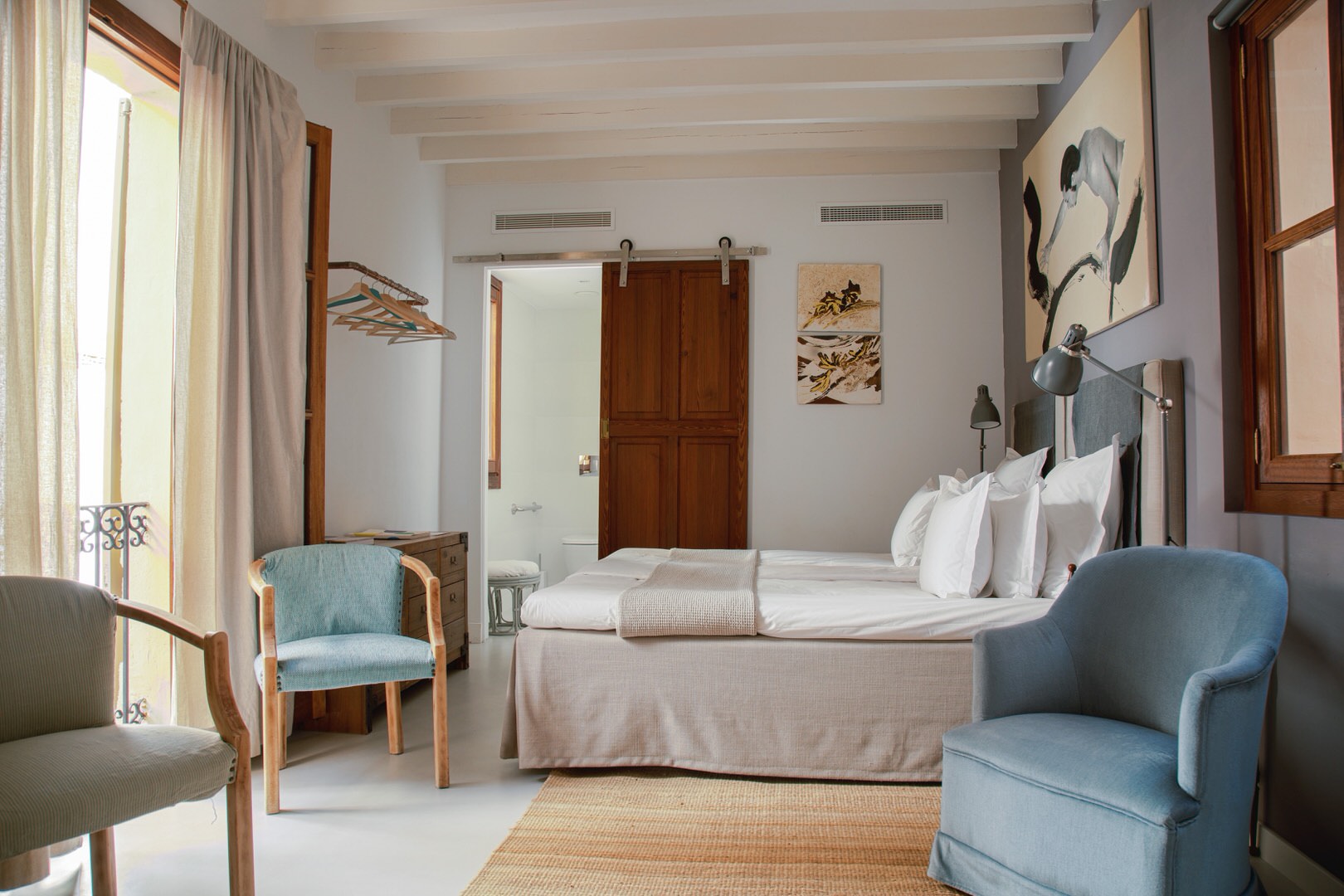 NORTH-WEST (CENTER)
This hotel is in the quiet, gorgeous countryside only 30 minutes from Palma. Therefore, it lets you explore both Mallorca's capital and its beautiful nature. There are also plenty of outdoor activities to choose from. I would recommend the olive oil tour or the opportunity to pick and cook your own fruit and vegetables.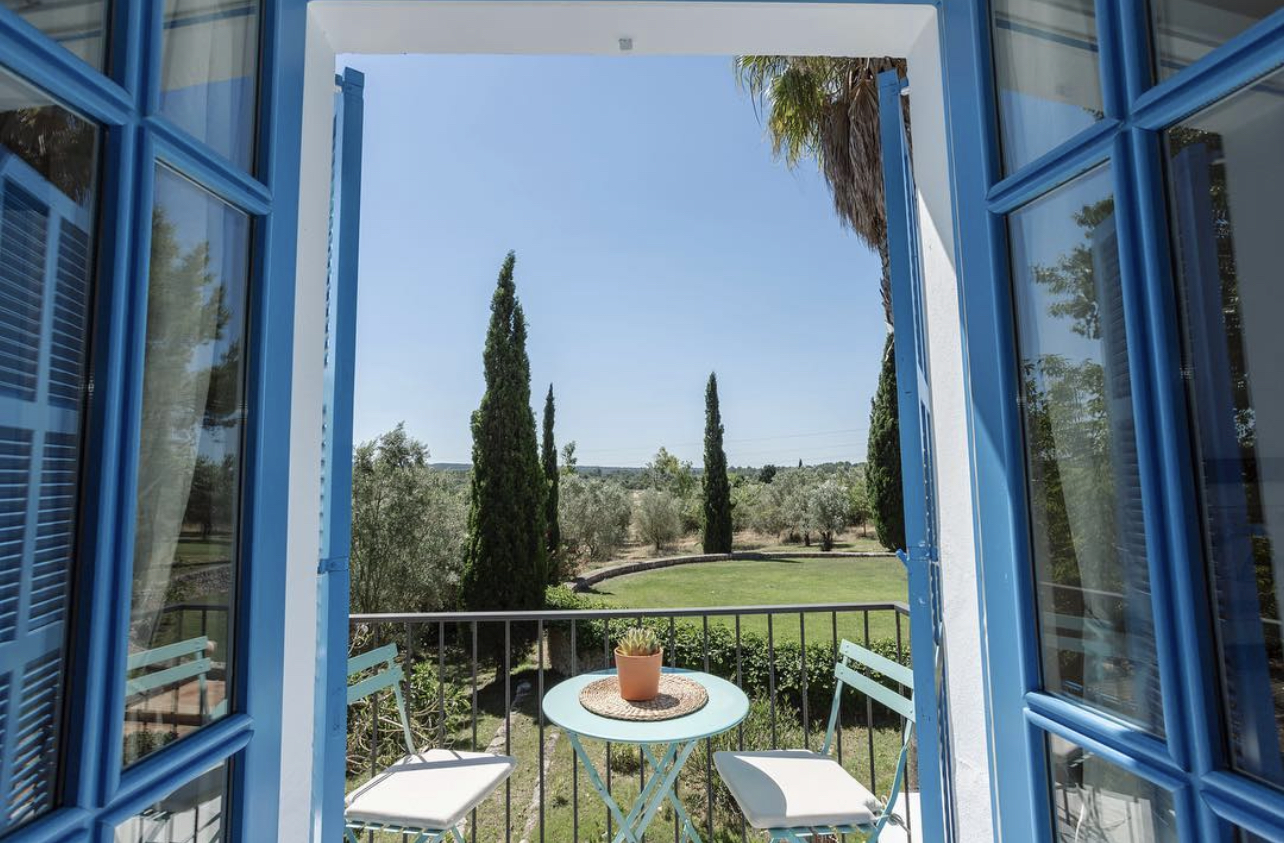 NORTH-EAST (CENTER)
Sa Franquesa offers a magical countryside escape, so its perfect for those who want to avoid the city bustle. Its 34 rooms are all light, spacious, and minimalist, and some even offer private terraces or jacuzzis. Moreover, these rooms cater to every guest, from honeymooners to large families. Outside, there are vast, lush gardens with citrus, almond, and fig trees. Additionally, there is a large saltwater pool with a sundeck and fantastic views of the countryside. Also, the restaurant serves a delicious range of seasonal, Mallorcan cuisine from breakfast until dinner. Finally, its terrace is the perfect place to enjoy a cocktail while watching the sunset! Book here.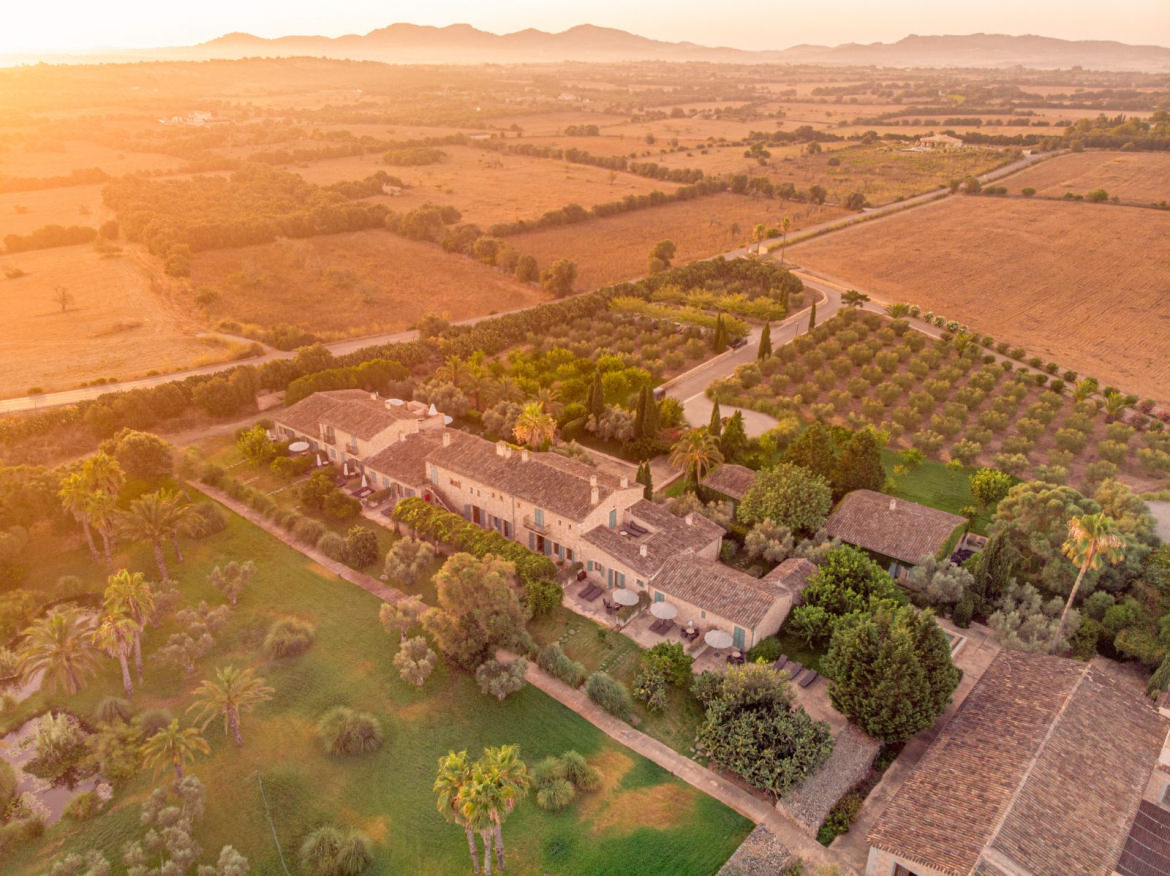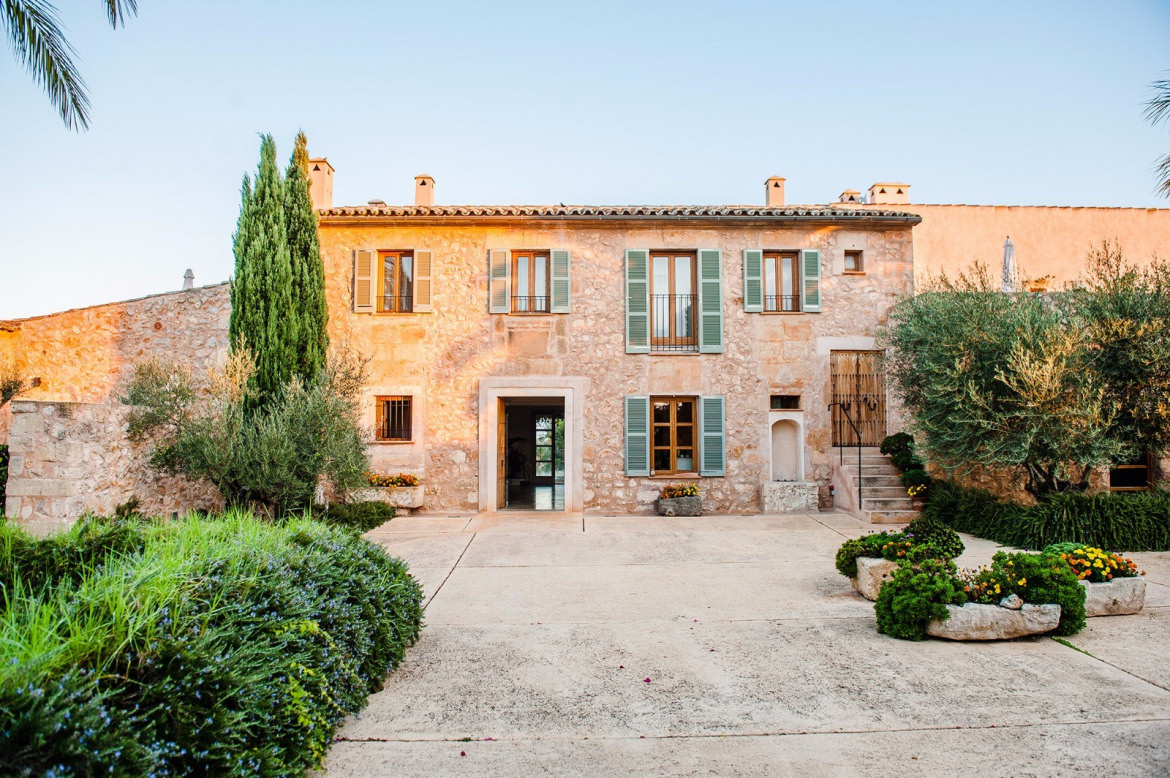 SOUTH-WEST
Hostal Pons is a great option for those looking to explore Palma de Mallorca on a budget. It is in the heart of the capital and is somewhere between a simple hotel and a hostel. Its rooms are clean, bright but warm and can come with a private en-suite bathroom. Moreover, there are beautiful period features such as patterned floor tiles, wooden beds, and wrought-iron Juliet balconies.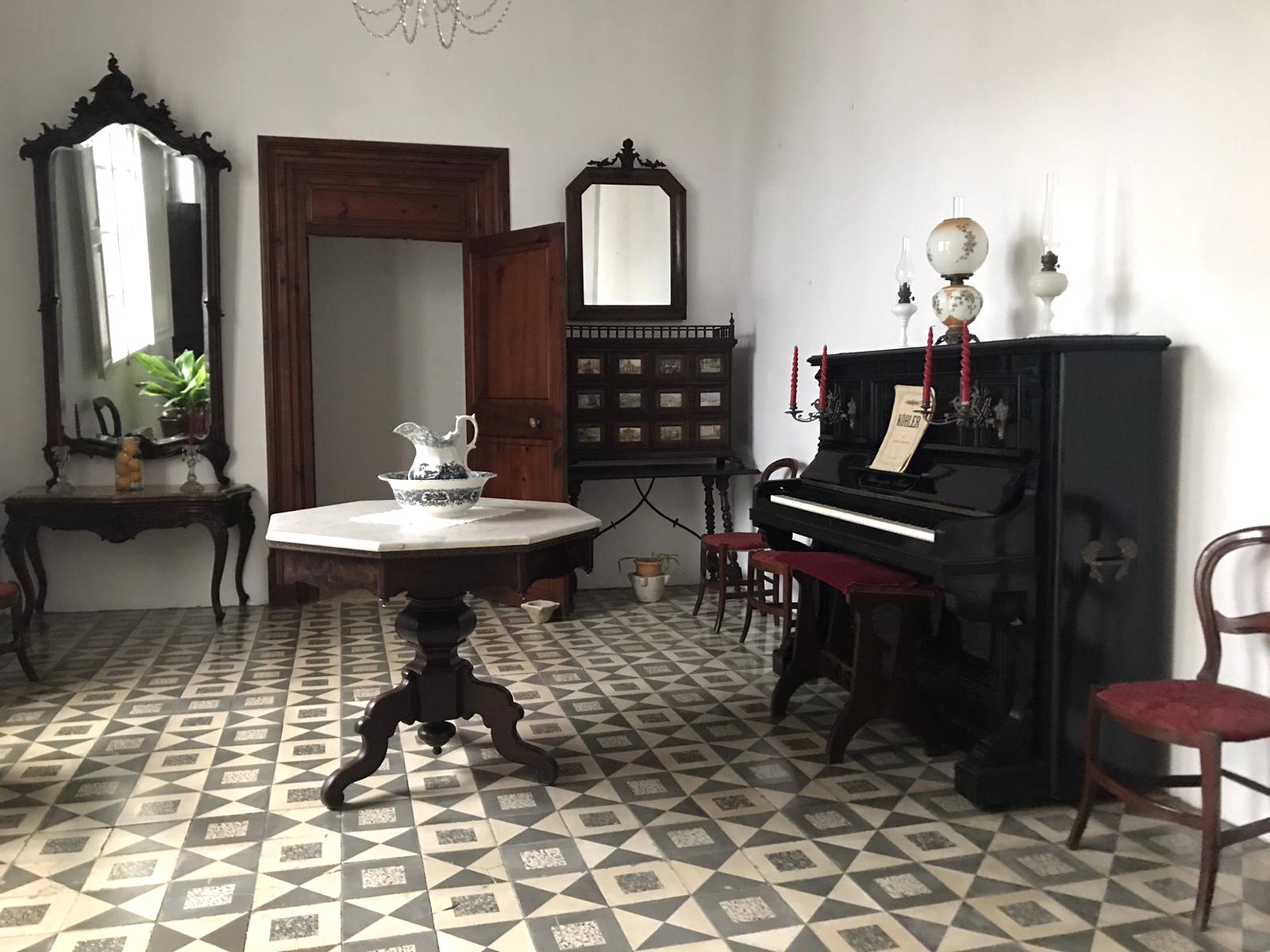 SOUTH-EST
Son San Andreu is located towards the South-East coast of Mallorca. It is a grand, seventeenth-century manor. Now, its owners have carefully renovated it so it has a handful of simple, traditional rooms. Moreover, there are pools, terraces, and groves which make the most of the estate's natural beauty. It offers breakfast buffets. Otherwise, there are self-catering kitchens, and Petra is not far away with a range of good restaurants. Lastly, the space and areas such as the bar and beautiful seventeenth-century chapel make it ideal for family gatherings or events.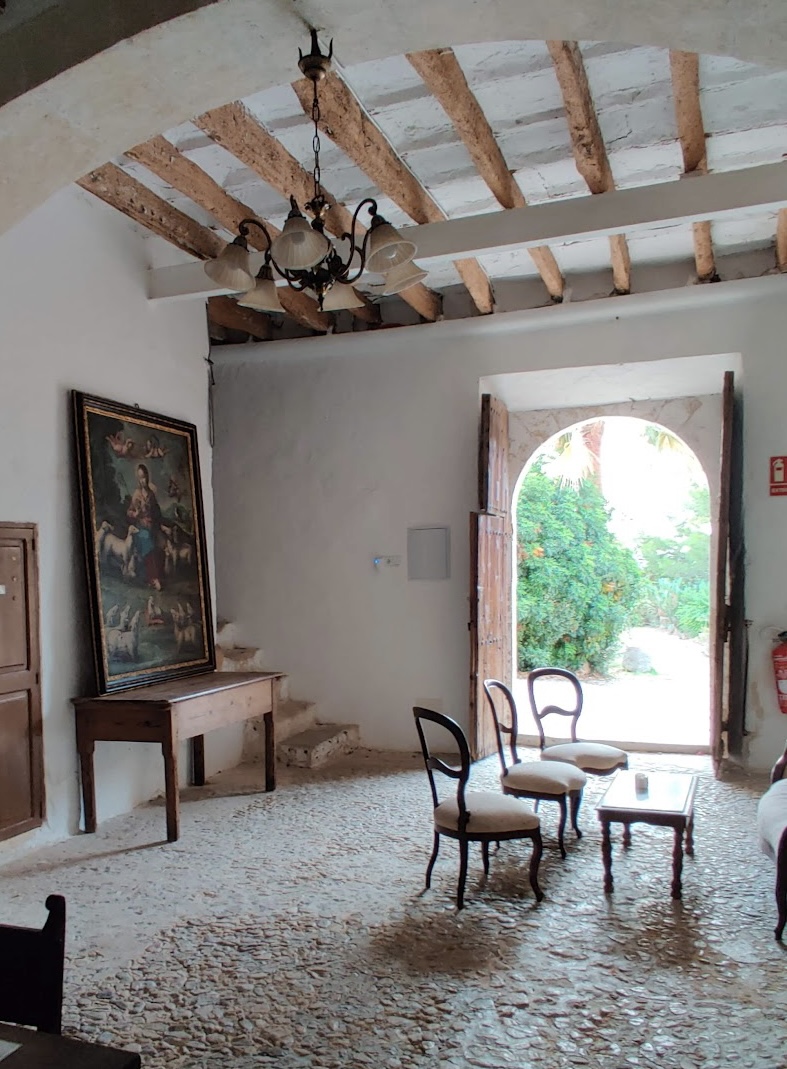 FINAL TIPS
To conclude, before you decide on which hotel you stay in Mallorca, decide on the area which appeals most to you.
Mallorca maybe an island, but it is not the smallest one, and driving from one end to the other may take you up to two hours. Once you have decided on the area, then choose from this list of budget but beautiful hotels! Let me know if you enjoyed your stay, I would love to hear from you!