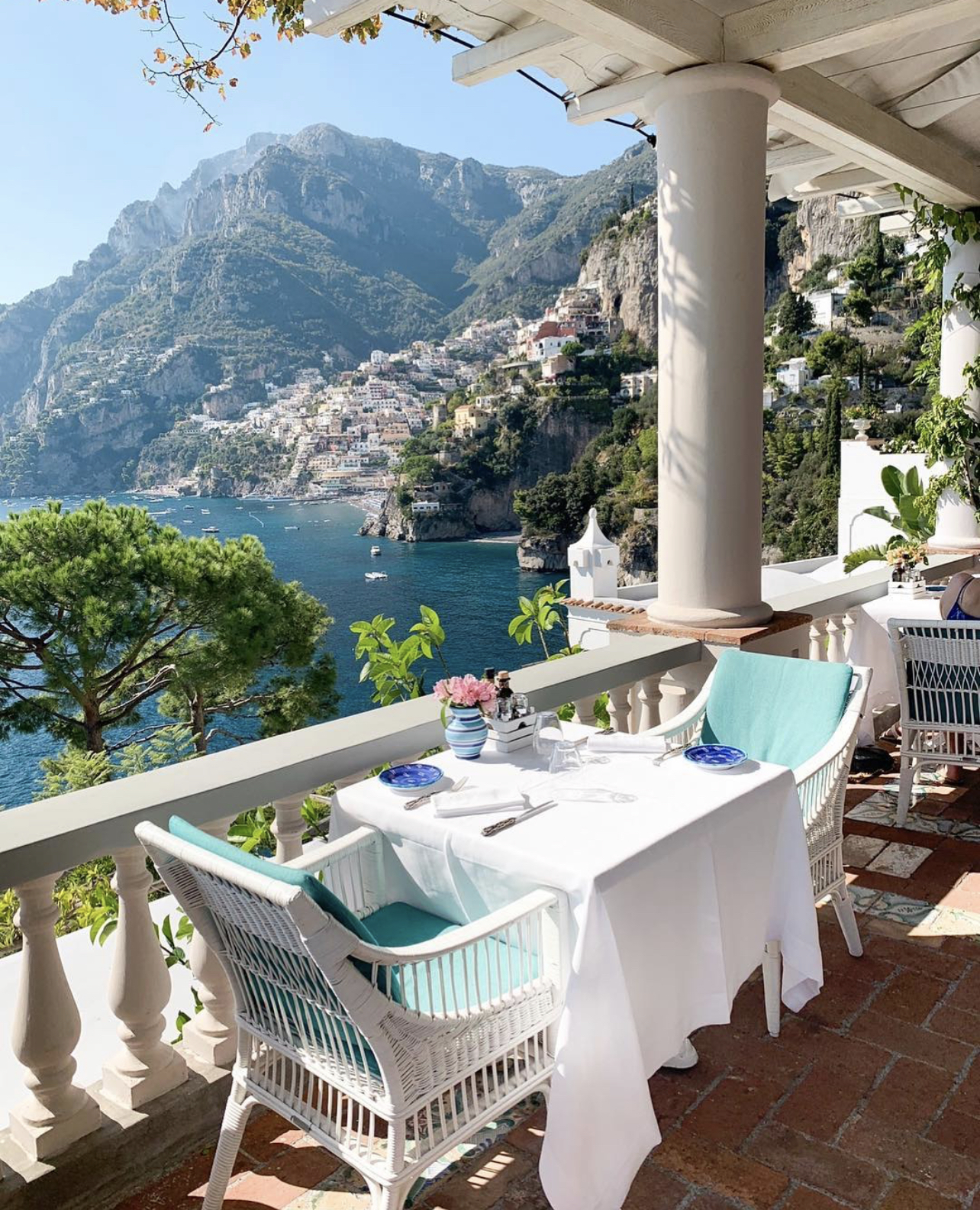 10 MOST BEAUTIFUL RESTAURANTS IN EUROPE
I created the below list of the ten most beautiful restaurants in Europe for those who seek an inspiration where to celebrate a special occasion or even to propose. Similarly, this list is also for those who love to reminisce for years to come about being somewhere spectacular, or experiencing something memorable.
Some of the best travel memories often have to do with restaurants. For instance, those long lunches stretching over hours. Or dinners where you loose count of glasses of wine that has been drunk. That memory of the most mouth watering salad you had on the Greek island of Sifnos, the incredible glass of Primitivo you had in Tuscany and that pastry you had in Paris, they will have you travelling back in time.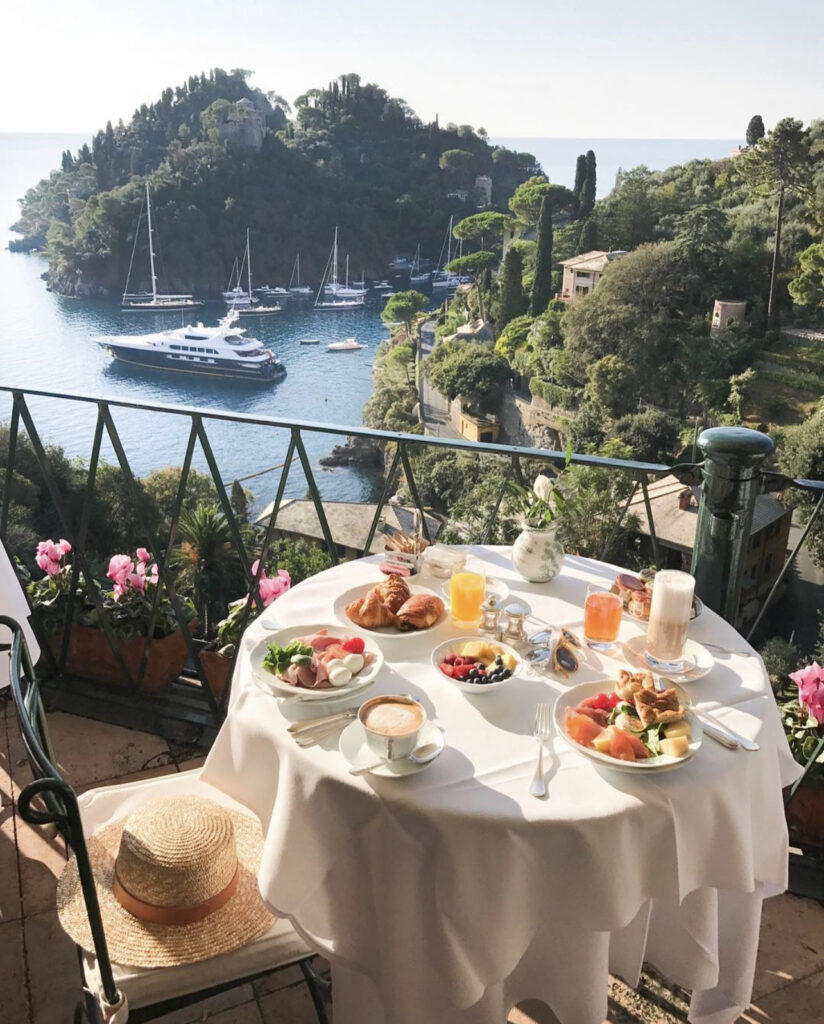 How did I choose the top 10 most beautiful restaurants in Europe?
If you are looking for a Michelin star type of assessment of quality of food and service, this list isn't for you. I put together this list based on impressions these places have left on me, based on overall ambience, location, flavors and design. At times the food wasn't even on my radar, that's how stunning the views were. But judge for yourself. I have provided photos as well as short reviews. All those places I have already recommended to friends of mine, numerous times. And they all came back with very positive feedback. If you do end up going to any of the below restaurants, I would love to know your views!
1. Maestros, Villa Treville, Positano, Italy
You will not believe your eyes when you enter this restaurant. Portofino will be shown like on a postcard. I would recommend having lunch here, at exactly the table as pictured on this photo. Email the restaurant in advance and ask for this specific table and you won't regret it. If you don't manage to get a table, at least get a sunset drink at their amazing bar.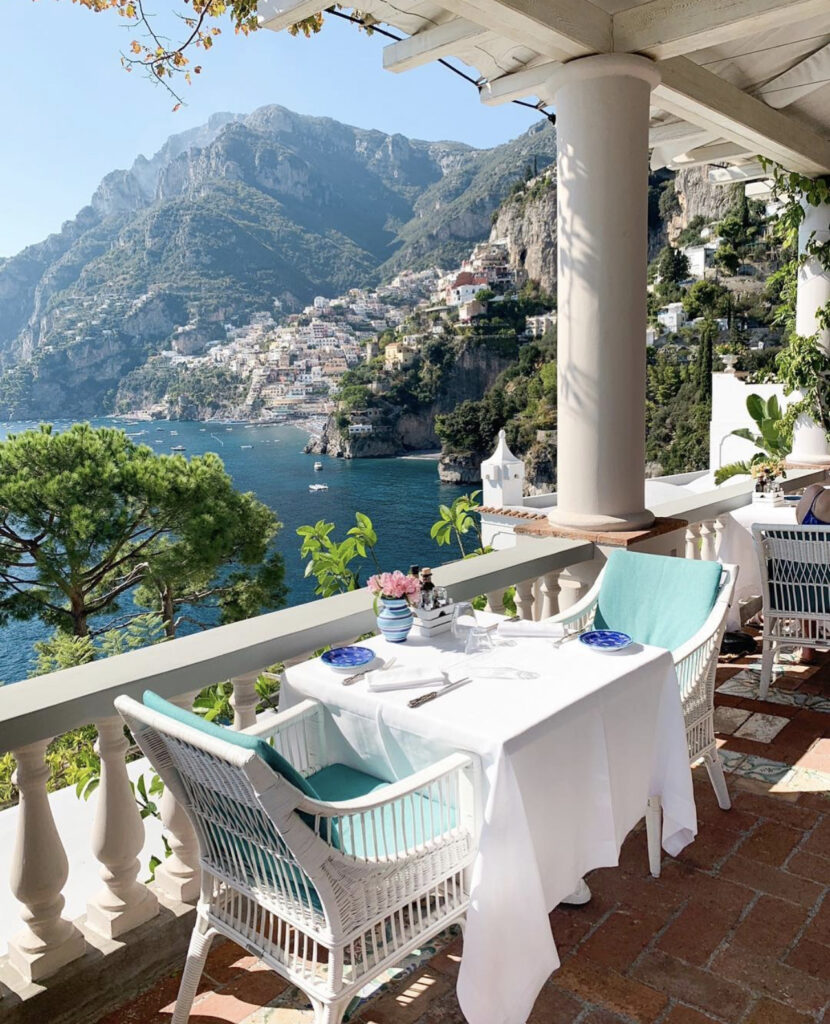 2. El Olivo, Belmond, Deia, Mallorca
I have now sent about ten friends to this restaurant and they all came back saying that it was their favourite evening they had in Mallorca. You need to book well in advance and hotel guests have priority. As always try to ask for the table up front with the direct view over the village. We had Soller shrimps for starter which were incredible and the selection of mini desserts to finish off with. Also arrive before sunset when the sun turns warm and orange and the staff lights up the candles on the table. Its magic. That said if you are unlucky and cant get the reservation – al fresco lunch at the sister restaurant Café Miró is also a good alternative.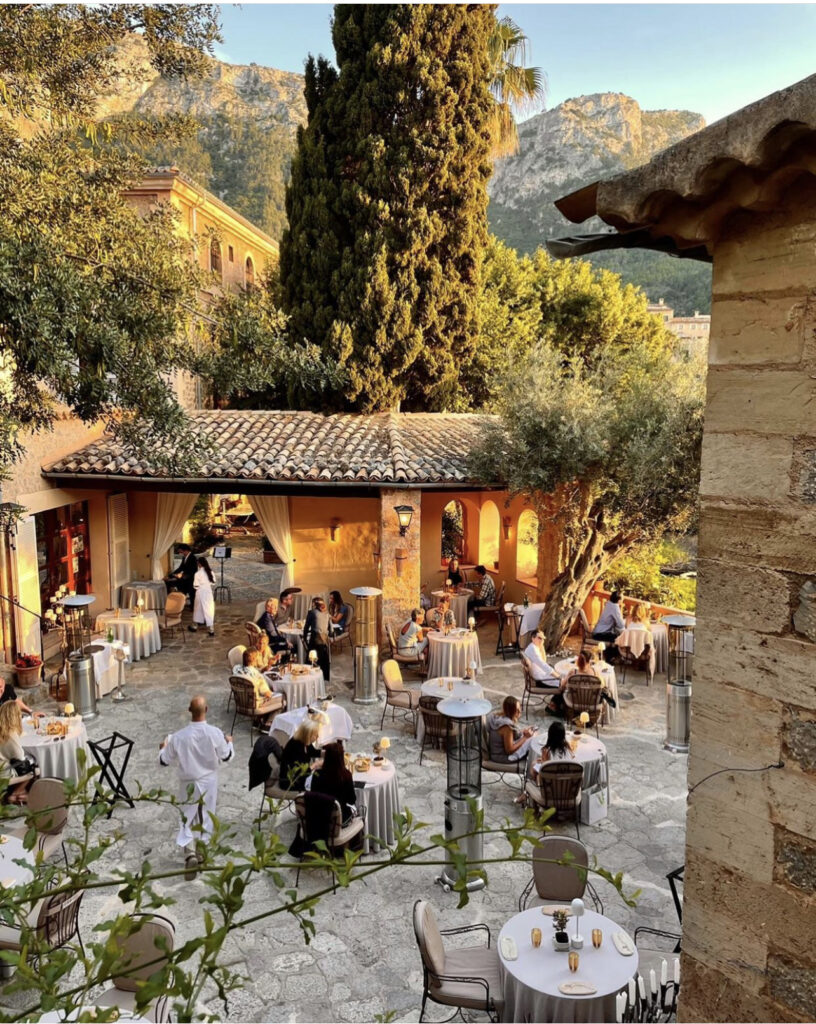 3. La Sponda, Le Sirenuse, Positano, Italy
If I were to choose my favourite hotel in the whole wide world, it would be – without a doubt – Le Sirenuse. Everything about this place is just perfect and meets exactly on point what I enjoy while travelling. Book for dinner and arrive before sunset and witness how the transition from day to night paints Positano in all shades of pastel colours. A big highlight is also the hotel's breakfast but for that one needs to stay overnight.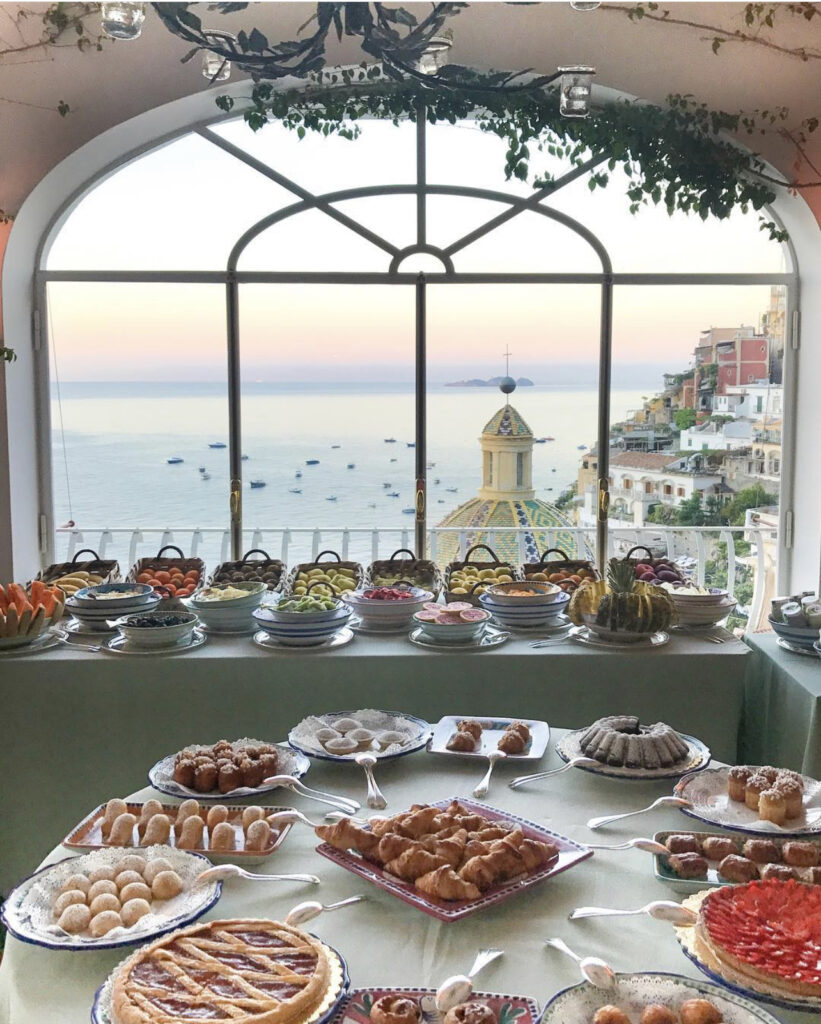 4. La Terrazza, Belmond in Portofino, Italy
If you don't know the song by Delia "I found my love in Portofino" just come up for dinner to La Terrazza. Driving up your car up the hill to the hotel entrance, all dressed up, will make you feel like in a Hollywood film. Start your evening with a glass of something sparkly and watch the Portofino Bay, including potentially spying on the villa of Dolce and Gabbana. For those considering staying overnight, it is worth it just to have that incredible breakfast buffet.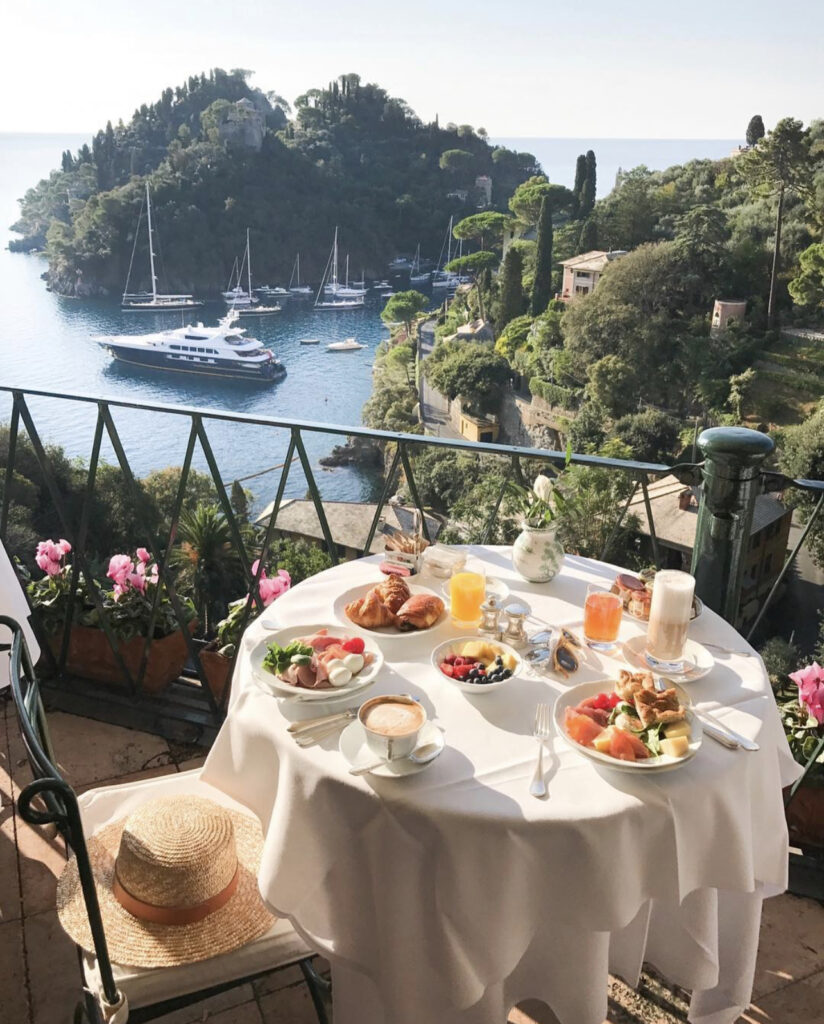 The food is definitely not what brings those long queues of guests ready to wait for hours to be seated. Above all. it is undoubtedly the views of the bay with its emerald colours. So if you are fine with average overpriced seafood and slightly stressed staff, the views will make up for it. The tricky part is getting a table as their phone lines are constantly busy. What works is either going to the front desk and booking a table in a few days time or calling repeatedly until someone answers (I found that the best time was around 5 pm when the guest traffic was a bit lower). Again try to ask for a table directly by the water, it makes a big difference.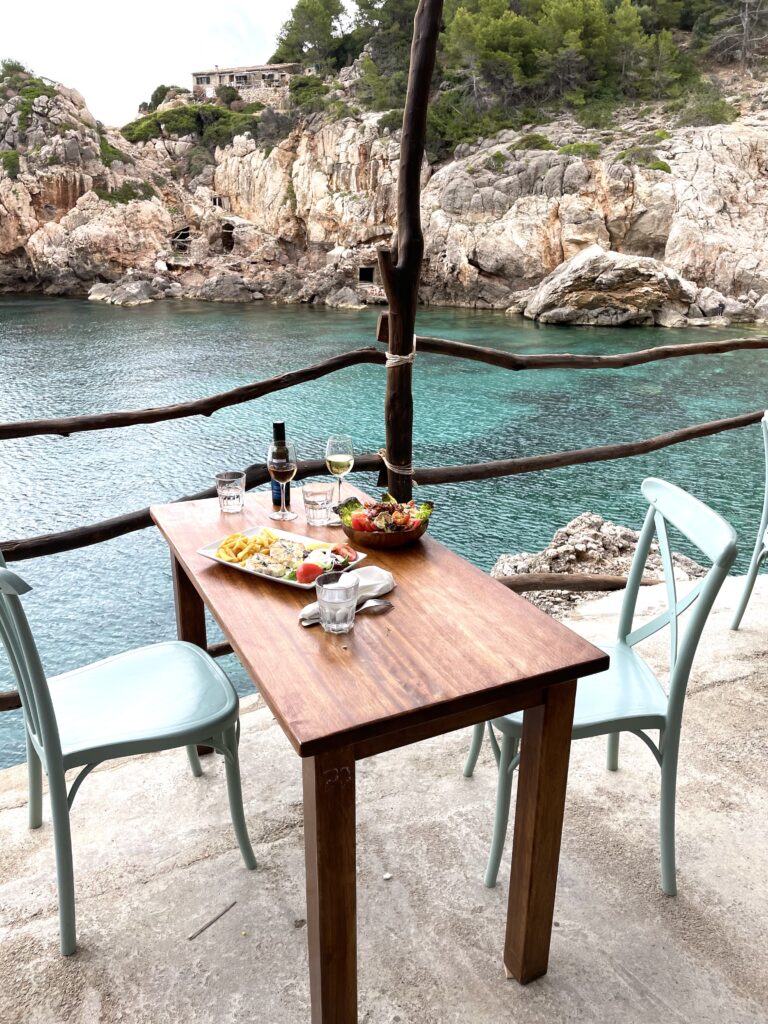 6. Ovac, Cavo Tagoo, Santorini, Greece
Imagine really good and original food, great cocktails and infinity pool views over Aegean sea which make your jaw drop. Minuses are very loud music and relatively high prices. The restaurant has two tables directly on the water which are used for special occasions. We got to see an engagement with fireworks, which was a show in its own right. Expect mid 30s crowd, big sunglasses and a lot of selfies.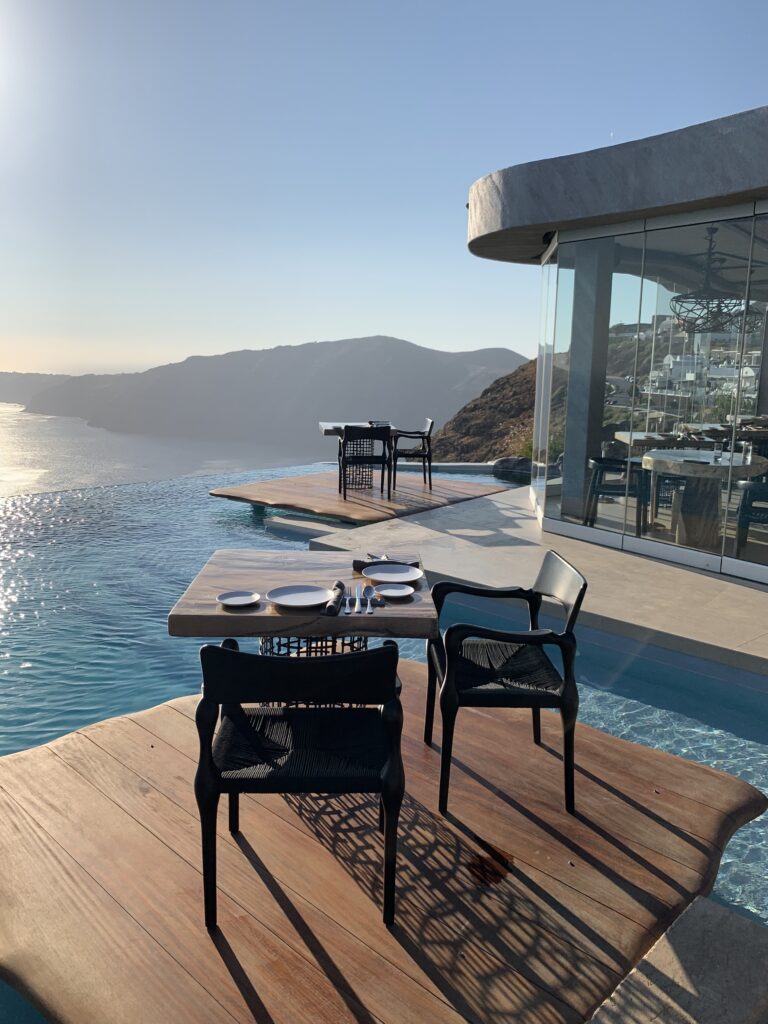 What is said to be the first grand restaurant of Paris, even attended by Napoleon himself. Located in the Palais Royal, we arrived there after a beautiful stroll under the trees. We were the first gusts (you can tell the excitement level) and loved watching the regulars come and take their tables while enjoying our aperitivo. The food was splendid and the service top-notch although slightly arrogant. A few famous politicians came over, an engagement dinner of a nice French family took place next to us and we left very well fed, wanting to put on a French accent while speaking. The fixed lunch menu is a much more affordable option than the dinner.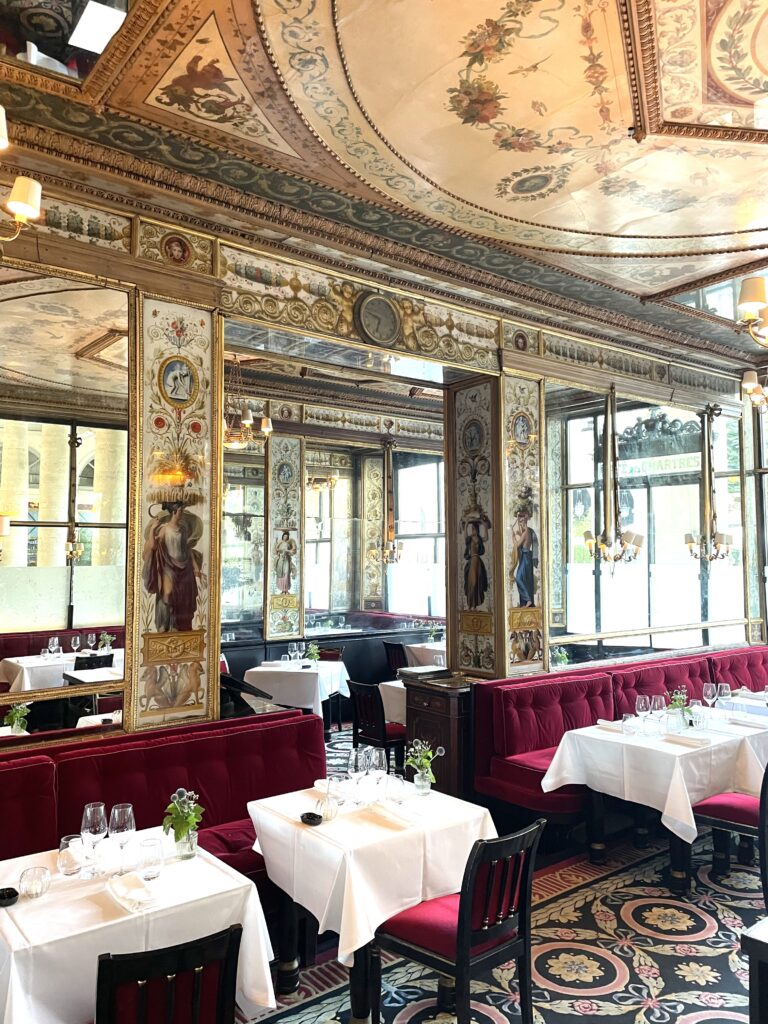 This is a must place while in Capri. Its a restaurant located in a beach club, directly on the water overlooking the famous Faraglioni. You get to eat freshly caught fish while drinking crisp white wine. Ideally you would then retreat to your sun lounger just meters away and spend the rest of the way getting in and out of water and probably drinking a glass of Aperol as the sun goes down. Book VERY early ahead as La Fontelina is the islander's favourite spot. It is accessible both by foot (directly under Punta Tragara) or by boat (which is a pretty stylish arrival).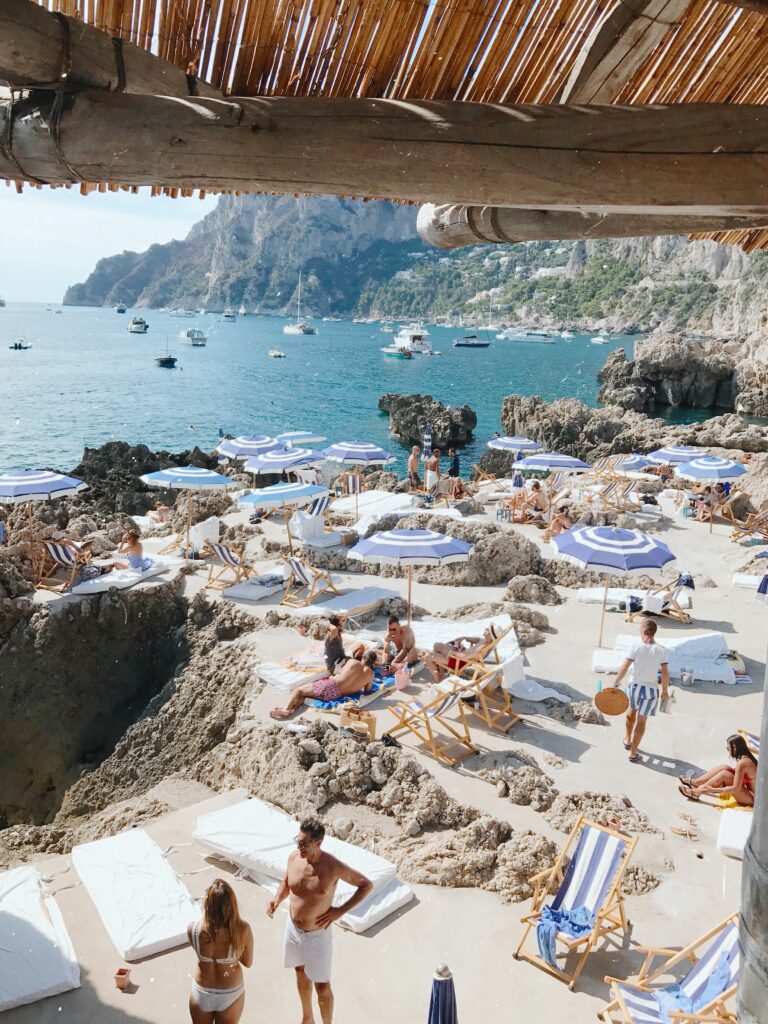 Probably the most impressive dining room I have ever experienced in my life. And there's something so nostalgic and almost melancholic about the hayday of train travel one feels on entering. The place is very grand, the waiters very charming. The only weakness I would say was the quality of food. I would recommend visiting this place for the design and the general ambience, however if your focus is quality of food, then you will be better off at some other hundreds of magnificent restaurant in Paris.
10. Il Palagio, Four Seasons in Florence, Italy
I have heard about Four Seasons in Florence even before I started Voyage Provocateur. It seemed to be an institution within the world of hotels. This year finally I managed to visit it and was spoilt with a birthday dinner in the Medici Chapel. The food was just pure perfection and having the room just to us, felt like one in a lifetime experience.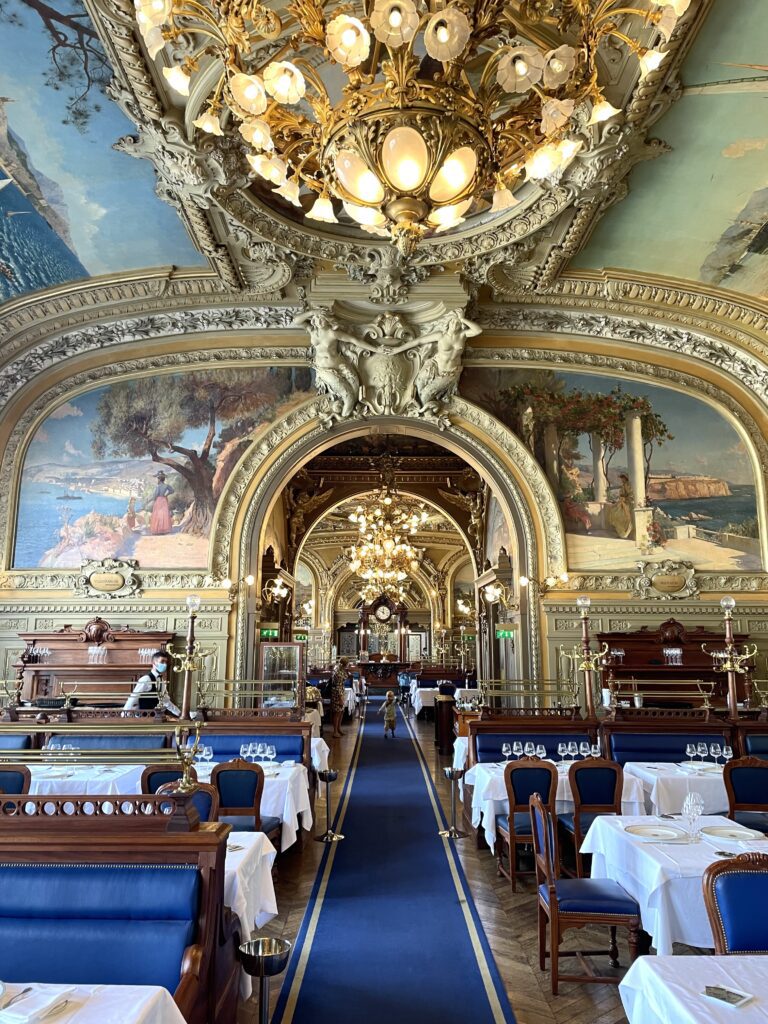 Final tips
In conclusion, if I only had to choose top 3 places, It would be definitely Maestro and La Sponda in Positano, quickly followed by El Olivo in Mallorca and La Terrazza in Portofino. As you see 3 out of 4 of those places are in Italy so if you only had to choose one destination to visit it would be without a doubt La Bella Italia!