TONNARA DI SCOPELLO – SICILY'S BEST SECRET
Tonnara di Scopello in Sicily is without a doubt one of the most magical places in Europe. Its beauty is timeless, its nature untouched and the surrounding truly spectacular.
If you, like me, love simple, but not necessarily luxurious places to stay, you will be in heaven at Tonnara.
Tucked into a beautiful bay in one of the prettiest areas of Sicily, if not Europe, Tonnara will make you fall in love with it the second you arrive. Once you have visited, you will forever want to return.
Over the past few years, Tonnara has cemented its reputation as one of Italy's most special places to stay, and in this review, I will try to explain to you why.
To make your planning easier, I'll share how to get there, which room to choose, things to do, and where to eat. Tonnara is not your usual hotel, and it requires a bit of planning ahead, so here are the secrets!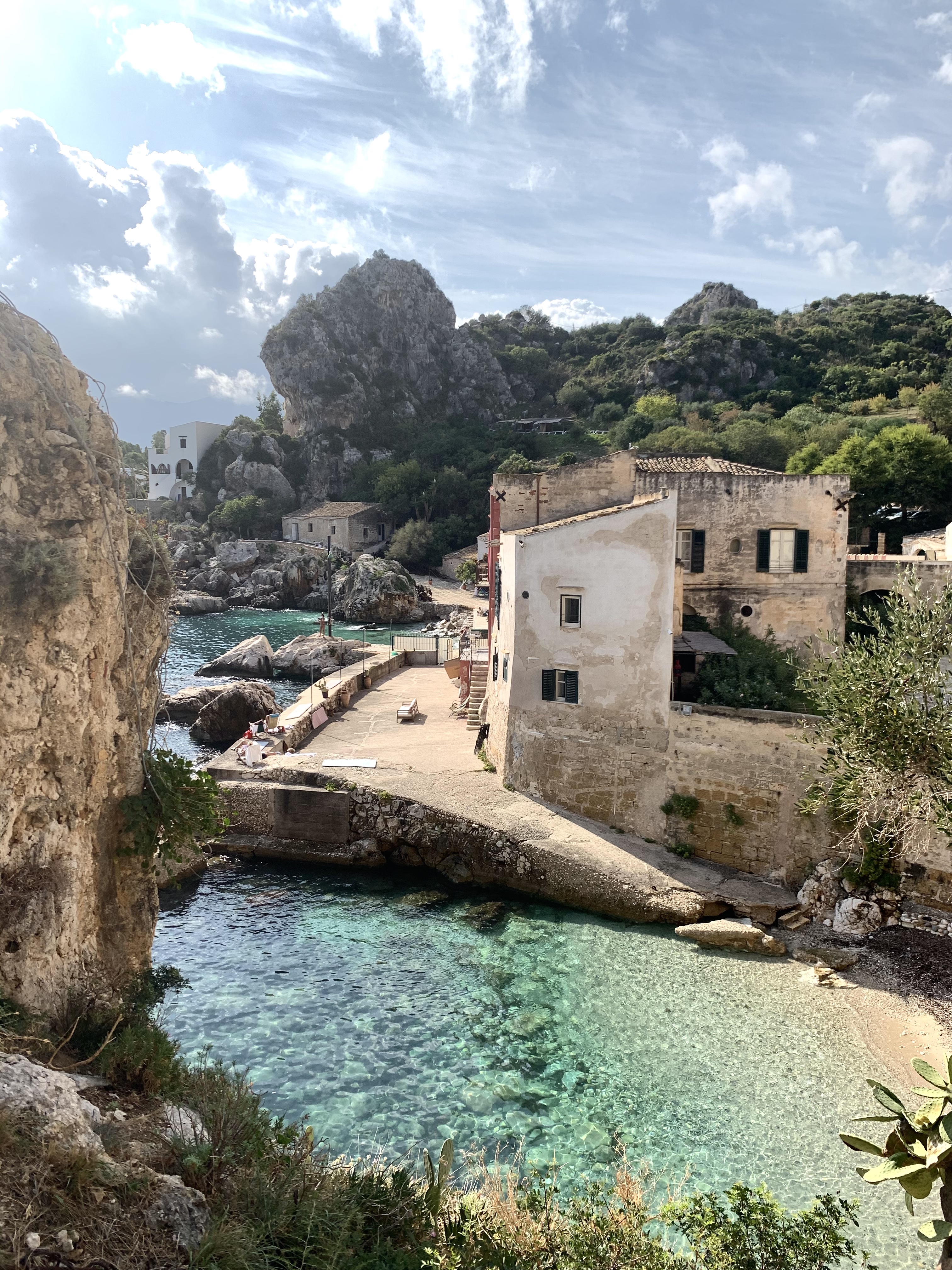 TONNARA DI SCOPELLO – BASIC FACTS
LOCATION
Tonnara di Scopello is in the North-West of Sicily, Italy. As its name says, Tonnara lies in Scopello, one of the most beautiful coastal villages in Italy. It is the gateway to Zingaro Natural Reserve which is the pride of Sicily. The property itself is in a postcard-perfect bay amongst dramatic cliffs and turquoise blue water. Yes, it's a dream come true!
GETTING THERE
You will most probably fly into Sicily if you are going to stay at Tonnara Di Scopello. Palmero's Falcone-Borsellino airport is around 45 minute's drive (50 km) and Trapani airport is around a 1-hour drive (and 55 km). Palermo airport has many international flights, while Trapani focuses more on low-cost airlines.
I would strongly recommend renting a car, as there isn't an easy and frequent public transport connection to Scopello, plus you will need a car for going shopping and exploring the nearby area.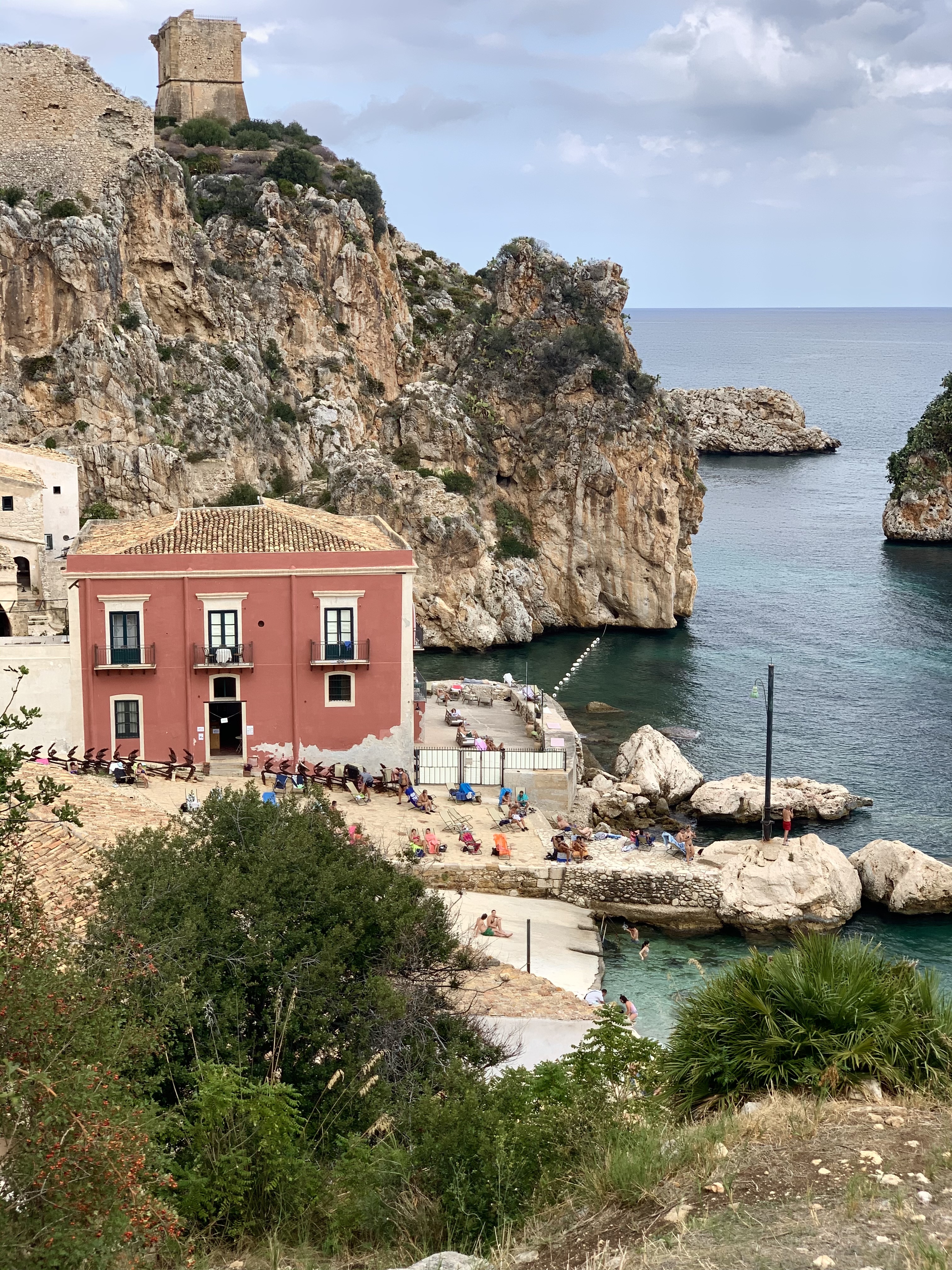 ARRIVING AT TONNARA
Arriving at Tonnara may be slightly confusing as you will see many tourists with their beach bags buying tickets to enter the bay. As Tonnara's guest, you do not need to buy a ticket but you need to inform that you are indeed Tonnara's guest. You will then need to enter the Tonnara's building and find a small reception room on your right. Tonnara is not a hotel, it is more like a collection of self-serviced apartments. The check-in process is very easy-going and not complicated.
Check-in is from 3.30 pm and check-out is by 10.30 a.m, which is relatively early, especially by Italian standards.
BEST TIME TO VISIT
I would definitely avoid staying at Tonarra and generally coming to Sicily, in July and even more in August. Not just because of the prices, but also because of the crowds. June and September would be my top pics. Also note that Tonnara di Scopello is often booked out on the weekends for weddings and private events, especially in the summer.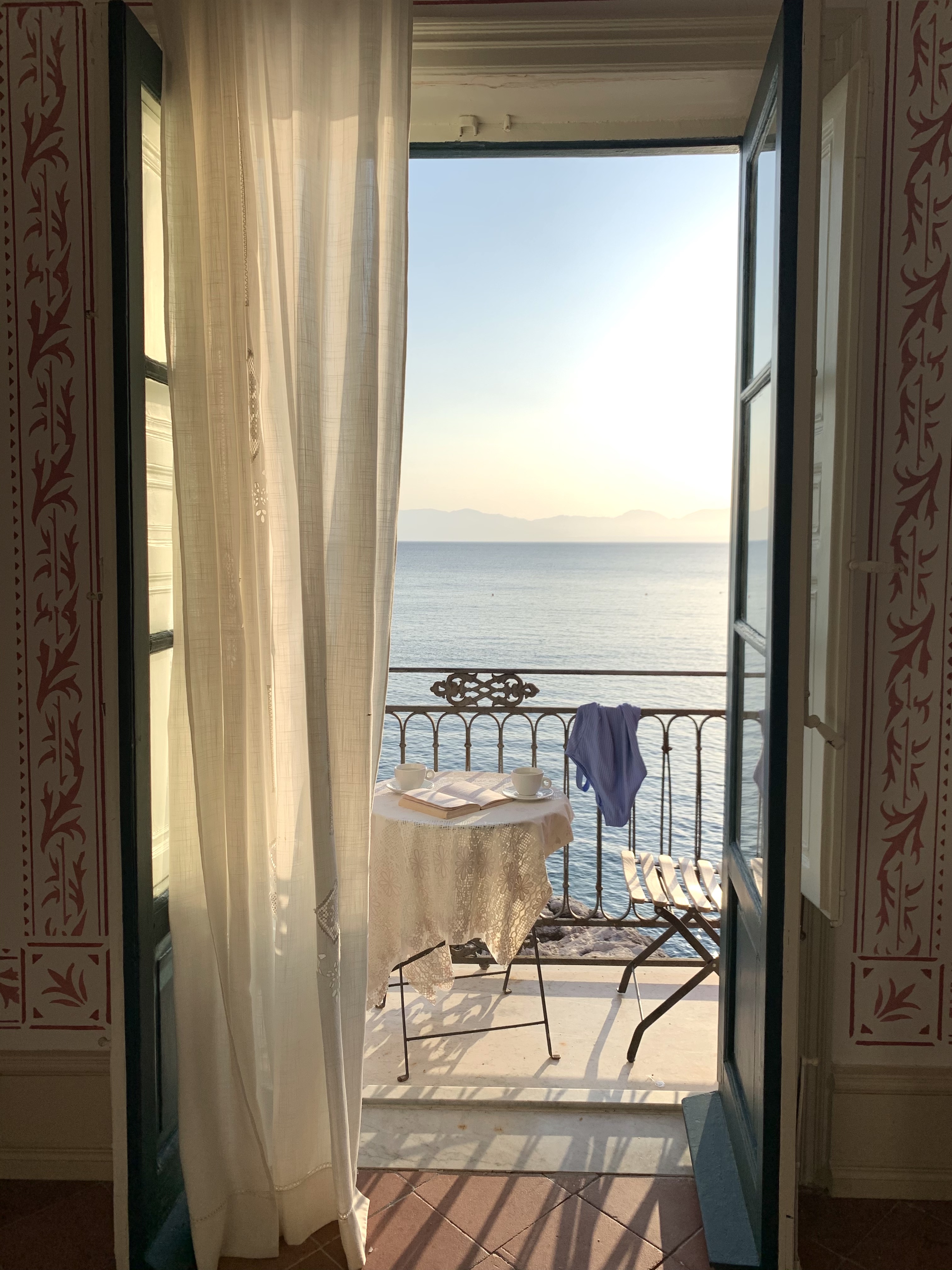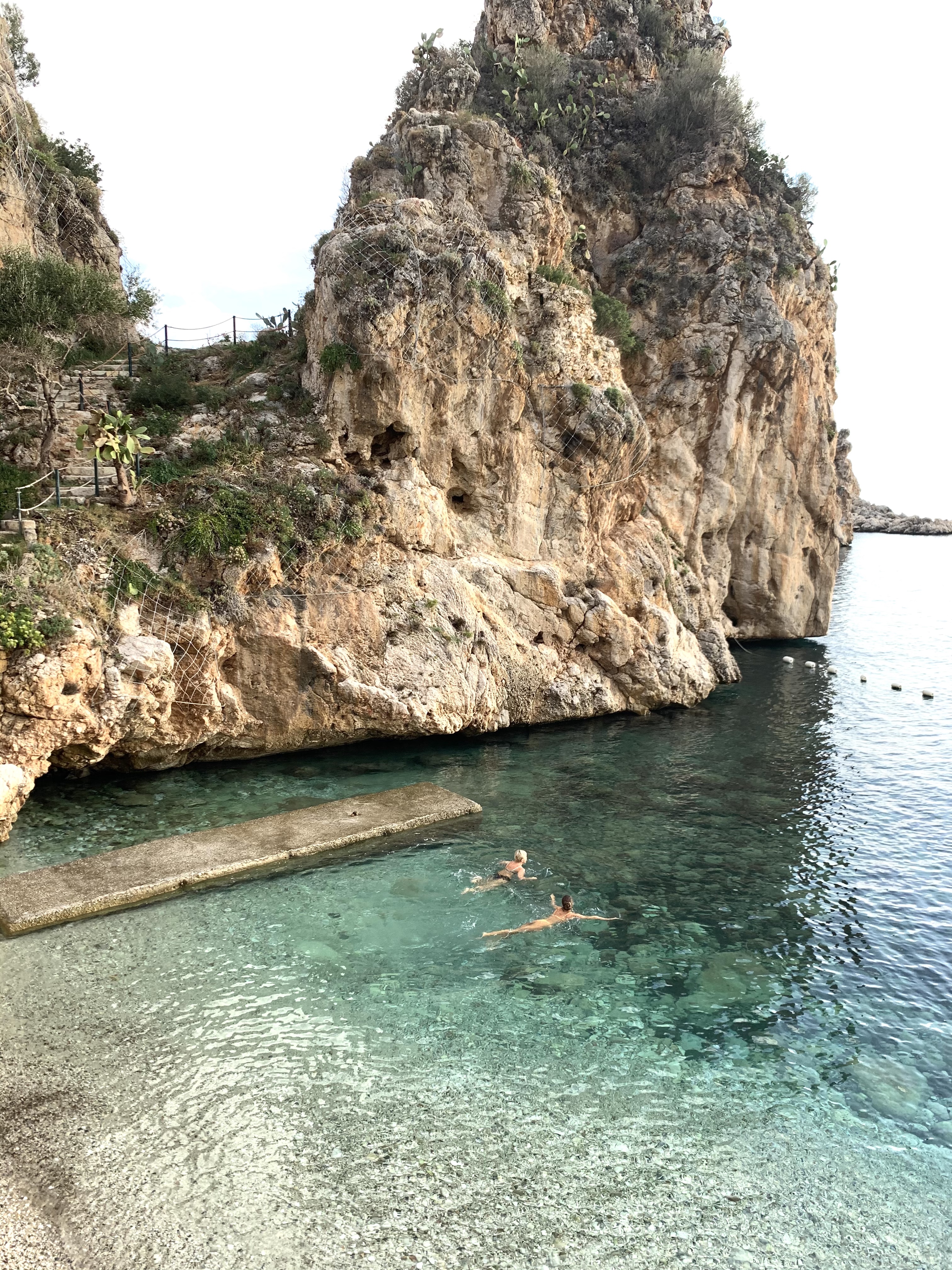 ROOMS
As I mentioned before, Tonnara is not a hotel and as such does not offer the usual services. And that is its beauty. You will not be get breakfast here, or have a phone line to the reception, or for that matter air conditioning.
Tonnara di Scopello is spread across the old fishermen´s houses and offers 14 apartments. Please note that Palazzina Florio and Sotto la Torre are located inside the main building while the Taverne and Vicarie are outside.
Palazzina Florio – is inside the main complex, was originally the manor house where the administrator of the Tonnara lived. It is also where my favorite apartments are located. I would strongly recommend staying here but you have to book those rooms months if not a year in advance.
Sotto la Torre – is also located inside the main complex and used to be administrative offices. Each of the three apartments located here has a sea view and a private Mediterranean garden facing south.
Le Vicarie – outside of the main building, used to be storage rooms for the fishermen's goods.
Vecchia Administration Building – also outside of the main building, is the oldest part of Tonnara.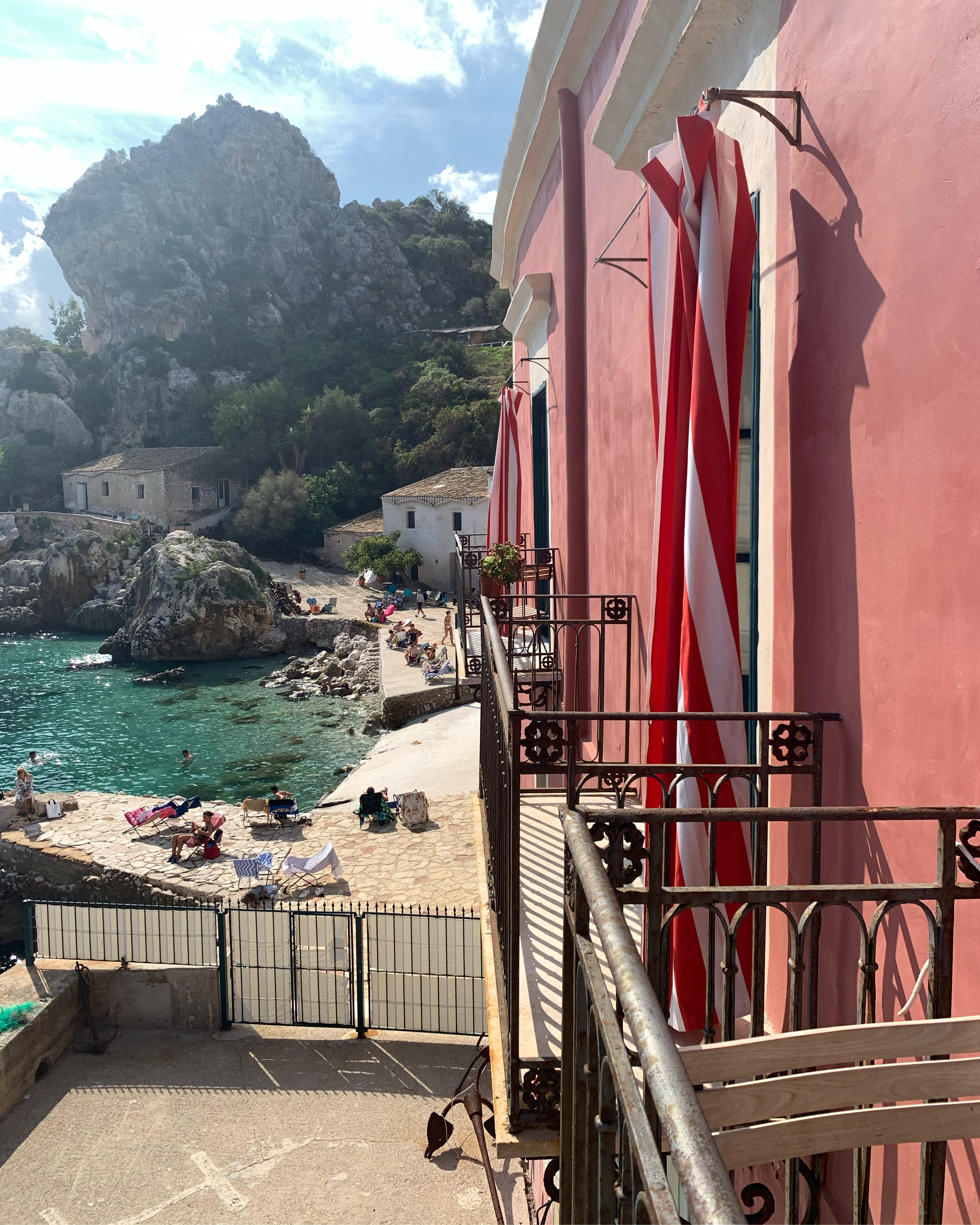 MY FAVOURITE ROOMS
My absolutely favorite rooms are:
Igiea in Palazzina Florio – this is the apartment I waited for two years to stay at. It was permanently booked out. And once you stay there, you will understand why. It has three balconies, offering the most incredible and memorable views. For those who enjoy photography, you will make hundreds of photos here. It is also great for families because of how spacious it is. The little kitchen is compact but has all you need to cook up some simple breakfast or pasta. If I was you, this is the room I would try to book.
Franca – Franca is the smaller version of Igiea and is a perfect option for couples. It is extremely romantic and has a big bed facing directly the sea. Imagine waking up to the view and sound of the sea! Truly special!
Lucie has a large beautiful terrace with typical Sicilian tiles where you will be able to enjoy some special sunset dinners and drinks.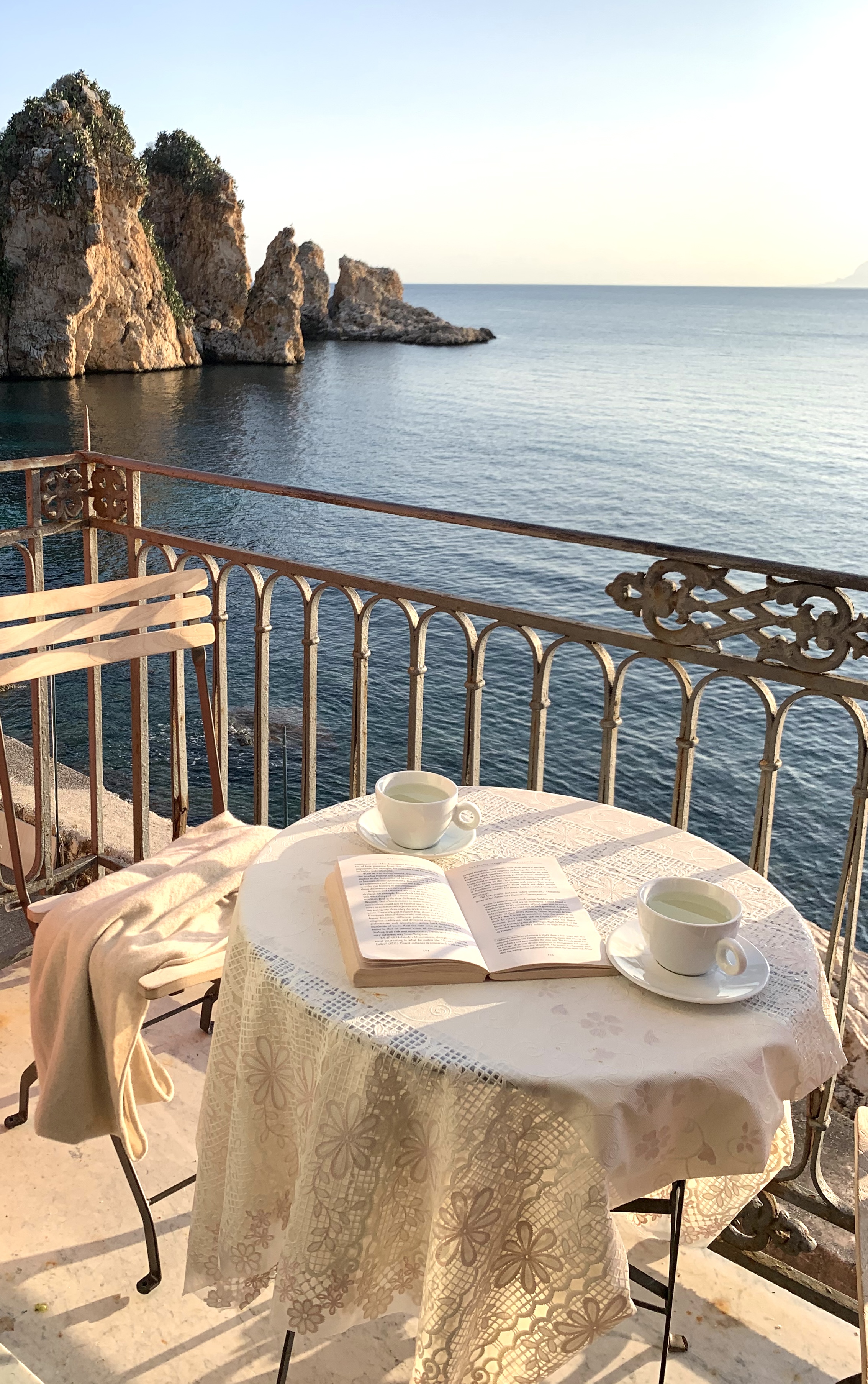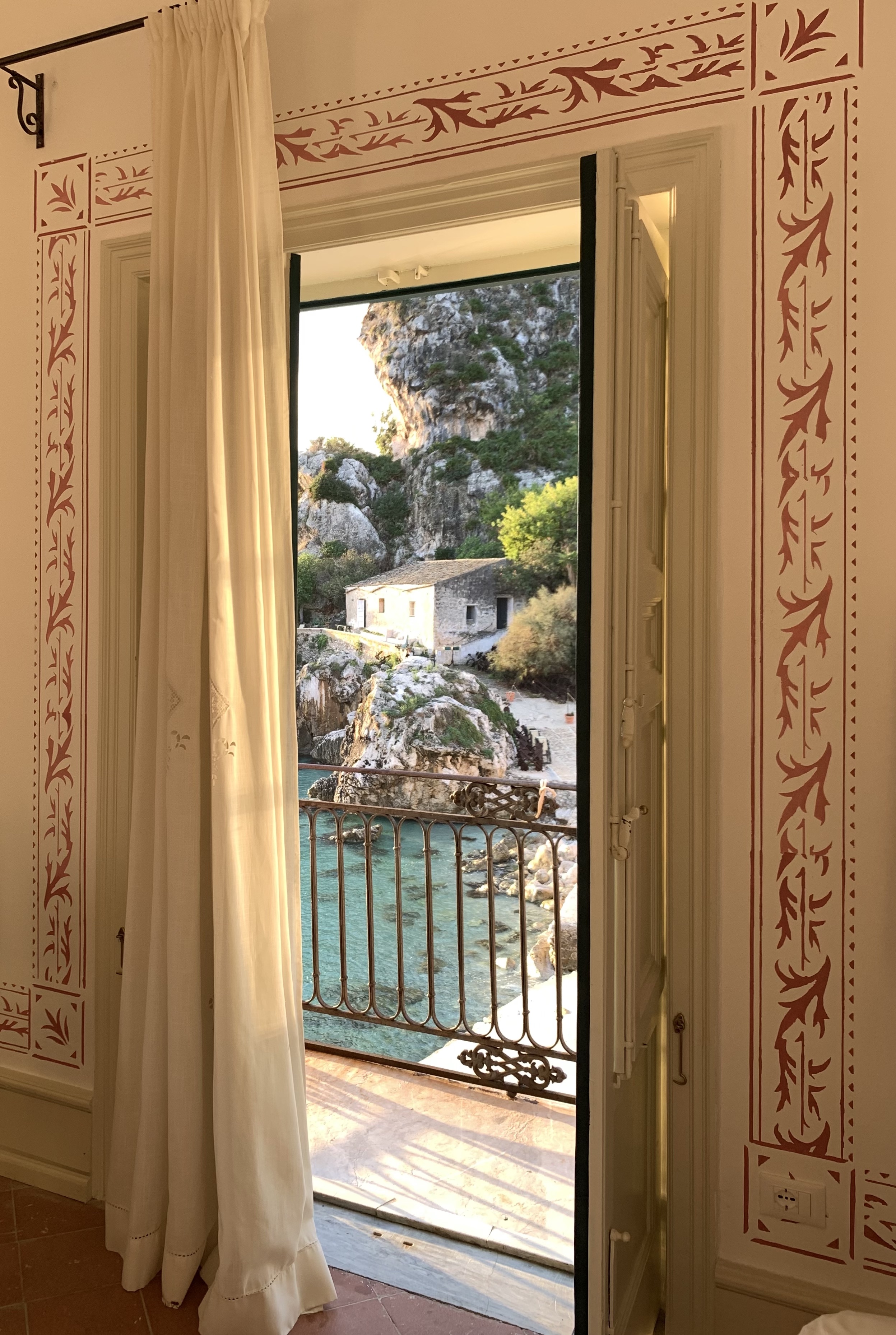 PRICES
There is no denying, staying at Tonnara isn't cheap. You can expect to pay approximately 300 EUR for a room in the summer. Yes, that is for an apartment without breakfast and any real service. The price is rather high, but I personally would rather stay 2 nights at Tonnara than 6 nights somewhere else.
THE STORY
Scopello used to be an ancient fishing village and Tonnara its tuna fishing estate. Part of Tonnara currently is a museum which you can visit during your stay.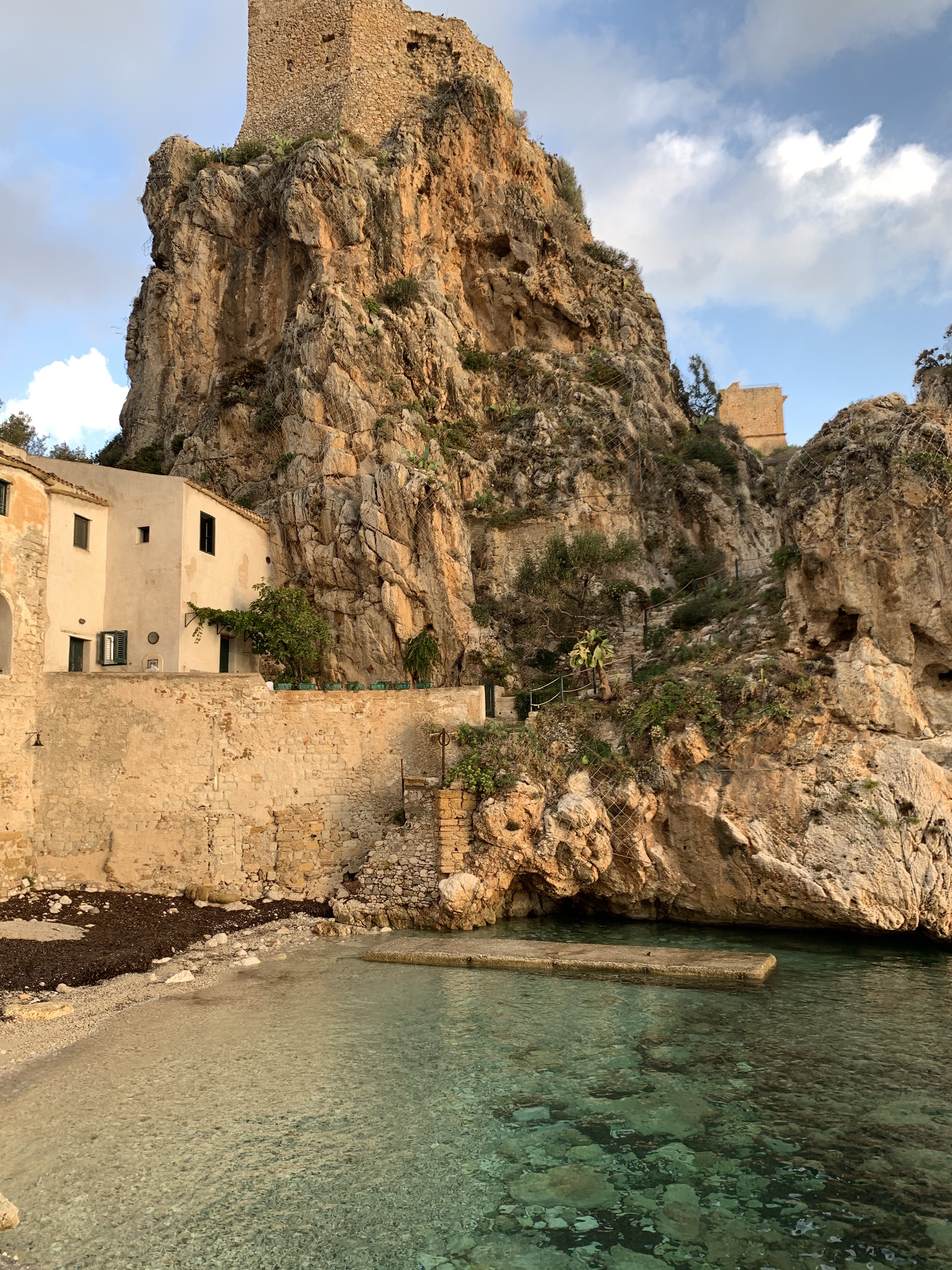 OVERALL IMPRESSION
For me, Tonarra di Scopello is a place where finally and truly the phrase "home away home" is, for once, justified.
Staying at Tonnara I felt like, somehow strangely, a part of me belongs there. I felt like suddenly I was a fisherman's daughter, looking out on the horizon waiting for the boat to appear.
There's nostalgia and marine melancholy in the air. It almost feels wrong to look at your smartphone while you are there. Writing a love letter to a sailor man may seem more appropriate.
Maybe it is the combination of how down-to-earth Tonnara is and how stunning and rough nature is which makes it so very special. Or perhaps it's how the historic charm of this place blends with the waves of the sea crashing on the rocks while you fall asleep. Whatever it is – the result is magic.
POINTS WORTH CONSIDERING
If you fancy some five-star service then Tonnara di Scopello definitely isn't your place.
Scopello Bay is open to the public during the day, so there will be crowds of tourists coming in and out!
You will need a car to get here and to do your basic shopping.
It is relatively expensive given the minimal service.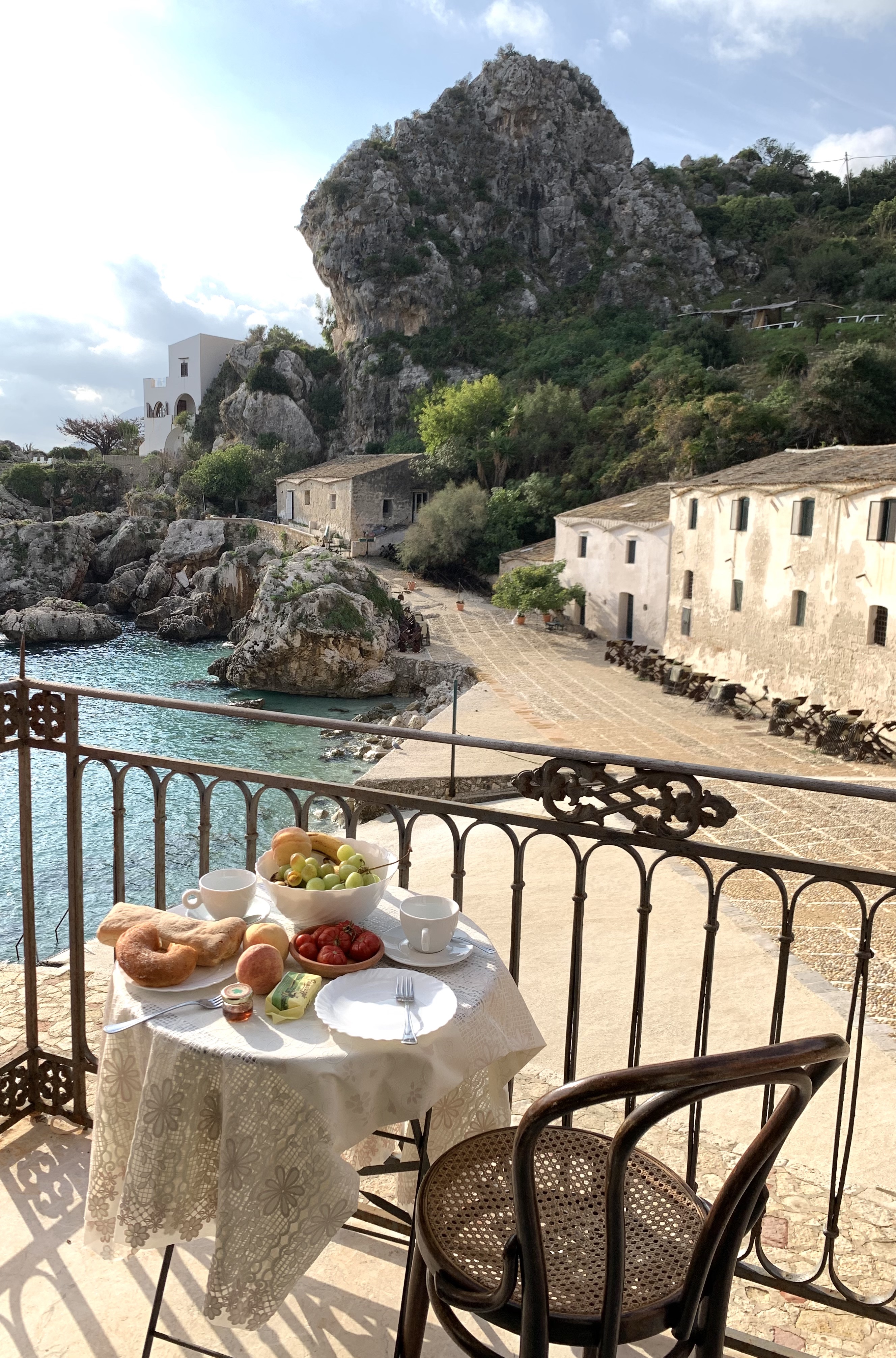 TONNARA DI SCOPELLO – ALL YOU NEED TO KNOW?
WHAT WILL YOU DO?
Oh trust me, you will not be bored here, regardless of how many days you stay. You could lock me up in Tonnara itself for weeks and I would be in heaven.
Enjoy Tonnara – Start living on Italian time and relax. You can either swim in the private cove of the property (only accessible to the guests) or in the bigger public area. In the private bay, there are kayaks and paddle boats which you can use free of charge as well as sofas to sit on. The symbol of Tonnara is its two large rock formations – similar to those in Capri. Snorkeling in the bay is apparently pretty spectacular. And do bring those books you have been meaning to read for months, here you will finally be able to finish them.
Zingaro Natural Reserve – This is one of the most beautiful natural parks in Sicily. Imagine Rolling hills, cliffs, and stunning beaches. You can hike here for ours in a surrounding of truly untouched and rough beauty. A must while staying in Tonnara!
Scopello village – To be honest I did not find the town of Scopello to be too exciting. Maybe it's because we visited it on a slightly grey day. Definitely give it a chance! It is really small so it will take you 10 minutes to see it all. It is also where some of the restaurants are.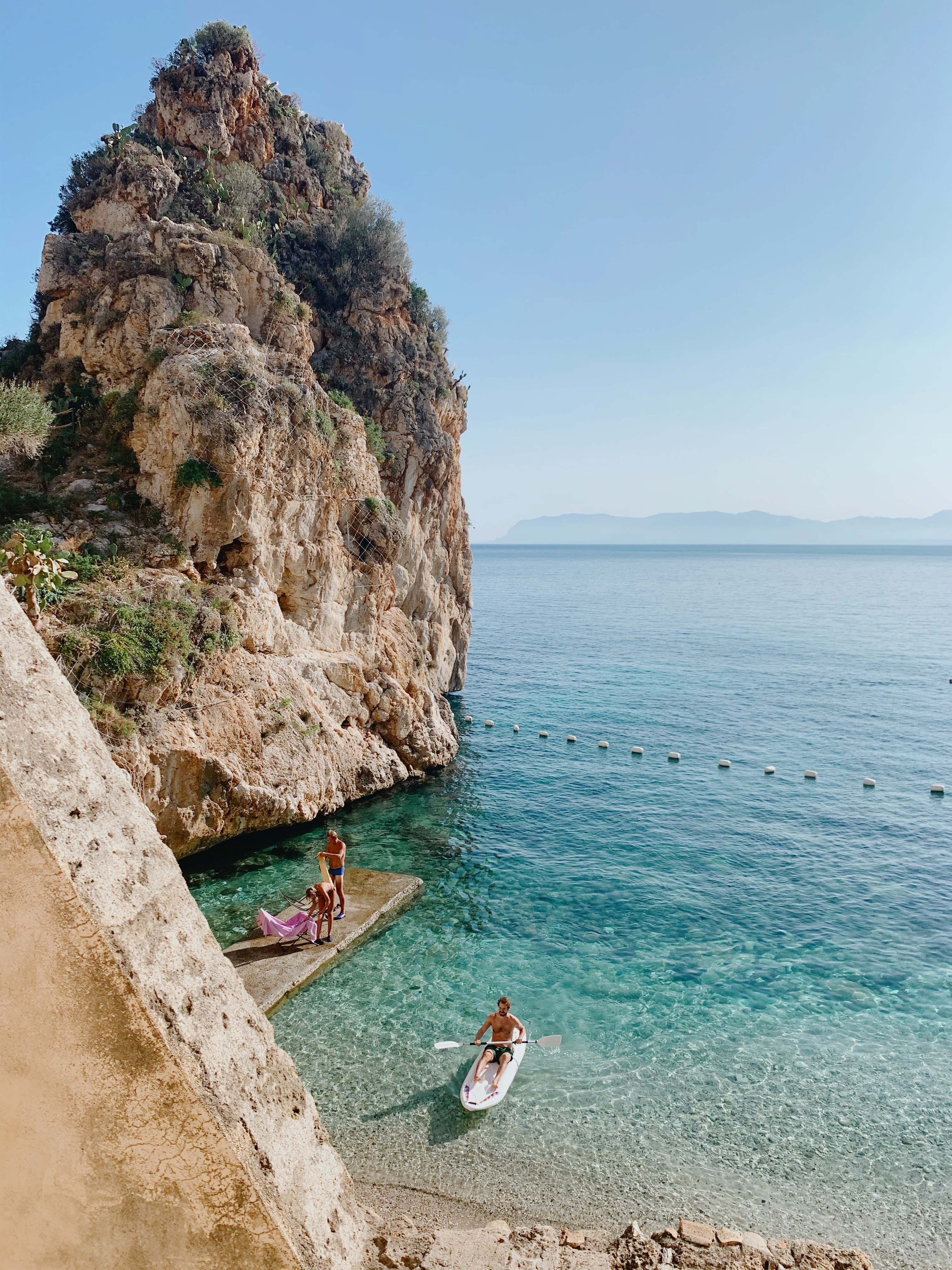 WHAT WILL YOU EAT?
Tonarra di Scopello does not have a restaurant or a kitchen that prepares any meals. That said, all apartments offer mini-kitchen. They are indeed small so I would not plan to cook up complex dishes here. Focus on simple pasta and you will be fine.
Within a very short drive, there was a small supermarket, a bakery, and a fruit and vegetable shop – all the basics are there. If you have food allergies or need some more niche products you are better off doing your shopping in big supermarkets close to Palermo or Trapani.
Buy your croissants for breakfast at Bar Le Tentazioni, and choose your ingredients for lunch and dinner (and importantly wine!) either at the Market Scopello or the cute little fruit and vegetable store Solea Azienda Agricola. All are less than 5 minute's drive from Tonnara.
Plan to eat your meals on numerous beautiful balconies and terraces and you will not even think about the food you eat.
In case you do not want to prepare your food yourself head to the village of Scopello and try either La Tavernetta or Nettuno Bar.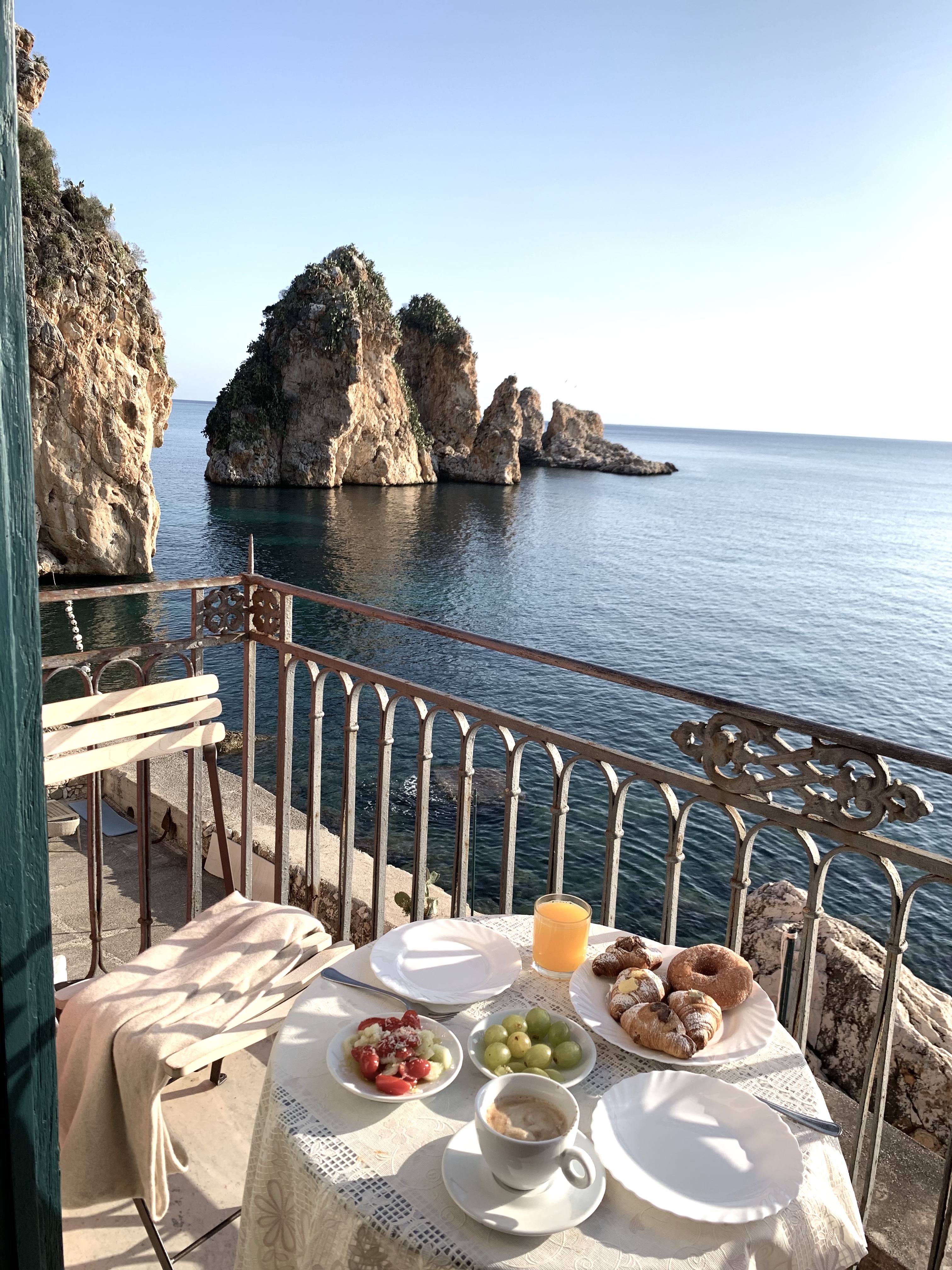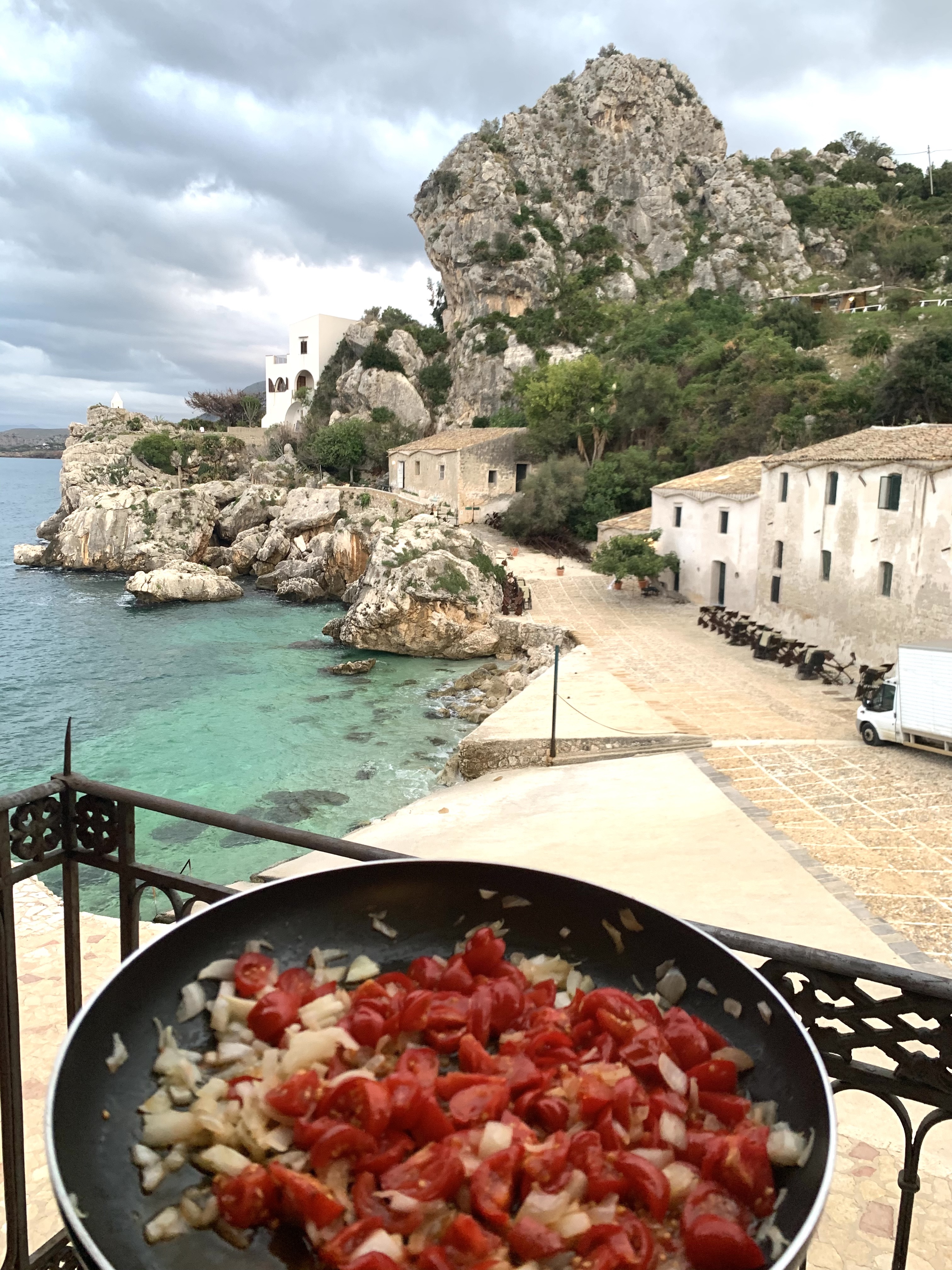 IS THERE A SPA?
I guess you will not be surprised to find that there isn't a spa here. Let nature relax you!
FAMILY FOCUS
Tonnara di Scopello is open to families, and some of the rooms are particularly well suited to couples with kids. You will be able to request baby cots and high chairs. But you should not expect any children focussed facilities or services. Regardless of that you will still make some of the most beautoful memories with your kids.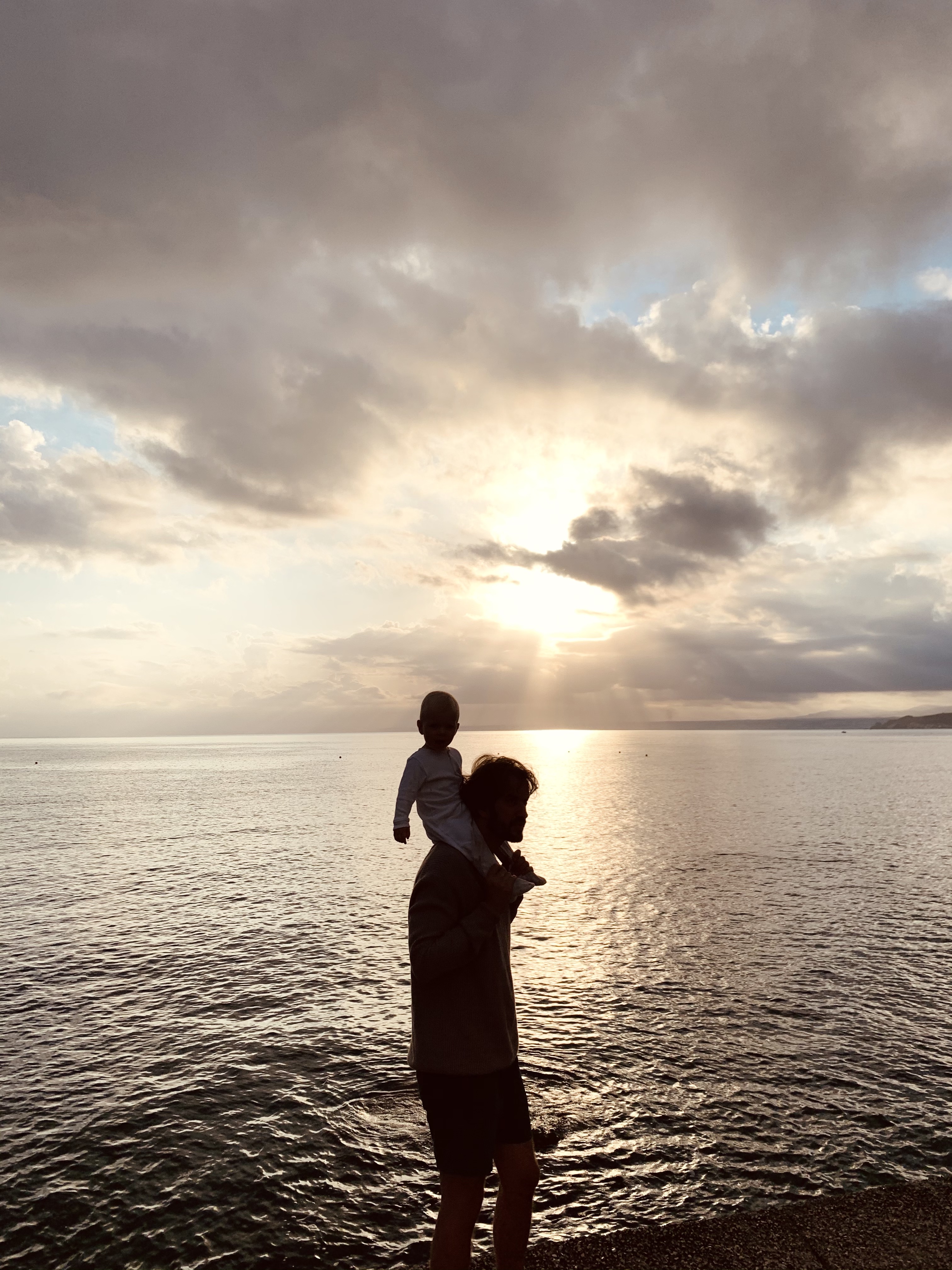 FINAL TIPS
Even though it comes with very limited service and is rather expensive, Tonnara is one of the most special places I have ever stayed at. Whenever you tell someone you will be staying at Tonnara you will hear them sigh deeply and tell you how much you are going to love it. In this particular case, believe the hype!
Please consider the following points to make the most of your stay:
I cannot stress enough how important it is to book this place well in advance.
I would also recommend staying at least 2 nights, as with only one night you really would be too sad to leave!
The waves can get very loud at night, so unless you are used to some noise, earplugs may be helpful.
It is worth planning in some time to walk around Tonnara before and after it is closed to the public to avoid the crowds.
Tonnara is an amazing venue for weddings or private events, in case you are looking for one.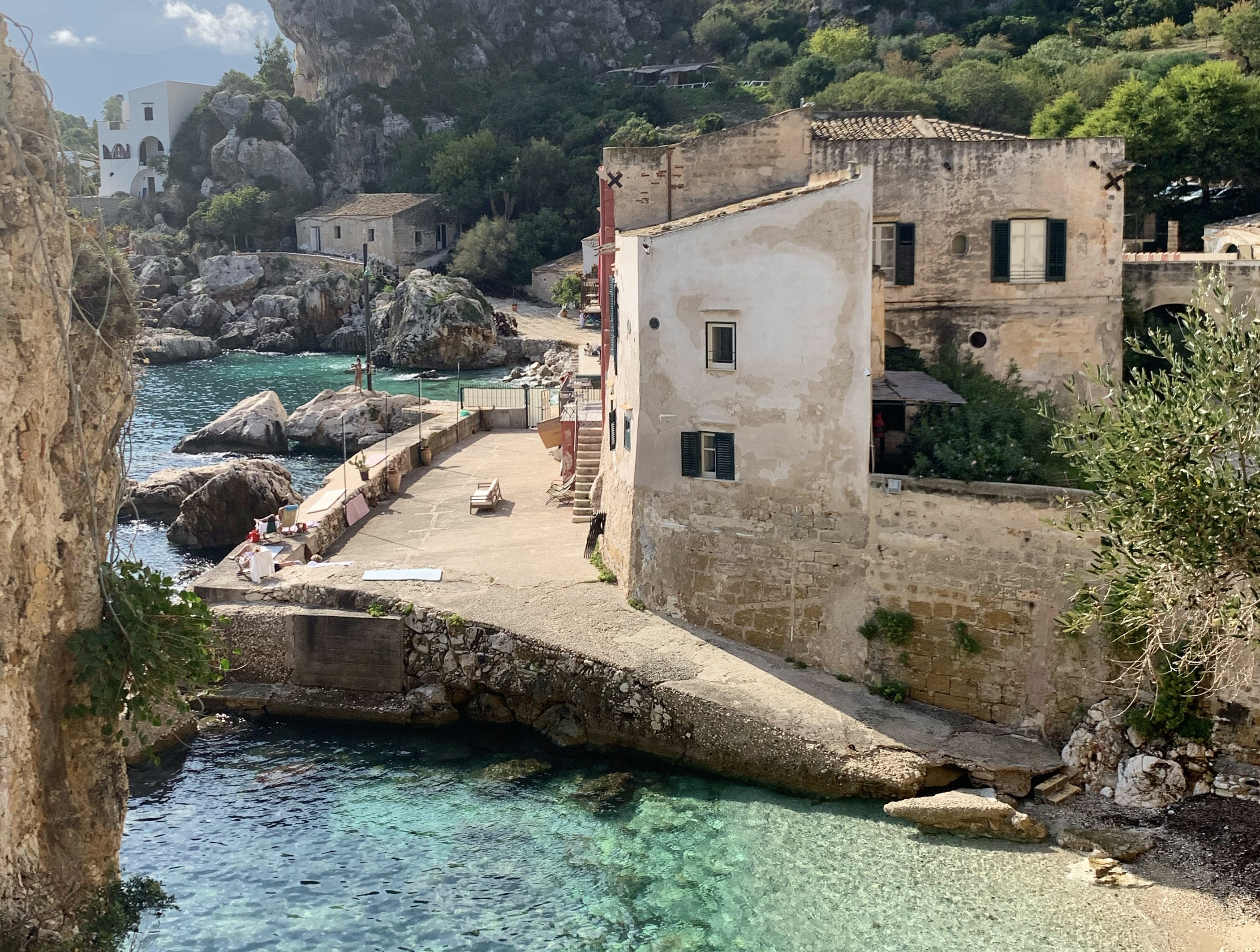 I hope this information has been useful and I would love to hear from you if you end up going to Tonarra!
I will definitely be back!
Yours,
Voyage Provocateur
Some other reads you may be interested in:
BELMOND LA RESIDENCIA – HOTEL REVIEW
LE GRAND CONTRÔLE – HOTEL REVIEW
BIARRITZ – 10 TOP THINGS TO DO