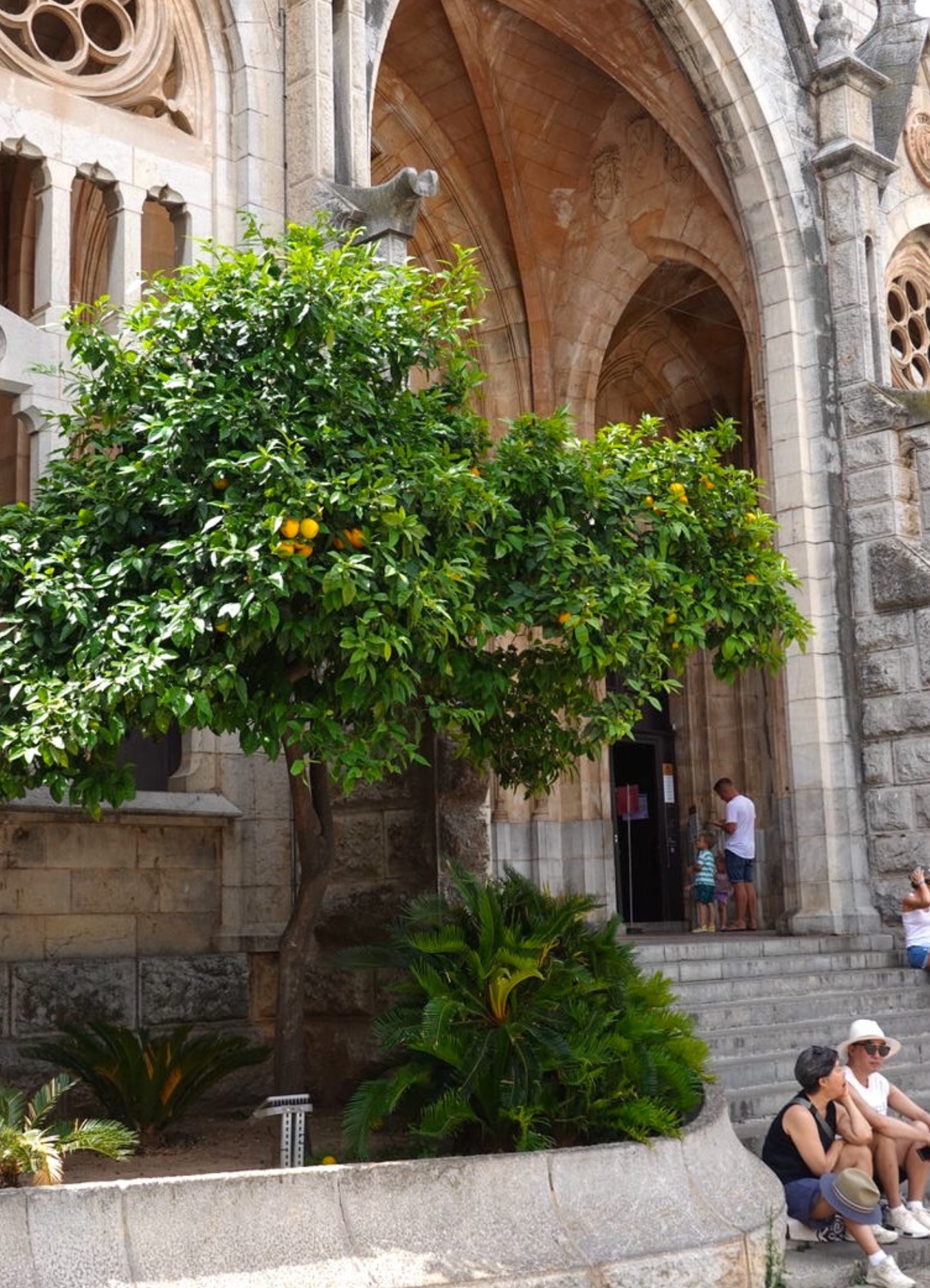 SOLLER, MALLORCA – ULTIMATE GUIDE
Are you going to Soller in Mallorca, Spain and you need help planning your itinerary? You've come to the right place!
In this Guide, I have outlined everything you need to know to plan the perfect trip to Soller!
This includes must-see places, the best restaurants, and hotels to fit all budgets as well as some secret tips to make this trip unforgettable!
So let's not waste any more time and go straight into planning your perfect trip!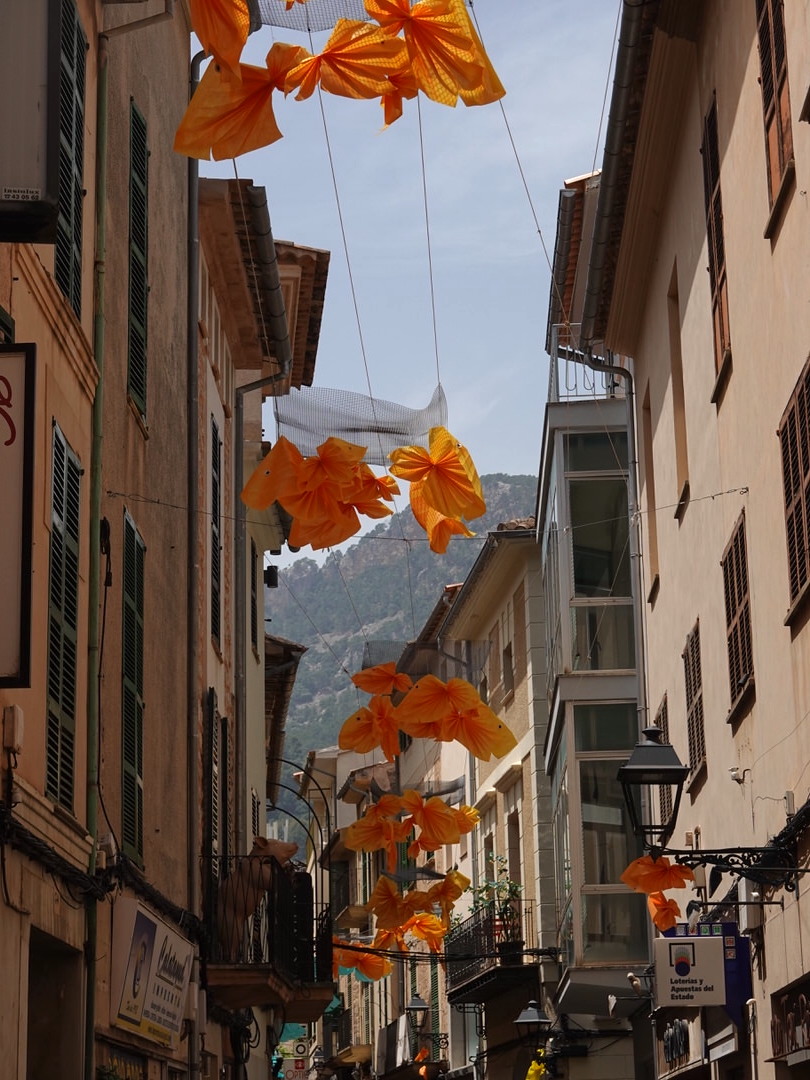 SOLLER – BASIC FACTS
Mallorca seems to be on everybody's bucket list. But, just why is it that everyone loves this place? Well, the small island boasts more than its share of jaw-dropping Mediterranean sea views, isolated beaches, incredible nature, delicious food, and enchanting towns and villages. And, let me break this for you, Mallorca's villages don't get prettier than Deia!
Soller is a stone's throw from the northwest coast of Mallorca. Therefore, it is also near the gorgeous, UNESCO-protected Tramuntana mountains. Indeed, its fortune was made from the oranges that grow easily in the fertile valleys. Then, much of this money was used to design and build the beautiful modernist houses you still see today. Nowadays, Soller is a pretty, relaxing retreat. However, it still boasts great hotels, food and drink, culture, hiking and cycling, and much more.
So what are we waiting for? Let's dive in and plan the perfect Soller itinerary for you!
GETTING THERE
Mallorca is easy to reach by plane from most parts of Europe. However, you can even arrive by boat thanks to regular crossings from Barcelona or Ibiza. Fortunately, Soller is just over a half-hour's drive from Palma or the airport. Otherwise, you can find taxis that will take a similar amount of time. Also, buses and trains make the trip from Palma or the airport to Soller. However, this will take a bit longer and will give you less freedom!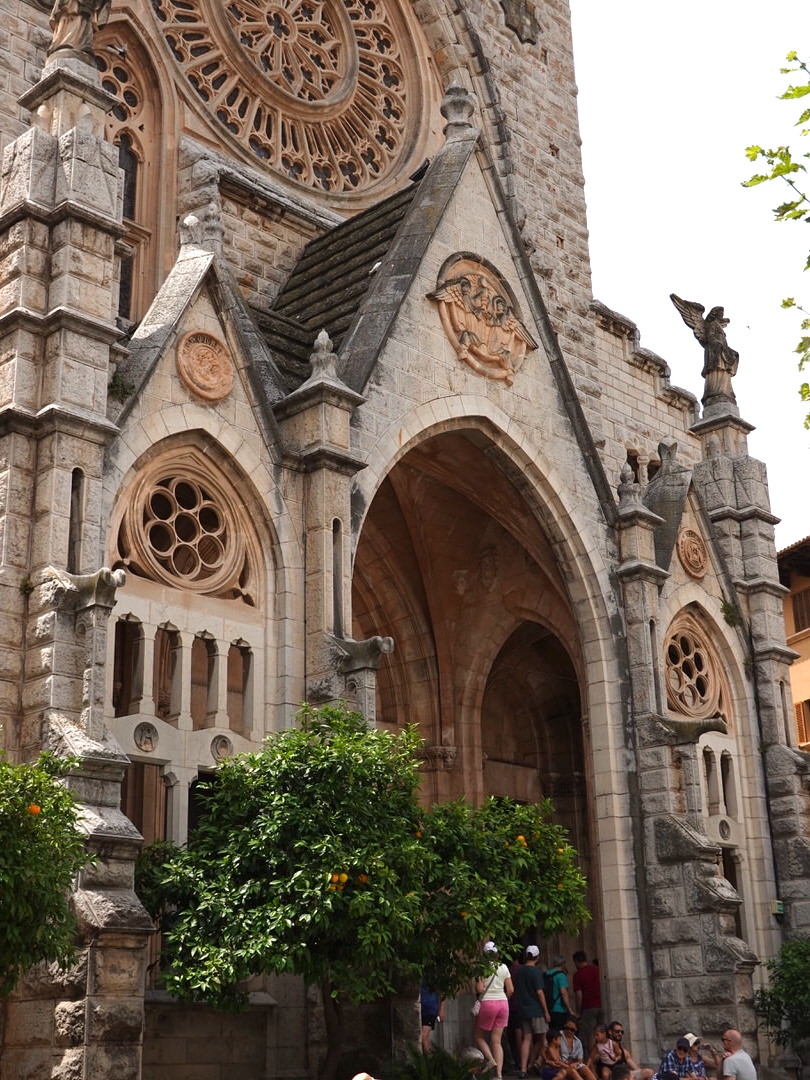 GETTING AROUND
Renting a car is by far the best option. Furthermore, a smaller car would suit you best! Hire an automatic for an even smoother journey, as the northwest of Mallorca is very hilly. However, you'll have to book your car early as rentals go quickly. This is especially true for automatic cars.
Renting a car will also give you the freedom to visit the nearby areas, those include some of my special tips at the end of this Guide.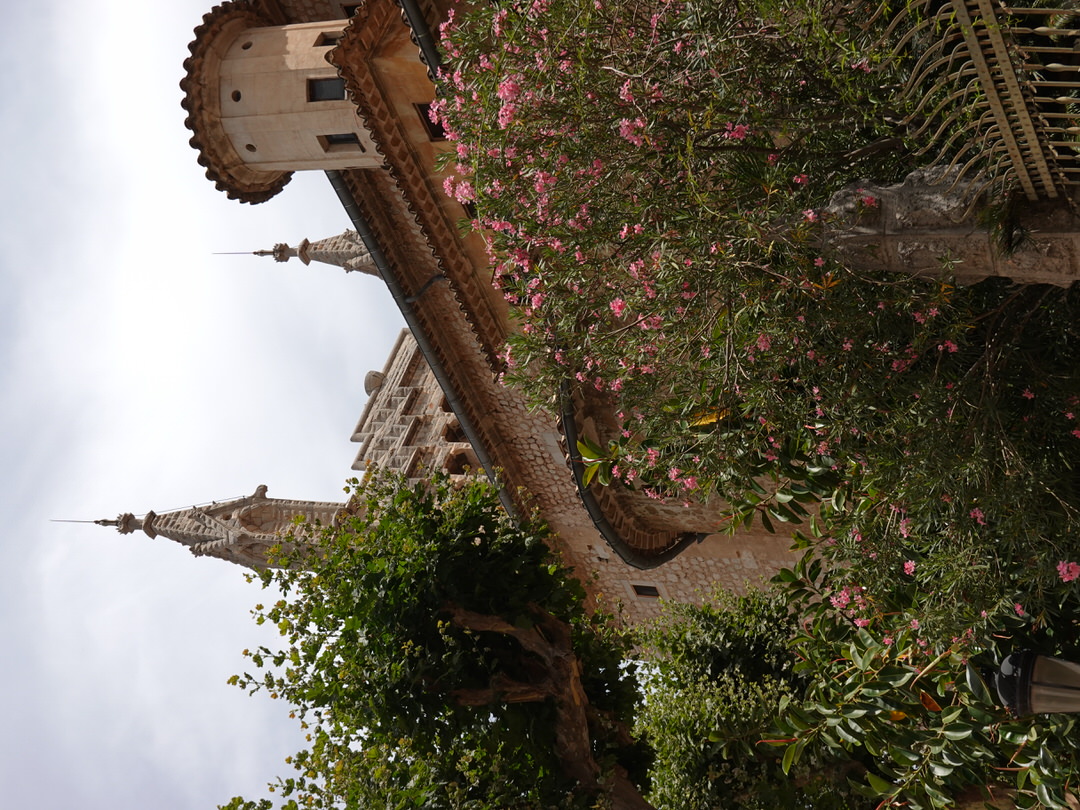 BEST TIME TO VISIT
My absolute two favorite times to visit are either the first half of June or mid-September. That said avoid the end of July and at any cost August, it will be overpopulated, overpriced, and overbooked.
Read here my Month-By-Month Guide to visiting Mallorca for more info.
HOW MANY DAYS DO YOU NEED?
Ideally, you could spend at least two nights in Soller if not more. You could also consider using Soller as a base for your trip explore the rest of the island (or at least the West North of Mallorca) from here.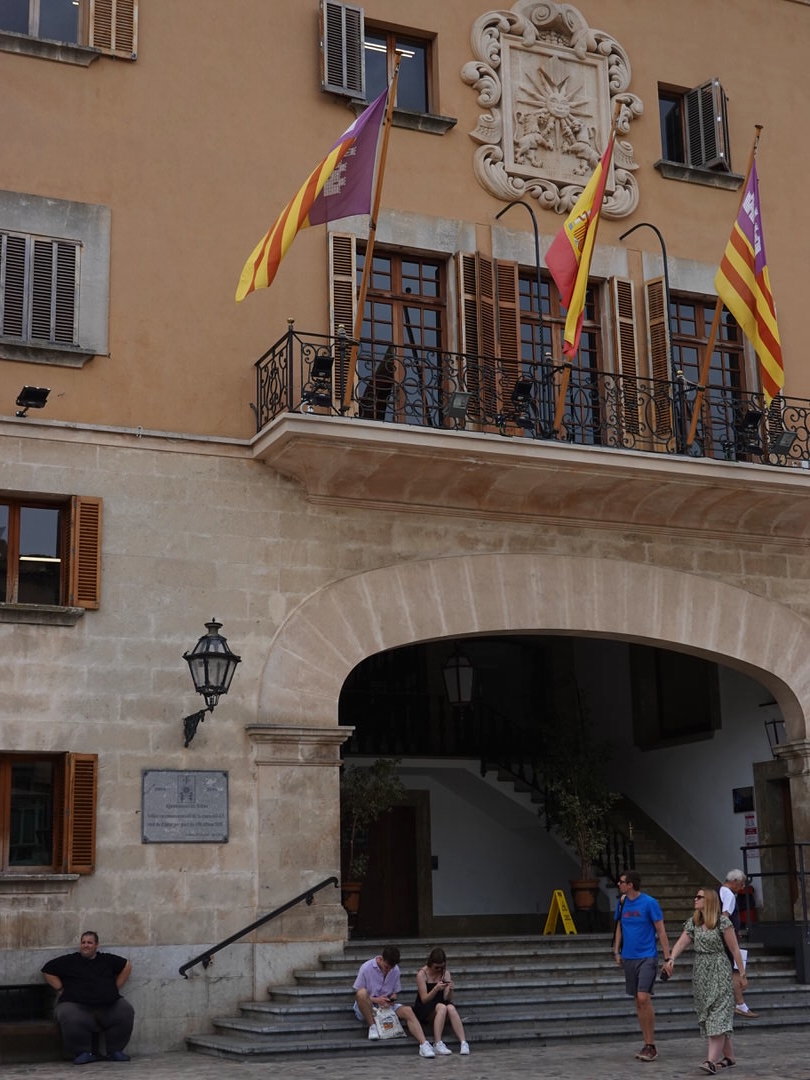 WHAT TO DO
There is so much to do in Soller, but the easiest way to go about deciding about what to decide for, is to divide the activities for those which you can do in the city of Soller and outside of it.
SOLLER TOWN
PLACA DE LA CONSTITUCIO
This is Soller's bustling main square, is the perfect place to find a spot on a terrace and soak up the town's atmosphere. Here, you'll see the magnificent church Sant Bartomeu. Also, the tram regularly winds and toots through the square. Finally, visit on a Saturday morning to try the excellent goods on offer at the farmer's market.
SANT BARTOMEU CHURCH
Sant Bartomeu is the hallmark of Sóller. This stunning church towers over the central square. Its modernist facade, designed by a contemporary of Gaudi, is worth seeing up close. Inside, it is atmospheric and has beautiful paintings and features.
HISTORIC TRAM
You cannot leave Soller either without being on or at least seeing its famous tram. It connects the old town with the port. Truly, its traditional decoration inside and the gentle journey it takes through the town's gorgeous nature make it an unmissable experience.
WATERFRONT
The waterfront at port Soller is incredibly pretty. Additionally, there are cafes and bars to relax in. Otherwise, sunbathe on the sandy beach, or take part in the watersports on offer.
CAN PRUNERA
This is Soller's finest art museum. It is a beautifully preserved, Art-Nouveau mansion with an incredible collection of modern art. It boasts works by Picasso, Warhol, and Miro. Additionally, it hosts temporary exhibitions.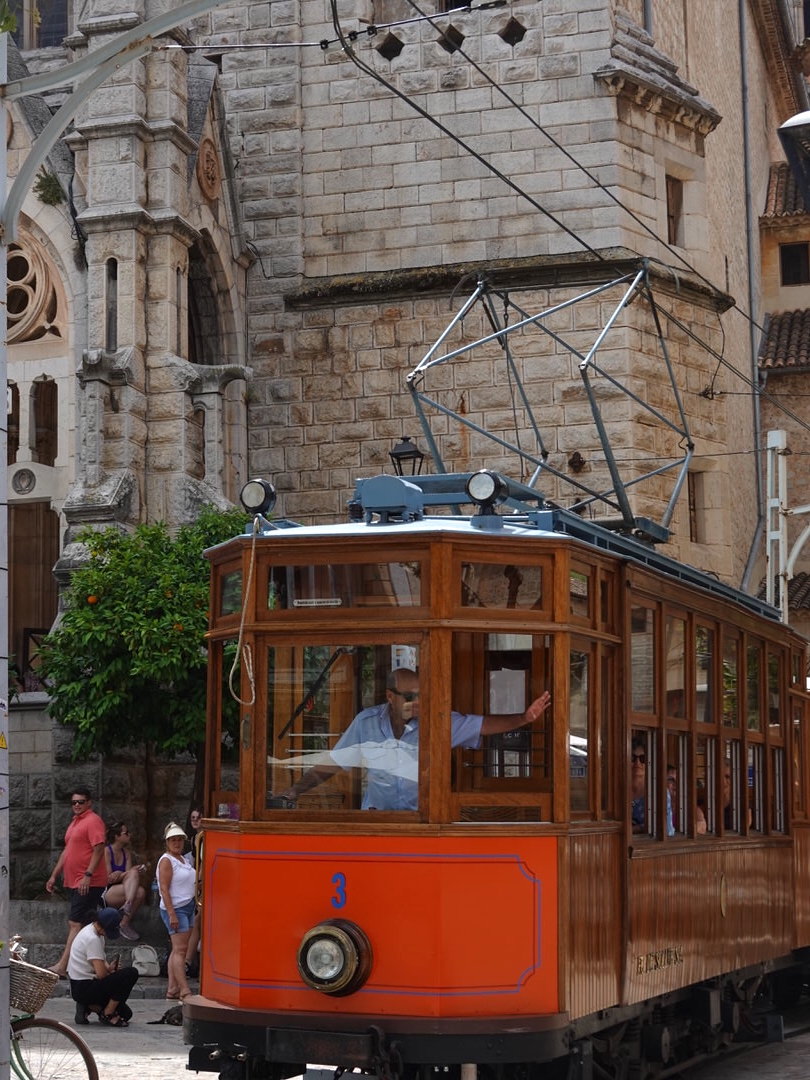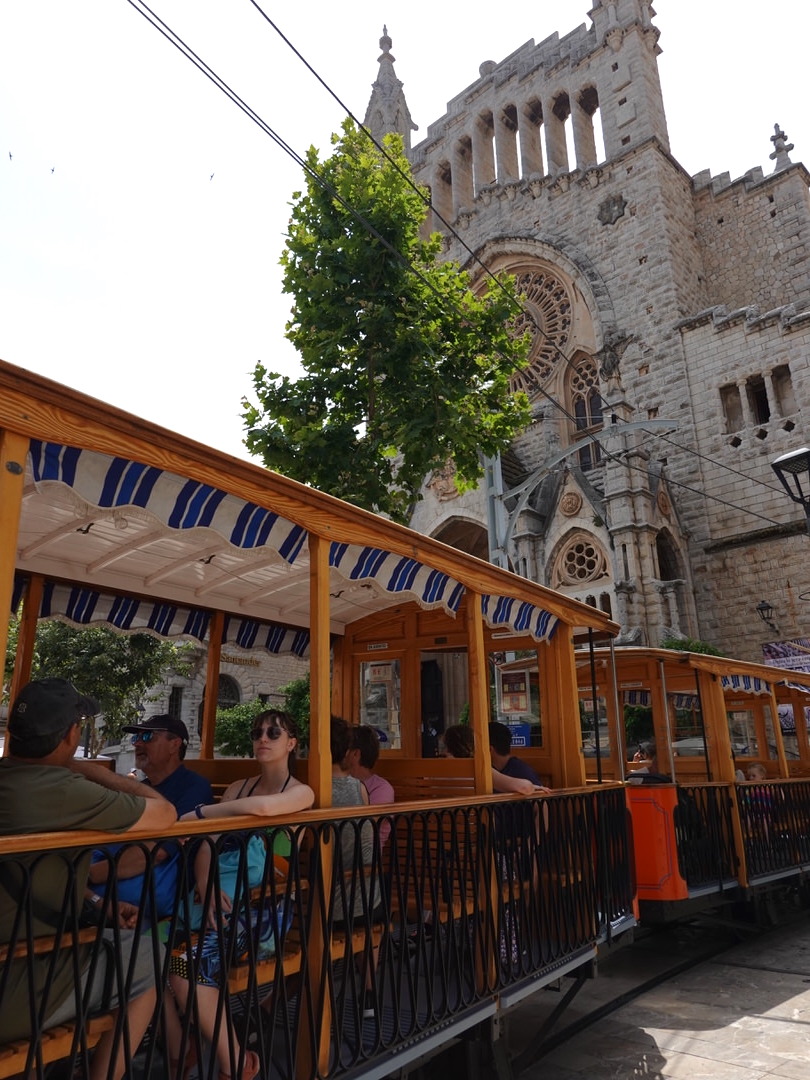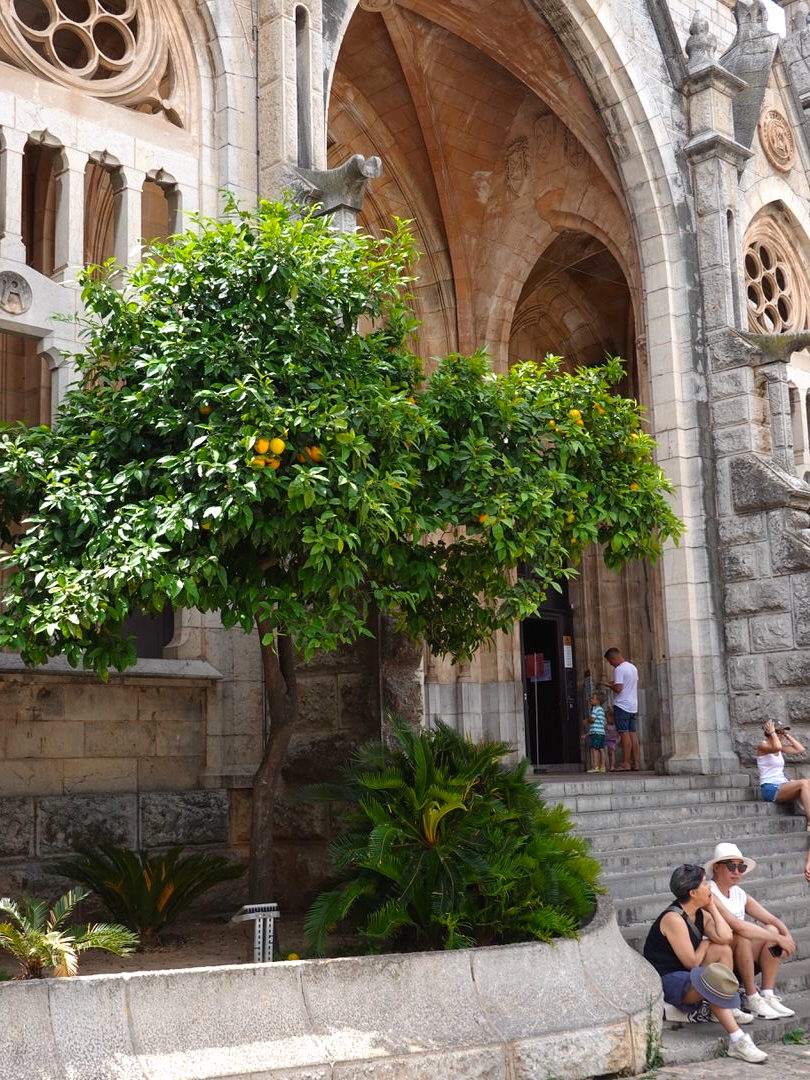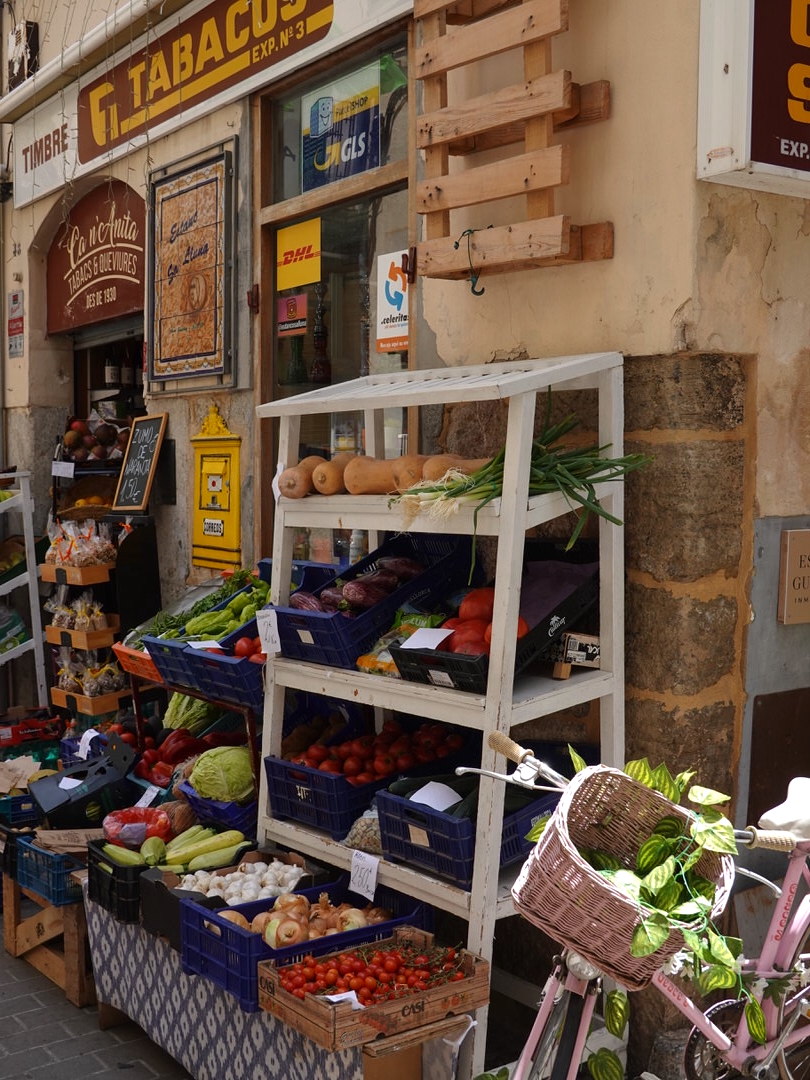 SOLLER AS A BASE
HIKING & CYCLING
All those mountains make for great hiking, too. Staying in Soller gives you access to some of the best hiking trails in Mallorca through the heart of the Tramuntana Mountains. Hike to nearby Fortnalutx for incredible scenery and to see what some call the prettiest village in Spain.
DAY TRIPS TO NEARBY TOWNS
Soller is in the perfect position to let you make a day trip to the towns of Deia or Valldemossa. Both offer beautiful scenery, cultural attractions, and great food. See my Guide to Deia for more information on this must-visit town.
Ecovinyassa is a working citrus farm just outside Soller. Strolling around its fragrant groves beneath the dramatic mountains is heavenly. The ticket costs EUR 14 for adults and EUR 7 for kids and includes an orange juice and a snack.
JARDIN BOTANICO
The Jardin Botanico de Soller is on a grand estate just outside Soller. It is well worth visiting for its incredible range of beautiful plants from the Balearic islands and other parts of the Mediterranean.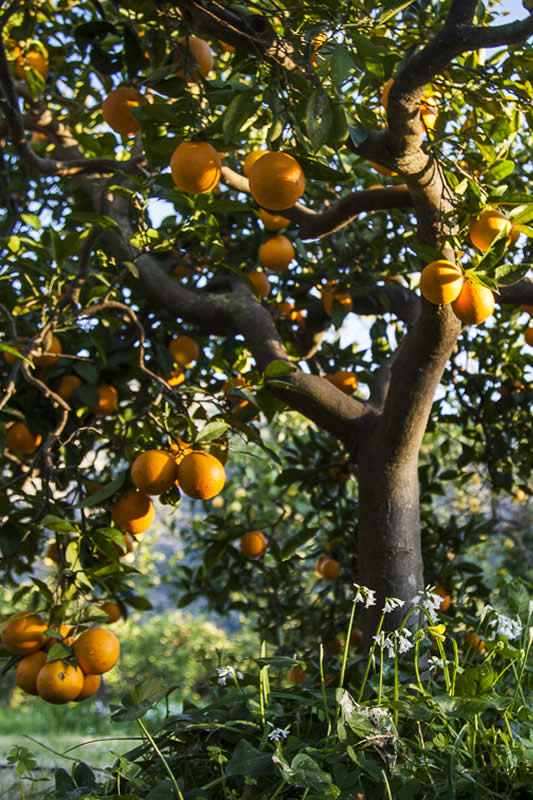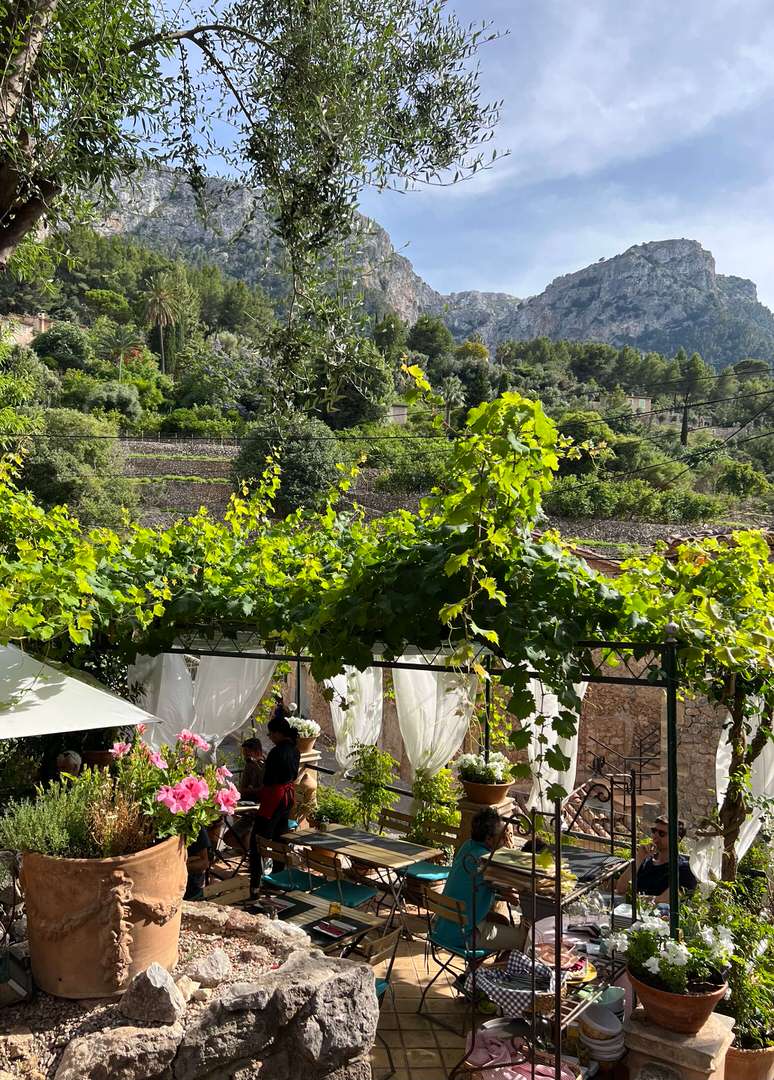 WHERE TO STAY?
Depending on your budget you could choose among the following hotels and fincas:
IN SOLLER
FINCA CA'S SANT
This is the more affordable accommodation option, yet full of charm. This is a boutique farm hotel which has been in the same family for 750 years! This rich history is clear in the traditional design of the rooms, and touches such as the pillars alongside the swimming pool. Also, the estate the hotel is on is just outside of historical center of Soller, giving it a relaxing, natural atmosphere. Visit in spring to enjoy the blossoms of the thousands of citrus trees that surround the estate, and the fresh ingredients in your food!
To sum it up, this is the place to book for a simple, relaxed stay in a central location.
BIKINI ISLAND PORT SOLLER
It won't just be the tram in Soller that reminds you of San Francisco. Here, at Bikini Island, you can feel transported back to 60s California. For, the hotel has a charming and comfortable period design. Moreover, it benefits from a dazzling location between the mountains and the port, which gives stunning views in all directions. Furthermore, each room has a balcony that lets you enjoy the setting, as well as gorgeous, comfortable design. Finally, there are plenty of fun activities, and good food and drink options.
JUMEIRAH PORT SOLLER
This is the luxury stay in Soller. Jumeirah Port Soller real selling point is its clifftop location. Therefore, it has jaw-dropping views over the port and the mountains. Moreover, there are state-of-the-art facilities such as its modern spa or its infinity pool. Finally, there is a range of dining options which make the most of the area's fresh seafood.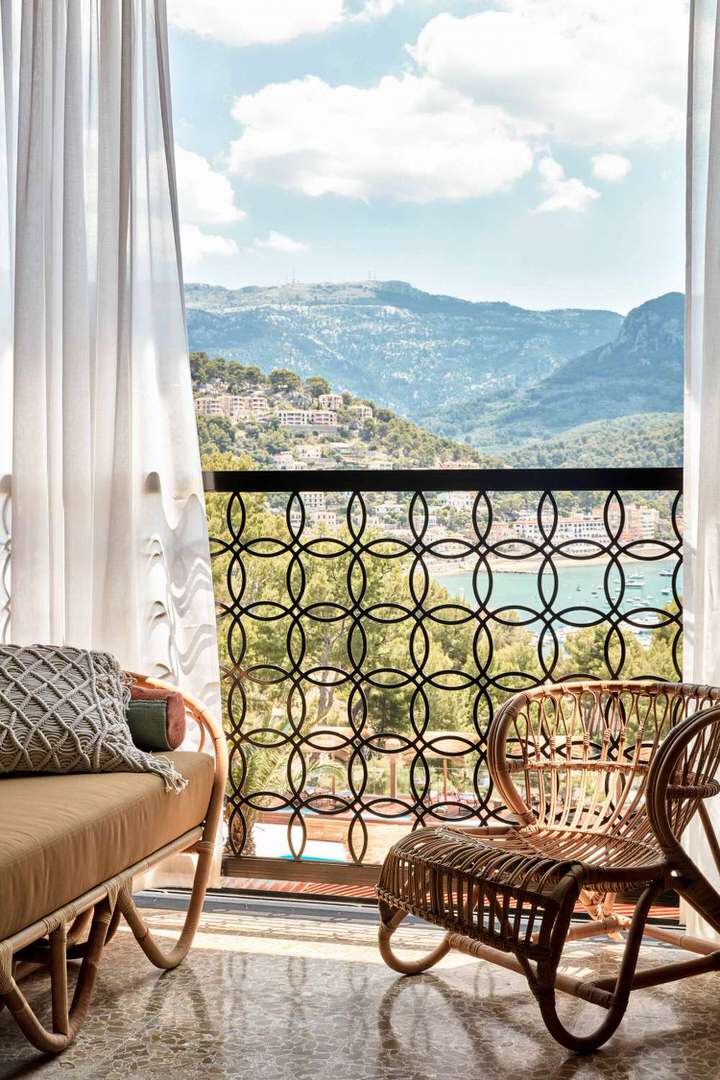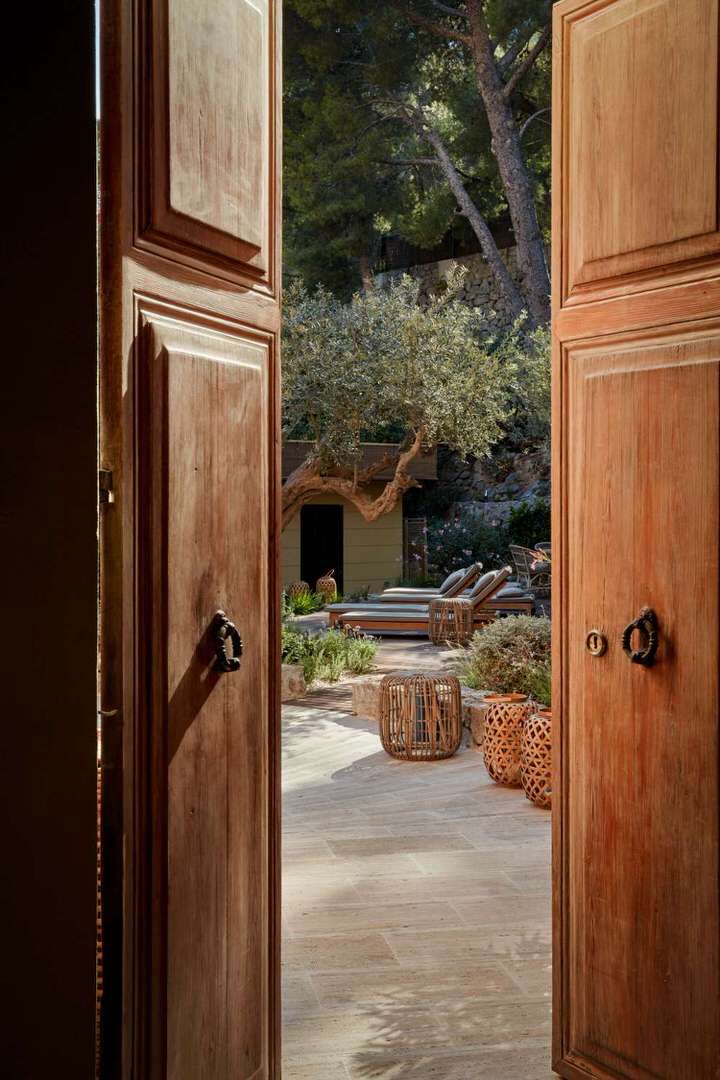 OUTSIDE OF SOLLER
MULETA DE CA S'HEREU
This hotel is almost in the Tramuntana Mountains. Indeed, it is perfect for those looking to hike, as it is right next to some of the area's main trails. The traditional stone buildings, and the beams and whitewashed walls indoors give the hotel a cosy, rustic feel. Moreover, the facilities such as the pool and restaurant are surrounded by olive groves and sheep. Therefore, it is the perfect place for a peaceful, country retreat, at an affordable rate.
HOTEL CORAZON
One of the hottest recent hotel openings on Mallorca, Kate Bellm's Corazon offers an extremely stylish, tranquil retreat just outside Deia. Here, you can stay in spacious, chic rooms with tasteful, 70s-style design to die for. Moreover, the hotel offers a range of wellness-centered activities, from yoga to sound healing to gardening. The hotel attracts a creative crowd looking for a relaxed stay. Finally, it offers a menu of local and seasonal food in delicious, healthy dishes.
You can also just come over for breakfast, lunch, or dinner!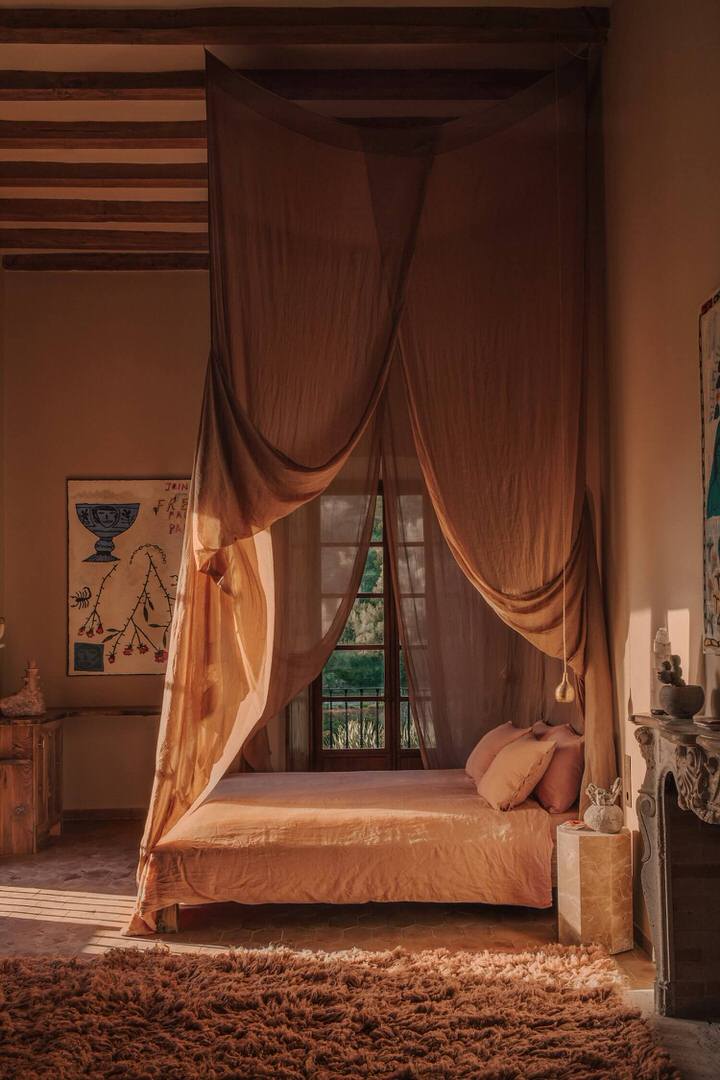 WHERE TO EAT & DRINK
Oller has quite a few good places to eat and drink at. To make the choice easier for you, I have preselected some best options for you, including the best ice cream I had in Mallorca!
NENI
BEST FOR: BOHEMIAN AMBIENCE
You will find this Ibiza-like restaurant on the roof terrace at Bikini Island & Mountain Hotel in Port de Sóller. Neni offers Israeli-Oriental fusion cuisine and invites its guests to enjoy it "Balagan style". This translates into "pleasant chaos" at long tables for casual dining with family and friends. Not only do you get to eat tasty and original food but also to see the breathtaking view of the Port de Sóller and the Tramuntana Mountains. Please note to make reservations online.
PATIKI BEACH
BEST FOR: HEALTHY FOOD ON THE BEACH
Patiki Beach seems to be the go-to place for locals for a more relaxed eating out. Come barefoot and enjoy this Mediterranean Beach Bar & Kitchen with a seasonal farm to table menu. Their food is meant not to be complicated but rather a colorful and flavorsome celebration of the raw ingredients which they consciously source on the island. Most importantly, don't forget to go for a swim between the courses and give in to the island way of living.
NAUTILUS
BEST FOR: AMAZING CLIFF TOP VIEWS AND WINE
Nautilus boasts an incredible location on a cliff top above the port of Soller. Therefore, its terrace is the perfect place to enjoy a spectacular sunset. Indeed, you'll be able to do this over a plate of delicious, traditional Mediterranean food. Nautilus ensures it uses the most organic, sustainable ingredients possible. Finally, its wine list is also excellent, again featuring mainly biodynamic wines.
SA FIGUERA
BEST FOR: THE FRESHEST INGREDIENTS AROUND
Sa Figuera unique selling point is the freshness of its ingredients, which come from their very own organic garden. The ambiance is wonderful here, too, especially at sundown. Here, the muted colours of the stones, polished floors, and wooden beams gleam in the firelight. Therefore, this provides the perfect atmosphere for enjoying delicious Mediterranean food with a Mallorcan twist.
MIGA DE NUBE
BEST FOR: DELICIOUS BRUNCH OR LUNCH
Miga De Nube describes itself as a 'slow cafe', serving light breakfasts and lunches in a stylish interior. Moreover, it has an onsite workshop displaying local artwork and upcycled furniture and decorations. Therefore, it is perfect to visit early in the day for a healthy, locally sourced dish and a tasty coffee. Afterwards, you'll feel energised for a visit to the atelier to look for gifts for loved ones – or youself!
CA'N PAU GELATS ARTESANS
BEST FOR: THE TASTIEST ICE CREAM IN TOWN
If you're looking for something sweet, you must visit Ca'n Pau Gelats Artesans. This little parlour has been serving the most delicious, home-made treats to Soller for decades. Have an ice cream to cool off from an afternoon's exploring the city. Our recommendations would be hazelnut or walnut flavour. Truly, they are to die for.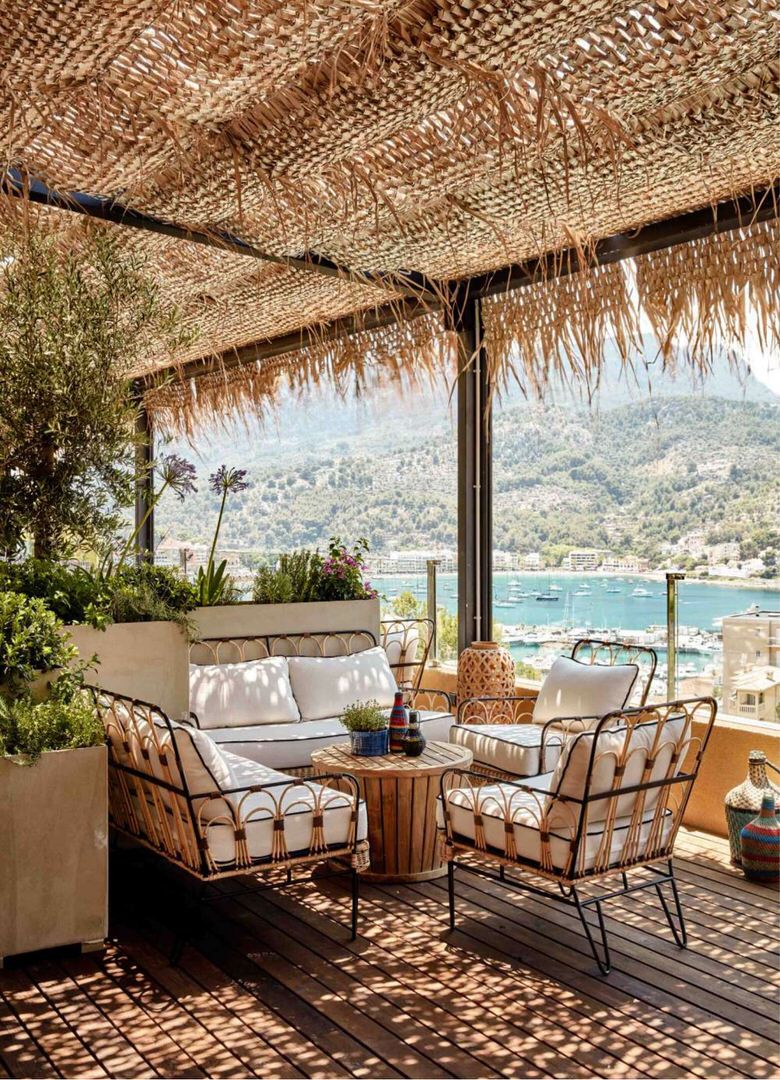 FINAL TIPS FOR YOUR TRIP TO SOLLER
Soller has quite a lot to see and do! I hope that this guide will help you make the best out of your trip!
Please consider the following points to make the most of your stay:
My absolute two favorite times to visit Soller and generally Mallorca are either the first half of June or mid-September. That said avoid the end of July and at any cost August, it will be overpopulated, overpriced, and overbooked.
Try to spend at least 2 nights here to fully get to know the town. I would actually recommend staying longer and using it as a base to explore North-West Mallorca.
Make sure to rent a small car, you will need it to explore all the pretty spots and it will give you flexibility!
As always, book your accommodation and restaurants in advance, otherwise, all the good places will be booked out and you will end up staying somewhere average and overpaying for it!
Enjoy,
Voyage Provocateur
In case you would like to read some other of my posts:
BELMOND LA RESIDENCIA – HOTEL REVIEW
LE GRAND CONTRÔLE – HOTEL REVIEW
BIARRITZ – 10 TOP THINGS TO DO
ITALY'S 10 BEST RESTAURANTS WITH A VIEW