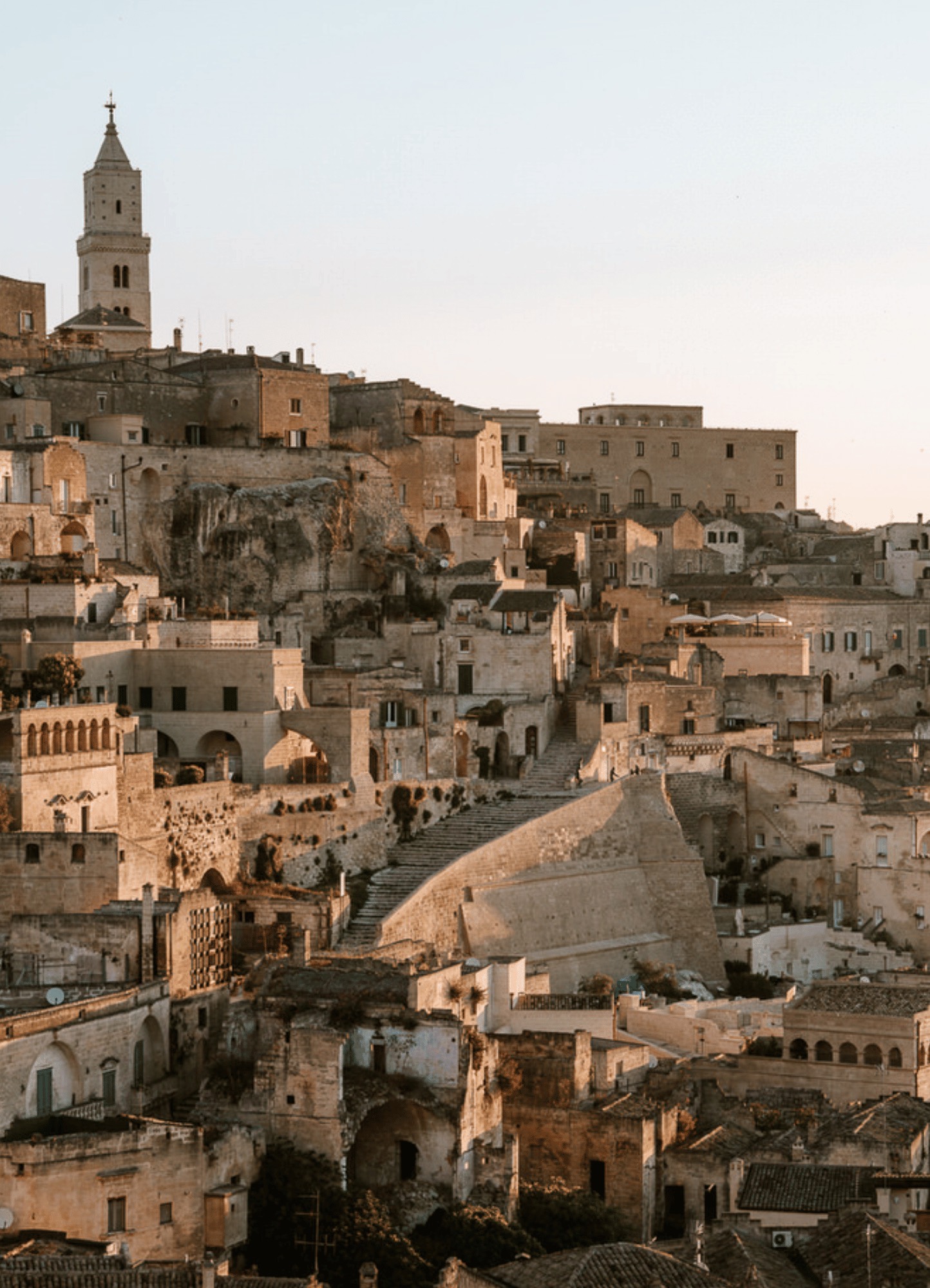 MATERA – ULTIMATE GUIDE + 10 TOP THINGS TO DO
Are you going to Matera in Italy and would like to plan the perfect itinerary and cover all the best spots? In that case, this Ultimate Guide will definitely be very useful!
I have spoken with Alex (@roamandthrive) a true Southern Italy expert about the dreamiest spots to cover on your next trip to this magic location! You will not get a better expert than her!
In addition to the Top 10 Things To Do, this Guide will also provide you with different accommodation, eating, and activities options depending on your budget.
Let's get into it!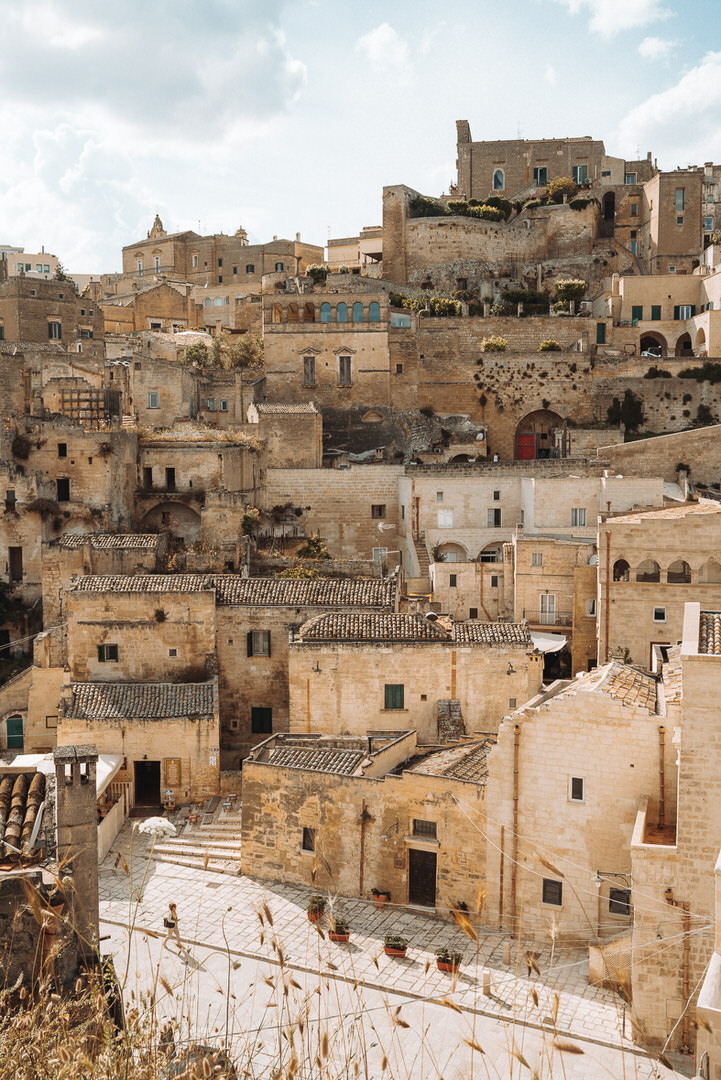 INTRO
So what do you need to know before you go to Matera? It is one of the oldest cities in Italy as well as one of the oldest inhabited cities in the world. It's also a UNESCO world heritage site and was awarded the European Capital of Culture in 2019.
But I guess you have heard of it because of its famous 'sassi'- the old neighborhoods where houses were caved into rocks!
The sassi today are a collection of house museums, cave hotels, restaurants, and bars yet one can still imagine what living in these caves would have looked like. Matera really is like nowhere else, and you should see it at least once in your lifetime!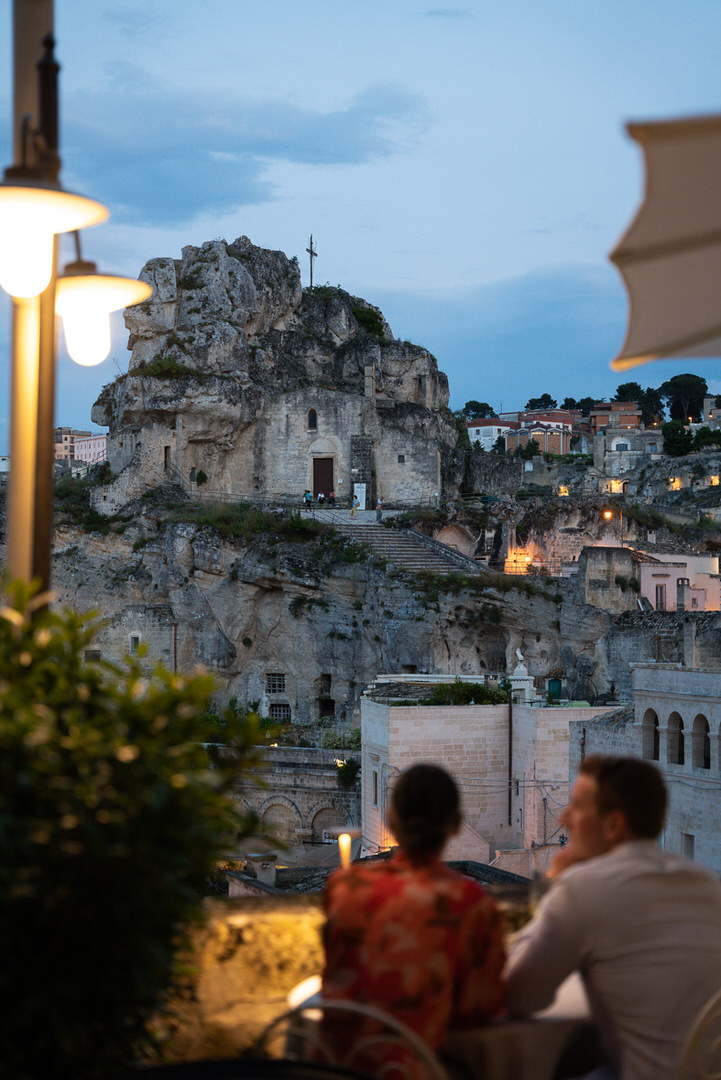 HOW TO GET THERE
Matera is in the region of Basilicata in Italy and it is very close to the border with Puglia. This is why many travelers add a visit to Matera on a Puglia road trip.
CHECK THE ULTIMATE GUIDE TO PUGLIA HERE!
Matera is best reached by rental car with parking just outside the city center. I made the mistake of actually driving into the center and navigating through those narrow streets really wasn't fun!
Train is another possibility from Naples, Bari, and Salerno. That said you would need to change a few times! Lastly, buses also operate from Bari, Potenza and other nearby towns.
GETTING AROUND MATERA
Matera is relatively small so it is best to walk. Alternatively, you could rent a bike and use public transport. But if you stay in the center you will really be able to get anywhere by walking. Also, cars are not allowed inside the old town.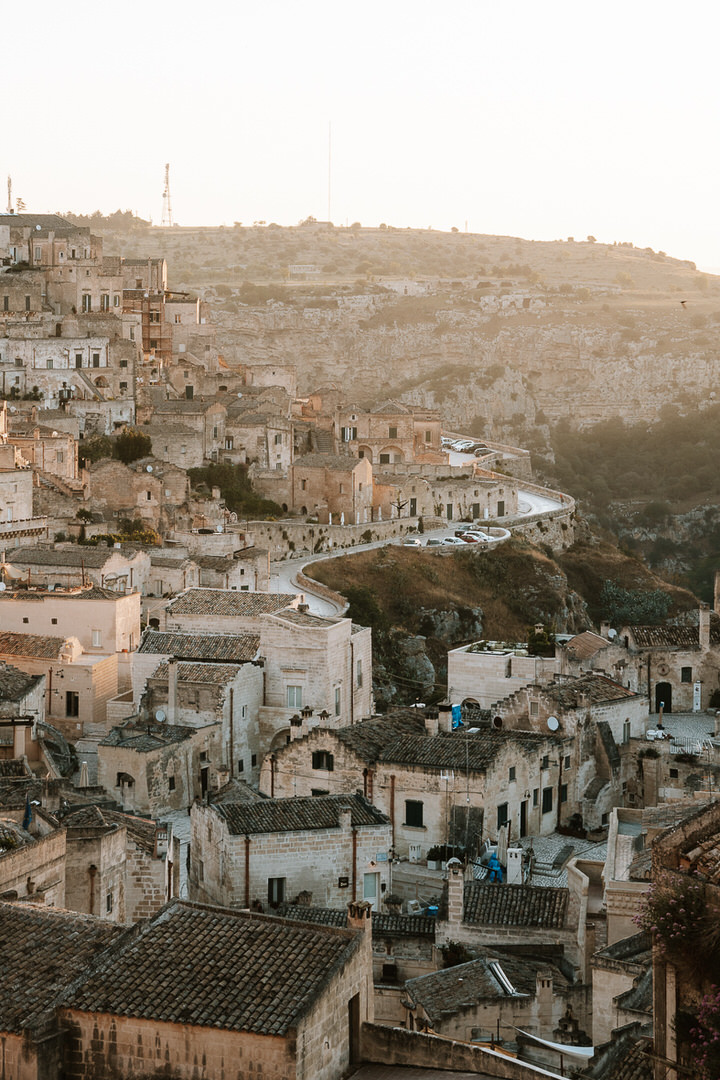 BEST TIME TO GO
Generally for Italy and specifically for Matera, it is best to visit outside of the peak season and aim for the shoulder season months of May, June, September, and October. July & August are crowded, extremely hot as well as expensive.
HOW MANY DAYS TO STAY?
Ideally, you could spend 2 full days and 2 nights. That way you should be able to cover all the Top 10 Things to Do from our list. Alternatively, consider 3 days to take things slow.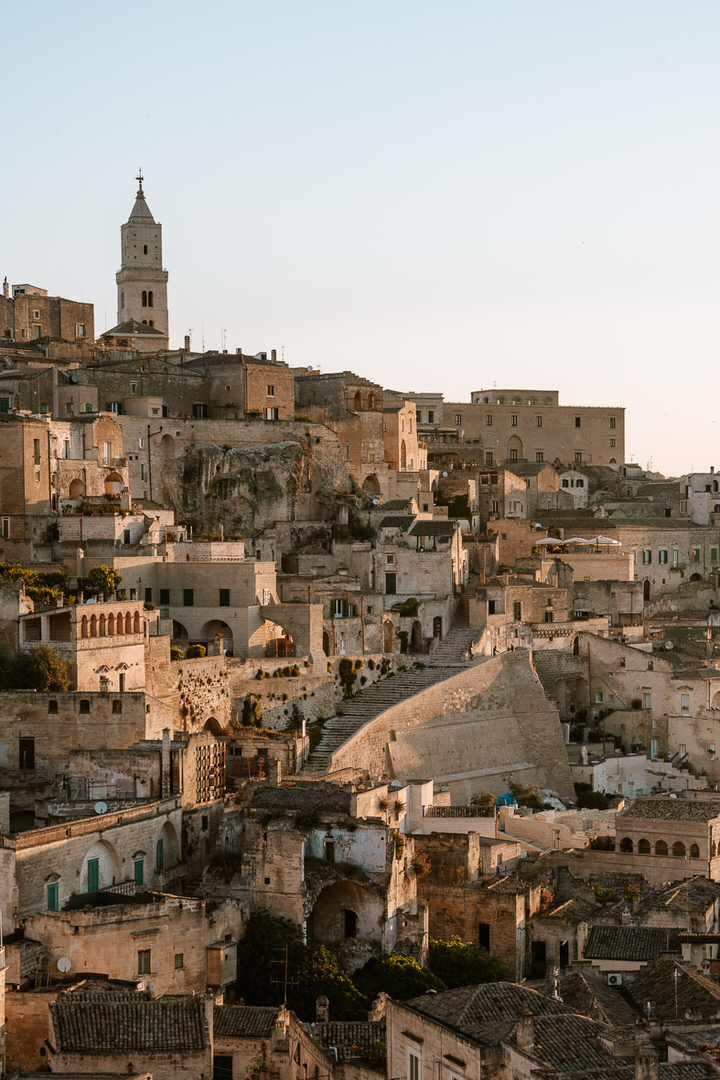 WHERE TO STAY IN MATERA
Luxury: Sextantio Le Grotte Della Civita – pure luxury yet rustic cave experience or Sant'Angelo Luxury Resort – amazing views and location.
Mid-Range: Corte San Pietro – another splendid cave hotel.
Budget: Donna Lina – budget rooms with a good view in the center of the Sassi & L'Affaccio dell 'Abate – a perfect spot for a couple with the most spectacular views over Matera.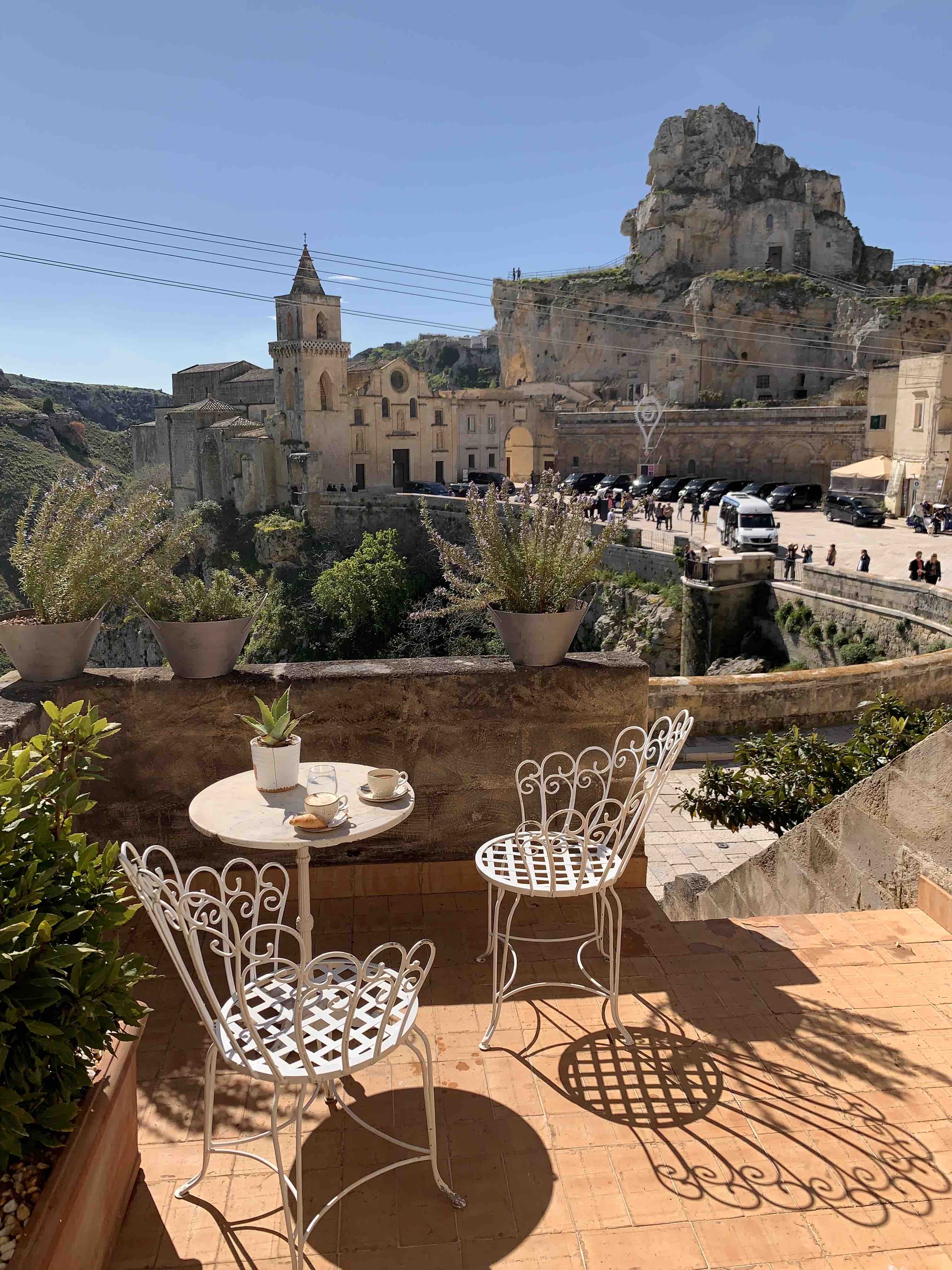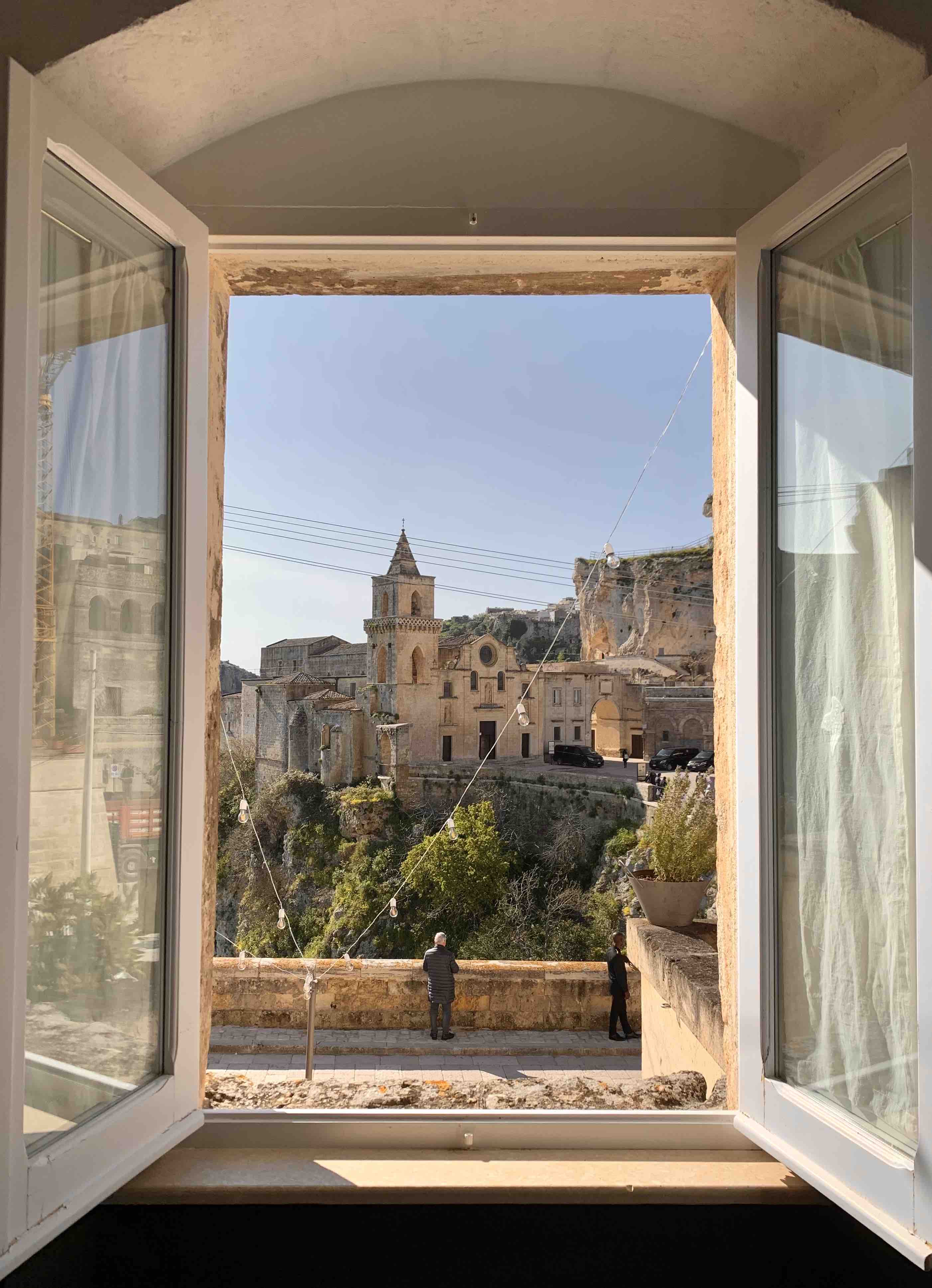 WHERE TO EAT
La Lopa – Set in a typical Materan cave-dwelling, this rustic, local trattoria serves many traditional dishes as well as Italian classics. The great wine list includes local wines not only from Basilicata but also Puglia. After the meal descend down to the basement, which they've converted into a mini cinema to watch a mini documentary about Matera.
Trattoria del Caveoso – Serves homely and traditional Materan food with plenty of local bread, service here is great. Try to reserve a table outside on the terrace in the evening as this part of the main street is very atmospheric as the sun goes down.
Keiv Bistrot – Solid southern Italian fare right by San Pietro Caveoso Church. Grab a table on the terrace outside and people watch. Food here is tasty and they serve many different appertisers, pastas and meat and fish dishes.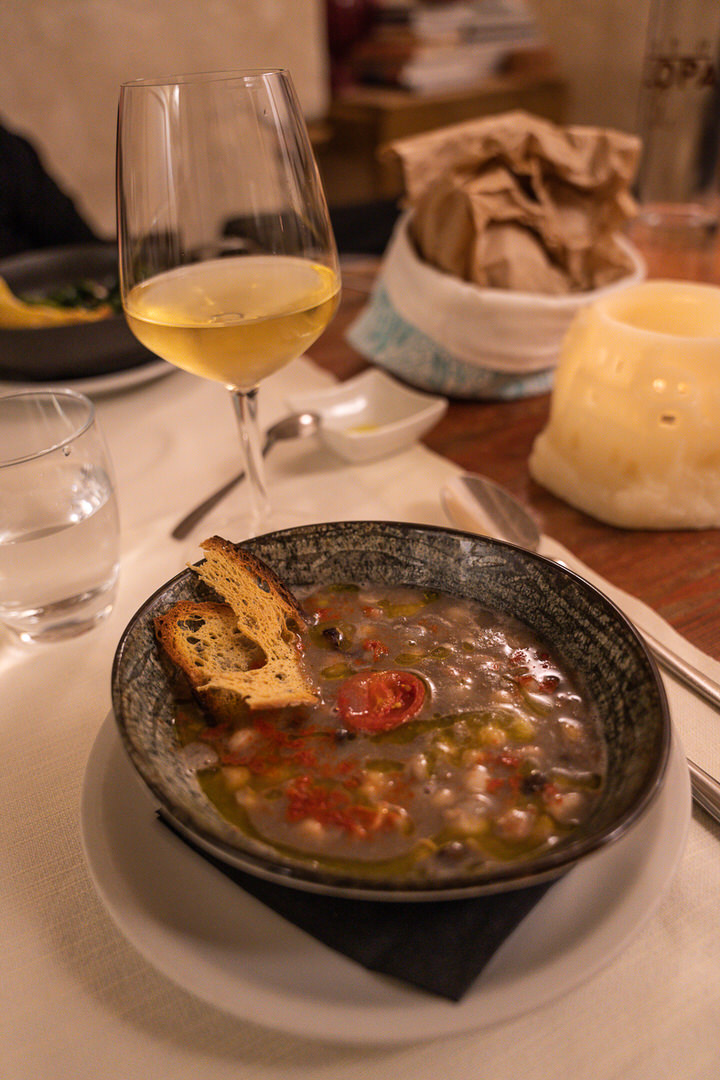 WHERE TO DRINK
Area 8 – Without a doubt, this is one of the best cocktail bars in the Sassi. Expect trendy decor, a great vibe, as well as delicious and creative cocktails. Make sure to try the light negroni for a lemony-twist on the classic. Things don't get started here until much later so it's best to head after dinner rather than before.
Botega Culinaria – A nice spot for an aperitif even though it is mainly an upscale restaurant. Grab a table outside for a cocktail and an aperitivo or even stay for dinner.
Crialoss – Stunning terrace perfect for sunset drinks or coffee. We can't vouch for the food but there's no better view in Matera making it the perfect spot for a spritz post exploring.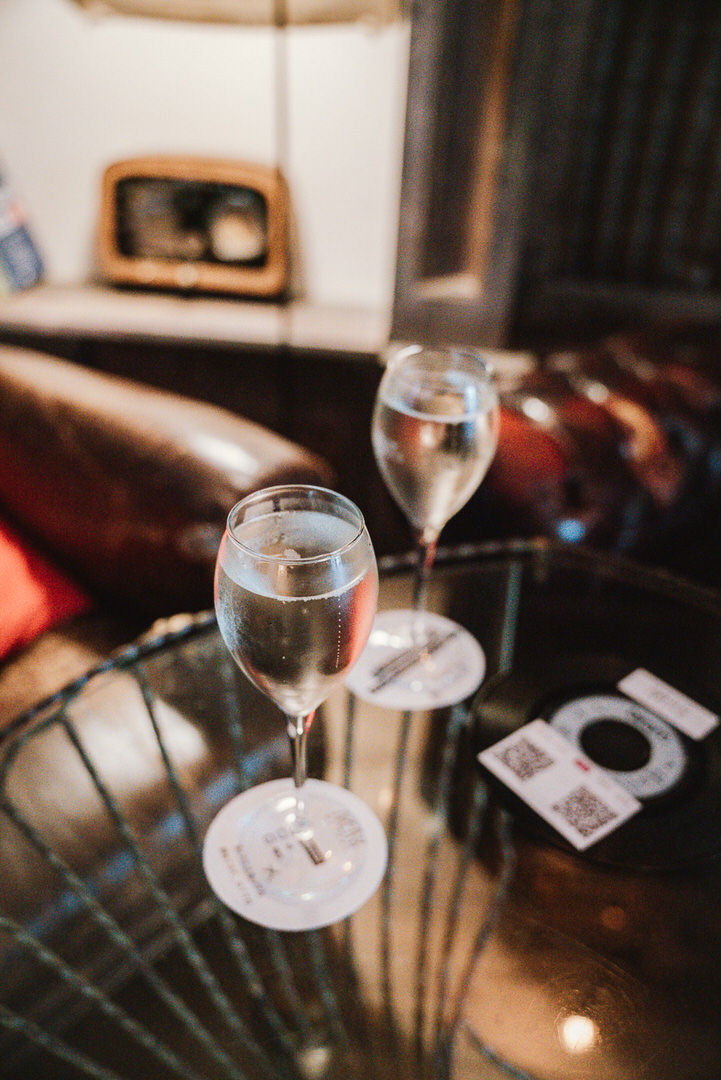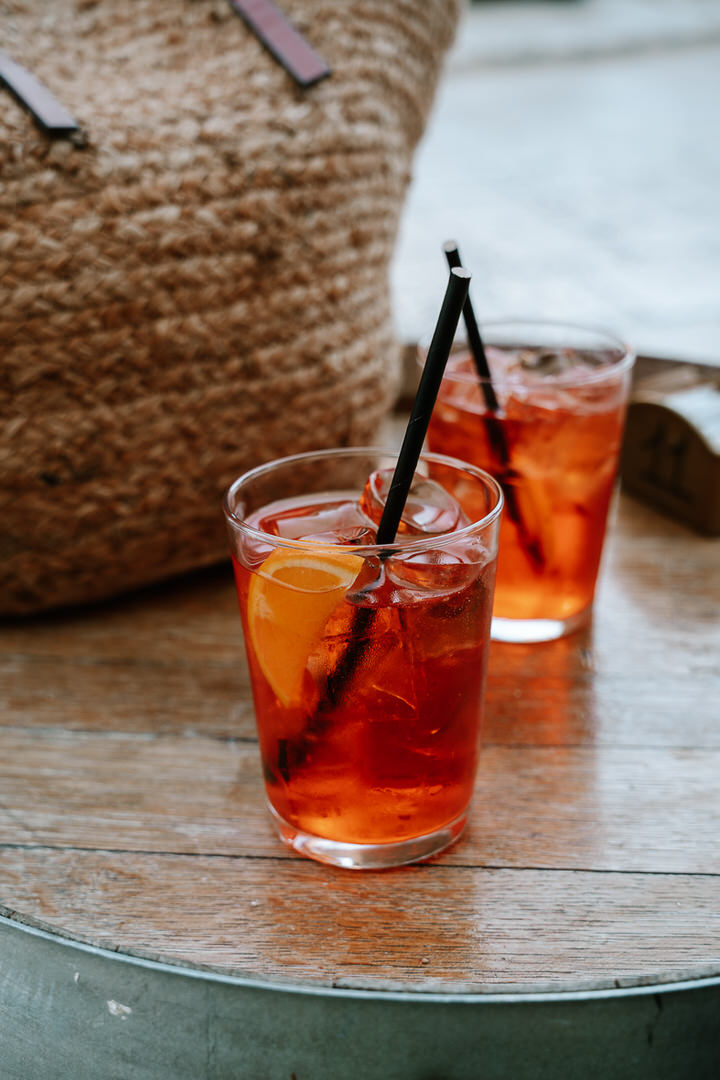 TOP 10 THINGS TO DO IN MATERA
EXPLORE THE SASSI
THE VIEWPOINTS
VISIT THE ROCK CAVE CHURCH
STAY IN A CAVE HOTEL
EXPLORE DUOMO
VISIT MUSMA
HIKE TO BELVEDERE MURGIA TIMONE
VISIT CASA GROTTA
TRY MATERA'S FOOD
VISIT CASA NOHA
1. EXPLORE DE SASSI
Basically, the best way to get to know Matera is by walking around the old town or the Sassi. There are two main parts – Sassi Caveoso and Sassi Barisano and you can spend a half day easily just walking around the small alleyways, and staircases as well as discovering the viewpoints.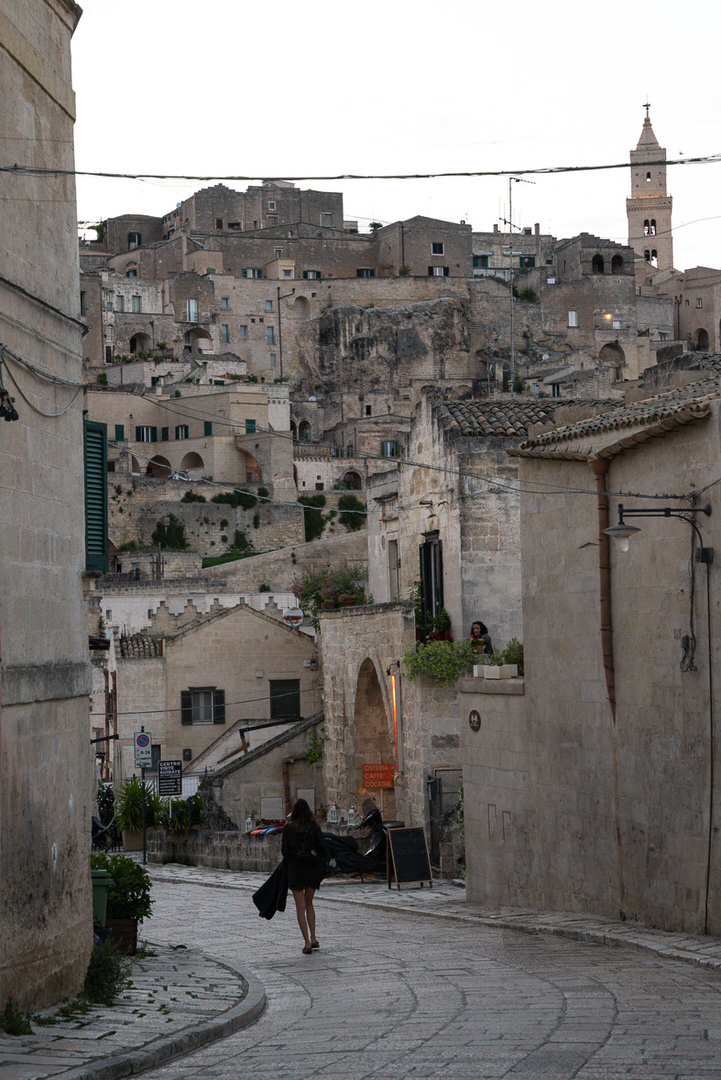 2. THE VIEWPOINTS
Matera from up high looks stunning and there are viewpoints located all over the old town. You should definitely try the following:
Belvedere di Piazza Giovanni Pascoli – You will find it on the side of the Piazza right next to the National Museum. This viewpoint is one of the best in the city, especially for sunrise. Find it here.
Convento di Sant'Agostino – There's a beautiful view from the front courtyard of this clifftop church.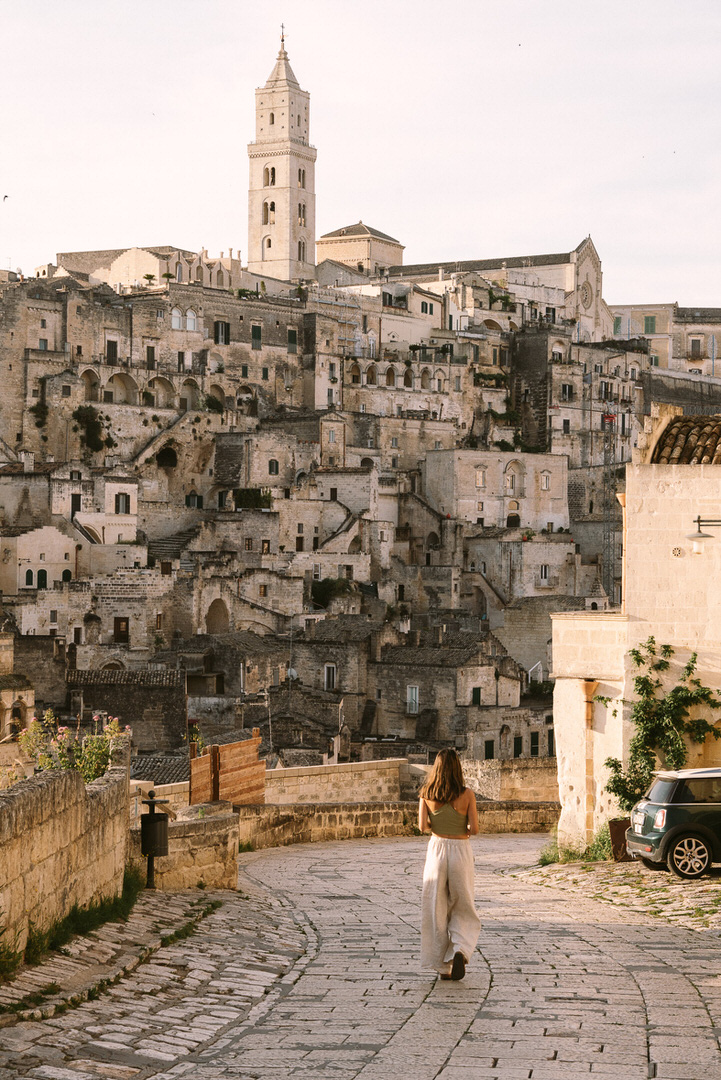 3. VISIT THE ROCK CAVE CHURCH
In a city made entirely of cave dwellings, even churches were carved into the caves. Matera has many different cave churches to explore and they are still filled with paintings, frescos, and religious artefacts. The most popular ones to visit are St. Mary Idris as well as San Pietro Barisano.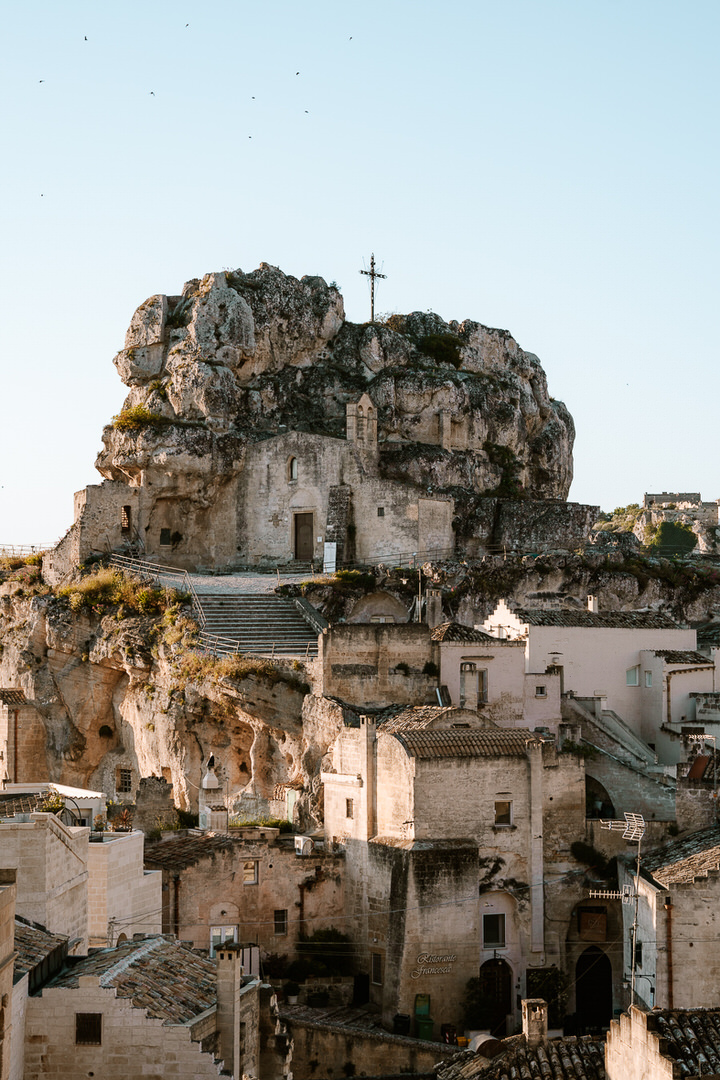 4. STAY IN A CAVE HOTEL
You can't come to Matera and not experience sleeping in one of the cave hotels. It really is an experience and worth traveling to the South of Italy for!
5. EXPLORE DUOMO
Matera Cathedral dates back to the 13th Century and has a Romanesque facade and beautifully frescoed interior.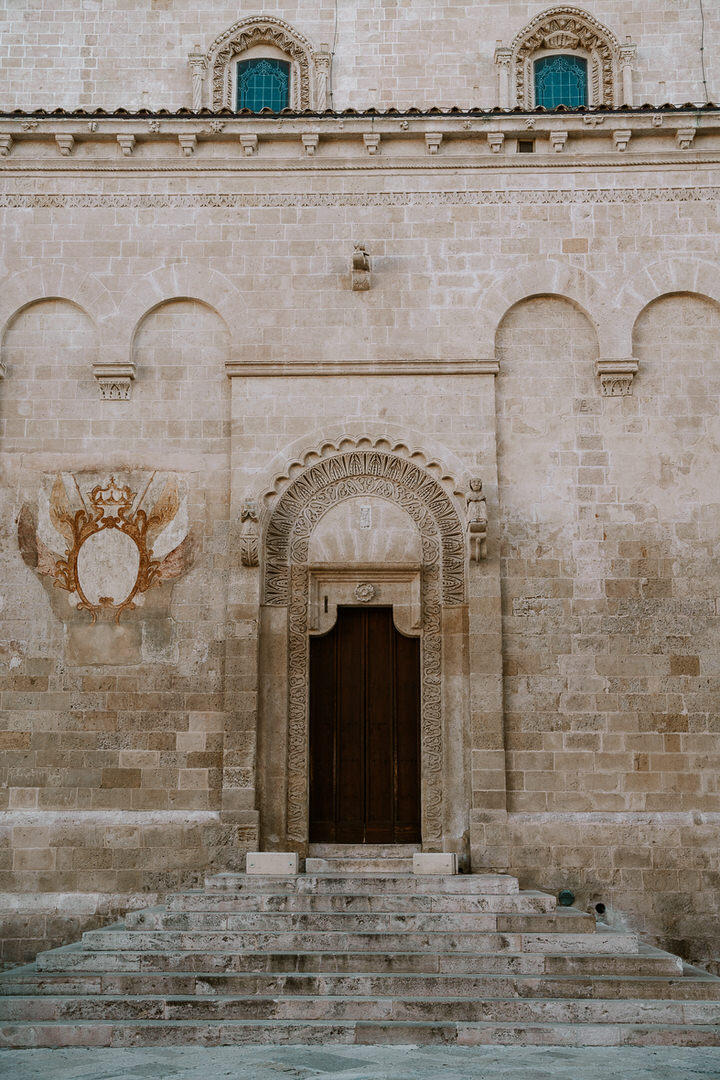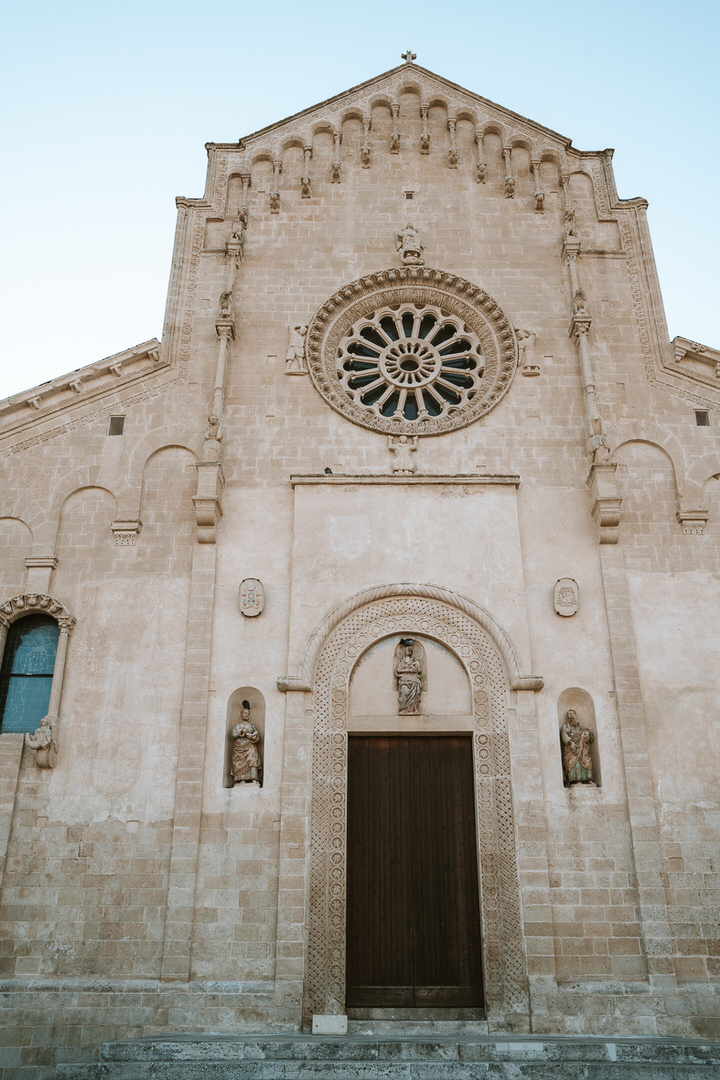 6. VISIT MUSMA
Above all – the Matera Museum of Contemporary Sculpture is the most unique museum you might visit. Its artwork displayed in a traditional cave dwelling and palace. It's worth visiting not just for the art but for the building itself.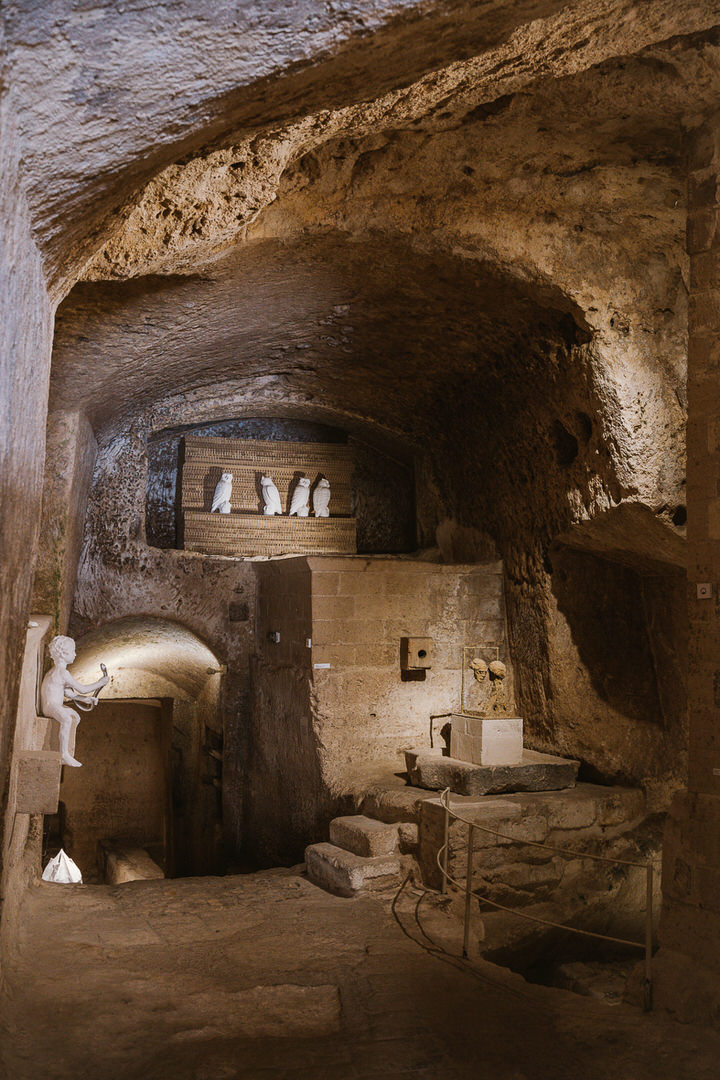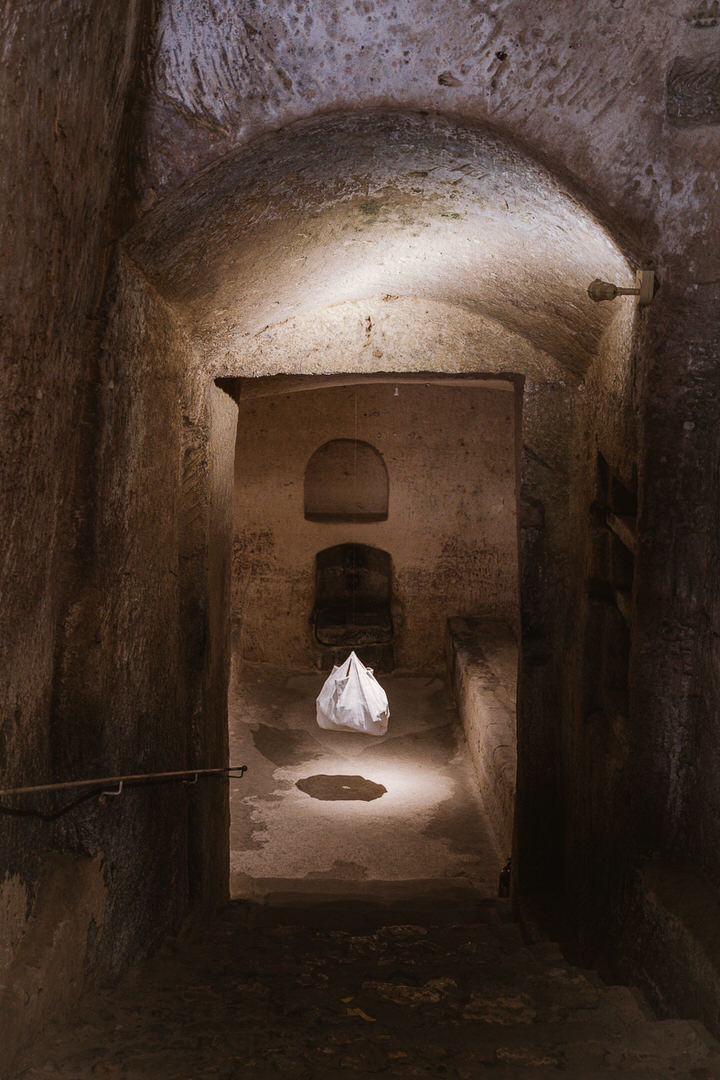 7. HIKE TO BELVEDERE MURGIA TIMONE
Matera's old town is located on one side of a steep ravine and on the other is Murgia Timone National Park. Without a doubt, one of the best things to do is to hike to the other side of the ravine for some of the best views of Matera. Make sure not to do this during the heat of the day. The best time to visit is actually for sunrise and you can drive up here too if it's too hot to hike and you have a rental car.
8. VISIT A CASA GROTTA
Casa Grotta are basically house museums that give you insight into how people lived in Matera a century ago. There are many located in the Sassi and you will bump into many while exploring Matera. You'll be able to see how people lived in the caves and learn all about life in Matera.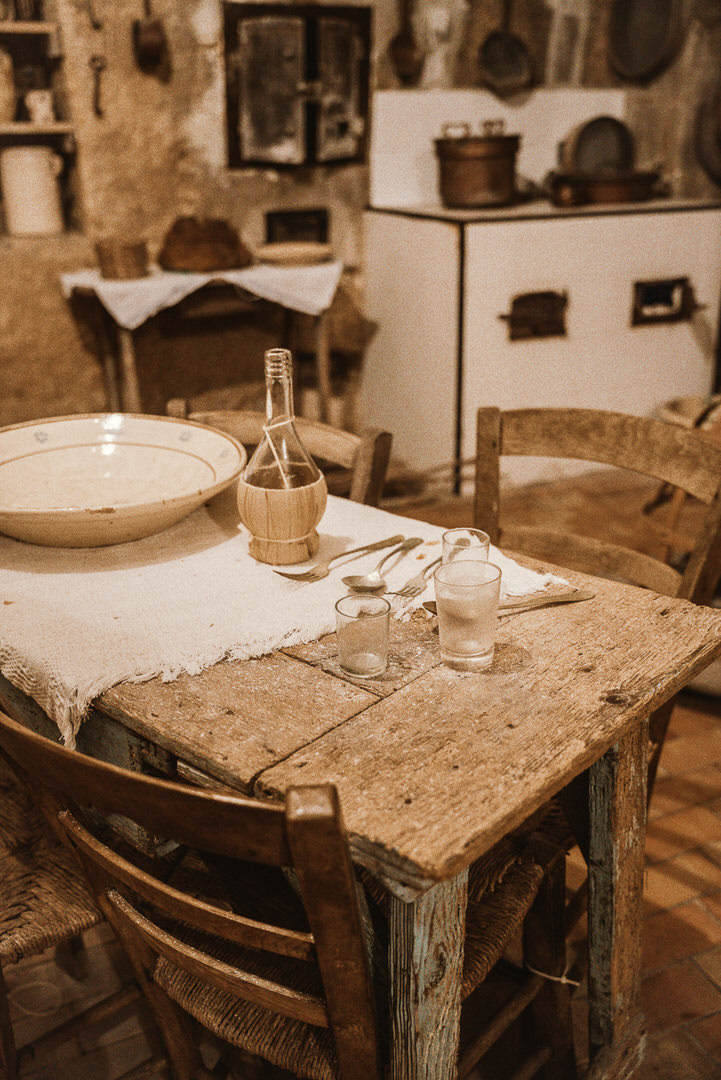 9. TRY MATERA'S FOOD
Much like everywhere else in Italy, the food in Matera is also top-notch and one of the best things to do is to try it. It does overlap a little with traditional Puglian food but make sure to try the dried peppers and the Matera bread- two signature dishes of the region. Check the tips for Where To Eat in this Guide so as not to miss out on the best places!
10. VISIT CASA NOHA
Without a doubt, this is one of the best interactive museums in Matera! This place will give you more of an insight into Matera and it's area. You can also use this space to plan out some historic walks in the city and get more information for your visit.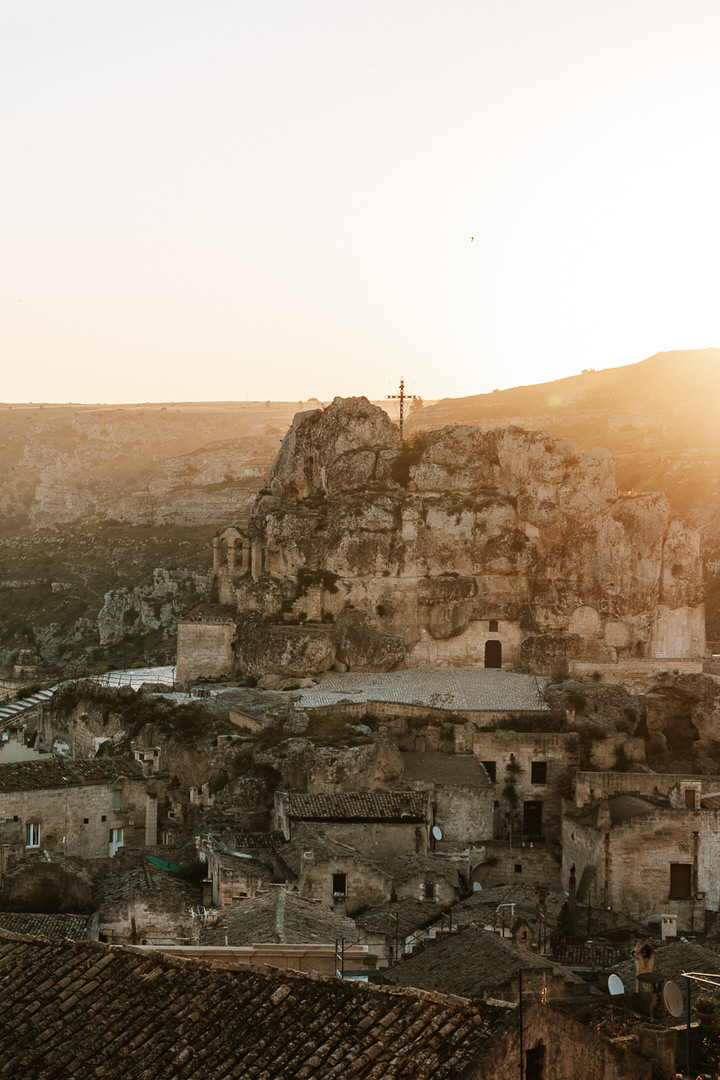 FINAL TIPS
To conclude – if you only had to choose just three places from the above list in Biarritz, then we would recommend the following:
Firstly – Stay in a cave hotel and explore casa grotas.
Secondly – Explore the Sassi and get lost in its beautiful alleys.
Finally – Hike to Murgia Timone National Park for sunrise and enjoy some of the best views over Matera.
Above all, many thanks to Alex (@roamandthrive) for sharing all her tips about visiting Matera.
Make sure to check her Instagram and her website to follow her beautiful journeys!
Yours,
Voyage Provocateur