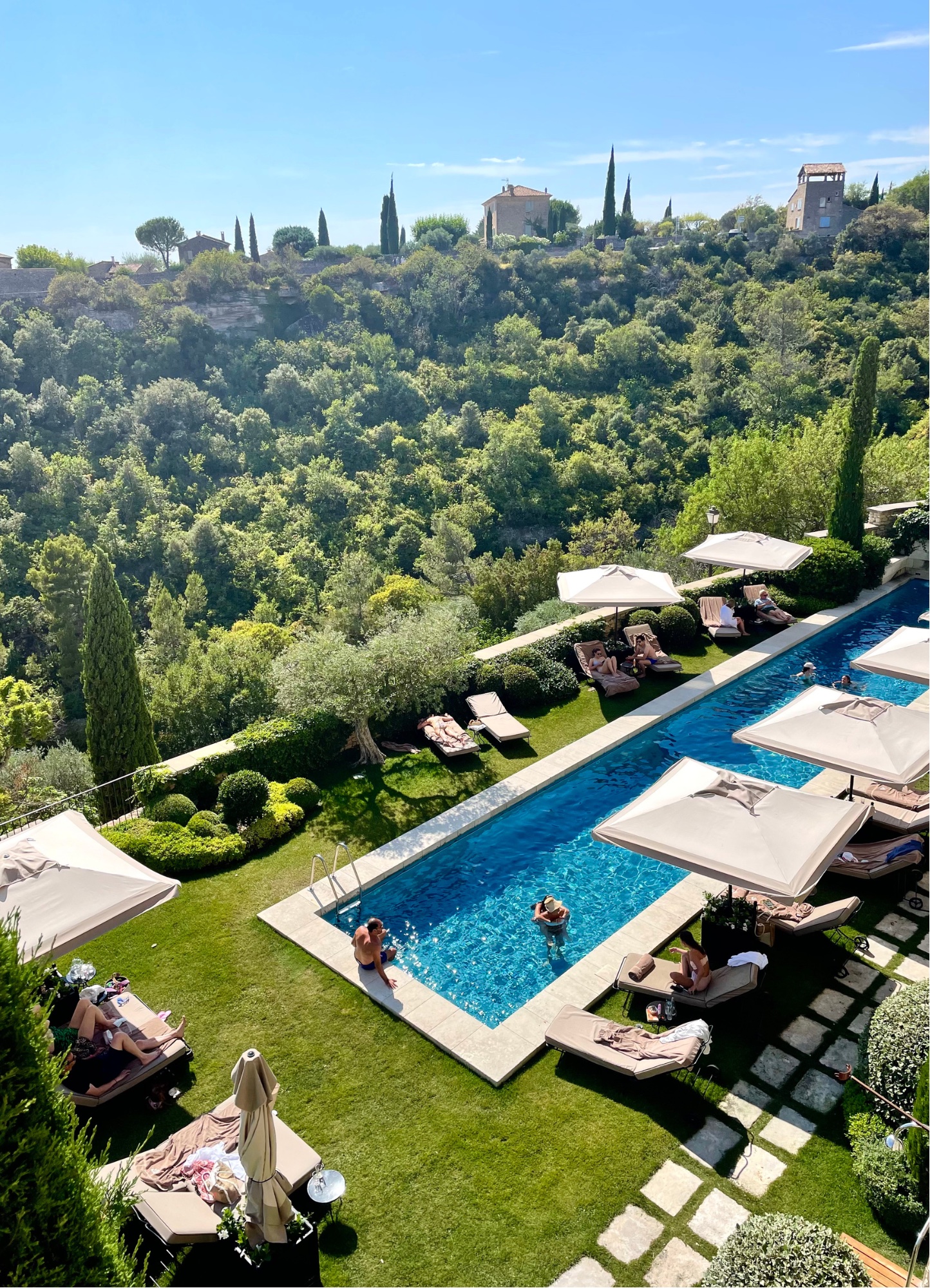 LA BASTIDE, GORDES – HOTEL REVIEW
Staying at Airelle's La Bastide, overlooking the historic village of Gordes, will let you live your medieval French fairytale.
Not only is the La Bastide utterly French (in the very good meaning of that word), but also located in Gordes, which some see as one of the most beautiful villages in France, if not Europe. Oh, and the food is to die for, while served with a side of some rather jaw-dropping views.
In order to decide whether La Bastide is the right place for you I have put together all the relevant information which should help you make up your mind. From getting there, through spa and food to tips on making your stay as unforgettable as it can be, I have got you covered!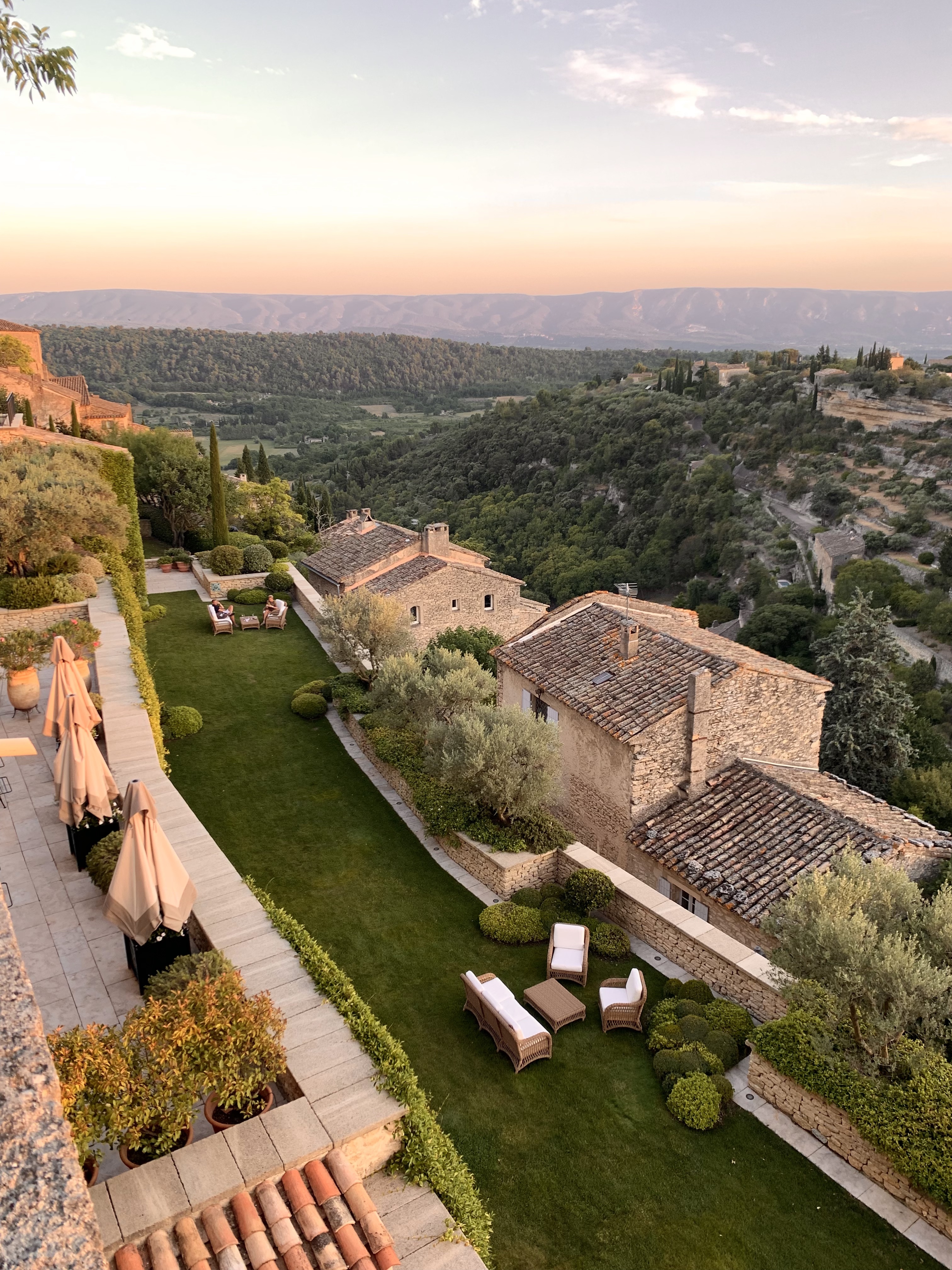 LE BASTIDE – BASIC FACTS
LOCATION:
Undoubtedly Gordes is one of the prettiest villages in France. It lies in the breathtaking Luberon Valley, in Provence. The Airelles group's Bastide literally rises above all this. It is an 18th-century castle perched on a hilltop in Gordes. It, therefore, offers valley views no one else can beat. The inside is just as beautiful, too!
GETTING THERE:
Firstly you will have to get to France, and I assume you will do it by flying. If that is the case then your closes airport is Marseille. Once you arrived in France then the easiest way to reach Gordes is by car. It is roughly a one-hour drive from Marseilles, Avignon, or Aix-en-Provence. This will also show you the area's stunning natural beauty! Think rocky hills, olive groves, and lavender fields. There is a large parking lot and a valet service when you arrive.
ARRIVING AT LA BASTIDE
It is without a surprise, that La Bastide's staff, as at every Airelles property, are flawless. Dressed like 18th-century locals, they will care for your every wish. Check-in is officially after 5pm and check-out is before 12pm. However, you are welcome to use the hotels facilities before and after the check-out!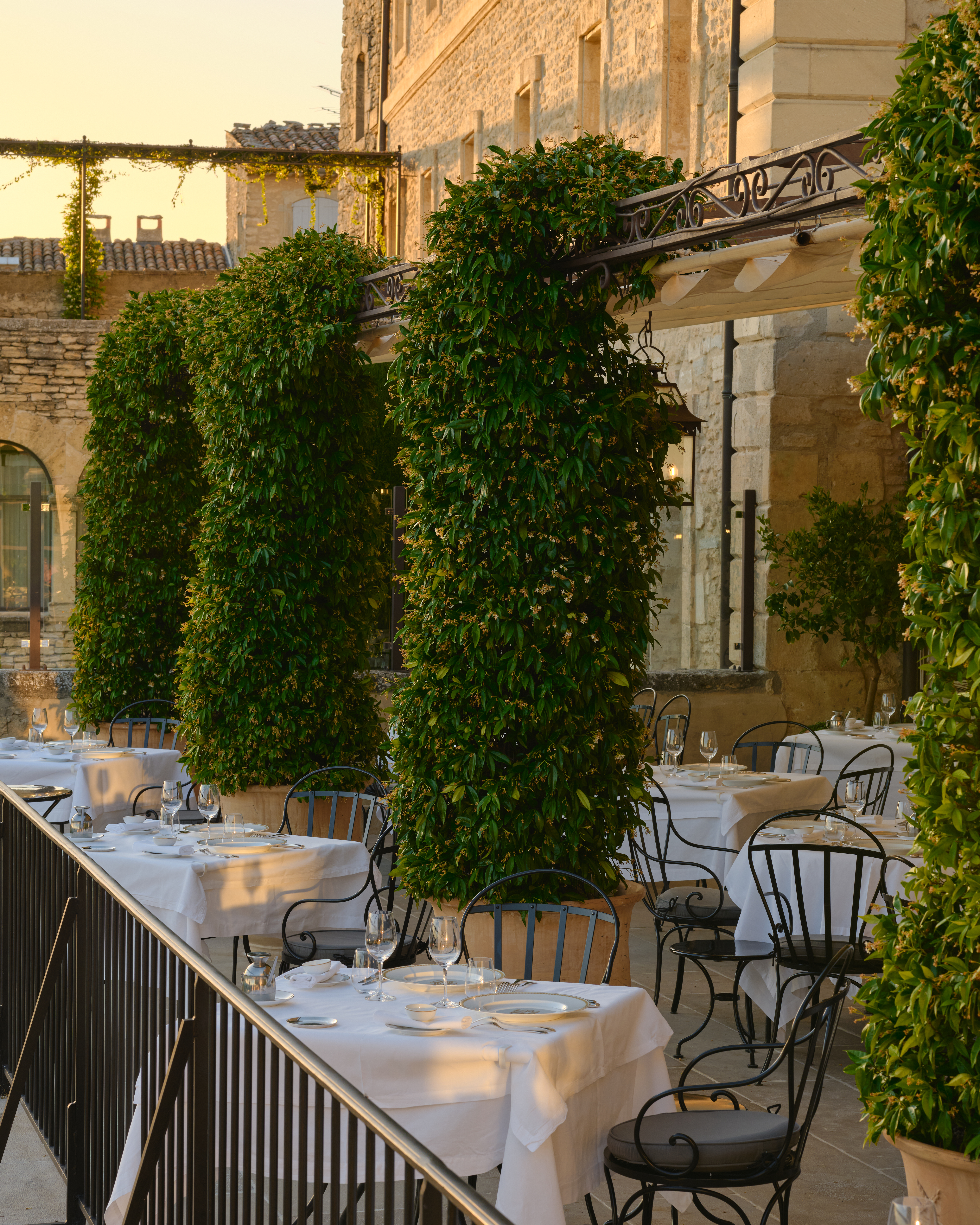 ROOMS:
La Bastide boasts 34 rooms, 6 suites, and the private La Maison de Constance. Unsurprisingly, each has its unique charms. Rooms facing the Luberon Valley offer unforgettable views. In any case they are designed in 18th-century style, with old paintings and furniture from the period. Above all, the decoration is superb – wooden ceilings, terracotta floor tiles, and marble bathrooms. Exclusive toiletries are, of course, provided as standard. Modern features include TVs hidden behind the glass of antique mirrors!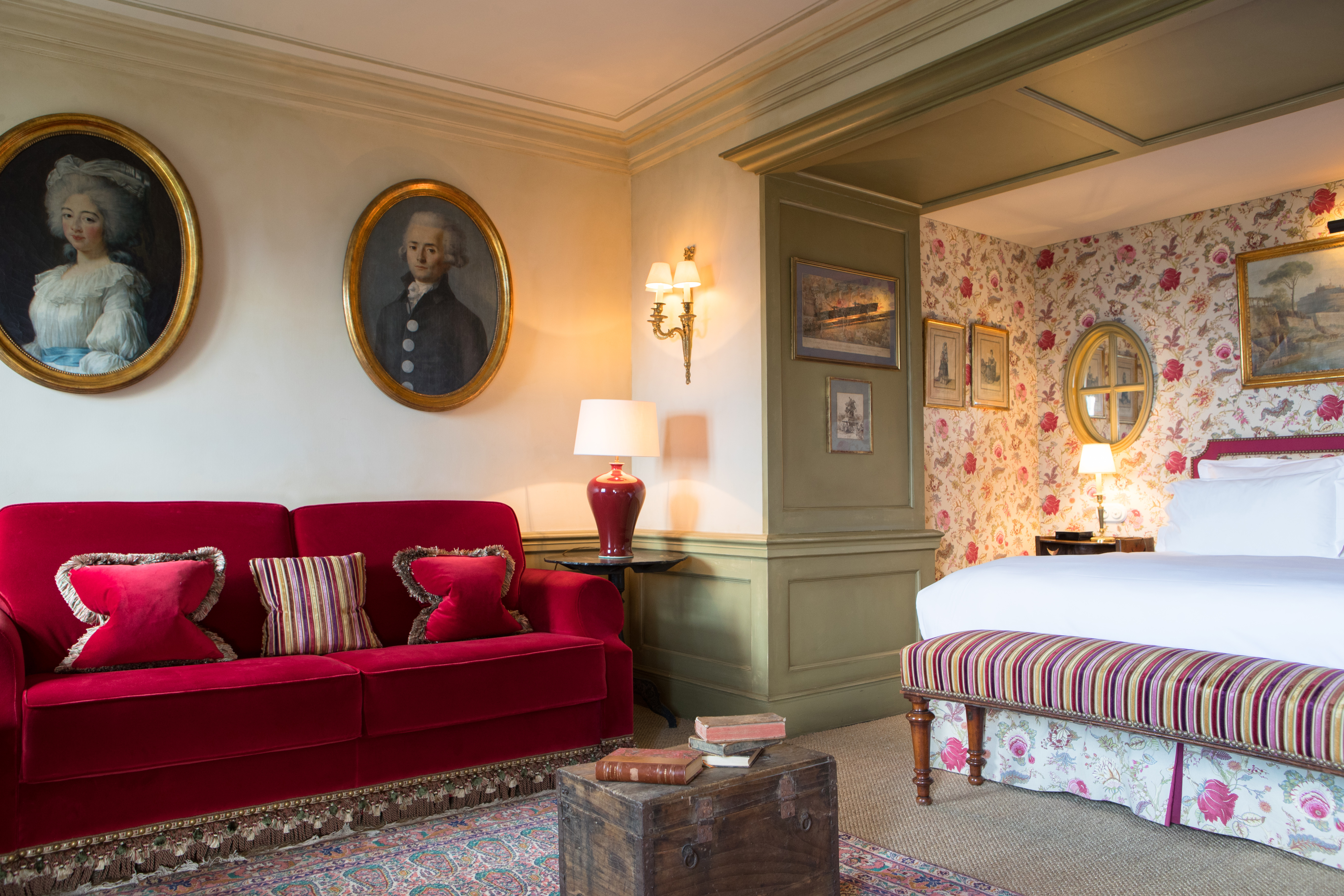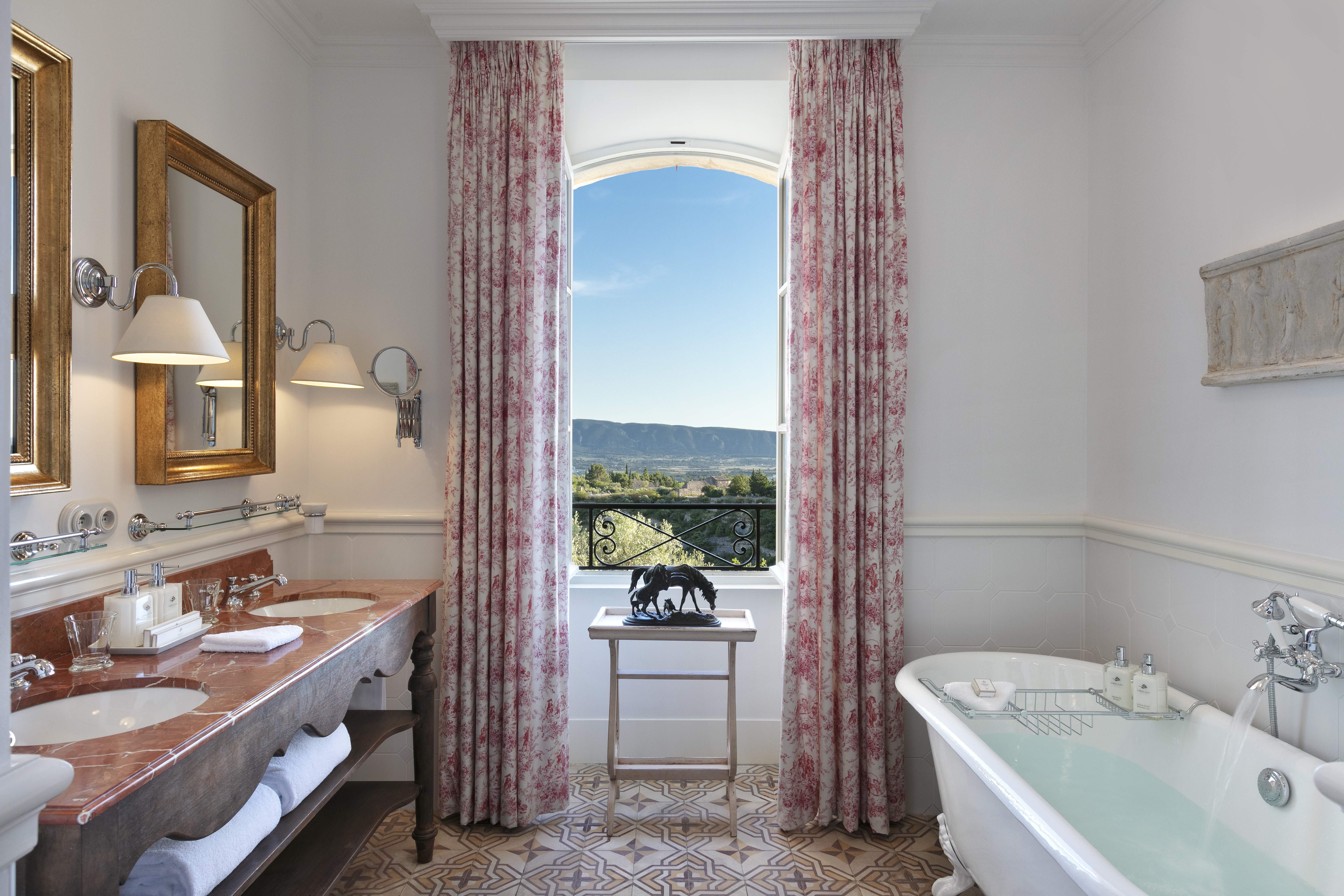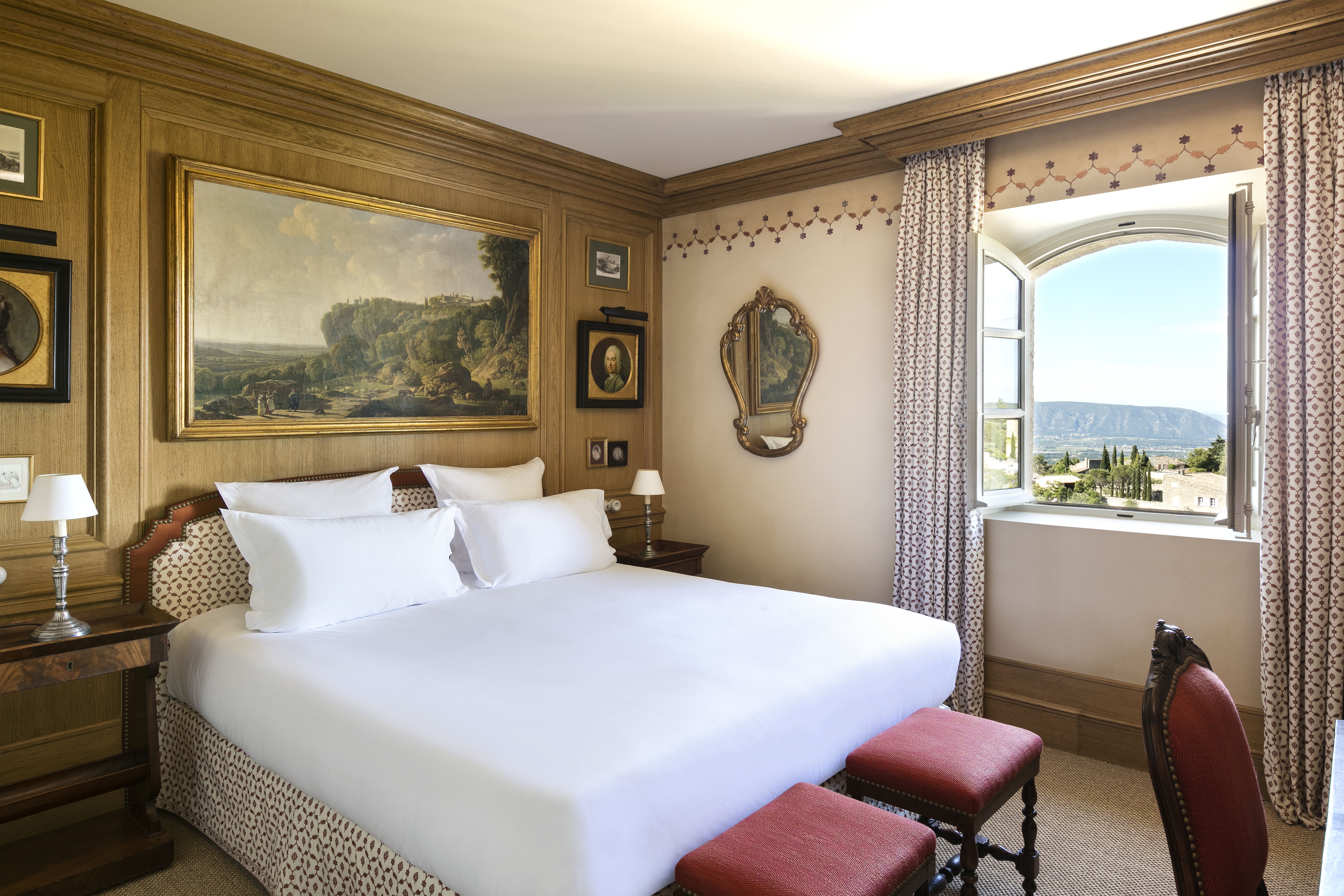 PRICES:
There is no denying there, staying at La Bastide is rather pricey. Prices for one adult start at around €1,000 per night.
Obviously, the prices change depending on the season – the highest prices are usually during the summer months. Breakfast is of course included with all rooms.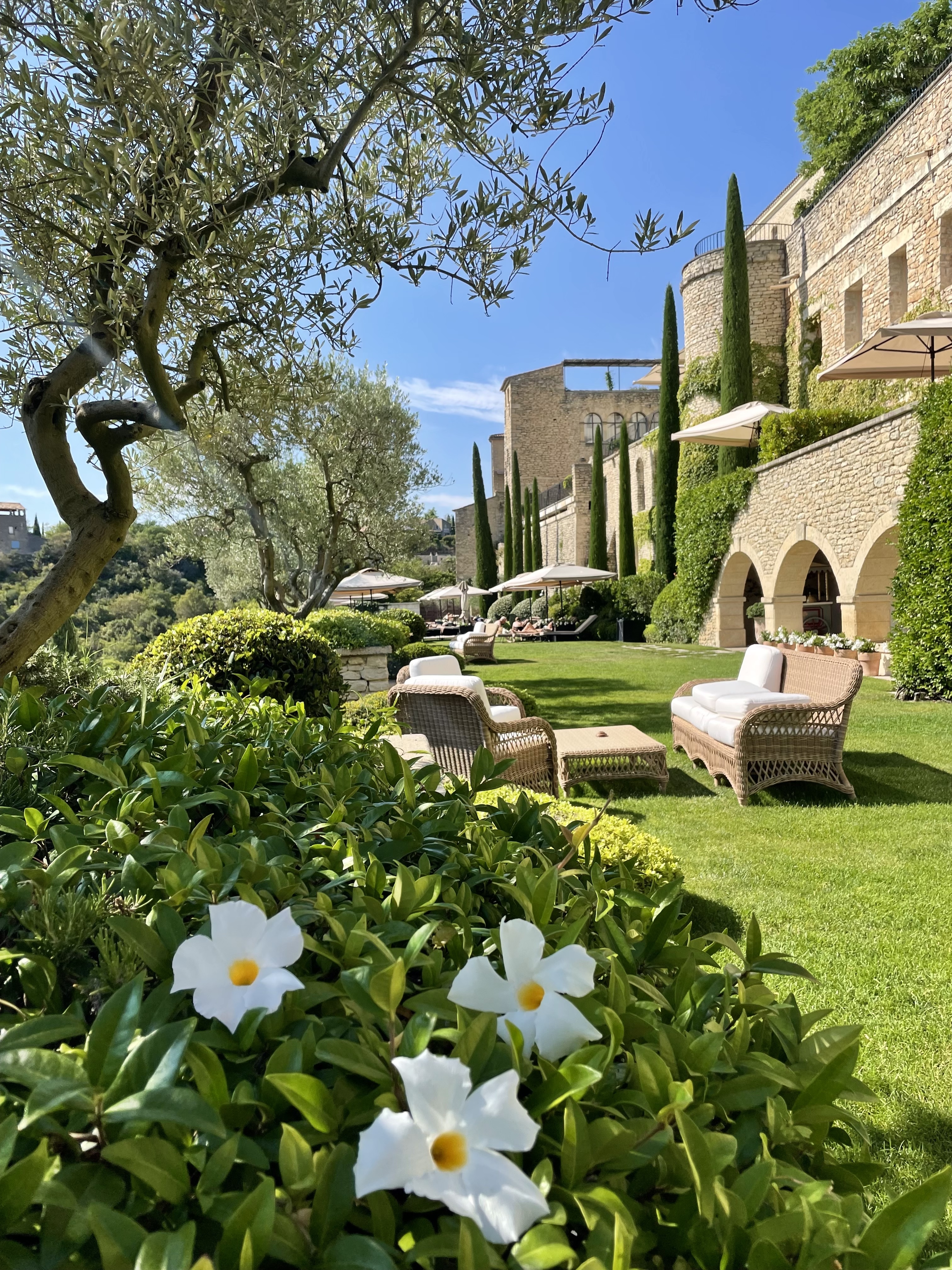 OVERALL IMPRESSION OF LA BASTIDE, GORDES
Now that I have covered the basic facts, let me share with you my overall impression of La Bastide.
PLUSES
Not only does La Bastide look like an enchanted castle. It also sits above Gordes and the Luberon Valley, offering unbeatable views of both.
Everything about La Bastide exudes Provencal charm, partly due to the unique 18th-century charm of the whole property.
The five restaurants serve playful yet ambitious food, with truly spectacular views.
Also, the pool and Sisley Spa will let you completely relax without missing the breathtaking views.
Lastly, the hotel's program of activities will appeal to young and old alike. Families will appreciate in particular the incredible, supervised activities for kids and teens at the Summer Camp.
POINTS WORTH CONSIDERING
As high summer will be hot and crowded, thus it may be worth booking an off-season visit.
The 18th-century decor, with its many oil paintings, may not be to everybody's taste.
Like all Airelles hotels, the service is impeccable but can be very formal.
LA BASTIDE – ALL YOU NEED TO KNOW
WHAT WILL YOU DO
Gordes is one of the most beautiful villages in France. It is easy to see why it has attracted so many visitors over the years. These include presidents, artists, and David Bowie. La Bastide's location is perfect for exploring the charm of this village. Otherwise, it is great for exploring the majestic countryside nearby. The hotel offers guests tours in vintage 2CVs, free e-bikes for mountain trails, and even canoes. Any would be the ideal way to enjoy the Luberon valley. The activities at the hotel are as enjoyable. The priority is relaxing in front of breathtaking views. Our top pick for hanging out would be the swimming pool. Here, you can lay in the shade of an olive or cypress tree while taking in the scenery. Don't forget to order a free sorbet!
WHAT WILL YOU EAT (& DRINK)
The food on offer at La Bastide will spoil guests. There are five restaurants in the hotel's estate, and all have terraces with stunning views.
L'ORANGERIE
L'Orangerie offers sumptuous Mediterranean cuisine. A highlight would be the braised local lamb shoulder. An exclusive, two-person table on a castle turret is the most desired spot at L'Orangerie. What better place to propose beneath a Provencal sunset? On Sundays, L'Orangerie serves Airelles's legendary brunch – book early to avoid disappointment!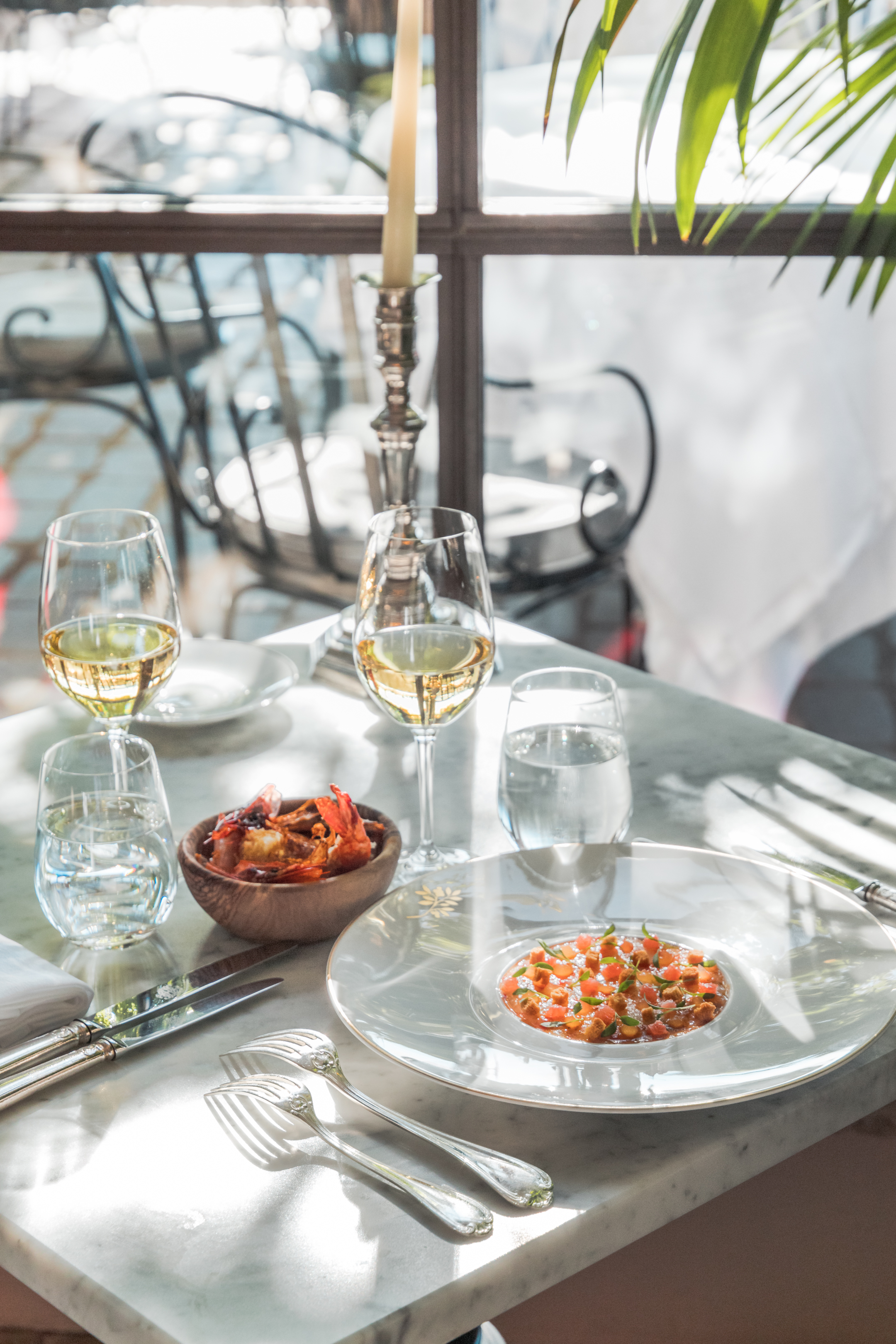 CLOVER
Lovers of fine dining will adore Jean-François Piège's Clover Gordes. Once again, Provence provides the inspiration and ingredients for delicious dishes. Our choice would be the squid carbonara. All others are cooked to perfection on 'embers'. Offers change based on the season.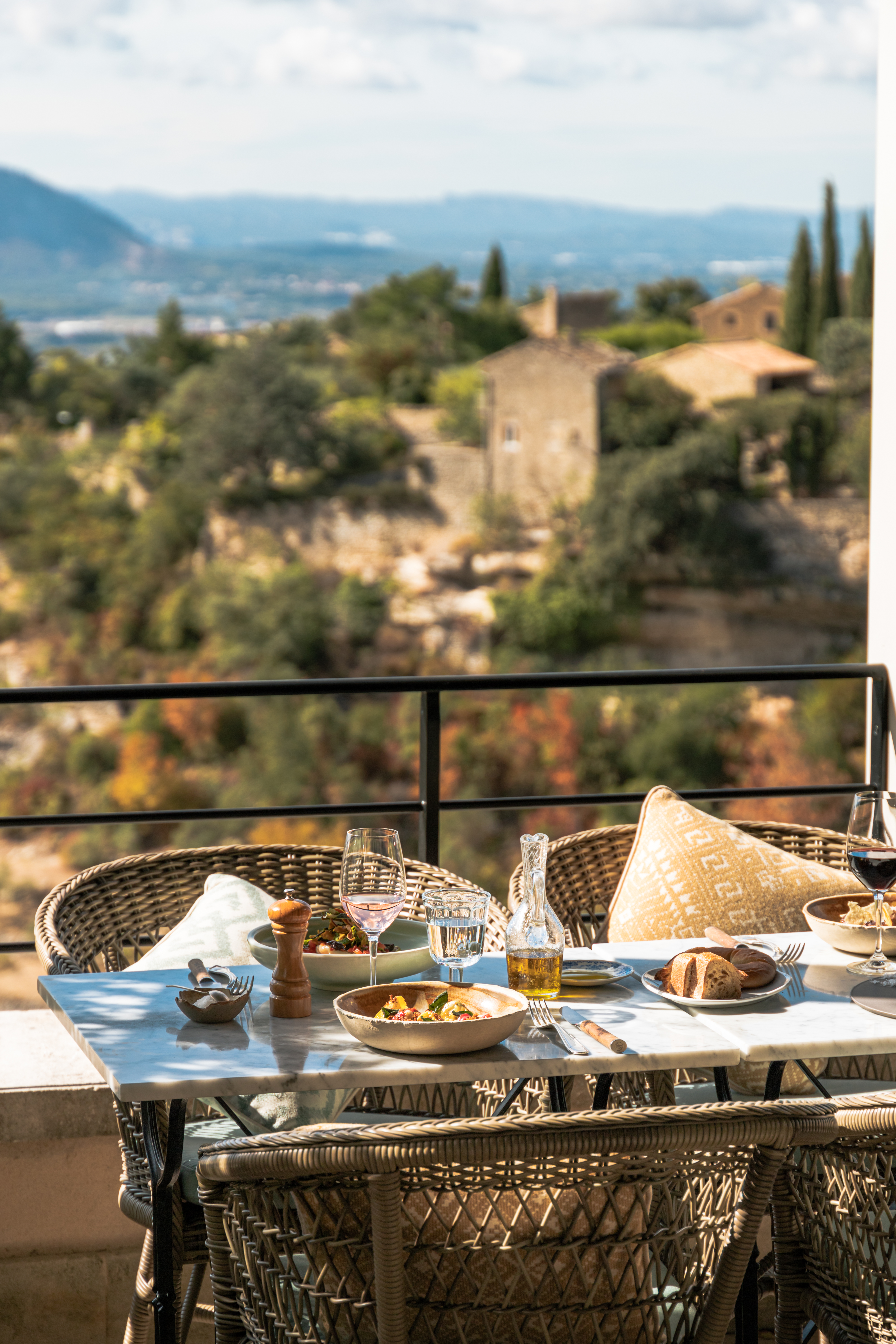 LADUREE
Ladurée offers delightful, delicate breakfasts and afternoon tea. It is beautifully decorated in pastel tones. Enjoy a range of sweet treats here, from pastries to ice cream, to multicolored macarons. These are all prepared by a pâtisserie with 160 years of experience!
TIGrr
For guests seeking a livelier evening, TIGrr is the place. Here, Provencal ingredients meet Asian cooking expertise. Dishes range from sushi, to dumplings, to delicious grilled meat and fish. The cocktails and wines are superb here, too. Enjoy these while listening to one of the restaurant's regular DJ sets!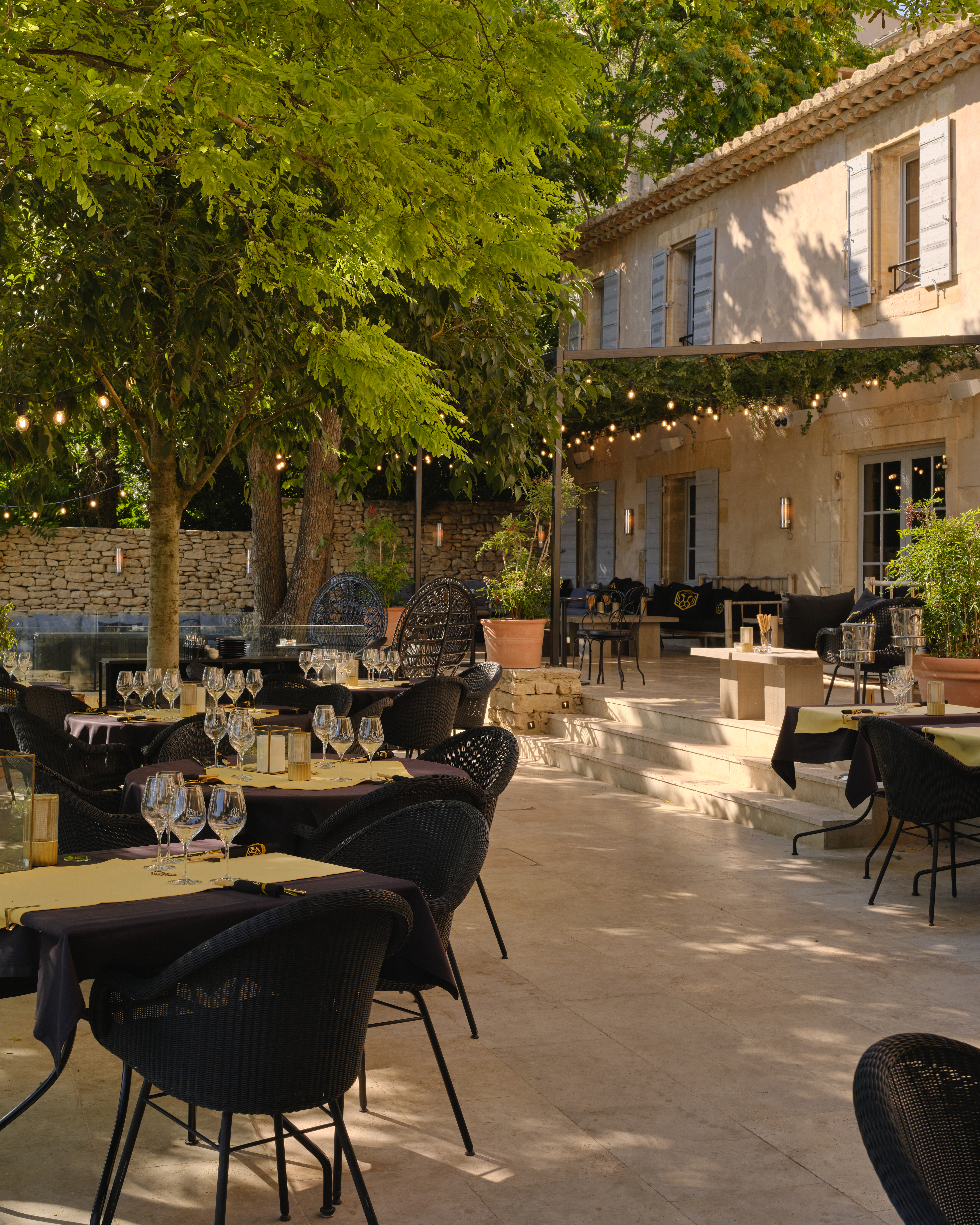 BASTIDE DE PIERRES
La Bastide de Pierres is the last onsite restaurant. This serves delicious dishes you'd expect from an old, homely trattoria. Neapolitan pizza and fresh pasta are highlights here. Just save room for the tiramisu!
IS THERE A SPA?
The Abbaye de Sénanque was the main influence for La Bastide's Sisley Spa. This beautiful, 12th-century monastery has inspired the Spa's tasteful design and peaceful atmosphere. However, the Sisley Spa is much more modern, luxurious, and comfortable. Skilled massages and facials will relax you completely. Sisley's phyto-aromatic treatments use plant extracts and essential oils to rejuvenate you from head to toe. Continue unwinding in the indoor pool or sauna. Afterwards, you can dry off on the private sun terrace. Fitness fans can enjoy outdoor yoga classes. Otherwise, a session in the large, well-equipped gym will energize anyone!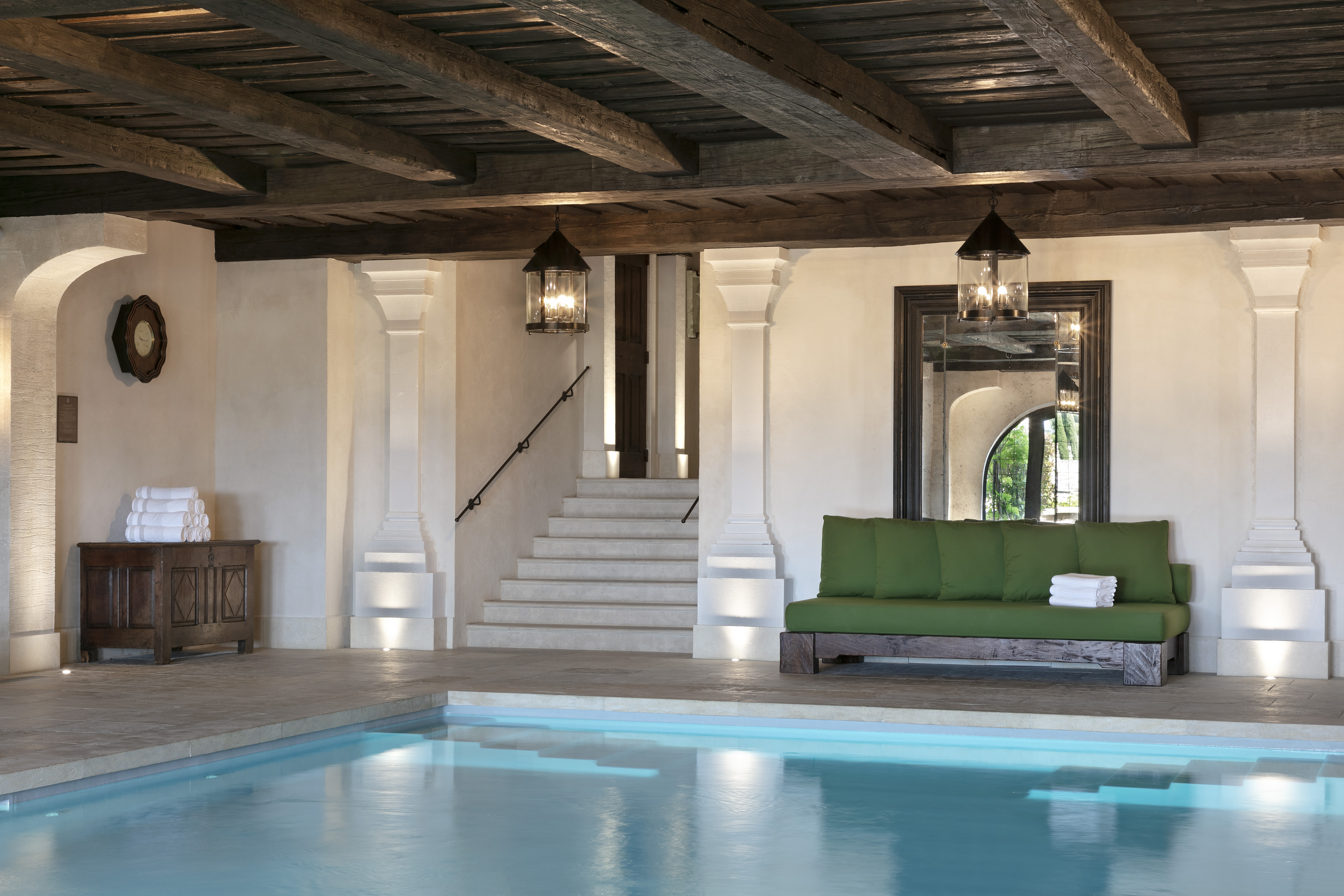 FAMILY FOCUS
Undoubtedly children will absolutely love their time at La Bastide. Airelles has designed a special summer camp for children, and this should keep them busy from morning until night. After all the wonderful activities on offer, they won't have any trouble sleeping! As well as an exclusive pool for kids, they have access to a playroom packed with games and activities. Children can expect treasure hunts, magicians, open-air films, pastry workshops, and much more! We particularly enjoyed a magic show, and I don't mind just the children here!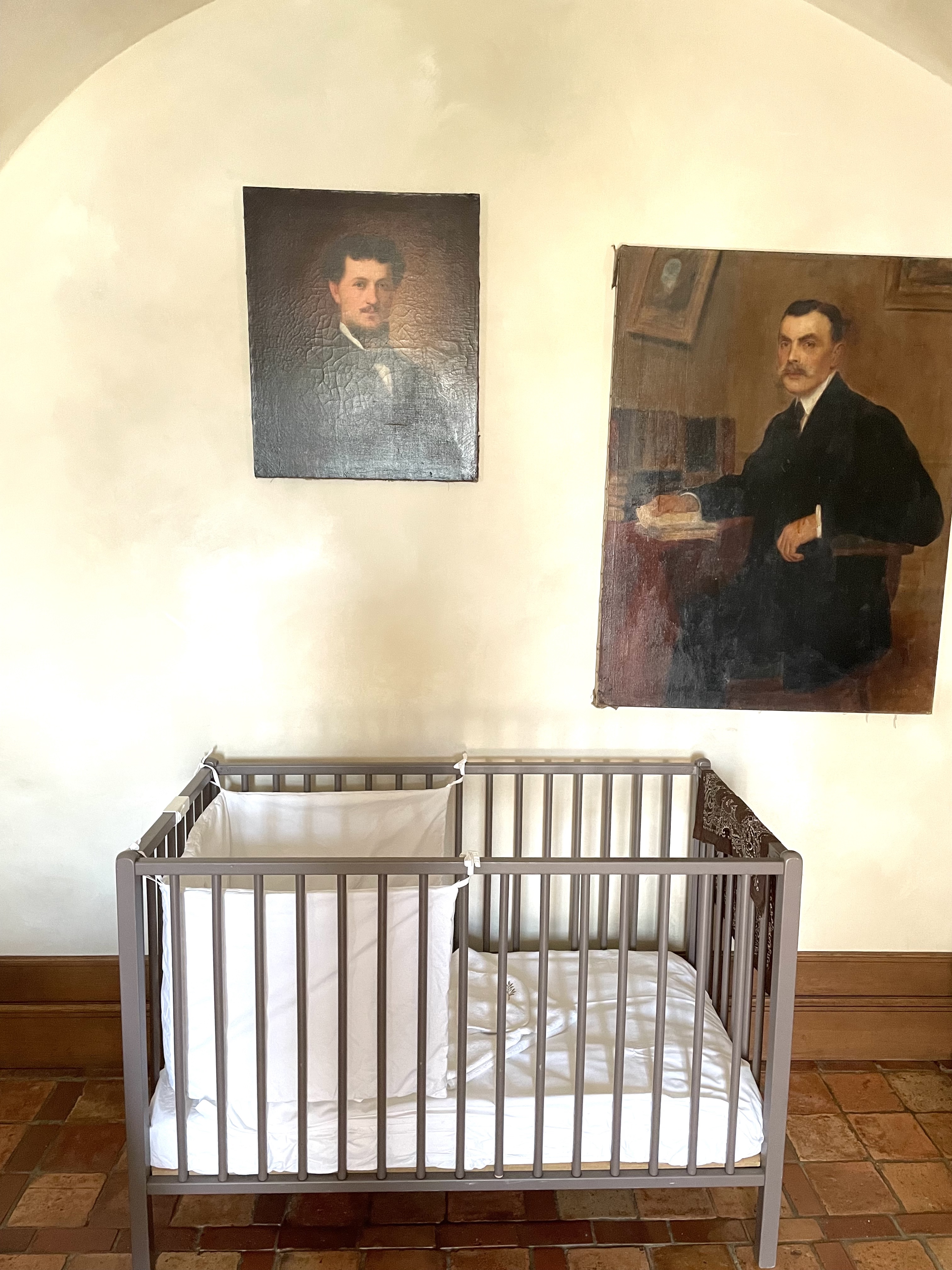 FINAL TIPS FOR YOUR STAY AT LA BASTIDE
Our top tips would be to visit in early July to see – and smell – the lavender fields in bloom!
La Bastide is such a special place, that apart from visiting the lavender fields or the beautiful village of Gordes, you should take advantage of staying at the property. From the food they offer to the views, you just won't get it any better anywhere else in this part of France.
Finally, as with any Airelles property, choose to stay there for a very special occasion. Why? Because otherwise, staying at any other hotel in Provance will probably not be as exceptional as staying at La Bastide!
Enjoy,
Voyage Provocateur
In case you would like to read some other of my posts:
BELMOND LA RESIDENCIA – HOTEL REVIEW
LE GRAND CONTRÔLE – HOTEL REVIEW
BIARRITZ – 10 TOP THINGS TO DO
ITALY'S 10 BEST RESTAURANTS WITH A VIEW