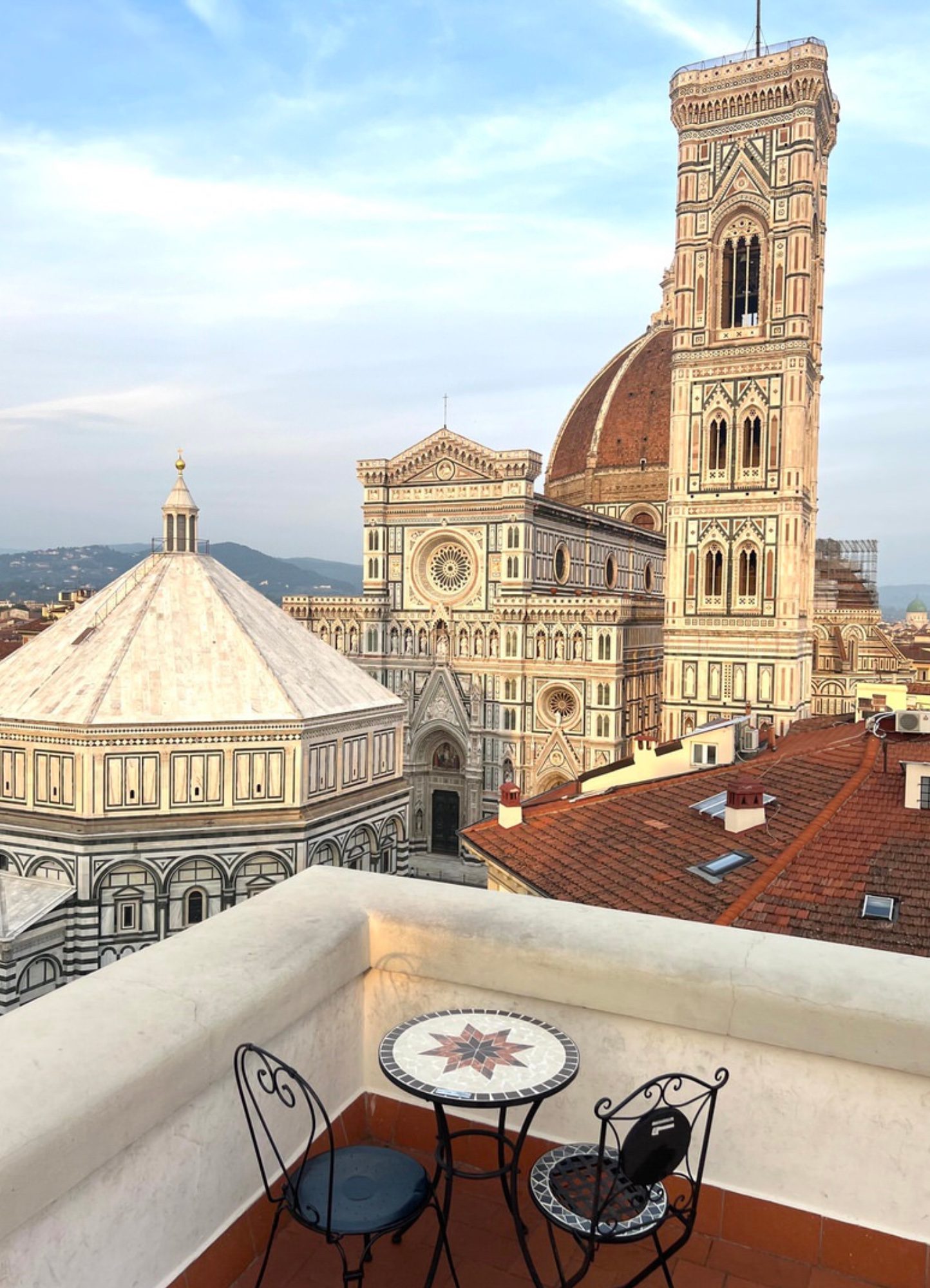 1 DAY IN FLORENCE – Secret tips from a local
Are you going to Florence (Firenze) in Italy and you only have 1 day to discover it? That indeed is a tricky task, but here we come to help you plan your perfect itinerary!
I have spoken with Antonia Fest, a Florence expert, to get you covered!
In this guide, we will show you hour-by-hour how to see the best of Florence in 1 day and truly make the most of your limited time in this magical city!
To make the planning easier we have selected the best hotels, restaurants, and activities including those secret spots only locals know about.
Let's dive in!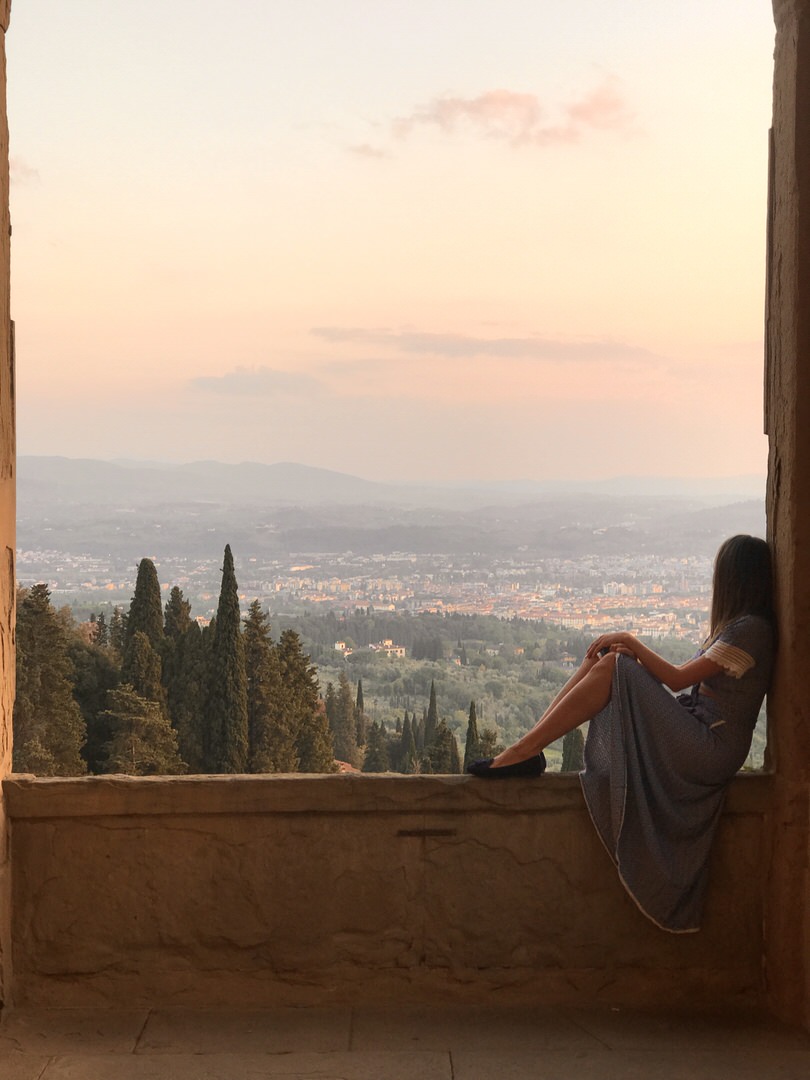 FLORENCE – BASIC FACTS
Florence is one of the most visited cities in the world. And it doesn't matter if you are young or old, traveling on a budget or seeking a luxurious escape, a solo traveler, or a family, Florence will have something for everyone!
Why is it so special? First of all, it is the main city in Tuscany, a world-famous region in Italy. Secondly, its history, architecture, and art will impress anyone! Lastly, its food and wine will make any trip an enjoyable experience.
But let me tell you one thing. This 1 day in Florence will certainly not be enough time to fully explore the city, but it is more than enough time to fall in love with it!
So what are we waiting for? Let's dive in and plan the perfect one-day in Florence for you!
CHECK OUR GUIDE TO THE 2 DAYS IN FLORENCE HERE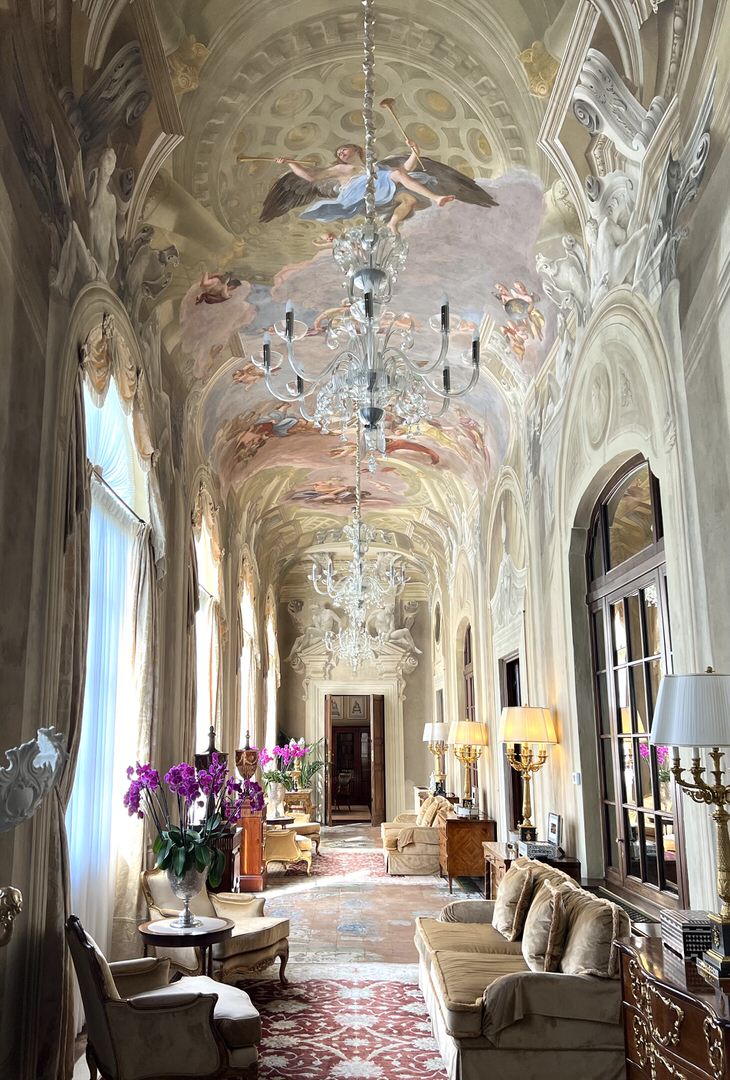 IS 1 DAY IN FLORENCE ENOUGH?
It is without a doubt not enough to have 1 day to see all that Florence has to offer but it is a good start to get to know it. On this action-packed day, you will be able to cover the most iconic landmarks, restaurants as well as views.
In the itinerary below, we have done our best to cut all that is unnecessary and worked on logistics from getting from one place to another to help you fall in love with Florence by showing you the best of it in 24 hours.
GETTING THERE
Florence is located in the central part of Italy in the famous region of Tuscany (Toscana in Italian). There are many ways of getting to Florence:
BY AIR
If you come from outside of Italy then it will be easiest for you to fly to Amerigo Vespucci Airport (FLR). It is located about 4 kilometers (2.5 miles) from the city center, making it very accessible either by taxi (around 25 EUR) or public transportation.
In case you cannot find a direct flight to Florence or the direct flight is too expensive (which is often the case) try flying either to Pisa or Rome.
BY TRAIN
Florence is very easy to reach by train from other cities both in Italy and Europe, especially if you only plan on spending 1 day here. The main train station in Florence is called Santa Maria Novella. If you travel across Italy then you will be very easily and quickly able to get to Florence from major Italian cities such as Rome, Milan, Venice as well and Naples, making it a convenient and environmentally friendly way to travel.
CHECK ITALY'S 10 BEST RESTAURANTS WITH A VIEW HERE 
BEST TIME TO VISIT
As anywhere in Italy avoid at all costs July and particularly August. It will be not only overcrowded but also overpriced! So when should you go? Ideally from May until mid-October. That said if you are lucky with the weather mid-April can be amazing and much emptier than other months. If you do come in April make sure to avoid Easter and the days around it, as it will be expensive and again overcrowded.
PRO TIP: If you do decide to come in late spring or summer try coming during the week, avoiding the weekends.
CHECK MY GUIDE TO THE 10 BEST THINGS TO DO IN PORTOFINO HERE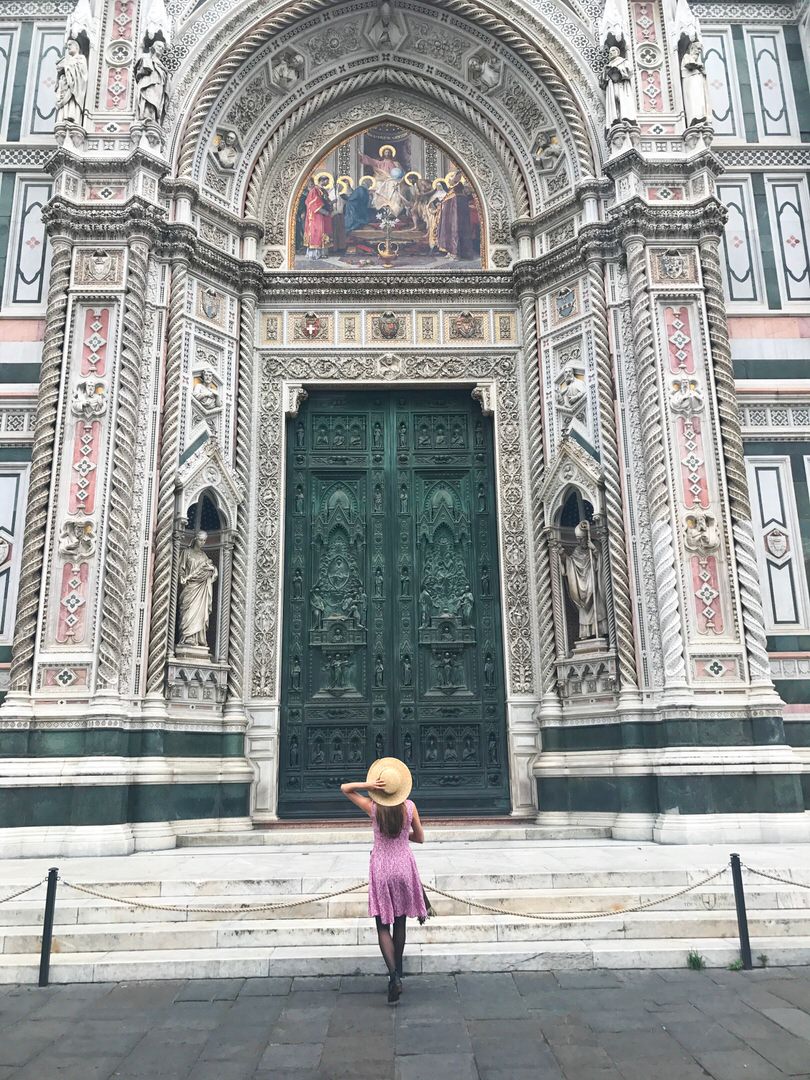 1 DAY IN FLORENCE – ITINERARY
The secret to experiencing Florence in 1 day is getting an early start and finishing off late so make sure you have an early night the day before are full of energy and have comfortable shoes on! Off we go!
8:00 AM
Either have breakfast at your hotel or if you prefer something more authentic, head to Piazza Santo Spirito for a more immersive experience. Any of the cafes that line the square will serve up the perfect cappuccino and cornetto (croissant). Our favorite is Cafe Volume. Take a seat outside and watch Florentine life pass by.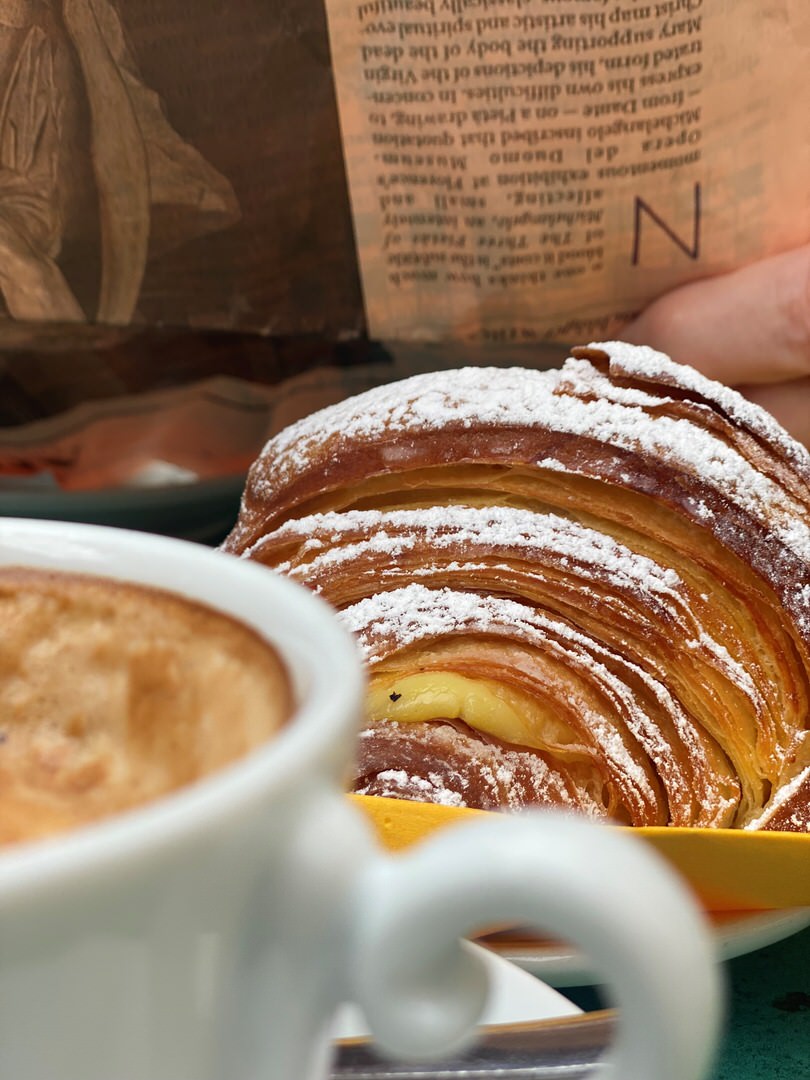 9:00 AM
You cannot visit Florence without going to the Uffizi Galleries by the Piazza della Signoria. This museum hosts some of the world's most important artworks by Renaissance artists. Don't miss Botticelli's 'Birth of Venus,' Caravaggio's 'Medusa' or Leonardo da Vinci's 'Annunciation.'
TIP: Make sure to book your ticket ahead so you don't waste precious time standing in line. Also, as one of the top sites in Florence, it can be very crowded – the earlier you go the better (doors open at 8:15) and weekdays are generally quieter.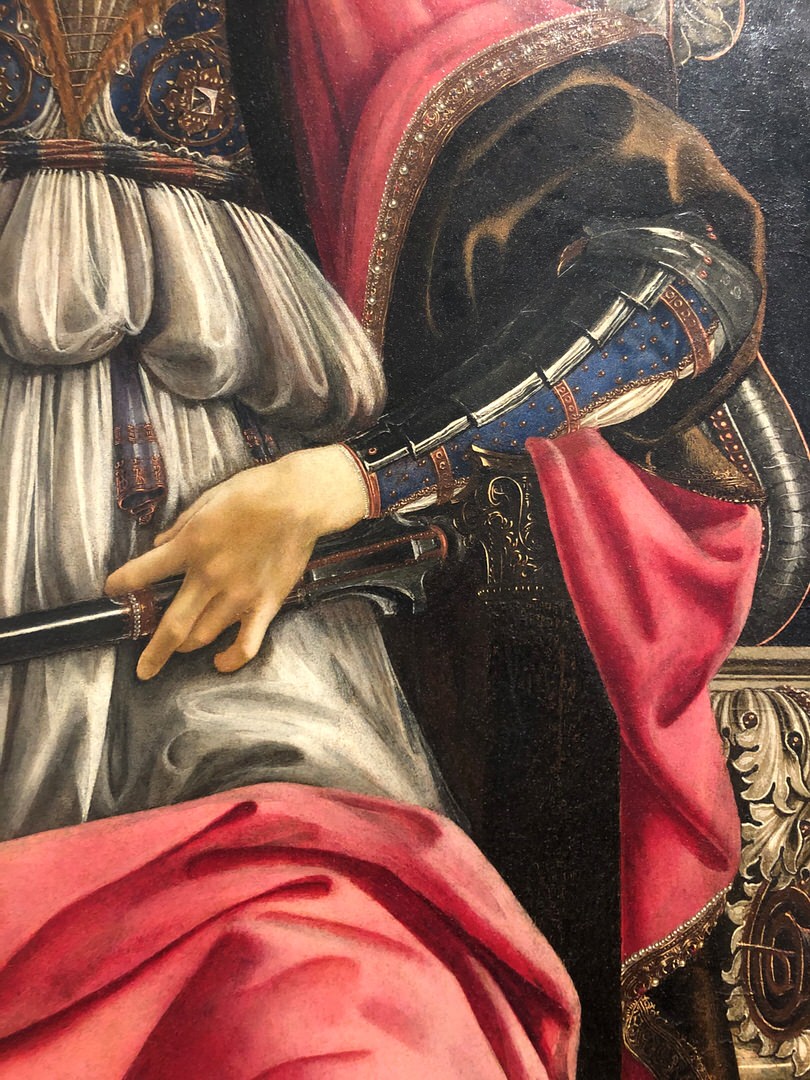 11:00 AM
You could spend a lifetime in the Uffizi but there is still plenty to see! Enjoy a post-culture snack at Procacci on Via Tornabuoni. This little jewel is a wine and truffle bar that makes little brioche sandwiches filled with truffle paste which is a secret recipe. It is the perfect mid-morning snack to keep you going!
11:30 AM
For art lovers head to Collezione Roberto Casamonti just down the road from Procacci. Sometimes it's nice to get a breath of more modern air in this distinctly Renaissance city. Enjoy the likes of Basquiat, Marina Abramović, and Maurizio Cattelan. Located in a historic sixteenth-century palazzo.
TIP: The gallery is closed on Mondays and Tuesdays and is open from 11:15 – 19:00 on all other days.
Alternatively, if you'd like a break from art altogether, a visit to a local market will give you a true taste of local Florentine life. The Mercato Centrale is great for exploring the various produce stalls on the lower floor as well as buying some treats to take home. On the upper floor, a range of food stands serving a whole variety of freshly prepared Florentine delicacies await. For a more authentic experience of market life, head to the Mercato di Sant'Ambrogio. This is where all the real locals do their weekly shop. If you're already feeling peckish, Trattoria da Rocca is a cheap and cheerful spot located within the market hall. Here not only the food but also the atmosphere and the service are faultless.
1:00 PM
Get ready to work up your appetite and walk to the other side of town. Located just outside the medieval city walls, this is the friendliest, coziest, does-it-best trattoria. At Alla Vecchia Bettola you will sit at communal tables whilst lively waiters navigate the narrow spaces to serve up some of the most delicious Tuscan treats. Their specialty is the 'Penne alla Bettola', a silky smooth tomato pasta which no words are good enough to describe! Make sure to try their tiramisu.
In case it's booked up, a strong alternative is l'Brindellone. It is very rustic, and unpretentious, and serves bold Tuscan food. The truffle pasta is a must and you will like how little it costs!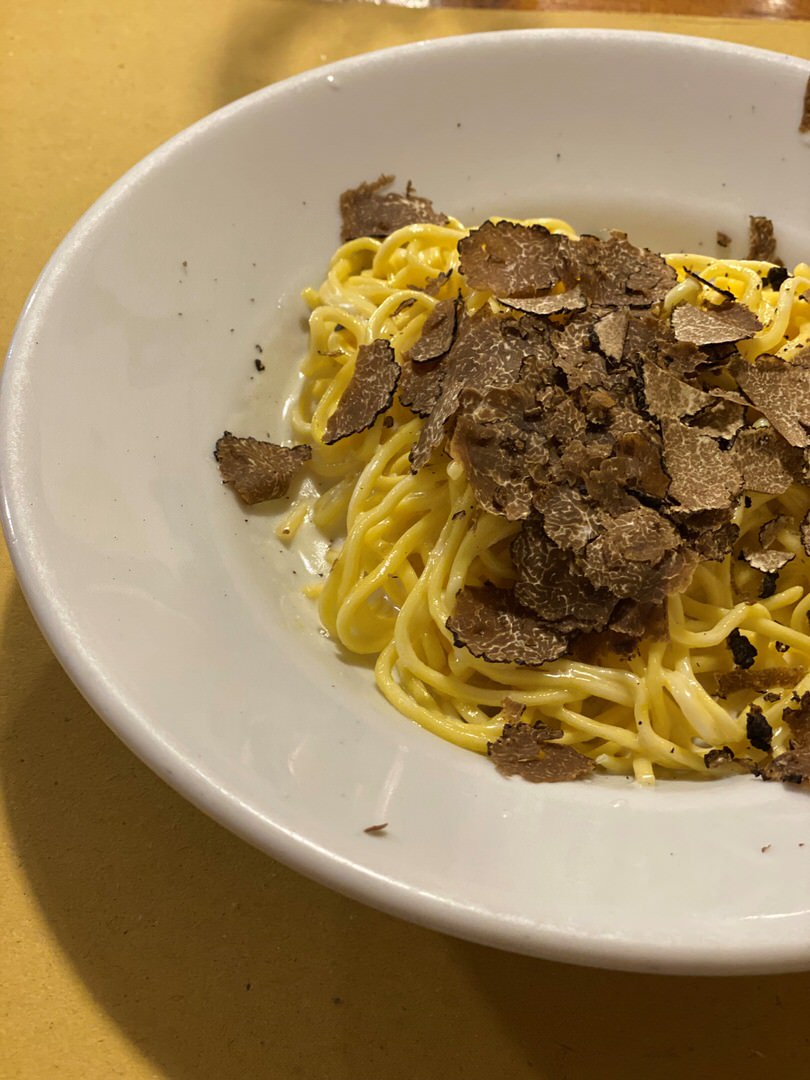 2:30 PM
After lunch, head to the Palazzo Pitti and Boboli Gardens, which was home to the old rulers of Florence – the Medici family. Even if you only have 1 day in Florence you just cannot miss this place! This impressive structure holds countless masterpieces in lavish rooms which reflect the years in which the Medicis held influence. The expansive and luscious Boboli gardens are also the site of beautiful treasures such as a Tiffany-blue house, a breathtaking grotto, and a glorious view of the city!
4:00 PM
Head to Sbrino for some of the best and most underrated gelato in town. The ice cream is made with 100% natural ingredients which range from indulgent chocolatey and nutty flavours to seasonal fruits and more!
5:00 PM
Time for some shopping therapy and there is nowhere better than the Officina Profumo – Farmaceutica di Santa Maria Novella on Via della Scala. This is a historic perfumery and herbalist shop, dating back to 1221. It is the perfect place to purchase some souvenirs but even if you don't buy anything, the store itself is a sight to behold.
Another classic Florentine souvenir is an item made of the finest leather. You will find plenty of market stalls around the city that sell any leather product you can think of (San Lorenzo market or Mercato del Porcellino) but the shops are arguably better value and quality. Benheart is a great option as it sells a huge variety of products and the staff know what they're talking about!
Also, perhaps you want to feel like Florentine royalty in a pair of chic furlane slippers. Heart to Heart in Via Santo Spirito sells every color and style in their shop along with some other high-quality garments and accessories. On the same road, a little further down is Ortigia, an iconic scent shop with beautiful packaging and even more beautiful scents, all inspired by the Italian south.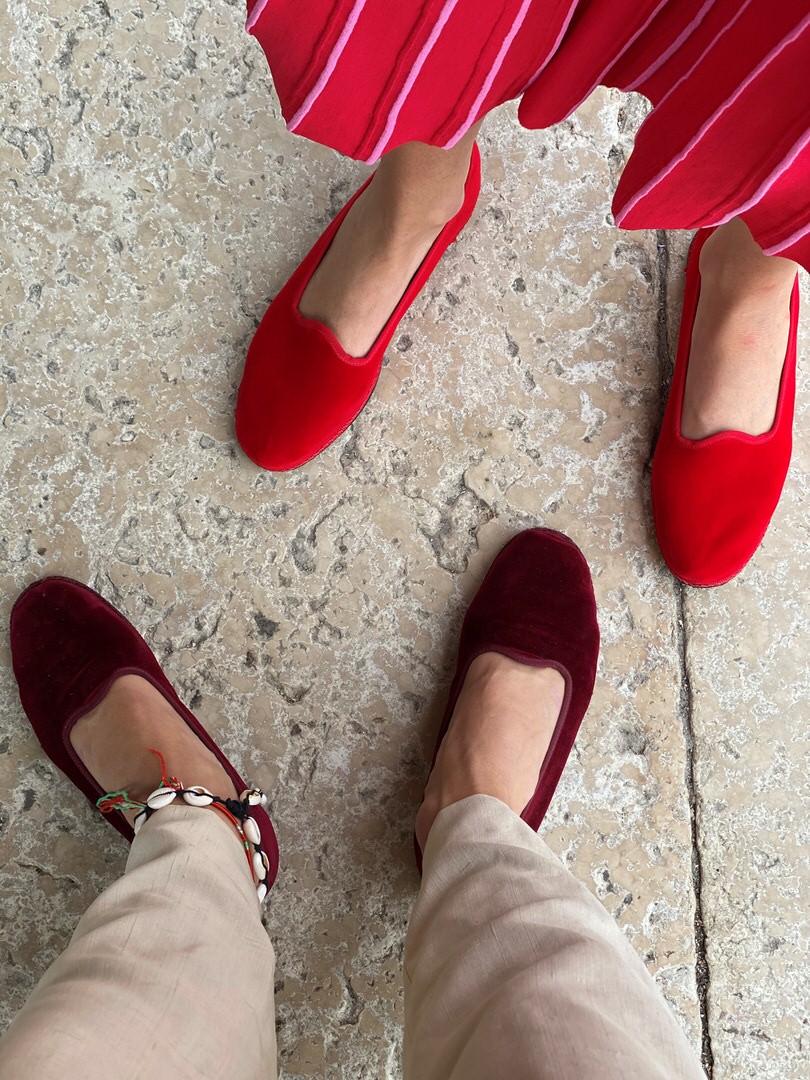 6:30 PM
One of the highlights of visiting Florence even in 1 day is the sunset. As the sun sets and golden hour begins to bathe Florence in that characteristic light, make sure to find a great spot for your aperitivo. If you can't get a seat at the terrace bar at Palazzo Guadagni you can try your luck on the rooftop of Hotel Continentale which shoulders the Ponte Vecchio.
TIP: Booking in advance is advised.
For those who prefer to keep their feet at ground level, the Piazza Santo Spirito is always buzzing with life and a great way to drink like and with the locals.
8:00 PM
Dinner must be at Trattoria Sostanza. It doesn't get more authentic than this tiny, hole-in-the-wall trattoria which looks and smells exactly how you would imagine an old-school local Italian restaurant. You must order the artichoke omelette and the butter chicken which arrives at your table still sizzling.
TIP: There are two seatings at dinner (19.30 or 21.00). But the later slot is always better as you don't need to rush through your meal. Also, make sure to book in advance.
In case that's booked up, find a table at La Giostra instead. A very different atmosphere to Sostanza, this is one of the most romantic spots in Florence. Fairy lights adorn the ceiling and glow upon happy diners enjoying beautifully prepared and presented food. When in Florence, you have to try a Bistecca alla fiorentina (Florentine T-Bone steak), and La Giostra is known for the quality of theirs.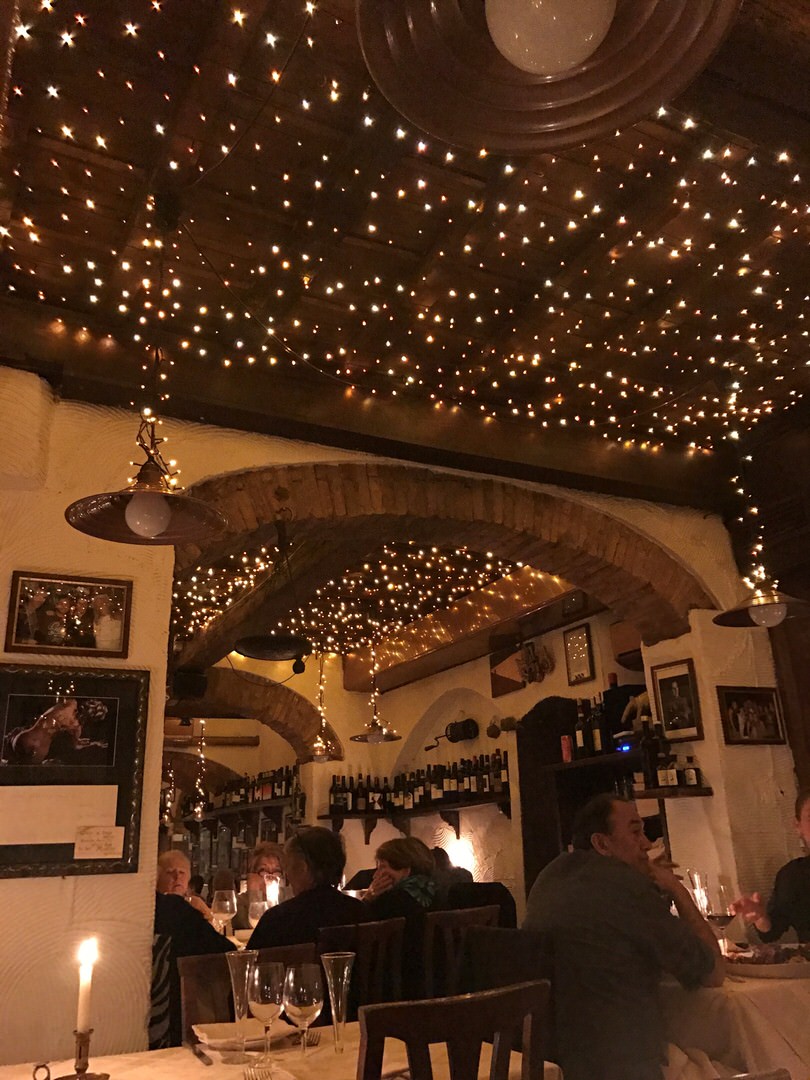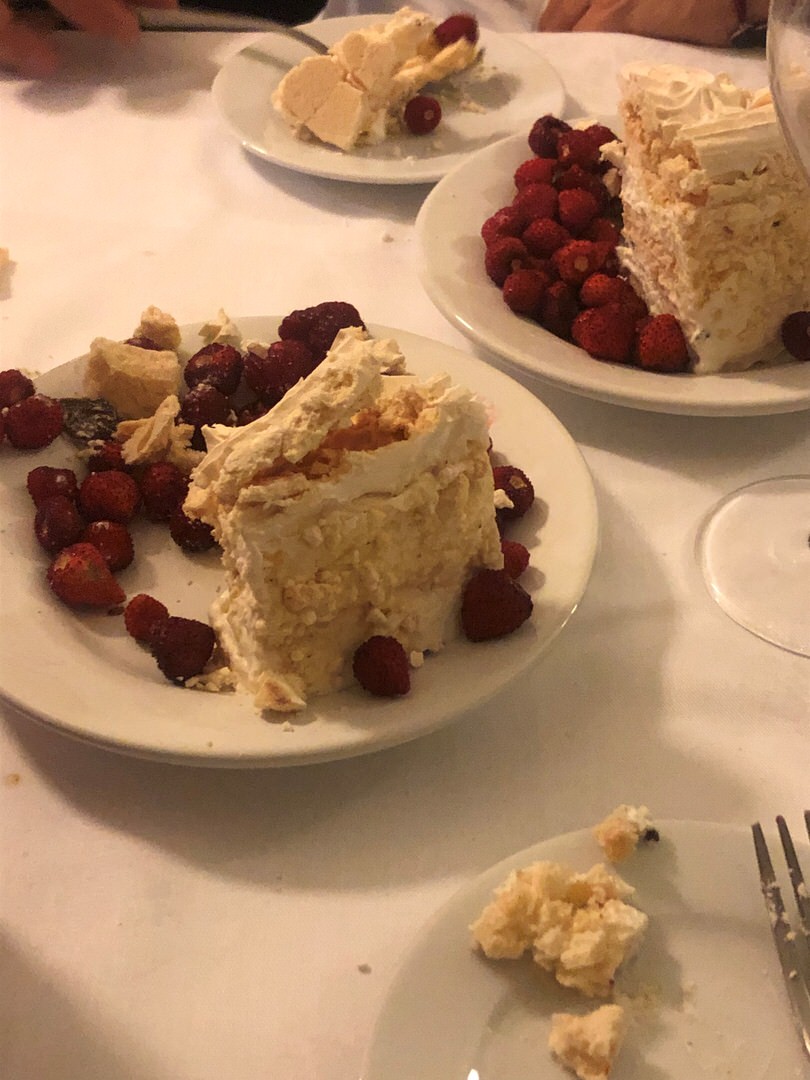 10:00 PM
To round up a perfect day in Florence, enjoy a drink at one of the many eligible spots in town. For true class, head to the Atrium Bar at the Four Seasons – a luxurious space with unparalleled cocktails. For a more low-key experience, Il Santino is a cozy wine bar frequented by locals.
If you're looking for modern cocktails in a historic setting, Locale will blow you away with its inventive drinks list that contrasts beautifully with the 16th-century palazzo interiors. Finally, Piazza Santo Spirito is again the faithful spot that will never let you down as it is buzzing with life every night of the week.
11:00 PM
If you're still full of energy, head over to Jazz Club Firence next to the Florence Cathedral. Live music performances and an intimate dancefloor promise a great end to the night!
WHERE TO STAY IN FLORENCE
Even if you stay in Florence for 1 day, we assume you will sleep there. Luckily, Florence has a place to stay for every budget, but please find below our top choices for staying in this magical city.
By now, this hotel's terrace is famous for its prime spot to enjoy aperitivo at golden hour. That said, one should not overlook Palazzo Guadagni for its services beyond its Aperol Spritz. Situated at the social hub of the city, it is ideally located on the corner of Piazza Santo Spirito.
Right in front of the hotel, there is a host of bars and restaurants which both locals and tourists frequent. The rooms are spacious, characterful, and charming, the staff is more than accommodating. Above all, the crowning glory is the view from the bedrooms (and terrace bar) overlooking the Piazza Santo Spirito and beyond!
CHECK MY COMPREHENSIVE REVIEW OF PALAZZO GUADAGNI OR BOOK DIRECTLY HERE.
This fairytale hotel is located on the outskirts of Florence. Even though it is about a 20-minute walk from the city walls it is worth adding in the extra steps. Hotel Torre Belvedere is a medieval palazzo that has maintained all the character of its bygone days.
A bonus is the swimming pool overlooking the stunning panorama of Florence! And if it wasn't enough the hotel has olive groves and vineyards on all sides. Make sure to also have a drink in the sun-drenched conservatory. It is beautiful and in the evening it is full with candles! Book it here.
Nothing other than an institution, the Four Seasons is the ultimate luxury hotel experience. Although it is right in the heart of Florence, the ornate rooms breathe the tranquillity of a Tuscan countryside escape. What is better than waking up under 17th-century frescoed ceilings, and indulging in a perfectly crafted cappuccino (or two!) before exploring Florence?
Whether you are staying overnight or dining at the Michelin-starred restaurant you will have a faultless Florentine experience. The service is impeccable, the interiors are a treat for the eyes, and every one of your needs are met.
TIP: Make sure you come and see Four Seasons even if you aren't staying here overnight! You can for example have a drink at Atrium Bar.
YOU CAN BOOK DIRECTLY HERE.
If you want to enjoy Florence in classic style, look no further than the Hotel Lungarno. It belongs to the Ferragamo family, who are also an important Florentine fashion house.
You will find it right along the river on one of Florence's best streets. The bonus is that the bedrooms overlook the magnificent Ponte Vecchio! Book here.
Palazzo D'Oltrarno used to be a noble residence for the Florentine elite. However, it is the perfect option for a more budget-friendly yet comfortable stay! There are 6 massive bedrooms and the location is ideal in Borgo San Frediano. This means that you will be close to a bunch of cool new restaurants and bars as well as Santo Spirito. Book it here.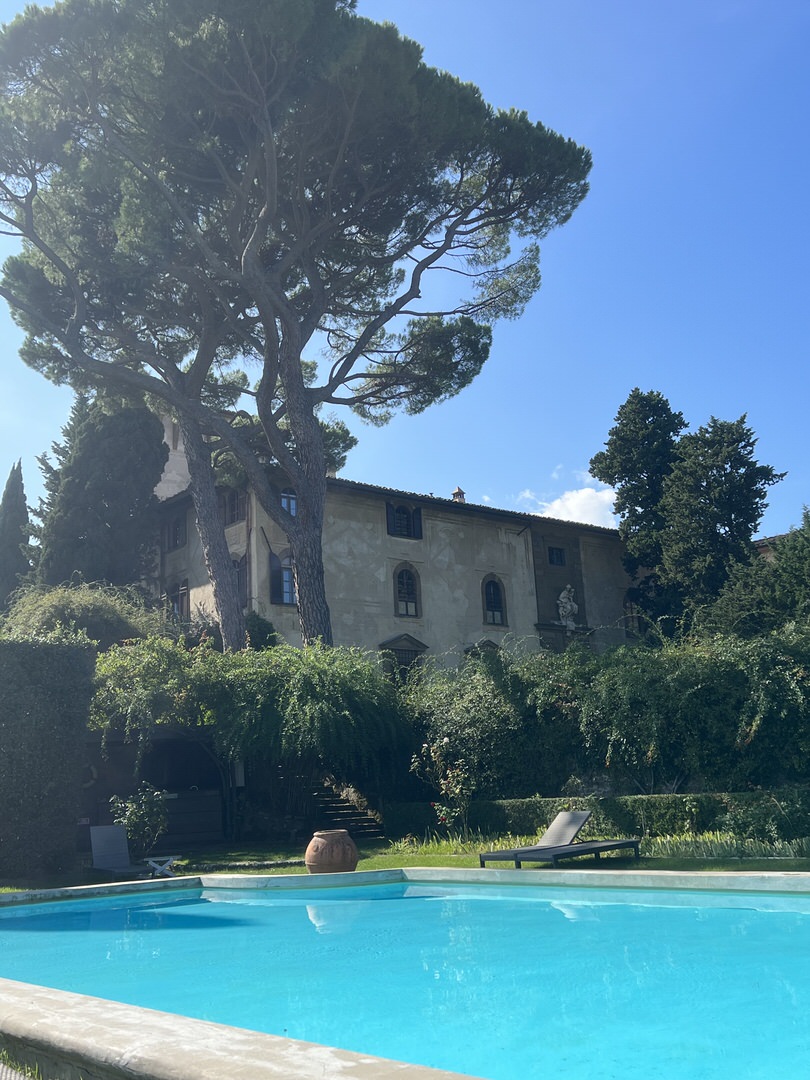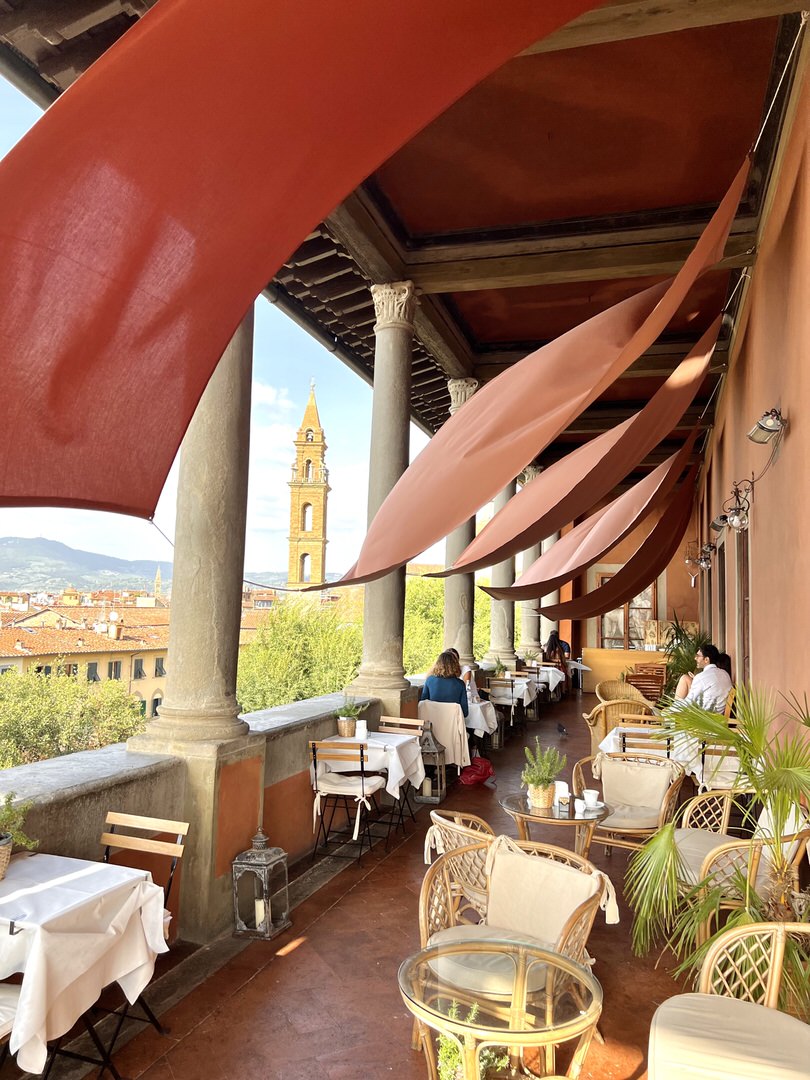 FINAL TIPS FOR YOUR 1 DAY IN FLORENCE
Florence truly is a special place and you will fall in love with the city, even if you only have 1 day to discover it!
Please consider the following points to make the most of your trip:
Try to visit Florence outside of peak seasons as it gets extremely overcrowded and hence expensive.
Booking early is key! This applies to hotels, museums, and restaurants.
Start your day early and beat the queues. It would be a pity to waste time queuing if you only have 1 day in Florence!
Enjoy,
Voyage Provocateur