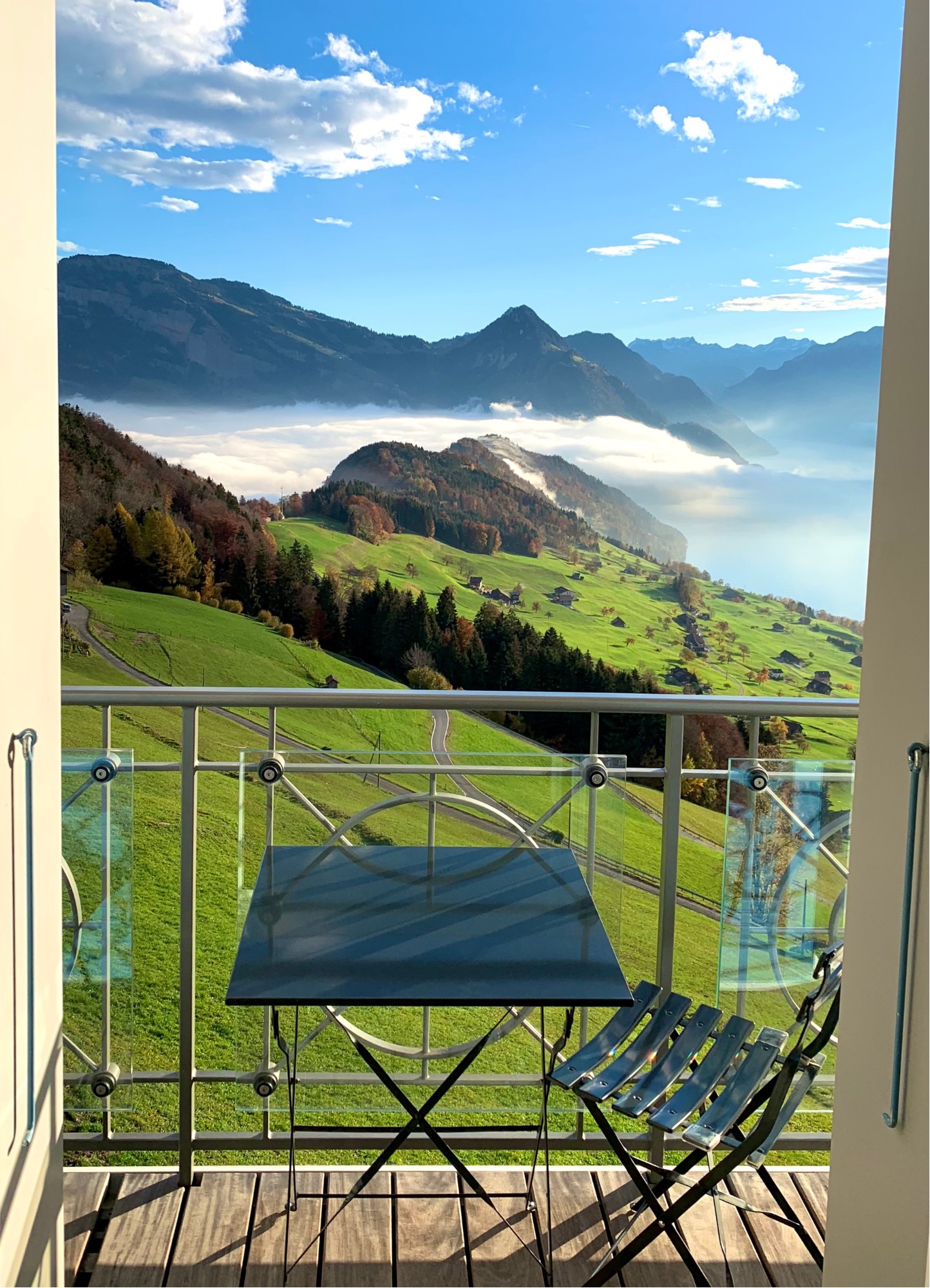 VILLA HONEGG – HOTEL REVIEW
Villa Honegg in Switzerland, is without a doubt, one of the most Instagram-famous hotels out there.
It is mainly its incredible location that makes for an unforgettable stay and some jaw-dropping photos. But is there more to Villa Honegg than just its strong social media presence and a gone-viral swimming pool?
Find below my honest account of what staying at Villa Honegg really is like, including tips on what to do and not to do to enjoy your stay to the fullest.
Hopefully, this Review, with all the information it covers, will help you decide whether staying at Villa Honegg is worth its cost.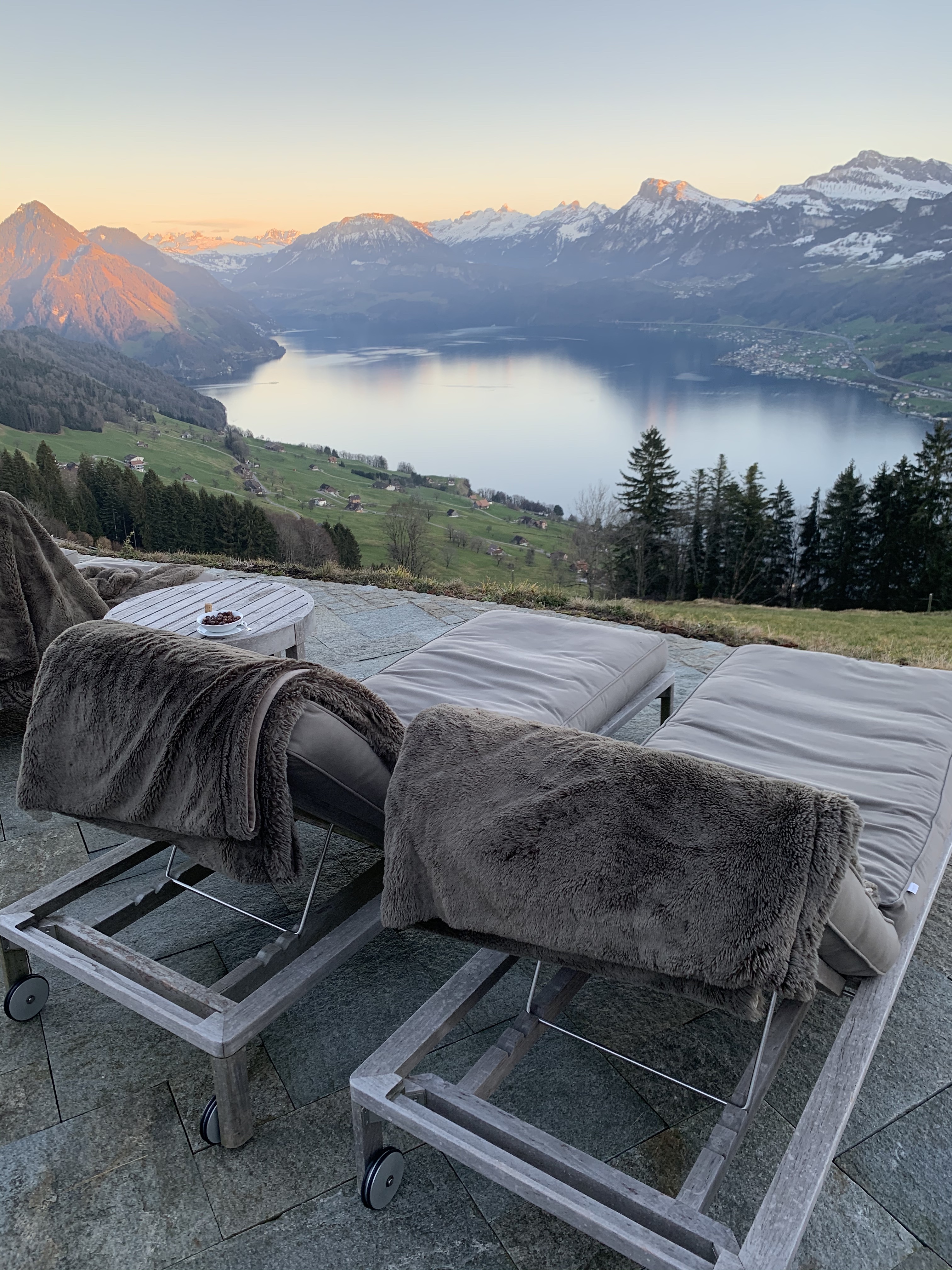 VILLA HONEGG – BASIC FACTS
LOCATION:
I can say with full confidence, that Villa Honegg has in my opinion, the best location and therefore the best views among all the Swiss hotels I have ever visited. Let the photos show you why I think that.
So where exactly is the famous Villa Honegg? It sits on a mountaintop in the heart of Switzerland, in Ennetbürgen. Here, guests enjoy some of the best views possible of Lake Lucerne. Moreover, the surrounding mountains offer a majestic panorama to visitors. However, and luckily, despite this glorious natural location, the hotel is as modern and comfortable as can be!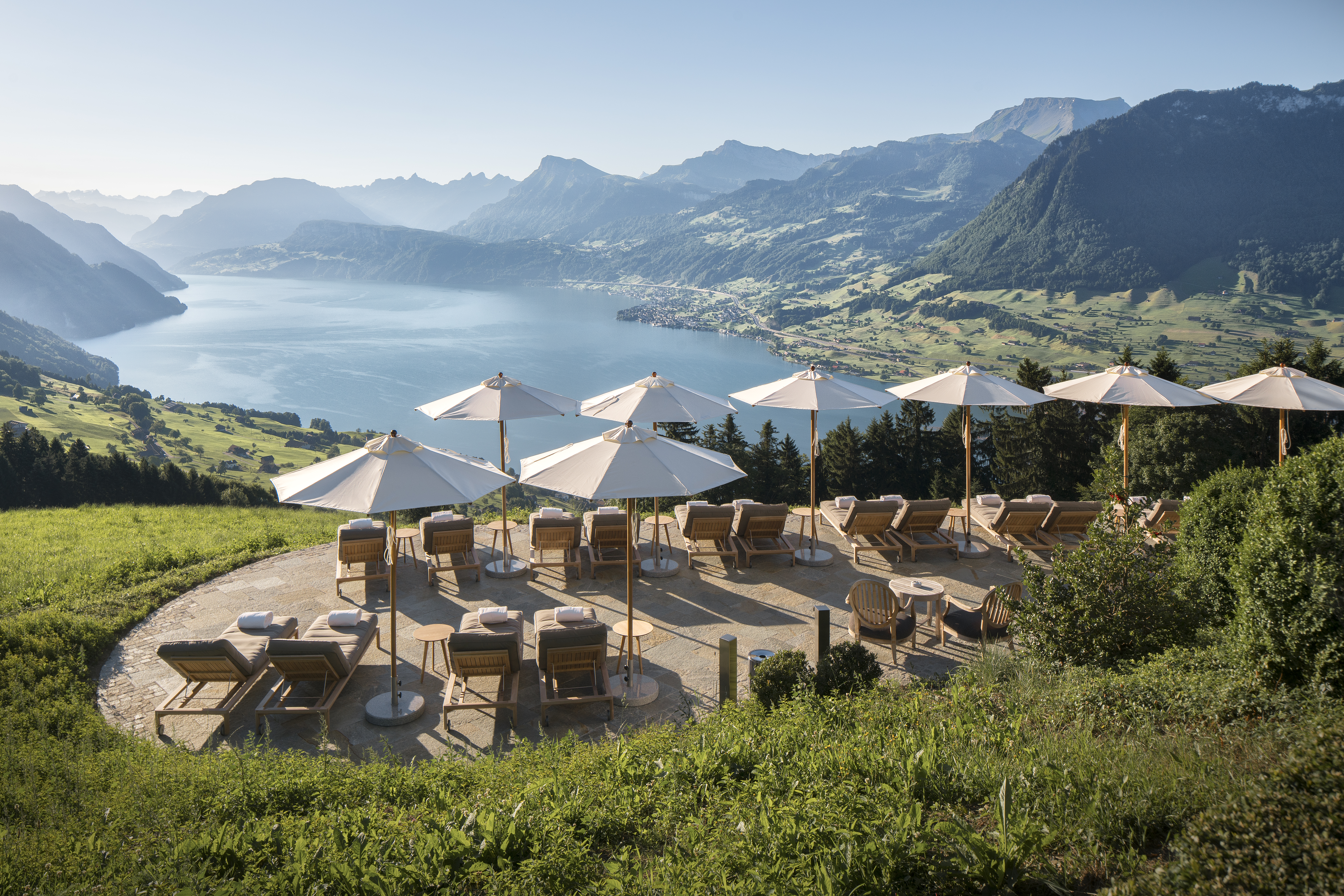 GETTING THERE:
The Villa Honegg is an hour from Zurich airport by car, or three hours from Geneva.
In case you would rather arrive by public transportation as I did, you may take the train via Lucerne to Stans. Once you made it to Stans take bus number 311 to Ennetbürgen Dorf. Villa Honegg offers complimentary pick-up service on the arrival day from Ennetbürgen Dorf and also the drop-off service on departure. Make sure that you inform the reception about your arrival time in advance, so that you do not need to wait too long to be picked up.
In case you would rather arrive in style – for example by helicopter – Buochs private airport is very close. And if that was not close enough for you – you may also land on a meadow within 200m of the hotel.
Alternatively, Villa Honegg can also arrange a taxi or limousine transfer from anywhere in Switzerland. However, these transfers are not free of charge. Given that these services are rather pricey in Switzerland, you may be better off using the combination of public transport and the complimentary pick-up service.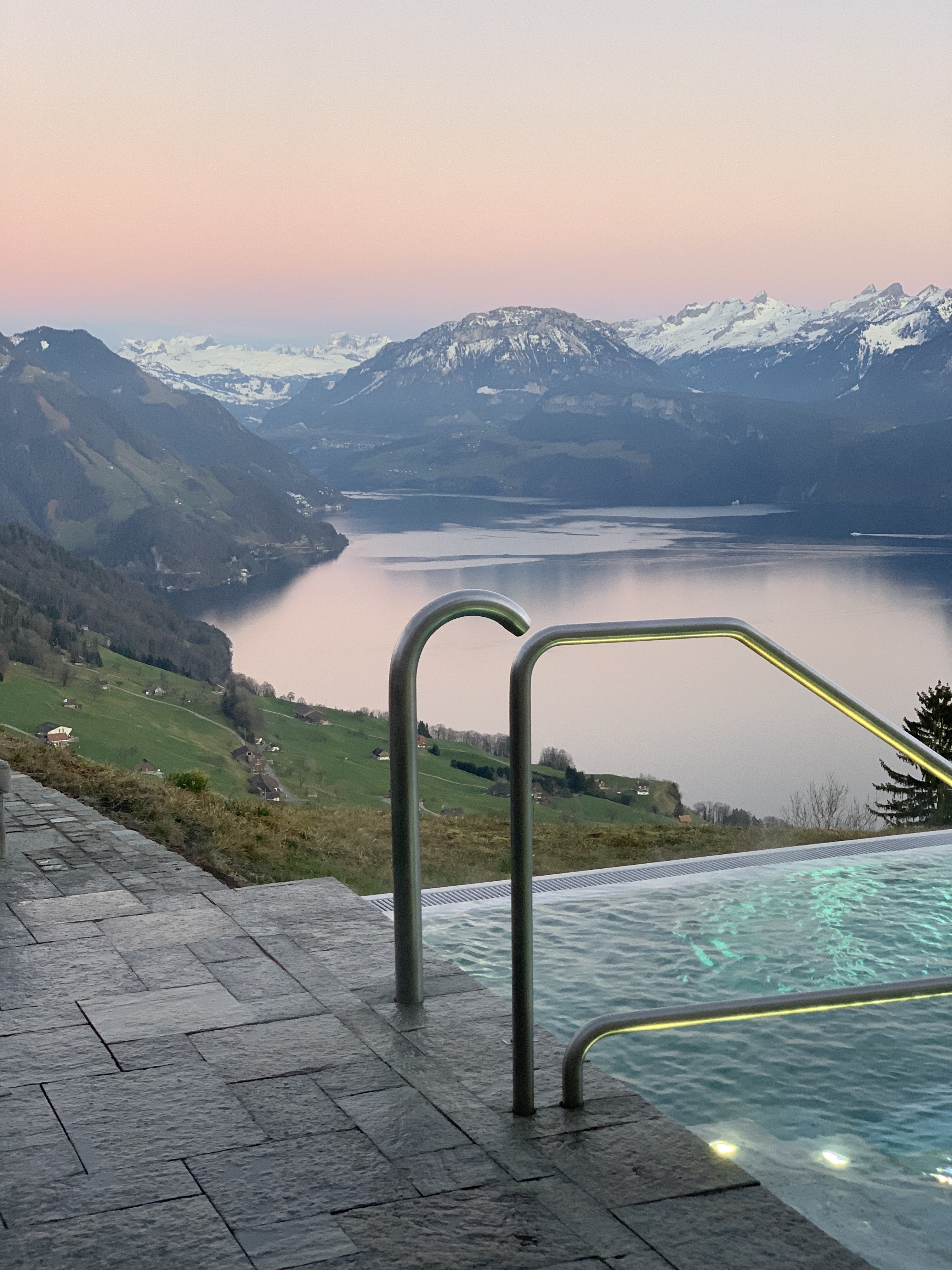 ARRIVING AT VILLA HONEGG:
Check-in starts at 3 pm and you can check out anytime until 12pm. That said, given the price of the property, make sure to arrive early and take advantage of Villa Honegg's property. I would always send an email or call the Hotel a few days before arriving asking how early you can arrive as well as how late you can leave. Normally such luxury Hotels allow using the property facilities without a problem, but it will make you feel more comfortable if you have a green light to arrive early and stay late.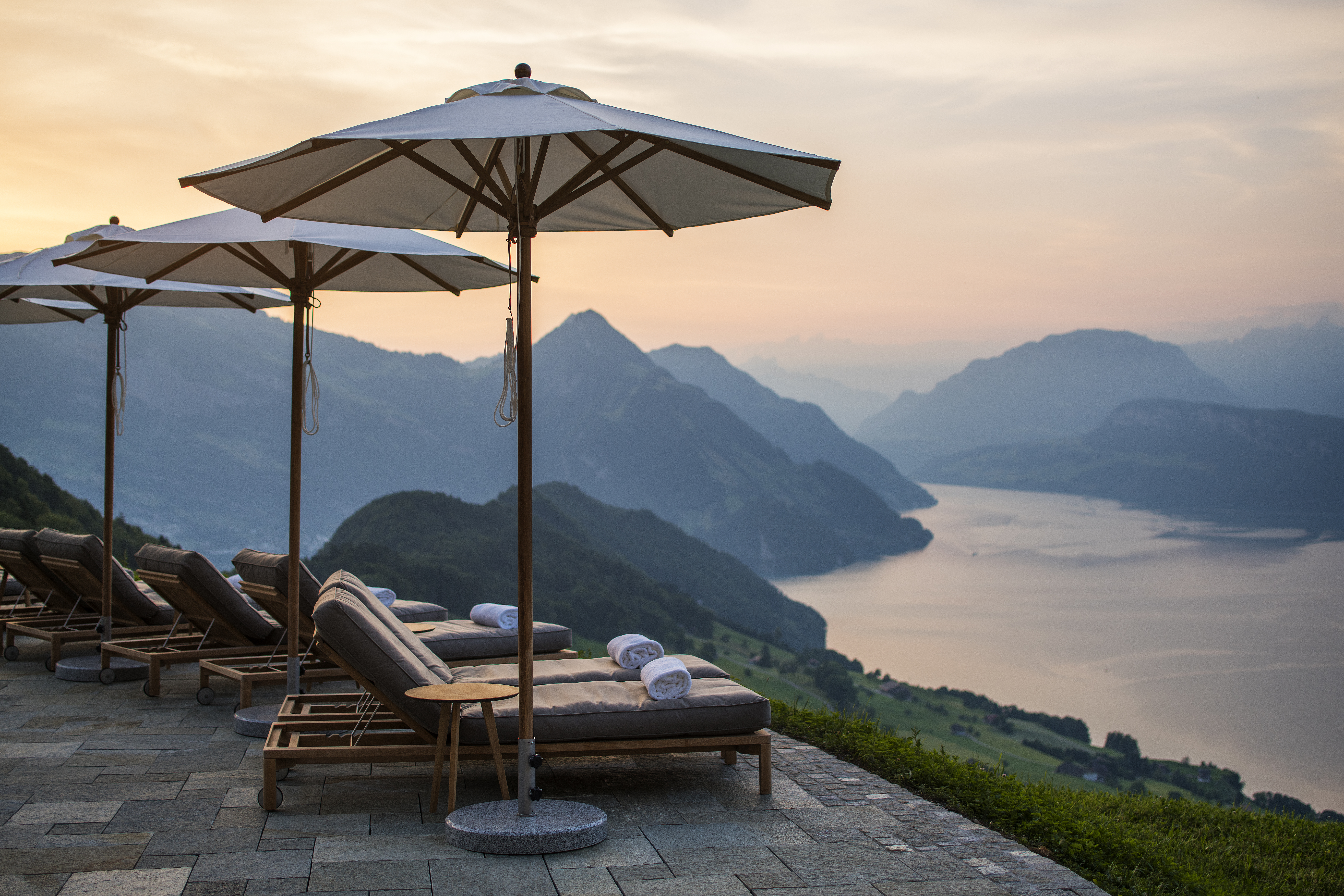 ROOMS:
Staying at Villa Honegg feels more like staying at a private mansion than a hotel. Why? Because Villa Honegg is relatively small and therefore intimate. The flip side of that is that some of the rooms may feel rather tight and that the common areas (inside) are not too spacious. As such, those who enjoy spacious properties may find Villa Honegg relatively petite.
The 23 rooms range from 24m2 to an even 91m2
Choose between which direction the rooms are facing – lake view or alpine view. I would strongly recommend the lake view.
Not all rooms have a balcony. And trust me, the reason you come to Villa Honegg is to gaze day and night at that magnificent lake. So make sure you request a room with a balcony.
Those seeking luxury should rent the Master Suite. It features a king-sized bed, a living room, a separate dressing room, and a balcony – a suntrap in fine weather. The big highlight is the view from the bathtub – see below.
For special occasions or business events, why not book a private floor or even the whole hotel? Yes, you could host your wedding at Villa Honegg!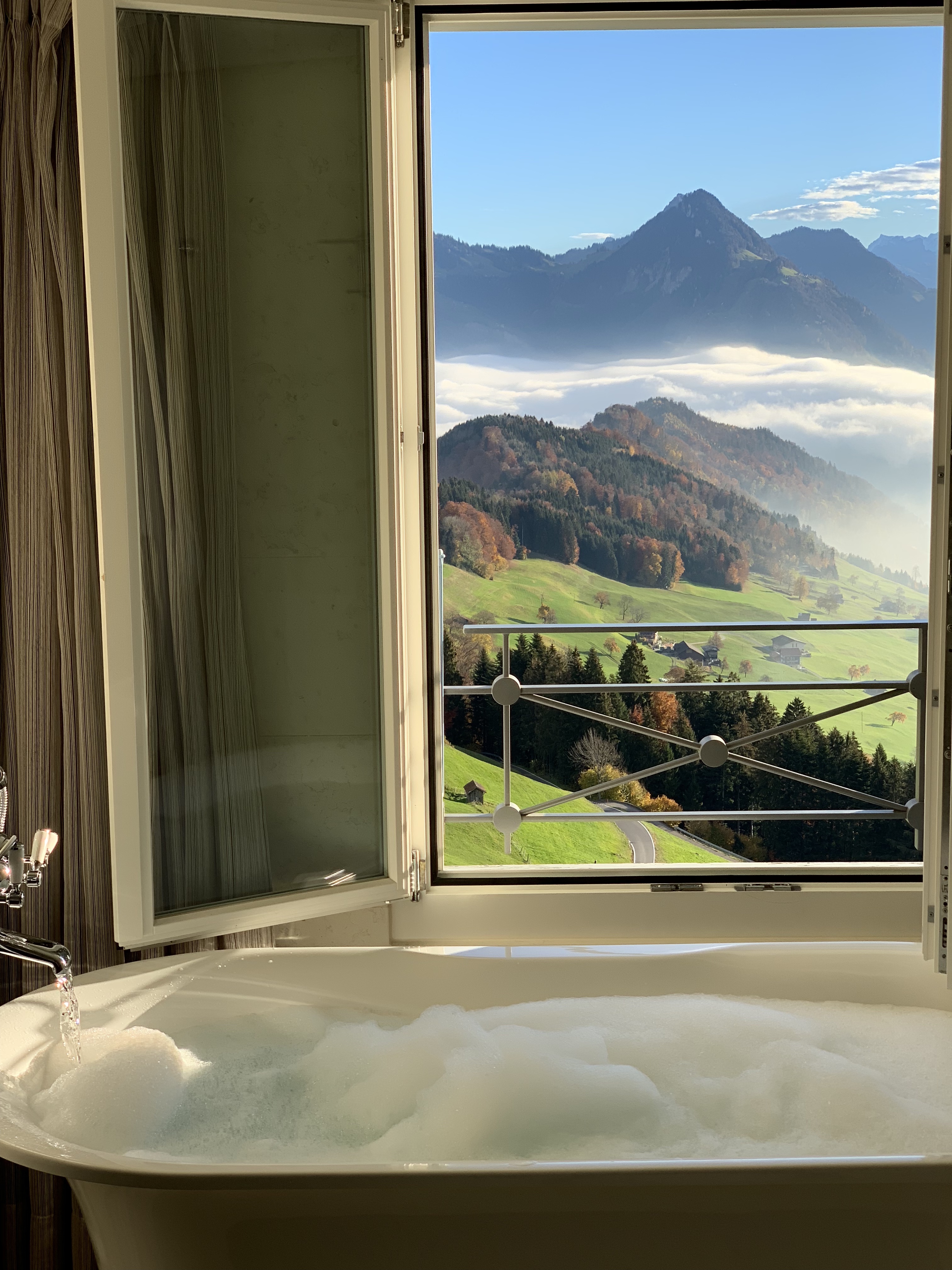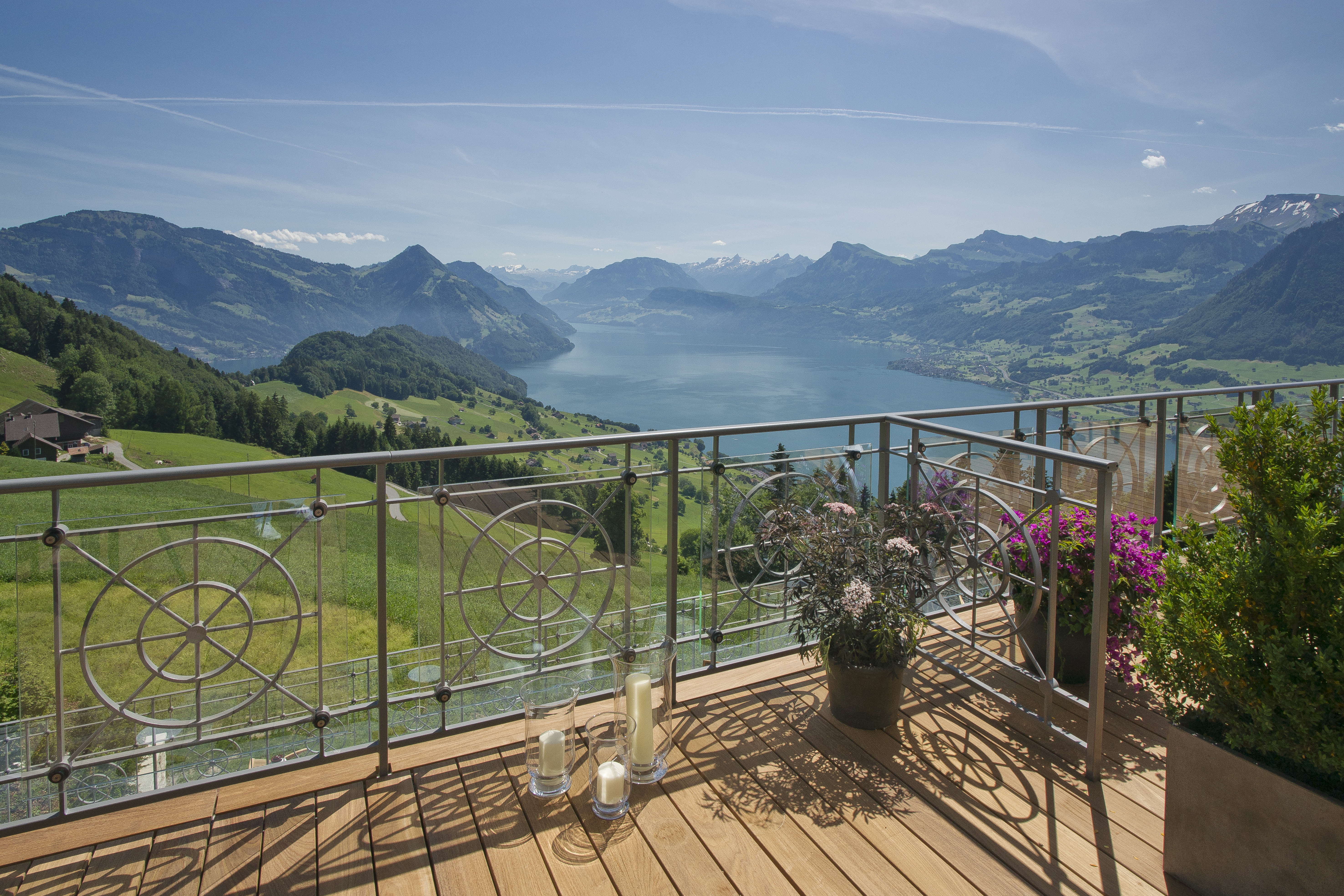 PRICES:
Prices start from around €750 per night. However, larger rooms will be closer to €2500. Furthermore, these are liable to increase during popular periods. As always it's best to check with the Hotel directly!
OVERALL IMPRESSION
It is true – the views from Villa Honegg are unforgettable. Even if you saw the photos and videos online, you will still be in awe when you get to see it in reality. And yes, you will probably make some of the best photos of your life here!
Also, being able to enjoy breakfast until 2 pm, in reality, means that you only need to get dinner! Moreover, the nature around Villa Honegg is post-card perfect like from a Milka chocolate advert. We got lost exploring the area on the Hotel's electro bikes and ended up in some fields with cows like straight from the TV.
You may be asking yourself – is there anything about Villa Honegg that one may not enjoy?
POINTS WORTH CONSIDERING:
The photo-conscious crowd is definitely present at Villa Honegg. If you are unlucky, you will not be able to take a proper swim in the famous infinity pool because of many private photo shoots are going on. This is not to say that everyone who comes to villa Honegg comes there solely to take some photos, but it is a theme. As long as you do not mind, then it should not be a problem.
Please also note that Villa Honegg's Terrace lounge is open to guests and day-trippers to enjoy a drink and snack – many of them come to, you guessed it, take photos of the famous view.
Villa Honegg is very much about benefitting from the views and the surrounding area. This is why I believe it is OK to have smaller rooms as well as common grounds such as the lounge, and the breakfast room. This can be challenging though when the weather turns against you. Meaning, it rains and there is no view – one of the main reasons if not the main reason why you came.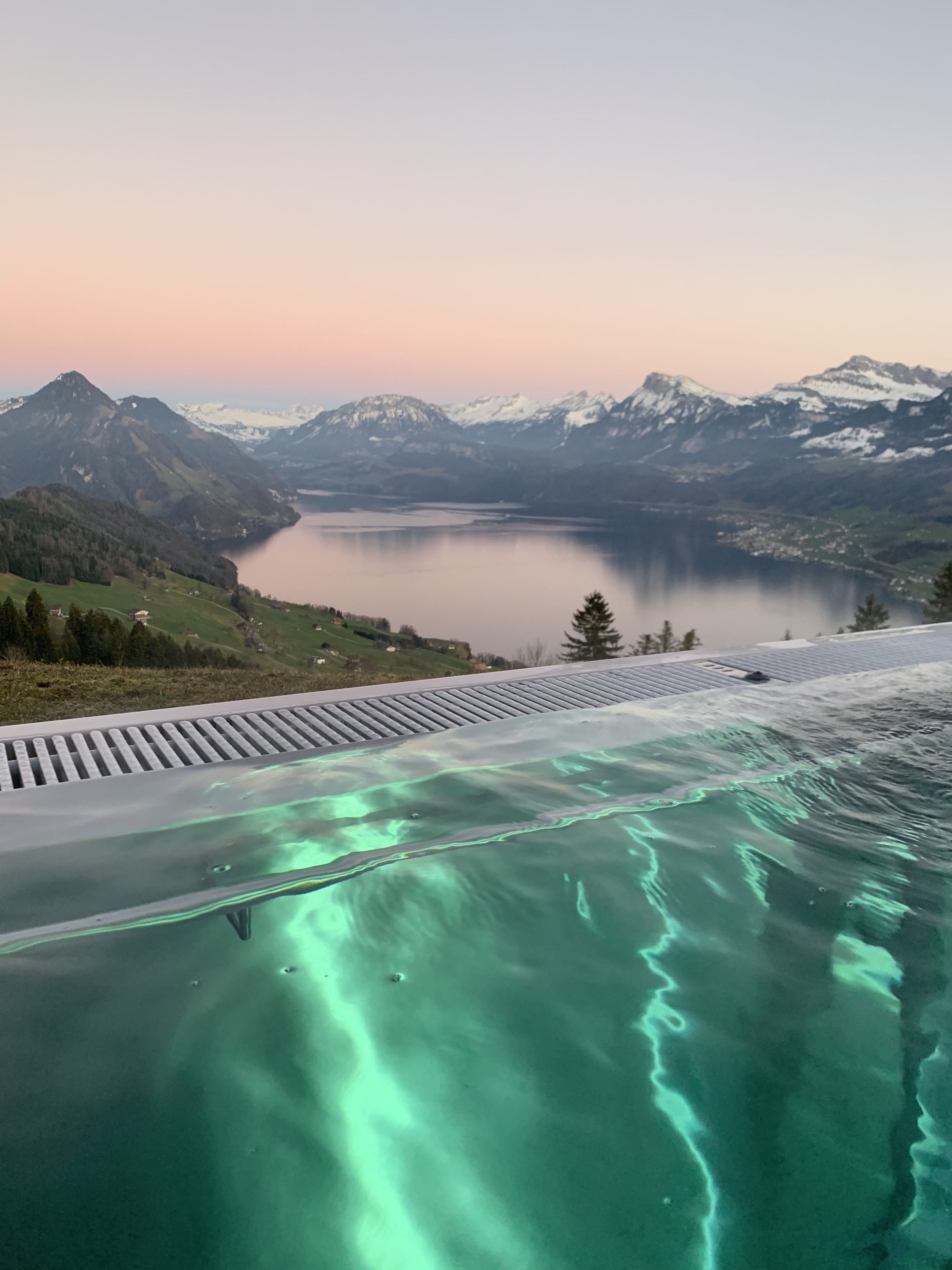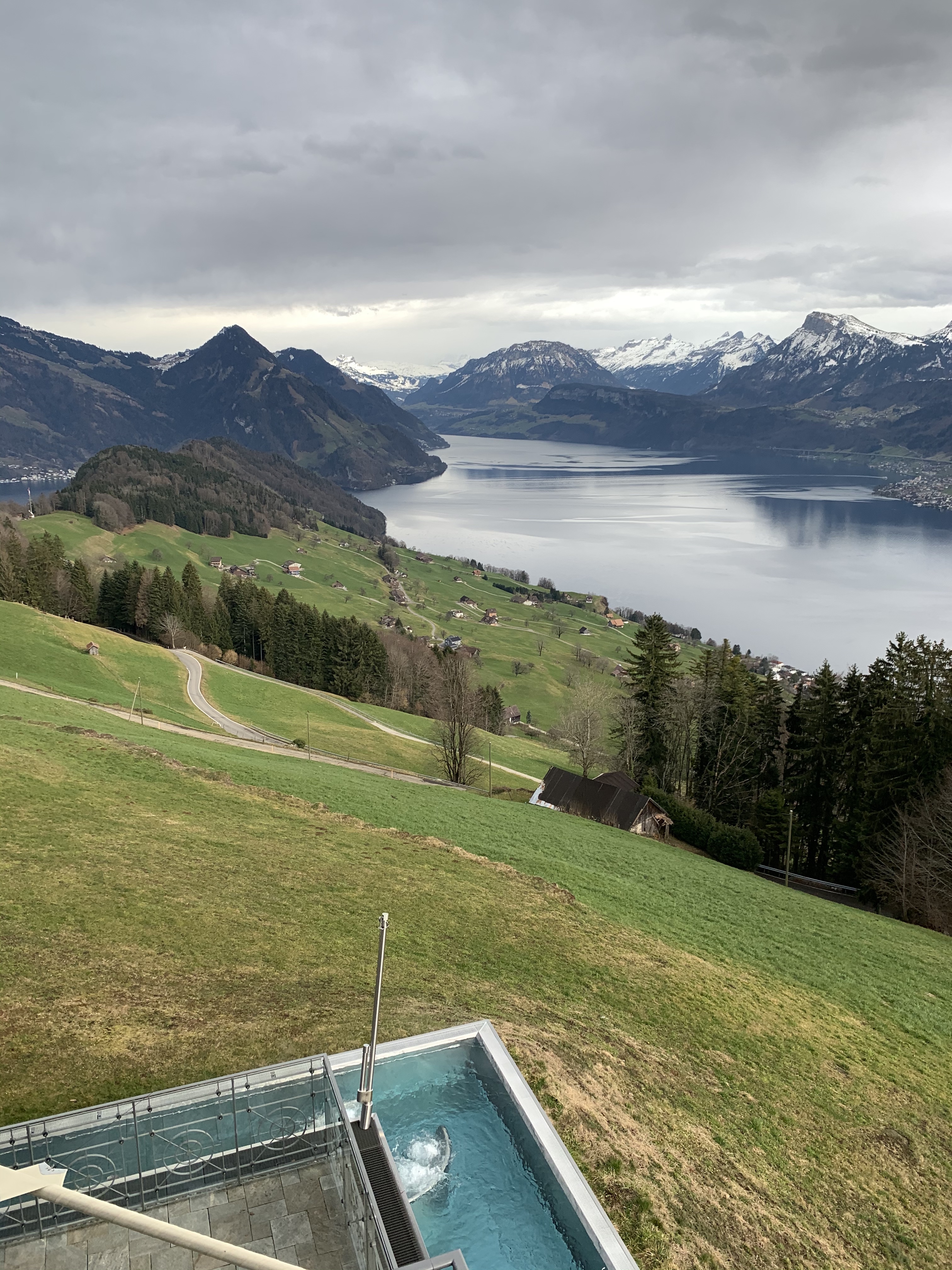 VILLA HONEGG – ALL YOU NEED TO KNOW
WHAT WILL YOU DO
Overall, unwinding is the aim at Villa Honegg. Enjoy the views of Lake Lucerne and mountain air from the best location imaginable. Equally, the infinity pool is a must for relaxing. Additionally, the spa offers expert treatments. In good weather, savour lunch or dinner on the Honegg's terraces. Furthermore, you'll be able to enjoy the area's outstanding natural beauty on foot or bike. Also, why not book the private cinema for an unforgettable screening!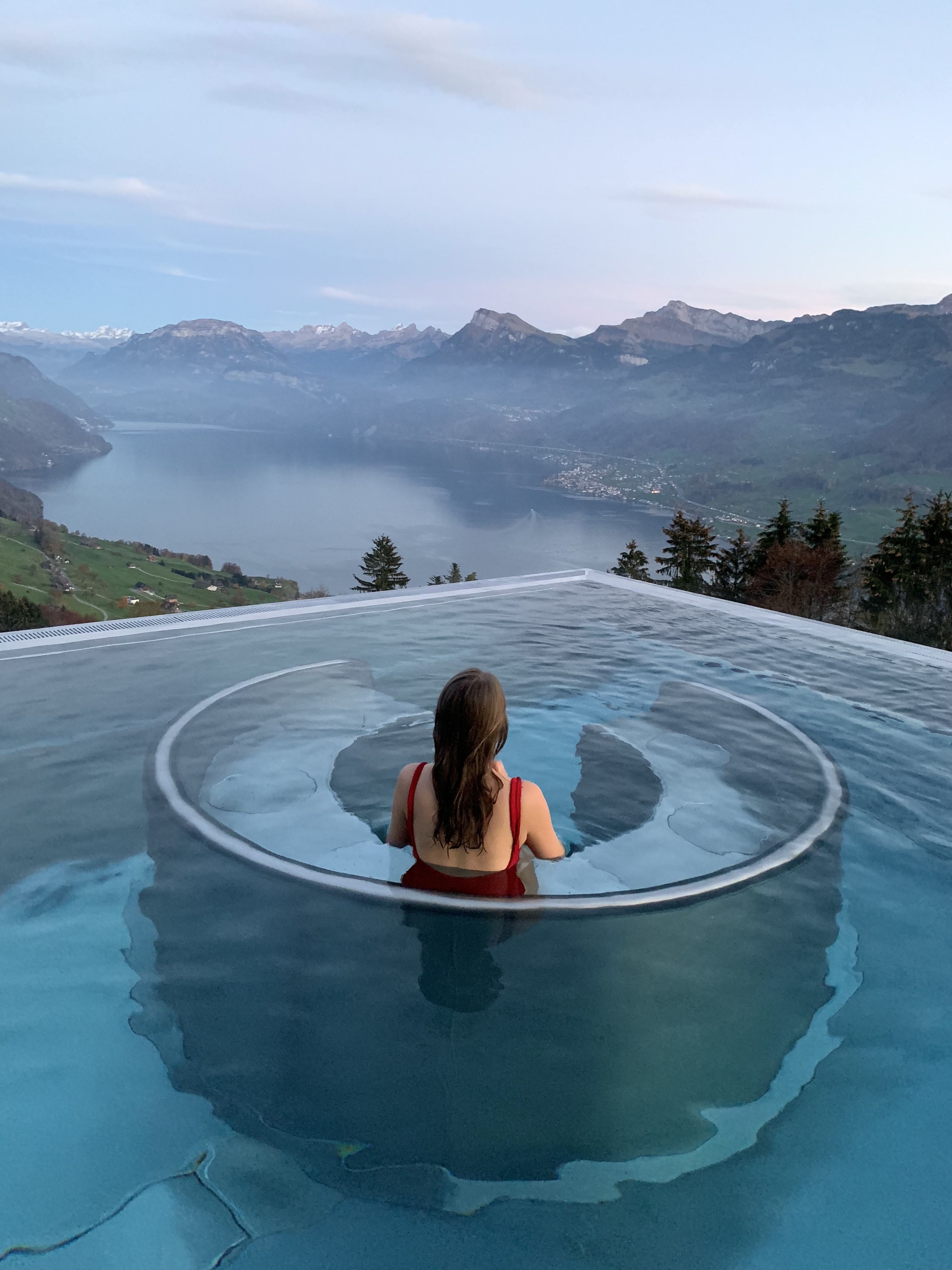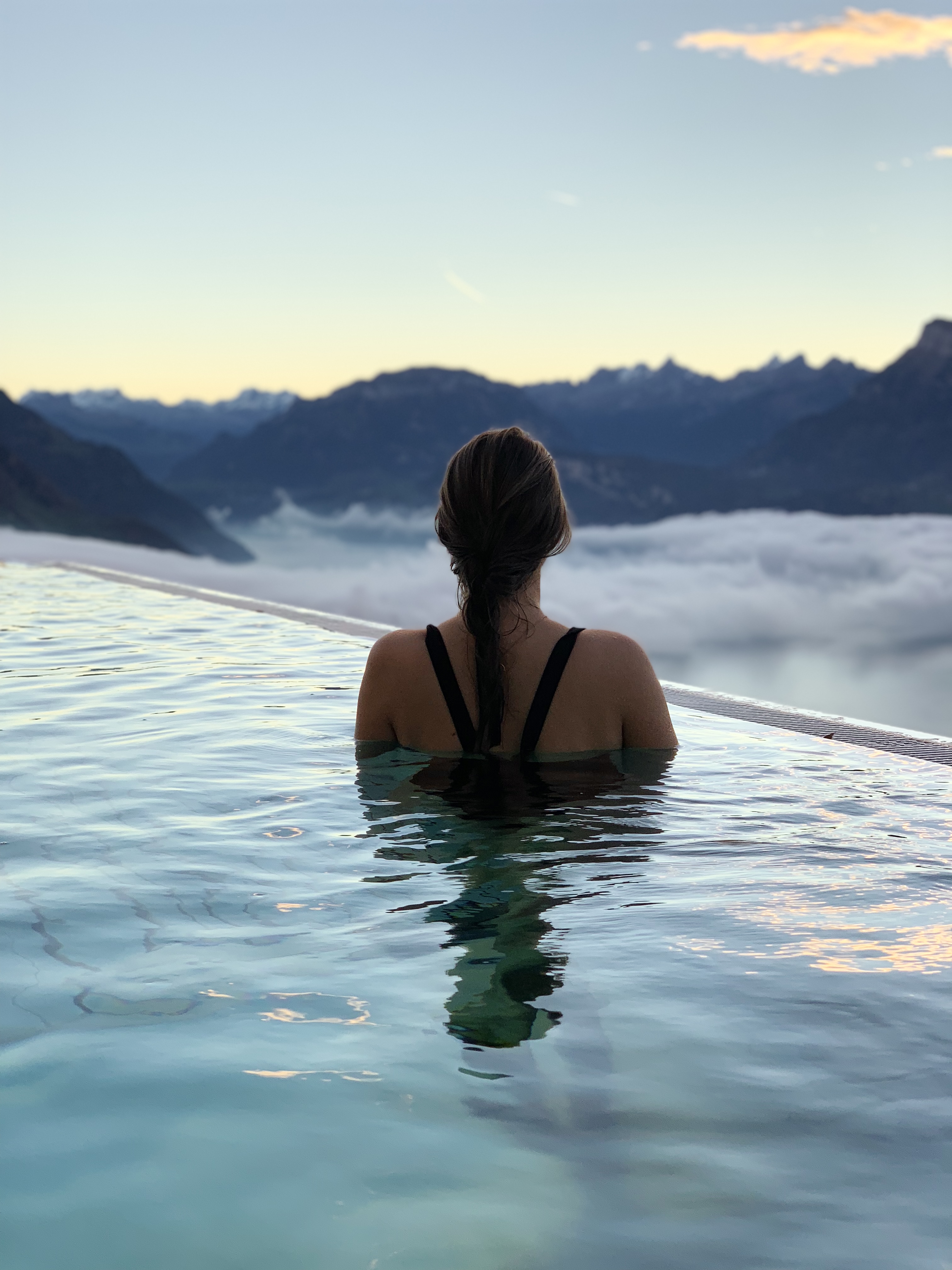 WHAT WILL YOU EAT (& DRINK)
The breakfast at Villa Honegg is genius! Why? Because it runs until 2 pm! It basically gets you covered for breakfast, brunch, and lunch! I loved their vegetable bouillon and drank it throughout the day!
The Villa Honegg's restaurant offers local, seasonal cuisine in a range of delicious dishes. The herbs are grown in the Villa's own garden. Otherwise, this being Switzerland, the meat and dairy from nearby are superb. There is a choice of a la carte options, or a gourmet set menu. Enjoy a steak from the local Holzen butchery, or homemade Ravioli with Nidwalden cheese. Pair this with a Riesling-Sylvaner grown on the mountainside. Save room for dessert, though! Vanilla ice cream with Felchlin chocolate sauce is to die for…
Oh and I almost forgot – you must try Villa Honegg's famous 'Cream Slices' which are their homemade delicious cakes. As per drinks, in winter try 'Willis Mulled Wine' and in summer the 'Vertscho Cocktail' which is made up of grapefruit juice, mint, cucumber, orange, and ginger ale!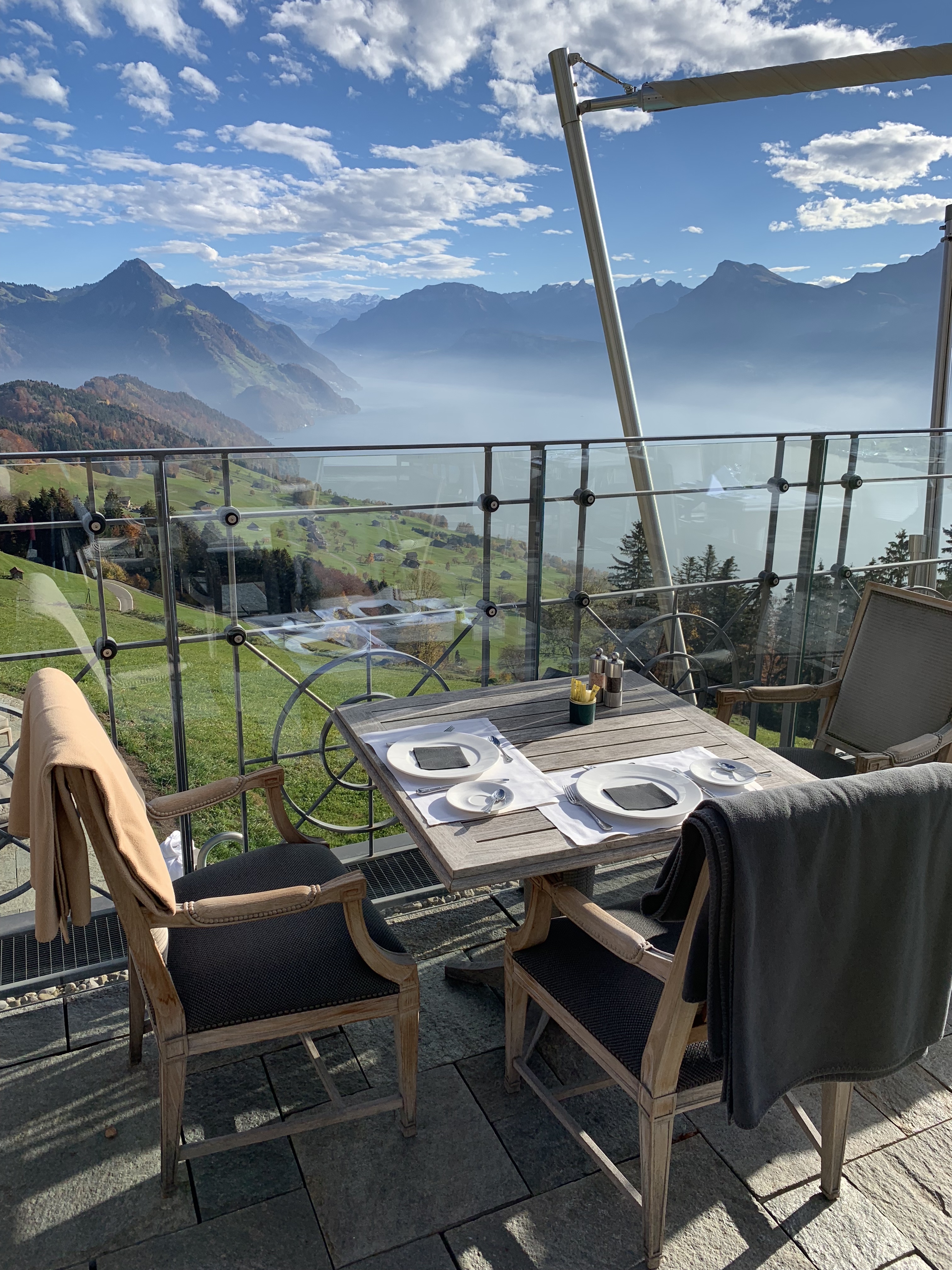 IS THERE A SPA?
Indeed, there is – expect massages, facials, pedicures, and manicures from the expert team. Moreover, you'll be pampered with high-end Jacqueline Piotaz products. A Finnish sauna, at 90C, is for those who like it hot. Lastly, but perhaps most importantly, is the spa's infinity pool. It is heated to 34C even during snowfall. Furthermore, it offers the most relaxing, enviable way to enjoy breathtaking views of Lake Lucerne and the mountains.
Make sure to book your appointments in advance as they fill up quickly.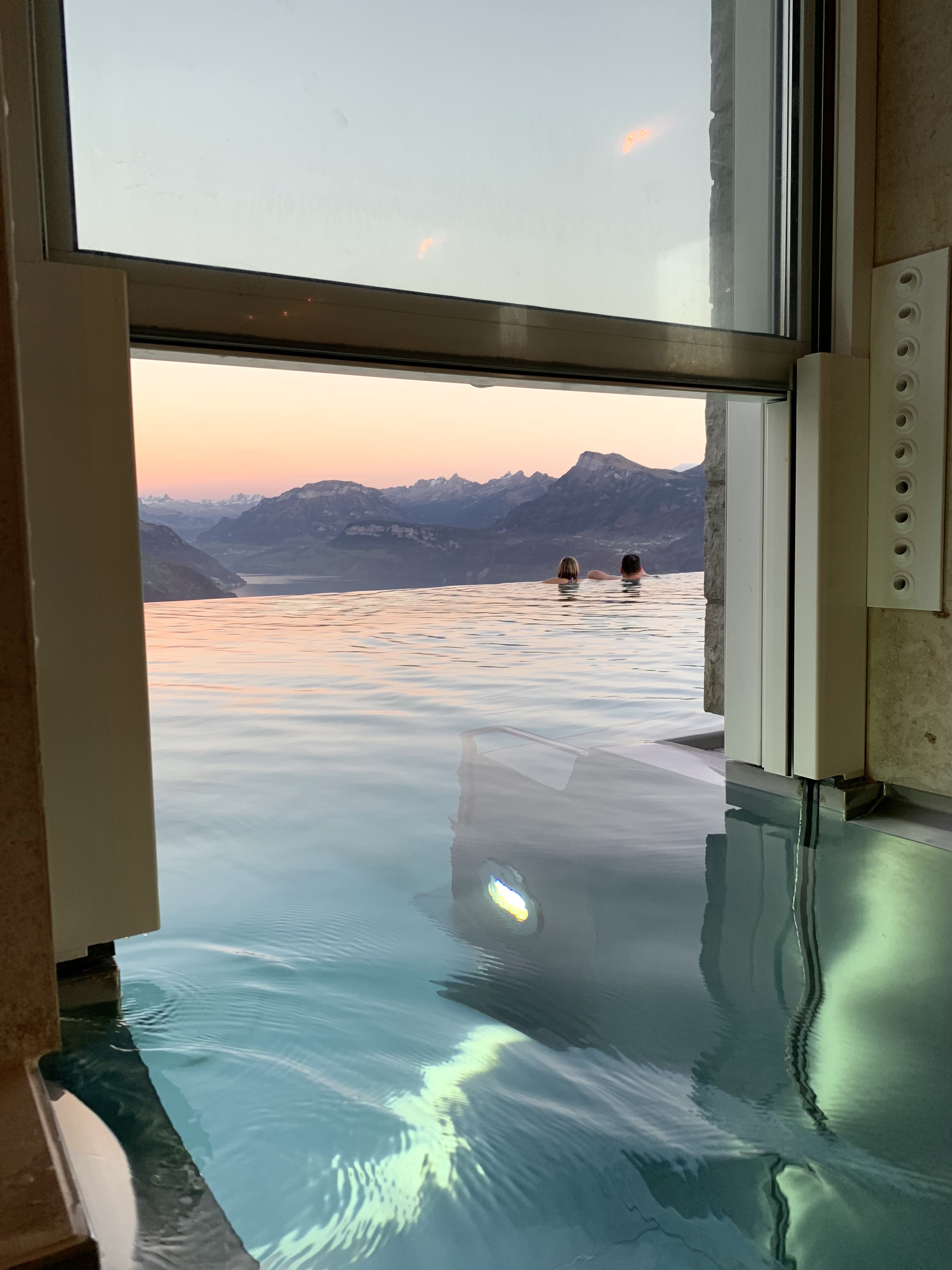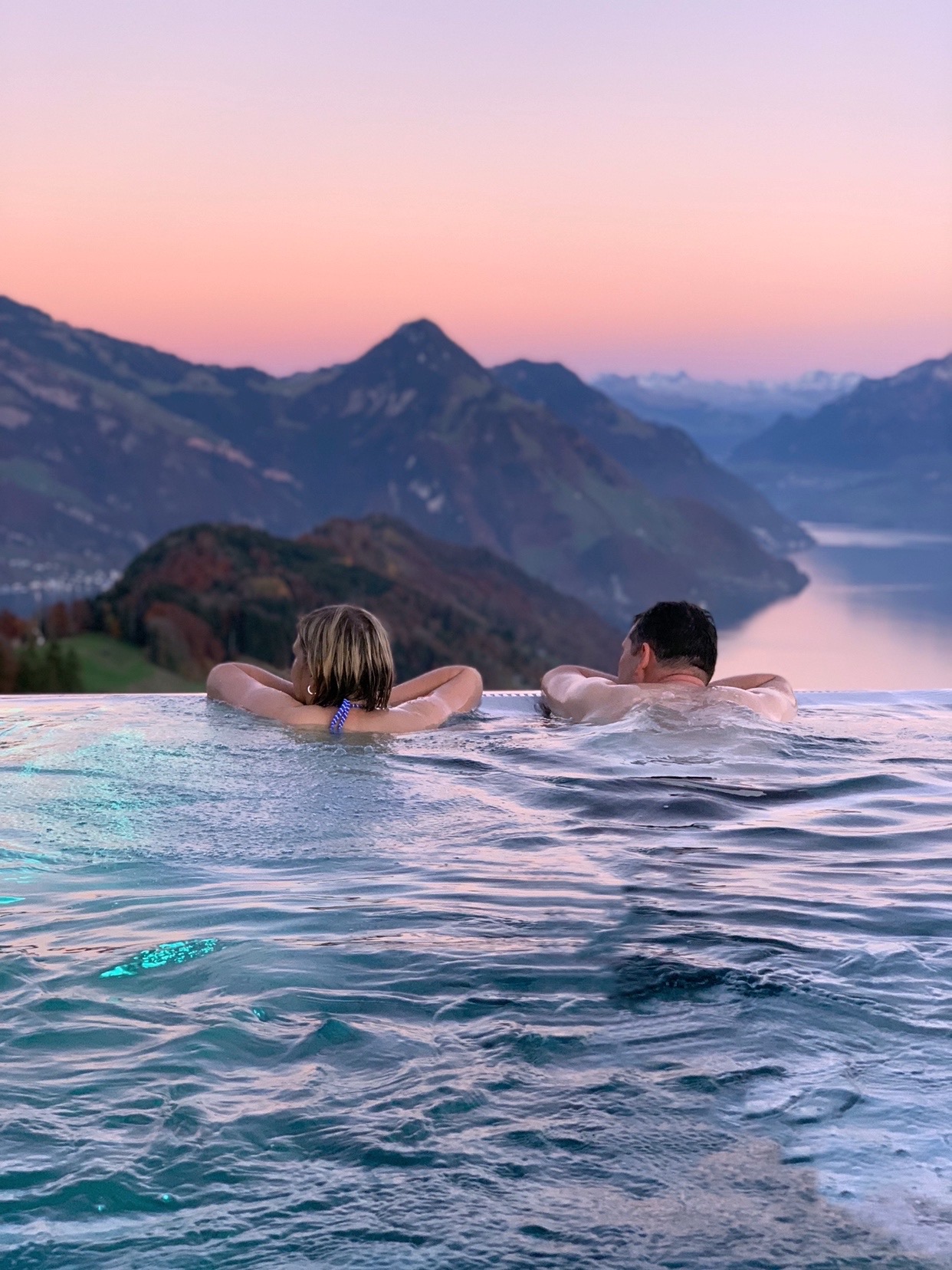 FAMILY FOCUS
Kids of all ages are welcome at Villa Honegg. Additionally, they can enjoy features such as the infinity pool under adult supervision. However, there isn't much in the hotel, especially for them. Therefore, aim to visit with children in summer to enjoy outdoor activities. Thus, active kids will be kept entertained.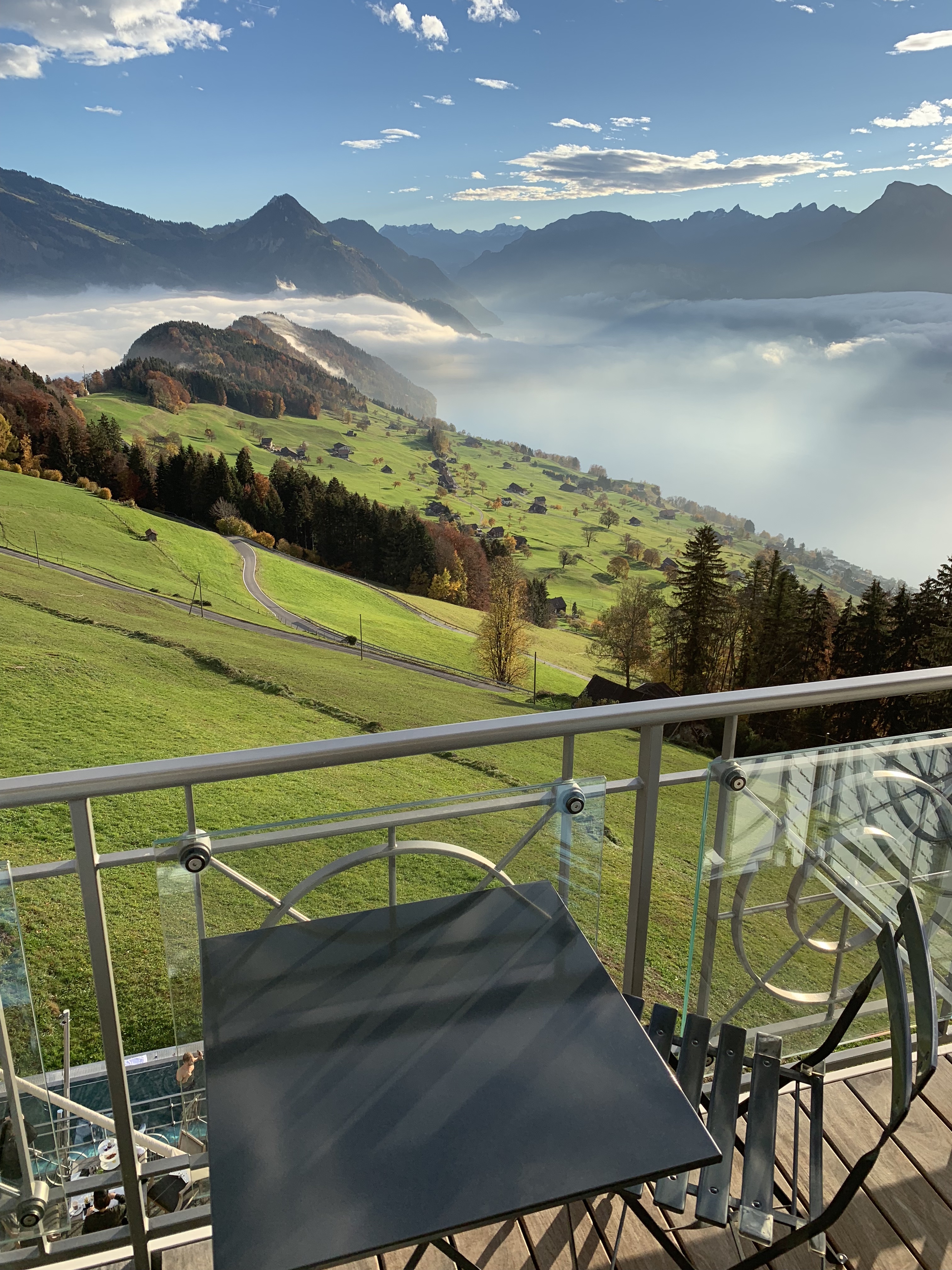 FINAL TIPS FOR YOUR STAY AT VILLA HONEGG
As I said before, Villa Honegg is a Swiss post-card perfect Hotel with one of the most jaw-dropping views you will ever get to see. You will also make enough photos to make all your friends and relatives jealous of your trip!
Please consider the following points to make the most of your stay:
Plan your visit around the time when your chances of having good weather are highest. Villa Honegg truly is at its best on long summer days.
If you mind people taking photos around every corner, Villa Honegg may not be your place as it is a photographer's (and Instagrammer's) dream!
Make sure to book a room facing the lake, with a balcony. This is what you came here for – the views!
Enjoy,
Voyage Provocateur
In case you would like to read some other of my posts:
BELMOND LA RESIDENCIA – HOTEL REVIEW
LE GRAND CONTRÔLE – HOTEL REVIEW
BIARRITZ – 10 TOP THINGS TO DO
ITALY'S 10 BEST RESTAURANTS WITH A VIEW