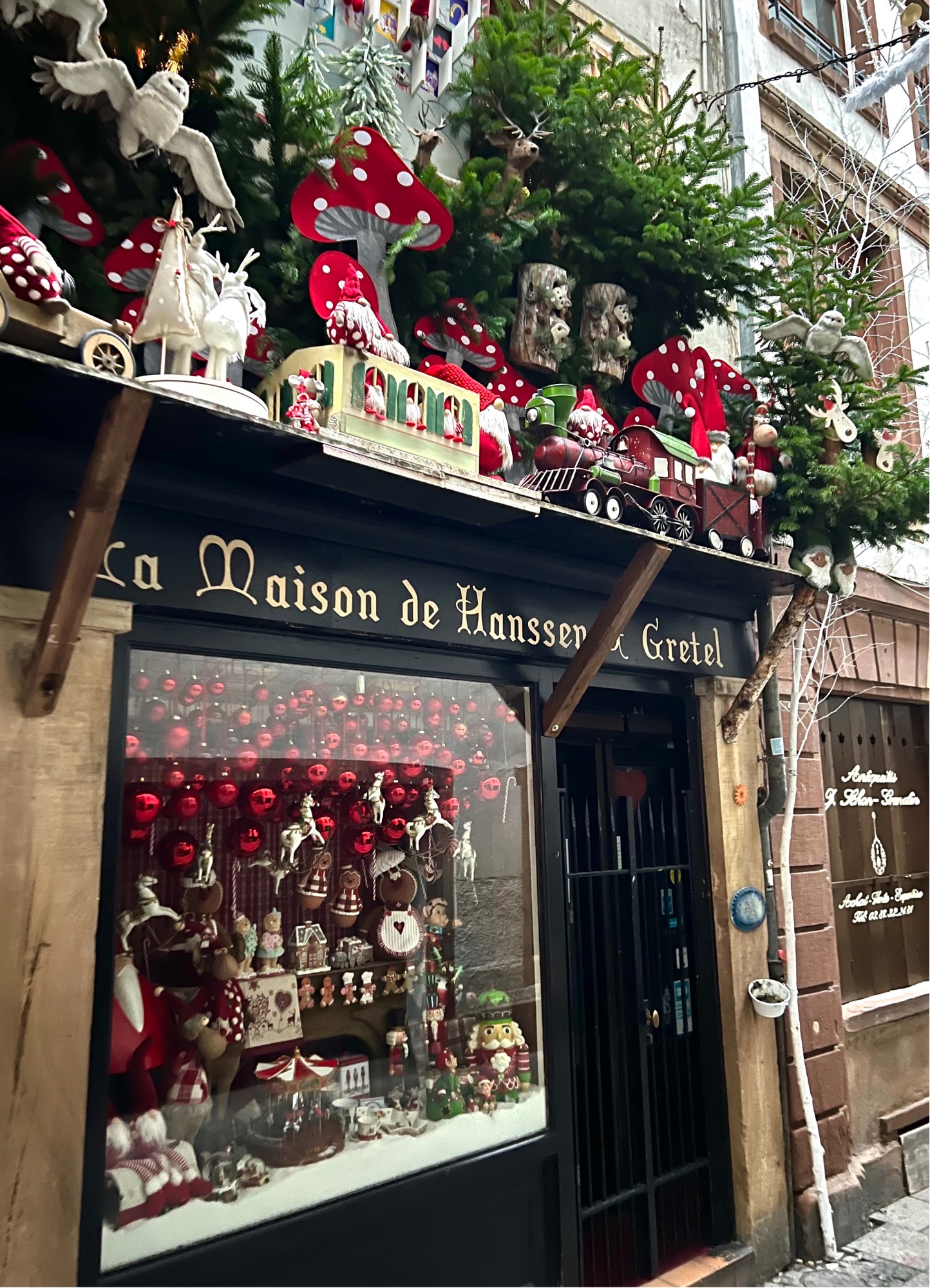 ULTIMATE CHRISTMAS GUIDE TO STRASBOURG (2022 UPDATE)
It's the most wonderful time of the year and you want to visit the most fairy-tale-like Christmas market in Strasbourg which brings the festive mood to the new level? Then look no further and book your tickets for Strasbourg – a city which has been declared Europe's capital of Christmas, and I can see why it carries this title, rather proudly.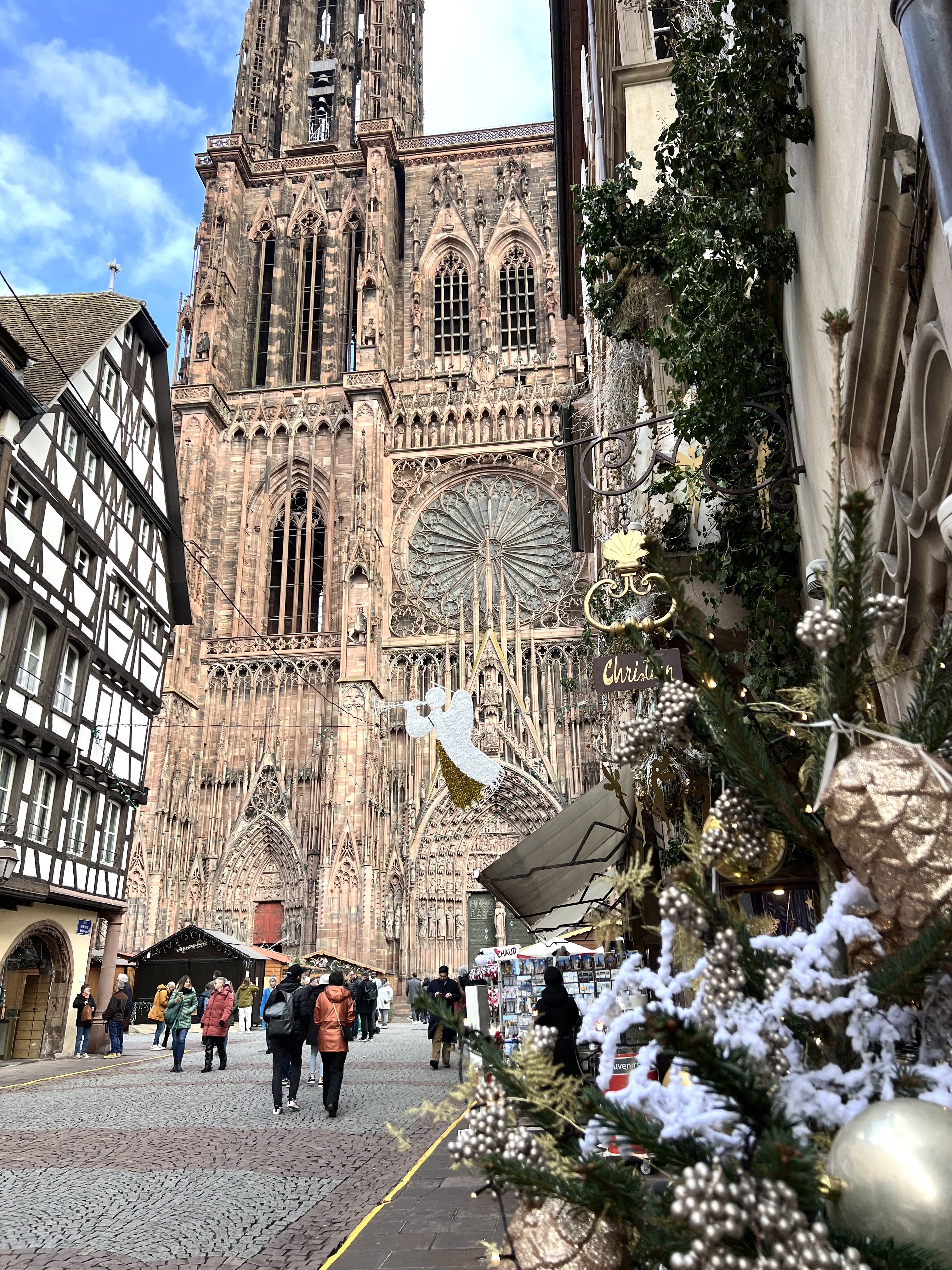 STRASBOURG & CHRISTMAS MARKET
Imagine a city taken over by a Christmas fever, the smell of mulled wine, cinnamon, and roasted chestnuts pretty much everywhere you go. Combine that with a city that without all this decoration and festivities is already beautiful with canals and half-timbered houses. Yes, the answer is that you should really see it for yourself.
And let me help you plan it well, learning from my last four visits to this beautiful area. So if you can manage to escape just weeks ahead of Christmas it is indeed a wonderful time of the year to visit Alsace and its beautiful capital of Strasbourg. Come with empty bags to stock up on French chocolates and wines and some rather special Christmas presents for your dearest.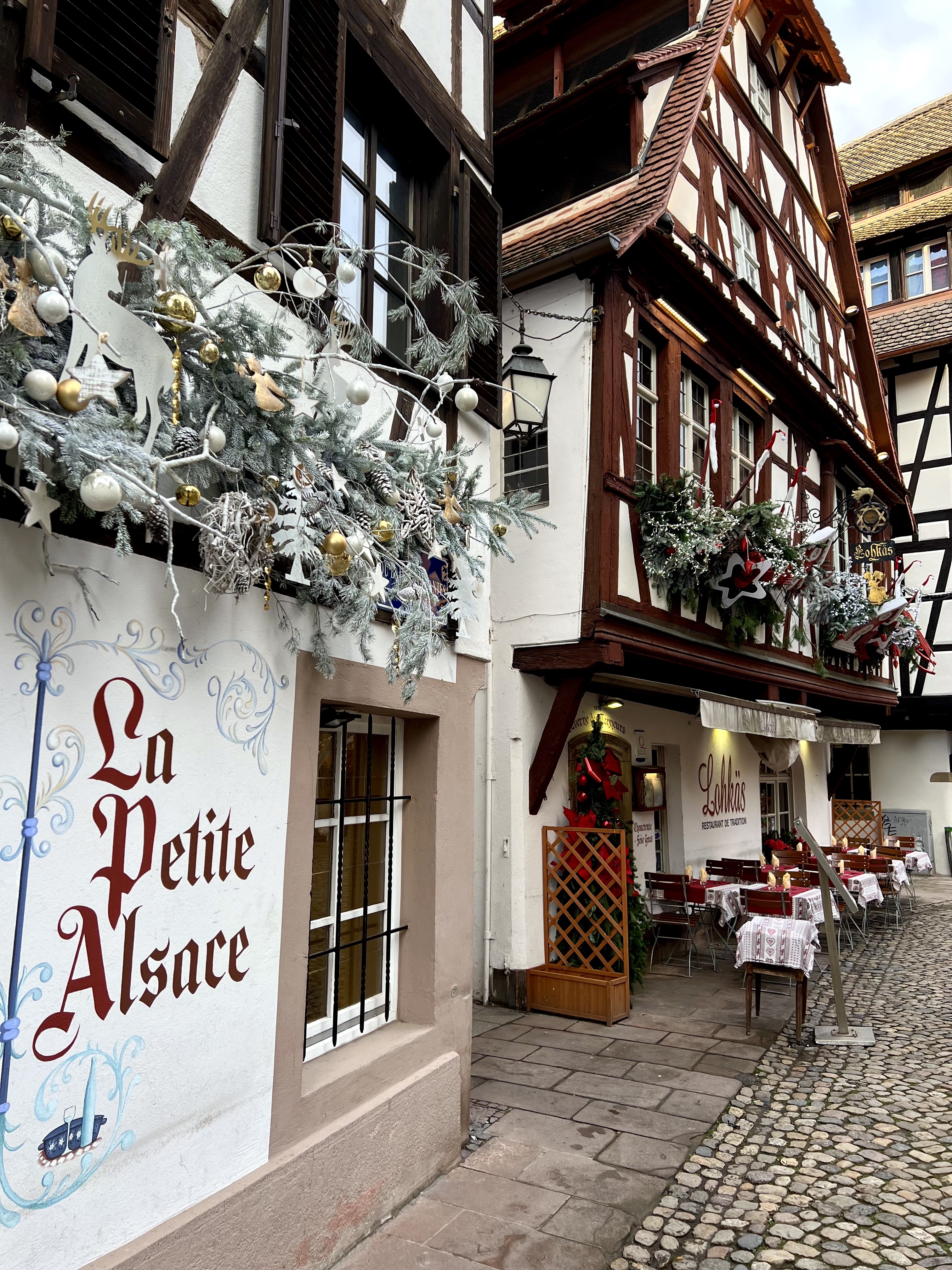 LOGISTIC & DATES of STRASBOURG CHRISTMAS MARKET
TIMING
Usually, the Christmas markets in Alsace start from around 25th November and go on until 26th December. The dates can change slightly each year so it's best to check in advance on the official website for the festivities available here.
Generally, the Christmas markets in Alsace open every day between 11 am to 2 pm and approximately close between 8 pm to 10 pm.
My recommendation is to visit Strasbourg in the first two weeks after the opening. This applies to all Alsatian Christmas markets. The crowds really can kill the joy and make you want to hide in your hotel.
I recommend visiting during the week and avoiding the weekends. You will have fewer people and cheaper accommodation prices, more availabilities in restaurants.
Lastly, book your accommodation and restaurants at least three months early, or even earlier if you can. I left it once until a few weeks before arriving and really regretted it. I had to choose between overpriced hotels without much charm and eating at very touristy restaurants.
GETTING THERE
Strasbourg has its own airport but you don't get many direct flights. An easier option may be to fly to Frankfurt and then hop on the 2 hour train or alternatively go first to Paris and then also catch the quick train to Strasbourg.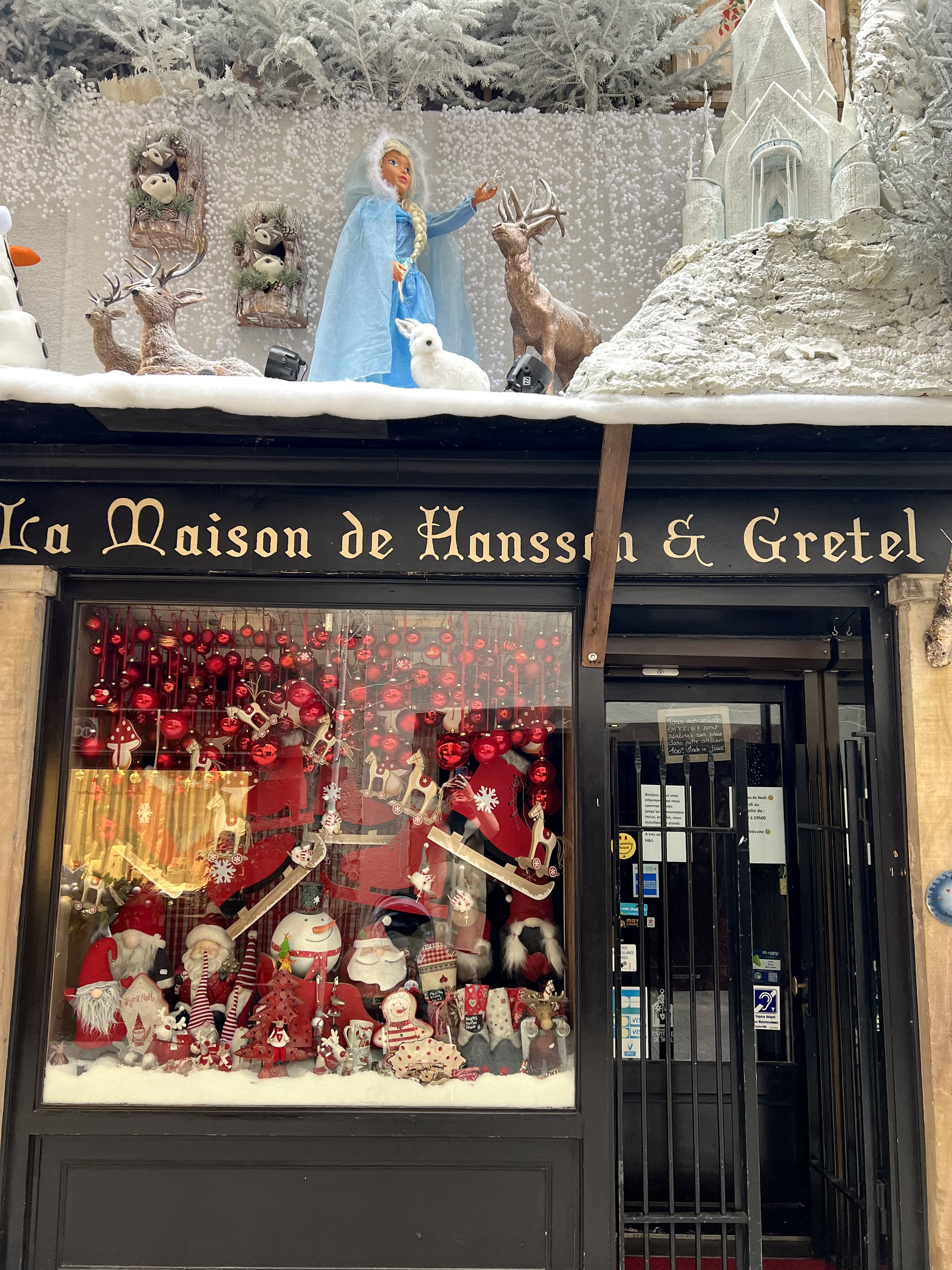 PLANNING YOUR STAY
Strasbourg has so much to offer so it's easy to feel overwhelmed by all the choices. Let me help you plan it well so you don't miss a thing! See below my highlights and top recommendations.
TOP THINGS TO DO IN STRASBOURG
So now that you are already in Strasbourg and want to soak in the atmosphere to the fullest and come home with unforgettable memories, what should you do? With over 300 wooden chalets spread across the town, you will be able to get happily lost, but to give a bit of direction, try not to miss the following:
STRASBOURG CHRISTMAS SPECIALS
In total there are eleven (!!!) Christmas markets spread out across the Old Town of Strasbourg. As I previously mentioned, the distances are short, and you can explore all that the Christmas markets have to offer without once using a taxi. And walking is in itself a pleasant experience given the plenty Christmas lights installations everywhere you go. Just don't forget to look up. Add to your to-do/to-see list:
If you want to start with the oldest Christmas market in France (originating in XVI century), then head to Place de la Cathédrale. If just being there isn't enough, and you want to see it from above, climb to the top of the cathedral and enjoy the vast views over the city and its Christmas market stalls. Additionally, don't forget the cathedral's Christmas crib, it really is worth the visit.
A thirty-meter tall Christmas tree in Place Kléber – the pride of the city! You can also do some ice skating here on the ice risk organised by the town.
I particularly like the city's old gold quarter called Carré d'Or . This winter wonderland can be easily missed if you don't know where you are going. All the lovely shops and restaurants put so much effort to dress up their window displays and seem to silently compete for who can do it best.
There are also many concerts, some even admission free. To check the timetable go to the official website for the festivities available here.
Importantly don't forget to warm up over traditional Alsatian cuisine in one of the city's Weinstuben. Find some recommendations in the section on where to eat.
STRASBOURG ALL YEAR HIGHLIGHTS
La Petite France is also one of my favourite parts of the town. Imagine it as the French version of Venice with windy canals, cobbled streets, and half-timbered houses.
If seeing the canals from above is not enough, then go for a boat ride to admire Strasbourg from the water.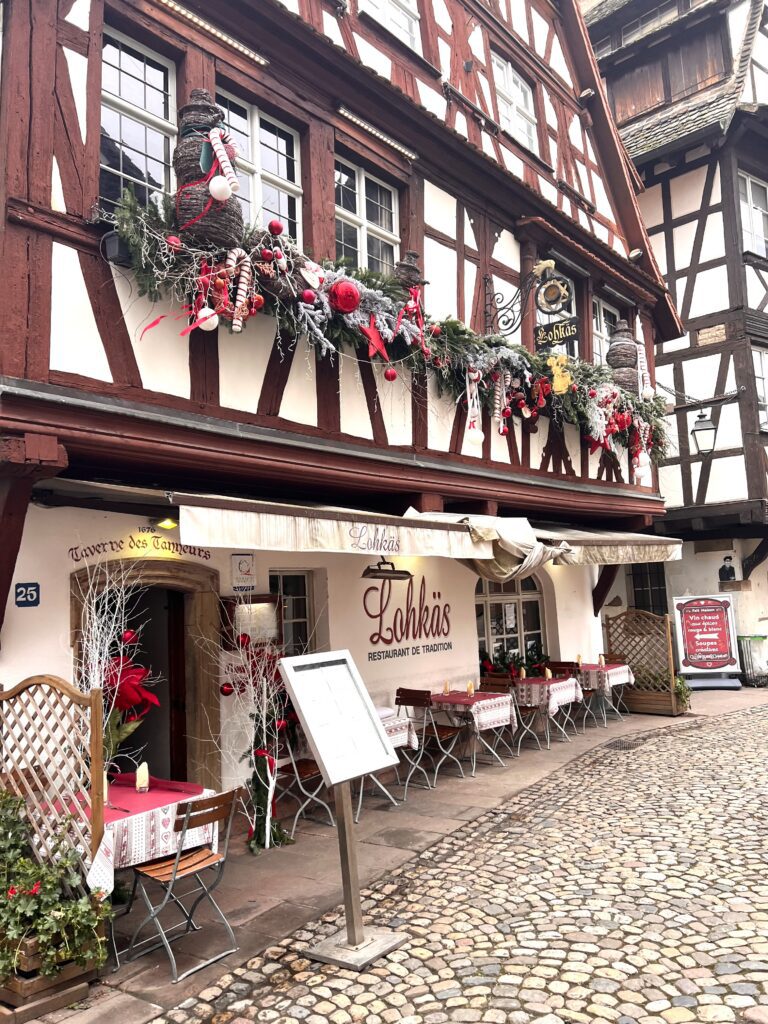 ACCOMODATION IN STRASBOURG
Strasbourg is a good base for exploring the whole of Alsace, especially if you don't have a car with you. It is the center of the region and as such it offers trains to the other smaller towns. As per choosing the location of your accommodation in the city itself – try to stay within walking distance of Strasbourg Cathedral and/or La Petite France to really soak in the atmosphere.
I really recommend staying at least one night in Strasbourg, because there is so much to see. The advantage of staying overnight is that you can beat the crowds and go for a morning stroll with a coffee and croissant in your hands and actually get to see all the decorations
HOTELS
I stayed at Regent Petite France which has a genius location, in one of the prettiest neighborhoods, directly on the canal. See below the view from our window.
Las Haras Hotel – was recommended by a friend who stayed there, and swore on the incredible breakfast. It is located at the entrance to the Petite France district, offering being central without being overwhelmed by all the tourists. Also its Brasserie looks incredible.
Hotel Cour du Corbeau – It's the hotel you have probably seen on Instagram if you looked into Strasbourg. It is a stunning example of Renaissance architecture & old-world charm.
AIRBNBS & APARTMENTS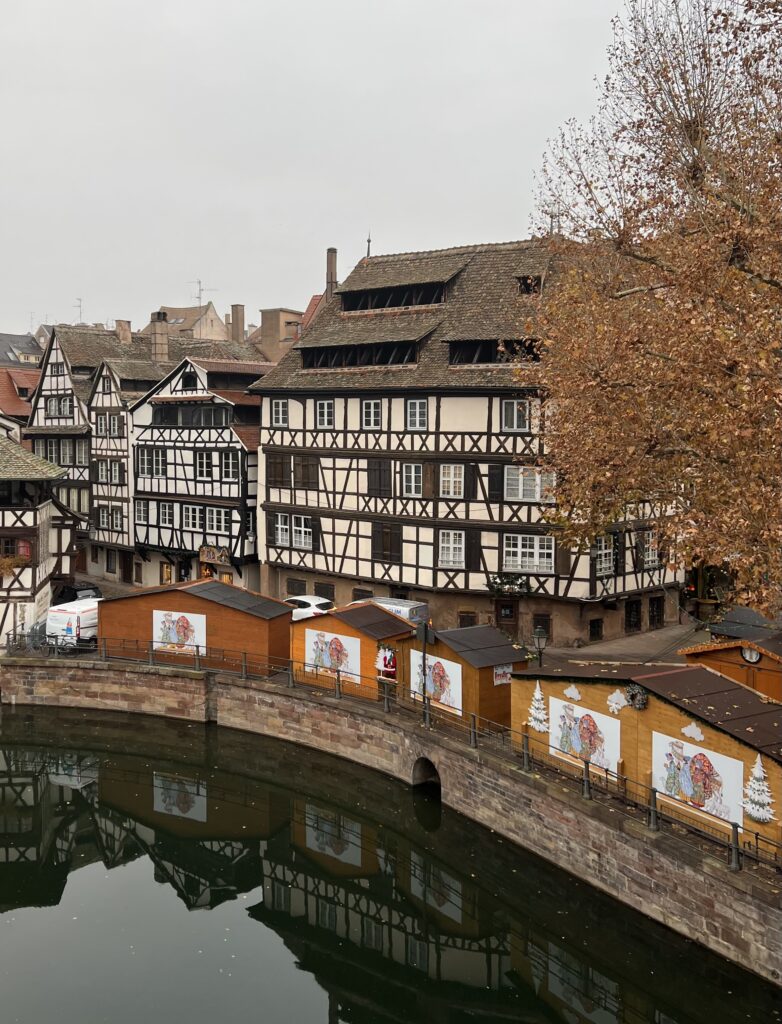 BEST PLACES TO EAT IN STRASBOURG
Winstub Le Clou – A traditional choice, with wooden walls and old paintings and regional on the menu.
Chez Yvonne – Apparently Jacques Chirac's preferred restaurant in Strasbourg. Please see the photo below.
Utopie – Less traditional choice, but my friend Julia swears on it, saying she has gone twice during her short visit.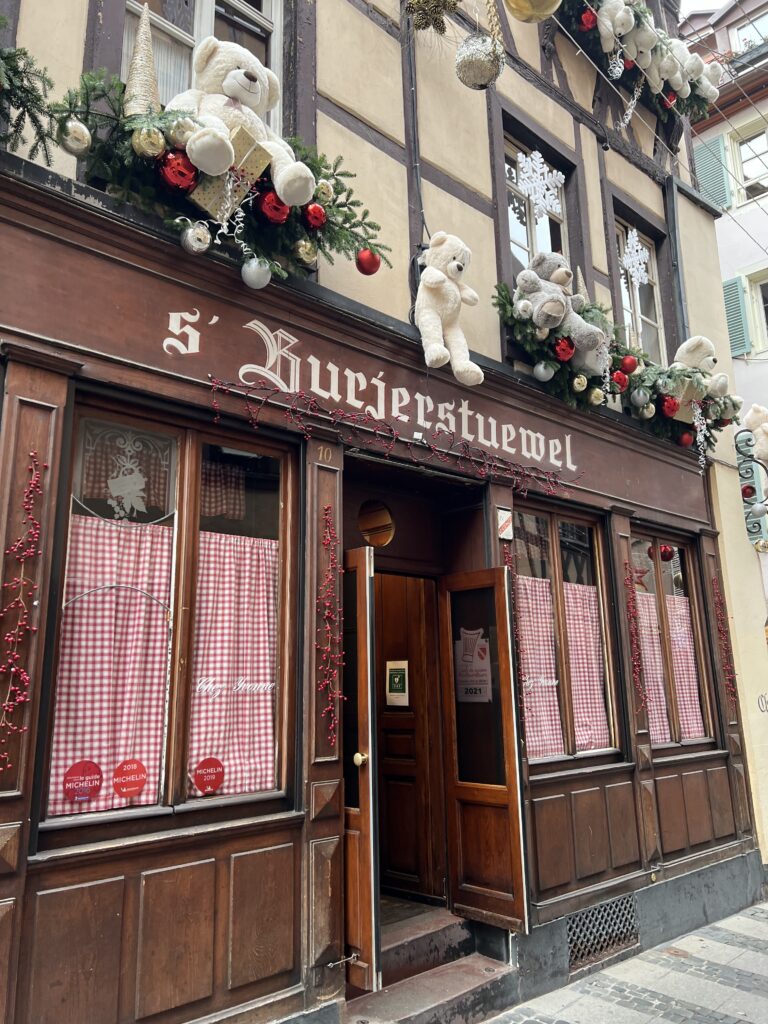 FINAL TIPS
If you are already in Strasbourg around Christmas it really would be a pity not to explore other Alsatian towns. From here, it is very easy to visit other Christmas Markets by train in Obernai, Sélestat, and Colmar.
ULTIMATE CHRISTMAS GUIDE TO COLMAR
I hope this helps!