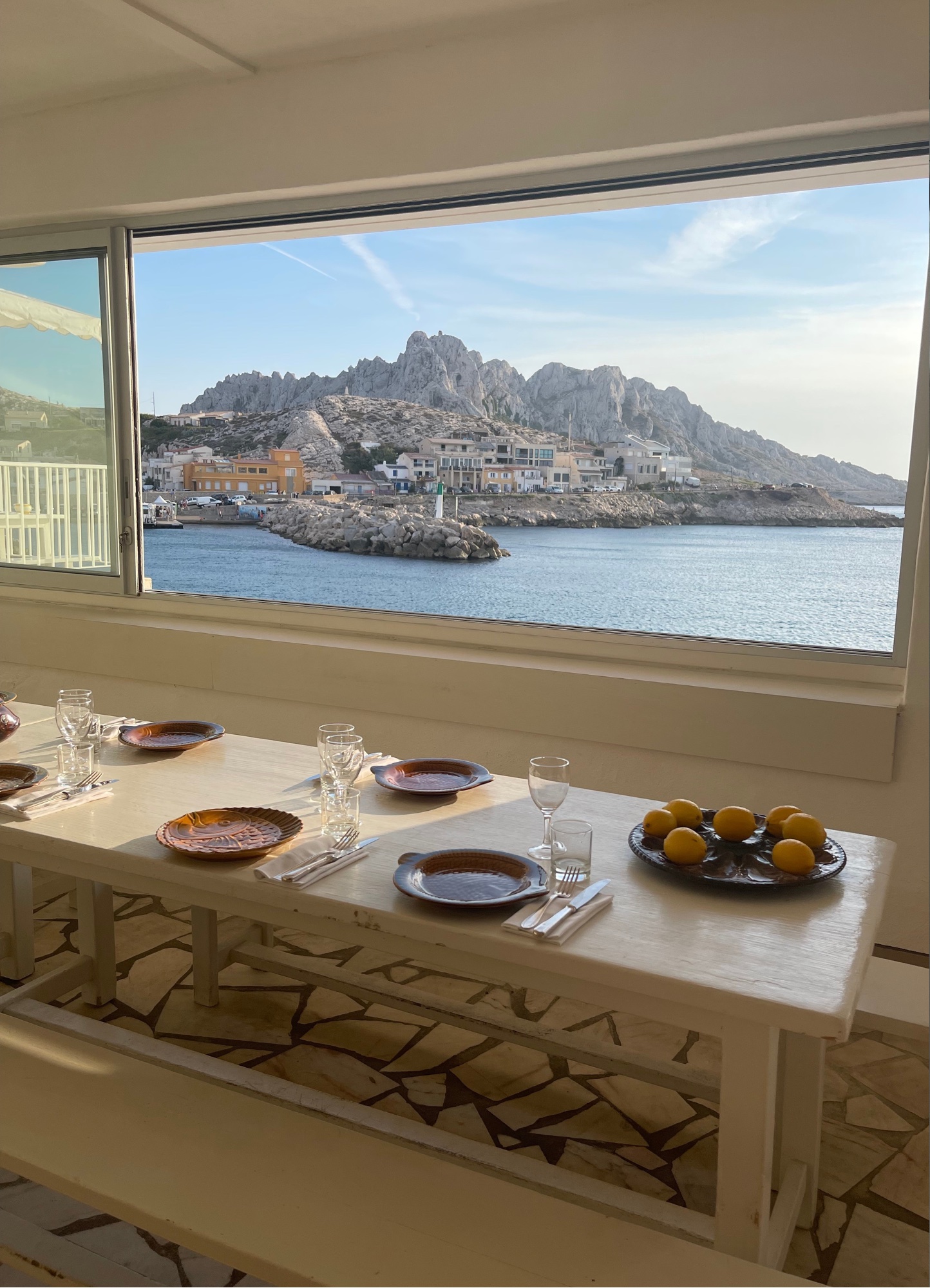 MARSEILLE RESTAURANTS – 10 BEST SPOTS
Are you going to Marseille in France and want to know about the best restaurants?
Marseille is undoubtly on the hotspot. It's one of the trendiest and upcoming destinations for a trip to the South of France for anyone craving for that special Mediterranean vibe.
As the food scene in Marseille is really changing and new places pop up every other week, how can you find the best places to eat and soak in some of Marseille's atmosphere?
I have spoken with Candice Chalvin from @candicechalvin who is a Marseille's local to get you covered. With her help you will be able to navigate through Marseille's restaurants as if you were a local!
Here's an insider guide to the 10 must try restaurants for any trip in the Cité Phocéenne, as the local call their beloved city – Marseille!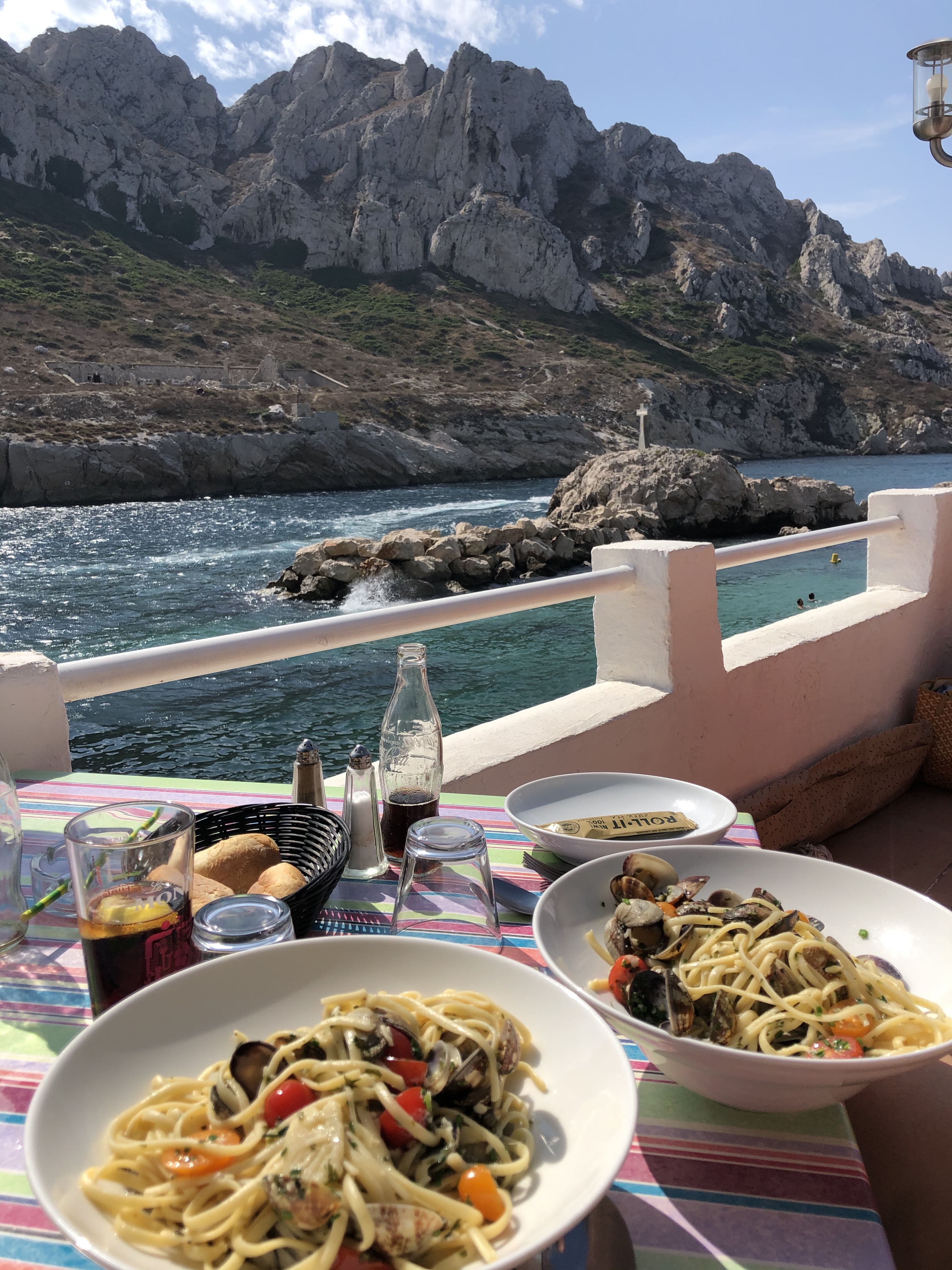 INTRO
Not only is Marseille well known for its incredible food scene but also there are hundreds of new spots pop up on a regular basis!
And it is its coastal location which makes eating out a dream. Why? Imagine diving from the rock between dessert and coffee, and enjoying some fresh fish at sunset. A dream, right?
A vibrant, unique atmosphere and energy embrace the city. Is it due to its heritage, its location near Italy, Spain and North Africa? Or perhaps is it due to its glorifying light from sunrise to sunset, that warmths its habitants and travelers?
When it comes to Marseille, people are all in or out. It's a city you either fall in love with, for its contrasts, omnipresent horizon line and sea perspective, lights or you can also hate it if you don't feel it at first.
So let's spill the secrets of Marseille's best restaurants, shall we?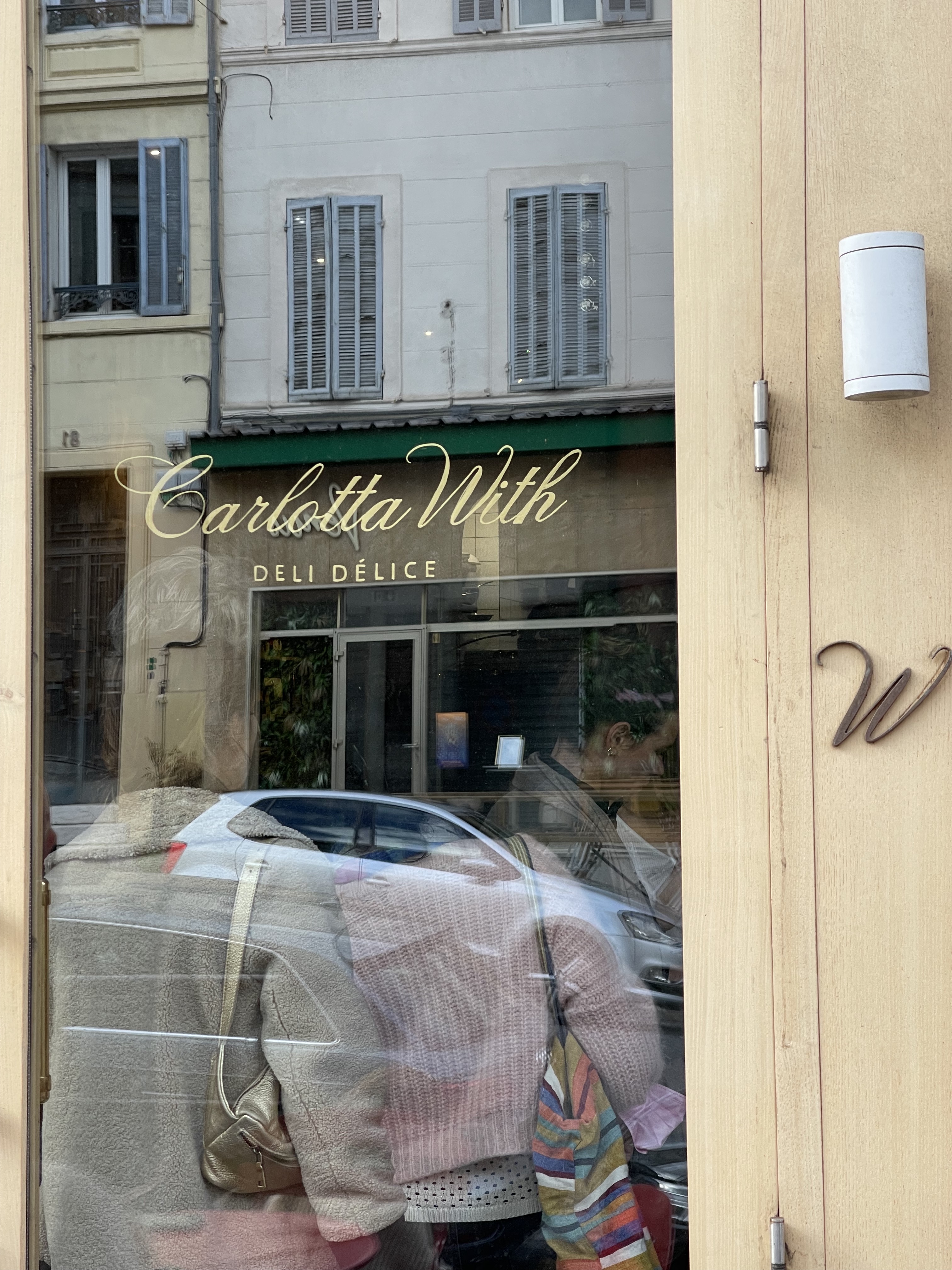 MARSEILLE BEST RESTAURANTS
TUBA CLUB
19-17 BISTROT DU PETIT NICE
LA BAIE DES SINGES
CHEZ LE BELGE
L'ÉPUISETTE
CANTINETTA
LES EAUX DE MARS
LA MERCERIE
ÉPICERIE L'IDÉAL
CARLOTTA WITH
1. TUBA CLUB
Undoubtedly, this is Marseille most Instagramable restaurant! And there's a good reason for that!
The cabanons of Tuba Club, located at the doorstep of the National Park of Calanques, used to be a scuba diving school, where the famous Jacques Maillol used to practice.
At Tuba Club, you can spend the night in the cabanon or go for a tasteful lunch on a table on the rock, overlooking the sea. You'll eat fresh fish from the Bay from short food circuits. Fishermen bring their catch of the day early in the morning.
The menu is made with love from talented chefs Sylvain Roucayrol and Paul-Henri Bayard and inspired by the Mediterranean sea. So it's basically all about fish, sea food, with a meat option. As for dessert, la Chocoquine, a famous warm chocolate tart, is a must. When it comes to the cocktail, go for the Sormioule, the revisited Moscow mule with Rosemary liquor that literally tastes and smells like the Calanques.
Enjoy your lunch in the sun, dive from the rock between dessert and coffee, and get the most out of this unmissable spot until sunset.
Finally, please note that reservations are mandatory given that they are often fully booked!
Price: $$
ADDRESS: 2 Bd Alexandre Delabre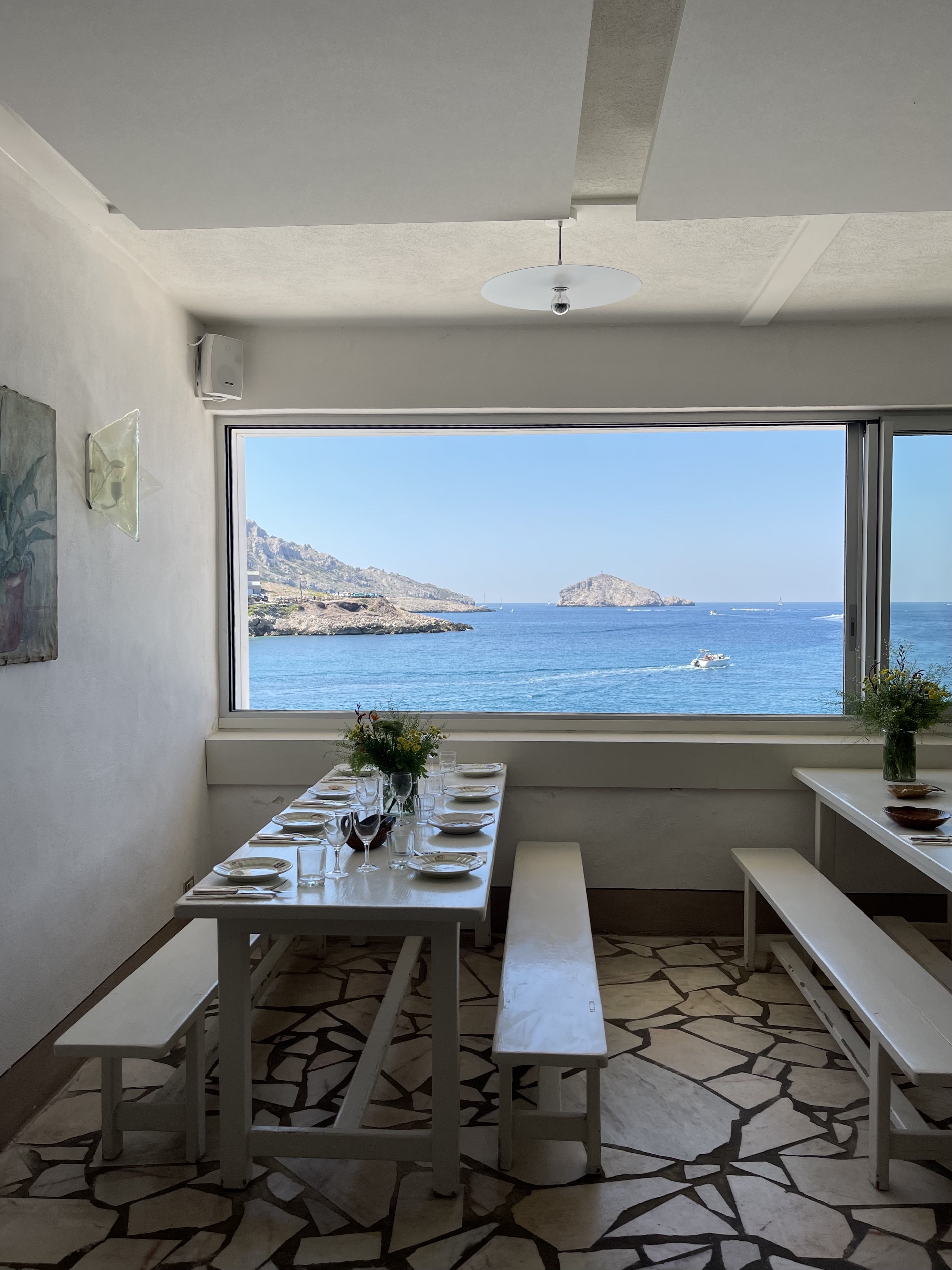 2. 19-17 BISTROT DU PETIT NICE
Seaview lover alert! The Bistrot 19-17 from the Michel-Star restaurant Le Petit Nice, owned by Marseille famous chef Gérald Passedat, is one of the most beautiful hidden secret spot in town. Overlooking the sea and located in Malmousque, you can't enjoy any better view in the city than this one. Start with the Foccasia, before moving to the tasteful dishes, from salad to fresh fish, Vongole, Scallops or roasted Chicken.
Above all, this spot stands for gastronomy but in a bistrot, more accessible version.
Finally, it is ideal for an easy-going lunch but with a view.
PRICE: $$
ADDRESS: 17 Rue des Braves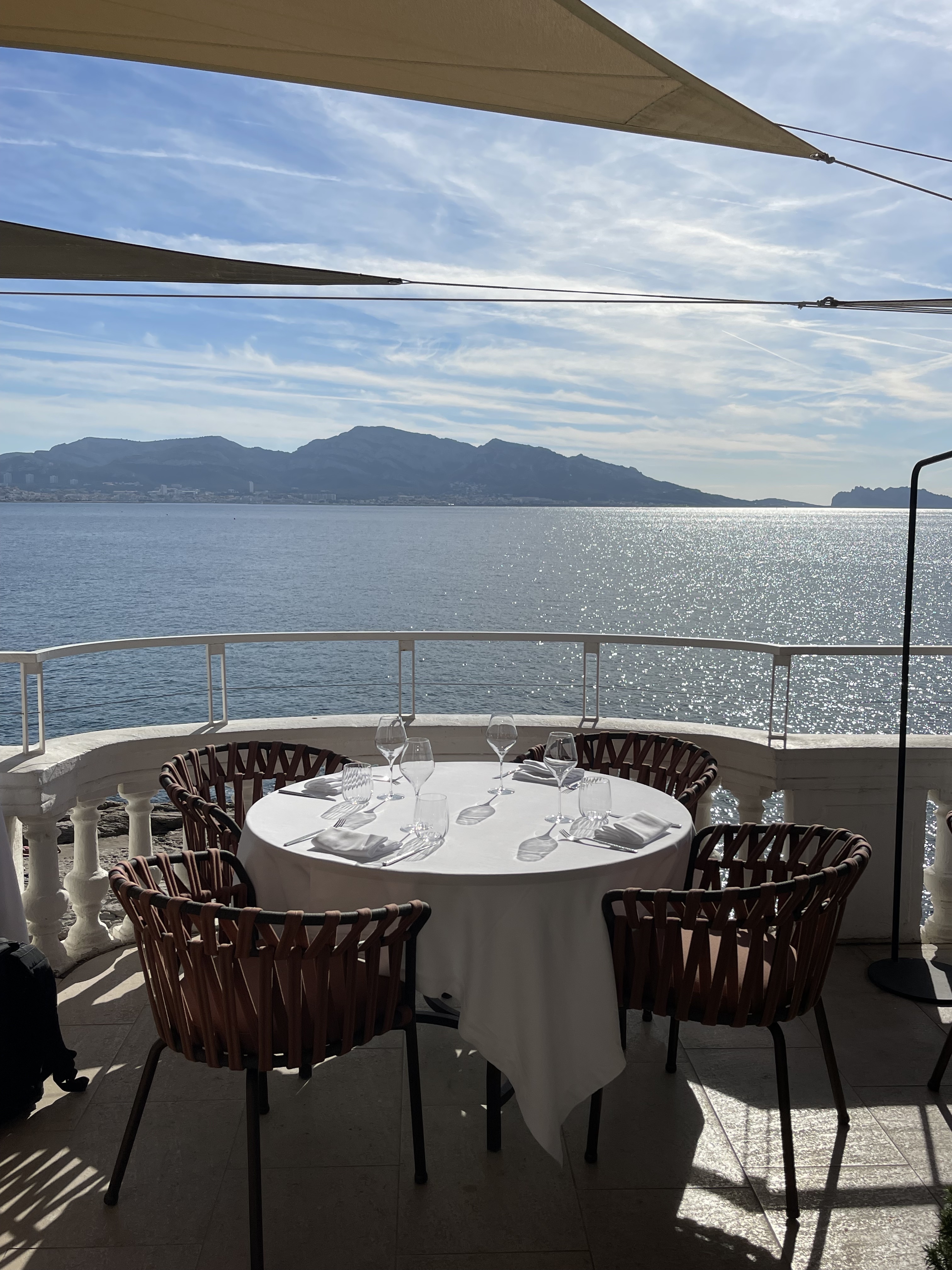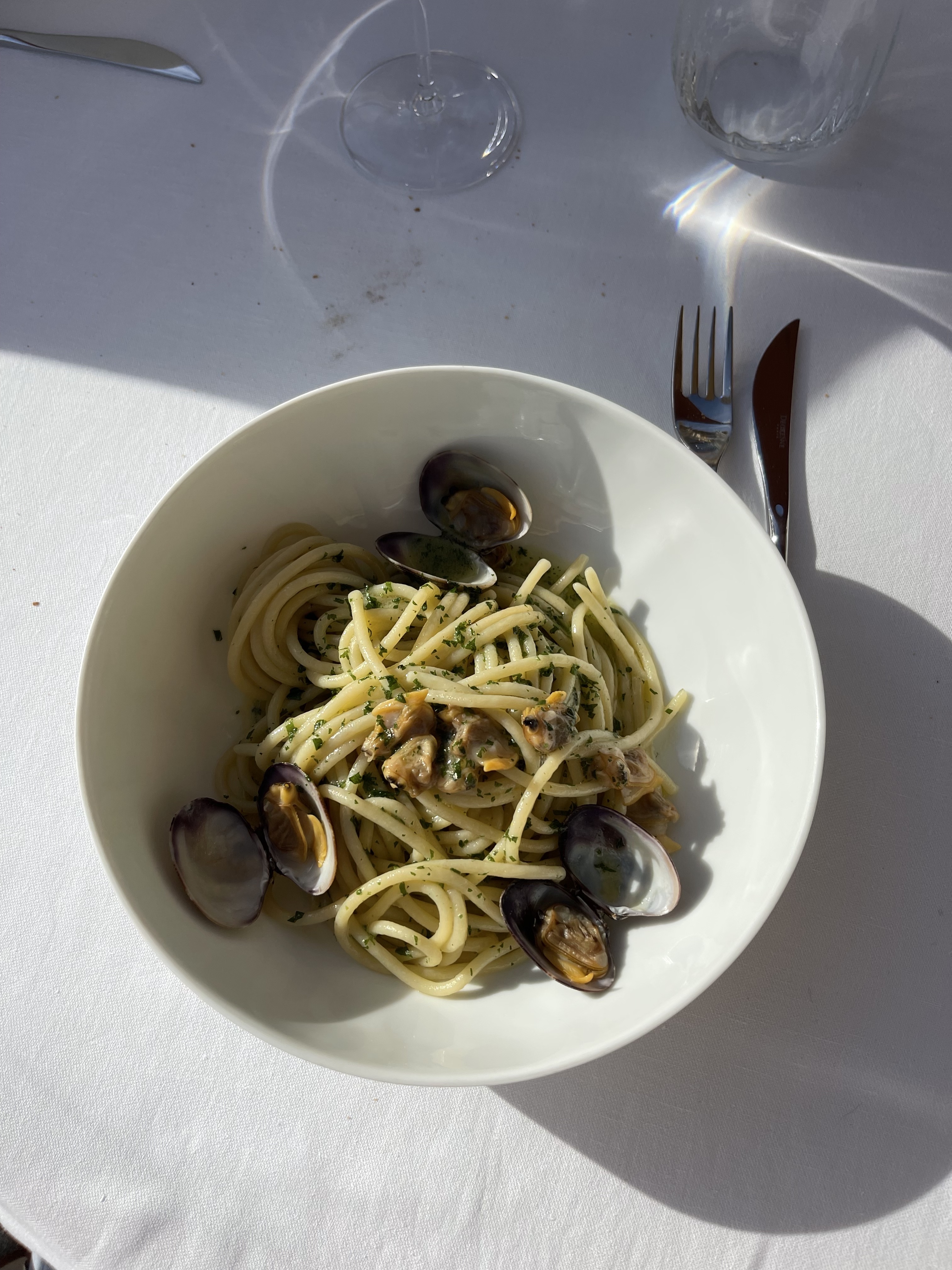 3. LA BAIE DES SINGES
Open from April to October, la Baie des Singes is an institution.
Located in a private small Bay, its terrace is overlooking the sea and cliff. Not only is its and it's crystal clear, turquoise preserved bay an ideal spot to swim but also a perfect way to spend the day after eating a tasteful lunch. This Casual, easy-going spot looks as if it stopped in time. You will ask yourself whether you are in 1960, 80s or 2023? It's traditional, comforting, and the food is always just delicious.
So what will you adore about this place? The generous portion of food and the orange transat where you can relax all day long after your lunch.
On the menu, you can enjoy salads, seafood, fishes but also meat. Above all, the linguine vongole are delicious, as all the fresh fishes you can see and choose before ordering.
Finally, the reservations are mandatory, they are often fully booked!
PRICE: $$
ADDRESS: Cap Croisette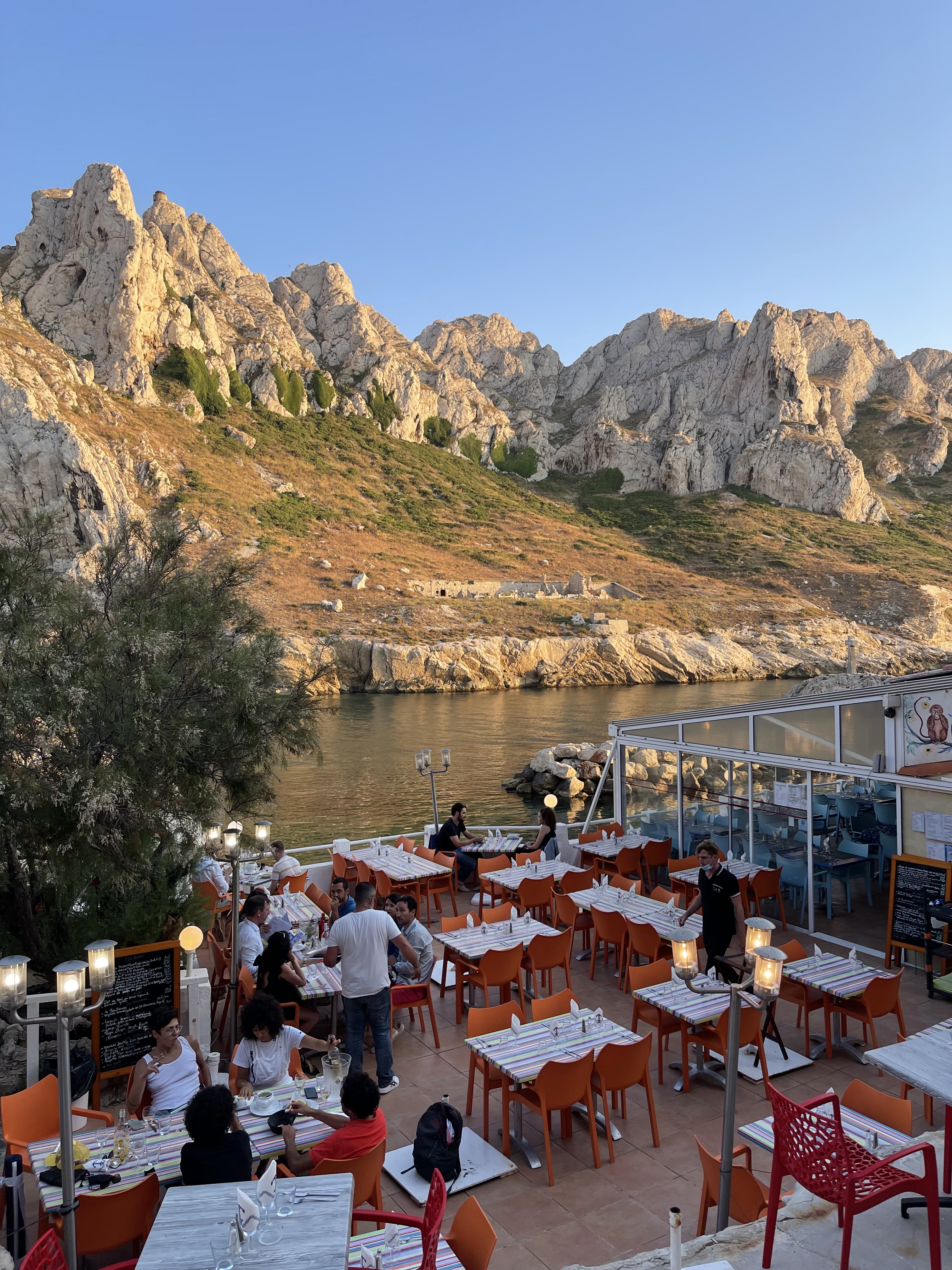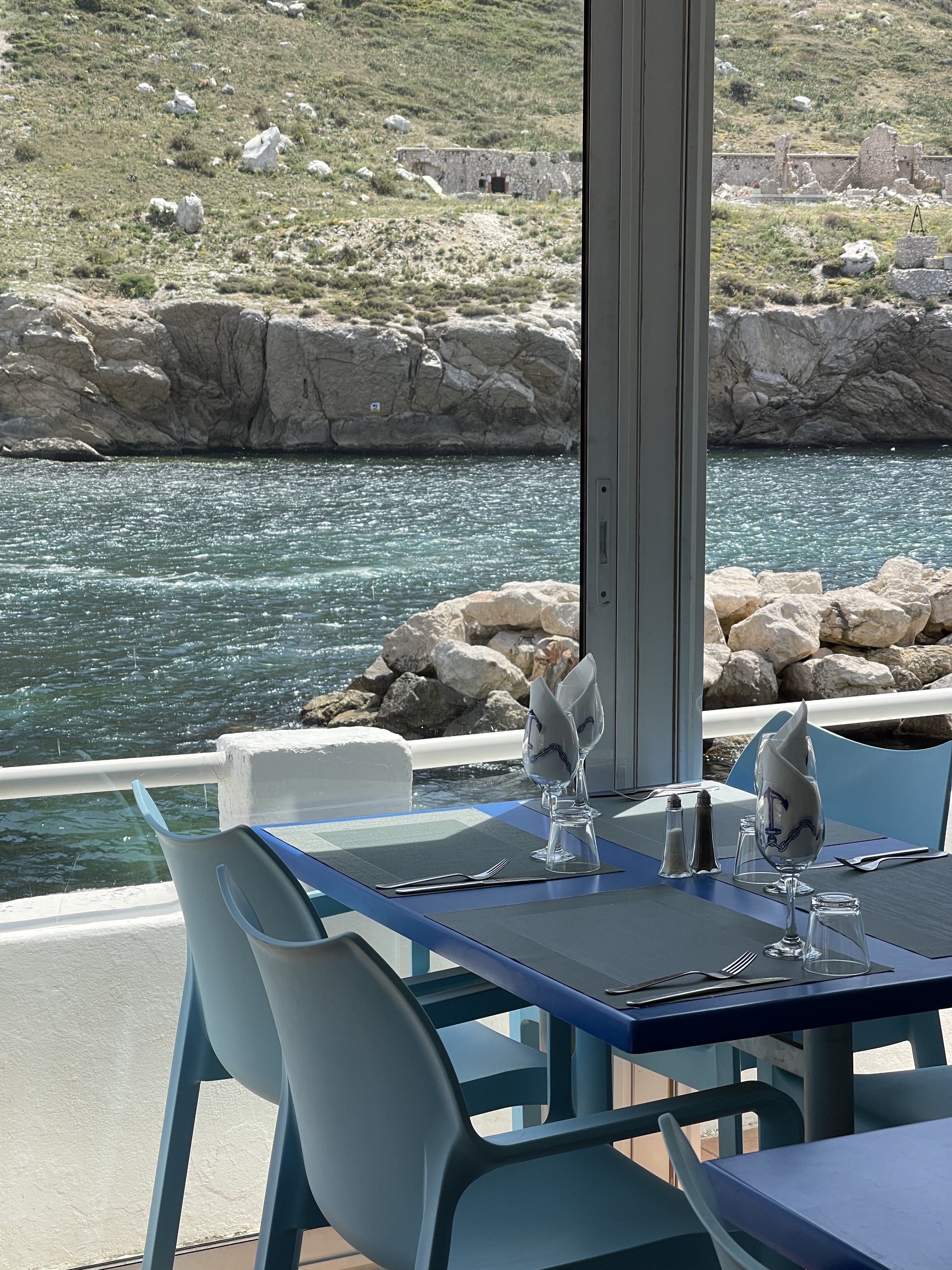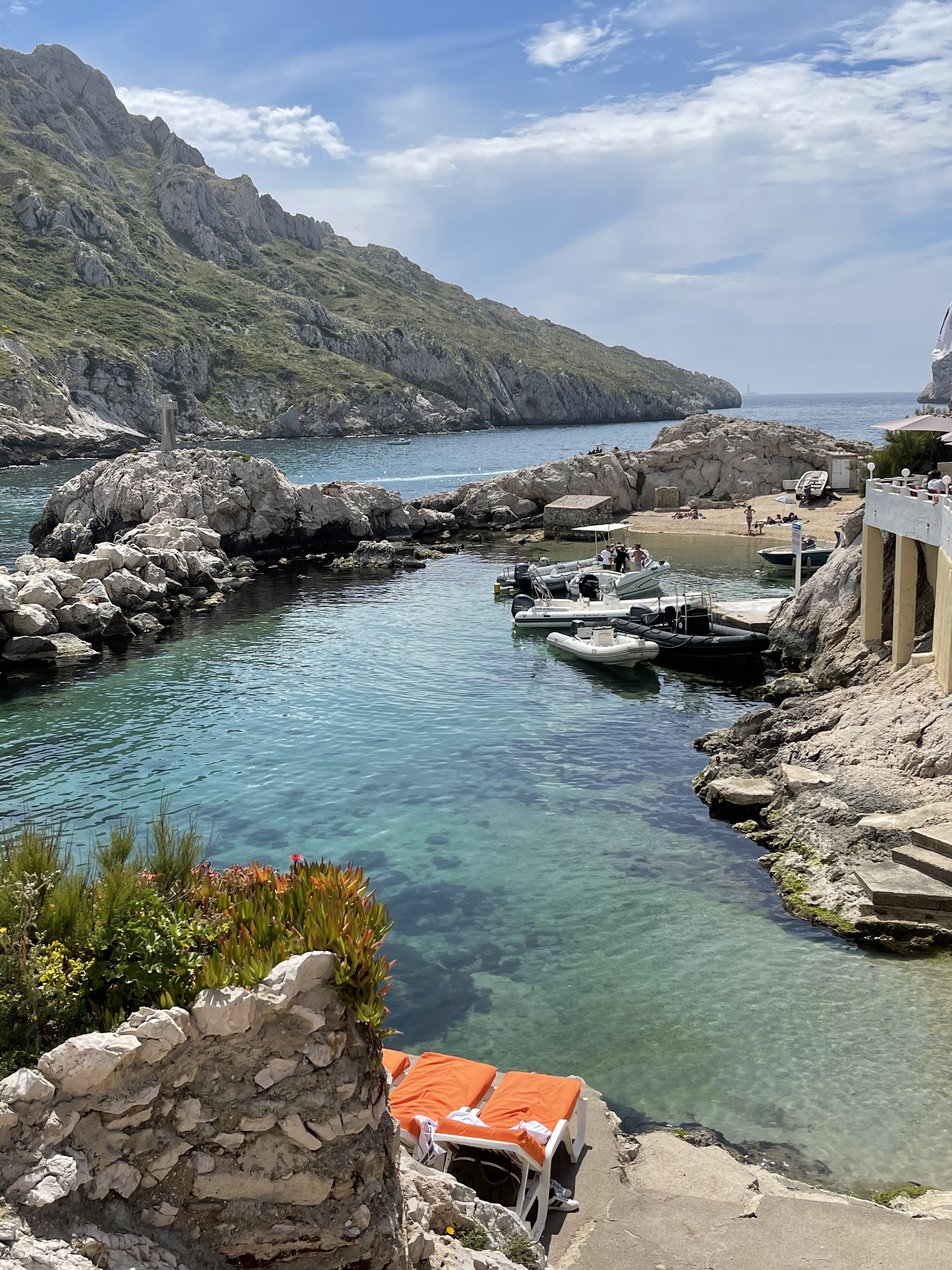 4. CHEZ LE BELGE
It's the ultimate summer vibe, also given that it is only open during the warmer months from April to October.
Above all, Chez le Belge is a rustic, very authentic little restaurant located in a remote bay accessible either after a one hour hike or by boat. Therefore most people come swimming from their boats. Imagine yourself seated on a plastic chair, wearing your swimsuit, the skin salted by the sea.
The food is good, the menu remains the same: pasta a la bolognese or salad, with Coke, rosé or water.
A must for all marseillais and sea lovers.
PRICE: $
ADDRESS: Calanque de Marseilleveyre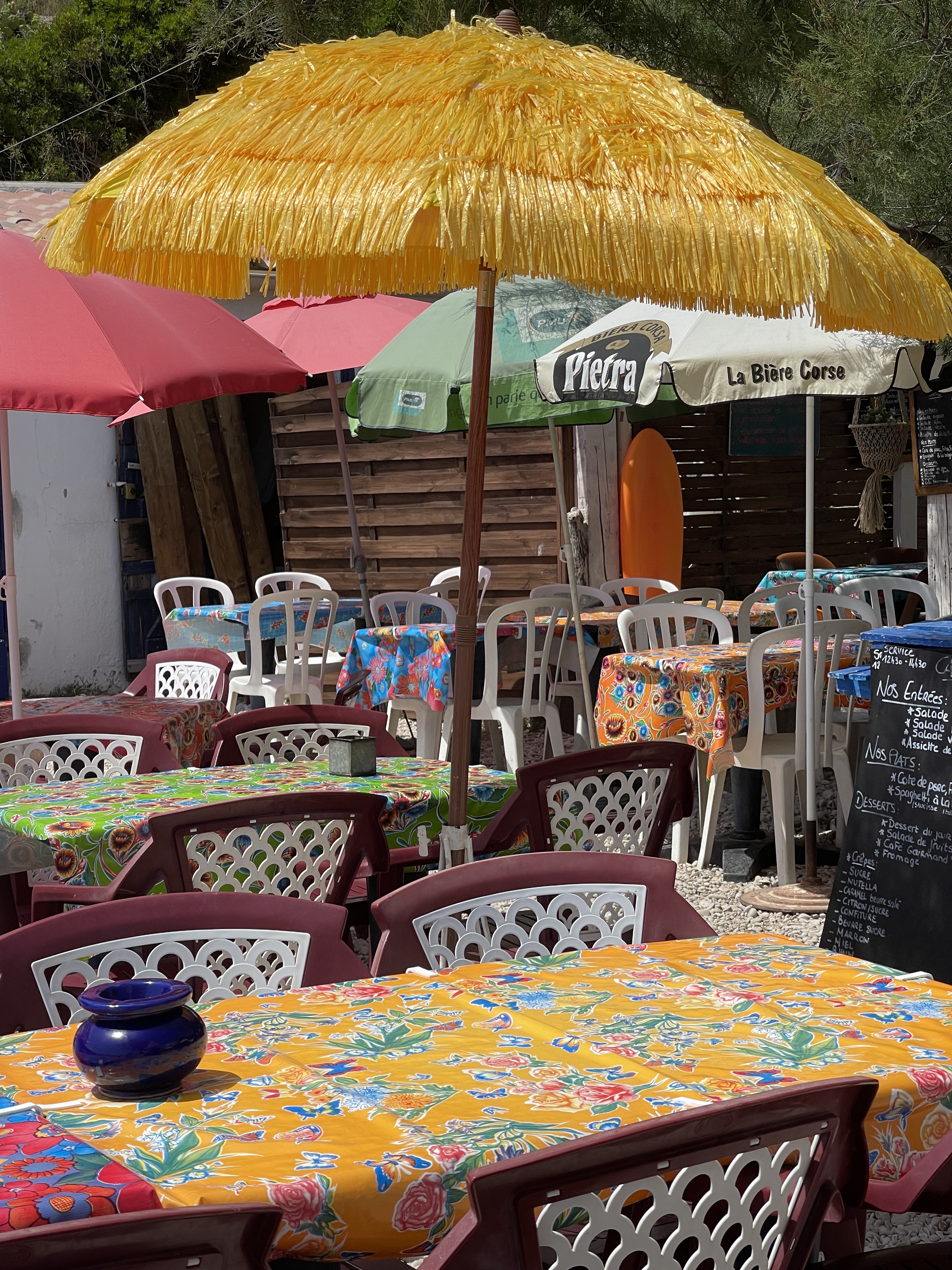 5. L'ÉPUISETTE
L'épuisette is a gastronomic restaurant located at the famous Vallon des Auffes. Walk through this charming little port in the evening to enjoy the sunset and typical atmosphere of the unmissable spot in Marseille. Then, head to l'Épuisette, a gourmet restaurant located on a cliff overlooking the sea. The menu is consistent with the place: focus on sea products and attach to the local terroir. If you'd like to admire the turquoise colors of the mediterranean sea, opt for lunch, otherwise the dinner option is romantic and every dish is absolutely refined.
PRICE: $$$
ADDRESS: 158 Rue du Vallon des Auffes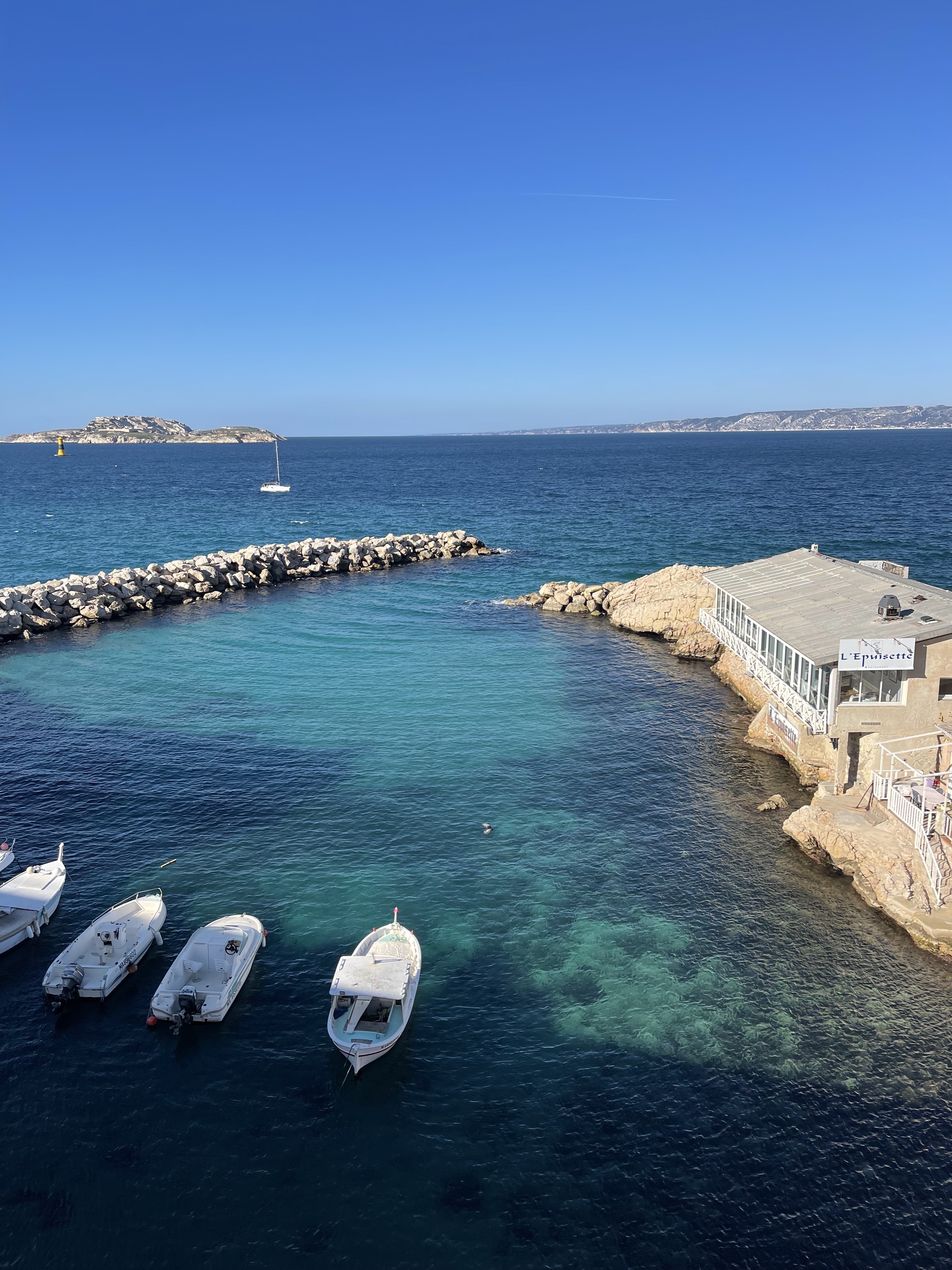 6. CANTINETTA
Cantinetta is an Italian restaurant located in the city center of Marseille. Its patio is one of the most coveted during Spring and Summer for that special guinguette casual atmosphere. For lunch or for dinner, the food is always delicious, whether you go for the linguine alle vongole, rigatoni all' arrabbiata or scaloppine del giorno. You can never go wrong at Catinetta.
Prices are accessible, the place is always crowded in summer so book in advance!
PRICE: $
ADDRESS: 24 Cr Julien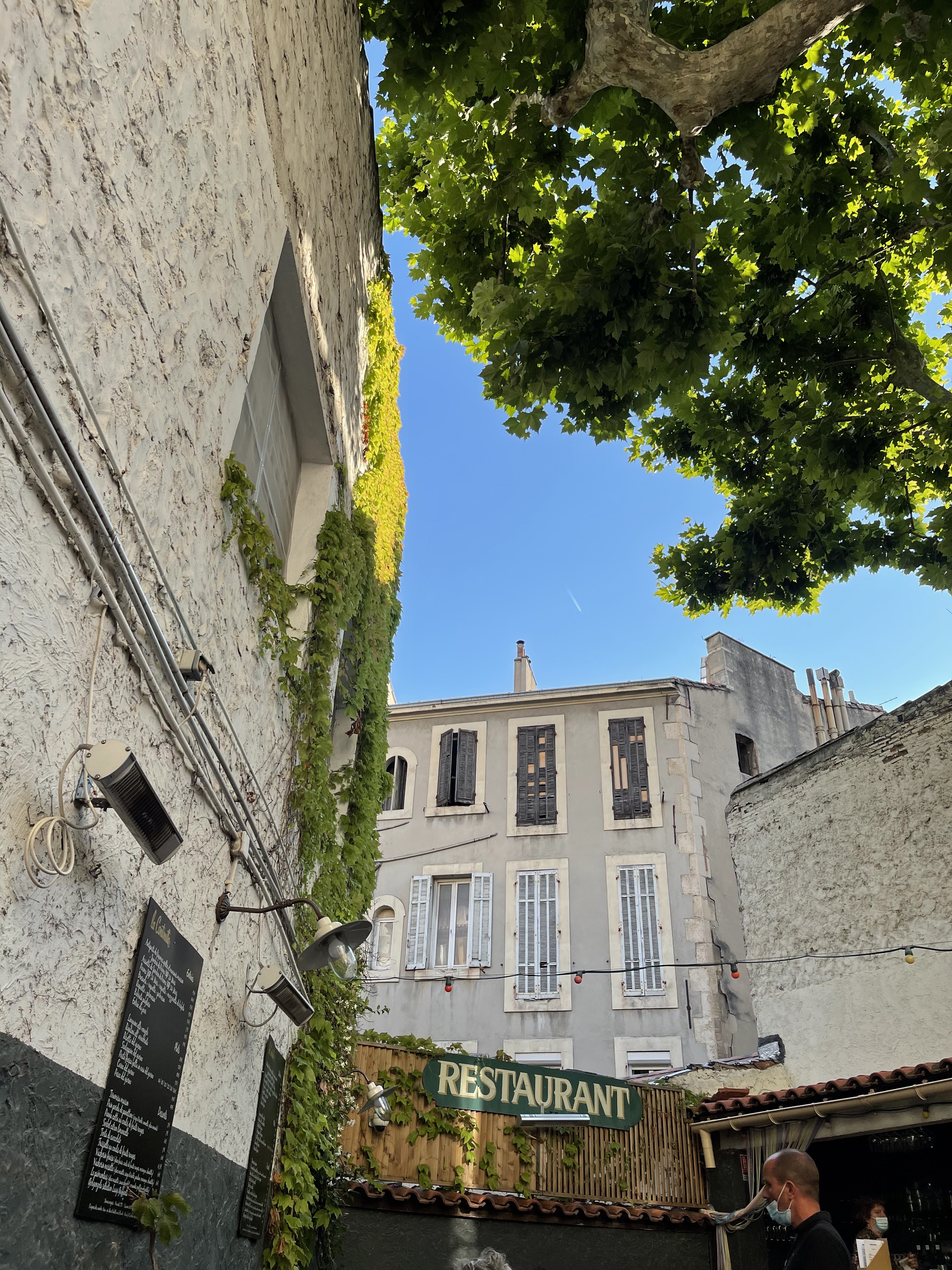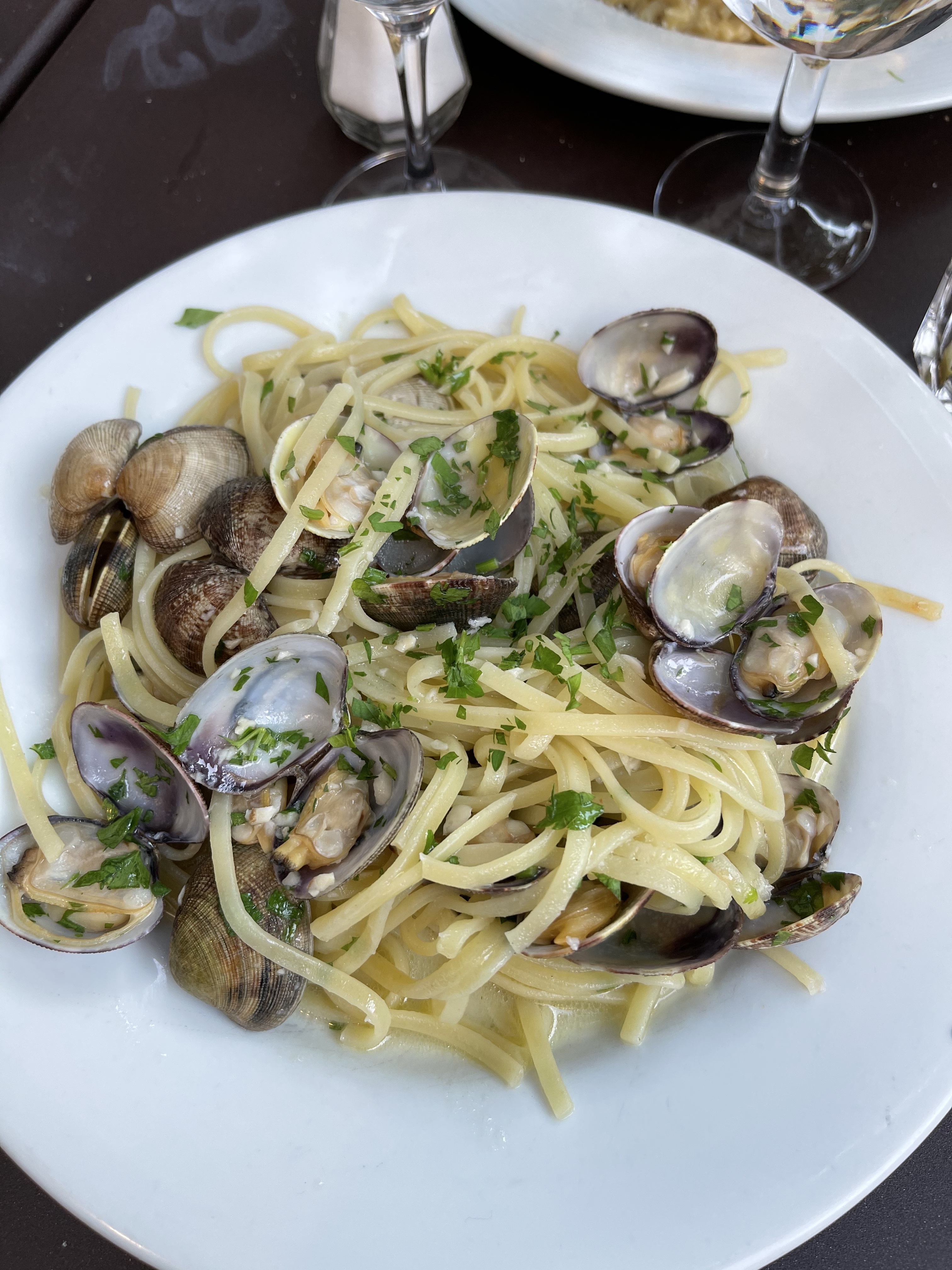 7. LES EAUX DE MARS
A stone's throw from the Palais Longchamp, located on the corner of rue Consolat and rue Louis Grobet, Les Eaux de Mars is certainly one of the best restaurants in town. It's one of these gems, accessible in terms of pricing, spot that you only share with the people you truly cherish. Chef Noémie Lebocey, trained in Normandy, then traveled in Chile and Asia. She will take you on a journey through refined and gourmet cuisine, a mix of savours made of fresh and seasonal products from organic farming in short food circuits.
PRICE: $
ADDRESS: 135 Rue Consolat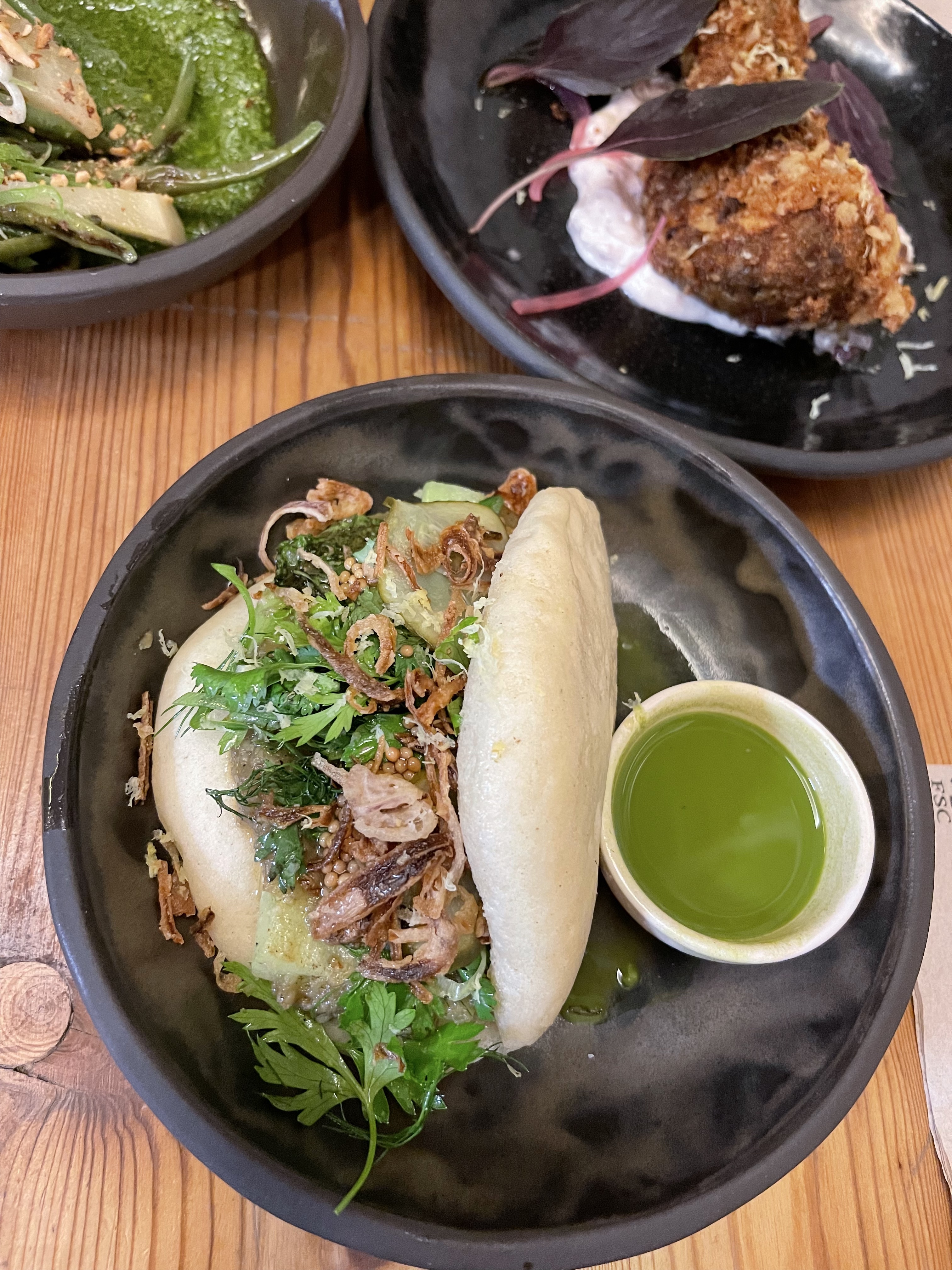 8. LA MERCERIE
You can't miss a dinner at la Mercerie if you are heading to Marseille. A 5 service dinner with 5 tasteful dishes, served in refined ceramics made by local artists Franca Ateliers. At la Mercerie, the kitchen is open and you can see the whole team of chef cooking right under your eyes. Expect not only tasteful savours but also local ingredients, great recipes and a lot of inspiration. Above all, make sure you've booked your table ahead of time and try the wine pairing. You might have some very good surprises!
PRICE: $$
ADDRESS: 9 Cr Saint-Louis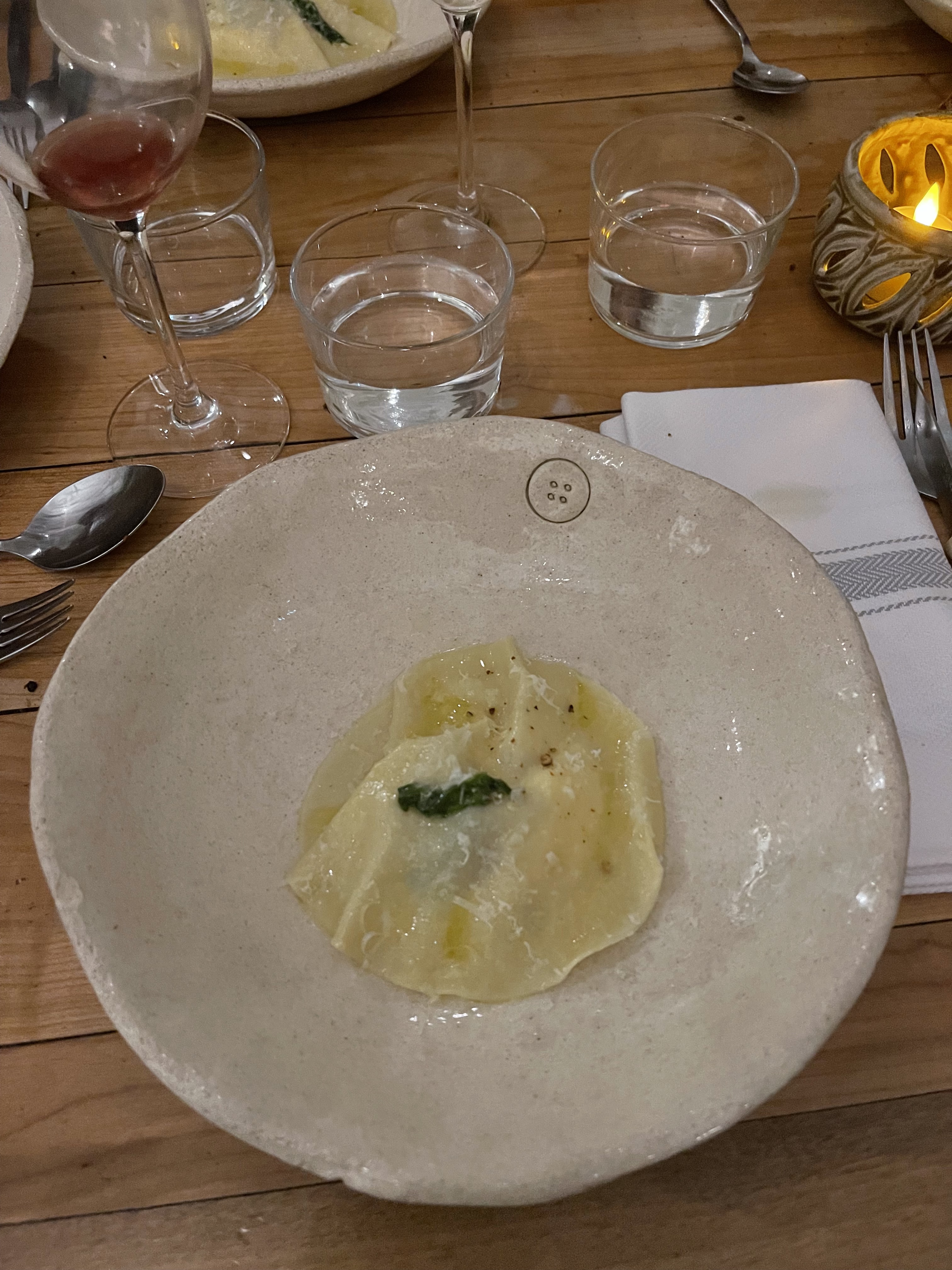 9. ÉPICERIE L'IDÉAL
This place is a must travel destination in itself. L'Épicerie is an italian grocery store where you basically will want to buy absolutely everything that is displayed. Hopefully, you can sit there and enjoy a tasteful sandwich on-the-go, prepared under your eyes with fresh mozza and delicious prosciutto. Either in spring or summertime, enjoy a breakfast or lunch under the umbrella of the little terrace. All dishes are super fresh, tasteful and the recipes are very inspired. The atmosphere is very special there as all tables have little fresh flowers bouquets that make it romantic. It's located in the heart of Noailles, Marseille, just near Maison Empereur and Jiji la Palme d'Or, two must-visit store while in a trip there!
PRICE: $
ADDRESS: 11 Rue d'Aubagne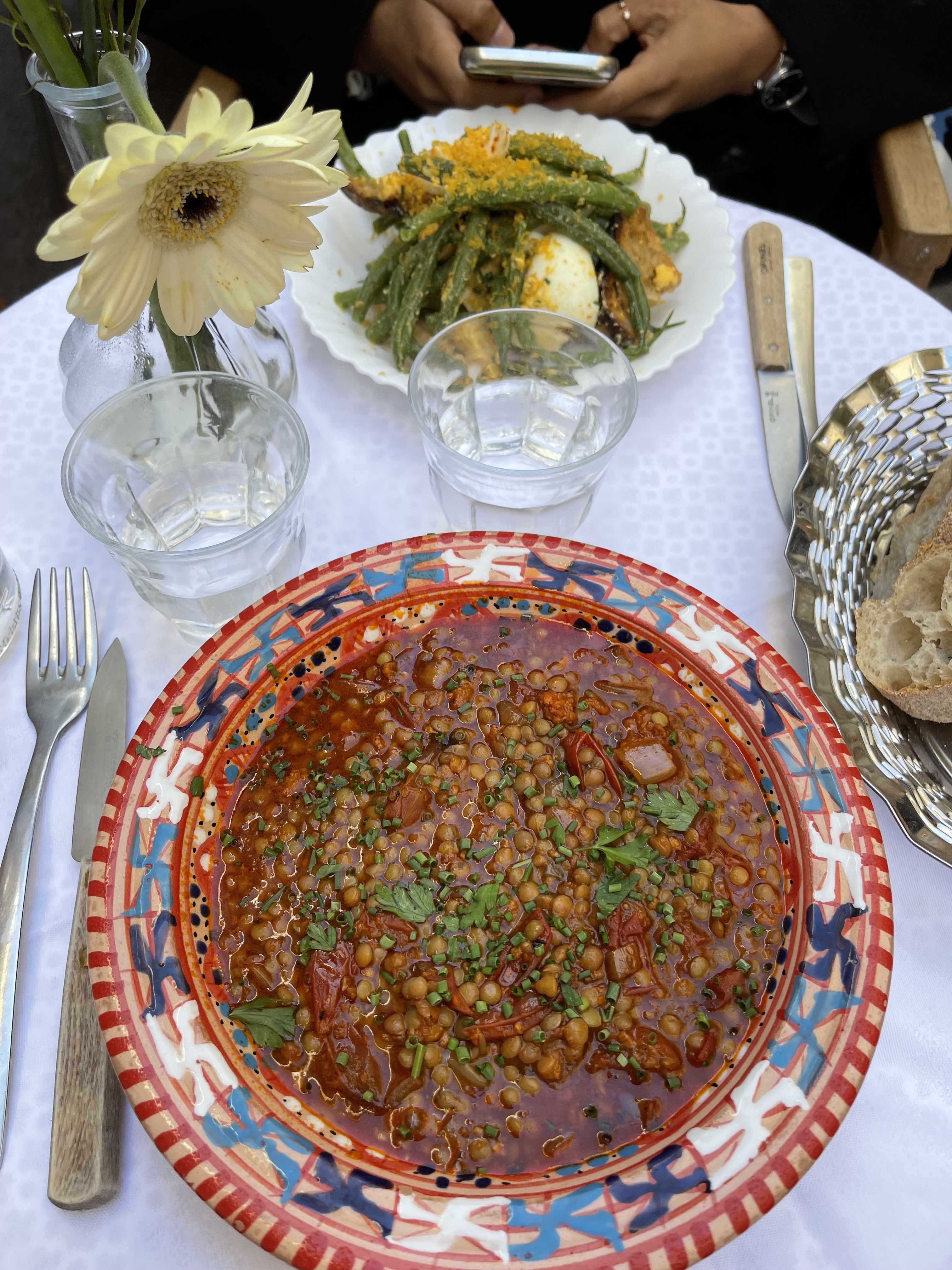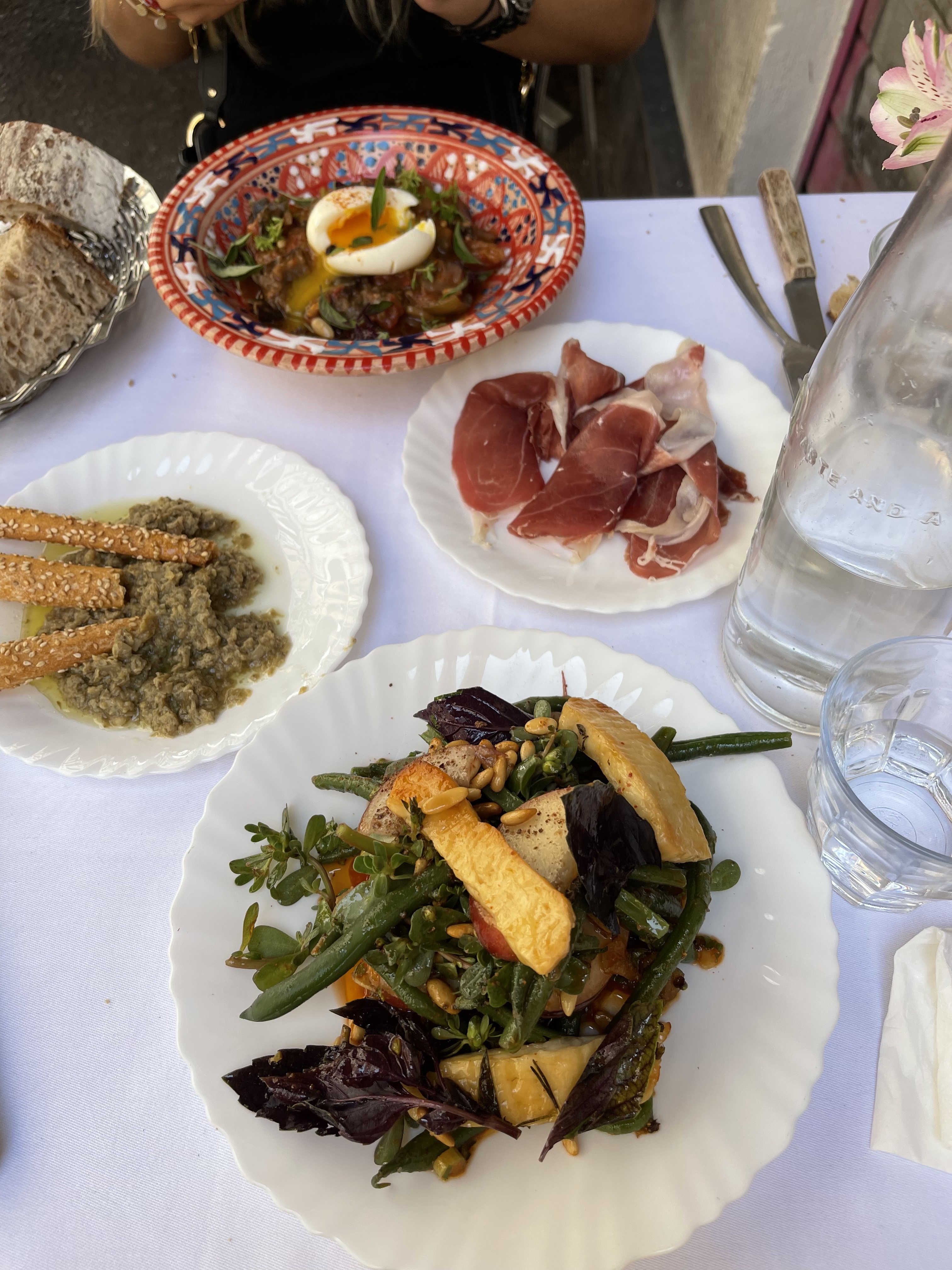 10. CARLOTTA WITH
Undoubtedly this is Marseille greatest spot for brunch! If the sun is shining – like most of the time in the Cité Phocéenne, then book a table on the terrace of Carlotta With and enjoy a tasteful brunch made of local products, created in a holistic approach. Charlotte Crousillat, the chef and owner of the restaurant, puts all her creativity and energy in creating not only healthy but also conscious recipes. Therefore they are always respectful of producers and animals. Inside, the restaurant is shared between a restaurant, a deli counter, an atypical bakery and recently, a bookstore space dedicated to cooking, nutrition as well as well-being. A must when in Marseille, located in the lovely Vauban district!
PRICE: $
ADDRESS: 84 Bd Vauban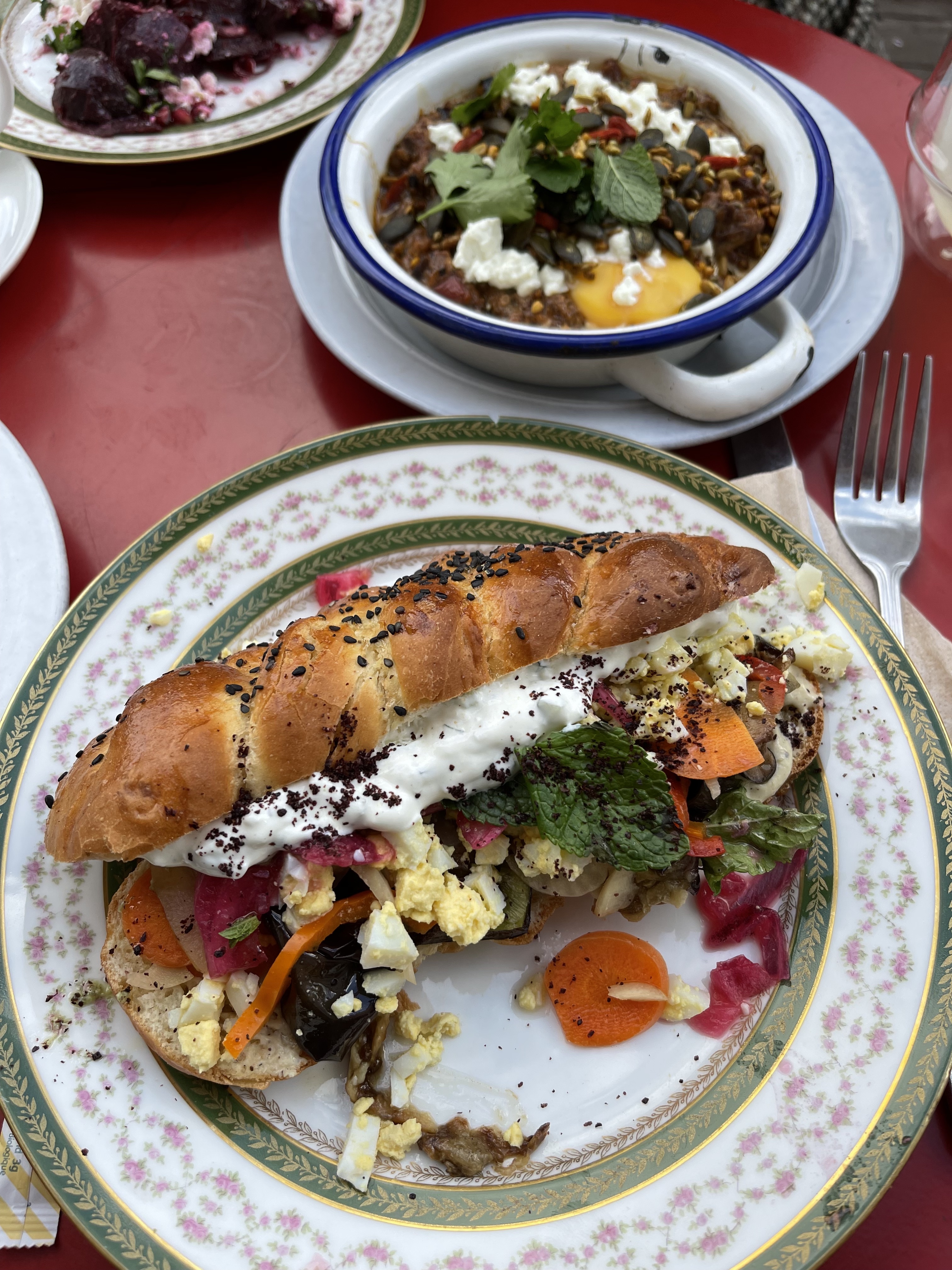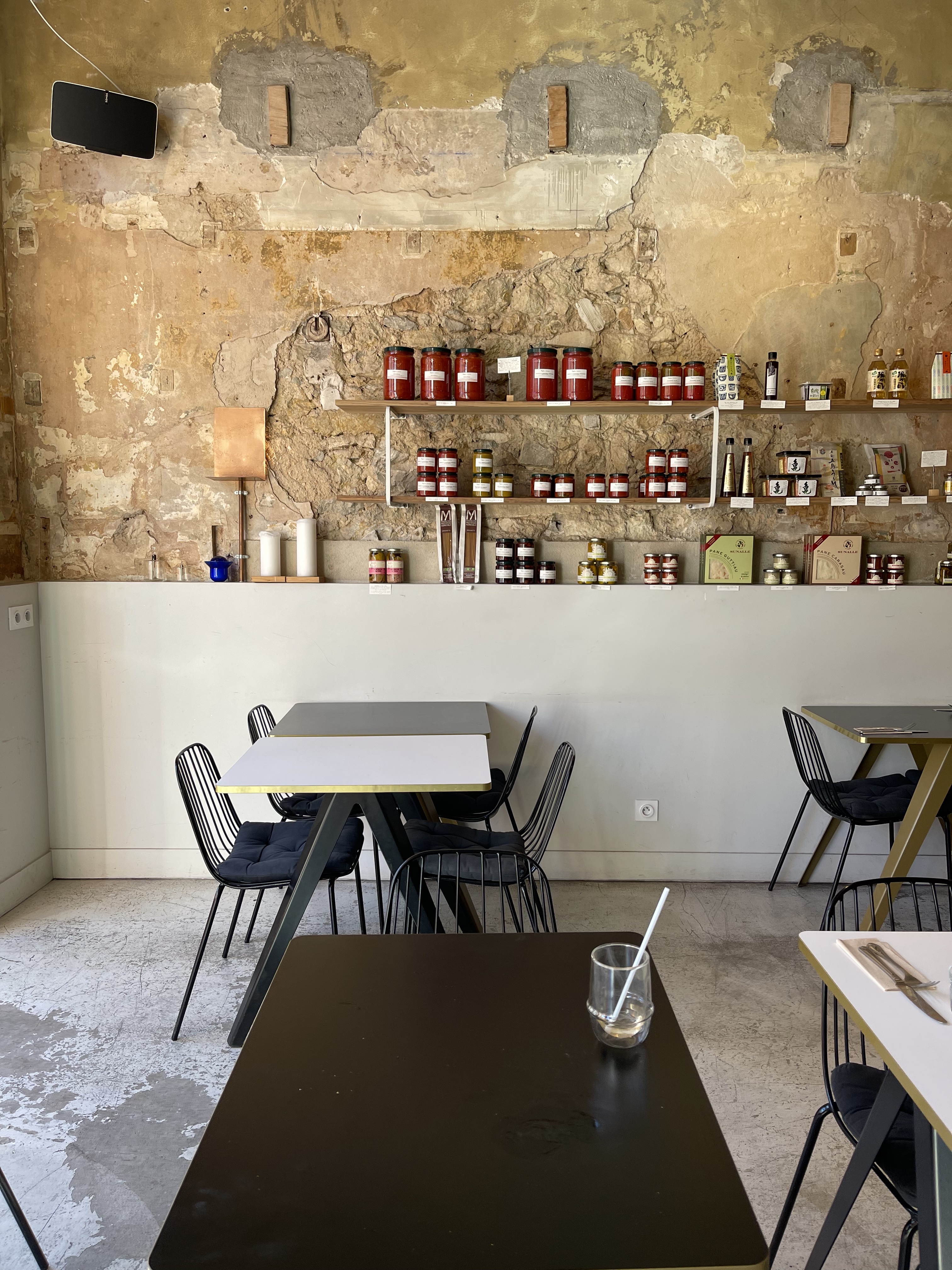 FINAL TIPS
To conclude – if you only had to choose just three places from the above list of Marseille's best restaurants, then we would recommend the following:
Firstly, TUBA – because of its incredible view and the history behind this place. also due to the best sunsets the whole year long.
Secondly, LA BAIE DES SINGES – for its little bay, tasty as well as generous food. You will also feel like you are in Slim Aaron's picture in 1960s.
And finally, LES EAUX DE MARS – due to its excellent quality of food!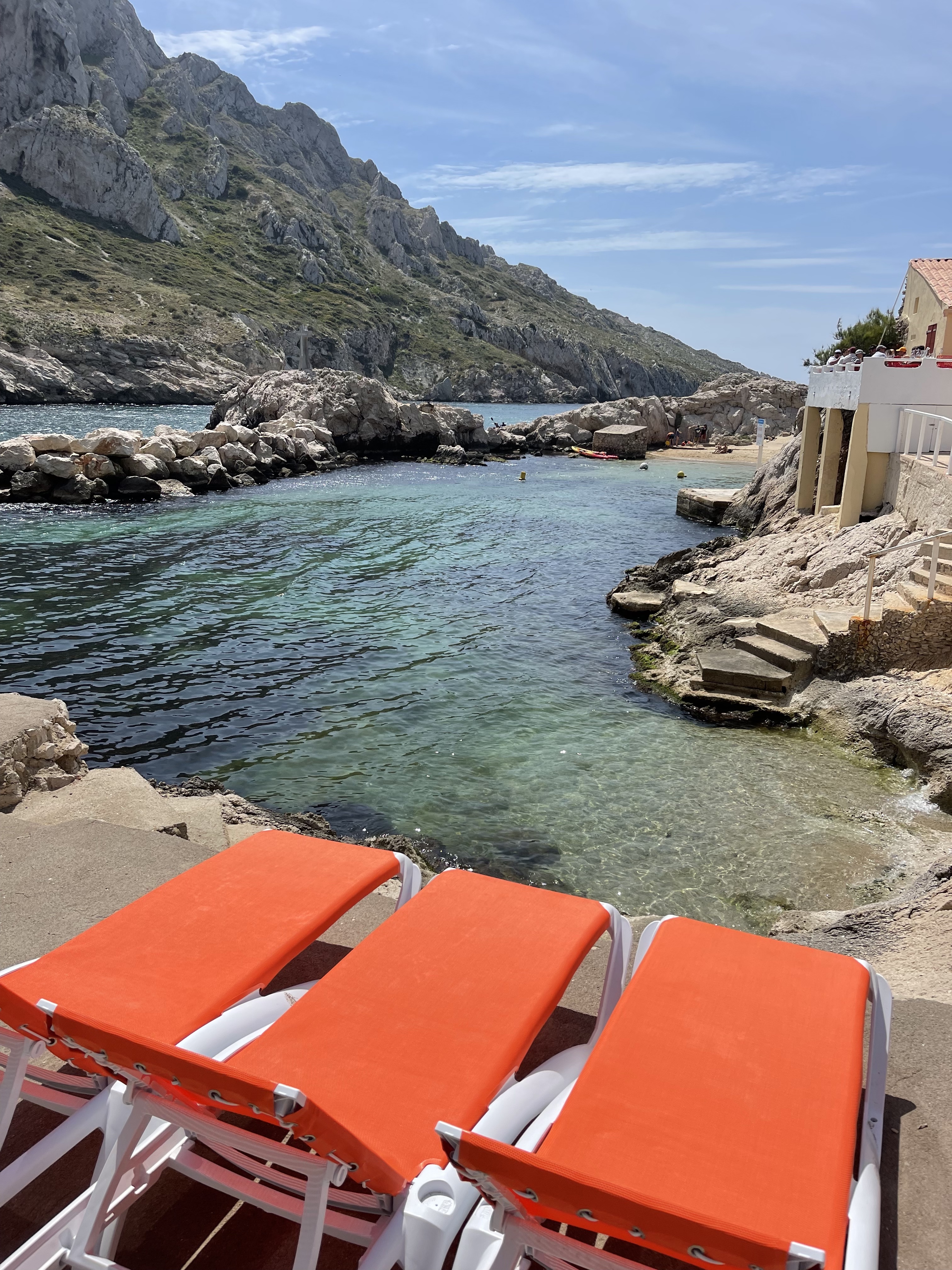 Above all, many thanks to Candice Chalvin from @candicechalvin for sharing her favourite corners of Marseille with us! She really wants to make sure that we not only visit Marseille but also all fall in love with it like she did!
So, please make sure to check her Instagram Profile and follow her beautiful journeys!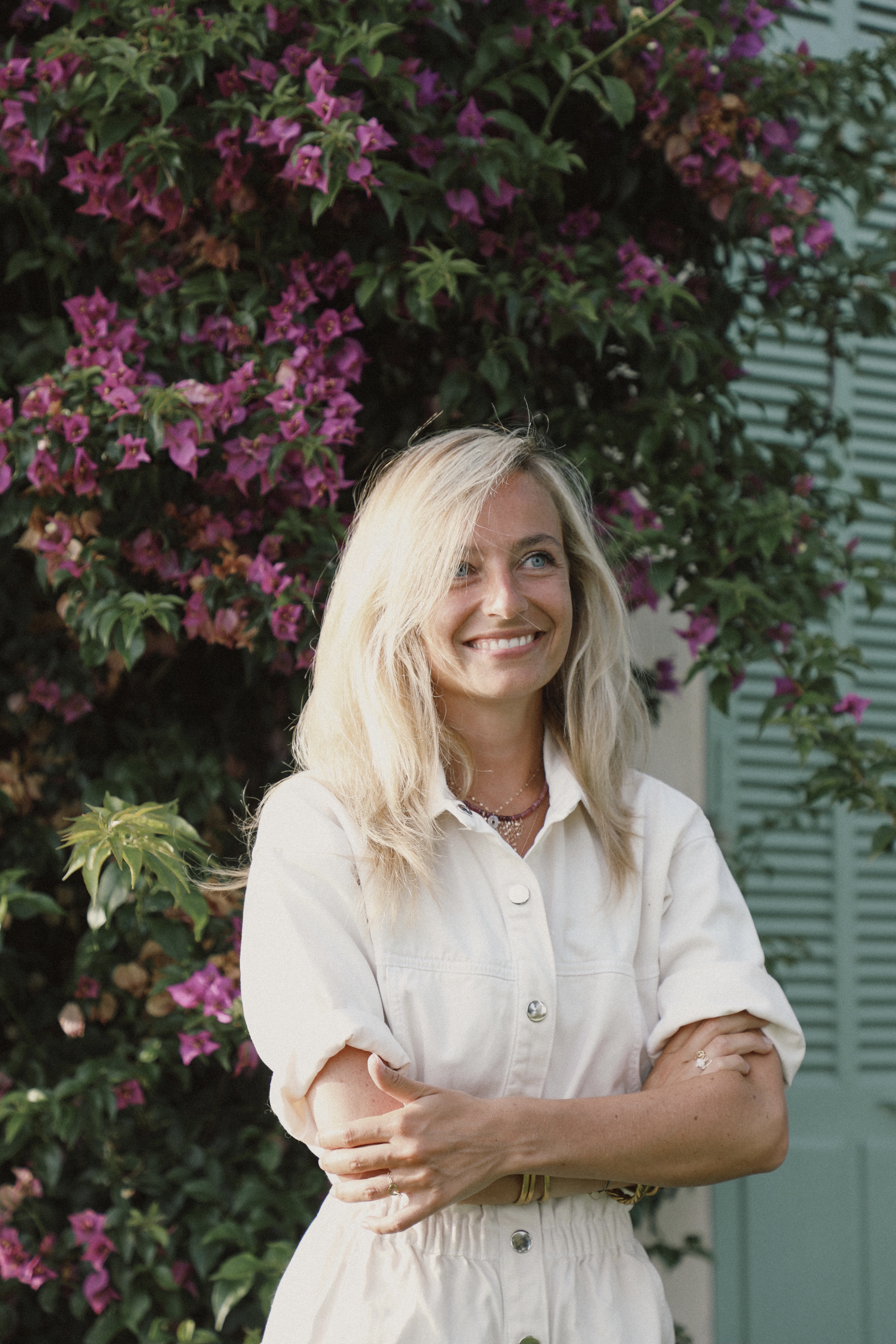 In case you are searching for more inspiration for traveling, then perhaps some of my other Guides will be useful:
Guide to the 10 Most Beautiful Beaches in Mallorca (the famous ones)