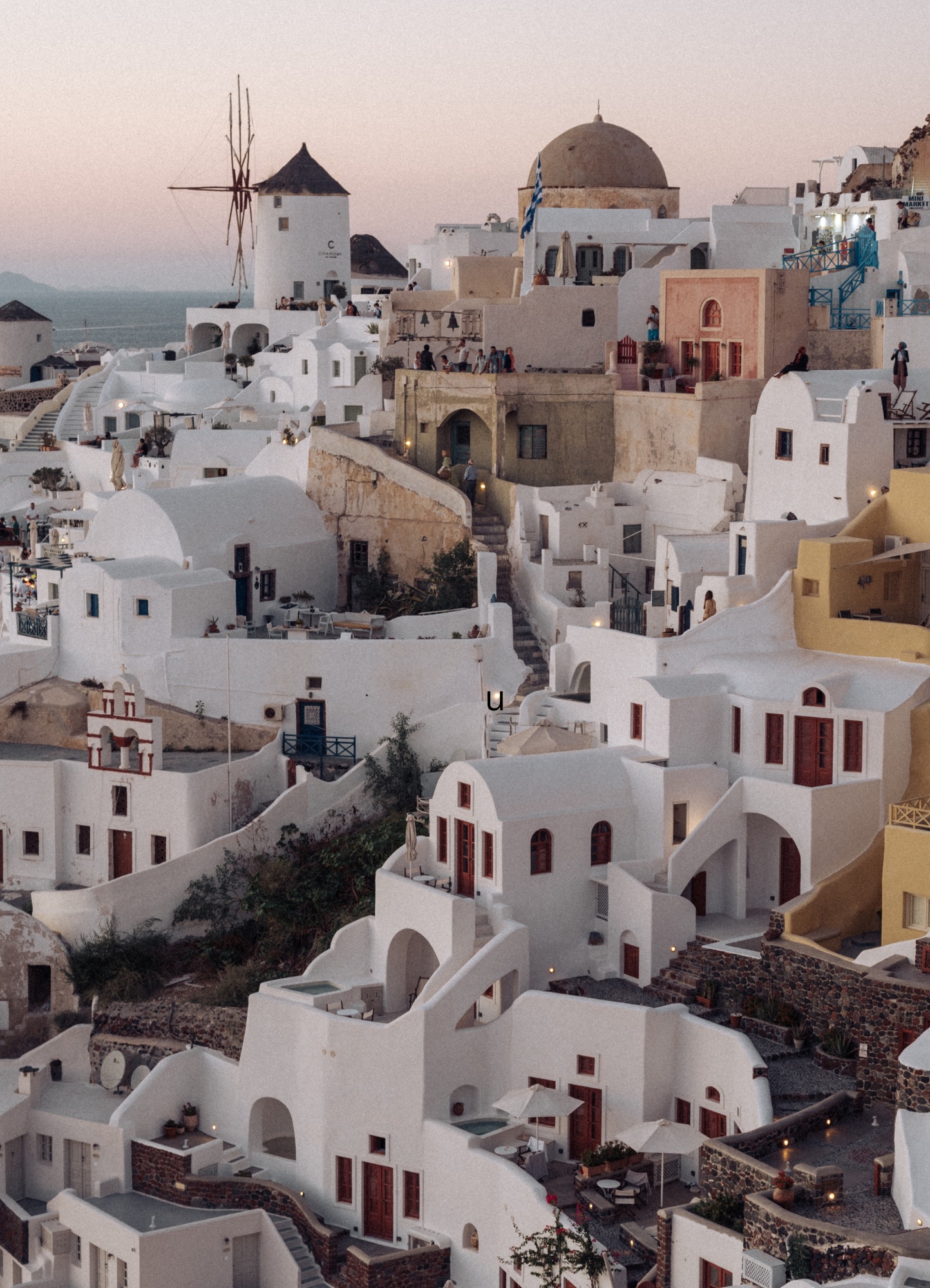 SANTORINI – 10 PRETTIEST SPOTS NOT TO MISS
Are you going to Santorini in Greece and would like to know all its prettiest spots, you just cannot miss?
I have spoken with Martyna & Hamilton (@voyageinstyle_) a couple of true travelers who go around the world in search of the most beautoful places.
To help you plan your trip this guide includes some information on when best to go, where to stay, as well the top 10 prettiest places to visit!
We hope that they will convince you to visit at least once!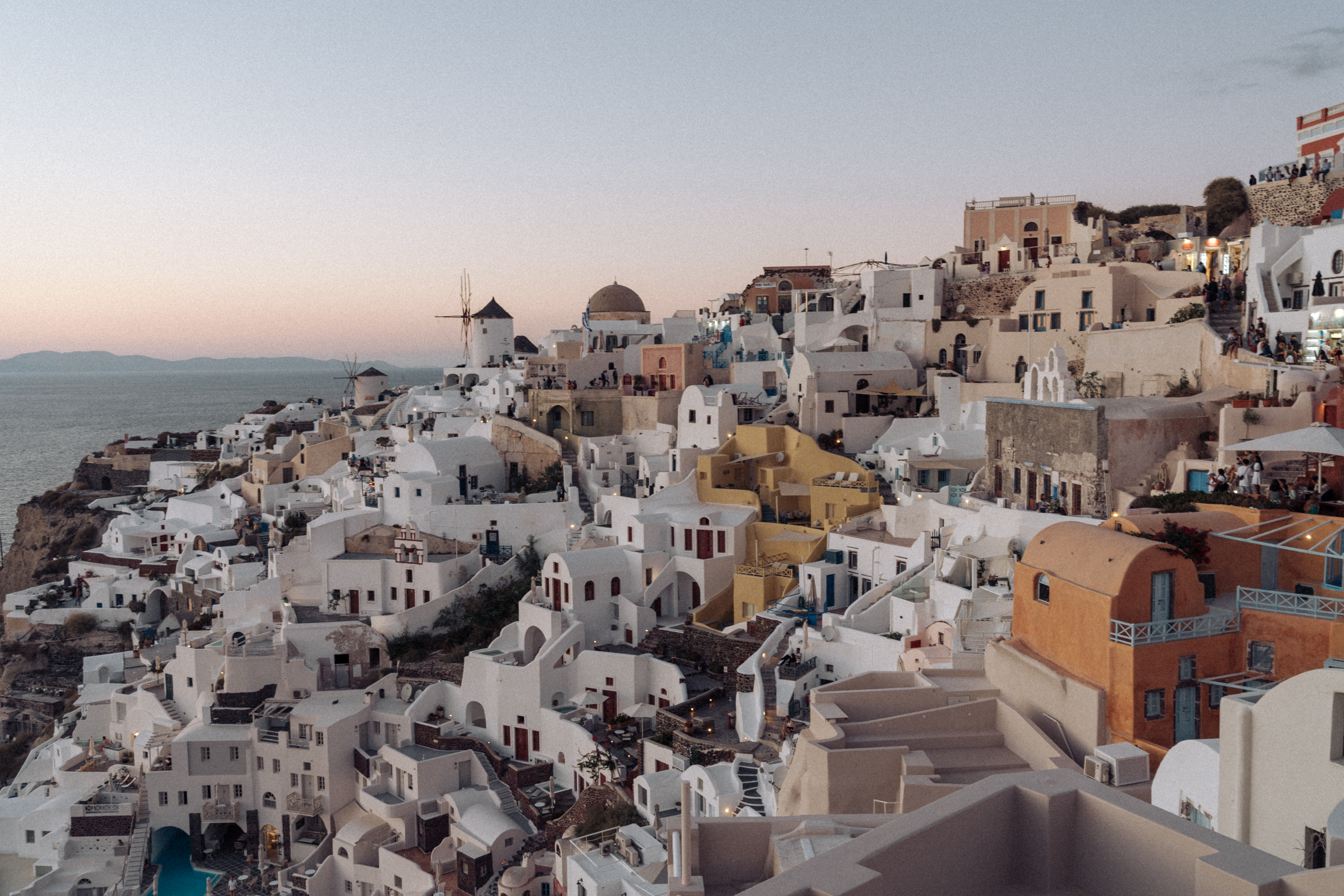 SANTORINI – BASIC FACTS
Greece has over 1300 islands and Santorini is without a doubt one of the most famous and hence popular. And that is for a good reason.
This idyllic island is the perfect representation of the Cyclades. It's recognisable, especially for its charming white & blue houses, narrow streets as well as awe-inspiring views.
Above all, the town of Oia is the most impressive and popular place on the island. However, we are here to tell you that there is way more to this idyllic destination. Embark on a journey to discover the lovely village of Pyrgos or get lost in the tiny streets of Imerovigli. In this article, you will find a guide to Santorini with the prettiest spots & towns to visit & photograph to create memories of a lifetime.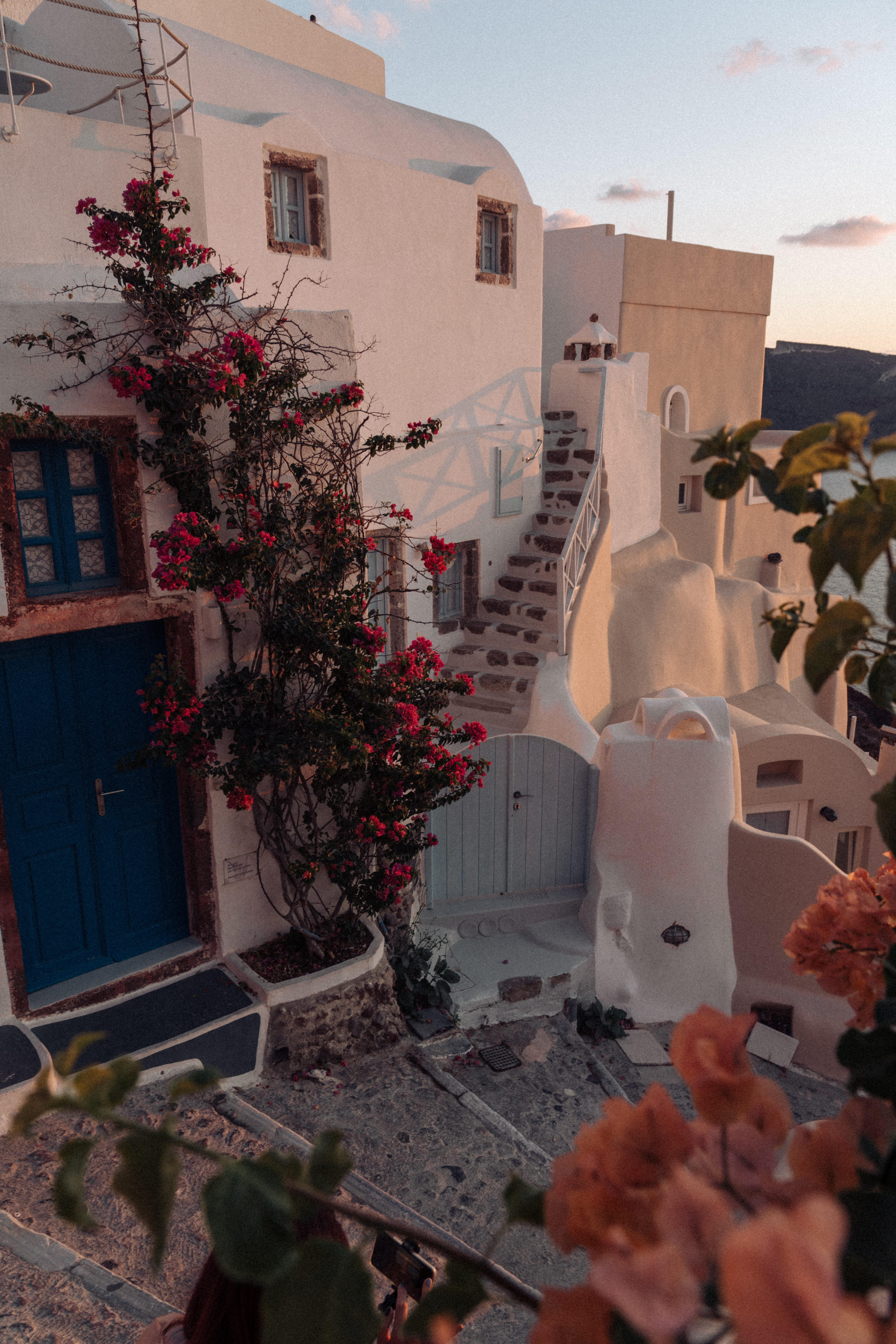 GETTING THERE
Santorini has an international airport with direct connections from many European cities. Check Skyscanner for the best flight deals. To lower the cost of your trip, you can choose to fly first to Athens and from there take another 50 min flight to Santorini.
Alternatively, there are few ferries departing everyday from Athens to Santorini. The fast ferries are much more pricey, so if you are not in a rush, consider taking the longer ones.
HOW MANY DAYS DO YOU NEED?
One could spend a full week in Santorini and not get tired of this beautiful location. We recommend staying for  4-5 nights. And at least a couple of them in a white house in Oia!
But of course if you do not have much time, even 2 nights would give you a goof feeling into what Santorini is all about!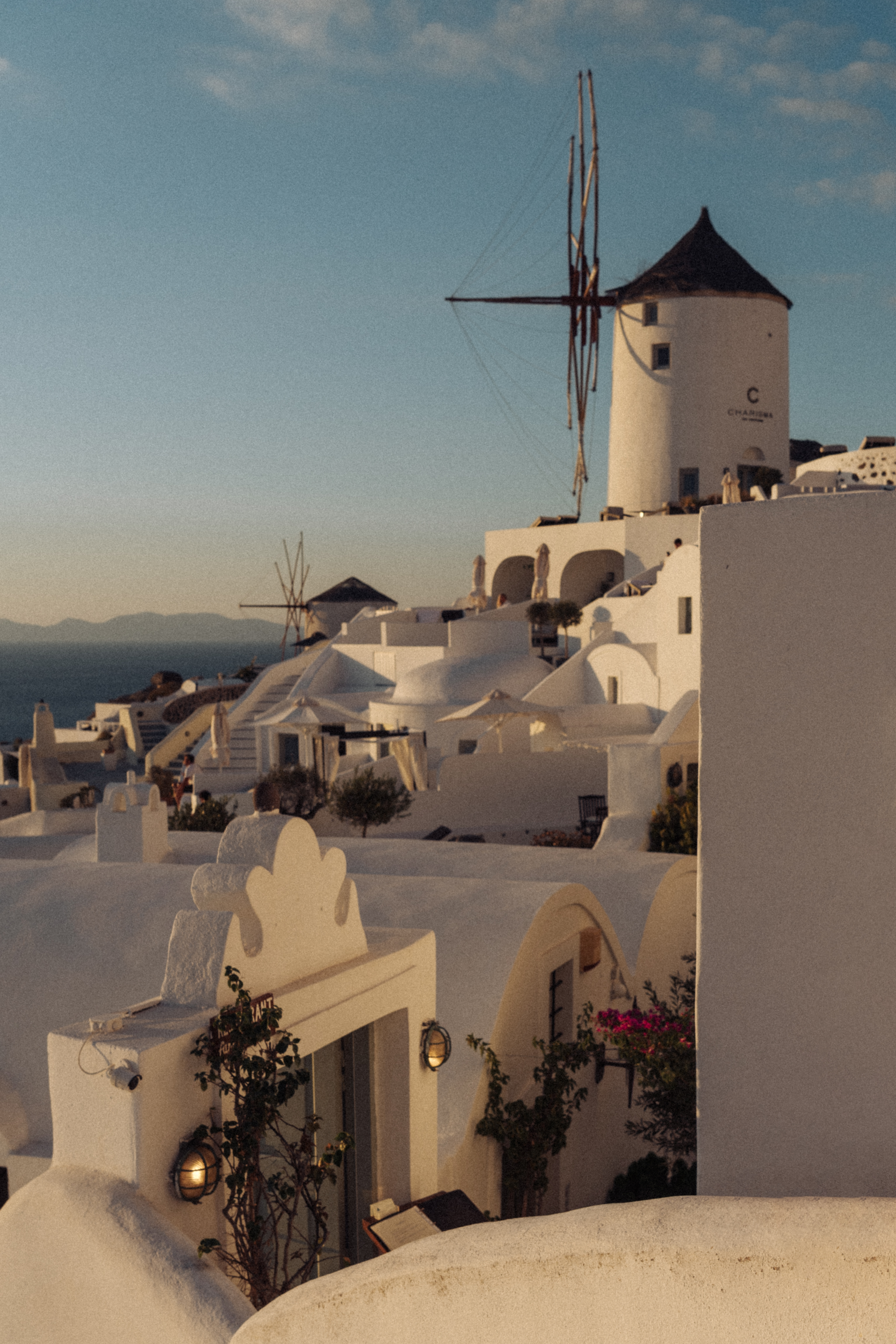 BEST TIME TO GO
Without a doubt, the best time to visit Santorini is in Autumn! Late September and early October must be the most ideal months of the year. Why? The temperatures are still very high, but not too hot (it's around 30 degrees). The Mediterranean Sea is extremely warm and pleasant to swim at that time of the year: it's warmed up after a long summer time. Importantly – there are way fewer people. Be warned! Santorini and Greece in general are one of the most visited places between June to August. In autumn, you will find a fraction of the crowd. And lastly: as October is considered the low season, the prices of hotels and restaurants decrease significantly. You can travel on a much smaller budget!
Some might say that spring will be equally good. And it's true. With one difference. In April/May the sea is still cold after the winter and swimming might not be as pleasant then.
ADDITIONAL TIPS
Rent a scooter to get around Santorini! The distances between the cities aren't big and it's very pleasant to cruise the island on a two-wheeler and admire the views along the way.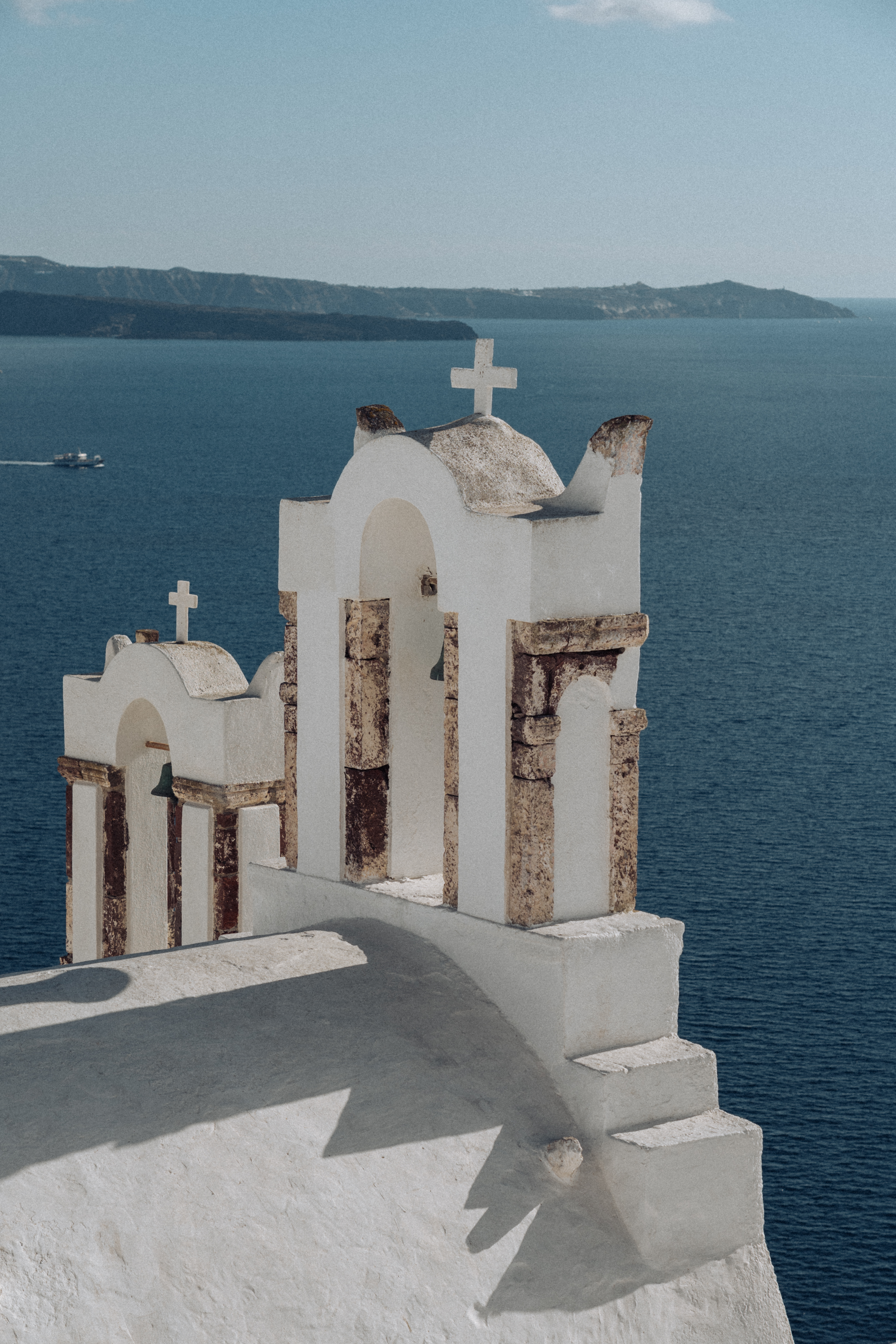 WHERE TO STAY?
Santorini is one of the most expensive destinations in Greece. However, you can find a variety of accommodations, even traveling on a smaller budget.
The prices for hotels vary depending on the location: the most expensive places are in Oia, and the cheapest in Fira. If you are traveling on a budget, base yourself in Fira and do day trips to the nearby towns. However, we recommend anyone to spend at least a couple of nights in Oia, to wake up and see the sunrise from this unique location.
For the luxury travelers, we recommend staying at spectacular La Perla Villas and Suites. Each of the rooms in this boutique hotel is curated and detailed for the comfort of your stay. The views of the Caldera and mesmerizing.
For a beautiful and comfortable stay consider Senses Boutique Hotel in Imerovigli. It has charming rooms (some with terraces and sea views), an aesthetic pool, and a delicious breakfast.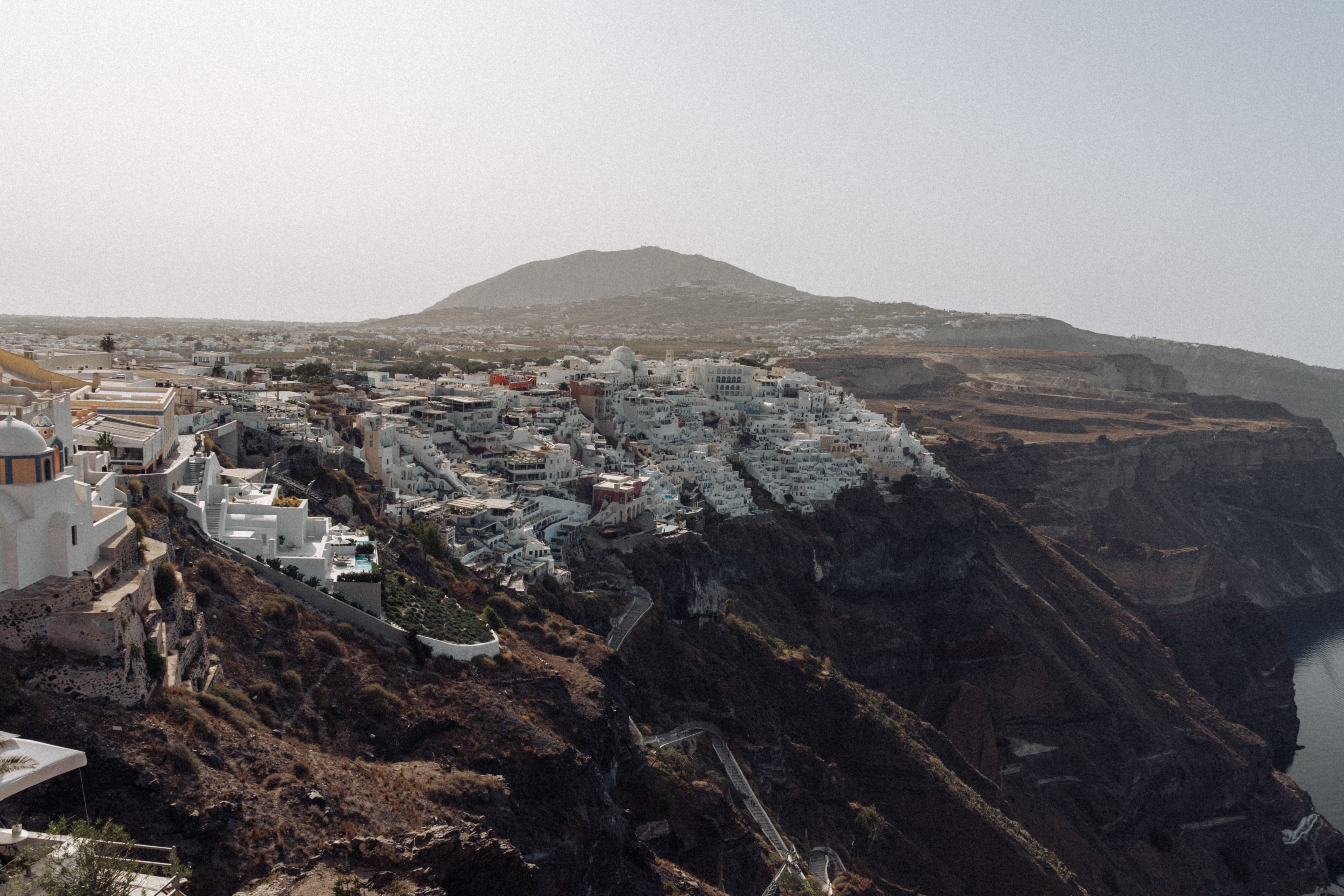 TOP 10 PRETTIEST SPOTS IN SANTORINI
CASTLE OF OIA
AGIOS NIKOLAOS CHURCH
KASTRO HOUSE
THREE BLUE DOMES
PANORAMIC VIEW OF THREE BELLS
AMMOUDI BAY
PYRGOS
IMEROVIGLI
SKAROS ROCK
THEOSKEPASTI CHURCH
1. CASTLE OF OIA
This is where we start our list of Santorini's Top 10 Prettiest spots -the Castle of Oia. This is the place to watch those famous Santorini sunsets from. Located at the hill with astonishing views of the sea and of course of the white buildings. Come earlier to reserve a good spot, as it's the most popular viewpoint in Oia.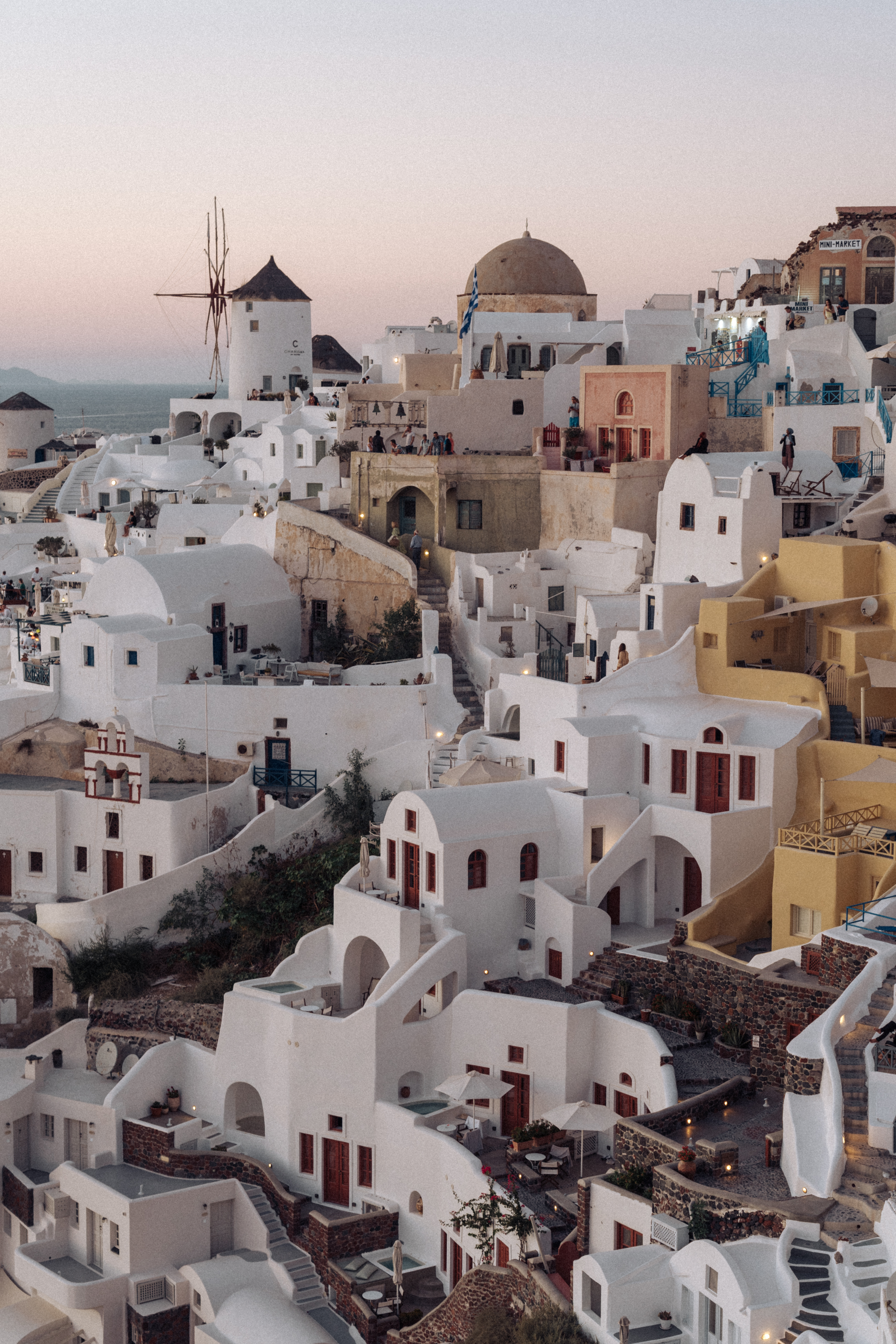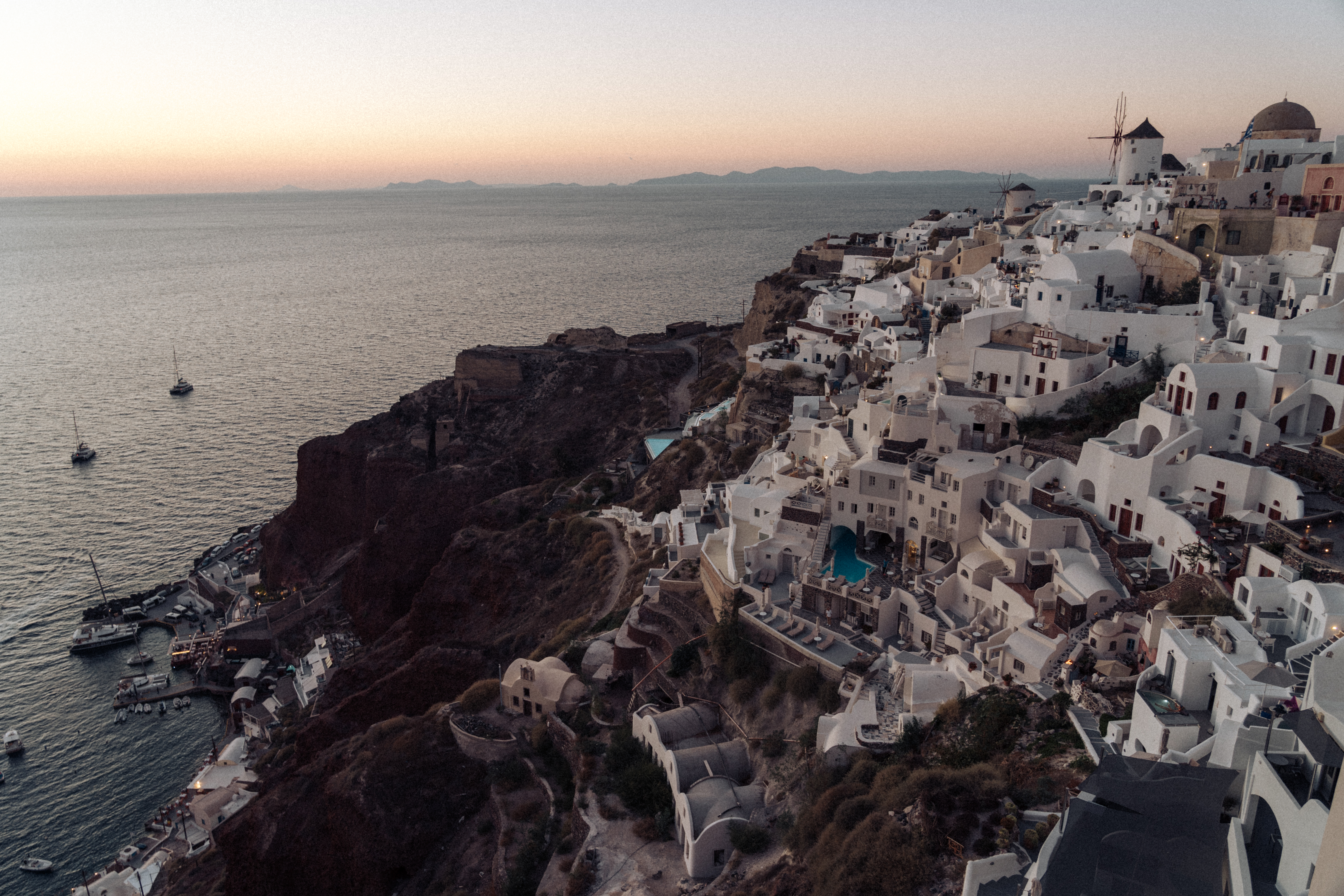 2. AGIOS NIKOLAOS CHURCH
Located on the main path, this picturesque location is one of the prettiest spots in Oia. The beautiful blue dome church and white bougainvillea flowers make the perfect backdrop of your next Instagram post. If you come to shoot here, beware- come early or face even an hour long queue for your dream picture!
3. KASTRO HOUSE
Among our Top 10 prettiest spots in Santorini, this might be the most recognizable building on the island. Kastro house is located right in the center and its orange facade contrasts beautifully with the surrounding white architecture. Come in the early morning to take a few beautiful pictures here. Or in the evening when you can sit at the terrace, sip a glass of wine and watch the ever-lasting Santorini sunset.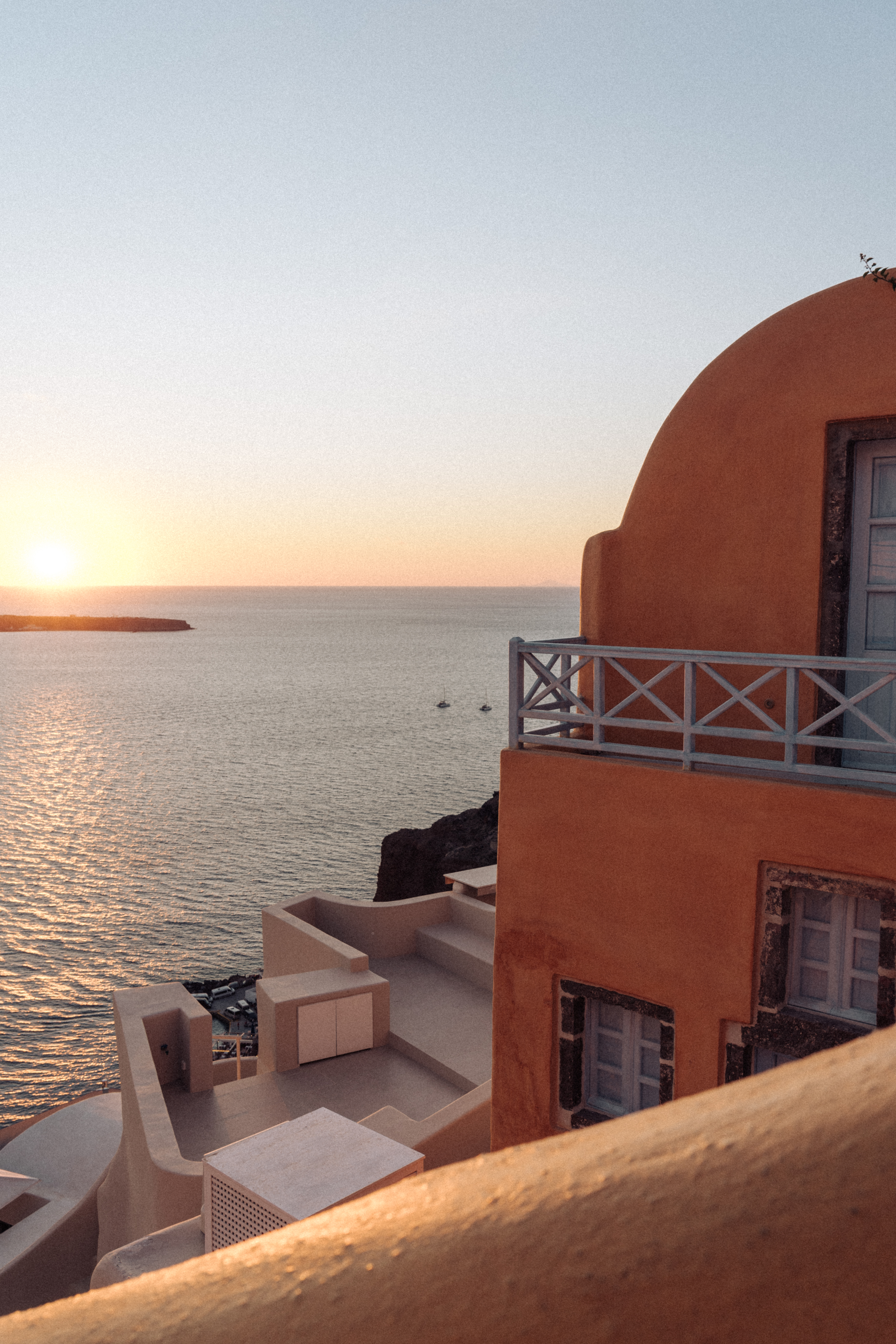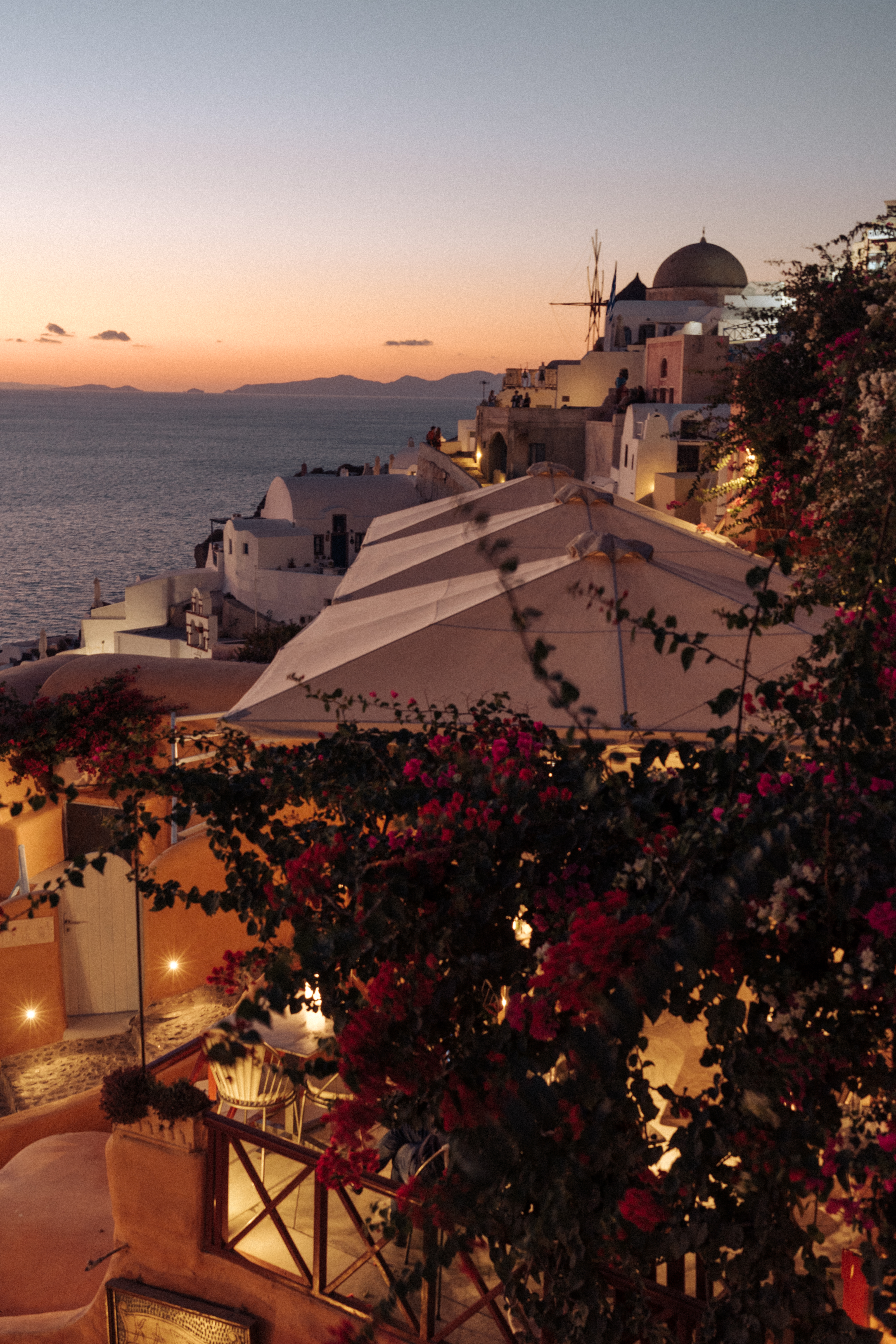 4. THREE BLUE DOMES
This is one of the most Instagrammable locations on the island. And it's popular for a good reason. Namely, the 3 Blue Domes Church lines perfectly with the sea of white houses and caldera in the background.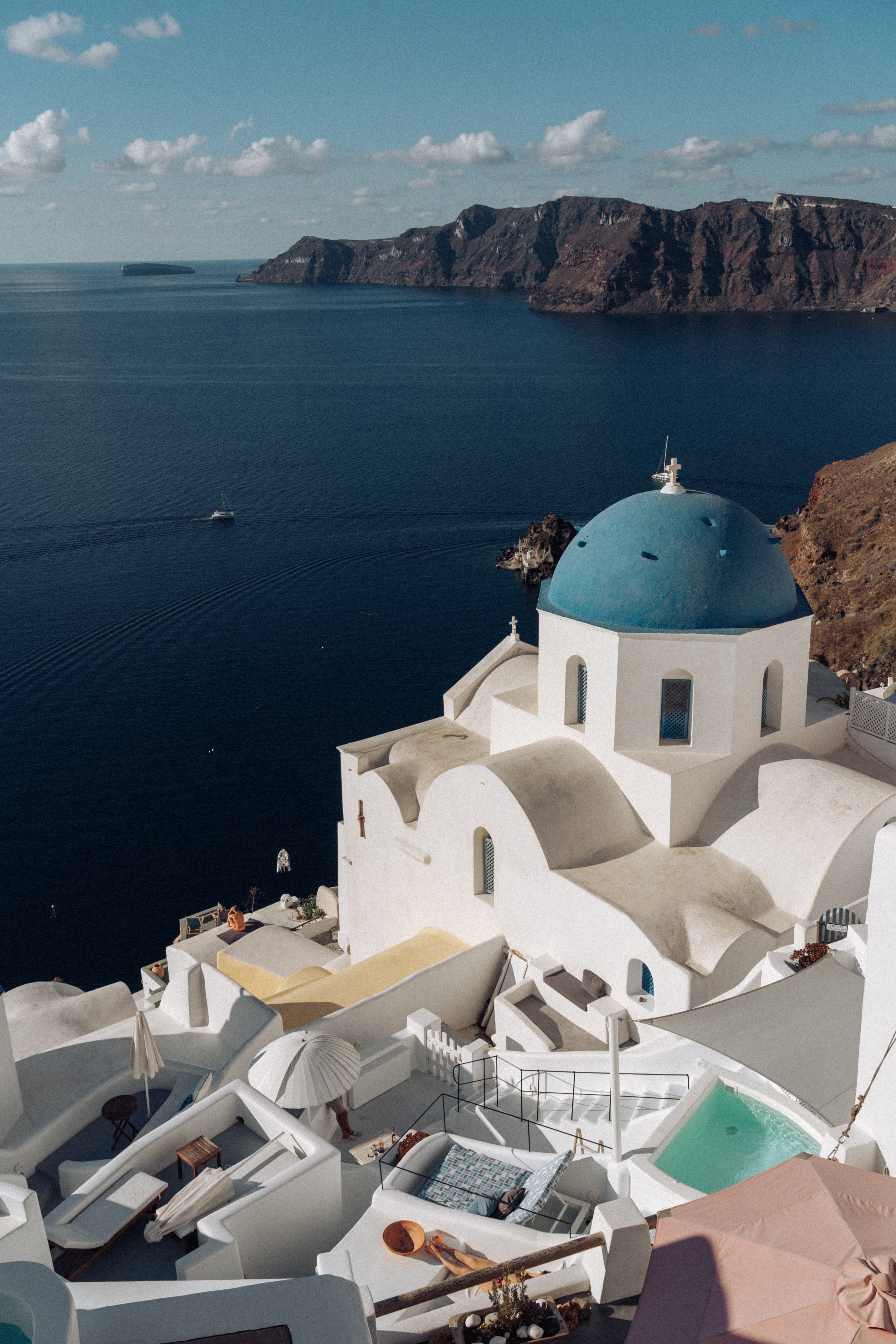 5. PANORAMIC VIEW OF THREE BELLS
Oia is one of those places where no matter where you go, you will always be impressed. Like this the panoramic view with 3 bell towers. At the time of the visit it was one of a handful of places where you could step on a dome to take pictures. Remember that if you come across a sign that forbids you enter or step on a roof, please respect it. Some of those prettiest places are private properties.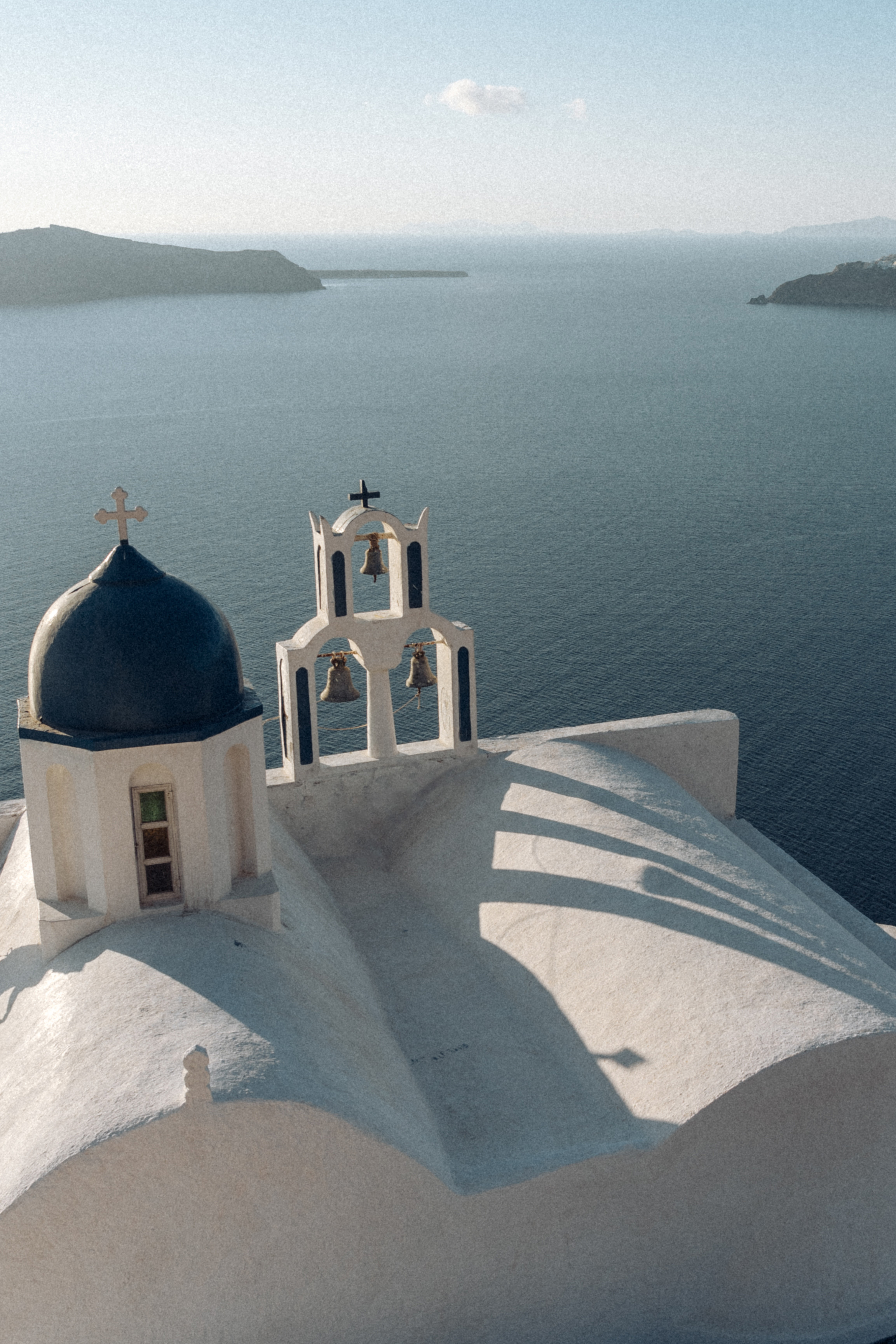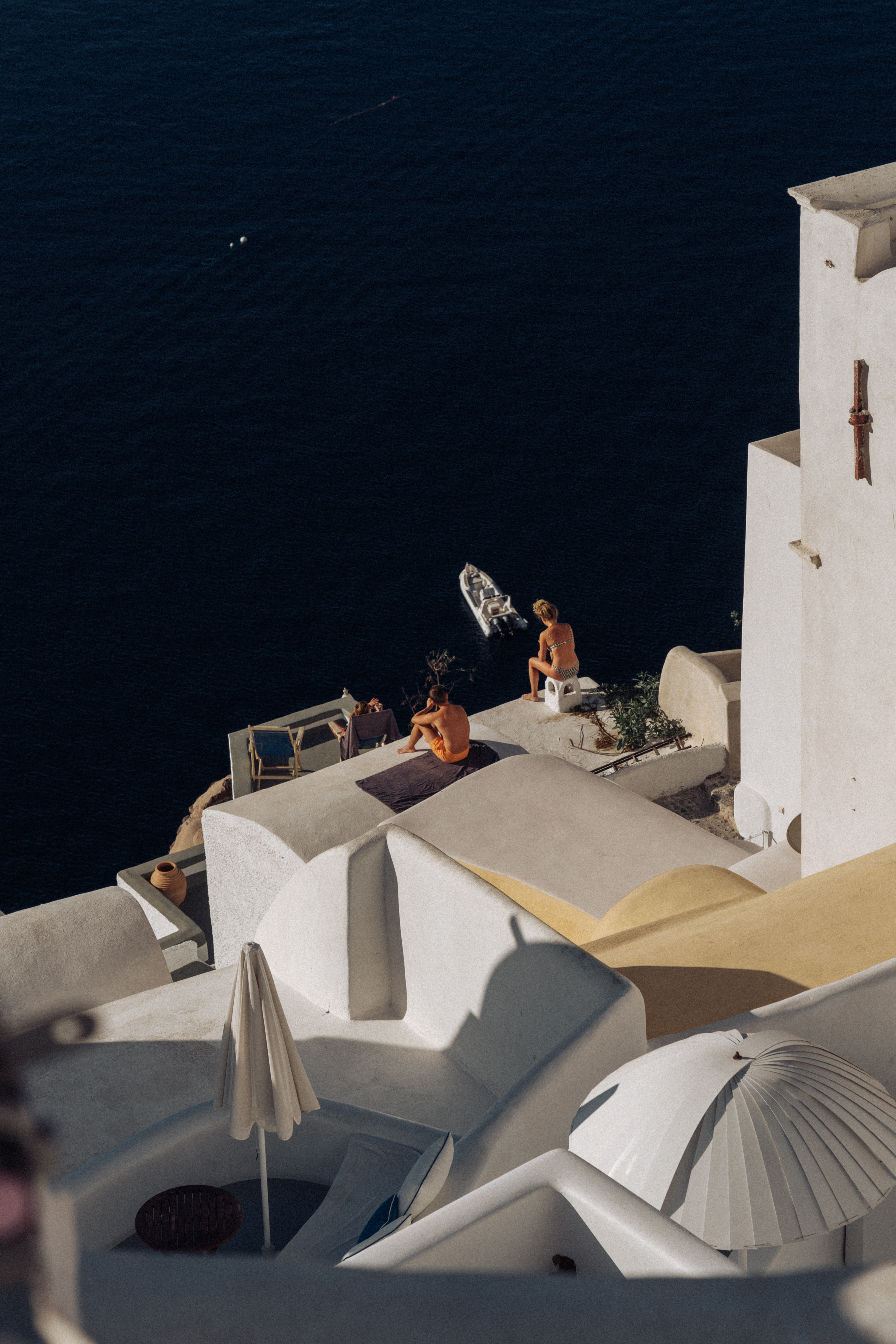 6. AMMOUDI BAY
To reach Ammoudi Bay you can either drive all the way around Oia or walk a beautiful path down to the sea level. There are few restaurants here which serve the best seafood on the island. The vibe of this spot is truly unique and you should not miss it while in Santorini.
Behind Ammoundi Bay there's also a perfect spot to swim and enjoy warm Mediterranean waters. There isn't a beach, but some red rocks you can jump from and relax on. Nothing feels as good as a refreshing swim after a long, hot day.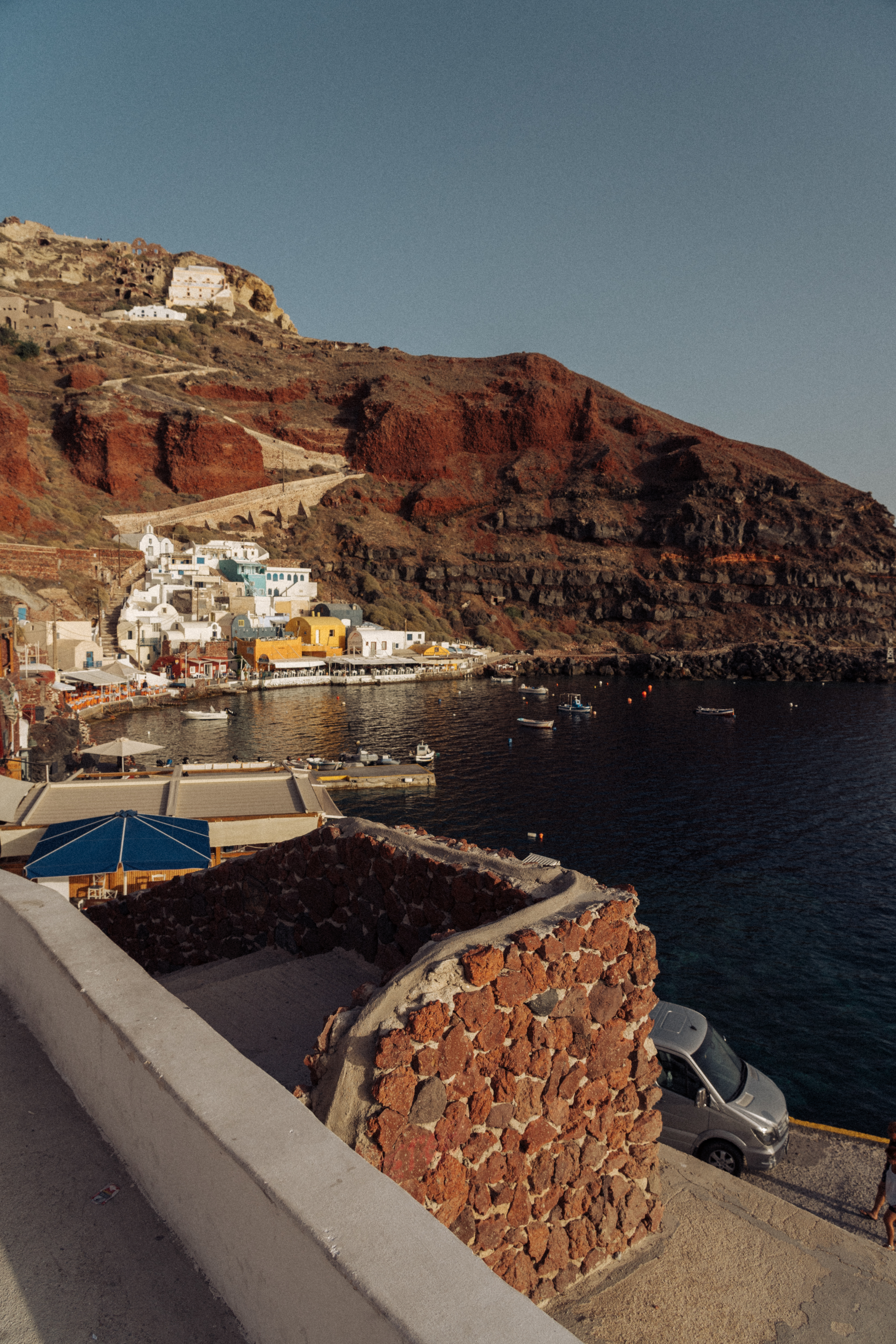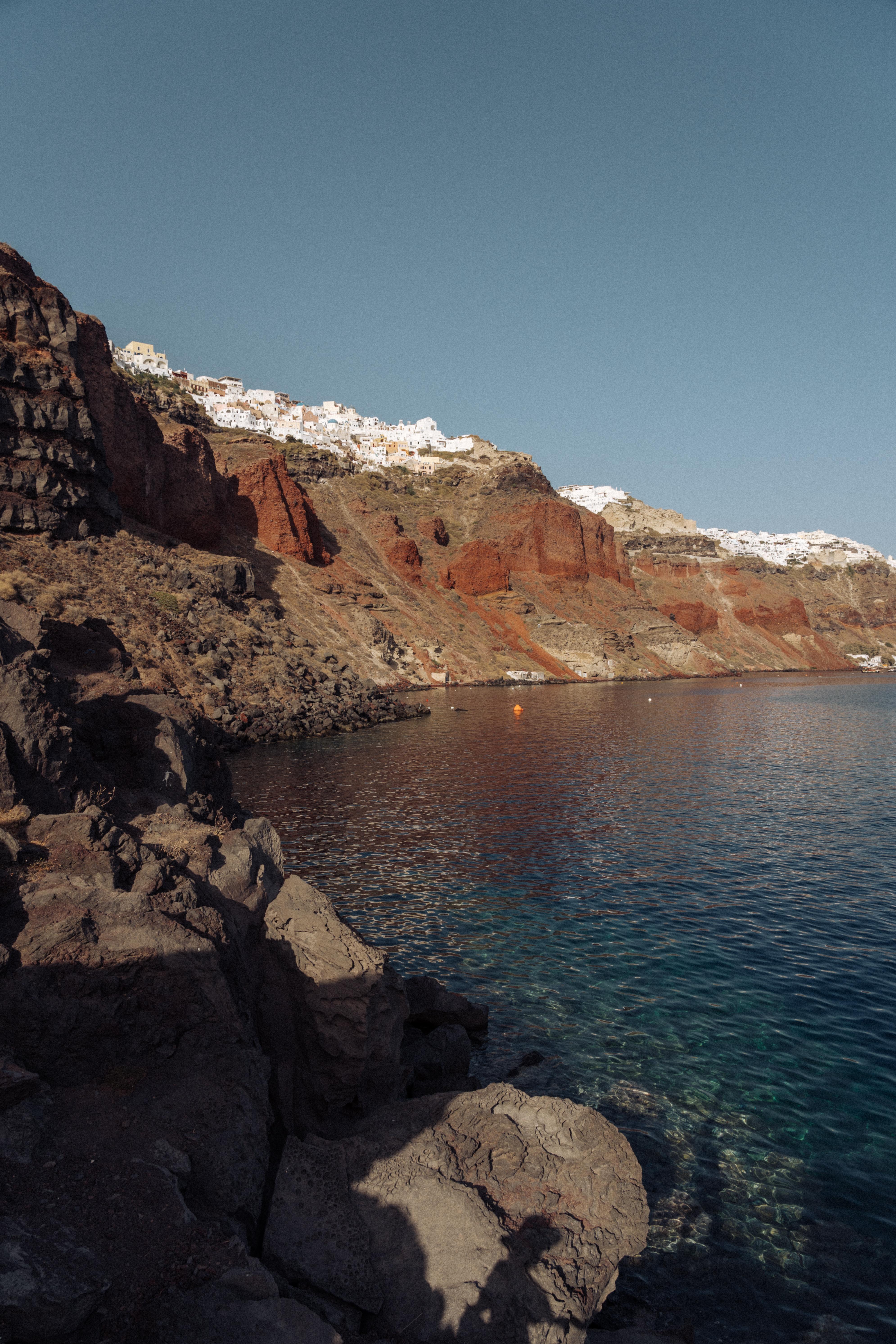 7. PYRGOS
Pyrgos is a small, unique village in the center of Santorini. Often overlooked by tourists. It's worth it to spend at least an afternoon here and experience the local life. The streets are small and beautiful. Climb up to the church and the remains of the castle and wander around. Stop for lunch at Franco's and try our Greek cuisine.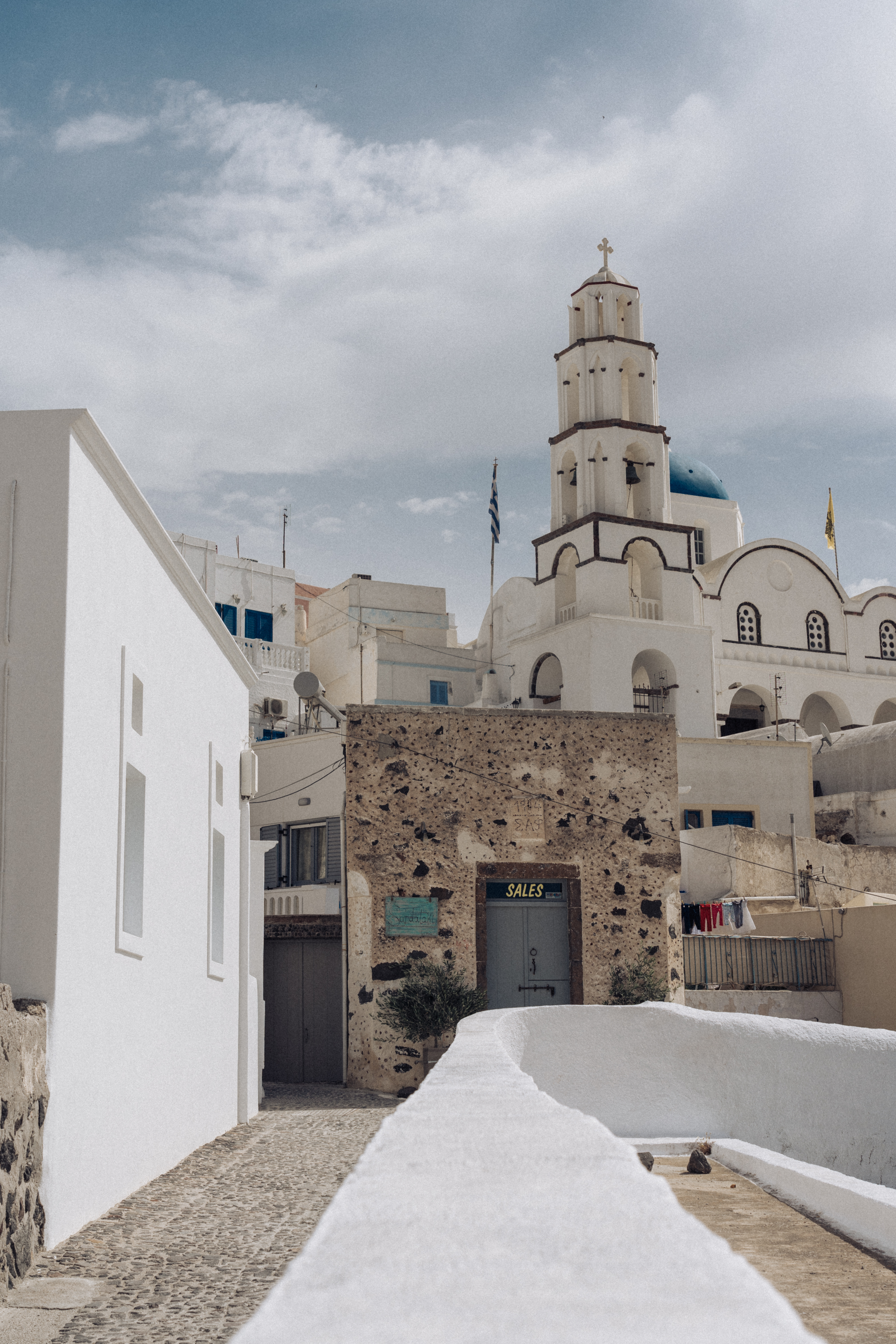 8. IMEROVIGLI
Imerovigli is quieter than Oia, yet equally beautiful. You can come across this spectacular pink bougainvillea tree when wandering around the town. The streets of all Santorini's towns are more like paths and it is impossible to miss the recognisable locations. In this pretty location, you could end up alone the whole time and could really enjoy the beauty of Santorini.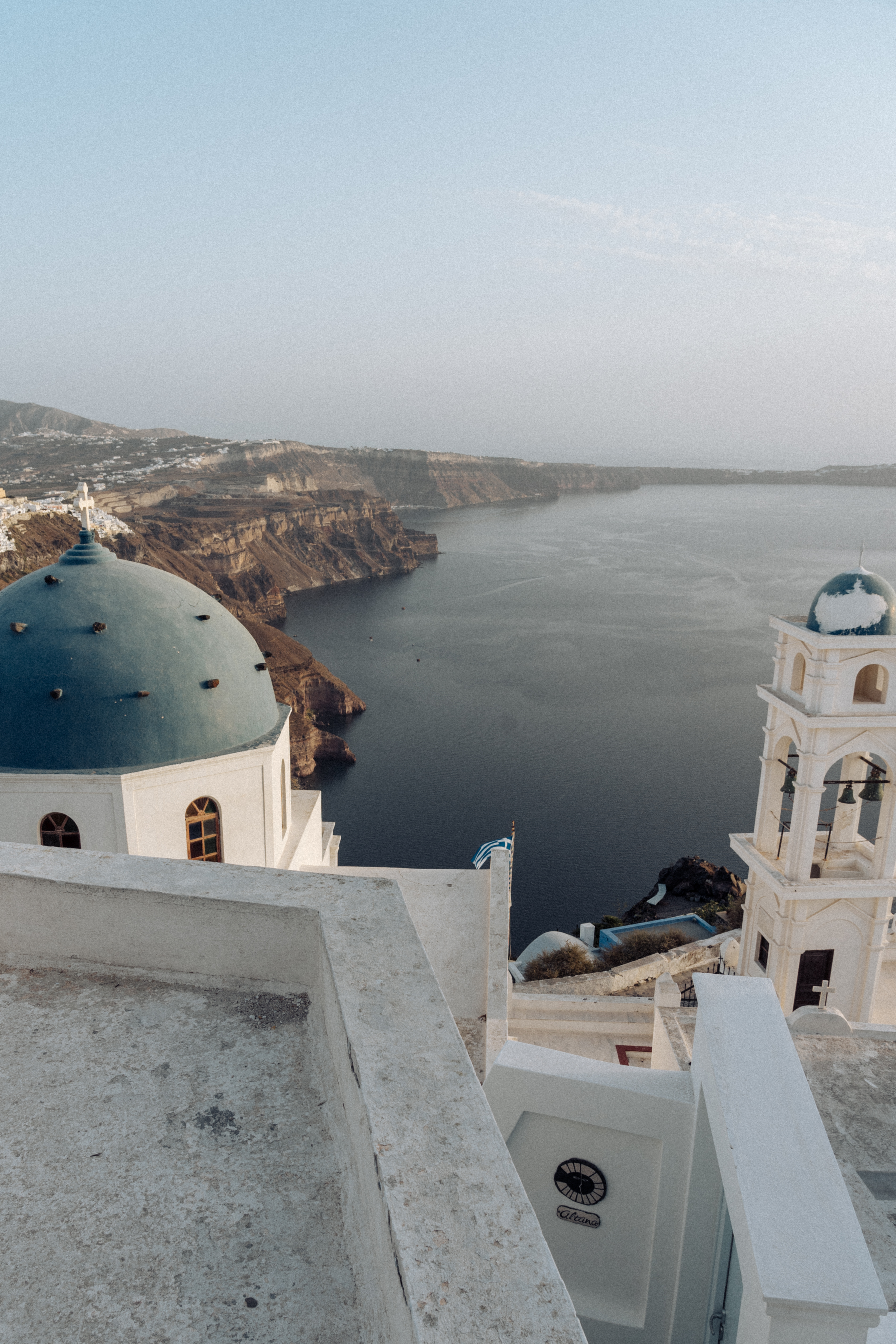 9. SKAROS ROCK
Located in Imerovigli, hiking the Skaros Rock takes around 30 min and countless stairs up & down. The walk is not too tiring, but be prepared for a little work out. We recommend visiting around sunset time, as this location is the prettiest then.
10. THEOSKEPASTI CHURCH
Theoskepasti Church is located behind the Skaros Rock and it's not visible from the town. Its unique "hidden" location makes it less visited by tourists and there is a good chance you will have the whole place to yourself. You will be walking down from Imerovigli all the way to Skaros Rock, and still won't see the church. Soon enough your efforts will be rewarded by the astonishing view as you reach the last turns.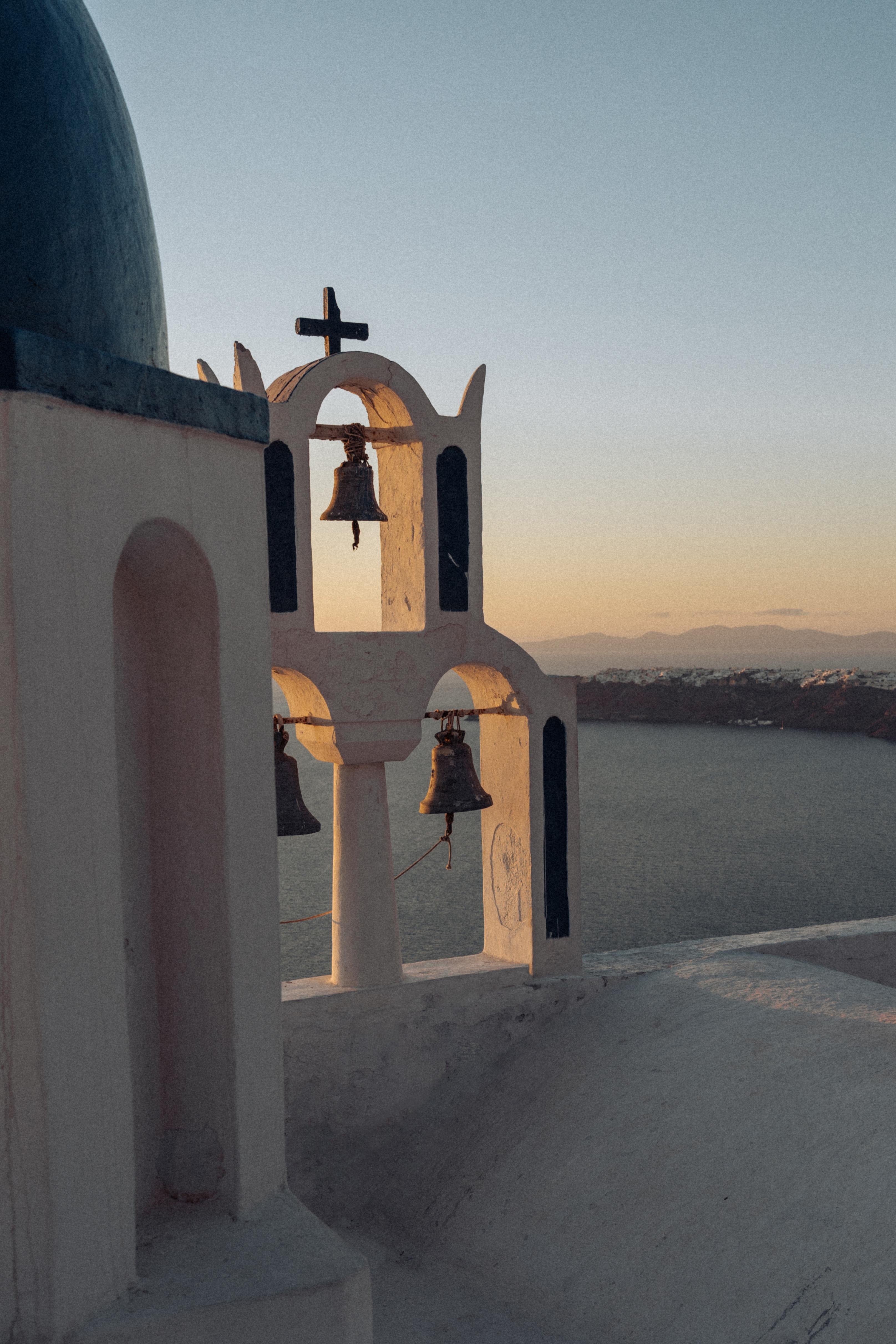 FINAL TIPS
To conclude – if you only had to choose just three places from the above list of 10 prettiest towns in Santorini then we would recommend the following:
Firstly – Castle of Oia, for its Santorini postcard-like views
Secondly – Amoudi Bay to swim and enjoy the best seafood on the island
Finally – Just get lost in the little streets of Oia and you will come across a few of out Top 10 Prettiest spots in Santorini!
Above all, many thanks to our experts Martyna & Hamilton from @voyageinstyle_ for sharing everything they love about Santorini! In particular, I'm thankful that they have shared some of the less-known tspots in the often overcrowded Santorini.
Martyna (Polish) & Hamilton (French) met while wandering the streets of Montmartre, Paris. 3 months later they went to explore Vietnam together. And that was the beginning of their years long now passion of travelling. Together they visited 42 countries across 5 continents and it's just the beginning!
Make sure to check their Instagram Profile and follow their beautiful journeys!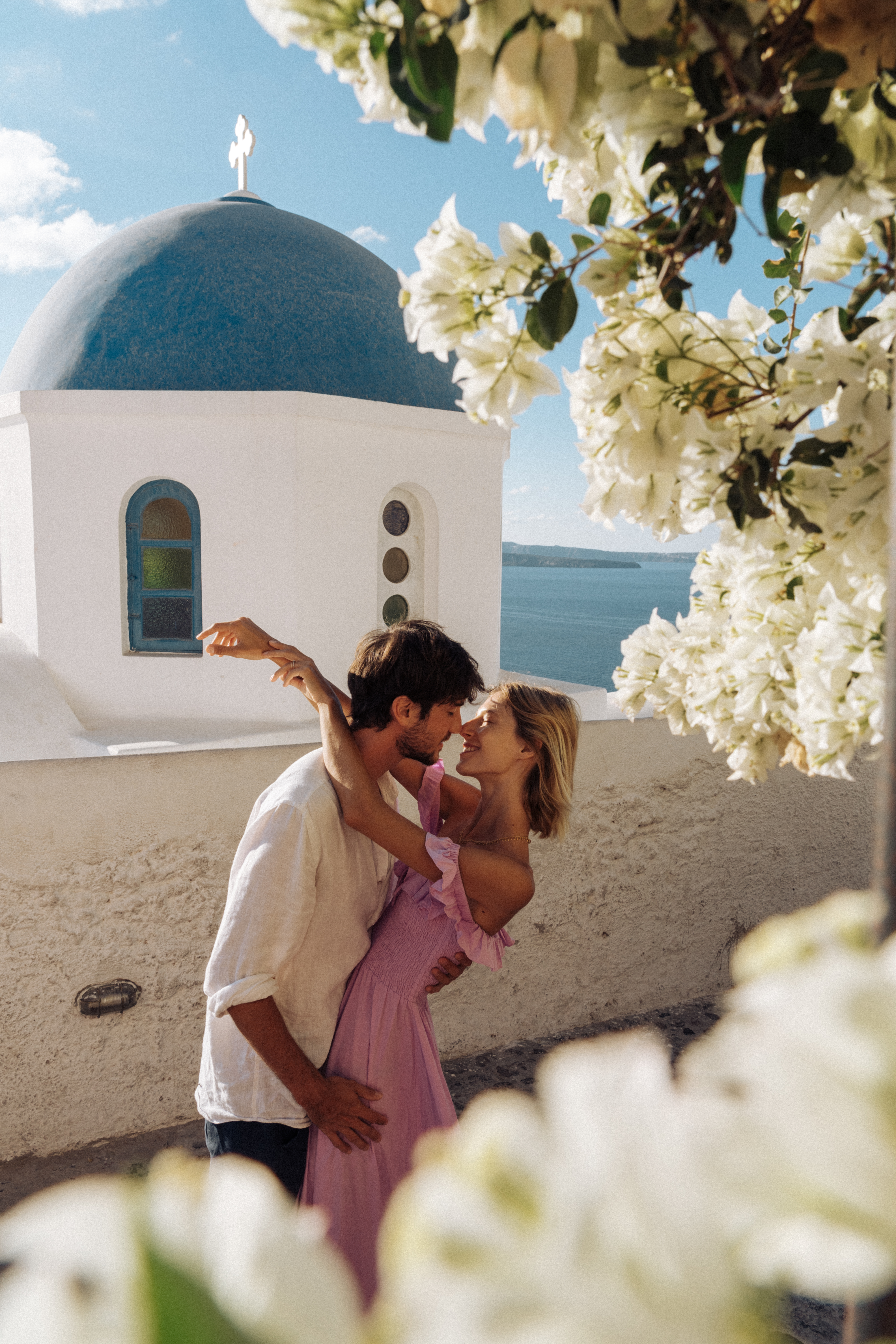 In case you are searching for more inspiration for traveling, then perhaps some of my other Guides will be useful:
5 BEST HOTELS in PALMA, MALLORCA (2022 List)
10 MOST BEAUTIFUL RESTAURANTS IN MALLORCA