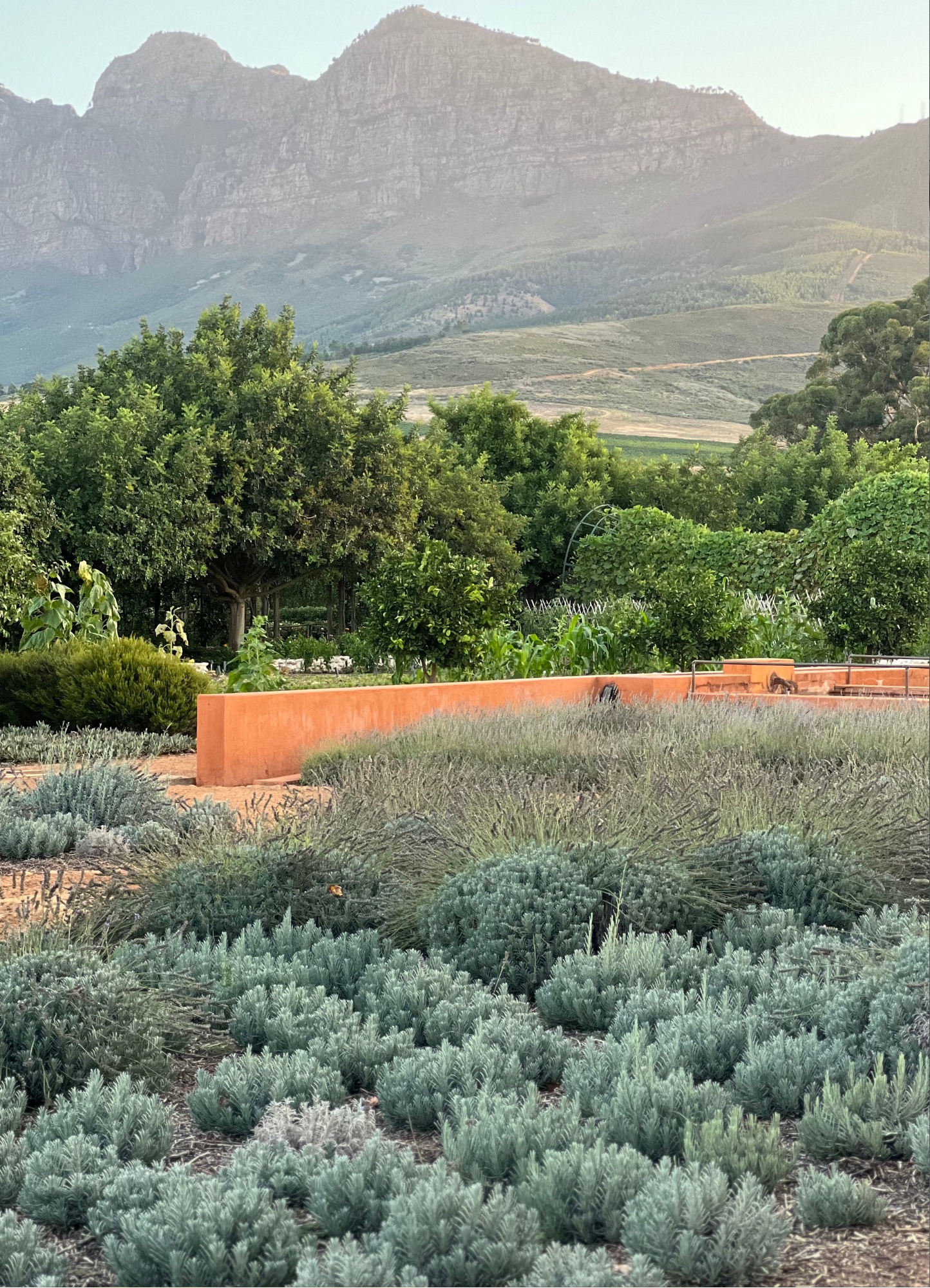 BABYLONSTOREN – HOTEL REVIEW
Are you thinking of visiting the famous Babylonstoren Gardens and Wine Estate in South Africa's Wine Region? Then you have come to the right place.
In this review, I've included everything from rooms and prices to food and activities at Babylonstoren to help you decide whether it is the right place for you.
And in case you are a fan of farm-to-table dining, lush gardens and understated luxury then you will fall in love with Babylonstoren.
Yes, it is true that the Cape Winelands are full of wine estates and farmstays but read on to find out what makes Babylonstoren stand out!
Enjoy!
BABYLONSTOREN – BASIC FACTS
LOCATION:
Babylonstoren is in the beautiful Franschhoek wine valley, near Stellenbosch in the Western Cape of South Africa.
GETTING THERE:
It is easy to get to Babylonstoren by car. It is just under an hour's drive from Cape Town or the airport. Moreover, your journey will take you through the stunning scenery of South Africa's wine valleys. But yes, you will indeed need a car. An alternative would be to organise a private transfer, but I would strongly recommend renting a car. You could also come in thr famous Wine Tram!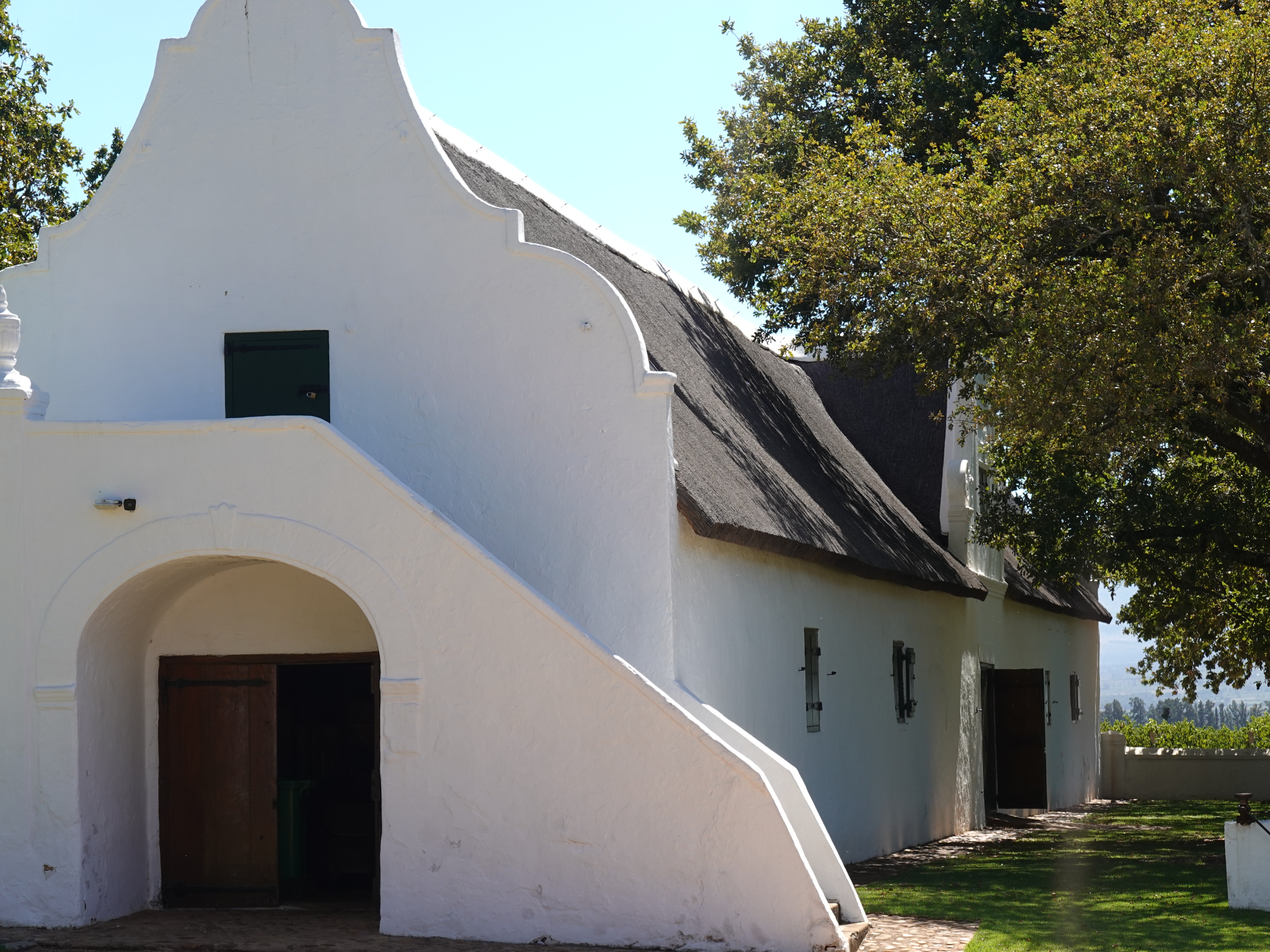 ARRIVING AT BABYLONSTOREN:
Staff at Babylonstoren are welcoming and helpful. Check-in is from 2 pm. However, early guests may use the spa or explore the garden should their room not be ready beforehand! Check-out time is until 11 am.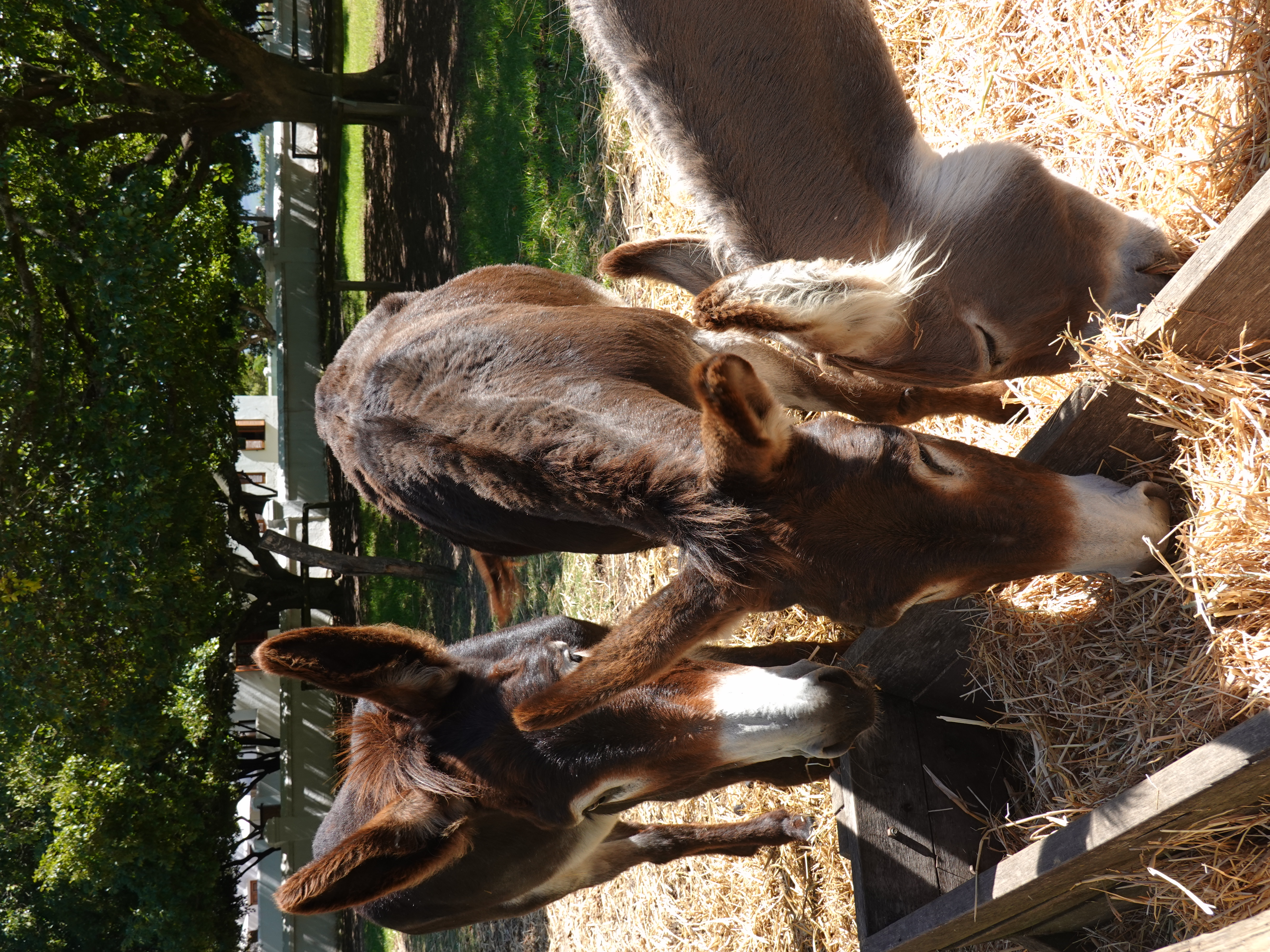 ROOMS:
Most of Babylonstoren's rooms are renovated Cape Dutch farm buildings. Therefore, their outsides are beautifully historic. However, Karen Roos has decorated each interior in a delightfully modern, minimalist way. Often, the rooms have glass cubes added to a wall which give wonderful views of the surrounding landscape.
Furthermore, the range of accommodation on offer will appeal to all guests. The romantic Farmhouse Suite is ideal for couples. There are thirteen rooms in the characterful Garden Cottages. Finally, the newly built Fynbos Cottages are a few minutes away. This is where we stayed, and that is a great option for families. These offer the same luxury with more seclusion. Moreover, they boast a private terrace and pool! However, in every room, you'll find the same attention to detail and high-quality features. Think minimalist furniture in muted tones, and marble fittings in the bathrooms.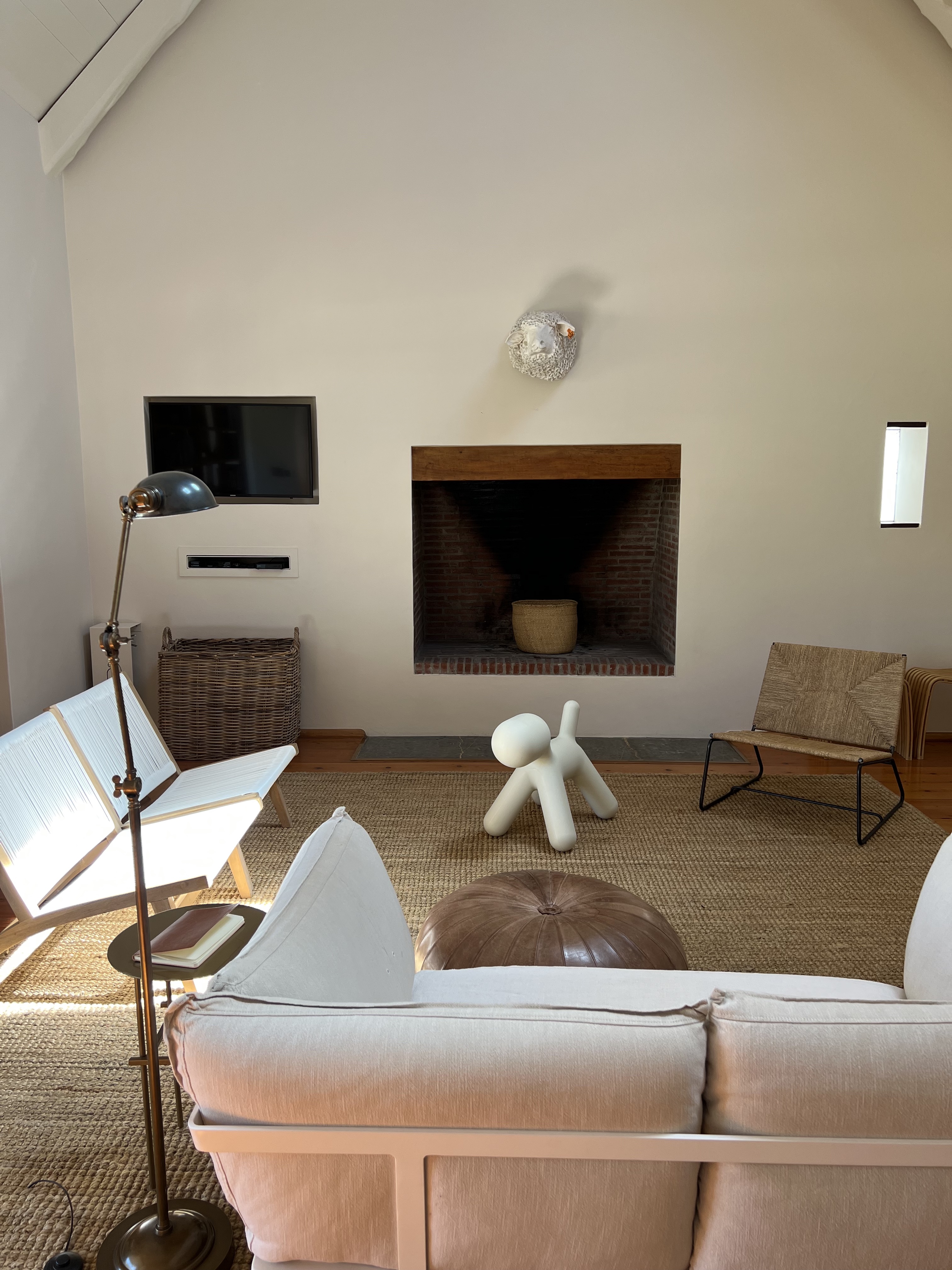 PRICES:
Babylonstoren is on the more pricey side, especially the Fynbos cottages. Double rooms cost around €450 per night in lower season. Importantly, a delicious breakfast is included for each rate. And Babylonstoren breakfast is something worth travelling for. If you would rather go for something in the slightly lower price category, I would recommend Boschendal. Alternatively visit Babylonstoren during the day, eat in their restaurant and book a treatment at the spa. That would also give you a good feel what Babylonstoren is all about.
Finally, try to avoid high season to get more affordable prices. Try end November or beginning of December, or alternatively end beginning of March.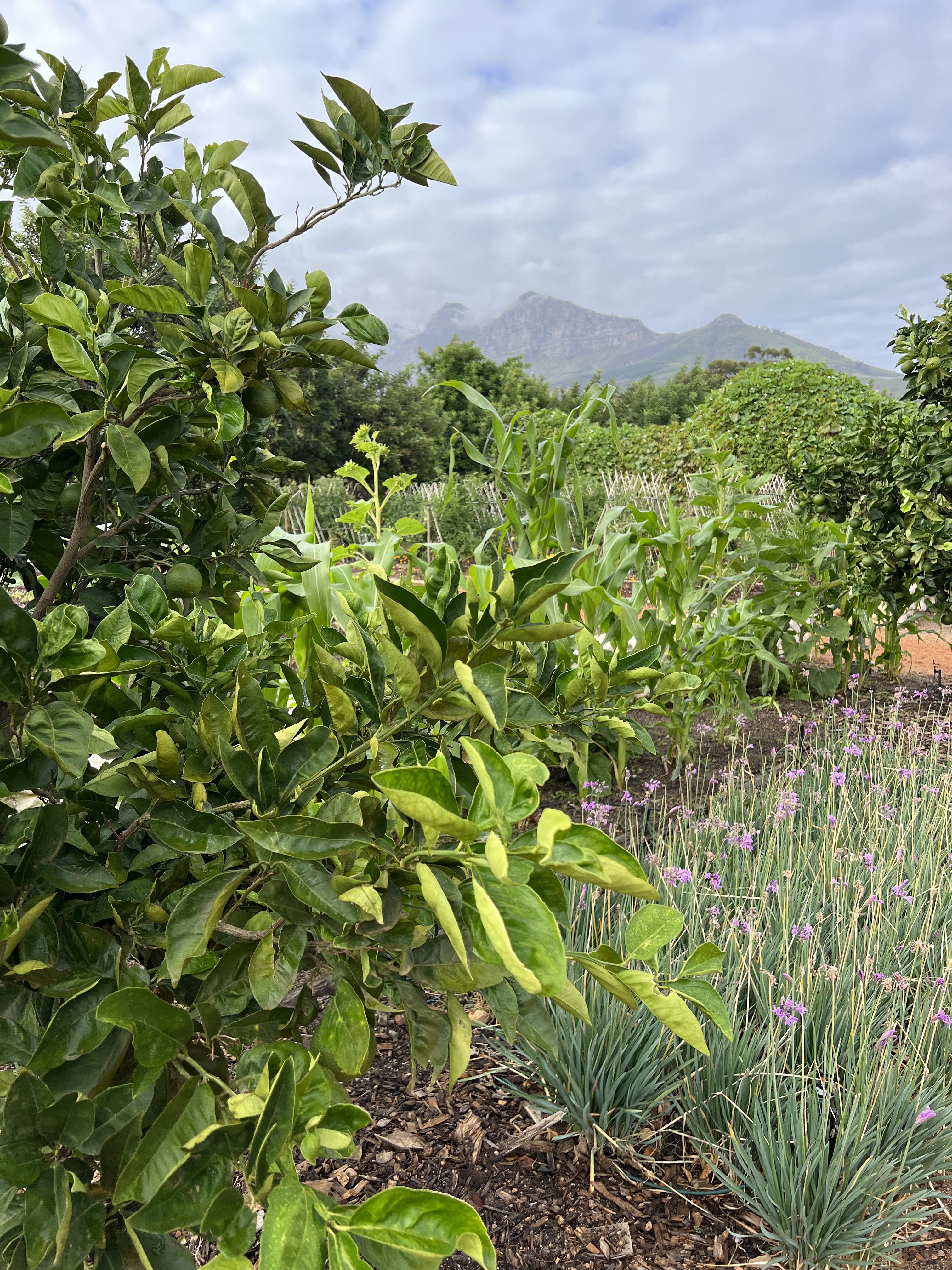 OVERALL IMPRESSION
BIGGEST PLUSES
Babylonstoren's rooms are simple yet beautiful, luxurious, and private. Furthermore, some boast jaw-dropping features such as four-poster beds, fireplaces, and private pools.
The gardens are a world-wide reference point. Once you have seen the Babylonstoren gardens, no other garden will impress you! They are huge and heavenly all year round. Moreover, you can take fascinating tours of the farms.
The restaurants Babel and Greenhouse serve delicious farm-to-fork cuisine. Bring mouthwatering local produce home with you by visiting the wonderful farm shop!
Expert sommeliers will guide you through tastings of stunning local wines. The wine centre at Babylonstoren is world-famous!
Babylonstoren offers plenty of activities for the whole family. My son baked his own bread and picked his eggs for breakfast. Heaven!
Also, there are regular workshops that let you try a range of activities, from beekeeping to soapmaking.
The spa is beautiful and gives superb treatments in a peaceful, natural setting.
Finally, Babylonstoren works hard to ensure its entire farm and estate are as eco-friendly as possible. Therefore, you can stay with complete peace of mind!
POINTS WORTH CONSIDERING:
You will need a car to get here as well as to enjoy the location
Babylonstoren can be extremely busy during the high season. There will be tours coming in and out throughout the day, it may be off-putting for some guests who value privacy and intimacy.
Similarly, Babylonstoren restaurants can be booked by external guests. Therefore, you need to book the restaurants and activities early.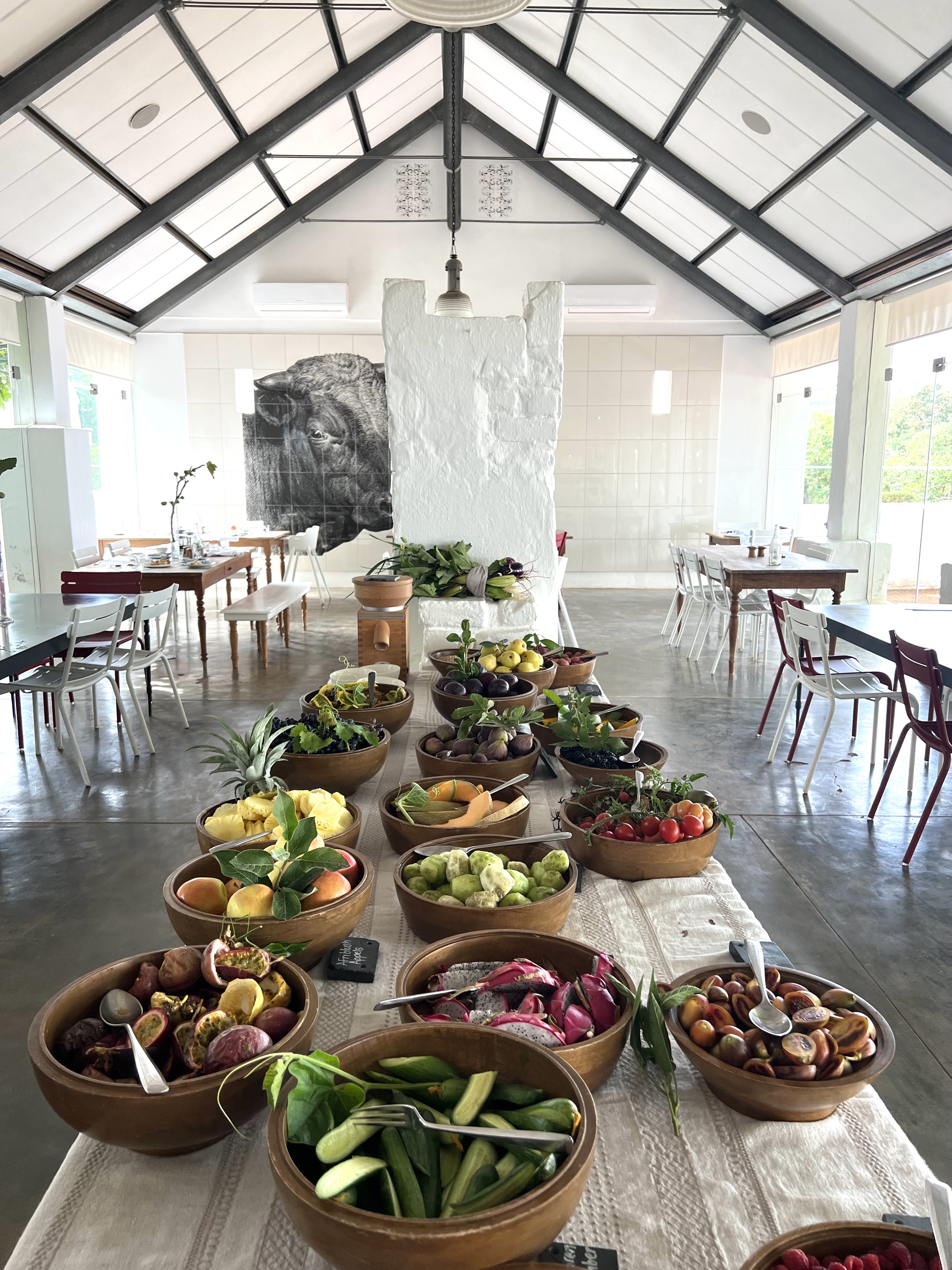 BABYLONSTOREN – ALL YOU NEED TO KNOW
WHAT WILL YOU DO
Oh you will have plenty to do at Babylonstoren. Your only problem will be deciding what to do!
OUTDOORS
Babylonstoren's farm and gardens are wonderful to explore. Moreover, you can do this independently or on a guided tour. Otherwise, you can bike or hike through the hotel's stunning natural surroundings.
Fitness lovers will adore the estate's modern, well-equipped gym. Otherwise, cool off with a swim in the gorgeous outdoor pool! Also, Babylonstoren offers a range of other outdoor activities including guided fishing, rowing, or harvesting.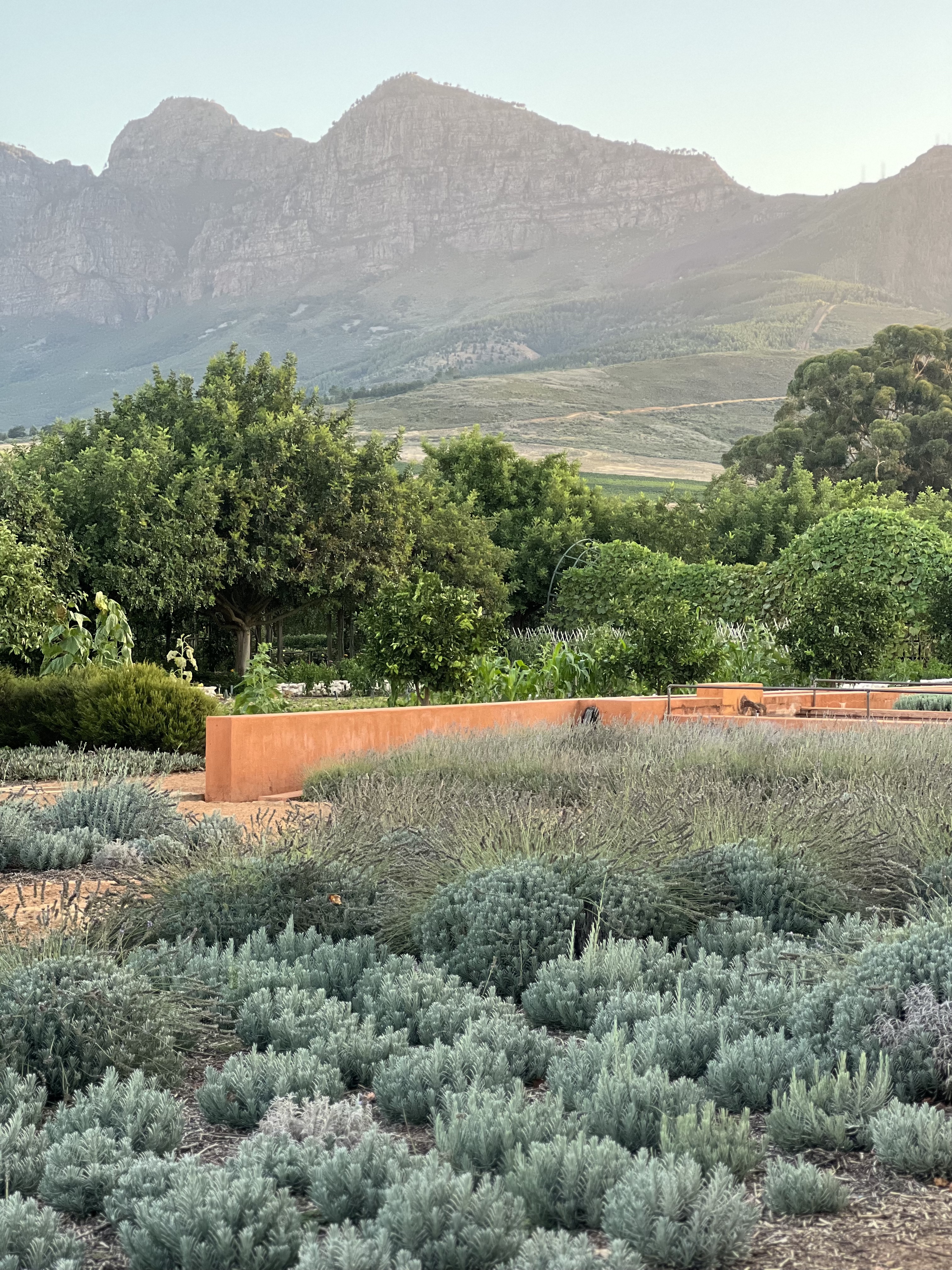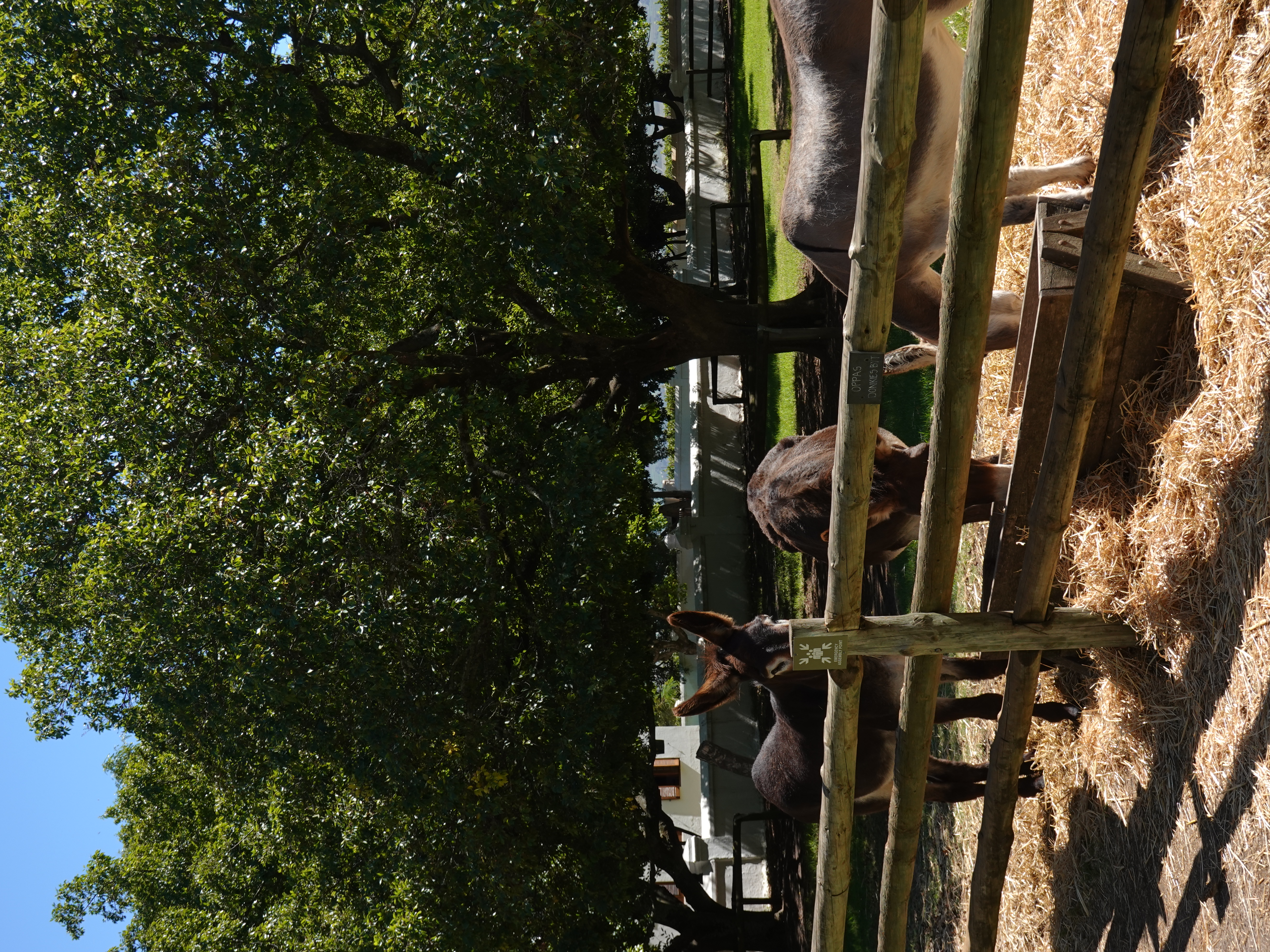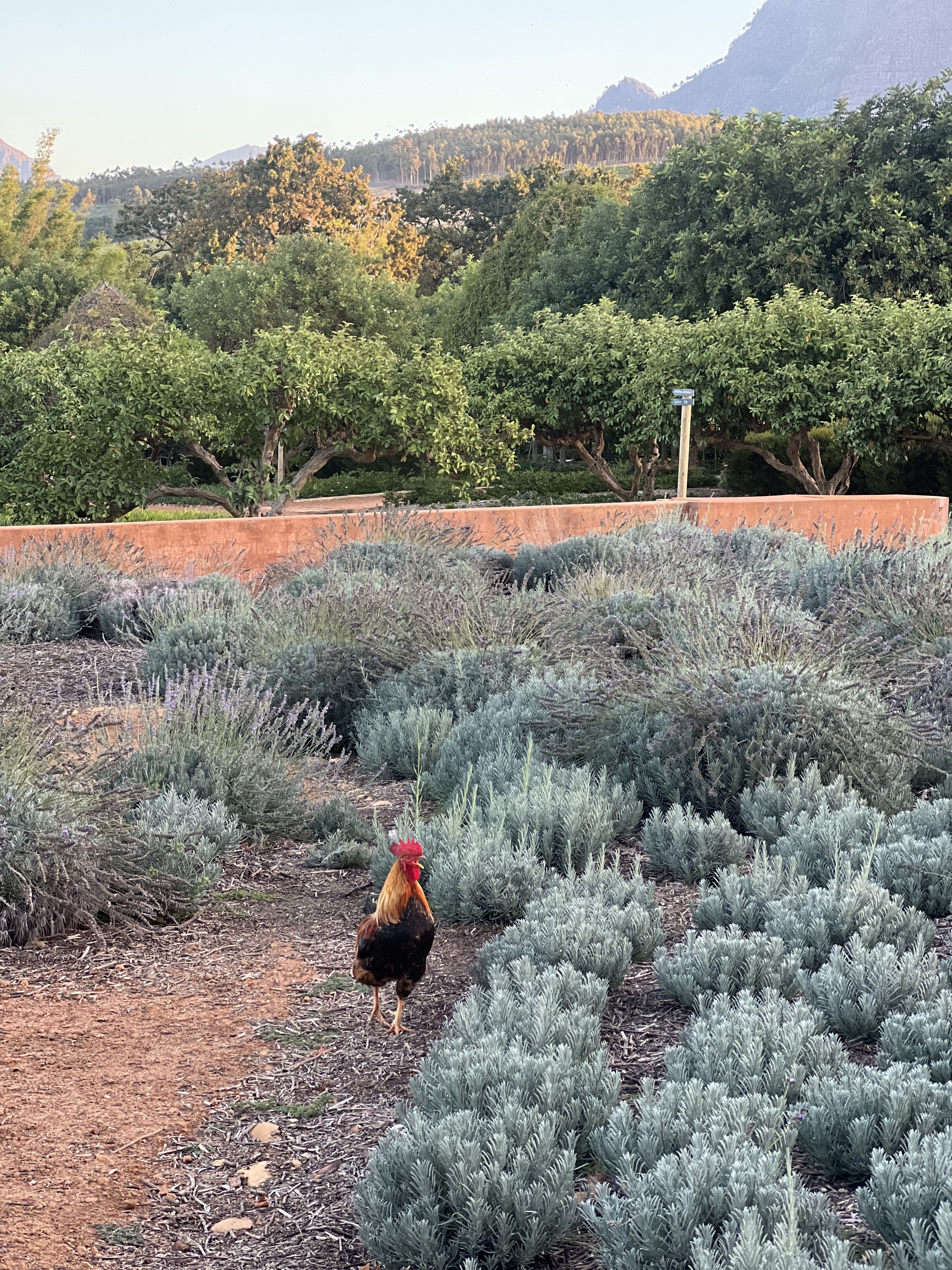 INDOORS
Indoors, you can take part in many activities. Babylonstoren offers regular workshops with experts on everything from baking to foraging to flower pressing. Finally, Babylonstoren has an international reputation for its wine. Every member of staff on the estate has completed basic wine-appreciation training. Moreover, the experts will be happy to show you around the cellar on a regular tour. Otherwise, learn even more about wine at the hotel's dedicated museum which opened recently. And, if alcohol isn't your thing, try some of the amazing olive oil produced on site! And do not forget to do some shopping at the Babylonstoren shop, it is beautiful!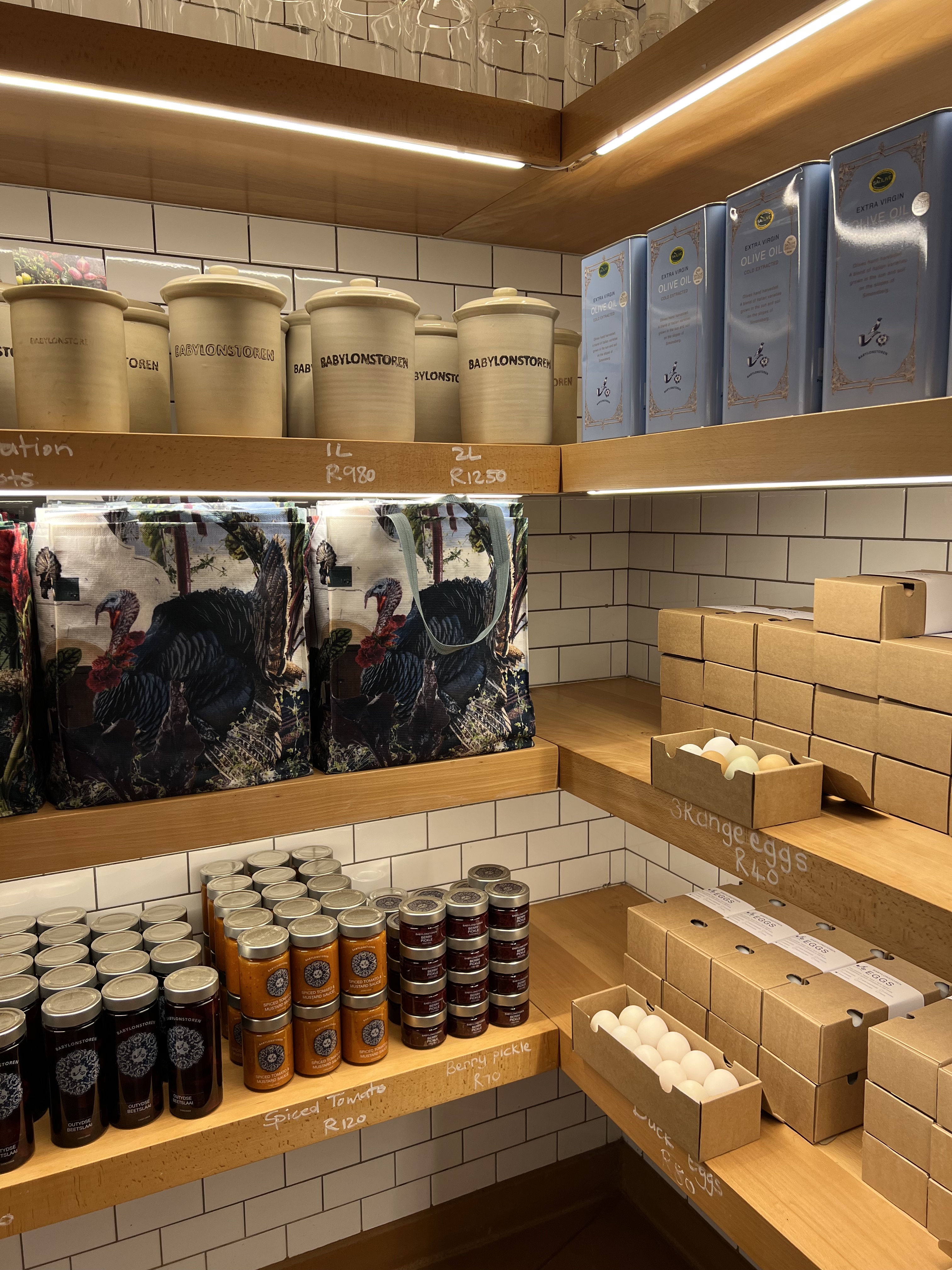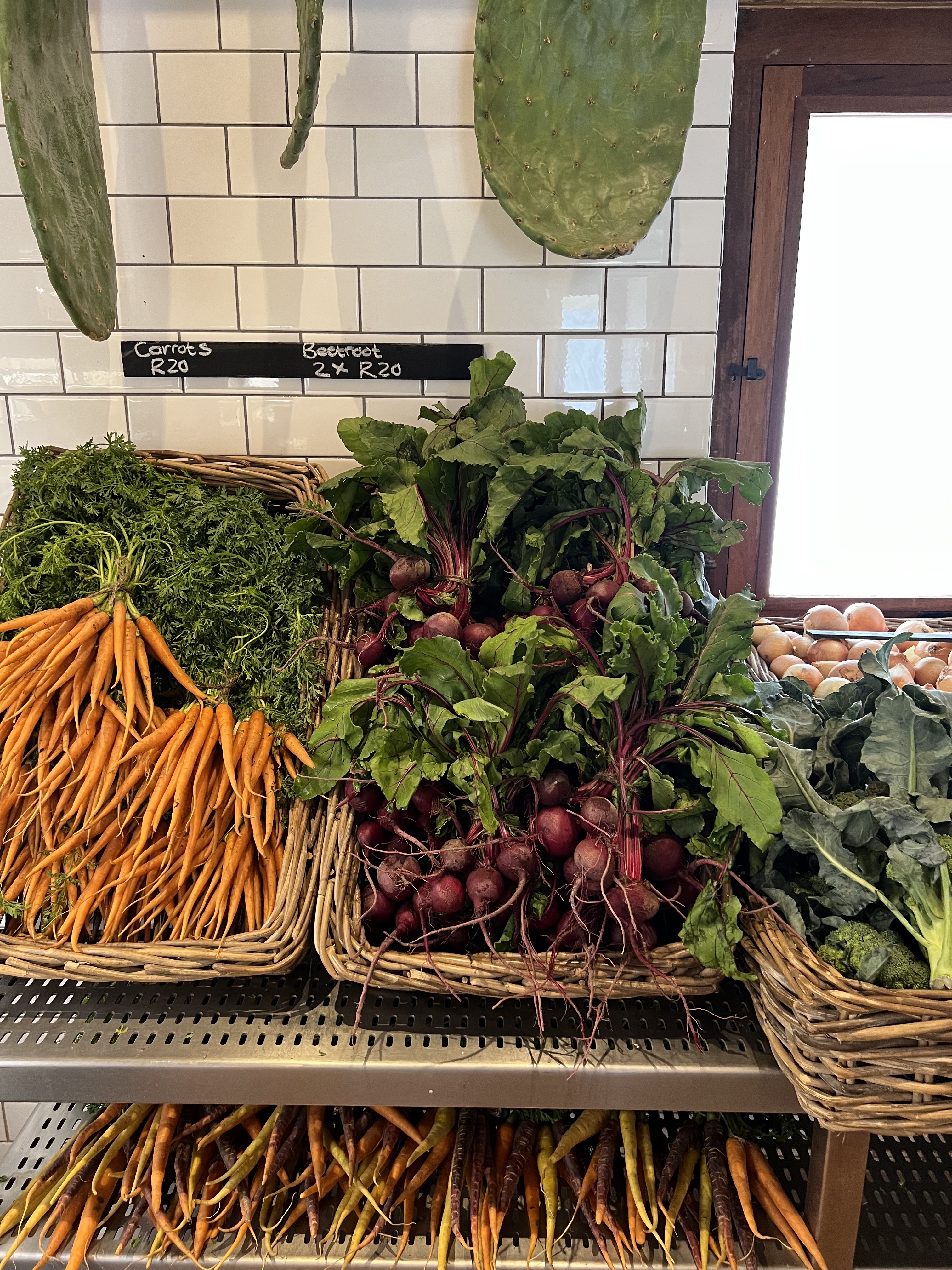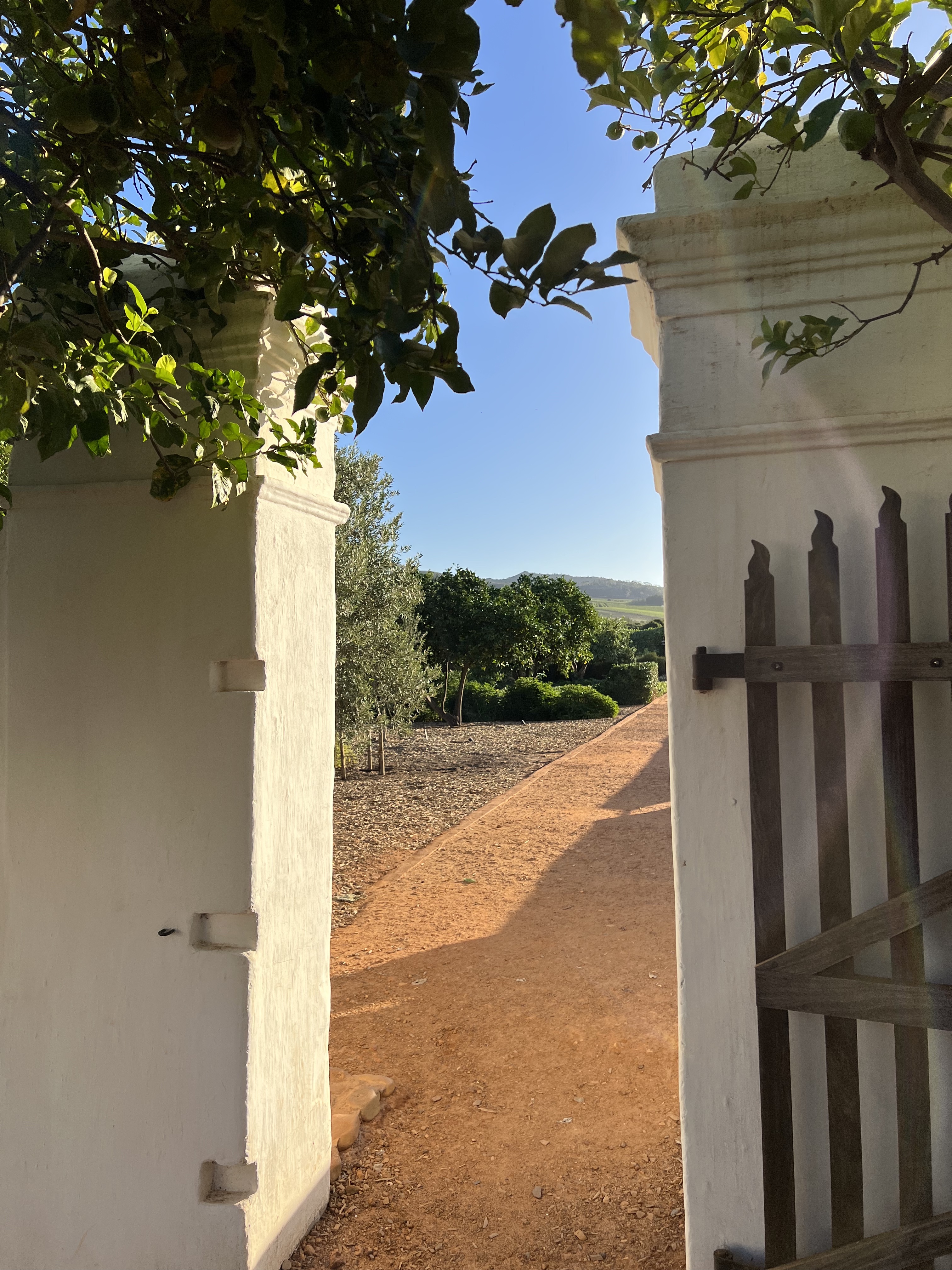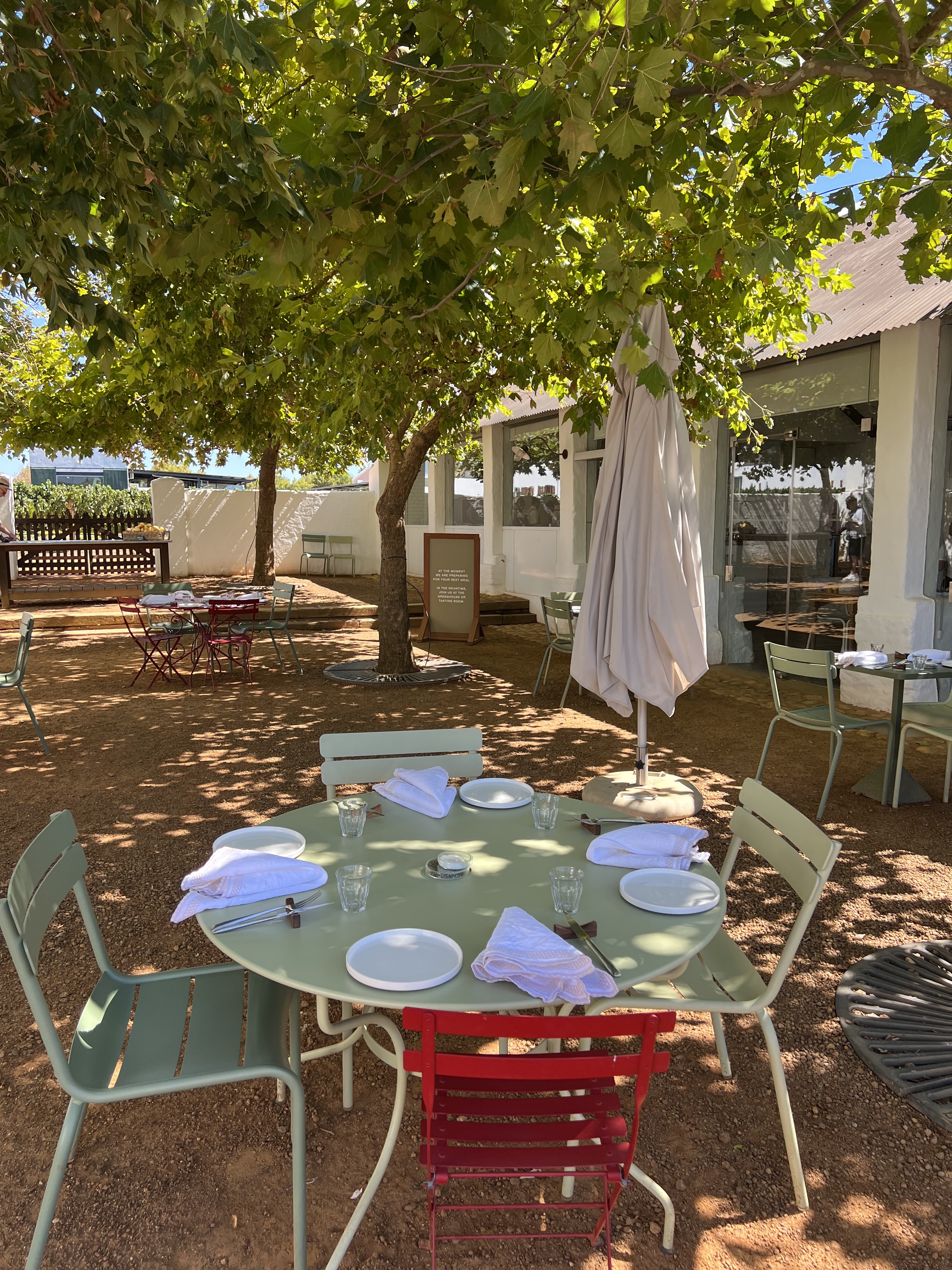 WHAT WILL YOU EAT (& DRINK)
Above all, the Babylonstoren's food is the reason why some travel all the way to South Africa. Babel is Babylonstoren's main restaurant. They serve breakfast, lunch, and dinner until 9 pm. Dishes are delicious and seasonal. These range from fresh, light salads to tasty meat simply cooked and served on the bone. Furthermore, what we loved was that almost all of the ingredients come from the estate. I had one of the best and definitely the most beautiful breakfast of my life in here. It is worth waking up early!
The presentation is a visual feast as well. Food is carefully arranged on beautiful, rustic boards made from upcycled wine barrels. Indeed, pairing these plates with local wine will be divine.
Otherwise, Babylonstoren's Greenhouse offers light lunches and refreshments to guests exploring the gardens. The greenhouse and its setting are stunning. Finally, the Bakery serves guests tasty, casual fare for dinner. Moreover, you can enjoy either an Italian or 'carnivore' evening here depending on the day of the week. Unfortunately, I did not have a chance to eat here as we visited on the evenings when the Bakery was closed. But it surely did look beautiful and I wish I had experienced it!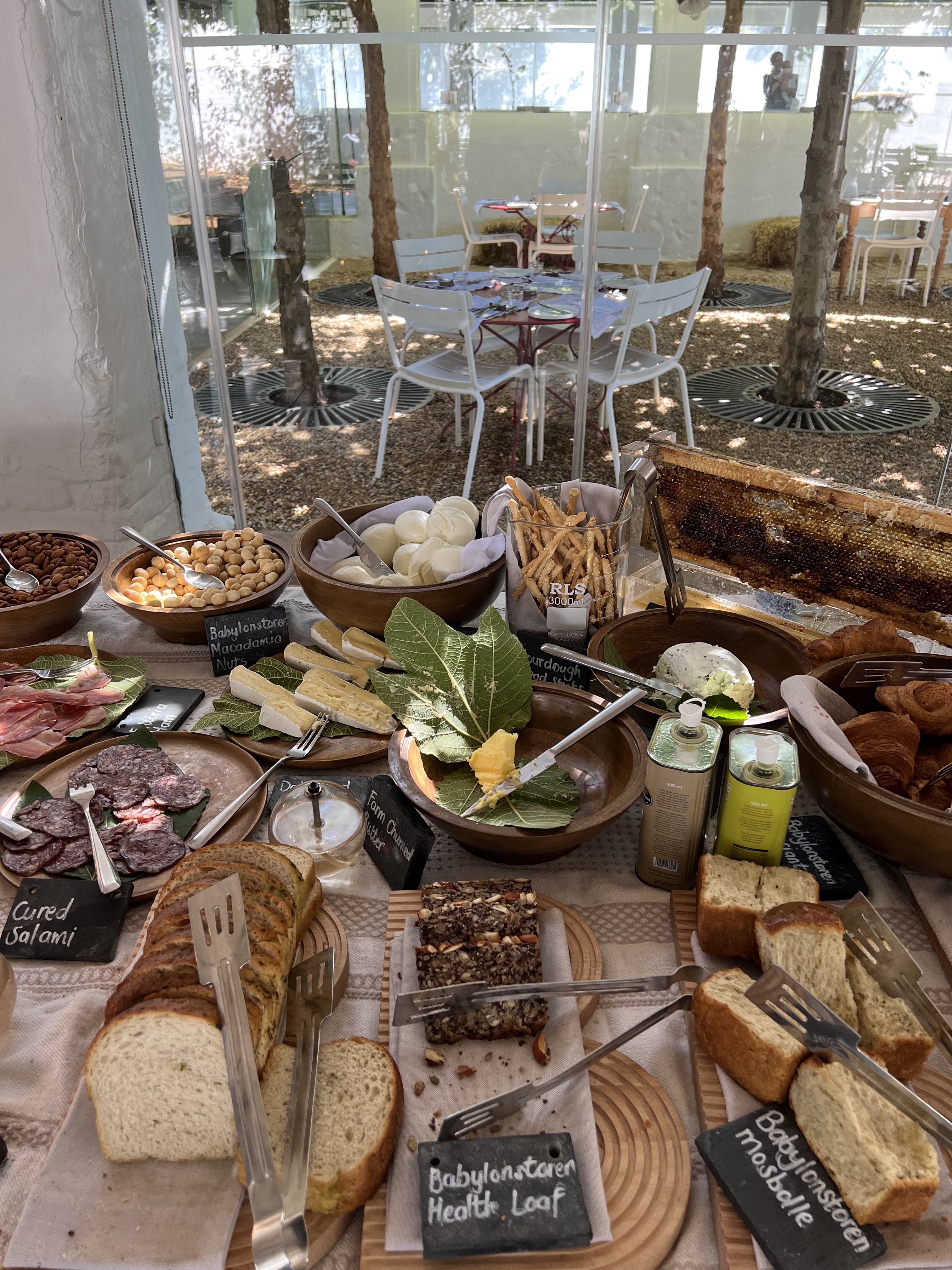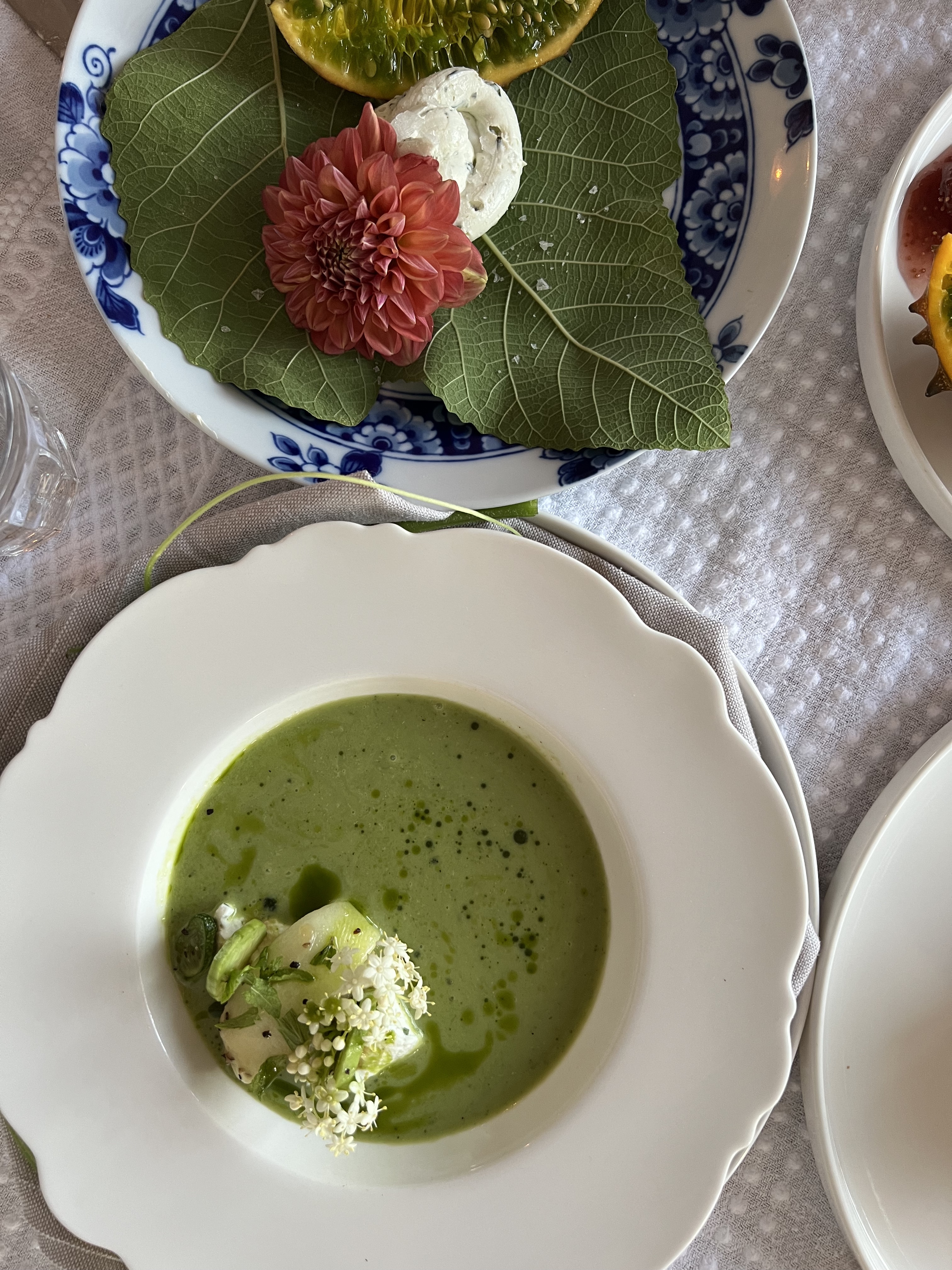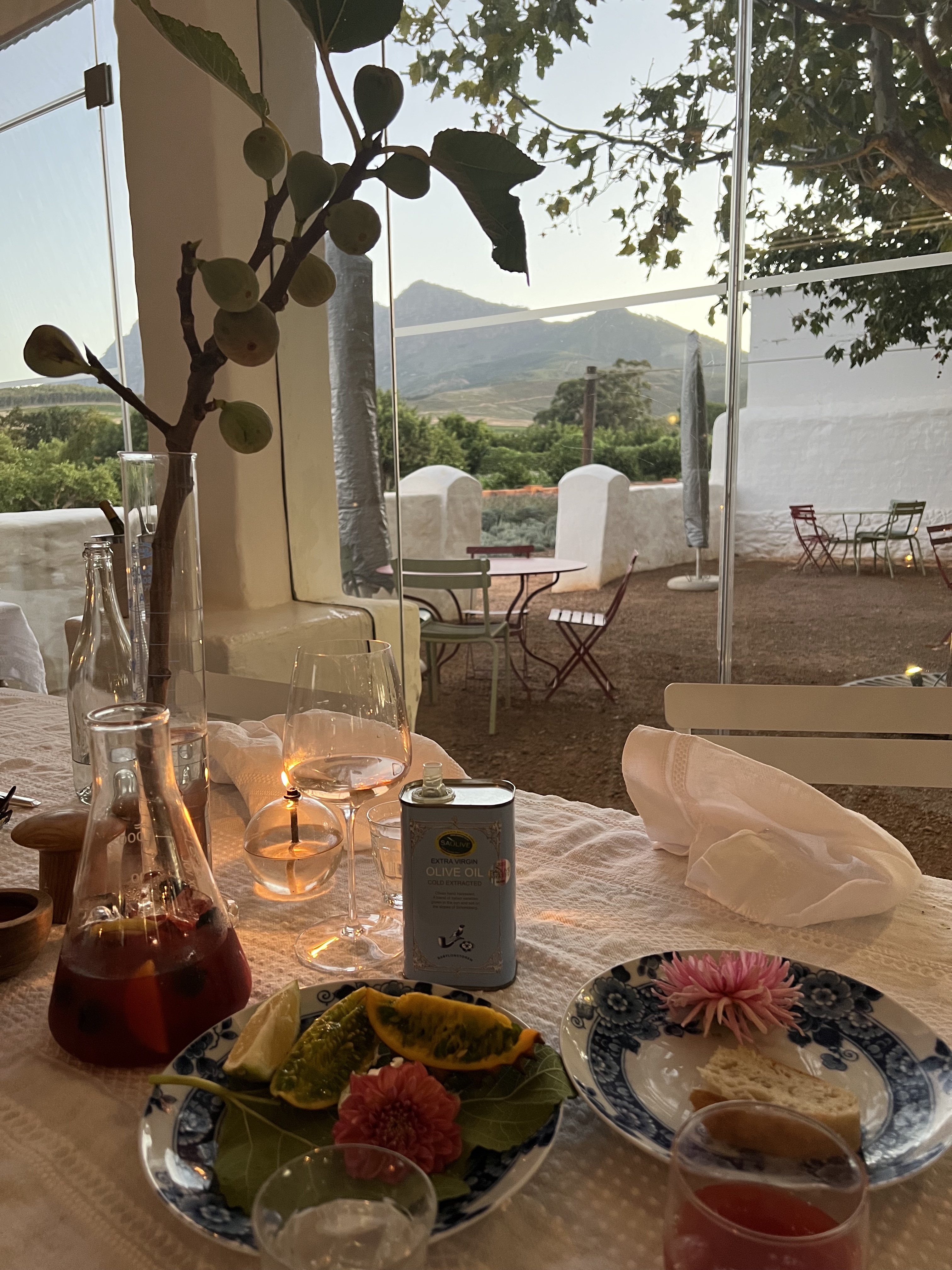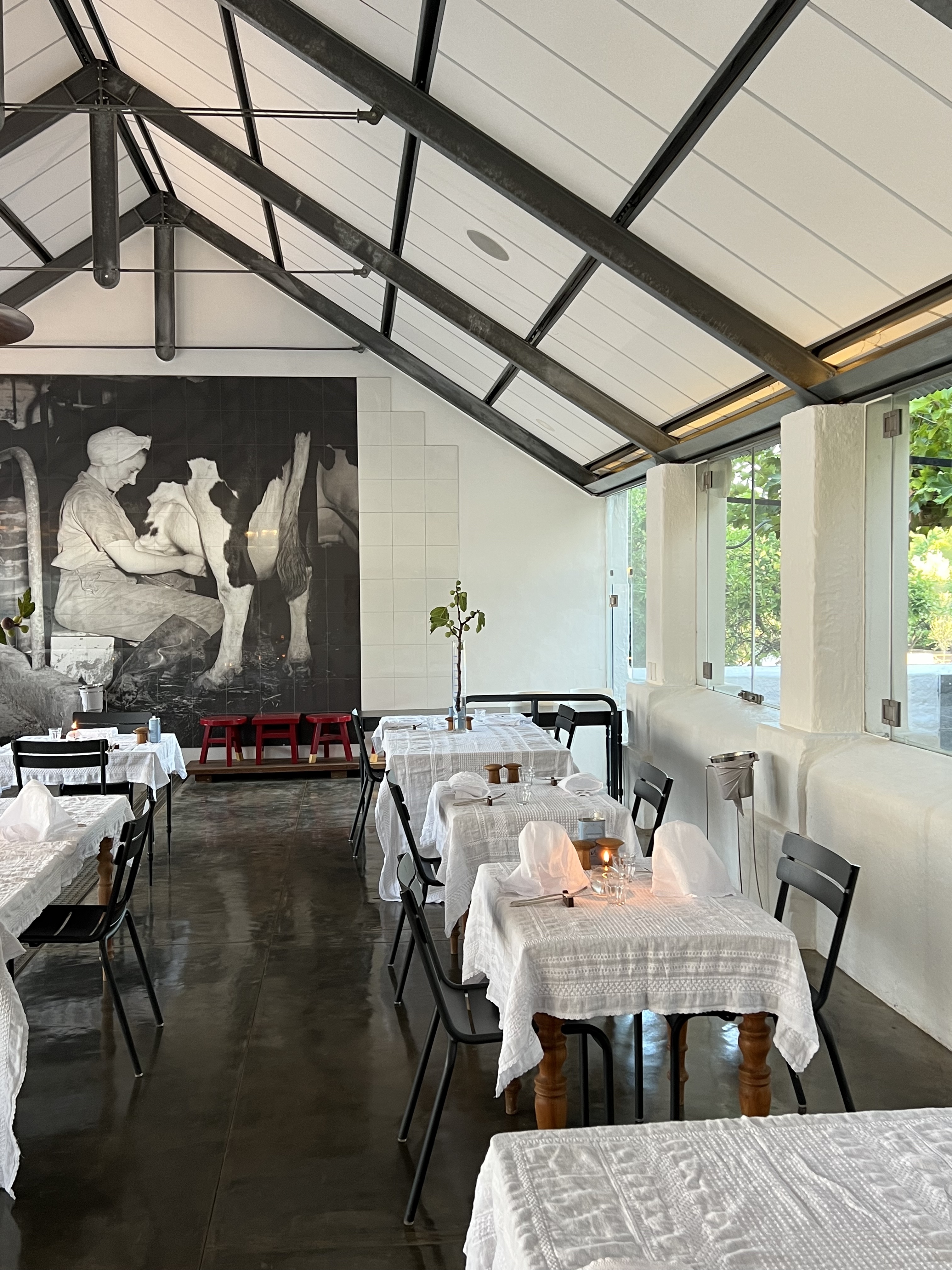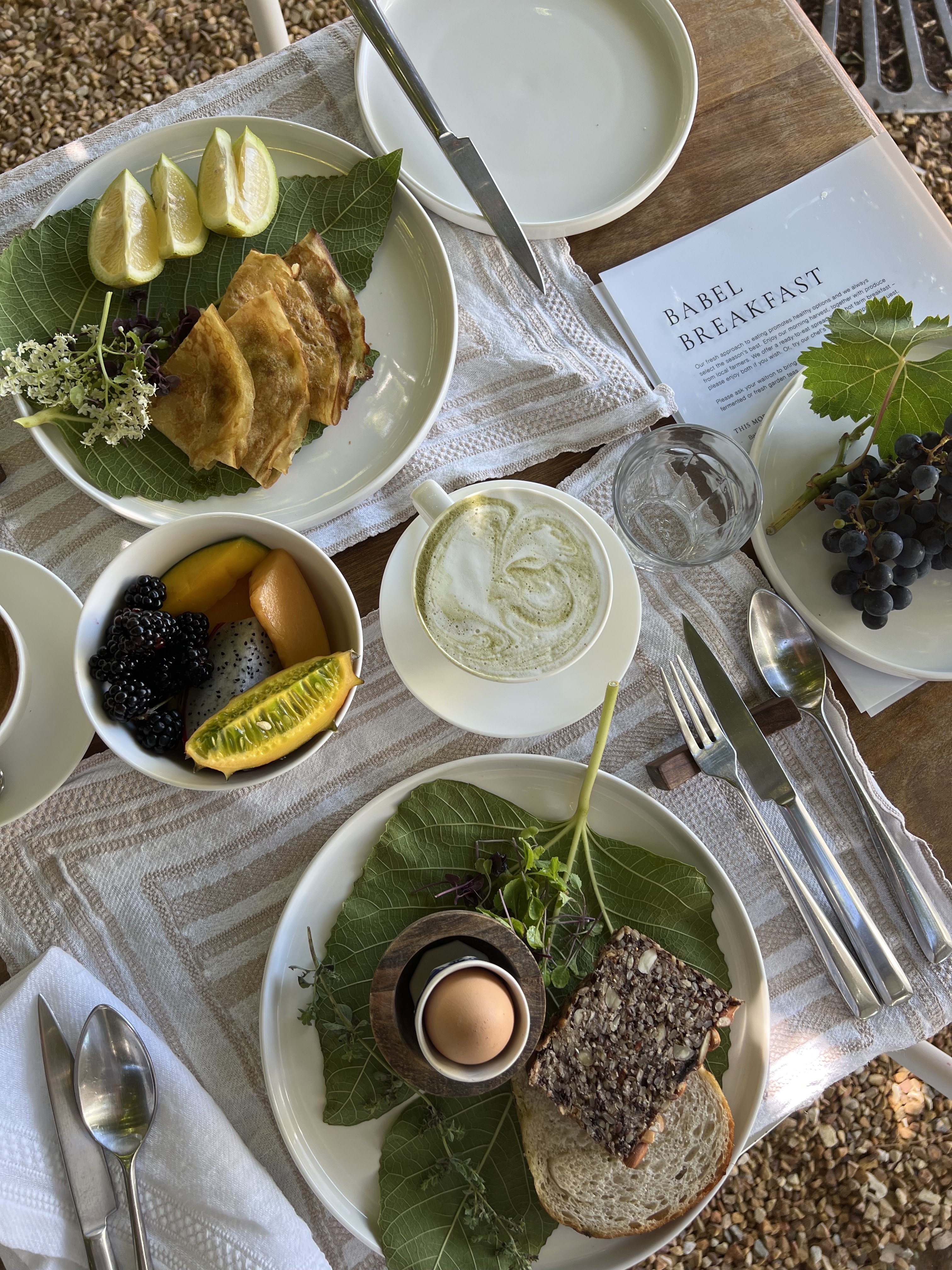 IS THERE A SPA?
The spa is located in a tranquil bamboo forest. Therefore, just walking there is enough to start unwinding. Furthermore, its clean, modern design and water features ensure total relaxation when you get inside. There are hot rooms, indoor and outdoor pools, and a gym. You can also book exclusive yoga sessions with expert instructors.
Moreover, the spa boasts stunning views of the landscape. Treatments are thoughtful and will help you unwind from head to toe. One of their trademark massages uses bamboo from the forest outside. The spa's products are local and organic, including herbs from Babylonstoren's gardens. Finally, they have one of the only Hammams in South Africa. This ancient, Turkish ritual will leave you relaxed and reinvigorated.
FAMILY FOCUS
Without a doubt, Babylonstoren is ideal for families. Firstly, the two-bedroom cottages accommodate up to four guests at a standard rate. Otherwise, there are dedicated 'family' houses that sleep up to ten in luxury and privacy.
Additionally, many of Babylonstoren's activities will appeal to kids. Active children will love biking and hiking through the estate's natural beauty in complete safety. The estate can even organise a scavenger hunt which will keep them busy and entertained in the glorious gardens. Furthermore, they can help out on the farm. There are donkeys that live on site the children can help to feed. My son loved daily feeding visits to the donkeys as well as picking eggs for his own breakfast.
Otherwise, staff are happy to take kids on harvesting trips around the gardens for fruit and vegetables. Inside, children and teenagers will love to make bread for the table with Babylonstoren's skilled bakers. I did this experience with my son and we loved it and the bread turned out particularly tasty. It will even get delivered to your room.
Finally, kids can attend some of the estate's workshops. This is a perfect option if the weather sends you indoors.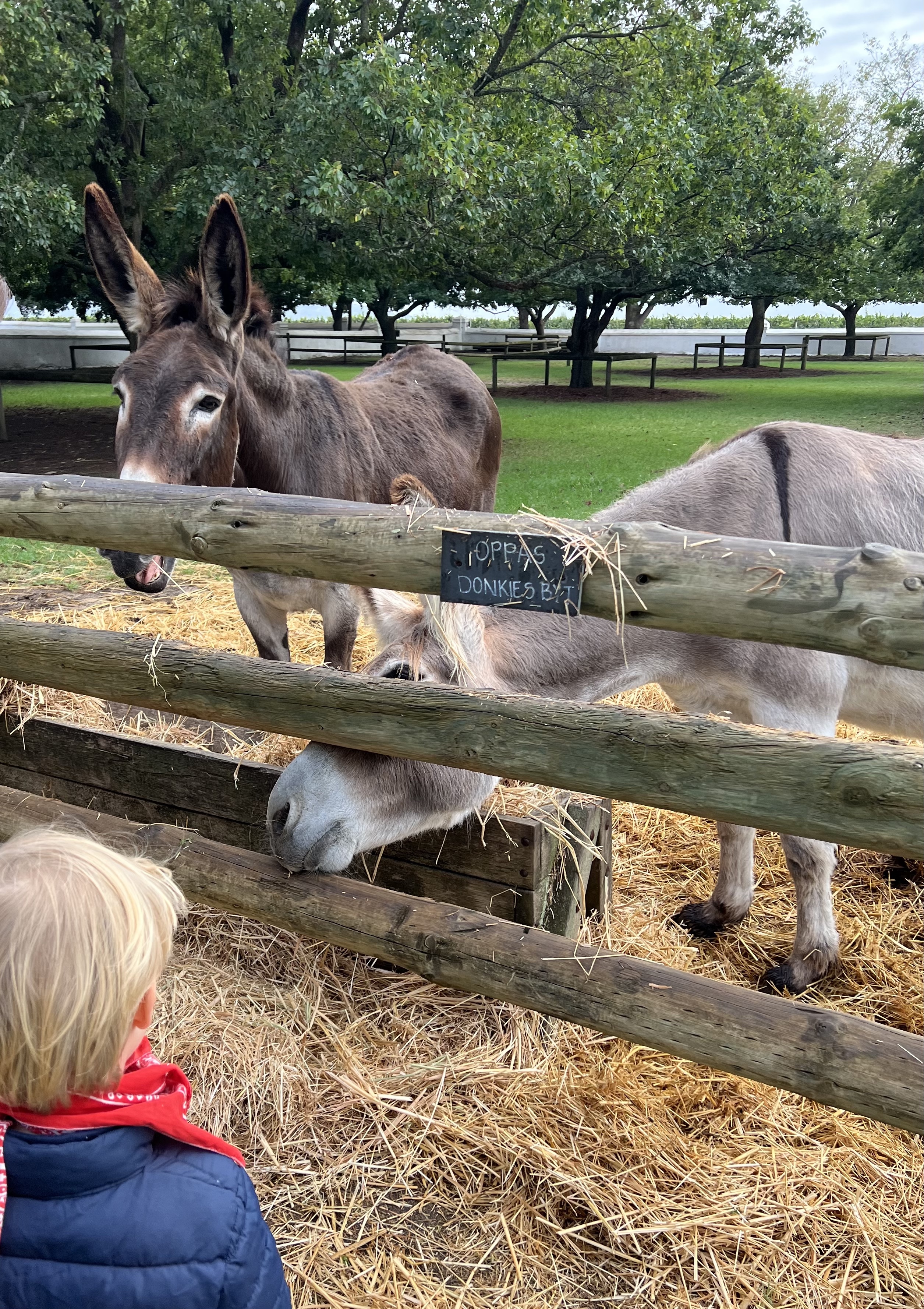 FINAL TIPS FOR YOUR STAY AT BABYLONSTOREN
Babylonstoren definitely is a place worth staying at, or at least visiting. If it is above the budget you may experience a great deal of what Babylonstoren is all about by doing a day visit and signing up for different activities. Having the breakfast at the Babel restaurant is a must and can be attended by external guests too.
Please consider the following points to make the most of your stay:
Try to avoid high season to get more affordable prices. Try end November or beginning of December, or alternatively end beginning of March.
If you decide to stay at Babylonstoren do their guided tour of the gardens, it is spectacular!
Book a table at Babel as soon as you can! You won't want to miss out on the restaurant's delicious, farm-to-fork dishes.
Enjoy,
Voyage Provocateur
In case you would like to read some other of my posts:
10 BEST FAMILY-FRIENDLY SAFARIS IN AFRICA