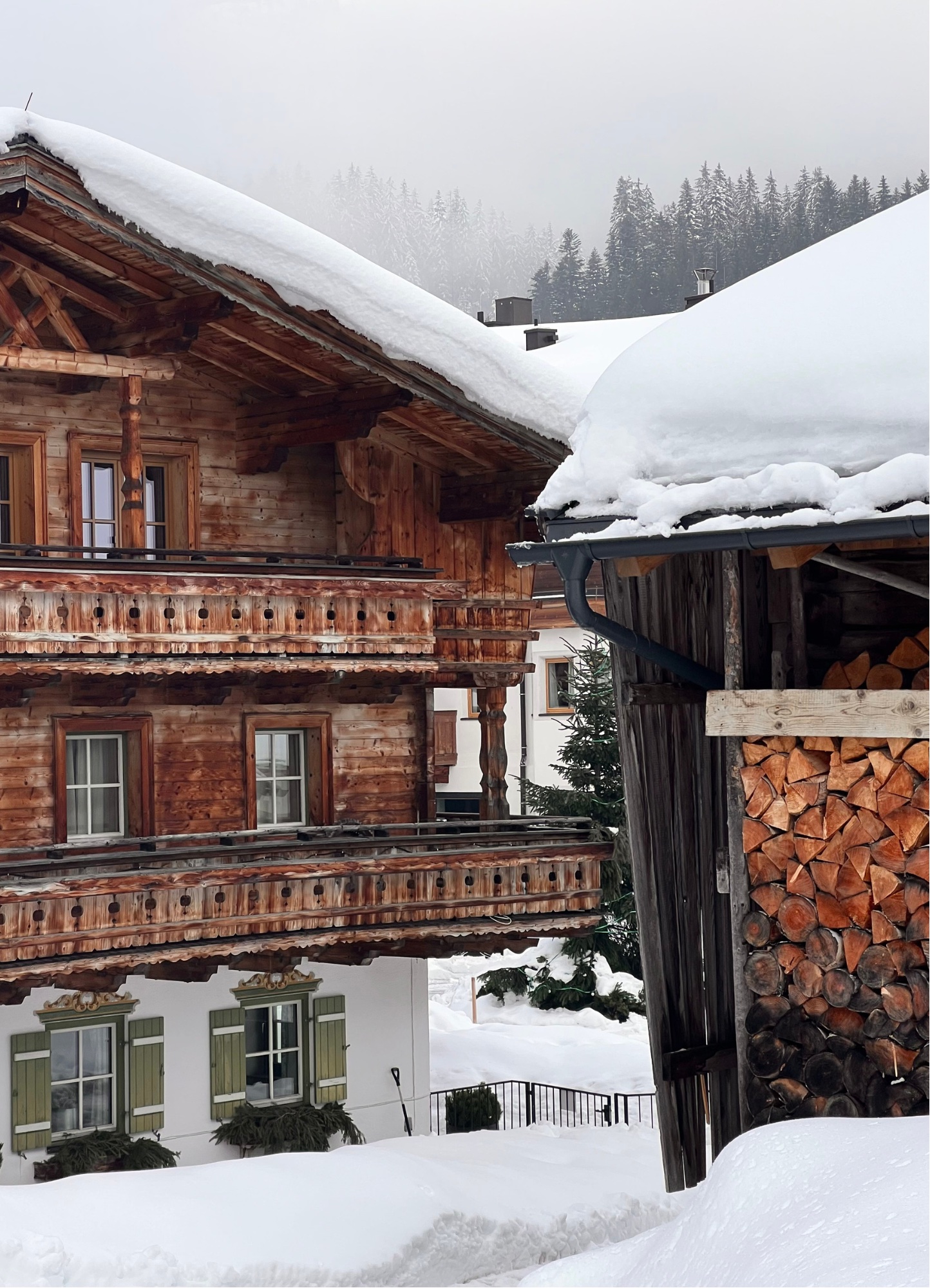 NATURHOTEL FORSTHOFGUT, AUSTRIA – HOTEL REVIEW
Here you will find everything you've ever wanted to know about Naturhotel Forsthofgut based in Leogang, Austria. All wrapped up into one, information-packed guide to help you decide whether it is the right place for you.
Contents:
Overall impression
Hotel facts

General Info
Location & Getting there

Prices, Packages and Offers

Why book?
Things to consider
Voyage Provocateur's tips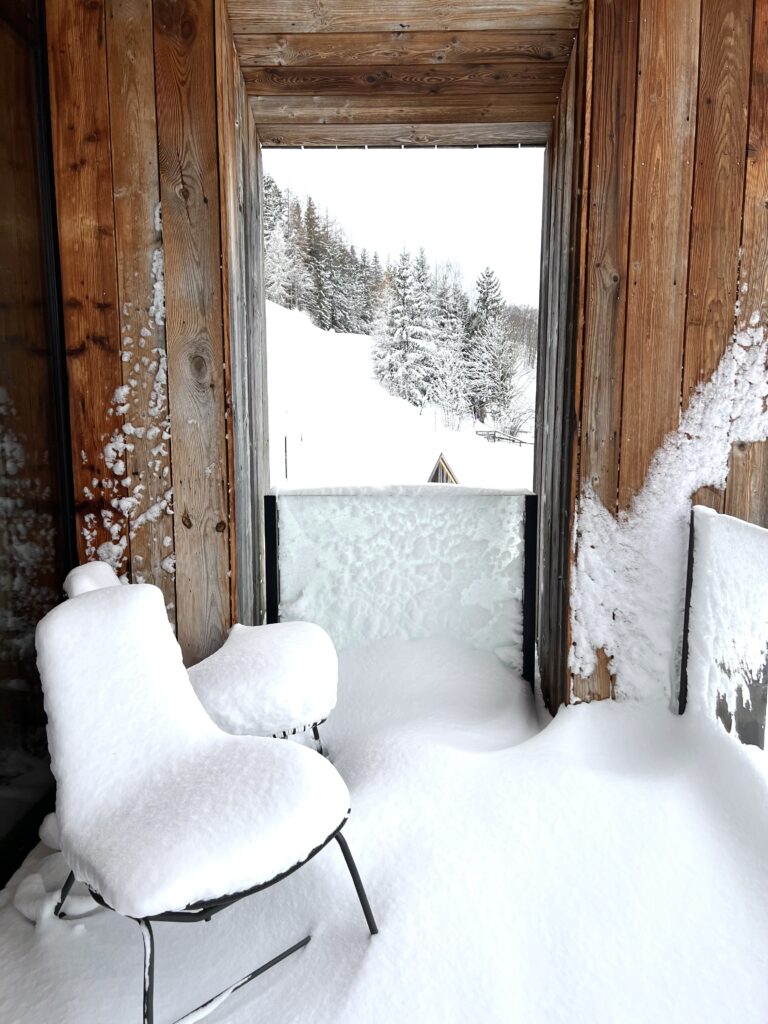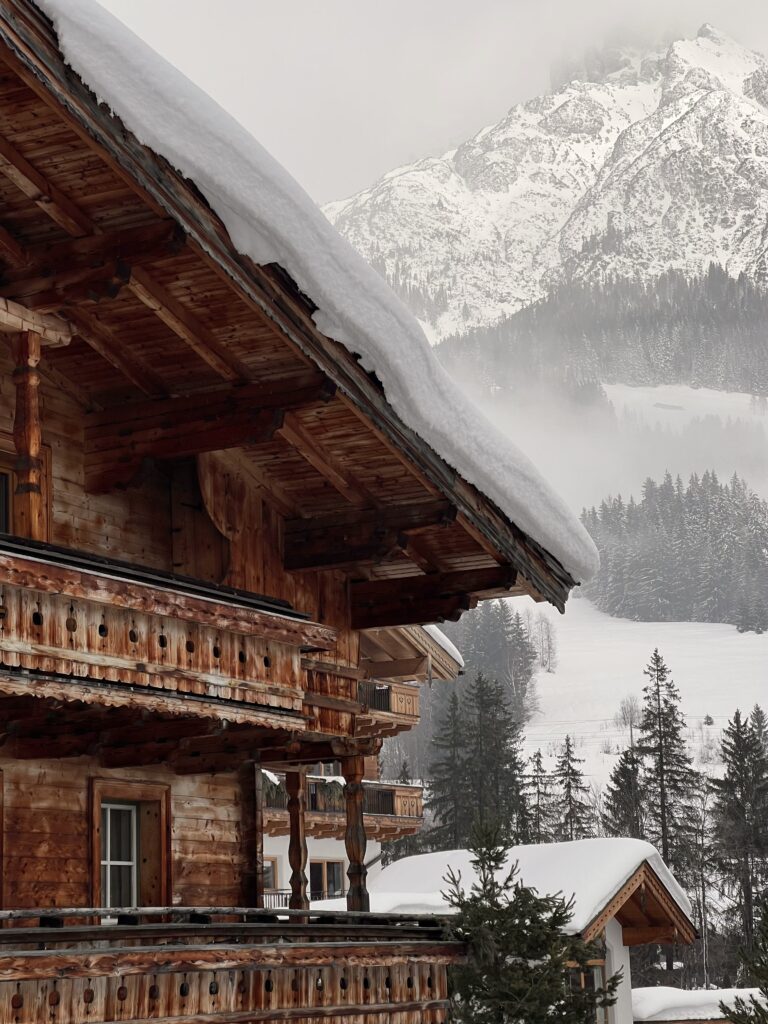 Naturhotel Forsthofgut – Overall Impression
What makes it great?
Genius at combining tradition/being family run for centuries with offering state of art modern comfort
The generous all-inclusive package will make you feel very spoilt. I had a feeling Forsthofgut treats you like a grandmother who hasn't seen you in a while and wants you to feel very loved and taken care of
Unbeatable mountain setting including direct access to the ski slopes in winter and hiking trails in summer
Their SPA cannot disappoint even the harshest critic
10 out of 10 for their food concept, which basically keeps you fed around the clock
It allows all children comforts while still making it a special place for those seeking a perfect couples hideaway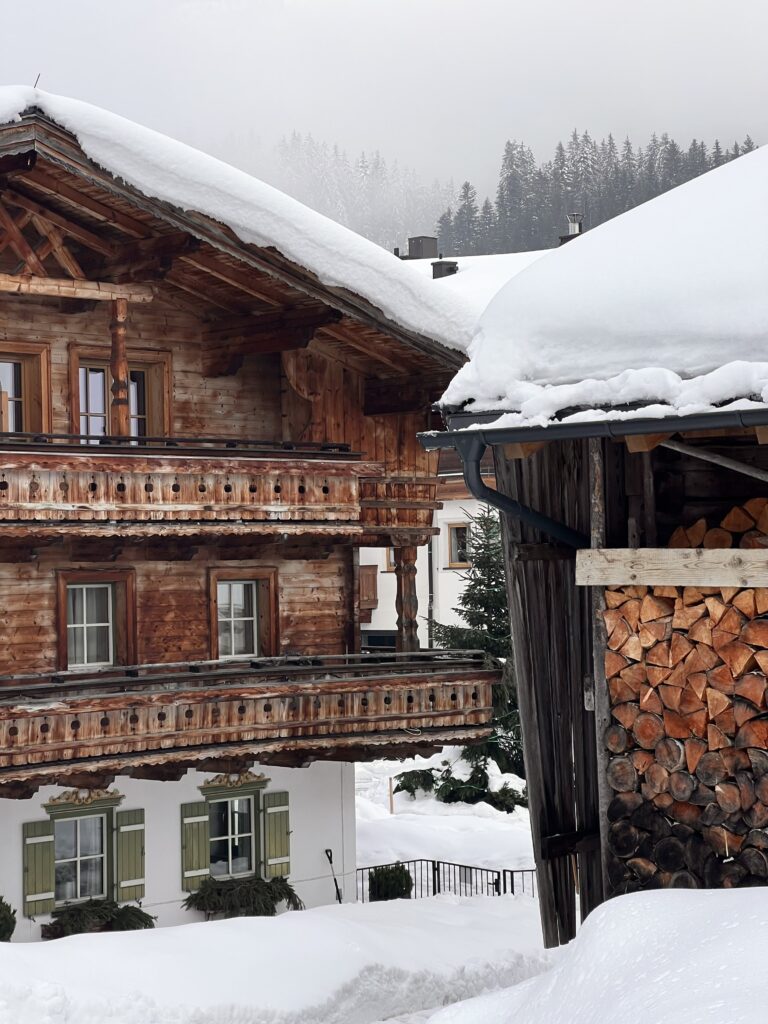 Worth thinking about
Forsthofgut is a magnet for families with children. Even though the hotel does an incredible job at separating the areas for adults only, you must be aware that there will be families around.
The price per night may appear relatively high. What I recommend is calculating all the services in (such as inclusive 5 course dinner, child care, unlimited access to spa, sport activities etc) and then checking whether you are fine with it.
Some rooms may feel small, so be aware what you book. That said, we only slept in our room, there was just too much to do and enjoy.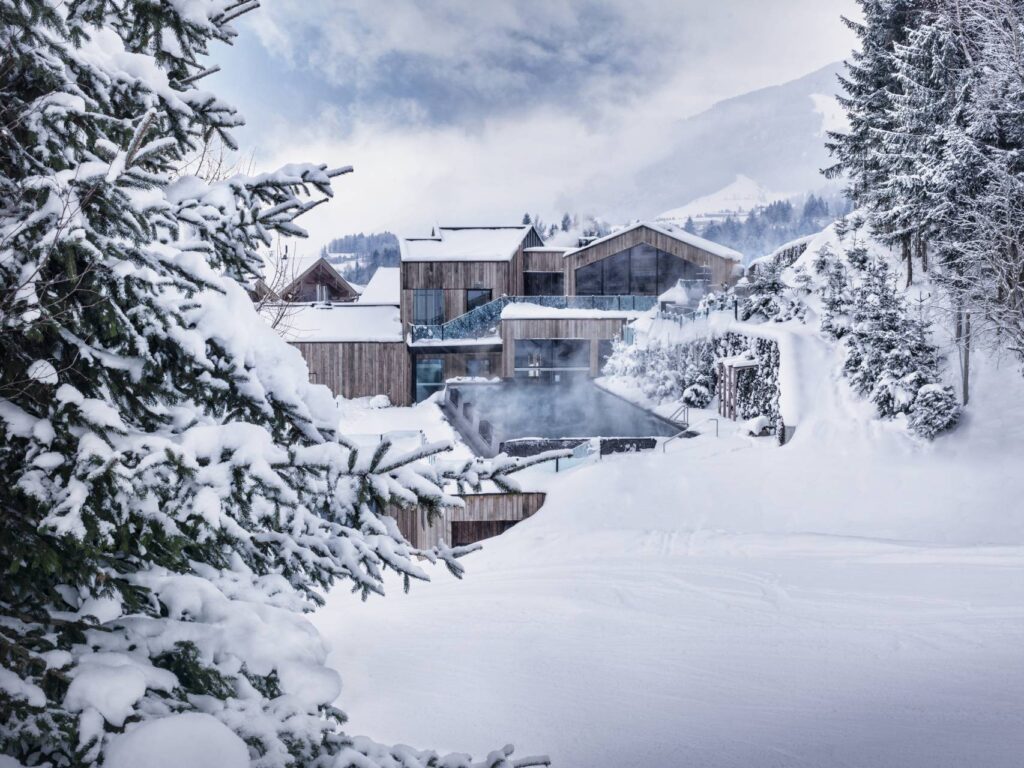 Hotel Facts
General Info
5* family-run hotel with approximately 100 rooms, including the latest addition of three Garden Loft Suites. We had a pleasure of staying in such a Suite, see photos in the further part of the Review.
Skiers paradise due to direct access to over 400km of ski slopes and 120 lifts across 3 ski regions
Weekly programme of complimentary activities, both for adults and children (further detail in "Activities" section of the Review)
Free childcare 7-days a week from 9am to 9pm
Almost all-inclusive food concept (further detail in "Food" section of the Review)
Location & getting there
Forsthofgut lies in Leogang – a province of Salzburg, Austria.
Salzburg Airport is the closest airport to the hotel, which is around 1 hour drive away. Alternatively one can take a train to Saalfelden followed up by a 5 minute taxi ride to the hotel.
International Airport of Munich is located approximately 2.5 hours drive away.
What makes the location special is that the hotel lies directly on the slopes of the Asitz mountain with ski slopes running directly next to the hotel. I did my morning yoga practice with skiers passing me by just meters away.
In summer Forsthofgut offers 30,000 m² of garden with organic bathing pond and relaxation islands.
Prices, Packages & Offers at Forsthofgut
Double rooms from €190 per person per night (2 sharing ¾-board and additional benefits)
Winter packages: Looking Forward to Christmas & Winter Wellness starts from €800 per person for 3 nights based on 2 sharing ¾-board (supplement for kids sharing parents' room). Check all info on packages here.
I recommend signing up to their newsletter which flags packages and discounts.
If you don't mind staying outside of peak seasons check their price calendar and target the lower priced months.
Naturhotel Forsthofgut – Why book?
Now that I told you about the hard facts about Forsthofgut, let me share some further, more subjective insights.
Activities
What I found really great at Forsthofgut compared to other hotels of this caliber is the amount and extent of activities which are offered to guests (mostly) at complimentary basis. Every day I was excited to wake up early because there was so much to do. Both for adults and children. I did a combination of morning yoga, sauna treatments followed up by accompanying my son in his painting classes. My husband was very happy to hit the ski slopes straight after breakfast or do a fitness programme. Truly there is something for everyone. See below an example of a Weekly Programme. In the section on Family & Kids I will share an example of Children activities.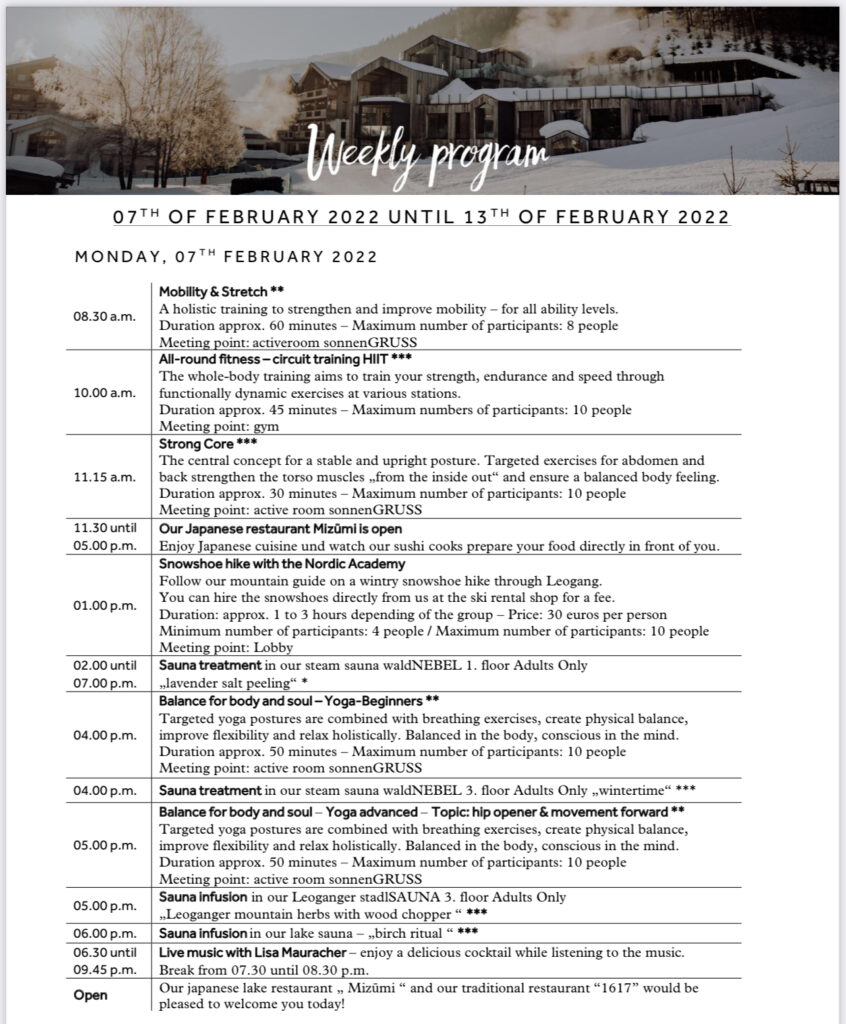 Food
You will not be hungry at Naturhotel Forsthofgut, even if you try. The reason for it is that the food is available around the clock, it is complimentary and delicious. Even for those with allergies or dietary restrictions you will find enough to make you wonder for choice. I was pregnant at the time of our stay, and on a non-gluten, no dairy, no sugar diet and I was in food heaven.
Breakfast & snack
For me breakfast is the highlight of the day, and Forsthofgut with its "Delicacies Market" is my definition of why one should get out of their bed and spend two hours eating, drinking and reading. Starting with their own bakery, barista stand, and great local produce you will find yourself coming back to refill your plate. I also found their fresh juices and smoothies selection impressive, with "Forsthofgut" juice being my favourite. Also isn't it brilliant that breakfast runs until 12:00 PM?
Once you have done your swim after the breakfast it is time for "StrudelZEIT" – a sweet traditional dessert.
Dinner
Another highlight is the daily 5 course dinner. Dishes can be selected from three cuisine lines:
Alpine – based on the Alps and the all that the seven alpine countries have to offer (taly, France, Germany, Switzerland, Liechtenstein, Slovenia and Austria)
R50 – dishes coming from a maximum distance of 50 kilometers from the hotel. Some are even sourced from Forsthofgut's own farm.
Vegan: focus here is on fresh and regional vegan produce.
If alpine, regional or vegan lines aren't enough for you, the newly opened lakeside restaurant Mizūmi can be an option for you. Mizūmi focuses on Far Eastern culinary culture. Please note that you will have to pay extra for dining here.
Spa & Wellness
5700 m² of spa, five pools with mountain views and over 300 m² of gym with state of art equipment. If that wasn't enough there are also numerous saunas, steam rooms and relaxation rooms. You will find yourself changing the location few times per day choosing whether you would rather swim while looking on the slopes and skiers or rather at the Leogang panorama.
Forsthofgut undertook an incredible expansion to the SPA area during the lock-down. The hotel added a floating Finnish Sauna, plunge pool and infinity pool incorporated in the lake, and a new waldSPA Seehaus (access for adults only). Improvements were also made to waldSPA Family & Kids with some incredible range of pools and water slides.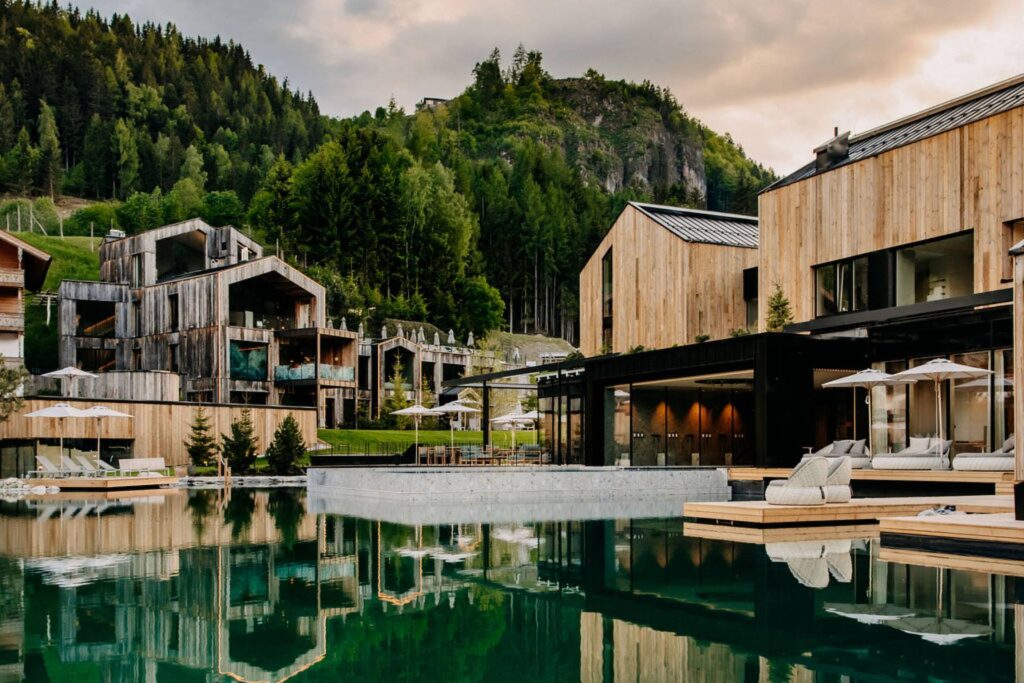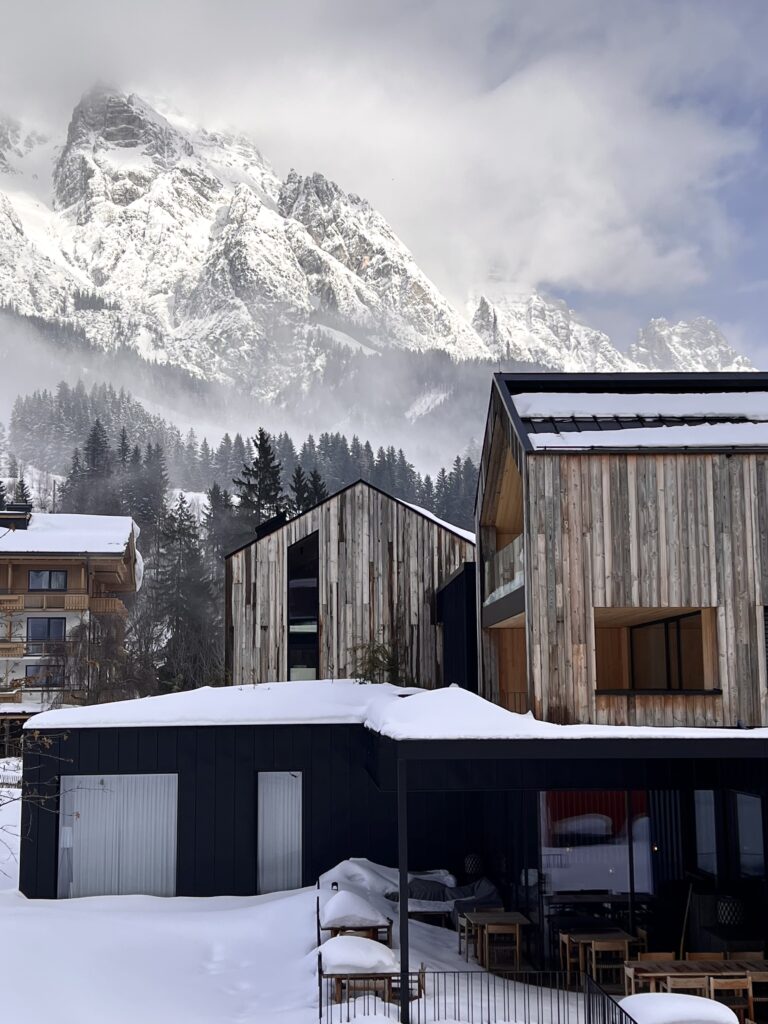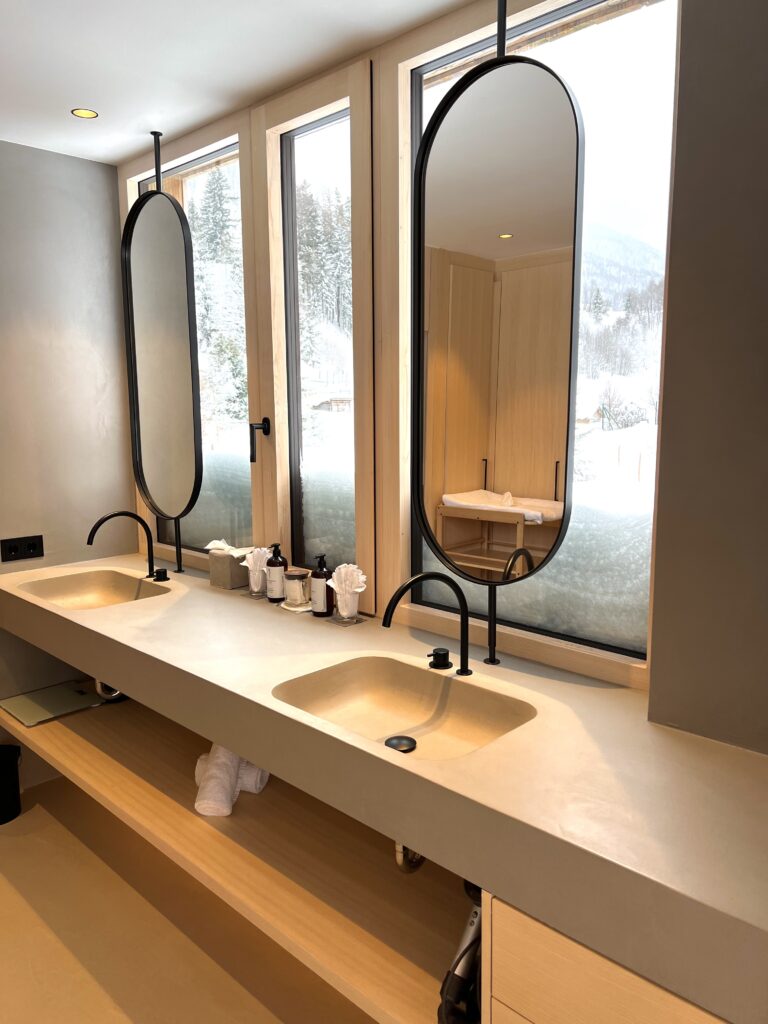 Family & kids
After travelling now for two and a half years with a child, I can without a doubt say that Naturhotel Forstofgut is my favourite family friendly hotel in Europe. The reason for it is that families and children seem to be really put at the heart of the hotel. It is not only how they are welcomed and treated by every member of the staff, but also to what extent the hotel prepared its infrastructure to make every day memorable.
What is there to do?
First of all, Naturhotel Forsthofgut is a one big playground for children. It has a family dedicated spa area that includes a 21m indoor pool and water-play area, plus kids' playrooms and family relaxation area. Outdoors there is a children's farm, playground and game enclosure.
Second, the programme of activities for children is just incredible. During our stay my son did a Picasso painting class, wooden sword making workshop as well as made home made apple jam. One day there was a film screening in the hotel's cinema with popcorn, another feeding of dears and goats with apples.
Lastly, if your child is smaller than two years old – fear not, Forsthofgut has got you covered too. There is a parent-child playing room open 24/7h where there is enough to do to keep your little one entertained.
Complimentary child care & other amenities
Forsthofgut provides complimentary daily childcare from 9am to 9 pm. Please note that the childcare is available from 2 years onwards. We have used it and I was really impressed by the service.
Children can have lunch and dinner provided in the childcare.
As part of the baby package you can get baby food delivered to your doors. Not to mention that on your arrival you will have baby bed, a bottle warmer and nightlife waiting in your room.
Importantly, for those you like to travel light, the hotel can also provide buggies, baby carriers, high chairs, bike trailers and child-friendly sleds (in winter).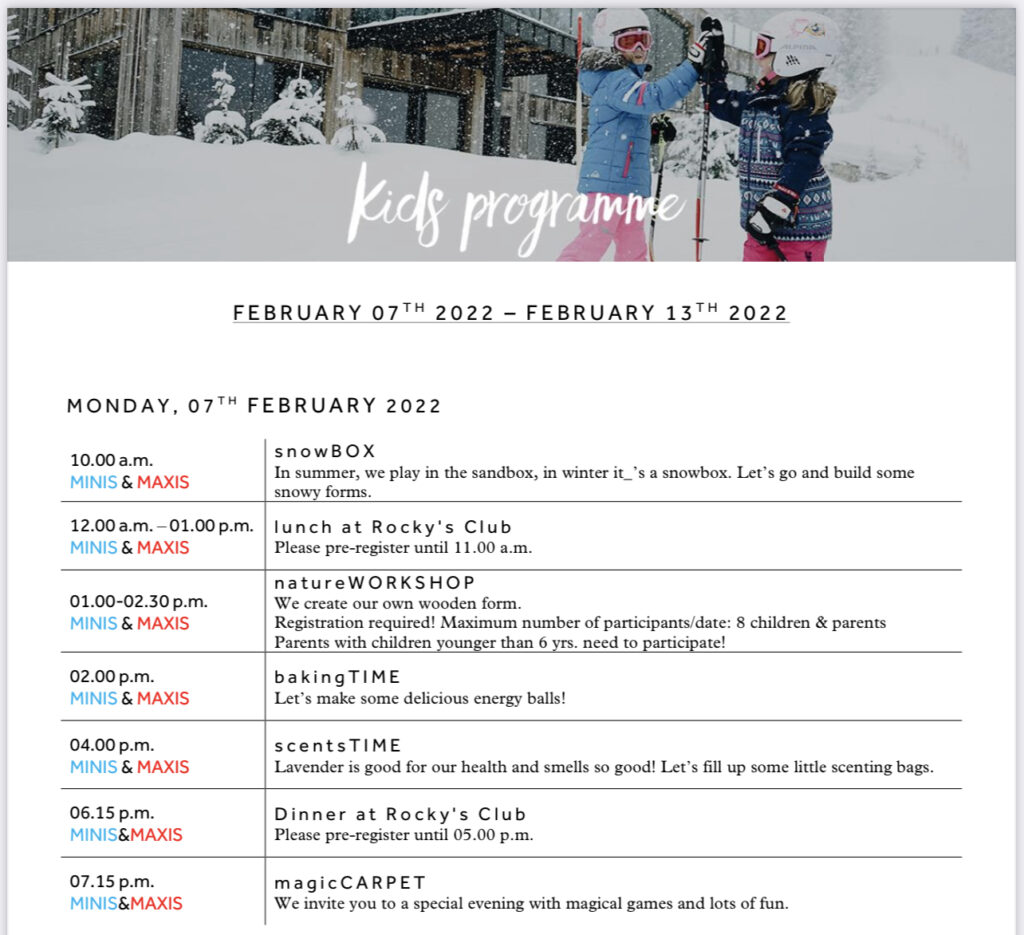 Voyage Provocateur Tips for Naturhotel Forsthofgut
Now that I have shared with you my insights into Forsthofgut, I also wanted to share my tips for making your stay as effective and memorable as it can be.
First, given Corona restrictions, activities provided by the hotel are capped. Therefore pre–book your activities (both for adults and children) on arrival, not to find out that they are booked out. I really recommend taking advantage of the activities as they are really one of the kind.
Second, either target the off-peak dates or packages to get the best prices possible.
Third, you can arrive early on your day of the check-out as Forsthofgut entitles its guests to use the wellness area free of charge even before you move into your room.
Fourth, I loved setting my alarm early and going for a swim before all other guests have arrived. You can ten grab a smoothie or a coffee from the breakfast room and enjoy a later breakfast when majority of guests have lefts for the slopes or walks.
Thank you to Forsthofgut for inviting us to stay. Even thought we were invited, the thoughts and opinions expressed here are entirely my own.