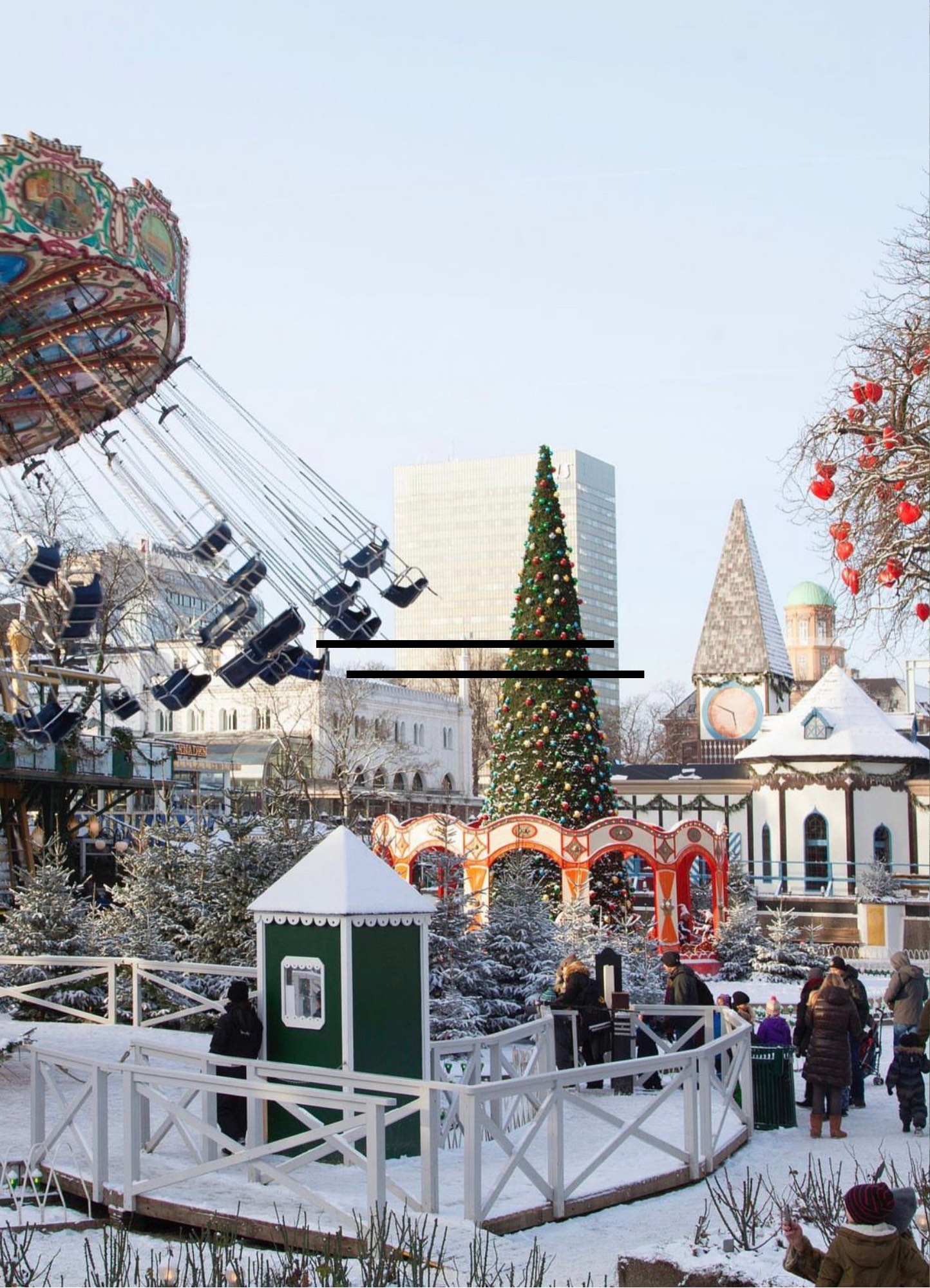 10 BEST ALTERNATIVE CHRISTMAS MARKETS IN EUROPE
Are you looking for some of the Best Alternative Christmas Markets in Europe? Then you have come to the right place because I'm the Christmas Markets maniac!
If you're in Europe over the season, that means magical Christmas markets! Obviously, we all know cities like Strasbourg or Vienna have amazing, historic markets.
However, if you want something not only lesser-known, under the radar but also less crowded than those classic markets, read on.
Here are 10 of the best alternative Christmas markets in Europe.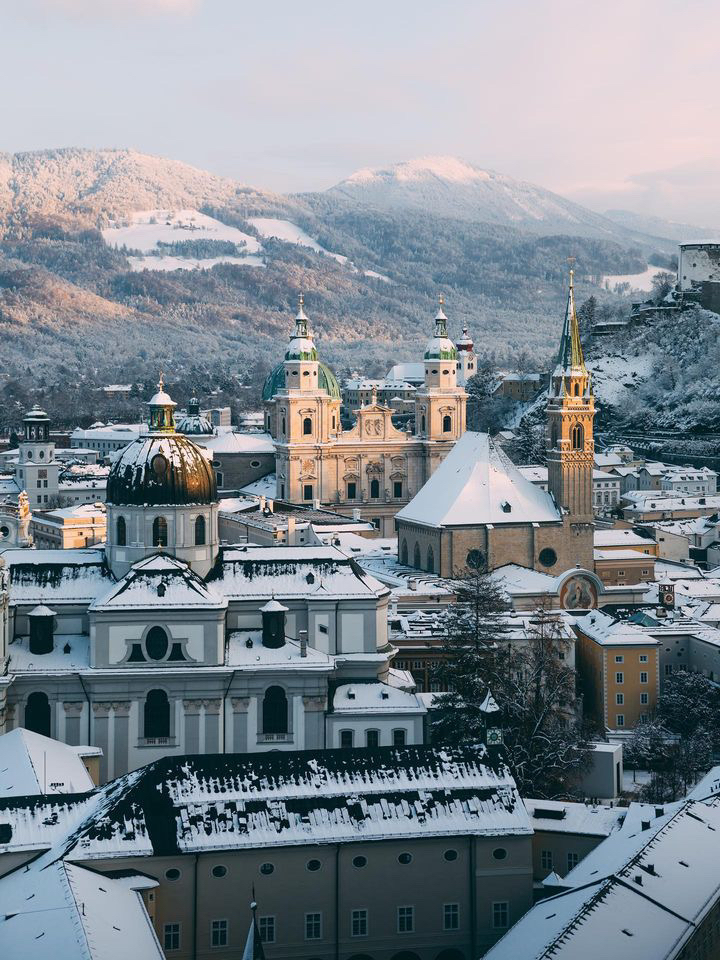 INTRO
There's no denying it: Europe has the best Christmas markets! But is it worth it to go to Europe to visit those Christmas markets, and why should one go to the alternative, less-known markets? Read on to find out!
WHY GO?
Without a doubt, going to a Christmas Market is the best way not only to celebrate the season, and get into the festive mood but also to find some very special presents for your loved ones.
So why should you go? Basically, a Christmas Market will lure you with delightful sights, sounds, tastes, and smells. These will help you beat the season's dark, cold weather.
Drinking mulled wine as well as eating roast almonds will definitely get you excited for the special time to come!
Otherwise, they're a great place to find unique gifts. Indeed, what could be more thoughtful than a present you can only get at a Christmas market?
WHY GO TO AN ALTERNATIVE CHRISTMAS MARKET?
Sure there is a reason why Strasbourg or Vienna have world-famous Christmas markets but that doesn't come free of charge. That is because being world-famous comes with big crowds, higher prices, and hotels and restaurants being booked out. I am not saying you shouldn't go. All I am saying is that the smaller, under the radar and alternative Christmas markets, have their benefits too. Expect fewer crowds, perhaps a less touristic side to them as well as a quieter atmosphere.
Therefore, we have found ten of Europe's best alternative markets to save you time and trouble!
WHEN TO GO?
Most Christmas markets start in the last weeks of November. Then, they run generally until the first week of January.
Go early before the school holidays if you really want to beat the crowds. However, the atmosphere of a busy Christmas market is amazing. Therefore, even a visit during the busiest weeks around the 25th of December will be great.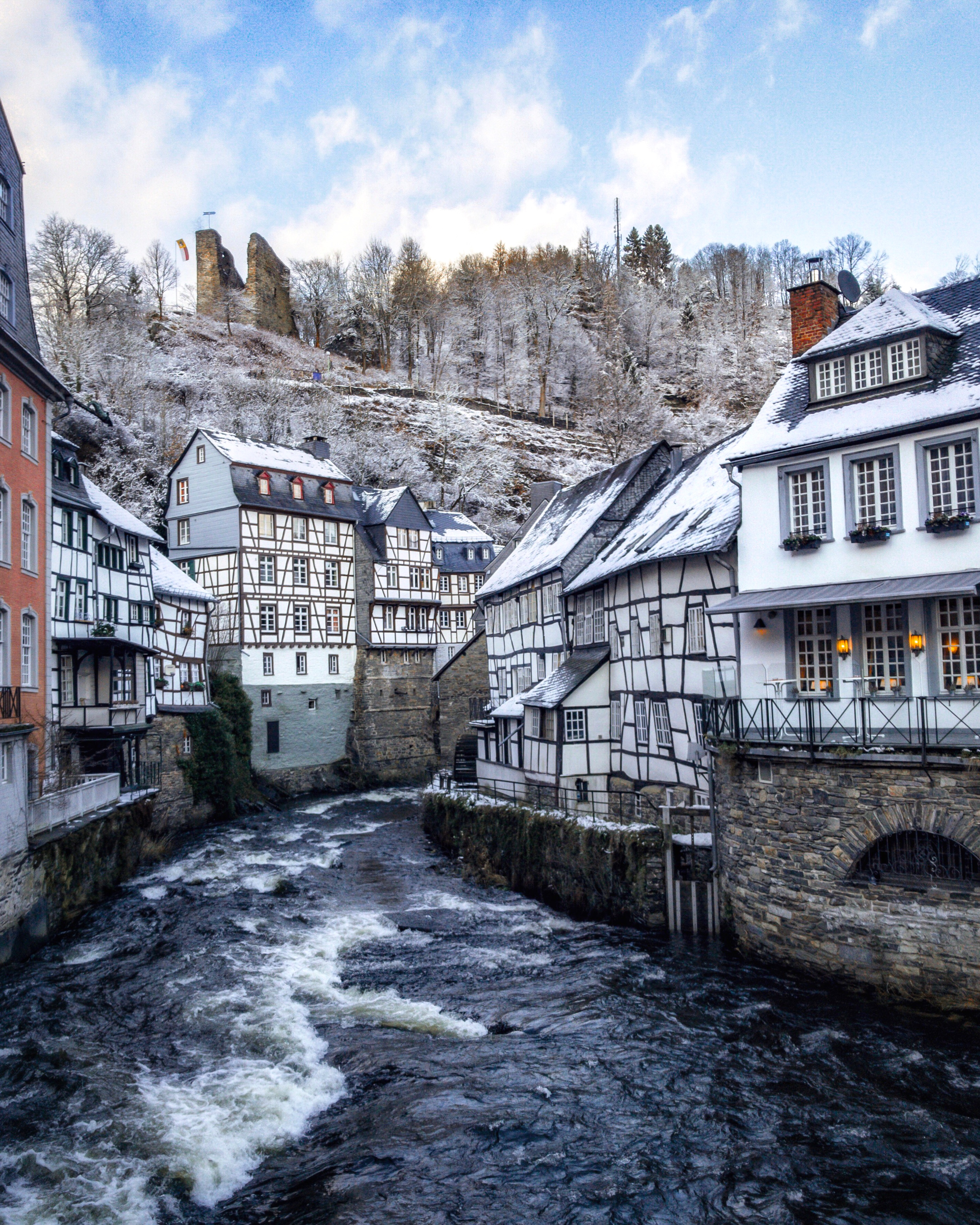 EUROPE'S 10 BEST ALTERNATIVE CHRISTMAS MARKETS
HALLSTATT, AUSTRIA
TALLINN, ESTONIA
MONSCHAU, GERMANY
SALZBURG, AUSTRIA
KAYSERSBERG, FRANCE
COPENHAGEN, DENMARK
FRANKFURT, GERMANY
OBERNAI, FRANCE
WROCLAW, POLAND
BUDAPEST, HUNGARY
1. HALLSTATT, AUSTRIA
Lesser-known than Vienna, 'the pearl of Austria' Hallstatt has a smaller but no less magical Christmas market. It has an amazing location between a lake and jaw-dropping alpine mountains. Furthermore, Hallstatt's Market Square is on UNESCO's World Heritage list. Therefore, you know it's going to be historic and gorgeous. Moreover, it looks even prettier with all the Christmas lights and stalls! Don't miss out on trying the spiced, smoked fish from nearby Lake Hallstatt. Otherwise, enjoy the scary Krampus mask displays or have a quieter visit to the town's beautiful cribs.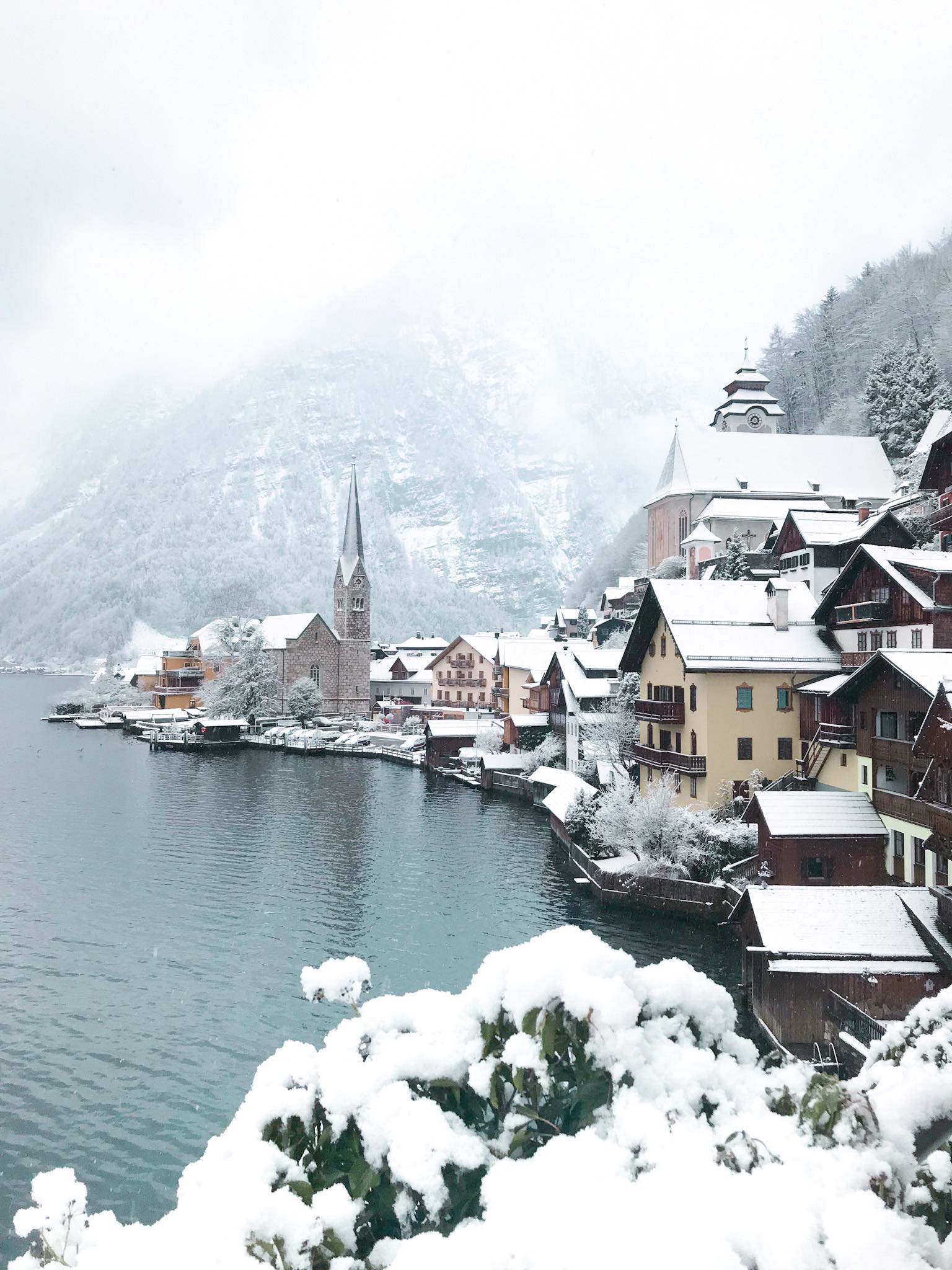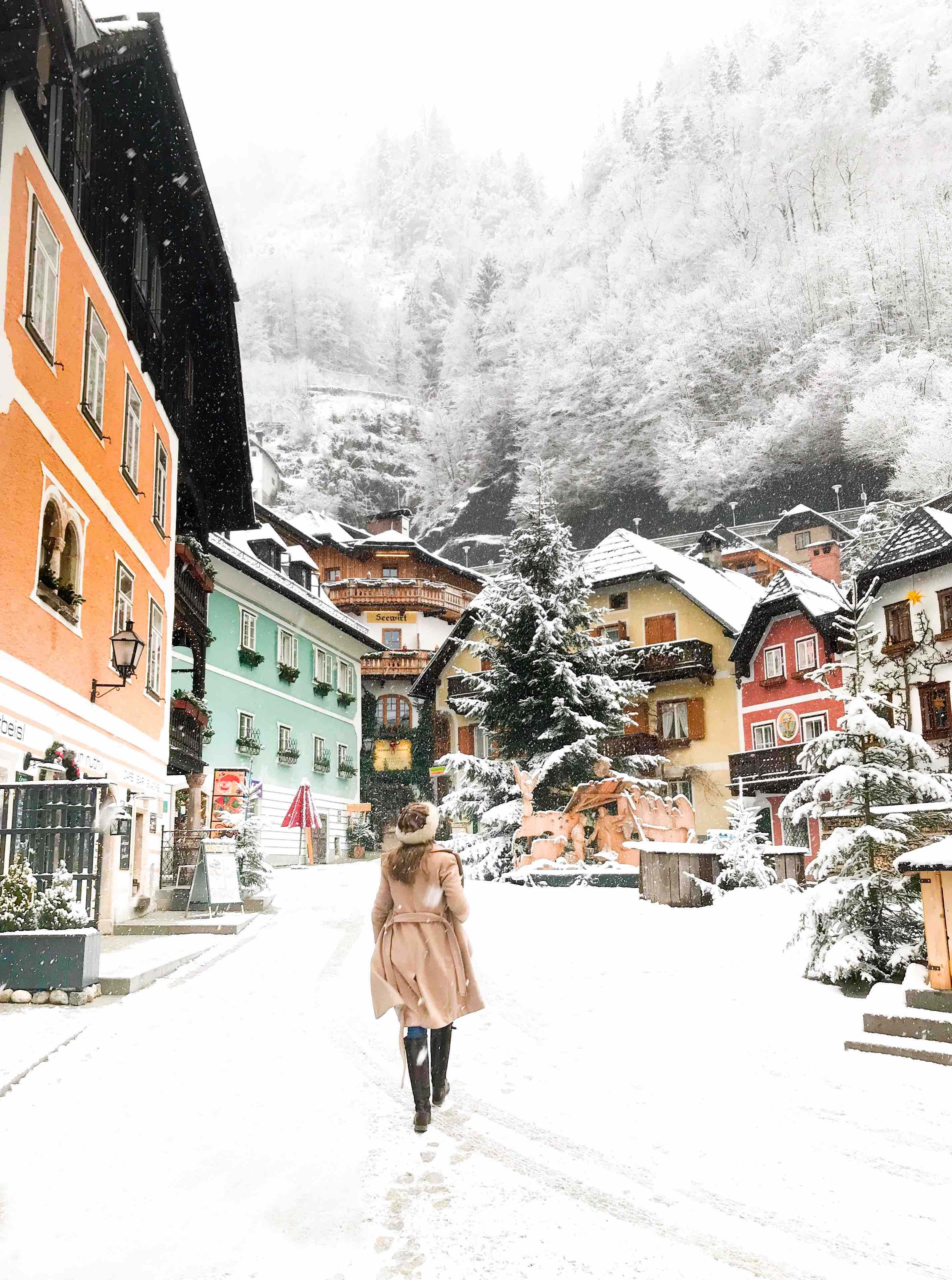 2. TALLINN, ESTONIA
Even though Estonia isn't very well-known worldwide Tallinn has won awards for the best European Christmas market a few times. And, it's not hard to see why! The market's spot in Tallinn's Town Hall Square is picture-perfect. Additionally, it has the oldest Christmas tree tradition in Europe – dating from 1441! Otherwise, there is delicious seasonal food and drinks such as black pudding with sour cabbage. Also, visit the market's huts for special gifts. Kids will love seeing Santa Claus too! Finally, the market has a large stage for amazing international performances every week.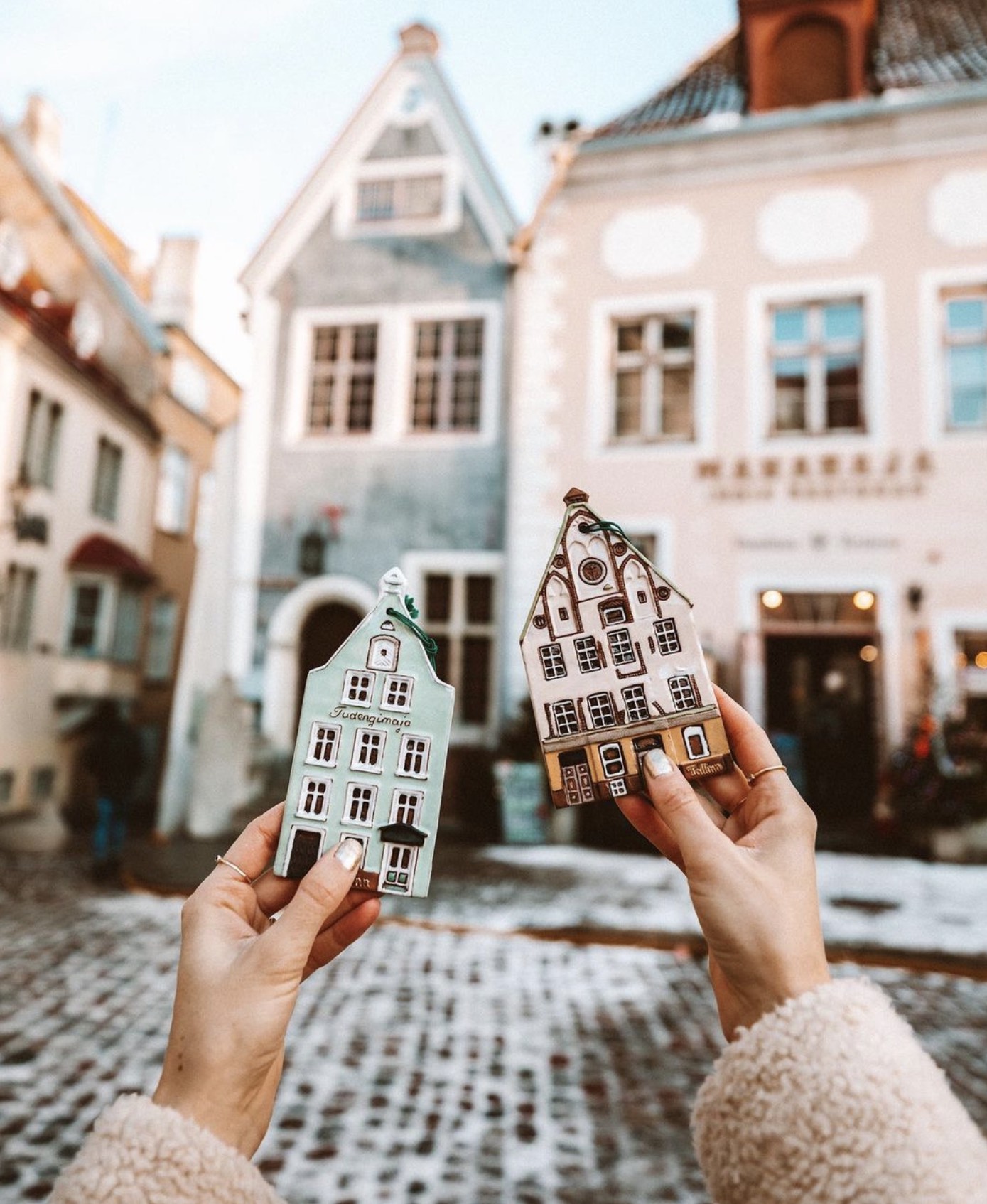 3. MONSCHAU, GERMANY
Monschau is close to Belgium in a beautiful part of Germany. Moreover, it has very pretty traditional houses, cobbled streets, and a thirteenth-century castle above the town. Therefore, it's the perfect place to soak up the Christmas cheer! You can find everything you would want from a Christmas market in the many huts in the town's center. Also, Monschau has lots of different kinds of local mustard and homemade schnapps (alcohol) to try. Finally, don't miss the three-story House of Christmas selling all kinds of gifts and decorations.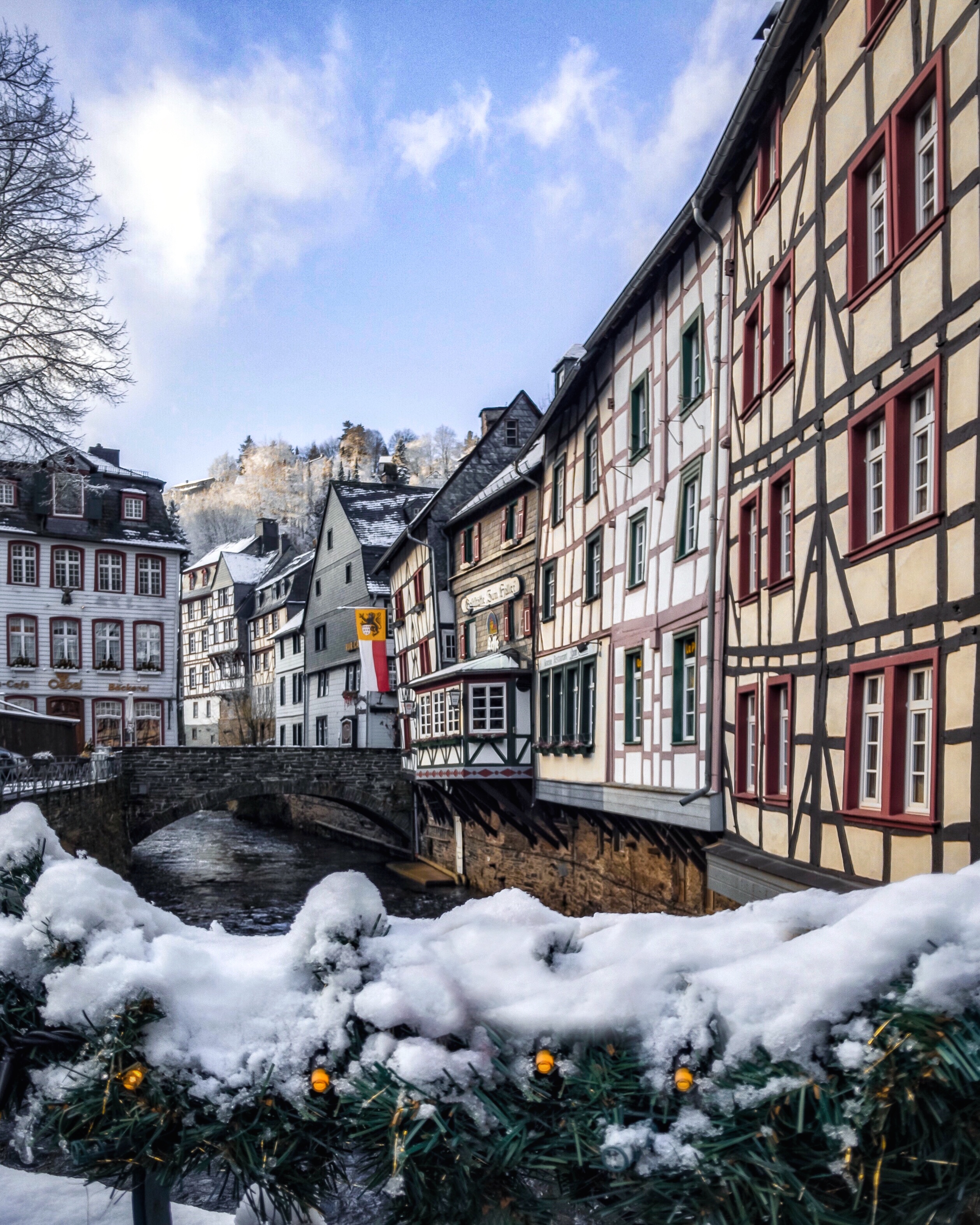 4. SALZBURG, AUSTRIA
Salzburg has one of the oldest Christmas markets in the world! Additionally, the town center is on UNESCO's World Heritage list. Therefore, you'll definitely find a magical, traditional market in a beautiful setting. Additionally, it will be quieter and cheaper than the market in Vienna. Expect delicious Austrian food and drink and special gifts. Also, there are beautiful lights between the huts. Finally, don't miss the daily events such as carol-singing, Krampus parades, live music, or a visit from the 'Christ Child'.
Finally, if you already made it to Salzburg, make sure to visit Hallstatt Christmas Market too, which is only an hour away!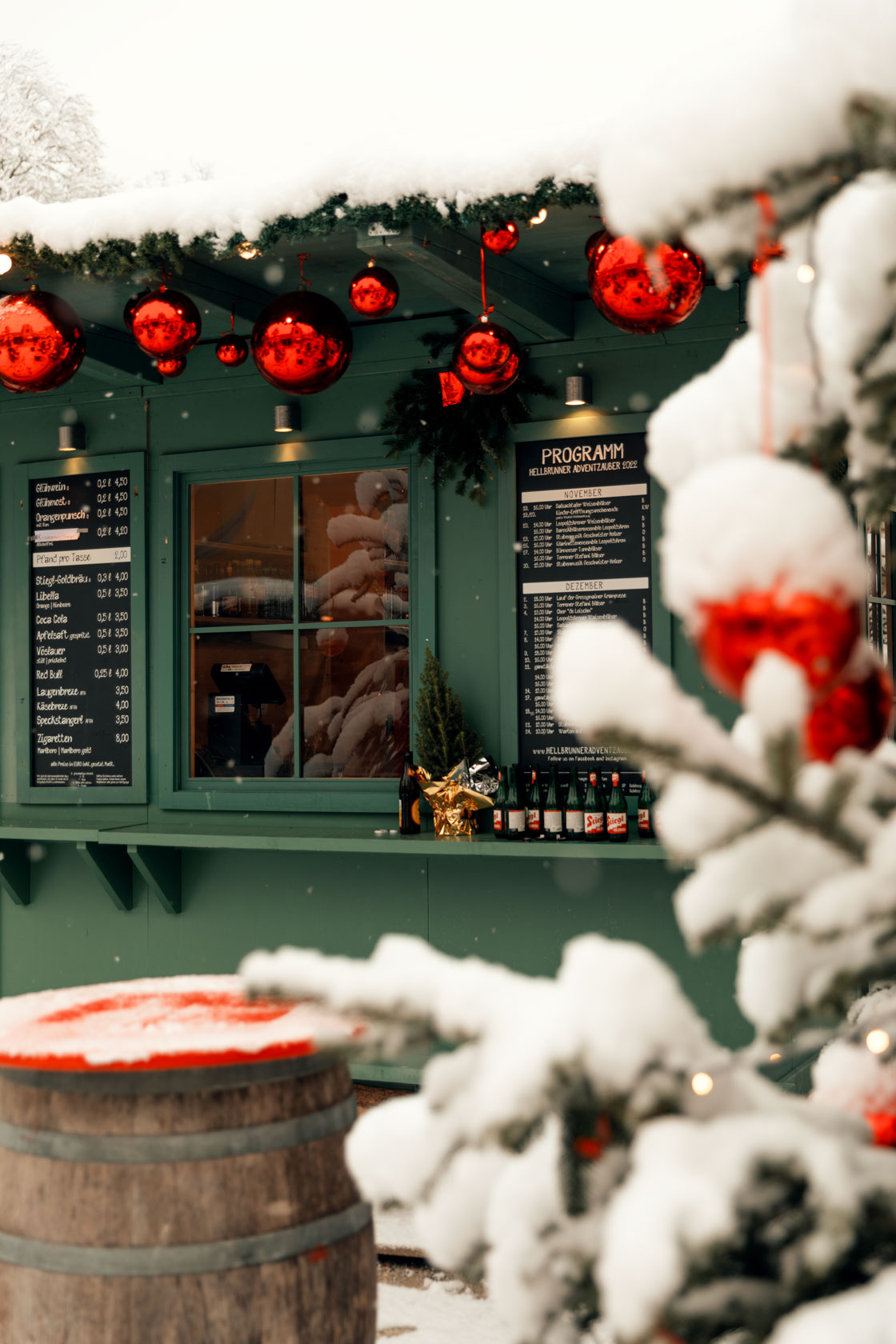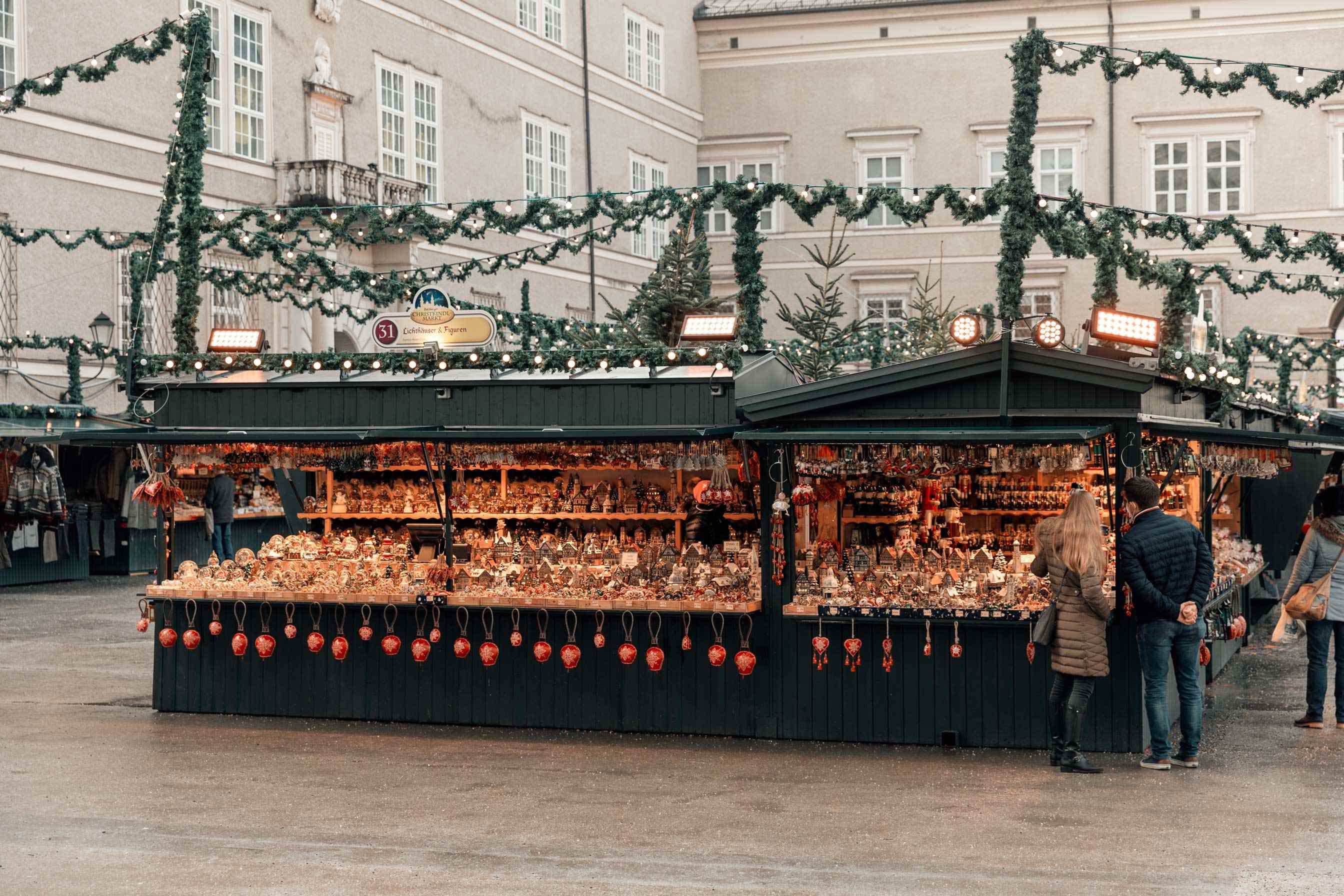 5. KAYSERSBERG, FRANCE
In the beautiful Alsace, Kaysersberg offers a quieter but just as pretty alternative to Strasbourg. Therefore, you'll find delicious food and wine here as well as one-of-a-kind gifts. Also, you'll have a fabulous time wandering past the town's gorgeous half-timbered houses and beneath the castle ruins. Finally, there are beautiful advent concerts on offer. These will be perfect for getting into the true spirit of Christmas! Kaysersberg is only open on the four weekends leading up to Christmas.
If you go to Kaysersberg, make sure to Read my guides to christmas markets in Strasbourg and Colmar which are around the corner!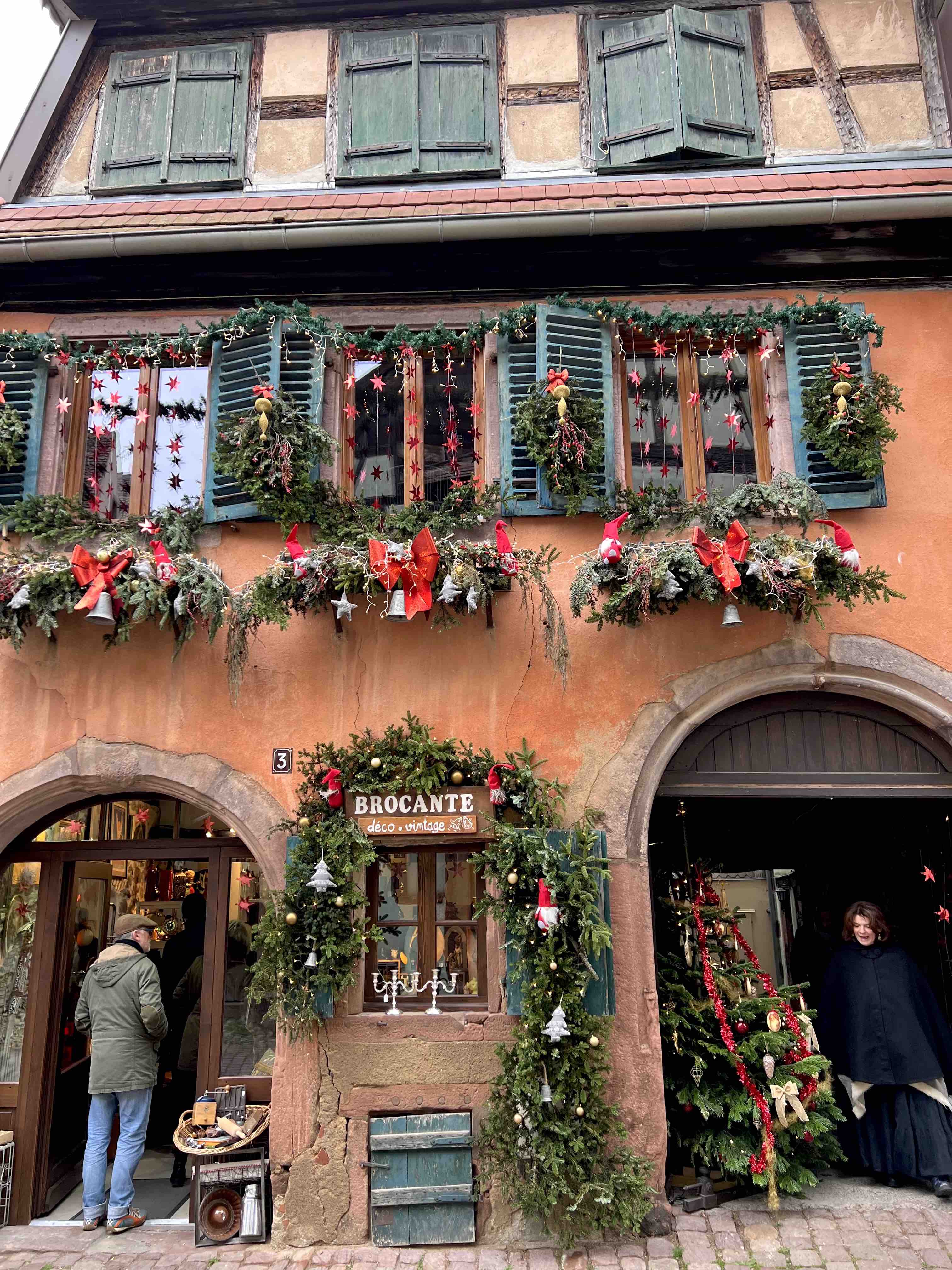 6. COPENHAGEN, DENMARK
It's no surprise that you find markets full of 'hygge' in the Danish capital. Indeed, the problem is knowing which one to choose. There are so many in Copenhagen! Firstly, we would start with Højbro Square. This is in the center of the city and offers everything you could want from a traditional Christmas market. However, don't miss a visit to Copenhagen Zoo for a chance to roller skate with pandas and penguins! Finally, the market at Tivoli Gardens has lots of Christmas cheer in the third-oldest amusement park in the world.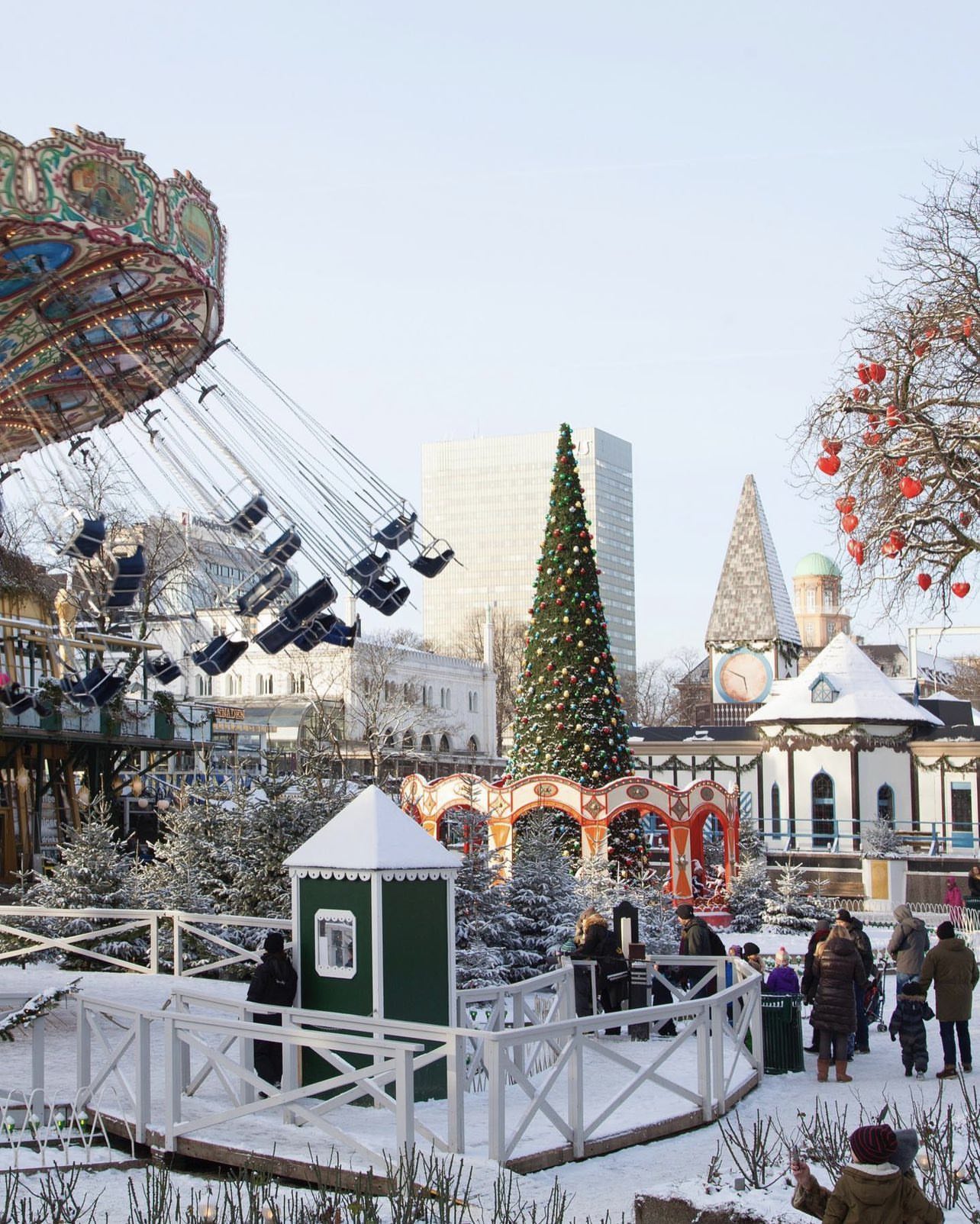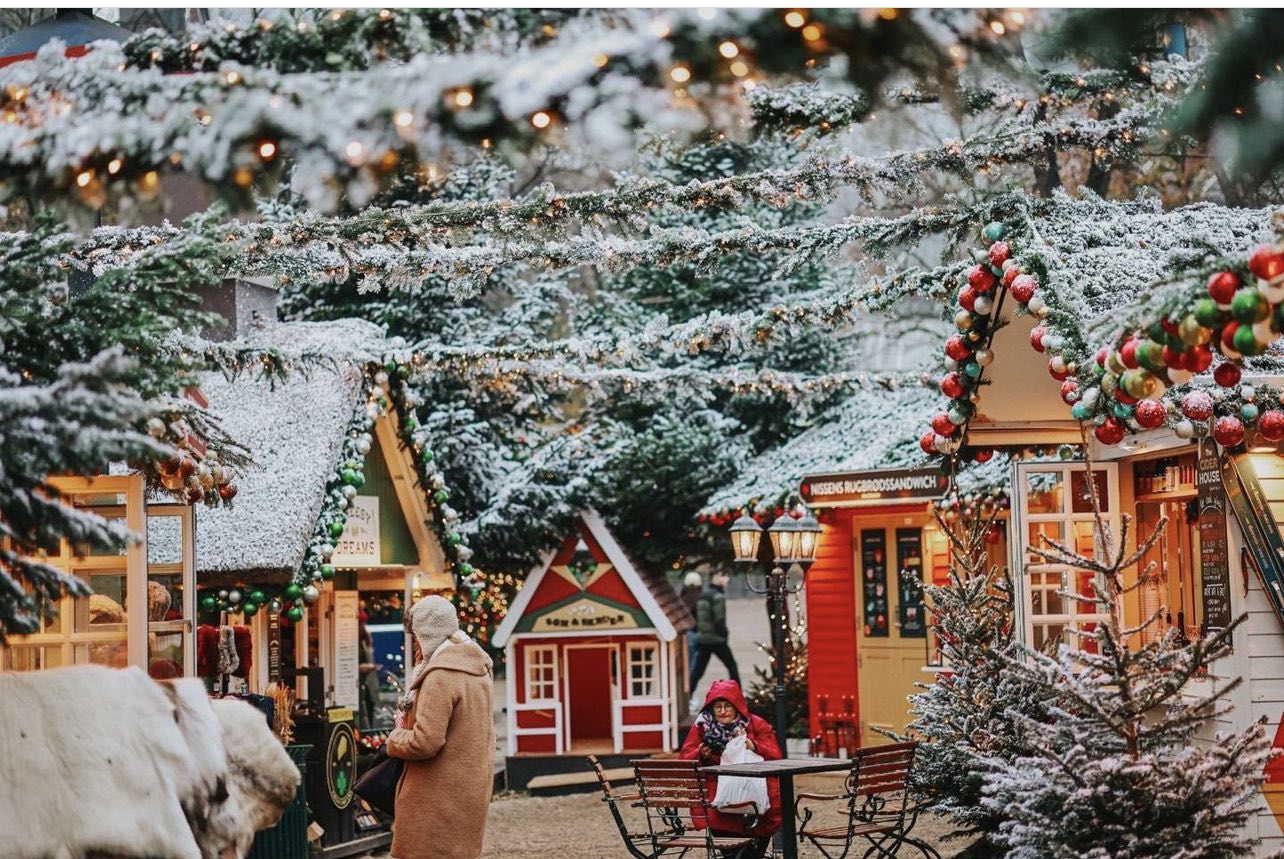 7. FRANKFURT, GERMANY
Frankfurt has a huge Christmas market that dates to the fourteenth century. Therefore, it definitely has everything you could wish for from a Christmas market! It takes place in the old part of the city around the areas of Römer and Paulsplatz. So, you can expect beautiful buildings behind each hut and attraction. Also, it has many unique foods such as Brenten and Quetschemännchen. These are delicious sweet treats made of prunes, almonds, and other nuts. You can also take tours of the market and the old town. Finally, the giant Christmas tree in the main square makes for a great photo!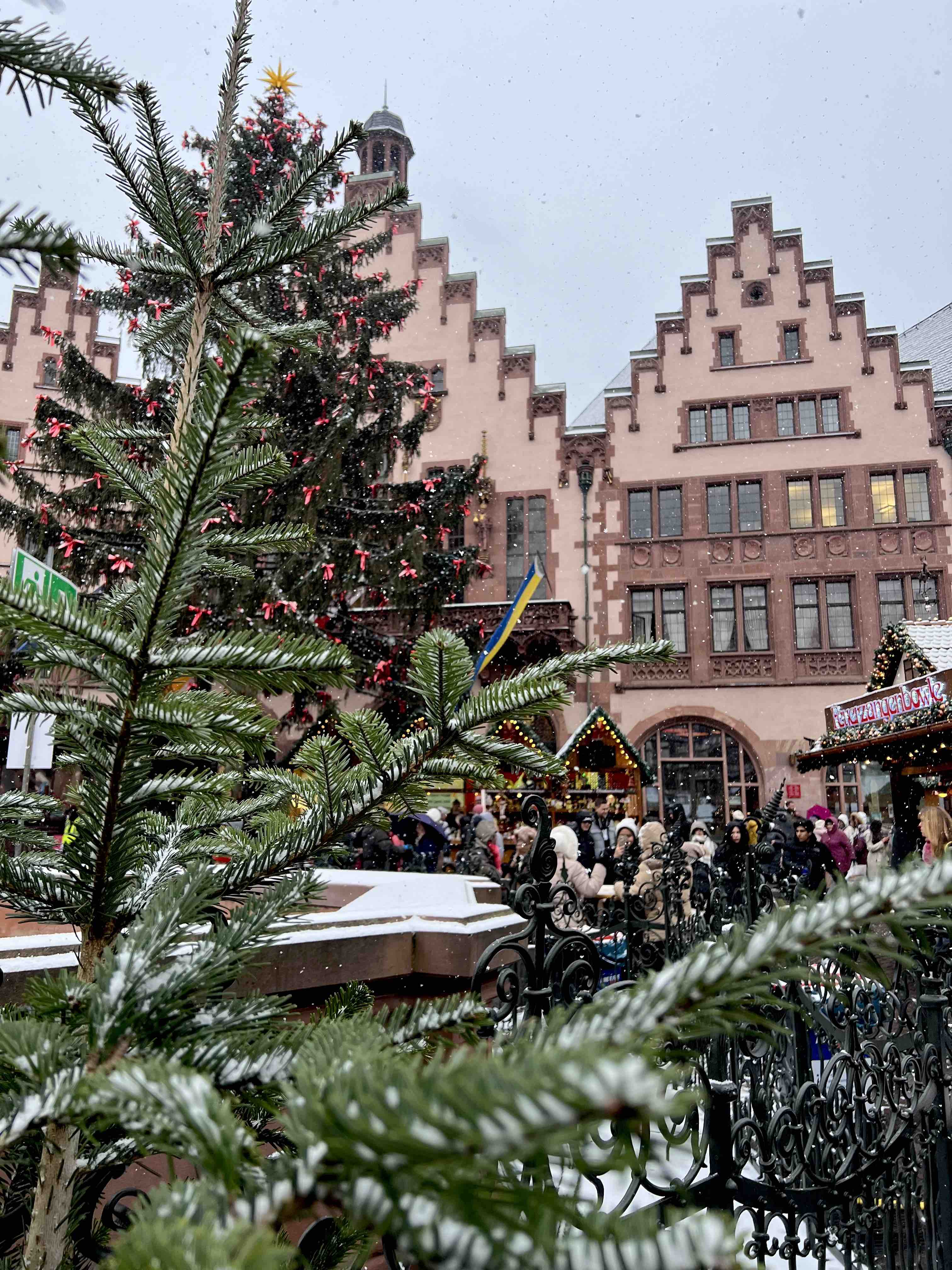 8. OBERNAI, FRANCE
Obernai's Christmas market is like something out of a fairytale. Moreover, it is only a twenty-minute drive from Strasbourg. There is even a direct train connection!
Therefore, it is a great place to beat the crowds and get a better deal. You will find all the amazing gifts and delicious food and wine you would expect at an Alsatian market here. Moreover, it is easy to get around and there is free parking nearby at 'Parc Rempart'. Finally, your kids will love a ride on the magical carousel in the Town Square!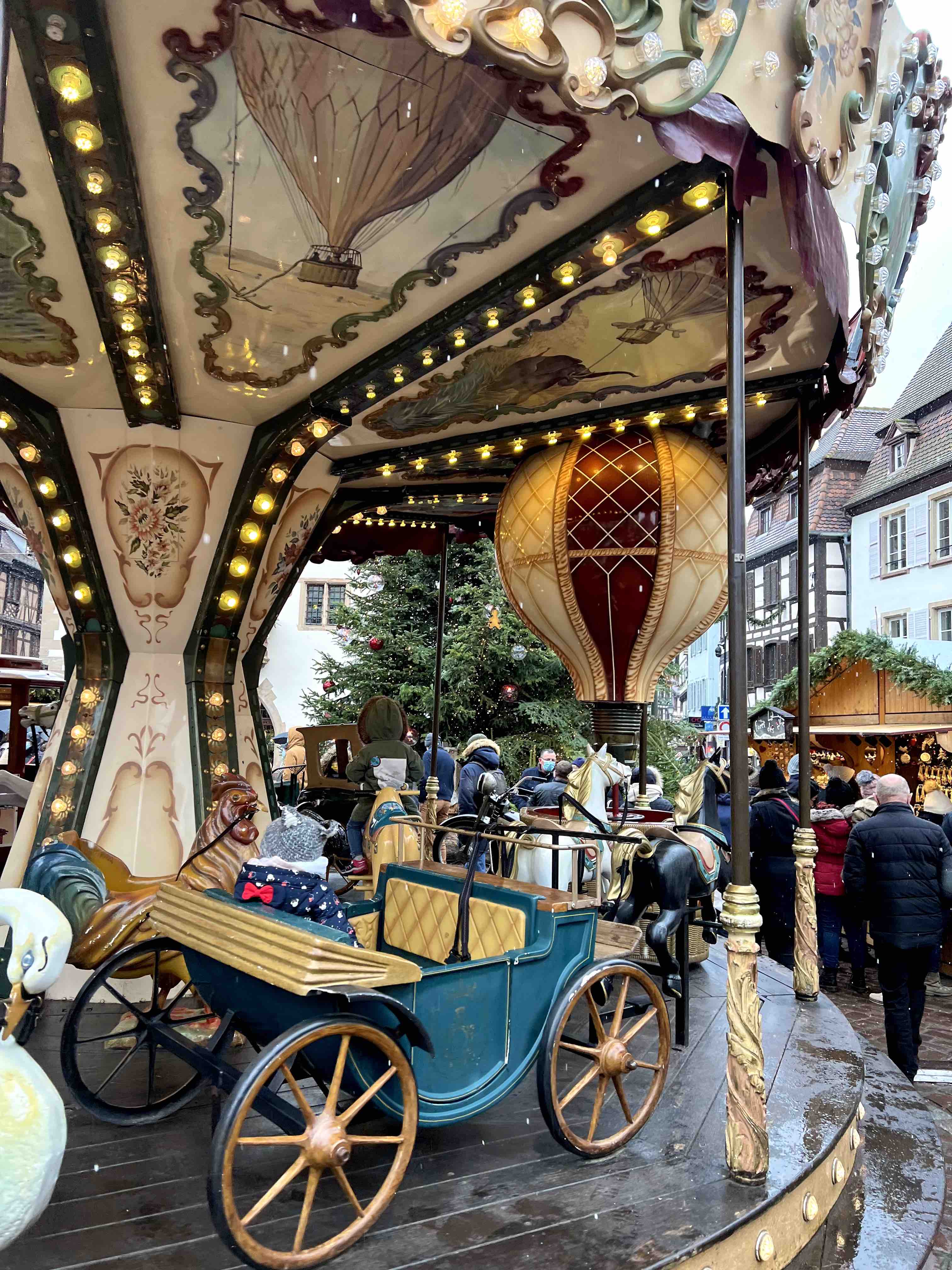 9. WROCLAW, POLAND
This market is in Wroclaw's gothic town square. Therefore, it looks incredible with all the warm huts and lights. Here, you'll find amazing gifts such as wooden decorations or woolen hats and scarves. You'll also get delicious local food at the market such as the smoked cheese Oscypek (my favorite). Additionally, there's plenty for kids to do in the fairytale forest. Otherwise, couples will love a ride in a horse-drawn carriage! However, it can get busy on weekends so we recommend going on a weekday.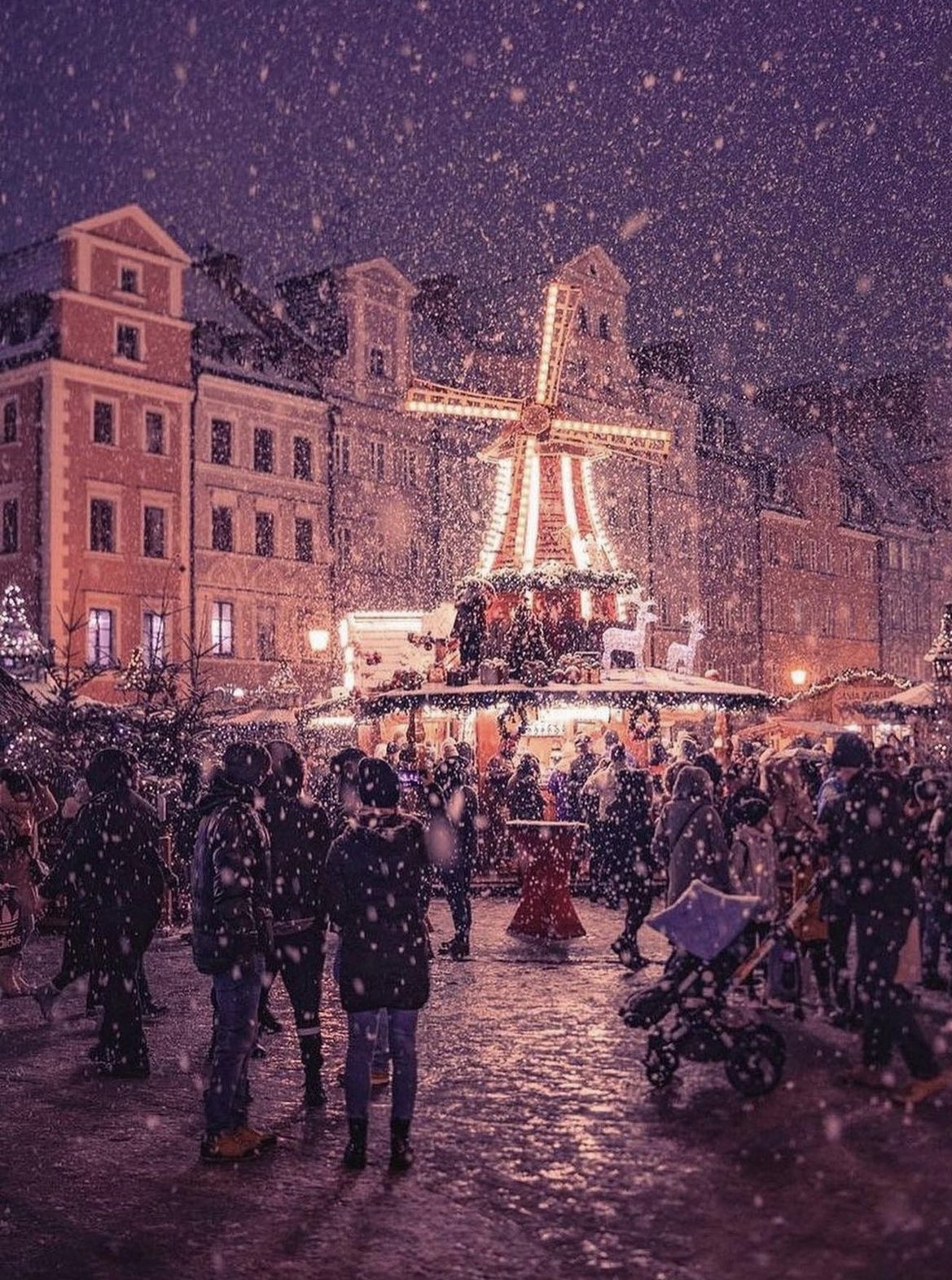 10. BUDAPEST, HUNGARY
There are several Christmas markets in Hungary's capital. However, the one to go for is right in the heart of the city on Vörösmarty Square. There are many stalls selling gorgeous artisan gifts. Also, there is a lot of delicious food to choose from. Don't miss the traditional cinnamon chimney cake! Finally, kids will love a free ride on the Christmas train in the center of the square. Otherwise, visit the market at St Stephen's Basilica for a change of scene. Here, you'll find pretty lights and an ice rink!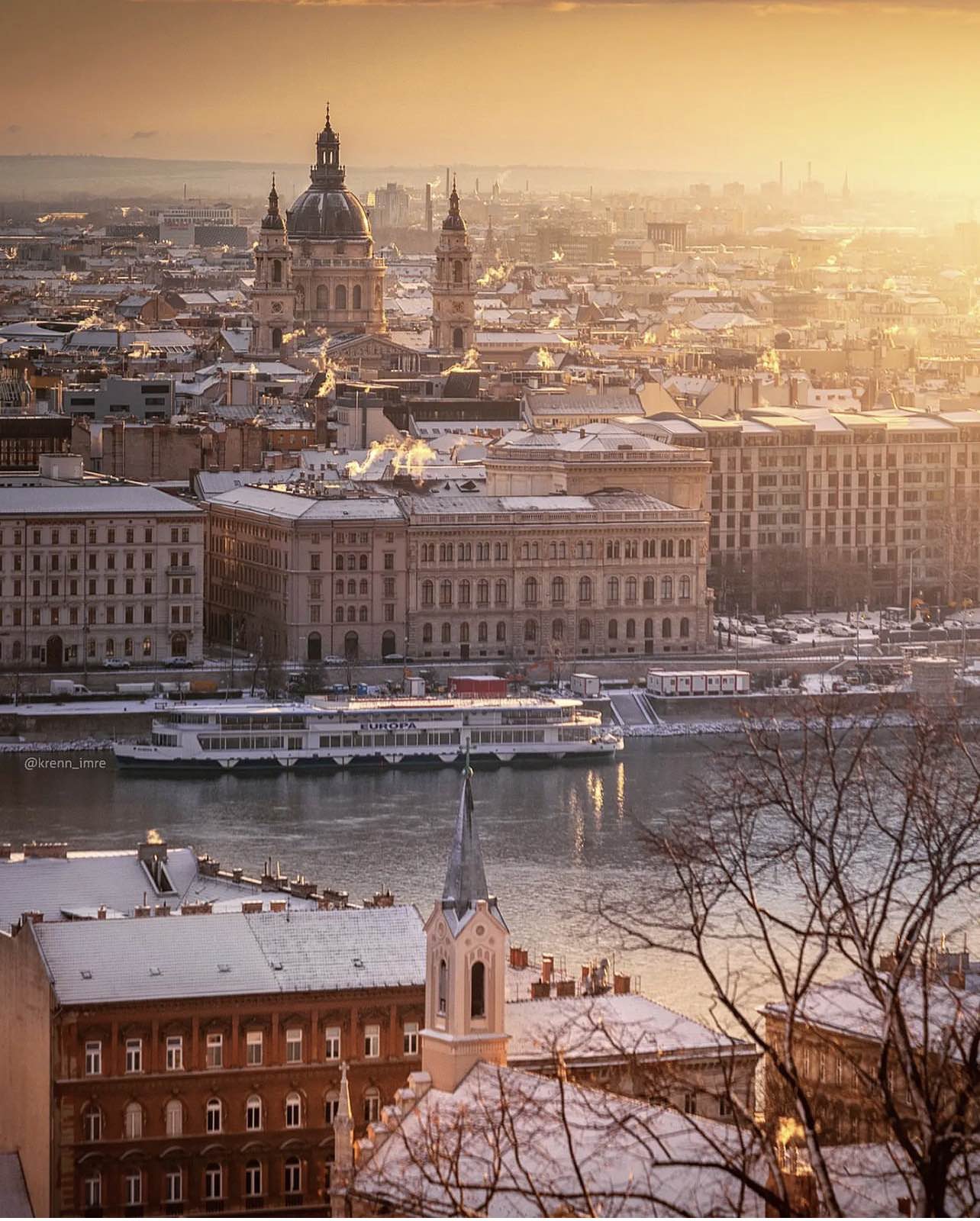 FINAL TIPS
In conclusion, if I only had to choose the top 3 places from the above list of Europe's best Christmas Markets, I would recommend:
First – Combine Salzburg & Hallstatt so that you can experience a true authentic Austrian take on Christmas.
Second, visit Tallinn for a more original Eastern European Christmas market to experience something slightly different from what you may know.
Finally, if you already want to visit the famous Strasbourg in France add Kaysersberg and Obernai to your itinerary! Christmas in Alsace doesn't disappoint!
I hope you will enjoy it as much as I did!
Read my Ultimate Guide to Strasbourg Christmas Market
Yours,
Voyage Provocateur