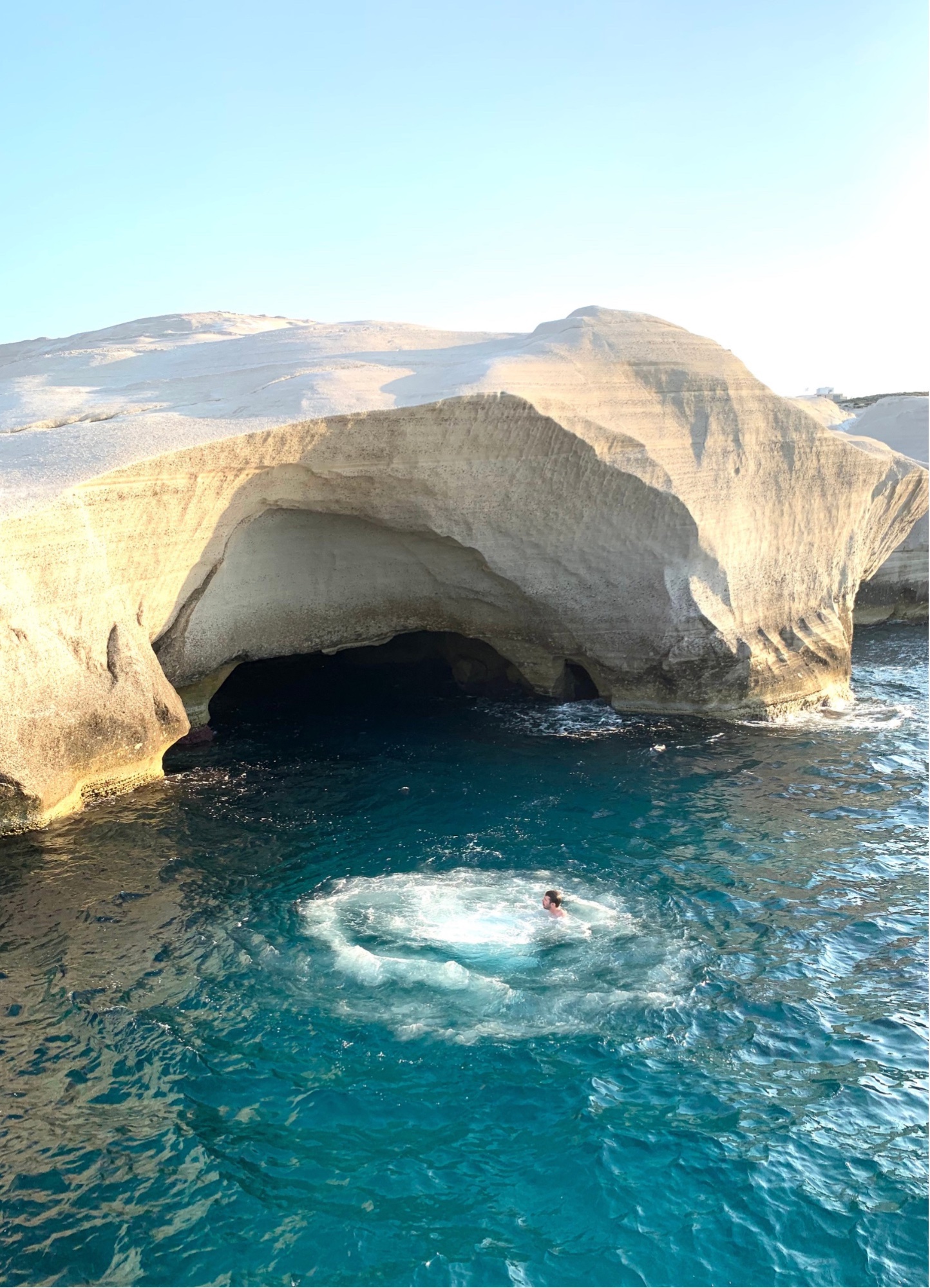 COMPLETE TRAVEL GUIDE TO MILOS
Milos is actually one of my favourite tips for more off-the-beaten track destinations in Europe. This iconic Cycladic Greek island is often overlooked because its famous neighbours – Mykonos and Santorini. Take advantage of the few more years Milos has before it becomes full of tourist and plan your trip.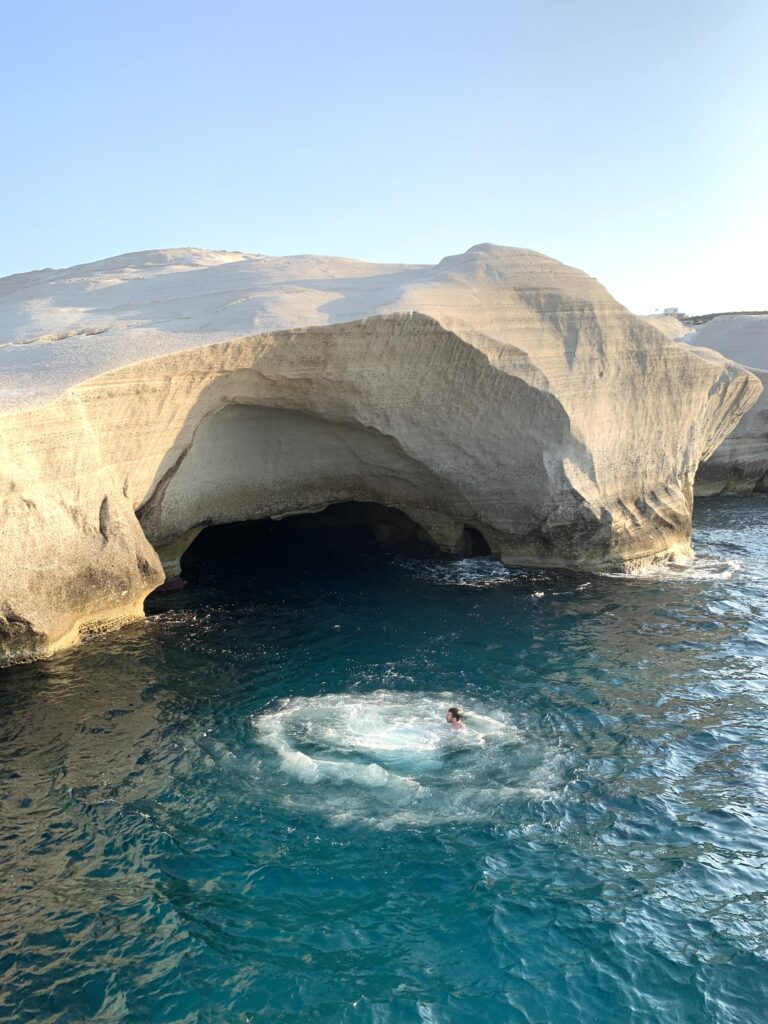 Is Milos right for you?
Imagine deep blue Aegean sea with white-washed villages and cliff-ringed bays. Authentic restaurants and picturesque yet affordable accommodation. That combined with relatively low commercialized nature of the island (compared to the other Cycladic islands), make Milos really an ideal holiday destination.
Don't listen to the claims that Milos is a couple island, it really has everything for all with its 70 beaches and limitless activities. If you are after a touch of authenticity combined with pleasant remoteness and roughness Milos is the place for you.
In this Complete Travel Guide to Milos Island, Greece, I tried to put together everything that you may need to plan a trip which you will be recalling for years to come. I have covered info on how to get there, where to stay as well as which beaches not to miss.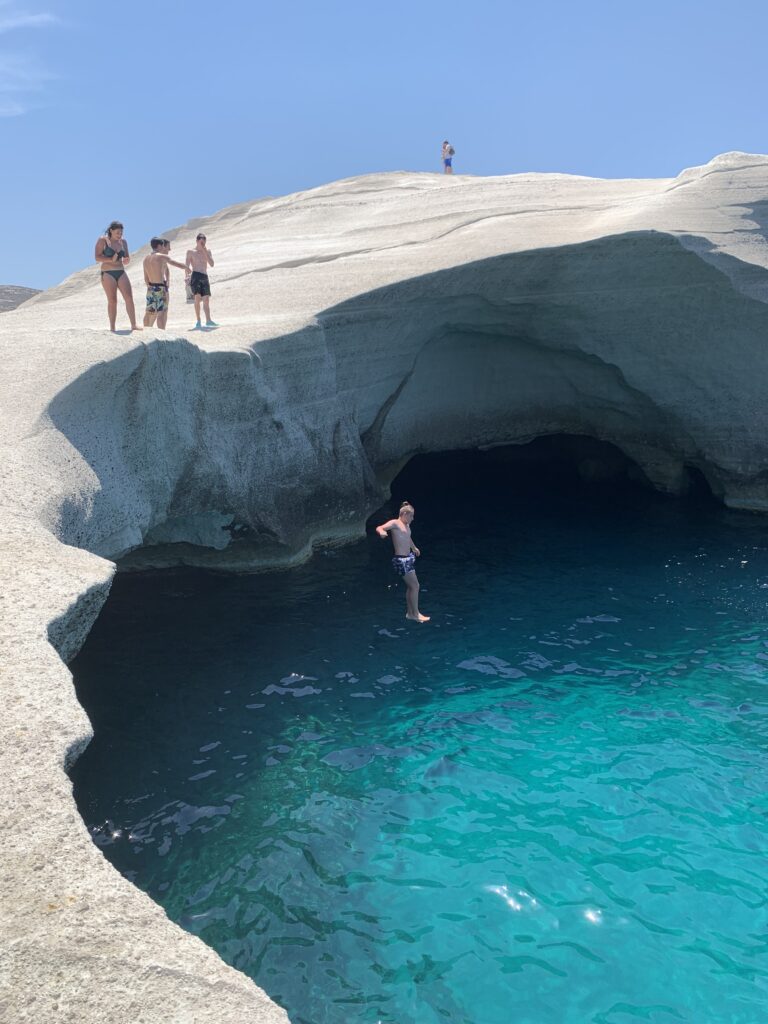 Logistics & Planning for Milos
When to go
Anytime between mid May to early October is good to visit. Bear in mind that those fringe months of May and October may bring colder evenings and even some rain.
I would recommend going either in early June or early September.
If you can, definitely avoid end July and whole of August. That should help with avoiding some serious heat and having more accommodation options, at more reasonable prices, while still benefiting from warm weather and all activities the island has to offer.
Getting there
You can fly directly to Milos (MLO) from Athens, that would assume a flight to the Greek capital first.
Alternatively you can take a ferry (which I love doing while in Greece, it's such a special way of transportation) from Athens or other islands (for example Santorini). The ferry from Athens takes approximately 3 hours 30 minutes but can differ depending on the weather and the ferry used.
On our last trip we used Seajets ferries and I found them very good and their website clear and straightforward. Please note that if you travel outside of the usual summer months there are fewer ferries running between the islands. There are also more cancellations.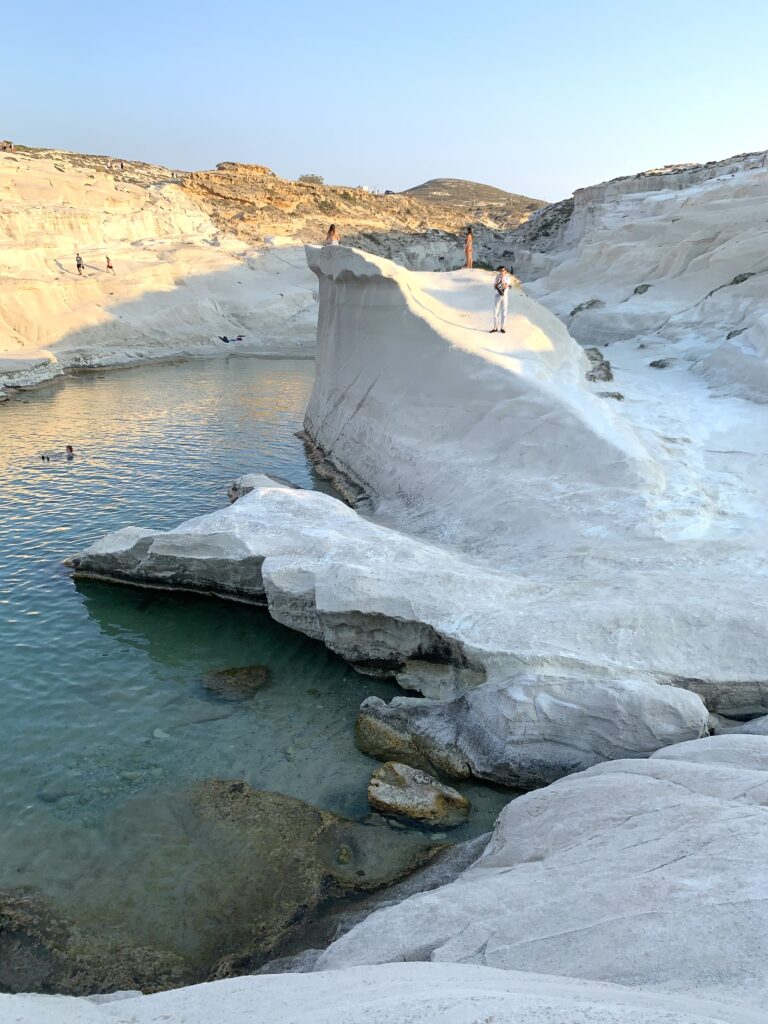 Planning your stay in Milos
Don't be fooled by Milos relatively small size thinking that you cannot easily spend a week here. It has over 70 beaches. And what makes it great is that you can pretty much cross the island from west to east in less than an hour. And that is a big YES for me. Have enough to do, but don't spend hours driving from point A to B.
For me staying on the Greek islands is about enjoying the slow days. It is about having the freedom to enjoy an afternoon lunch which ends up being a sunset drink. It is also about returning to a few favourite beaches where you become a "usual visitor" during your stay.
Below you will find a "menu" of my highlights. Plan your visit around them depending on the length of your stay.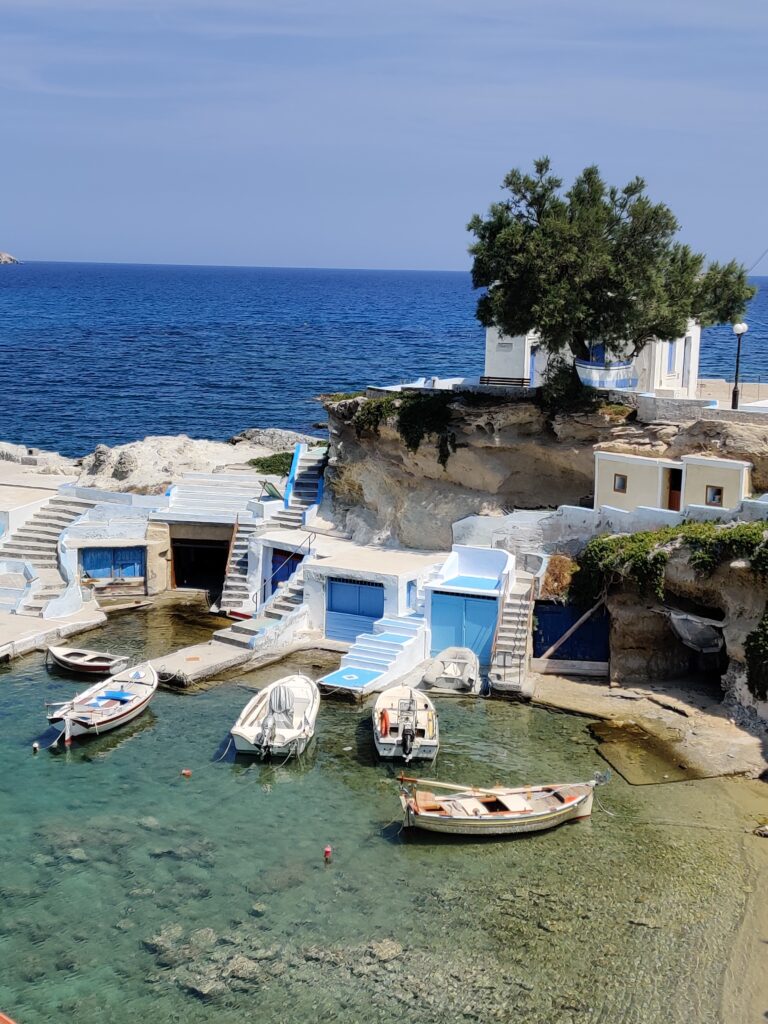 Best accommodation options in Milos
We split our time on the island between staying at Skinopi Lodge close to Plaka and Salt Milos, in the north western part of the island. If you are spending more than 3 nights on the island, I would recommend staying in two different places. This will allow you to discover the island better.
Hotels
Skinopi Lodge – Set across a meadow full of lavender and wild sage. This lodge is perfectly integrated into the natural landscape, yet offering modern design and comfort. Very serene and remote, located above the small fishing village directly overlooking the sea. Sit on your deckchairs, enjoying uninterrupted views of the sea and remoteness safeguarded by a rather rocky road. Please note you would need a four wheel drive to get there. We loved waking up to the sweeping views on the edge of the Aegean sea.
Salt Milos – Located right by the charming fishing village of Pollonia, Salt Milos is a great bohemian option, directly on the beach. You can enjoy a basket full of fresh breakfast produce directly on your balcony or on the hotels terrace, listening to the sound of waves. It is actually worth staying for sunset in the hotel lounge area and enjoying a glass of local wine.
Melian Boutique Hotel & Spa – We were told that this is the luxury option on the island. To me, it looks like a more expensive version of Salt Milos (they are also located close to each other). So depending on your budget I would either choose one or the other.
Captain Zeppos Boutique Suites – That's the hotel we wanted to stay at but it was booked out. It has a nice bohemian, designy look to it, and you can enter the sea right in front of the property.
Airbns & Self-serviced Apartments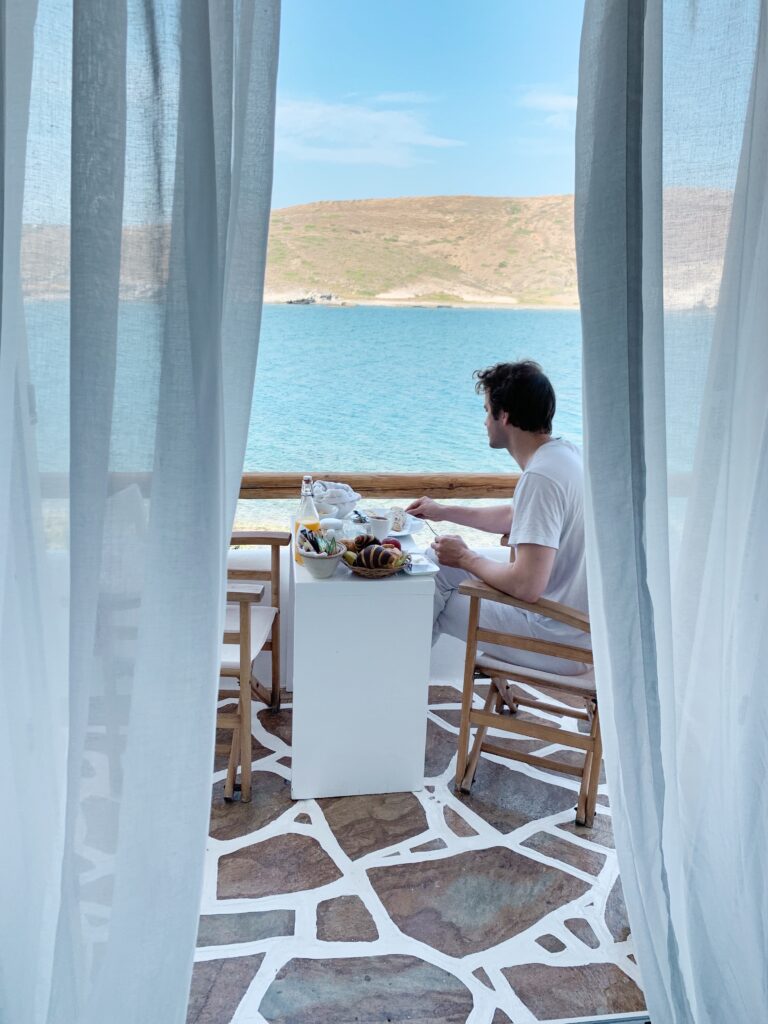 Best places to eat in Milos
Medusa – What every guide recommends, and I agree. The food is good, fresh and unpretentious, atmosphere nicely busy and you feel a sense of achievement once you have waited long enough to get your table. It is located next to Mandrakia bay which is definitely a place you should see. Tip: Why not combine it with a day on the Firopotamos beach (don't forget to look at Mandrakia Bay on your way here) and come early enough to beat the queues?
O! Hamos! Tavern – We loved this place, for how homey it felt. We enjoyed the hand-written menus, the comfort food based on recipes from the owner's grandmother. All sourced from the family's own farm.
Astakas – Located right on the beach in the fishermen village of Klima, this down to earth restaurant offers traditional food& great views of the sea.
Utopia Café – Definitely the best option on the island for the combination between incredible views and great cocktails. Get there early and try to get a seat right by the edge.
Archontoula – Once you had your aperitvo at Utopia walk just a few meters straight to this lovely taverna right in the center of Plaka. We enjoyed the evening buzz and simple yet tasty food.
What to do?
You cannot leave the island without:
Thinking that you have landed on the moon at Sarakiniko beach (and here I recommend coming both at sunrise and at sunset because of the different colour palettes that one can experience)
Enjoying a slow day on a boat exploring the coastline of western Milos including a swim by Kleftiko caves and having a lunch at Klima village
Devouring some amazing seafood at Medusa restaurant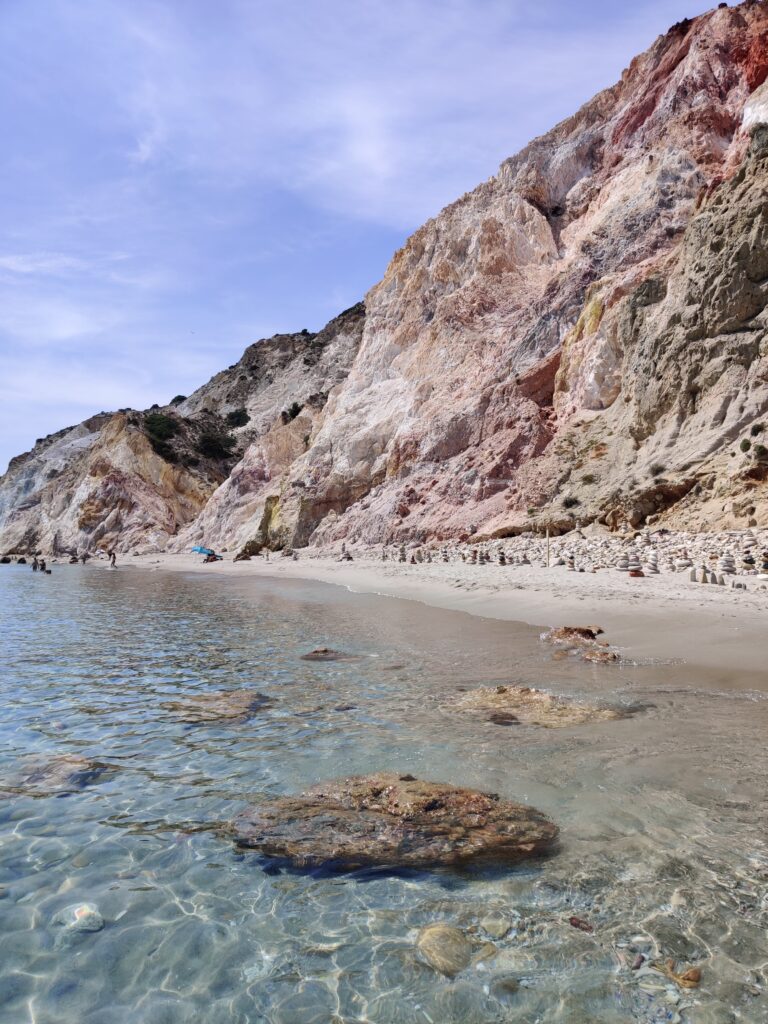 Beaches
Milos is for the beach lovers and I cannot imagine a person who would remain unimpressed by the variety that the island has to offer.
My top recommendations are:
Sarakiniko – By far the most spectacular and unique beach the island has to offer. Just seeing this location was for me worth the effort of getting to Milos. Imagine cliffs and rocks made of lava which have been shaped into most unique formations by the wind blowing for the last hundreds of years. Here you can choose between a rocky and a small sandy beach and if you pluck up enough courage make the most spectacular (and wild) jump of your life. If like me, you prefer not to risk your life, than just watch the life acrobatics of those with more brevity than some Hollywood stuntmen. Tip: Bring your food and drinks with because a local food truck has very limited options.
Firopotamos – A beach with turquoise blue water inside a small bay. It is within walking distance to Madrakia, the postcard perfect fishing village and Medusa (one of my favourite restaurants on the island). Word of warning – on the way there we drove through some small villages with very narrow streets and scratched our rental car. Drive carefully!
Tsigrado Beach – Instagram-famous beach which can only be access by a two steep ladders. Definitely not an option for those with height issues or small children. No food trucks, so bring all you need with you.
Firiplaka – We came back to this one, because it was so specious and has this unusual red rock formations. Very relaxed and wasn't too crowded during our visit.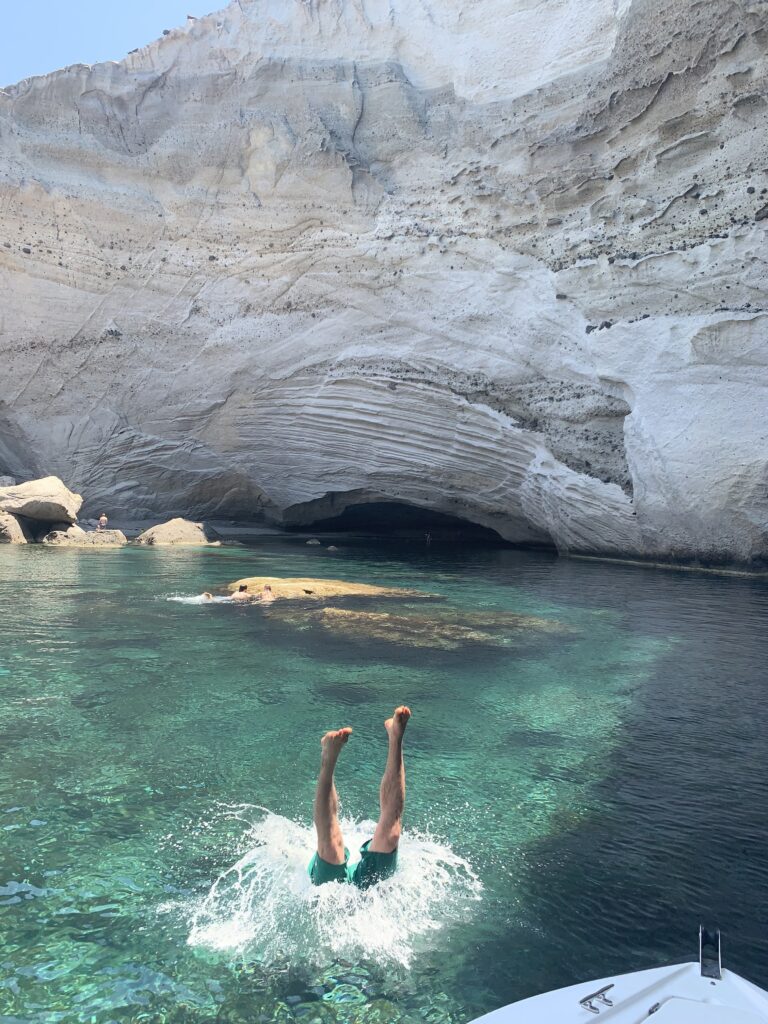 Other places and activities not to miss in Milos
Experience some unforgettable sunsets: My top competitor for the best sunset spot would be Sarakiniko beach and the Venetian castle (now a stunning white traditional church) which offers incredible views all across the horizon.
Spend a day (or half) on a boat – There is no better way of exploring the coastline of Milos than by a boat. Both – Kleftiko caves and Sykia cave – are not accessible by road, and you really shouldn't miss either of those. Leave early and visit those two spots in early afternoon before organised tours overcrowd it. We arrived extra early at the Sykia cave and had it to yourself, which is rather a special experience. This is why (if possible) avoid charter boats and rent a small boat just for yourself. We negotiated ours in the port and paid 200 EUR for a full day (4 people including petrol).
Visit some fishing villages: Klima and Mandrakia are both charming small villages where you can soak in the slow daily life of fishermen. What makes it postcard perfect are the colourful houses facing the sea and the boats floating with the waves. It is actually possible to stay in some of those fisherman houses, you can read about it in the section about accommodation.
Visit Kimolos island – If Milos is not enough, we were told by the locals that the neighbouring island of Kimolos is as beautiful, but quieter. We didn't have enough time to visit it, but I would definitely intend to do so if you have some spare time.
Additional info
Is Milos family-friendly – If you don't mind flying and getting on a ferry then the answer is yes. Milos has so much to offer. And it's not just in terms of the natural beauty – don't forget 70 beaches! Island's activities will keep anyone from 1-18 years old occupied. Choose between boat trips, scuba diving & snorkeling and even wind surfing. Book early as hotels don't have too many family rooms, alternatively finding an Airbnb shouldn't be a problem.
Overall: Milos is one of my favourite places in Greece and even in Europe. Its spectacular beaches combined with the not-yet-commercialized feel of the island make it a perfect place to explore. But do not leave out out for too long to visit as its reputation its gaining it more and more fans around the world.